A newly built house is an overwhelming experience for new homeowners. New homes certainly are packed with some perks- smart home features and devices, energy-efficient appliances, and modern floor plans to name a few. However, a new home also means that you need to maintain a livable condition and protect it from unfortunate possibilities such as theft, fire, or natural disaster.
Furthermore, building a new home keeps you from the worry of fixing creaking doors, loose floorboards, or handling an overflowing toilet, which is often considered a drawback in an old house. But that necessarily does not mean that you can choose to neglect your brand new home and expect it to be in working condition without maintenance or insurance. Therefore, after a house is completely built, the next step is to maintain and protect it. Hence, you need a proper home maintenance checklist by your side—and we're here to help you with that!
1.  Monitoring the air filters and humidity level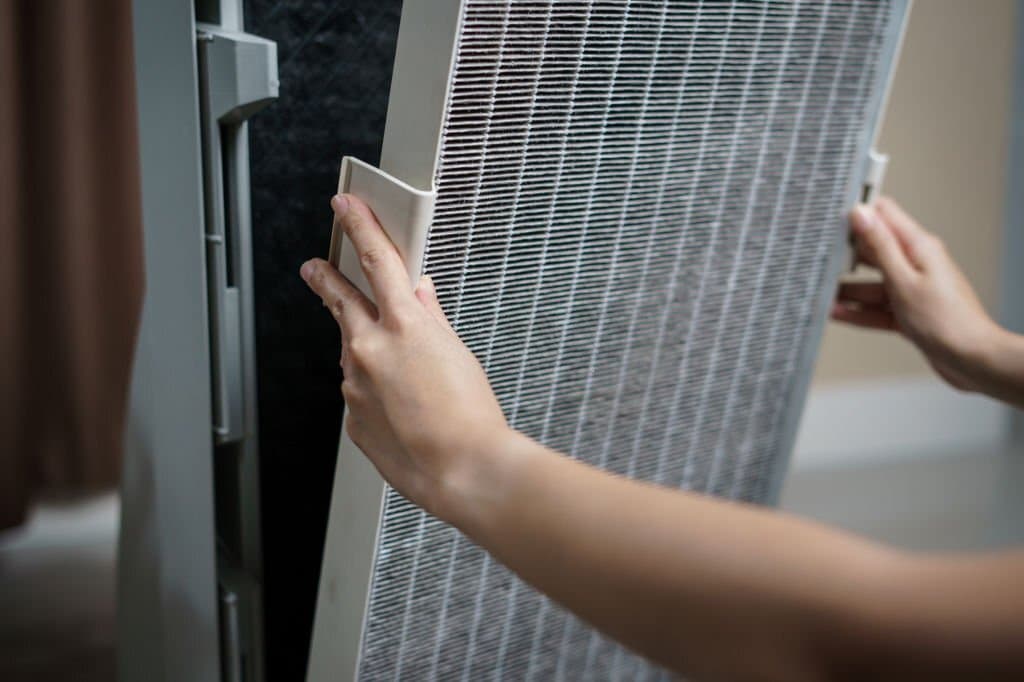 After you settle into your new home, the first thing that would make you comfortable apart from your couch is the humidity level. As per the Environmental Protection Agency, a humidity level of 30 to 50% is ideal. Anything below 60% is not only likely to keep you comfortable but also reduce the chances of mold growth. On your move-in day, consider purchasing a humidity gauge to measure the humidity level of your home.
New homeowners are also advised to use an air conditioner to regulate humidity in the summers. Also, in winters, the use of an air humidifier can help keep frost off the floors and windows or from seeping in through cracks.
As a new homeowner, you should also consider changing the air filters once a month, even if the filter is expected to run well for up to 3 months. This is because, nowadays, most of the air filters are more hypoallergenic and trap more airborne particles that slow down the airflow. You would not want your new home to have less efficient and high quality indoor airflow throughout the house.
2. Inspecting the landscaping
It is natural for the soil in your backyard to be disturbed post-construction of your new house. After the house is constructed completely, it is time to take care of the backyard and allow the dirt to resettle in time. You can expect the overall health of your yard to be disrupted a bit. In such a situation, you need to be proactive and ensure that your yard is not susceptible to heavy water flow, making it soggy.
It is indeed a fact that soil takes seven years to recompact to its original state. So, new homeowners need to do landscape maintenance so that the drainage system around the house does not pose an issue. After taking regular care of your yard, you will easily understand if it is inclining towards your home. If so, consider recreating your yard and adjusting the drain pipes to extend away from your house. This would protect your foundation from getting eroded by water or water leaking into your basement.
3. Keeping a check on how you use your house
You may think that having your own house means you can use it any way you want. Even if most of it is true, how you and your family use the home has an impact on the overall working of the systems, appliances, and surfaces of your house. For instance, if you keep the air conditioner off during the scorching summer season, you must not be surprised if the wood floors and wall paint starts deteriorating from the high humidity levels.
Professional builders state that the number of family members living under the same room can change the longevity of the home's air conditioning system, heating, ventilation, floors, and appliances. A house with two people versus a family of four will impact the structure differently. For instance, there will be a difference in the moisture amount, causing the air conditioner to be under different usage levels. Thus, different levels of longevity.
4. Insuring your newly built house
Once you build a new house with your hard-earned money, you would want to protect it at all costs. Even if it is a brand new house, it is vulnerable to the danger of getting damaged or even destroyed by man-made or natural calamities. Nobody has control over unfortunate natural disasters, which is why this must make it to your list of things to consider.
The basic home insurance policy will protect your house and your valuable items from unfortunate perils such as floods, earthquakes, and fire. You may also receive insurance in other cases if so is mentioned in the policy document. Generally, the insurer pays the coverage based on the cost required for home reconstruction. The reinstatement value is calculated on the construction cost and build-up area fixed by the insurance company. The insurance policy for your home will contain principles for coverage and a list of inclusions and exclusions. So, you must read the policy well to understand what is protected and what is not. You can thereby upgrade your policy to suit your requirements.
5. A few additional tidbits to be aware of
There are a few additional maintenance tips that you homeowners must be aware of. They are:
● Review the house warranty
Several newly built houses come with a warranty, covering shortcomings in construction or faulty materials. Before you celebrate your home's first anniversary, consider reviewing the warranty documents to convey your concerns to your builder.
● Read the owner's manual
Yes! Your new house comes with an owner's manualto ensure that you are going the right way with appliances and other home installations. The owner's manual will contain guidelines about proper cleaning and care of your countertops, windows, carpets, flooring, etc. So, make sure to read it sooner.
Final word
To sum it all up, the second step after your house is completely built involves a maintenance checklist. From insuring your home to assessing the interior and exterior and checking vents and furnace filters, there are a few things that you need to do even if it is a brand new house.