High-tech houses with built-in smart systems may be a thing in science fiction movie genres a decade ago but with today's technology, it is now possible! Actually, with a little research on automation and smart gadgets, you can turn your house into a smart home. A smart home is described as a dwelling unit whose features, such as lighting, ambient temperature, locks, or any electronic devices, are controlled remotely using an electronic switch. This switch may be integrated into the user's phone or computer.
Building a smart home requires a lot of time and effort, most importantly, money. But with some creative ideas, you can do it for cheap. Think of it as an investment for the future since it will save you some money in the long run, plus it will add more comfort and easier accessibility for your daily activities. In this article, we will share some DIY tips and list smart home ideas that you can use to save some money while building your own smart house.
Here are some of the best tips for building a smart home while on a tight budget:
1. Invest in Smart Lighting
One of the easiest ways to start a smart home is by adding smart lighting. These lights can come in different forms such as bulbs, panel lights, or bulbs. For this gadget, you can install them directly on the lighting sockets of the rooms in your home. These lights are equipped with wireless communication devices and have variable light intensity, sometimes even color hues. Looking at the prices, smart lights will cost more comp[ared to regular light bulbs due to their added fixtures. But worry not because they will save you a lot of money later on.
By using smart lights, you can set lighting schedules so that you won't have to go around and turn off the lights around the house. This will be beneficial if you will be out of the house for a long time. It can even prevent you from wasting electricity because even if you forgot to turn them off, they will automatically power down according to their set timers. You can even reduce their power consumption by lowering their intensity. A pretty handy feature, right? Due to these convenient features, smart lights are the first priority for any smart homeowner.
2. Go For Wireless Multi-room Speakers
Multi-room speakers may be installed in different parts of the house and they can be individually connected to a phone that is playing music or even the television. This feature can be achieved by simply installing speakers with wireless communication features at the key areas in your home such as the living room, the kitchen, and even at the entrances.
The most affordable way you can go with this is to purchase wireless speakers with a Bluetooth function and create your own network of devices by pairing up your mobile devices to all the wireless speakers. Bluetooth is a wireless communication technology installed on most mobile and electronic devices. Most wireless speakers made today are equipped with this feature and are very affordable due to the abundance of these products in the market, compared to a decade ago. 
You can easily buy wireless speakers within your price range online or in gadget brick-and-mortar stores near you. Before you buy one, ensure you check the wireless speaker's product listing to determine the features, quality, and price. Moreover, check product reviews to get your money's worth.
3. Install Smart Security Locks on Windows and Doors
There are times when you will be locked out of your house because you forgot to bring your keys with you or you lost them somewhere. At times like these, anyone will be glad that they have smart security locks installed at their doors because all it takes is a tap on their phone to deactivate the lock. That's how easy it is to access locks in a smart home.
With a basic understanding of electronics, anyone can create a smart lockout of an old deadbolt, a DC motor, and a microcontroller board with a wireless feature. In this project, you will control the lock with the DC motor which will be used to unhinge the deadbolt lock. A basic program will be uploaded into the microcontroller board which is connected to the motor and this will control the function of the motor.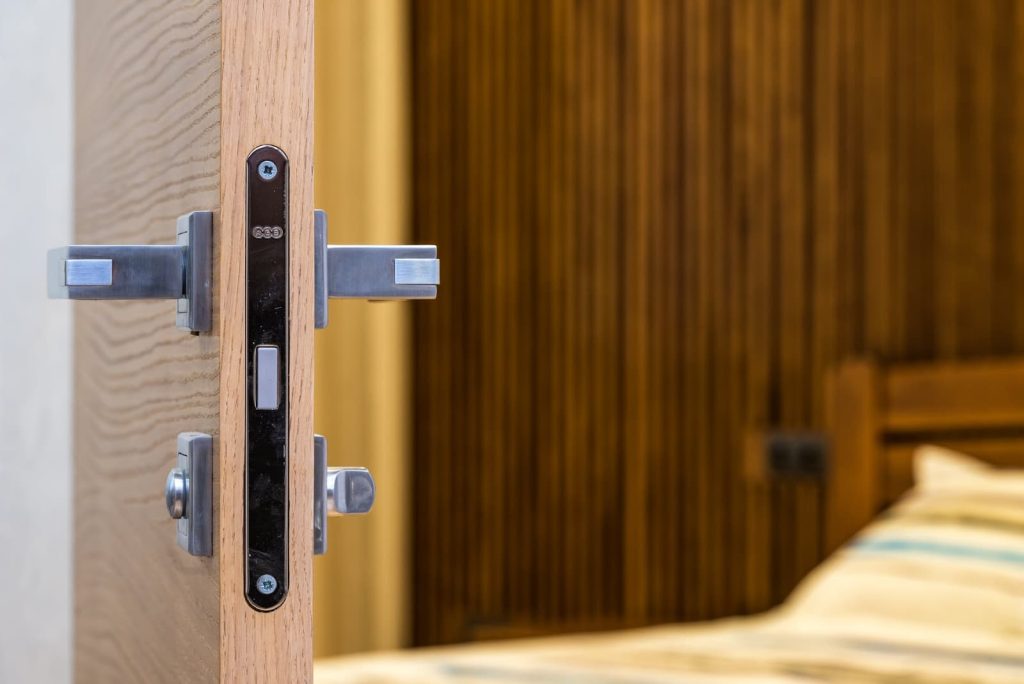 Smart locks can be remotely accessed through the user's phone or electronic device.
Using the wireless feature of the microcontroller board, your phone will be able to access the device and control the board remotely. For this setup to work, you will need to have an existing wireless network where both devices are also connected. With a little research on the topic, even a beginner can create this device and save some money instead of buying a pre-made smart lock.
You can also hire a professional locksmith in your area to help install smart security locks on your doors and windows. Choose one from a reputable locksmithing company with a reasonably priced service fee and years of experience performing this task for residential customers. Before you hire one, check the credentials and reviews of the company to ensure legitimacy.
4. Add Surveillance Cameras
Another cool feature to add to your smart home is a security network surveillance system. You can also try to turn your garage into a functional space and make use of surveillance cameras to check the areas from time to time. The idea is that a network of security cameras will be remotely controlled by the user to observe different areas of the household, including the perimeter of the lot. This handy feature allows the user to maintain surveillance over their property even they are out of town.
Most surveillance cameras sold today have a wireless communication feature that allows them to be accessed using a phone or a computer with a WiFi connection. To create this network, establish first a WiFi network that will run 24/7 so that you will have access to your cameras at any time of the day. Then, choose an affordable security camera that has a wireless communication feature. No need to buy the expensive ones with additional features since all you need is the wireless feature. Then, use freeware that can be used to establish a network of devices, which can be accessed through your phone or computer. Now, as long as you have an internet connection, it will be possible to access your cameras even if you are on a vacation outside the country.
5. Use Smart Thermostats for Heating and Cooling Devices
The most energy-consuming devices in any house are heating and cooling appliances. Since it requires a lot of energy to transfer heat, these devices take in a lot of electricity to perform their functions. For air-conditioners and heaters, their operating times can last for hours to maintain an ideal room temperature and sometimes we forget to turn them off and this wastes a lot of electricity, leading to expensive electricity bills. So, any smart homeowner will be wise enough to use a smart thermostat to control their heating/cooling appliances.
To create a system to control your devices, a smart thermostat, and smart power outlets will be needed. The smart thermostat is an electronic device that monitors the temperature and sends signals to wireless receivers to control the operation of heating/cooling appliances.
It can also be used to set timers for the operating times of these. Next, instead of using a normal electric socket, the appliances will be connected to a smart power outlet which communicates with the thermostat on how much time the appliances will be used. By creating this system, you will easily manage the use of your heating/cooling appliances and thus save money on your electricity bills.
If you suspect heating, ventilation, and air conditioning (HVAC) problems, you can call a professional to help you. An HVAC specialist from Aire Serv of Dallas or one in your local area can perform expert HVAC repair and replacement services. Furthermore, HVAC experts can recommend smart HVAC solutions and share best practices to make your home energy-efficient and sustainable. 
6. Reuse Old WiFi Modems as WiFi Repeaters or Access Points
The placement of your WiFi modem will factor in how you will be able to access the smart devices in your home. Due to the construction of houses and the placement of the modem, WiFi dead spots occur in several places in the house.
These dead spots have limited to no signal and it will be impossible for the WiFi network to access these. So, the solution to this problem is to use WiFi repeaters. These devices are used to amplify broadcast the signal received by devices that are far from the original modem. By placing several repeaters in other locations it will be possible to access hard-to-reach devices.
Instead of buying repeaters on the market, you can actually reuse old WiFi modems as repeaters or access points. This can be done by changing the firmware on old modems to make them function as repeaters and for new models, simply connect them to the original modem using a LAN cable and change its static IP address so that it will send out network signals for the original modem instead of its own network signals. This is a handy method for reusing old modems instead of chucking them to the garbage disposal.
Conclusion
Switch to a smart home by applying the affordable, creative, and innovative tips above. In that way, you can boost optimal comfort, save money, and become more productive. Smart devices help you save effort, time, and plenty of resources, allowing you to focus on your family bonding experience inside your lovely, smart home.