These plants all have strong vertical or upright growth habits to add contrast and interest in a container or hanging basket planting.
When planning a garden design or container combination it can be important to include plants with upright growth habit to provide a strong vertical accent.
Red Fountain Grass (Pennisetum setaceum 'Rubrum')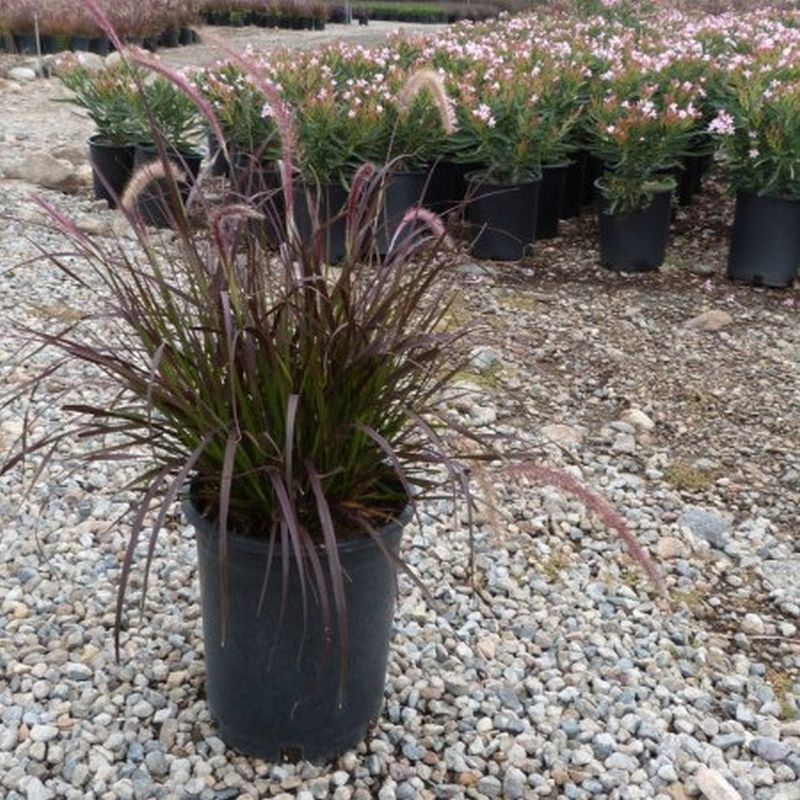 A strongly vertical accent plant, this fountain grass also provides some color interest as well with burgundy-red foliage.
Snapdragon (Antirrhinum spp.)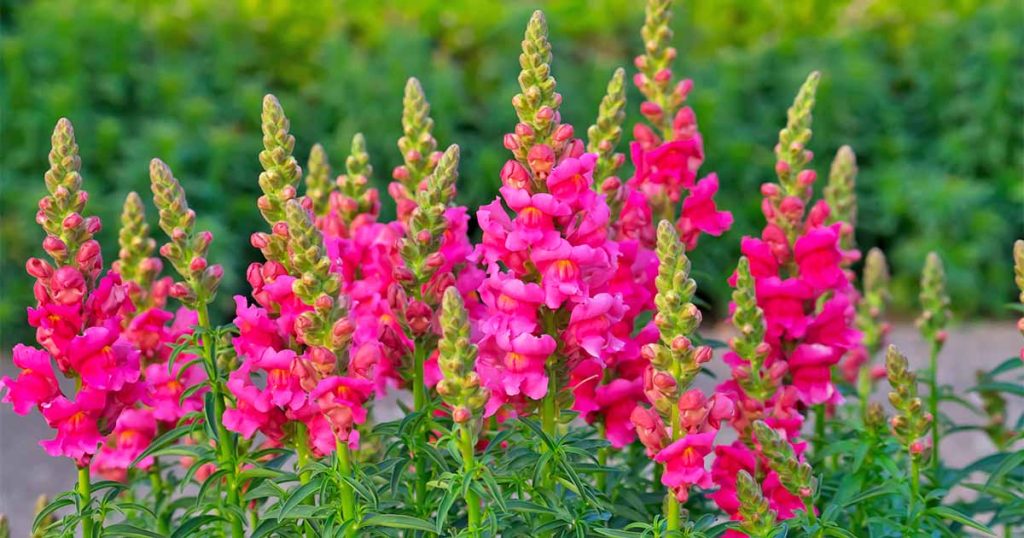 A cool season annual with attractive, upright flower stalks perfect for adding a vertical accent to seasonal containers or hanging baskets. See details about snapdragon cultivars.
Lily of the Nile or African Lily (Agapanthus)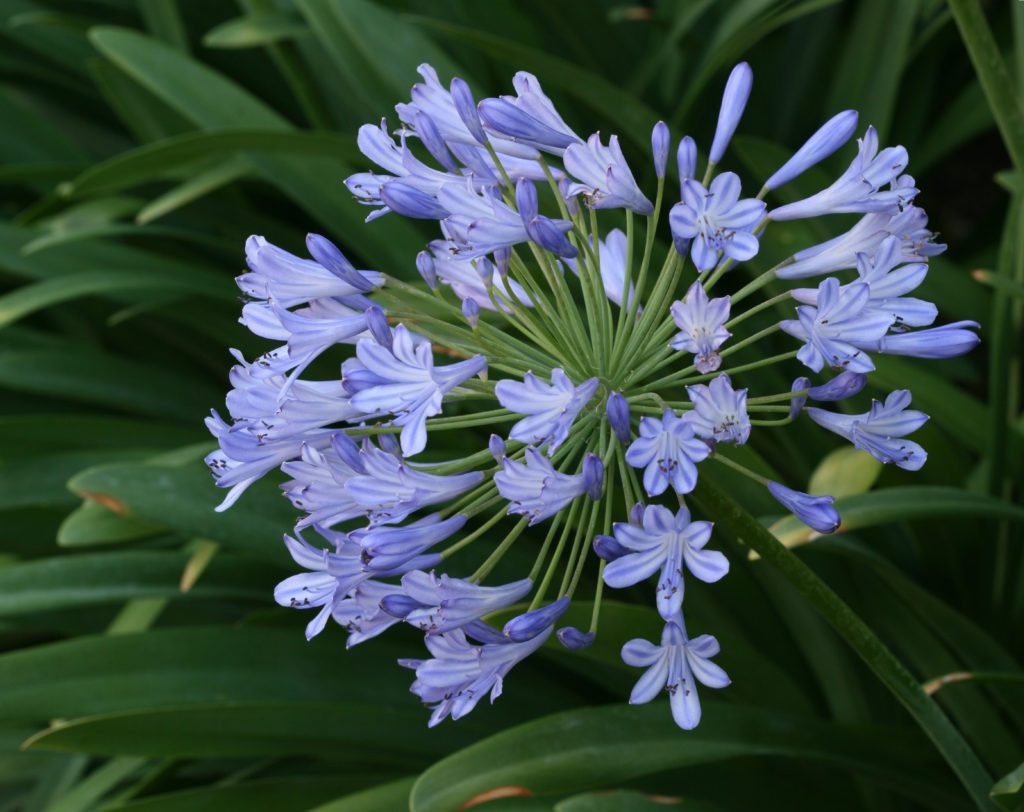 Zones 8-11. Strap-like, glossy foliage is evergreen and the strong vertical flower stalks make this summer blooming perennial a favorite for seasonal containers.
Gladiolus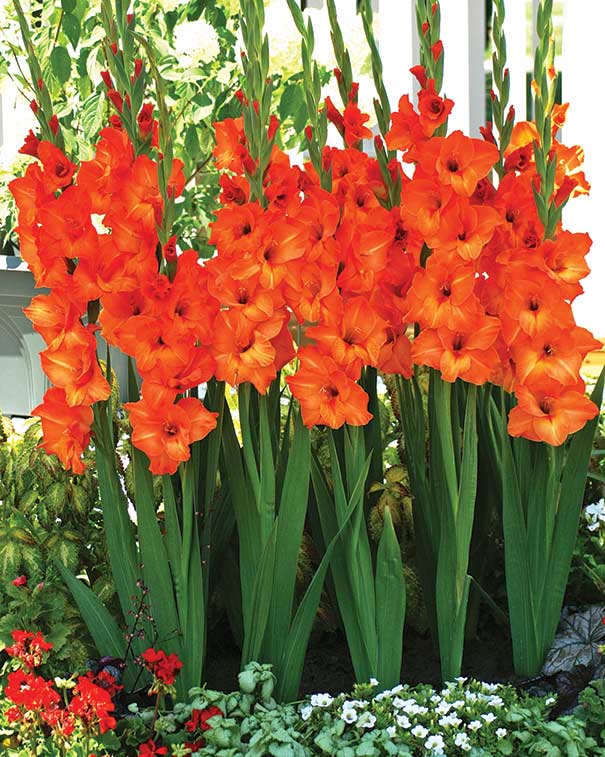 Tender perennials with strong upright flower stalks perfect for containers or cut flowers. Plant in the spring for summer blooms in a variety of color choices.
Canna Lily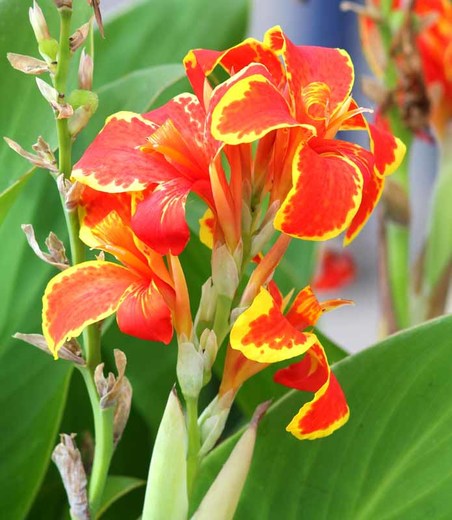 Zones 7-10. Rhizomes planted in the spring, these plants are typically 4-6' tall or more but also come in dwarf 24" cultivars. Broad foliage, often variegated, and boldly colored flowers make this a real focal point plant.
Tulips (Tulipa)
Zones 3-9. Tulips are cold hardy bulbs that are planted in the fall and can be layered with other spring blooming bulbs or mixed in a container with other perennials and annuals. Classic flowers in strong, upright flower stalks.
Coneflowers (Echinacea spp.)
Zones 3-8. A long-blooming perennial with large, daisy-like flowers on upright stalks. Full sun and drought tolerant, perfect for containers. Typically 3-4' tall but dwarf forms are available.
Spider Flower (Cleome spp.)
Rounded clusters of spikey flowers on tall stems add architectural interest to any container planting. Flowers are usually mauve, pink or white and can reach to 5' tall depending on the cultivar. Full sun.
Mullein (Verbascum spp.)
Gladiolus-like flower stalks 24"-8' tall grow on upright stems in full sun to part shade.
Lillies (Lillium spp.)
Both Trumpet or Oriental Lillies have attractive summer flowers and upright growth habits with more finely cut foliage. Wide variety of colors available.
Astilbe
Zones 4-7. A shade perennial with flower stalks that add a definite vertical accent to bed, border or container. Feathery flower plumes are anywhere from 1-5' tall and come in a variety of colors. Part to full shade and moist soil preferred.
Foxglove (Digitalis)
Classic cottage garden appeal, this biennial has strong flower stalks that rise above a clump of attractive, broad foliage. See details about using Foxgloves.
Rosemary (Romarinus officinalis)
Zones 8-10. A perennial herb often grown as an annual in containers north of zone 8, Rosemary has a bushy upright growth habit and aromatic needle-like foliage. Usually reaches around 3' tall in a container. A trailing form is also available.
Dahlia (Dahlia spp.)
Many flower forms are available from this fall blooming species. Full sun and rich soil is preferred. Plant them in the spring and enjoy in containers or as cut flowers during the autumn months.
Lavender (Lavandula spp.)
Another herb that does well in containers because of it's drought tolerance, lavender also offer aromatic silvery foliage and upright purple flowers. Dwarf forms only 10" tall are available. See lavender details for what grows best in your area.
Pineleaf Garden Pink (Dianthus pinifolius)
An upright dianthus, this cultivar grows 2' tall and 12" wide with dark red flowers on tall wiry stems. Upright blue-green foliage and drought tolerance make this an excellent full sun container choice.
Adam's Needle (Yucca filamentosa)
Zone 4-8. A variegated evergreen perennial with strong architectural appeal, yucca plants can grow 2-3' and make excellent container choices for full sun to light shade conditions.