Projectors have been in use since time immemorial. Projectors are small and portable optical devices that are used to display images or movies on a larger screen. Projectors, as the name suggests, project images or movies onto a surface, known popularly as a projector screen which can then be viewed easily. While at home or for personal use, people often use an empty wall as a projector screen.
It is not always feasible or even practical for everyone to do the same. Projector screens are specially designed to be utilized when using a projector. During the process of projector installation, the projector screen is also placed in order to ensure that the projection is implemented correctly.
Uses of a Projector Screen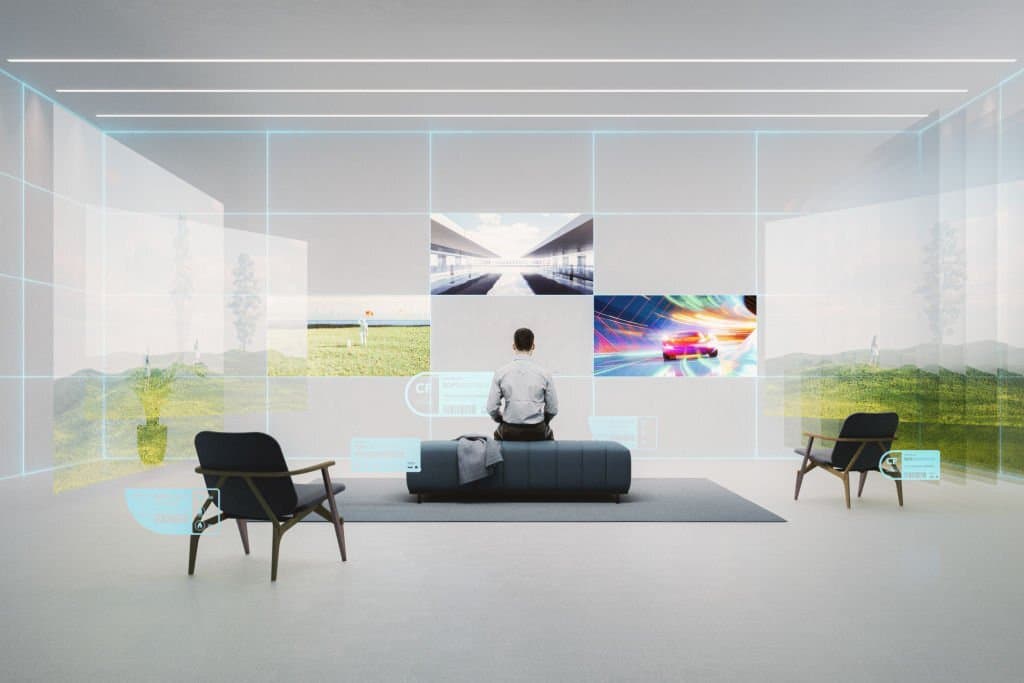 A projector screen has one application, which is to display whatever is being fed to the projector. However, within this one function, the projector screen serves various purposes.
These screens can be used for personal use in a house or in an outdoor setting, to enjoy a movie with loved ones. It has various applications in the education sector as educational institutions, including schools, universities, etc., use them widely to make the topic visible to all.
Further, these screens are commonly used by businesses in meetings and conferences when addressing large numbers of people. In the media industry, the primary use of projector screens is in movie theaters, where big screens are placed to show movies.
During events hosted by various industries, projector screens are used widely for several purposes, including brand publicity, showing images, presentations, etc.
Given the wide range of applications of the projectors and projector screens, it is not only essential to implement advanced technology in making projectors, but also to integrate them when designing projector screens to ensure that the images do not appear blurry.
Finding the Ideal Projector Screen for your needs
Before you can worry about the projector screen display technology, you need to worry about finding the ideal projector screen for your purposes. In order to determine which projector screen is ideal for you, there are certain factors that need to be considered. Among the various essential factors that need to be considered, screen size, types, aspect ratio, and material come out as the primary determinants.
Projector Screen Size
The size of the screen for projector installation is the main factor to be considered when getting a projector screen. The ideal screen size can be determined on the basis of your room size and intended purpose.
For example, if you are purchasing a projector and screen for outdoor uses, to be used by a large audience, you would need a bigger-sized projector screen than if you are purchasing one for your home, office, classroom, etc. The audience size would also be a determining factor in narrowing down the ideal projector screen size.
Type of Projector Screen
There are several types of projector screens available on the market. As a result, before purchasing one, you need to be sure which kind you wish to have. Whether you want one which is motorized or a fixed one. Are you looking for a portable option? And if so, what kind? Tripod, pull-up or fast folding? There are too many options to choose from.
Aspect Ratio of the Screen
The aspect ratio needs to be judged on the basis of the type of use. Do you intend to use the projector screen to show images? Then perhaps a square aspect ratio would be more suitable. Other common types include HDTV, Wide Angle, and Letterbox, to name a few.
Material of the Projector Screen
Projector screens are available in different material options. Careful consideration needs to be placed in selecting the ideal material because while some materials are better for a darker room, others are better suited to lighter environments. The material also plays a vital role in defining the quality of the projection.
Projector Screen Display Technology
Projector Screen Display Technology is rapidly evolving with the constant advancement of technology everywhere. To provide a more immersive experience, a significant amount of research is being put into this area.
Various technologies are being used to make different types of projector screens and ensure a riveting watching experience for all. Some of the leading display technologies used include:
LCD or Liquid Crystal Display Technology
One of the most viral technologies to reach every part of the globe was the Digital LCD technology. This display technology was so successful that it was also integrated into televisions to reach audiences everywhere and at all times.
During projector installation, you will notice that it typically has three panels, with each panel acting as a prism, letting light pass through its pixels in blue, red, or green colors. Then, these various hues are combined, and they are projected.
Depending on the unit's resolution, electrical signals turn on the pixels in a set. LCDs are known to create more shades or variations of color with better color definition. The "screen door effect," or the pixelation caused by particular optics enhancers such as a micro-lens array, is minimized by more recent LCD projectors.
LCoS or Liquid Crystal on Silicon Technology
LCoS is the latest participant in the display market and an amalgam of the core advantages of LCD and DLP technologies. DLP is a reflecting technology, whereas LCD is a transmissive one. In the most straightforward words possible, LCoS is indeed the combination of both—an LCD and the DLP.
Because the circuitry can be positioned beneath the pixel rather than right next to it, there are fewer limitations on the number of pixels than with LCD or DLP. High resolution results from this high pixel density. SXGA resolution is now the most common resolution for LCoS projectors. The superior picture quality on moving images is also made possible by the high pixel density, which also implies no flickering, no "screen door" effect, no "rainbows," and so on.
The top level of black, fluctuating light output, excellent contrast proportion, outstanding color consistency, outstanding optical image stabilization, a minimal amount of blurriness, and negligible multicolored refracting are just some of the unique features of the LCoS.
Digital Light Processing Technology
DLP technology has been around for a while and can be categorized into two types: Single Chip DLP and Three Chip DLP. Of all the competitors, the three-chip DLP possesses the most attractive graphics. Similar to the single-chip DLP technology but superior is the three-chip technology.
The three-chip DLP offers the highest graphics performance available. It is regrettably also the most expensive. Three-chip DLP projector installation units available today range in price from $15,000 to $30,000 or more. CRTs and single-chip DLP cannot produce as much bright illumination as three-chip DLP.
Projector Screen Display Technology is constantly revamping and evolving to provide detailed, crisp and clear images, motion videos, and much more. With the many purposes it serves, projectors and projector screens are essential pieces of equipment for a bunch of industries. When looking to buy a projector or projector screen, one must take into consideration the various factors that determine the quality of projection on the screen. Whether it is the size of the room, the projector screen display technology, the material of the projector screen, or something else, multiple variables need to be focused on.
References
https://www.tvsproslc.com/blog/how-to-select-a-projector-screen/
https://en.wikipedia.org/wiki/Projector#History
https://projectorninja.com/projector-display-technology/