Adding an awning can be an ideal way to make your patio more functional, offering additional privacy and protection to make the patio everybody's favorite outdoor space no matter the time of year. A patio awning is designed to extend out over the garden or other outdoor living space to provide shade and protection from the elements.
They have lots of benefits including allowing you to sit out in the rain without getting drenched or making sure that your barbecue or cookout can continue uninterrupted even if there is a drastic weather change.
Along with this, an awning can make your garden more private and prevent the sun from overheating the inside of your house, keeping you cooler in the summer and even helping save your energy bills as your AC won't have to work as hard.
What to Consider When Choosing an Awning
If you are looking for the right patio awning for your home, there are three main things to consider. These are the environment that you live in, the typical weather conditions of the area, and the main function of the awning. You can get different types of awnings for your patio; the two main options to choose from are retractable and stationary.
A retractable awning can be a convenient option as there is no need to add a permanent structure to your home. There are different types to choose from including manual, motorized, or even remotely controlled awnings depending on your needs. Good awning companies stock a range to suit everybody; find out more by looking for an awning company near me.
Retractable Awnings
If you want to get some shade and privacy in your garden without the need to add a permanent new structure to your home, then a retractable awning that you can roll out when it's needed is worth considering. These are typically made of flexible materials such as cotton, canvas, vinyl or polyester that you can simply roll up and store when not in use.
These awnings are generally mounted to a wall and can be rolled out over your patio or garden to provide more shelter, shade and privacy. You will need to manually operate some using a hand crank, while others are motorized, or even come with a remote control so you don't even have to get up to operate it. Manual might take more work, but one benefit is that it doesn't require electricity.
Sunshade Awning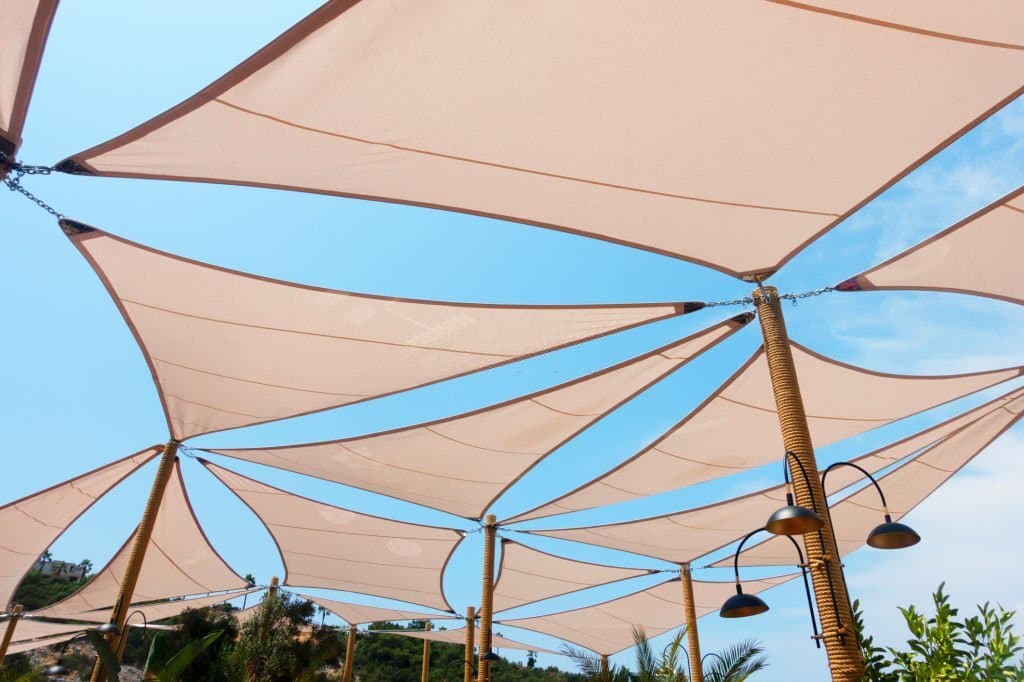 If you want an affordable way to add more shade to your patio and garden in the summer, then a sunshade awning is an ideal choice for you. These are low cost as they are quite simple, and a very easy option to install.
A sunshade awning is made from a mesh-like fabric that allows water to pass through, so they are not rain proof like some other options. They come with metal D-rings that you can hook to either new or existing support beams, making them super easy to install and even easier to take down.
Pergola Awning
If there is a pergola located on any part of your patio, then adding an awning can offer some additional privacy and shade that you simply wouldn't get with a pergola on its own. Some pergola awnings can be fixed or tied down while others are manually retractable using a wire cable.
Adding an awning to your pergola or purchasing one that comes complete with an awning if you are setting one up in your outdoor space, will make your patio even more functional in any weather.
Motorized Awning
If you want your patio and outdoor space to be as easy and convenient as possible to use, then it's worth considering getting a motorized patio awning. This is an ideal way to transform your space. Most will come ready assembled with simple steps to follow when it comes to installing it on the roof, wall, or soffit. Motorized awnings retract with the click of a remote and are generally made with an acrylic fabric that is resistant to mold and mildew, making them easy to maintain and keep clean even after they have been up for years.
Portable Awning
When you think of adding an awning to your patio, a pop-up tent or gazebo might not be the first thing that springs to mind. However, this offers many of the same benefits and can be a good option to consider if you are not looking for a permanent solution.
Unlike awnings that will require some drilling into your wall in order to mount, these can simply be assembled and taken back down whenever you like. This means that they are not only great for use in the garden but can also come in handy on many other occasions like camping trips.
Fixed Awnings
If you like the idea of having a permanent awning over your patio that works in a similar way to a roof, then a solid and fixed patio awning might be a good option for you to consider.
These can come made from a range of different materials; however, a clear polycarbonate roof panel is a good choice as this not only provides shelter, privacy, and protection from the rain but also UV protection, while still allowing most of the light to get through. As a result, you can still enjoy sitting in the sun in summer, but without as many health risks.
Choosing the Right Awning
As you can see, there are many types of patio awning that can be set up over your patio or outdoor space to offer privacy, shelter and protection from the elements. Choosing the right one for you is going to depend on several factors including the look and feel you are going for in your garden, your budget, ease of use, function, ease of installation and more.
An awning can make all the difference to open outdoor space. There are lots of options to choose from if you want to add more shade, shelter and protection to your patio, lawn, or outdoor area. From portable awning options to fixed, motorized awnings, there is an option for every home.