Towel topper free patterns could be the best project that you can do at home. They make beautiful towel designs that will serve a great deal. You can give it out as a gift for housewarming and the Christmas season.
Crocheting will give you a chance to add that personal touch to the towels you have. Check out the 15 crochet towel topper free patterns below and see if you can get something that will suit your project.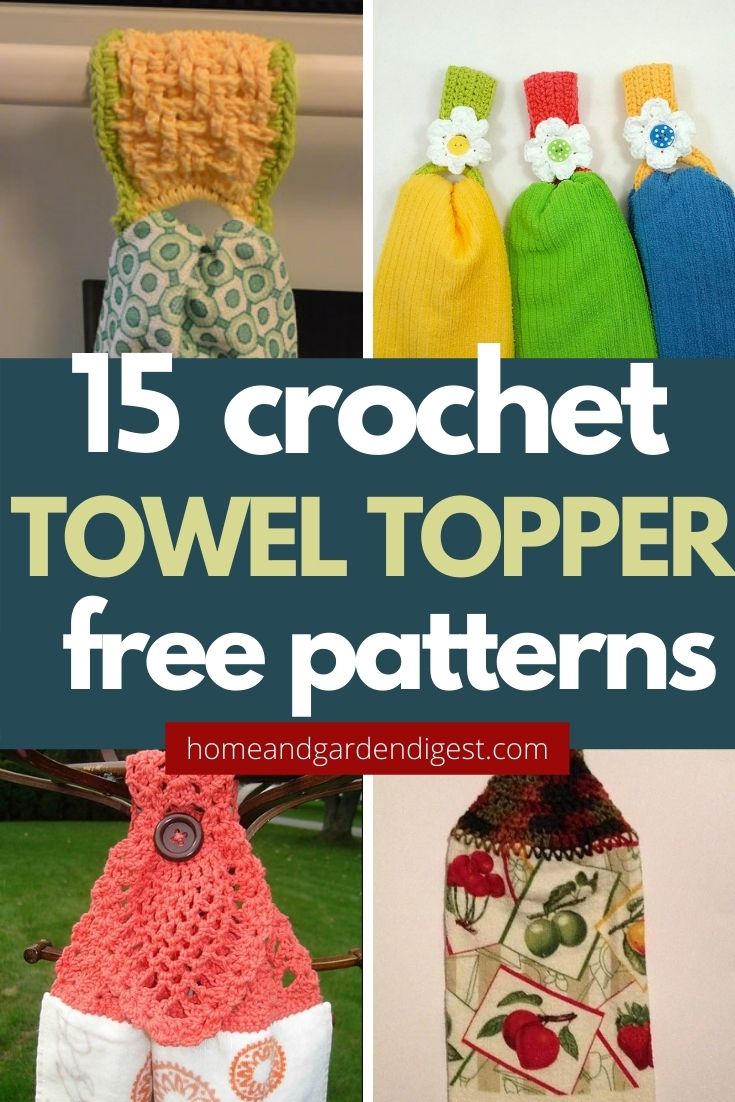 1. Daisy towel holder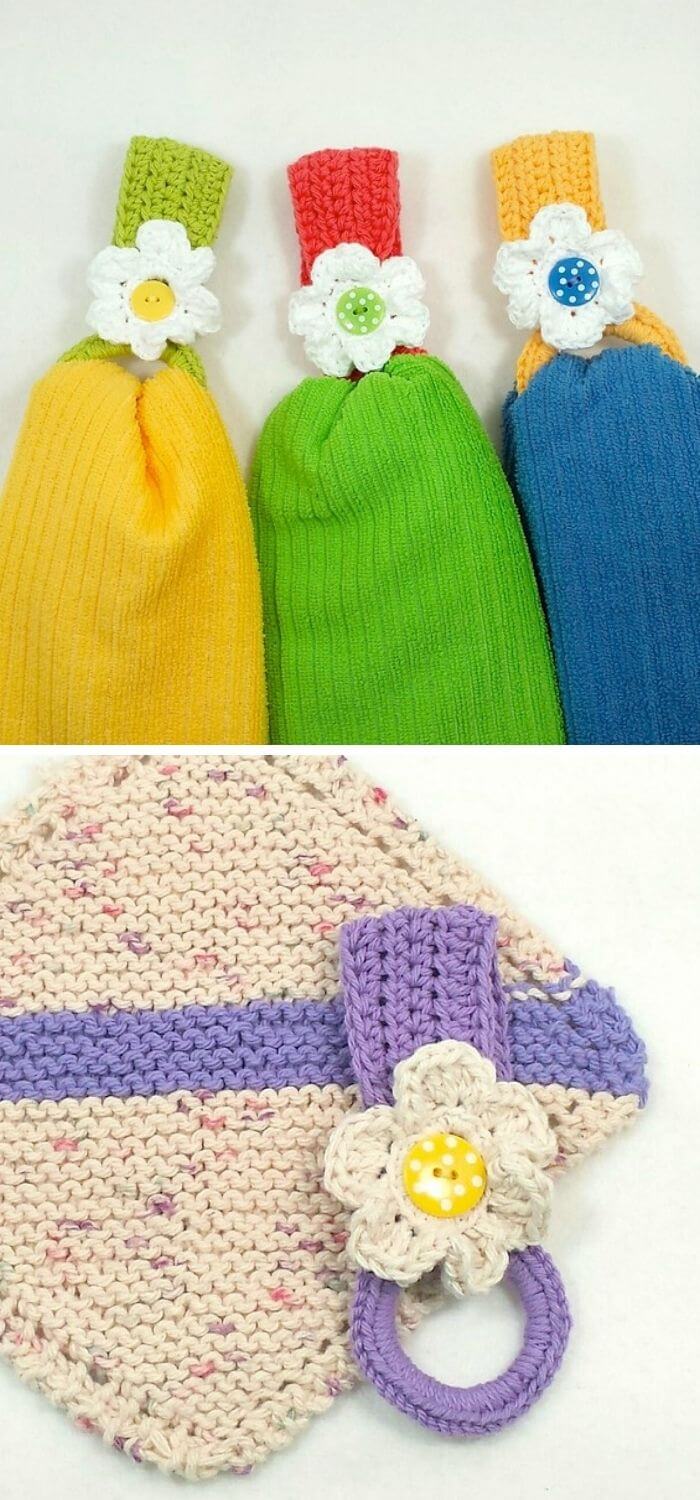 Daisy towel holder is the best design that you can do it yourself. It has a towel inserted in a crocheted ring and the holder. You will admire the convenience that crochet will allow. You can separately remove the crochet and wash it.
You will also need simple crocheting skills and a combination of colors to give that elegant look.
Source: ravelry
2. Pineapple towel topper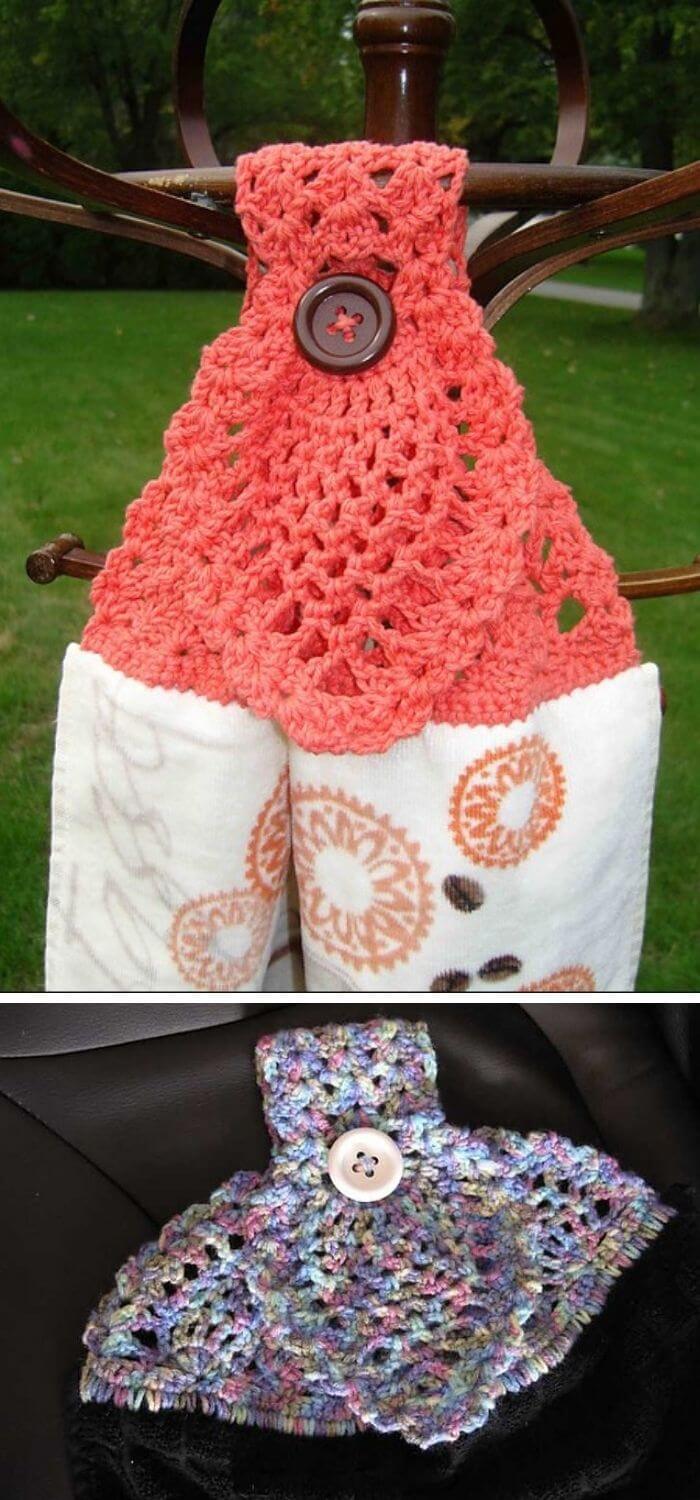 Pineapple towel topper is among the cute ideas that you can try at home. It is a free towel topper free pattern that will please your eye. If you will have it as a gift to your best friend, or for your pleasantries, then for sure it is the best deal you can ever have. Check the crocheting instructions from the source link below.
Source: ravelry
3. The Basic towel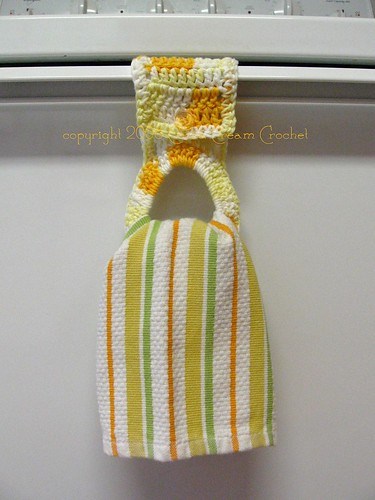 If you are fond of having the fine things in life, the Basic towel crochet ring could be a venture for you. Everything in this pattern looks nice even from the choice of colors and the elegant appearance.
You can get all the crocheting this from the source link here. It takes little skills to get this project done.
Source: lemonlaneblog
4. Venetian leaf towel topper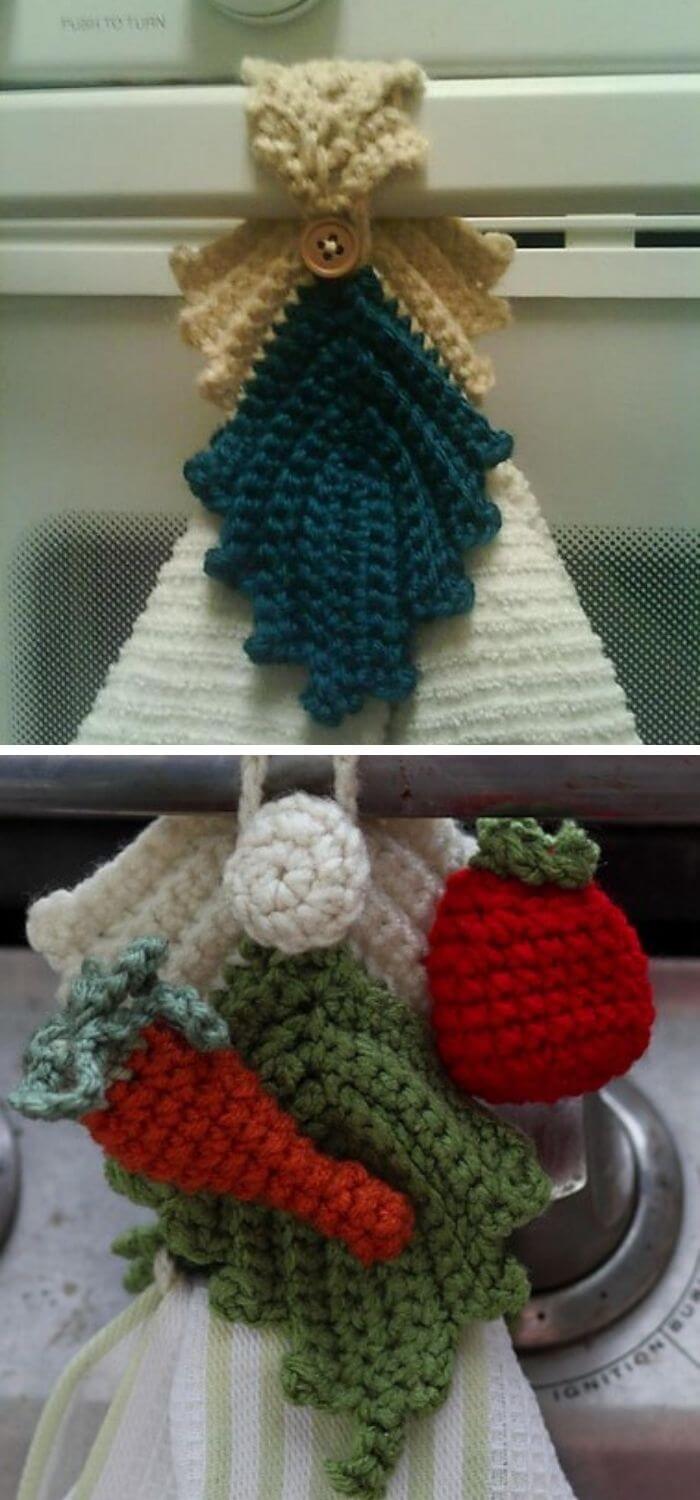 There is a secret with the beautiful Venetian leaf towel topper. It has a beautiful concealed chain that makes it possible to do some tricks even when the towel topper is dirty. You may change the towel even without necessarily changing the topper. Check out the steps from the source.
Source: ravelry
5. Hanging ring towel holder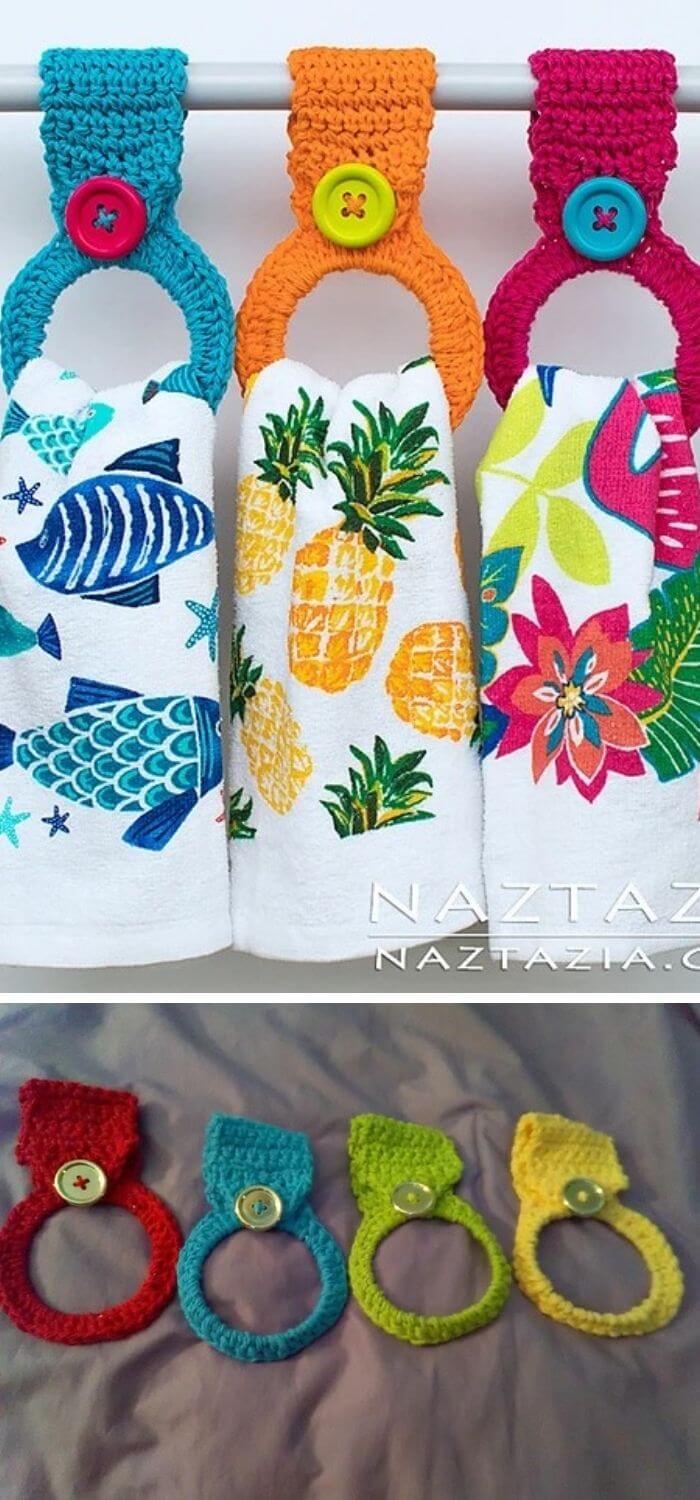 The hanging ring towel holder is among the cute ideas that you will want to give it a try at home. What do you have? If it is a hair elastic or bracelet, then you are good to go. You will crochet around the ring, before adding a loop and a button. It is as simple as that. Check out for more information from the source below.
Source: https://naztazia.com/hanging-ring-towel-holder/
6. Crochet gingerbread towel topper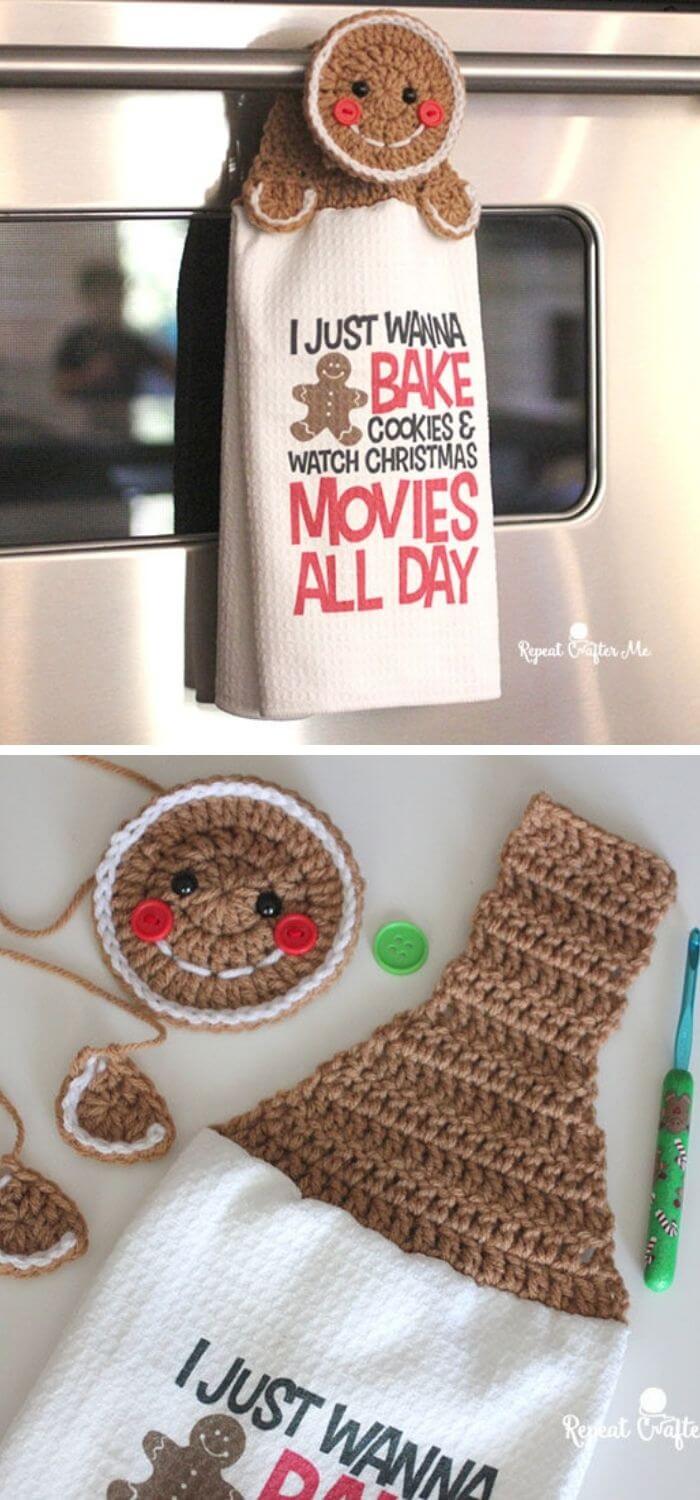 You may be thinking about getting something that you can hang in your living room or even your old kitchen. The gingerbread crochet towel topper is a project for you.
It is just like any other towel with a few add-ins that increase its beauty. Check out what the designer below has for you.
Source: repeatcrafterme
7. Dishtowel toppers crochet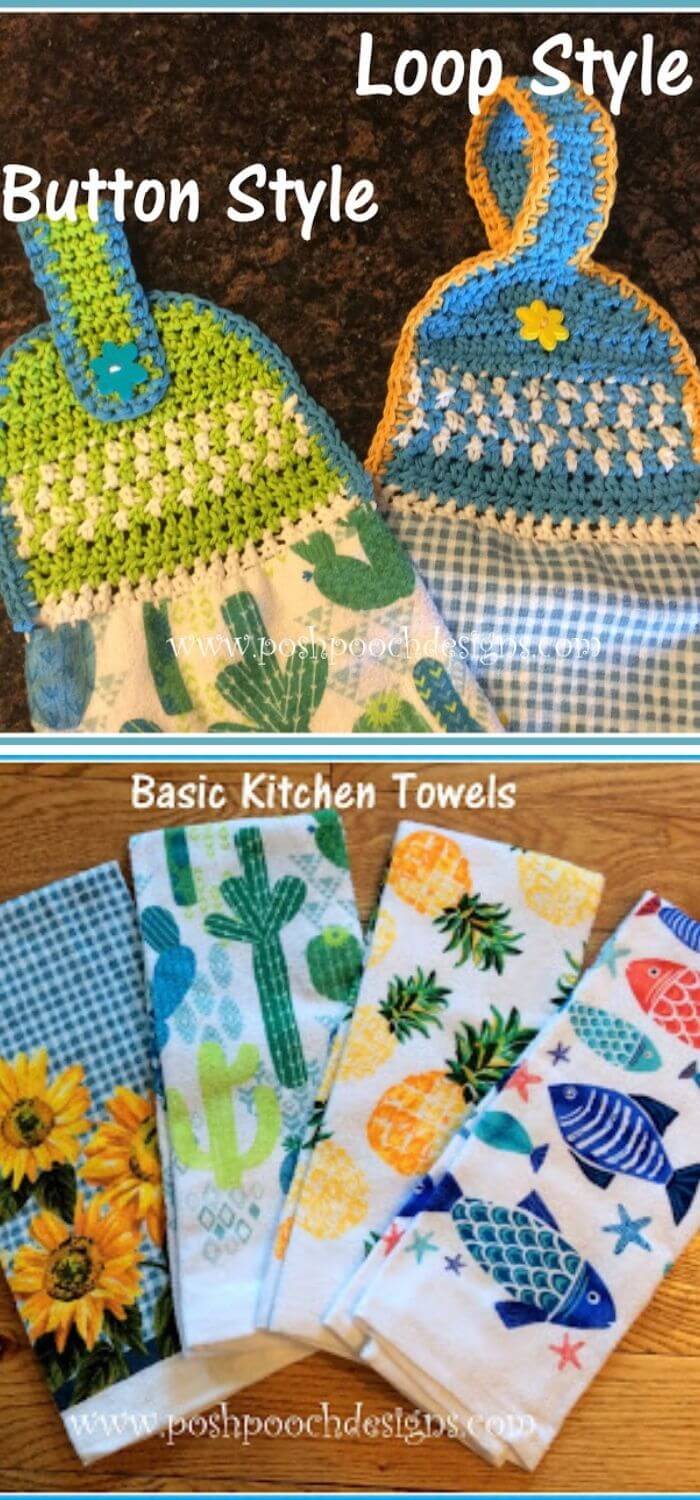 It is a cute crochet design that has two types of toppers. It is not hard doing the loop style and button style. It is why the pattern is impressive because it uses the two. There is a small difference in their loop styles because you will stitch the topper oat the loop while the other has a buttonhole.
Source: poshpoochdesignsdogclothes
8. Bounding towel topper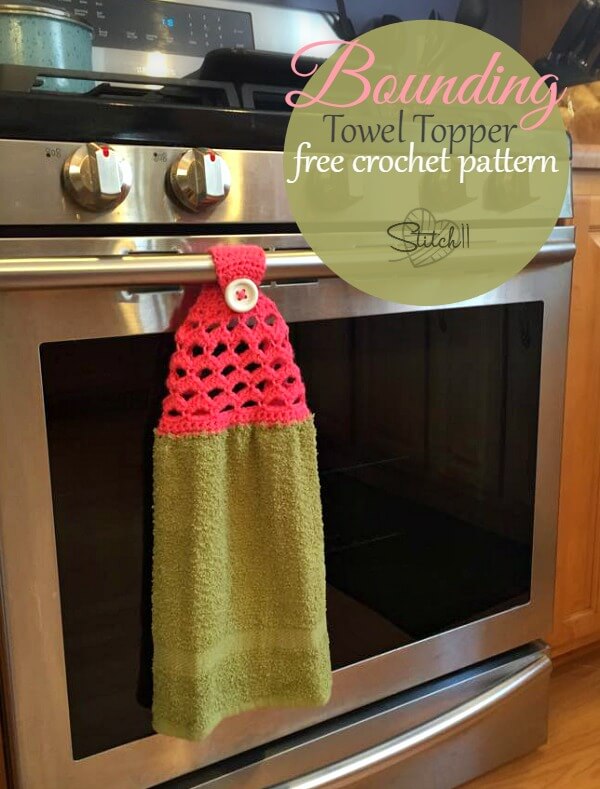 Bounding towel topper is among the beautiful patterns you can try if you are fond of free towel topper patterns. It can be hard for beginners. Check all the information you will need to know in the link below.
Source: https://stitch11.com/bounding-towel-topper-free-crochet-pattern/
9. Summer sundress towel topper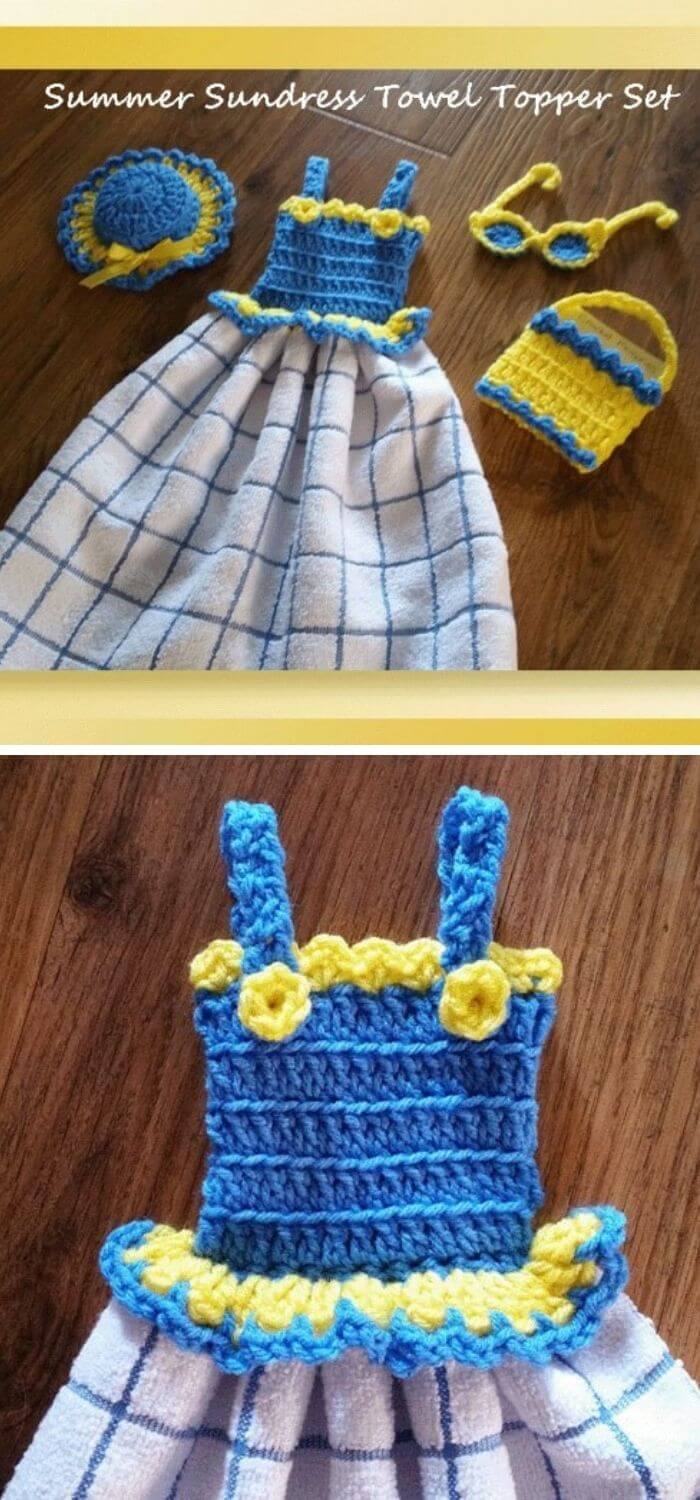 Here are other cute towel topper free patterns that you can crochet at home. Every step seems reachable, and all you need to do is to follow it to the latter. Check out all the basics below and find the steps to guide you crochet a summer sundress towel.
Source: https://www.crochetmemories.com/blog/summer-sundress-towel-topper-set-cal/
10. Classic kitchen towel topper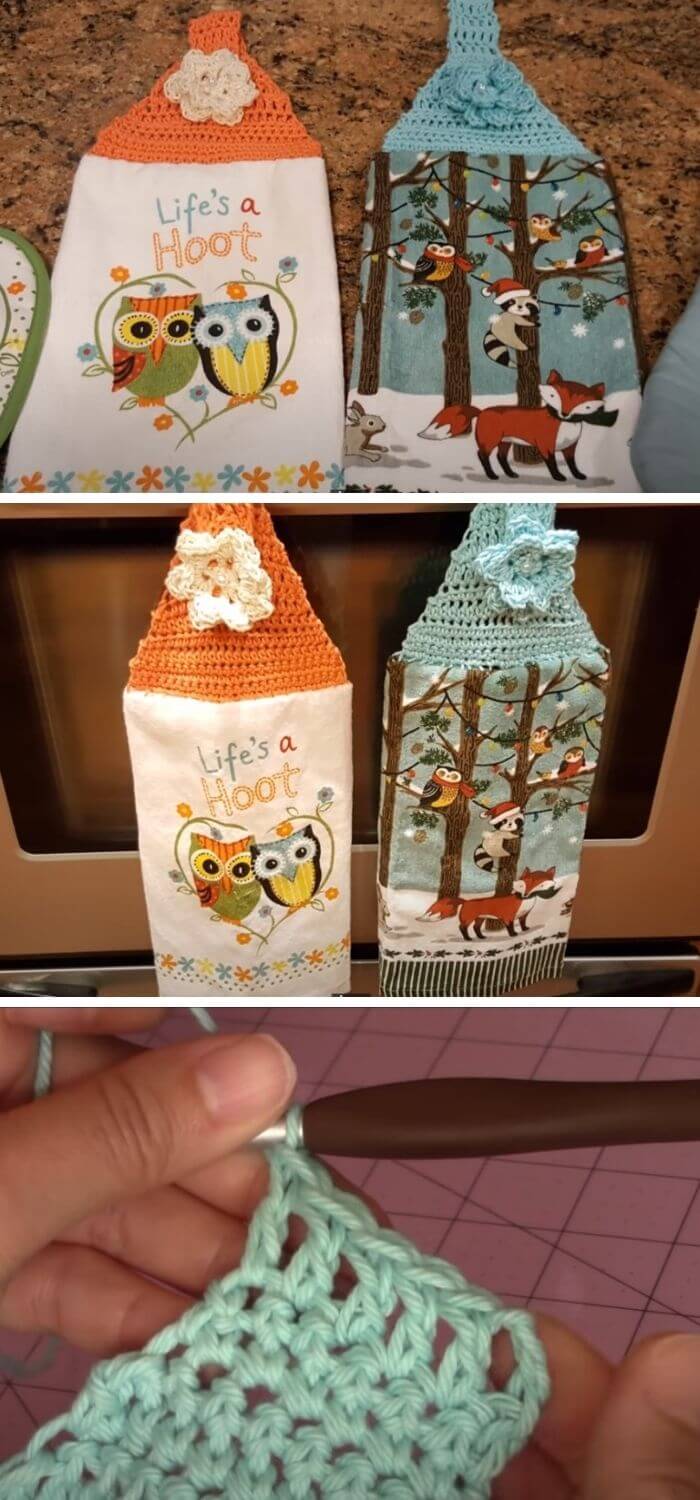 The classic kitchen towel topper is among the beautiful crochet free patterns you may want to try at home. You can check a free downloadable towel from Hellenmay site that will show you quick, easy and classic steps for making this cute crochet towel topper.
Source: https://www.youtube.com/watch?v=gRL7_y8Df_Q&feature=youtu.be
11. Lenysea crochet free patterns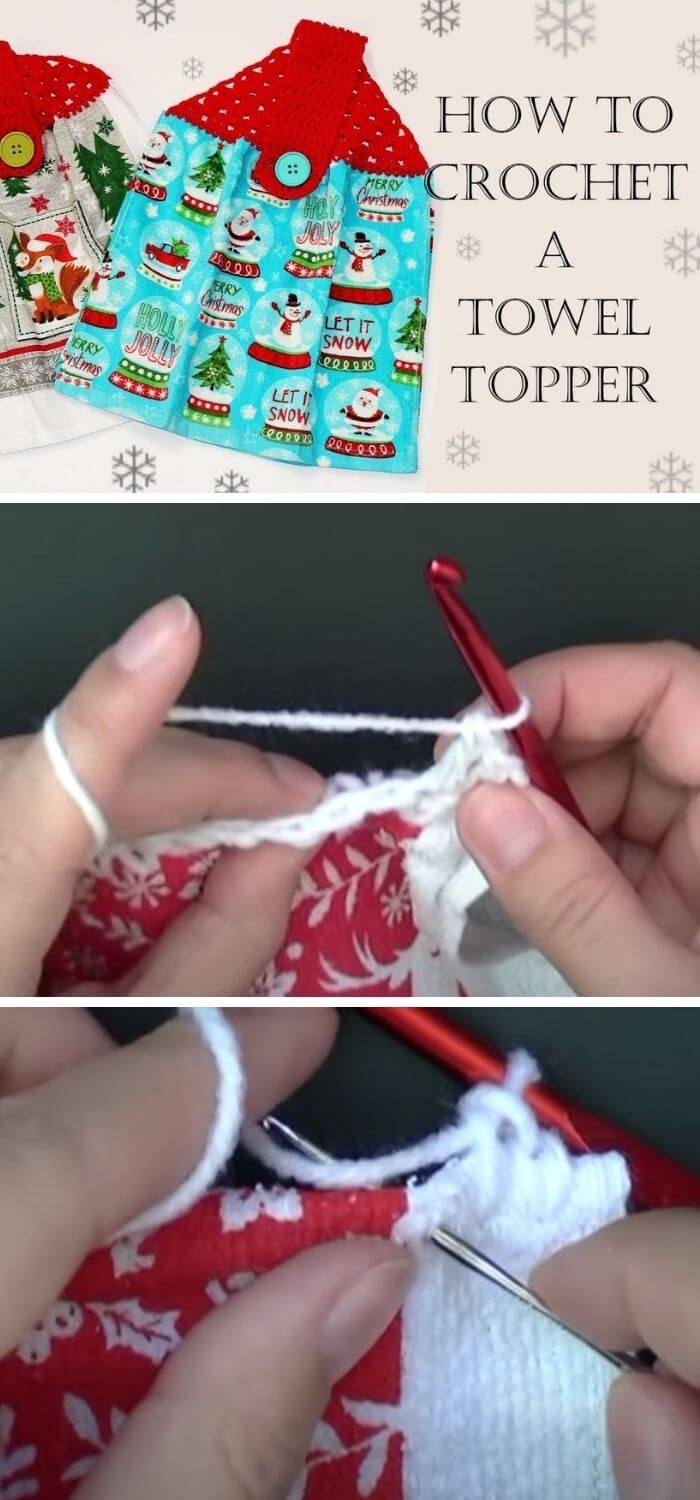 The lenysea crochet towel topper is among the best options that you can try to make at home. This crochet design is gorgeous, and the steps that you can follow are achievable. It could be the best pattern that uses as a gift to your friend.
Source: Lenysea
12. Modern kitchen towel topper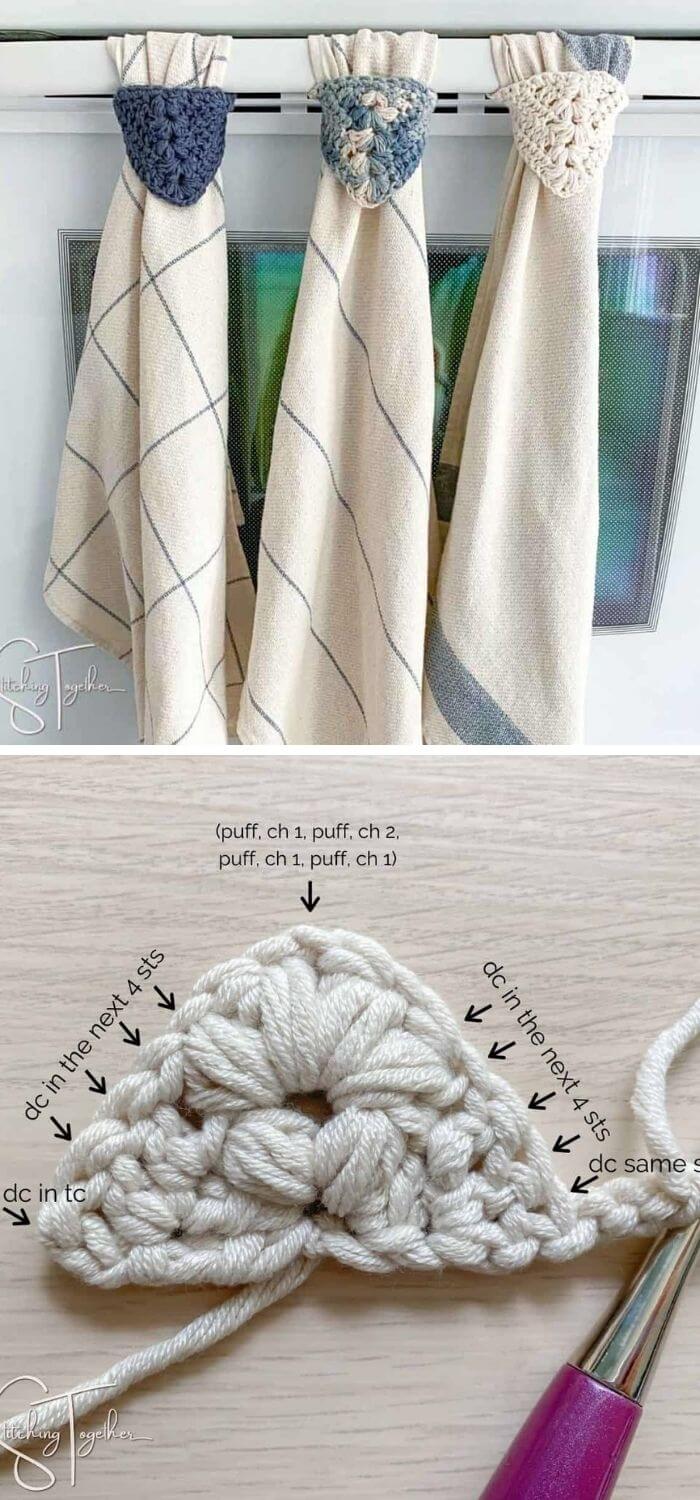 You can check the easy steps from the revelry. If you have little time, and you need to crochet a gift for that person; then check the modern kitchen towel.
It will demand something that will take less time and yet so adorable! You need to try the Modern kitchen towel topper and see if it will serve what you intend.
Source: https://www.stitching-together.com/crochet-kitchen-towel-topper/
13. Easy crochet dish towel topper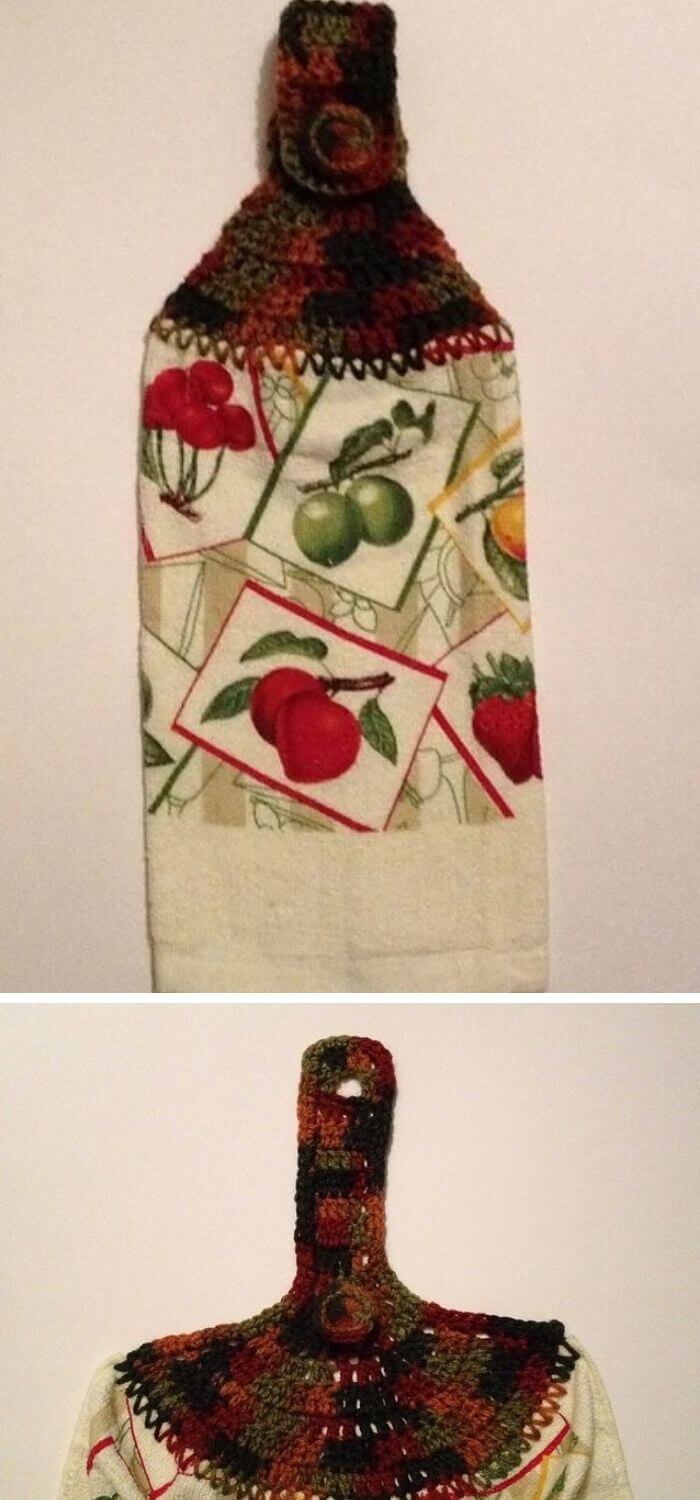 Easy crochet dish towel topper is among the elegant free patterns for you to try. Everything in this crochet looks appealing, and it won't be a lost course if you spend some of your leisure makings stitching the crochet dish towel. Check the stitching instruction from the source below.
Source: https://www.ravelry.com/patterns/library/easy-crochet-dish-towel-topper
14. Kitchen towel hangers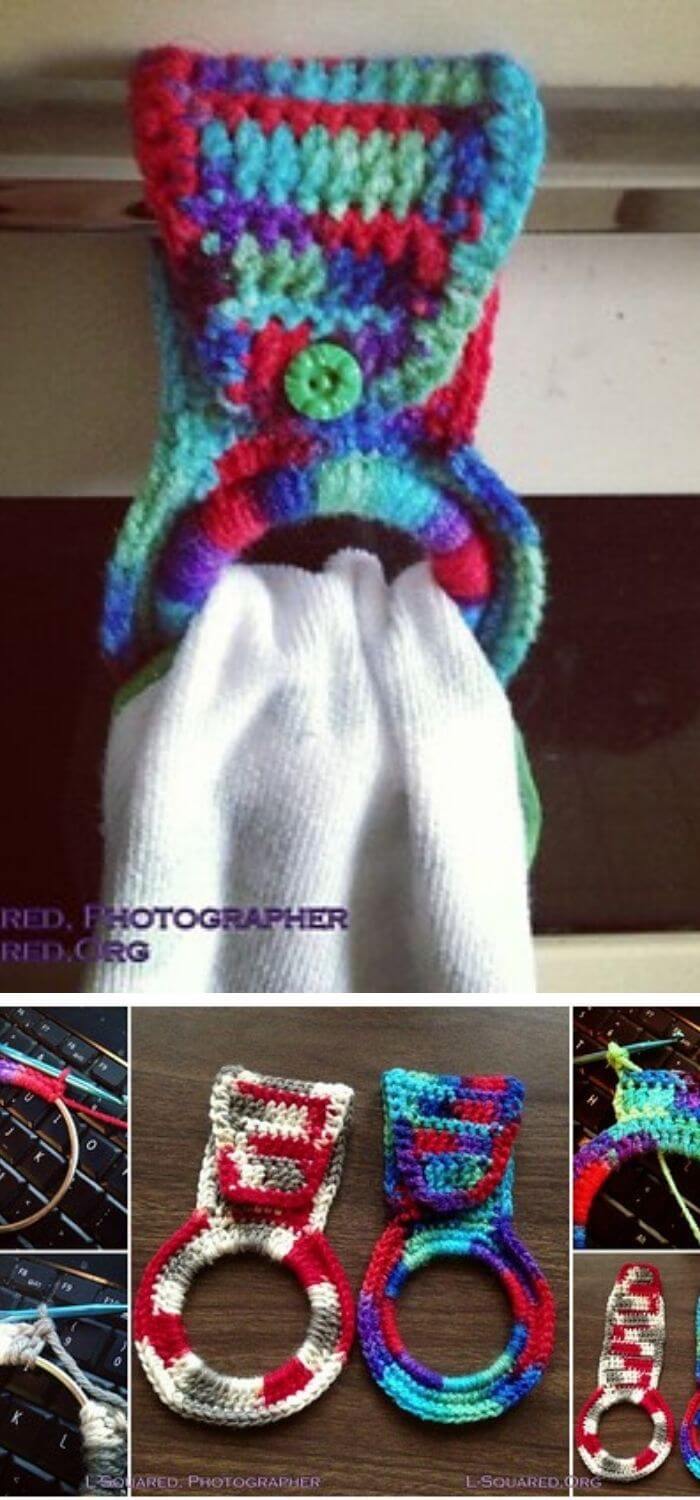 The kitchen towel hangers look quite appealing. They are the best gifts that you can make for your best friend. It is always fun when you can design something yourself for your friend and here is a good idea for you that won't disappoint if you give it a try. The crochet towel topper idea is easy to make.
Source: http://crochetingblind.blogspot.com/2012/12/crochet-project-kitchen-towel-hangers.html
15. Lemon-lime textured towel ring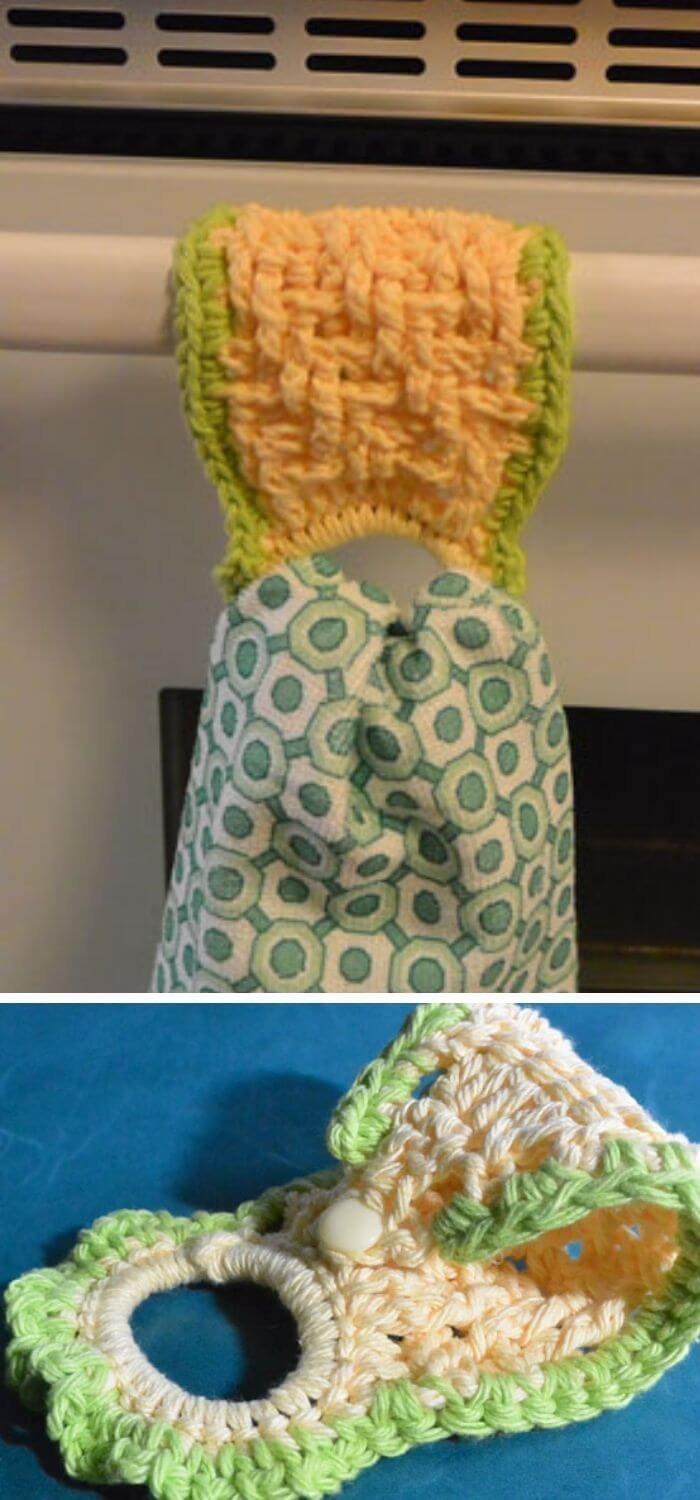 Nothing will go wrong if you create a lemon-lime textured towel ring at home. This crochet ring holder is useful in the kitchen, and it will be a milestone when you have it in your kitchen. The steps are easy to follow, and you don't need to be a pro to crochet it.
Source: https://thecrochetcrowd.com/crochet-tea-towel-ring/