When caring for trees, regular upkeep is crucial, especially to give your yard or outdoor area a tidy, well-kept appearance. Tree trimming is necessary, yet you don't have to waste your money hiring a team of experts to remove those untidy branches. You can accomplish this job on your own and perhaps enjoy it.
If you have the right equipment for trimming the trees in your yard, you can immediately modify the look of your outdoor landscape and even enhance the growth and condition of your trees. Your top priority should be your safety while performing your tree-trimming task, and safety eyewear is a necessity, not a luxury.
You can't tell when a group of branches will leap into your face, and if you're not paying proper attention, you could always walk straight into a small chunk that you hadn't spotted. Never leave the house without goggles to protect your eyes.
In addition, when cutting tree branches, you should put on a pair of sturdy gloves to prevent blisters, cuts, and scratches on your hands. For smaller projects, soft fabric gloves might be adequate, but for more demanding trims, leather gloves will offer better coverage and last longer.
Alongside the various types of saws and a pole pruner, here's a list of tools you can use to give your trees a nice trim.
1. Chainsaw
When using a chainsaw, you'll discover that you'll be able to do your task quickly and that you aren't constrained by the size of the tree branch or limb that you intend to cut.
You can easily get a chainsaw that'll effortlessly cut through extremely thick chunks of wood, unlike other instruments that can only handle smaller pieces of wood.
You should consider the capacity of the engine in your chainsaw and how long the cutting chain will be based on the dimensions of the branches or limbs that you intend to trim.
Even though most small electronic chain saws are exceptionally strong when compared to other instruments, it's preferable to get a bigger model if you'd like to cut any branch with ease.
It goes without saying that using safety gear such as gloves and even tree climbing spikes is crucial when working with a chainsaw since you don't want to inadvertently expose yourself to any risk.
2. Pruning Shears
Pruning shears, also known as hand pruners, are ideal for cutting little twigs with a diameter of up to one inch.
Opt for a bypass pruning shear to trim tiny, living branches. The device, which looks like a pair of scissors, is useful for cutting twigs at unusual angles. Only use anvil pruning shears on dead twigs because they feature a straight, knife-like edge.
3. Loopers
Similar to pruning shears, tree loppers are an upgrade. Pruning shears can't really match the branch-cutting power of tree lopper tools. They're comprised of two handles that operate in a way akin to scissors, and the tool's head has extremely sharp blades that can easily cut through wood.
To ensure you have the best command over your equipment and won't have an accident, the handles are frequently long and require the use of two hands. Tree loppers are easy to use and very efficient.
Loopers should be your go-to tool if you need to remove a branch from one of your trees. With this equipment, you ought to be capable of trimming any tree branches that aren't excessively thick. To make the task simpler while working with thicker branches, use a chainsaw or pole chainsaw. It's advisable to hire a certified arborist if you intend to trim trees with these tools.
You can ensure that you get the maximum capacity out of your loppers by using a ratchet drive. Without these increases in strength and power, you may find it challenging to get your loppers to easily cut through fresher wood or thicker pieces.
4. Hedge Shears
You might be able to employ hedge shears for some of the work, depending on the kind of tree you'll be cutting and how thick and lush the leaves are. If you use manual hedge trimmers, these are excellent for removing heavy vegetation after your tree has matured significantly and are quite affordable to purchase.
On the other hand, you can choose motorized hedge trimmers if you want to reduce the quantity of work you'll need to do and the length of time your trimming task will take. These have safety features built in so you won't risk hurting yourself, and they function with a cutting mechanism similar to finger-bar mowers.
5. Pruning Saw
Get a pruning saw if you want to prune trees. If you need to clip branches that are about 1.5 inches wide or wider, pruning saws work nicely. Pruning saws are available in a variety of lengths and with either straight or curved blades.
Pruning saws have rougher teeth and a slimmer blade than normal carpenter's saws, making the job easier to complete. If you're tempted to employ a regular carpenter's saw, resist the urge. They're reasonably priced and worth the expense.
Most small pruning saws collapse into their handles after you're done as an added comfort, making them simple to put in your pocket while you work.
6. Anvil
Larger branches can be cut down with ease using anvil loppers or anvil shears, which eliminate any concern about making a precise cut. Dead matter that's extremely thick can be easily cut with anvil tools without the blades being driven apart as a result of springing.
Many people like that they're usually much cheaper than bypass shears or loppers, but they tend to do more harm to the tree you're dealing with.
7. Pole Pruner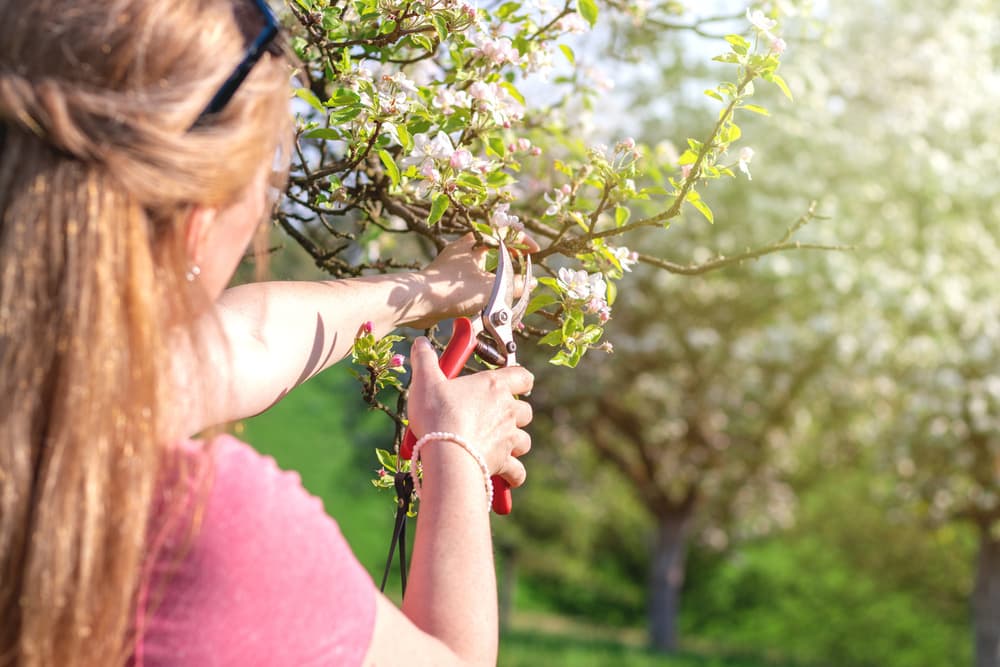 To cut branches that are out of your reach, a pole pruner is ideal. Pole pruners can extend up to fifteen feet, and they can trim branches with a thickness of up to two inches. To preserve your tree's health, get a bypass pole pruner to achieve accurate cuts. When trimming huge branches, choose a pole pruner that includes swappable cutting instruments such as a bypass blade and a pruning saw.
8. Rope Saw
Cutting branches with a thickness of as much as five inches is easy with a rope saw. You may use it with considerable effort to cut through heavier branches because it has a chain-style cutting blade. The majority of rope saws allow you to stand on the ground and cut branches that are close to 25 feet high.
9. Gas Pole Saw
You should pick a gas pole saw with an extending handle so that you can swiftly and simply cut through heavier branches and twigs without needing to climb up the tree or get a long ladder out of the shed.
Conclusion
Trimming is a great way to encourage tree wellbeing while maintaining the aesthetic appeal of your yard, and the proper tools are necessary for effective tree trimming. To achieve the best results, don't forget to sharpen, sanitize, and disinfect your tools in between cuts.