Supply chain shortages and lockdowns have reiterated the importance of self-sufficiency in recent years. While things are starting to level out supply-wise, inflation is putting many people in a place of financial instability.
Survival gardens (also known as victory gardens) are small patches of land used for growing produce to offset diminished food supply and rising costs. Here are six tips for starting your own survival garden next spring.
Choose a Sunny Spot
Location is everything when choosing a spot for your garden. Your chosen plot should have plenty of sunlight and loose, airy soil. It should be an area with minimal weed growth and wetness that's easy to access and maintain. Unfortunately, finding the ideal patch of land is easier said than done.
If you're in an apartment or don't have much land to work with, don't fret— there are several survival garden set-ups for balconies and decks at BugoutBill.com/. You'll need large box installations or a vertical container garden set-up to get started. If you have a container or deck garden, you'll also need to pay more attention to the soil and add nutrients.
Start with Hardy Plants
It's best to start small if this is your first foray into gardening. Getting comfortable with the process and starting with easier vegetables will help you build confidence and get established. Consider choosing a few hardy plants, like root vegetables and herbs.
Root vegetables are incredibly beneficial in a survival scenario. They're nutrient-dense and have more calories than leafy greens. Root vegetables like beets, potatoes, carrots, and turnips are also easier to keep after harvest.
Herbs can be used to add flavor to your vegetables in a survival situation and can also be dried and kept for months following harvest.
Consider Coverage
Much of the work in gardening is preventing pests from ruining your crops. Depending on your area, these pests could include bugs, rabbits, deer, crows, and weeds.
Adding some form of coverage to your garden can help keep pests out while letting the sunshine in. Consider building a basic greenhouse or mesh domes over your crops. You can purchase prefabricated options or make your own with basic materials.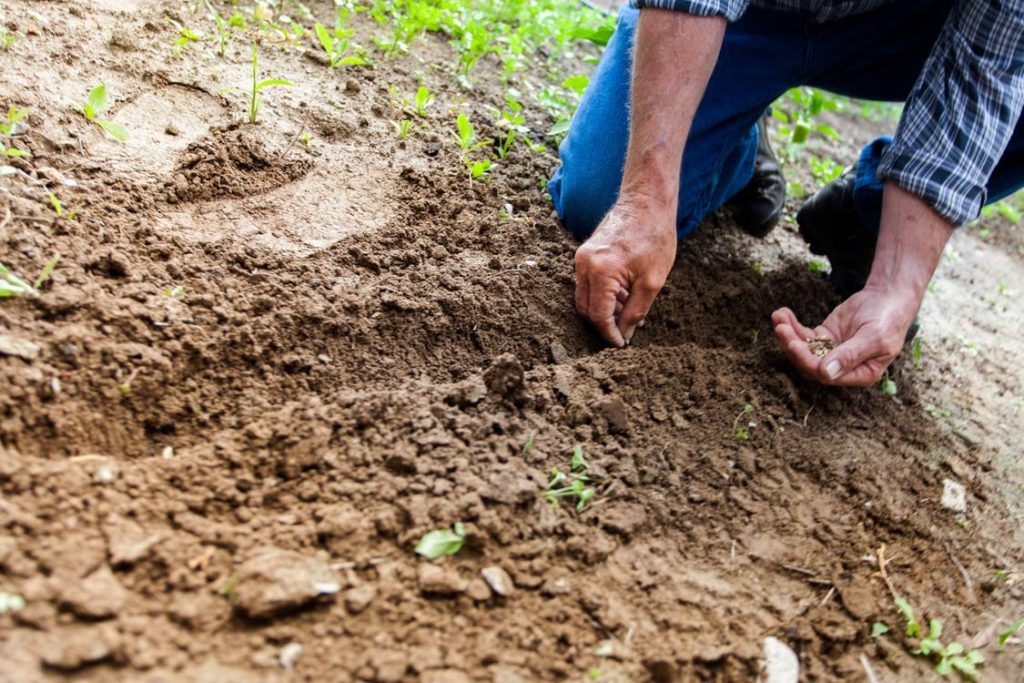 Learn About Companion Plants
As you get more established with your survival gardening setup and routine, take some time to learn about companion plants. Some plants help each other grow, while others tend to do poorly when placed together. These plants compete for nutrients and space or attract pests when paired:
onions and beans
cucumber and rosemary
onions and peas
garlic and peas
potatoes and tomatoes, squash, cucumbers
tomatoes and cauliflower, corn, cabbage
Some plants that help each other grow include:
tomatoes and leafy greens
peppers with tomatoes and onions
beans and corn
cucumbers with beans and lettuce
onions and carrots
carrots and tomatoes
Understanding the friends and foes of the gardening world will help you create a sustainable survival garden layout.
Practice Seed Harvesting
One of the most important aspects of survival gardening is learning how to harvest seeds for next year's crops. Your garden isn't truly self-sufficient until you master this skill.
Some seeds are easier to harvest than others. For tomatoes and peppers, you simply scoop out the seeds when preparing the food, then clean, dry, and store them. Others, like potatoes, require setting aside a portion of your crop for next year.
Once you determine what vegetables you'll grow this year, take some time to read about their unique seed harvesting needs.
Make Garden Care a Habit
Paying attention to your garden requires dedication and habit-building. Set aside time every morning and evening to dedicate to weeding, watering, and checking your plants.
With time and practice, you'll create a sustainable survival garden to prepare you for whatever life throws your way.