Renting a home is a popular choice in the UK, especially in areas where house prices are forcing people out of the buyer's market. The number of people renting in the UK has generally been increasing each year over the last two decades, and there are now nearly 4.5 million households occupied by private renters.
Typically an individual who wants to rent a home will have to pay a deposit. This will normally be returned at the end of the contract, however, disputes can and do occur over this money.
One of the reasons that security deposits are held back is the cleanliness of the property. Thick stains and marks on upholstery could require specialist cleaning or perhaps replacement. The cost of this will come out of the deposit, meaning the tenant will receive less or no money back.
Not only is the deposit a concern, but cleaning a home can take time and moving is already stressful enough without adding more tasks on top of it. With that in mind, here are 5 handy tips that might make your end of tenancy cleaning less stressful.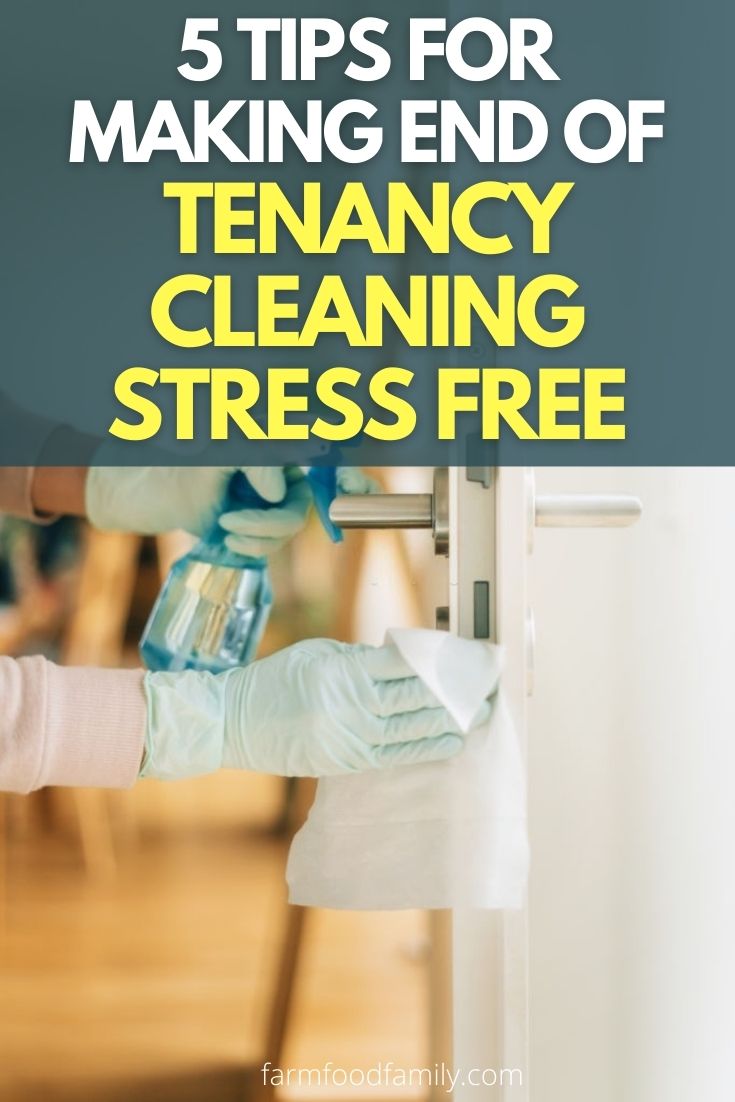 Recruit your friends onto the task force
Reducing the workload is one way to make the cleaning process less stressful, and bribery is one way to entice people to help. Ask friends if they are willing to lend some time to get your home ready for its inspection and make a day of it by promising to get pizza in and cold beers once the work is done.
You'll have more fun doing the cleaning with friends and the work will be done that much quicker.
Declutter and downsize before you start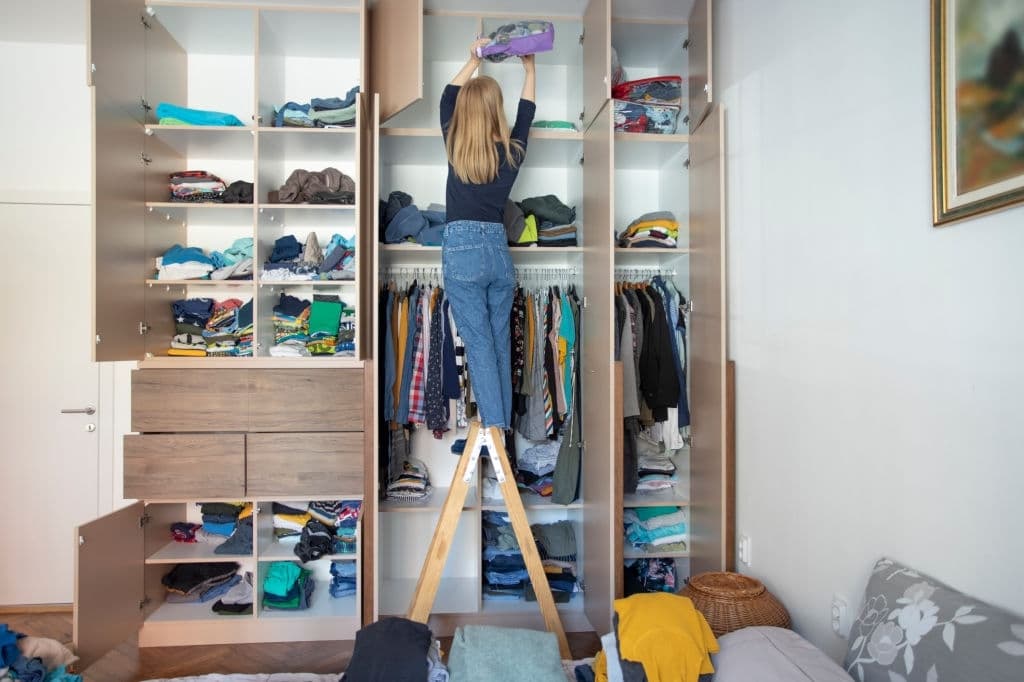 Moving is a great opportunity to rid yourself of unwanted, unloved, and unused items around the house. You can discover how easy it is to declutter your life and your home by removing items you don't want to take with you.
You will make your packing a lot easier which means that you can start on your cleaning sooner and have more time for it. By creating extra time for your cleaning schedule you will take some of the stress away.
You can also have a lot of fun with this by having a lawn sale. You can raise a few extra pounds by selling those items you don't want and at the same time, see what needs to be done in the way of cleaning the garden.
After the lawn sale, clear the garden and find the best garden rubbish removal service to take away anything that needs to go. A clear garden will be noticed and appreciated by the landlord. 
Don't clean the bathroom until the last day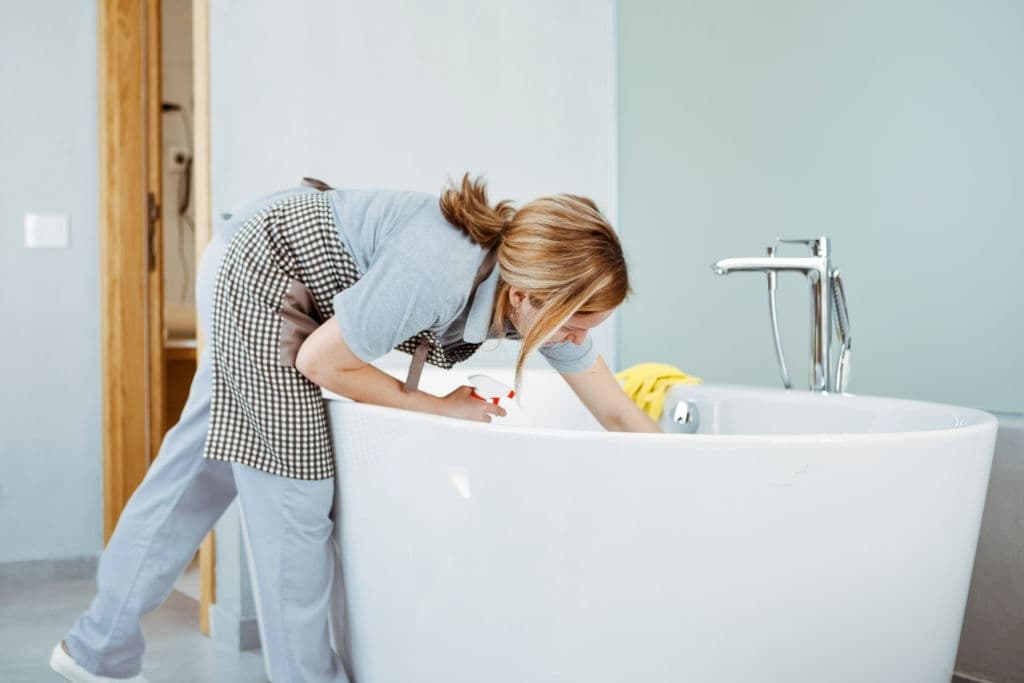 You can minimise how much you use the kitchen in the last few days but you will be constantly using the bathroom. This is especially true if there is more than one of you in the home. Leave the bathroom until the last moment so you are not redoing it. If you want to make life a bit easier for yourself, clean the worst parts of it beforehand. Places such as the grouting and other tough areas could be done in advance so you can have a quicker clean at the end. 
Use professionals
Cleaning a two-bedroom home from top to bottom, knowing it will be inspected is not only time-consuming but also daunting. If you are worried about getting the deposit returned in full then it may make sense to hire some professionals to do the job for you.
The benefits of hiring cleaners include:
A guaranteed cleaning service

Next day appointments often

Guaranteed deposit return

Time and money savings

No or less time off work

Less stress
Hiring local firms makes sense as you can check out their credentials and being in the vicinity will add to the convenience of the service. To find a company, search Google with end of tenancy cleaning in Wandsworth for instance, and the local service will be shown. 
Set tasks between you and your partner or housemates
First, make a schedule of all the tasks that need to be done. Then you and your housemates can decide who will do what, and work through the list.
Having a list of tasks that you can tick off will make the job less stressful and you won't miss any areas off. 
Summary
The British Landlords Association advises on how to avoid the tenants from hell but being a tenant yourself you will be concerned about how nice your landlord is. While the biggest concern will be getting the deposit back, you will also want to reduce the moving-out stress.
Using some of these tips above can reduce the stress you feel and should also help you to receive your deposit back in full. Using end of tenancy cleaners can actually guarantee that you will get your deposit back so that might be the most stress-free method of all.