An air conditioner (AC) is among the most important appliances in a home. AC units enhance the indoor air in your living space, making your home more habitable, cozy, and welcoming. However, deciding to invest in an AC is one thing and purchasing a unit is totally different.
There are important things you need to consider when purchasing an AC to make the most of your buck. Finding the AC unit that'll be a part of your house's heating, ventilation, and air conditioning (HVAC) system. Among things you must consider when purchasing an AC that'll perfectly fit your needs include:
1. Type
Understanding your requirements when choosing an AC unit will significantly help you out. There are different AC products on the market, each serving a different purpose. Since all have different features based on their purposes, a misunderstanding can easily result in purchasing the wrong AC type.
Here are some commonly used CA types to help you choose the perfect air conditioner to suit your needs:
Split Air Conditioning System: Split air conditioning systems are suitable for rooms with no windows. This AC type is installed on top of the wall; hence it requires limited space compared to the window air conditioning system. Regarding visual appeal, split air conditioning systems look better than window AC. Commercial HVAC companies incorporate advanced features in split ACs to make them better products as well.
Window Air Conditioning System: This type of air conditioning system is designed for rooms with windows. Yet before investing in window air conditioning, you need to be aware of the following. For one, window air conditioning requires ample space to install. That said, the AC installer might need to enlarge your home's windows for easier installation. 
Portable Air Conditioning System: Not long ago, portable ACs made their way into the market. They received a warm welcome as homeowners with tiny homes discovered ACs designed for small rooms. Portable ACs are suitable for tiny rooms where window and split ACs can't be installed. These ACs are small, can be installed anywhere in a room, and are relatively less expensive compared to their other AC type counterparts. 
2. Cooling Capacity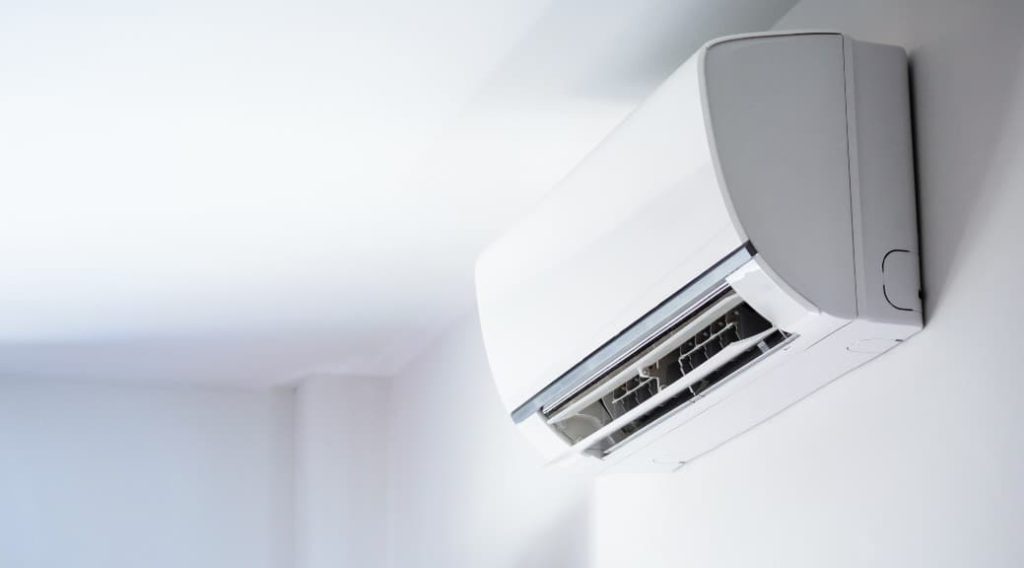 Purchasing an air conditioning system with less tonnage for a larger room might result in high monthly electricity consumption. This will increase the power bill you pay per month. Such AC can't efficiently cool your room due to low tonnage.
Meanwhile, a large AC isn't ideal for a smaller room. With that in mind, it'd help if you researched the ideal AC that can cool your room just the way you need. If this seems challenging, consider consulting with an AC installer to advise you accordingly.
3. Size
As explained earlier, there are different air conditioners on the market. These ACs are different in size and have different features.
Prior to selecting an AC, it's essential to consider its size based on your space. A small room might only need a portable AC unit, while a larger one might go well with a window or split air conditioner, depending on the windows in your room. 
4. Power Usage
Home experts agree that ACs are among the biggest energy consumers when it comes to home appliances. With that in mind, it's vital to consider the energy amount your new AC will consume.
Fortunately, with product ratings and certifications from the authorities, you can easily choose an AC with less power consumption. When choosing a power-efficient AC based on the tick, remember that the more ticks or stars, the less electricity a particular AC requires. An AC with fewer ticks or stars means more power usage.
Do keep in mind that while some ACs might cost less, they might prove to be expensive in the long run, especially if they require more energy to run.
5. The AC Condenser
The life and working capacity of a particular AC depend on its coils and condenser. ACs are installed or equipped with either aluminum or copper condensers.
What are the differences between the two? AC units with aluminum condensers are said to be more pocket friendly than those with copper condensers. But they're expensive to maintain.
Aluminum condenser-equipped ACs also have a short life expectancy. On the other hand, ACs with copper condensers are costly to purchase but are cheaper to maintain. These indoor home cooling devices are designed to last long too. 
6. Amount Of Noise Emitted
You should also consider noise when choosing an AC. Most AC makes lots of noise when functioning. Nevertheless, they all produce different amounts of noise.
When shopping for an AC, settle for a model that produces less noise than 50-60 DB. It's vital to note that the amount of noise your AC produces will disturb you when sleeping, working, or relaxing. AC noise can also interfere with your hearing capability.
Hence, asking the AC provider the amount of noise a particular AC produces before making your choice is essential. Note that an AC that produces lots of noise upon purchase may produce even more noise with time.
7. Dehumidification Unit
It's vital to know about the dehumidification unit in a particular AC. The work of a dehumidification unit is to minimize the amount of humidity in a room.
An AC with a better dehumidification unit works efficiently, reducing power and maintenance costs. Plus, check the quality of filters in an AC because they enhance the unit's workability.
8. Warranty And After-Sale Service
Go for a brand that offers a generous warranty and commendable after-sale customer service. Since appliances are bound to malfunction, regardless of the type, brand, or how much they cost, it's important to know that you can count on the manufacturing company to step in (the AC company in this case), diagnose the issue, and carry out the needed repairs accordingly.
Conclusion
The AC purchasing process can be daunting since there are plenty of AC types available in the market, with each serving a different purpose. Nonetheless, knowing what you want and what to look for in an AC can make choosing a bit more seamless and stress-free. Hopefully, the considerations mentioned above will go a long way in helping you choose a better AC for your family and your living space.