Between juggling our personal and professional lives, catching a break with our loved ones can seem almost impossible. With everything going on in our day-to-day lives, sometimes all we crave is to take a step back and press the metaphorical 'pause' button. Camping is a great way to accomplish this – whether you're a camping virgin or a veteran!
With an estimated 1.2 million UK residents backing up the latter statement, camping is a beautiful way to take a break, spend time with loved ones, and press the pause button on life. However, for those in your party that have never enjoyed the camping experience or are dubious, you might be wondering how to make the experience enjoyable for everyone (and one they'll never forget!). 
While you and your loved ones are bound to have fun regardless of how you spend your trip, introducing a new piece of equipment like an outdoor pizza oven or a new activity can rejuvenate your love for spending time outdoors. From choosing a new location to impressing your loved ones by cooking homemade pizzas with the Ooni Fyra 12 – here are several suggestions for taking your camping experience to the next level. 
Upgrade Your Camping Equipment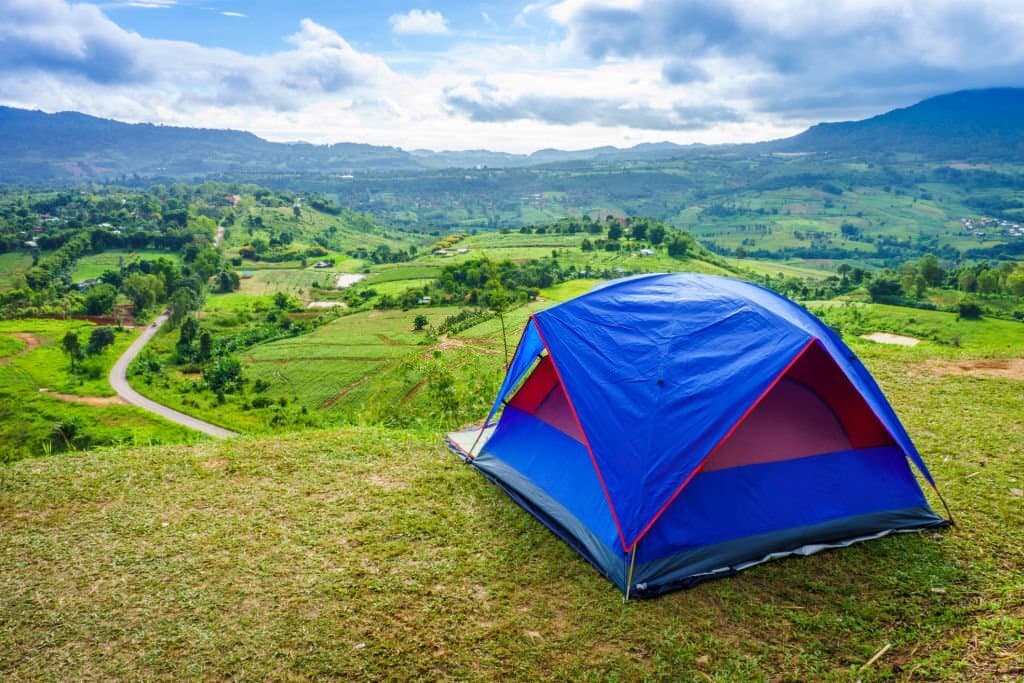 When UK families go camping, there is often a clear divide between those who want to go 'camping' and those who want to go 'glamping'. Going camping usually involves packing your tent, pitching it, and enjoying living among nature over the course of a weekend.
In contrast, 'glamping' means arriving at your destination to find your accommodation, usually with amenities such as electricity and running water, ready and waiting. Popular to contrary belief, traditional camping doesn't involve living off the land – it can be as comfortable or uncomfortable as you want.
You can take your camping experience to the next level by prioritising comfort and ensuring you have everything you need. Begin with the essentials – a reasonably sized tent, mats, comfortable sleeping bags, inflatable beds, camping chairs, insect repellent items and a gazebo.
Next, pay some consideration to the cooking equipment you intend to bring. Still, relying on that gas camping stove you've had for years? Why not upgrade your camping kitchen by investing in an outdoor pizza oven like the ones from Ooni. 
As well as being a fun activity for you and your loved ones to partake in, the Ooni Fyra 12 is designed for outdoor use and can be used to cook more than just pizza. Learn how their products could take your camping experience to the next level by visiting their website or contacting a team member directly today.
Choose A Different Location
Once UK families find an excellent holiday spot, the temptation to keep returning is strong; however, returning to the same destination can get tedious over time. So, why not take your camping trip to the next level by considering a different location? The UK is home to some of the most awe-inspiring camping destinations worldwide, so there are likely some locations that you may have overlooked.
Explore some of the top-rated camping locations in the UK by looking on the internet or asking family and friends who go camping regularly where they've been recently and if they would recommend going there. In addition to location, ensure that you investigate the activities close to the site, such as fishing, hiking, and swimming, which are all great additions to any camping trip. 
Decorate Your Campsite
While you're away, your campsite will be your home away from home, so why not take your camping experience to the next level by decorating your campsite and making it homier? Far from being just for your home, whether you are camping in a yurt, tent, campervan, van, trailer etc., a few decorative elements can go a long way in making a camping experience more enjoyable.
Get creative and ask your loved ones for décor advice; you could purchase some battery or solar-powered fairy lights to hang around your tent, camper, or picnic area to create warm, soft lighting around your campsite.
Or you could consider laying out foam floor tiles and rugs to make the floor softer, which will make it easier for you to get a good night's sleep, plus insulate the tent if you're camping during winter. You could also invest in beanbags for extra seating or use pretty trays to keep items in one place and prevent them from cluttering up your picnic area.
Make An Itinerary
Like you would when planning any breakaway, you could take your camping trip to the next level by making an itinerary from the time of packing up to when you arrive back home. If you're going as part of a large group, ensure that you consider what your travelling companions would like to do to avoid anyone feeling unenthusiastic about the trip.
Whether you'd like to spend one day on the beach collecting seashells or exploring one of the many hiking trails, ensure that you include a little bit of everything on your itinerary to make your trip one of the best possible.