Today, everyone likes to maintain greenery in and around their houses to make it look more elegant & complete. But, it is difficult to maintain gardens with a busy and hectic life.
Succulent Gardening has turned out to be one of the best ideas and has quickly become a craze among many people. These are perfect for dry environments, and can be arranged anywhere from indoor patios to outdoor gardens, poolside and even along the driveway.
Many people think about cactus when they think of succulents but there is so much more than a simple cactus in your flower garden. You can create a captivating gardening area using a wide array of succulent types.
We have got some excellent ideas for you to use those succulents which are relatively inexpensive and can be found anywhere.
Succulents' gardens are a great choice if you actually don't have time to maintain a flower garden. They require very little care and can flourish in many regions including coastal areas and even where there is almost no rain throughout the year.
Here are some of the great DIY indoor outdoor succulent gardening ideas that will help you to maintain greenery in and around your house: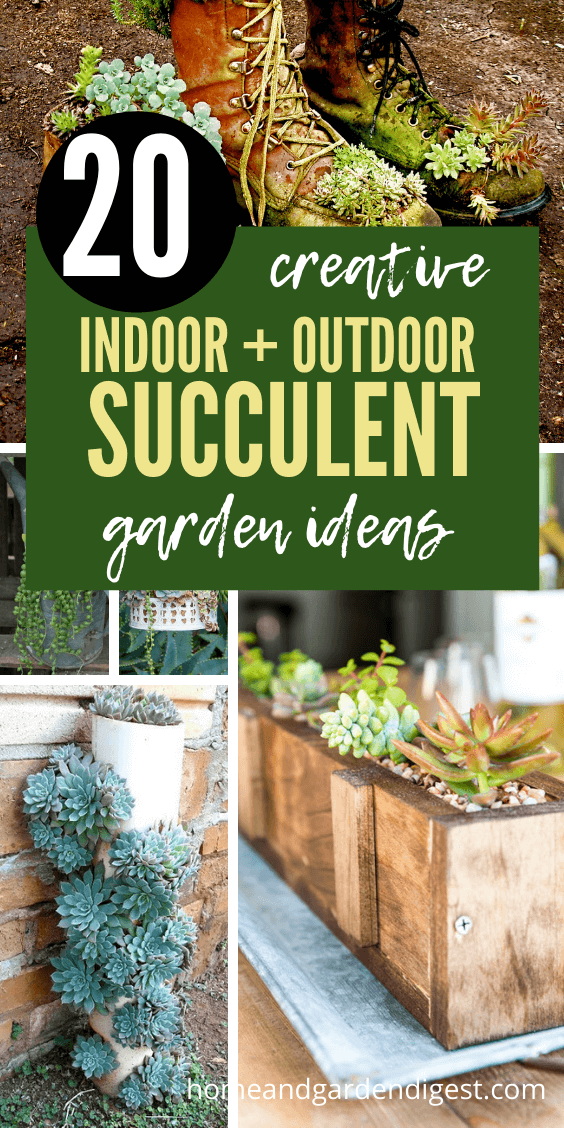 1. Stairway Succulents
This beautiful succulent display uses a tree trunk as a background. It is an excellent gardening option for those who have old trees in their yard and don't want to cut it down. If you don't have a tree then there is no need to worry about it, you can still do it with a ladder. You can use a number of succulents in different types and sizes.
2. Mug Succulent Planter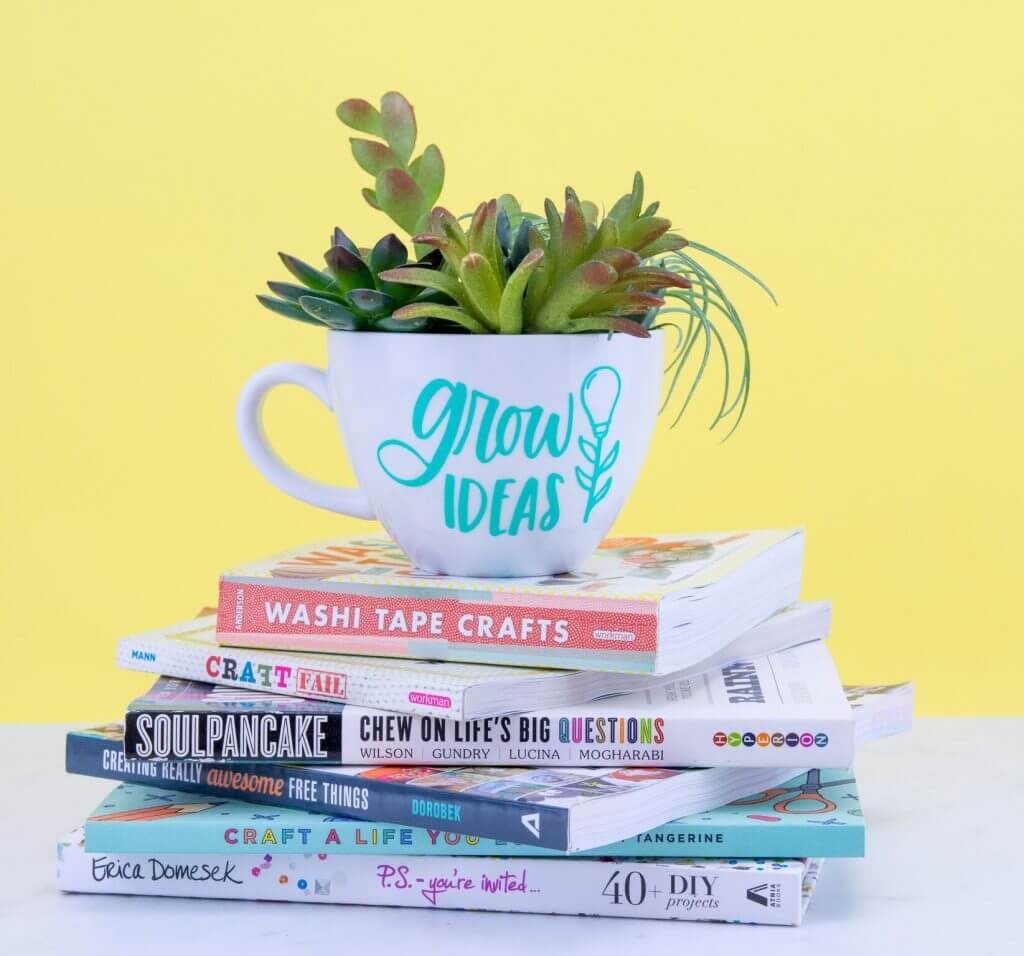 Source
Have you ever had a succulent in a mug? This sounds a little crazy, doesn't it? But you can make a succulent plant in your old mug that is of no use. This project is super easy because of artificial succulents. It will look cute when you keep it over piled up books or on your study table.
3. Wheelbarrow Succulent Garden

Source
An old wheelbarrow lying in your backyard is perfect for succulents. If you don't have it then you can buy it from the flea market for just a few dollars. You can add some pea gravel and some mesh and potting soil to create the base for succulents. This cute little mini garden is perfect if you don't have much ground room to plant succulents.
4. Cinder Block Succulent Garden

If you are left with some cinder blocks in your backyard, and most people do, you can use them to create some beautiful display area for your succulent plants. Just arrange the cinder blocks like in the picture and add potting soil. Now place some succulents where you want them, to build the display.
5. Birdcage Succulent Garden

Source
You can just take an old birdcage and turn it into a holder for your succulents. Use a birdcage that opens from the top as it makes it easier to access the plants inside. You can normally find these bird cages at thrift shops or you can buy them from the craft store. You can use a hanging basket liner in the bottom of the cage to hold the plants.
6. Succulent Wreath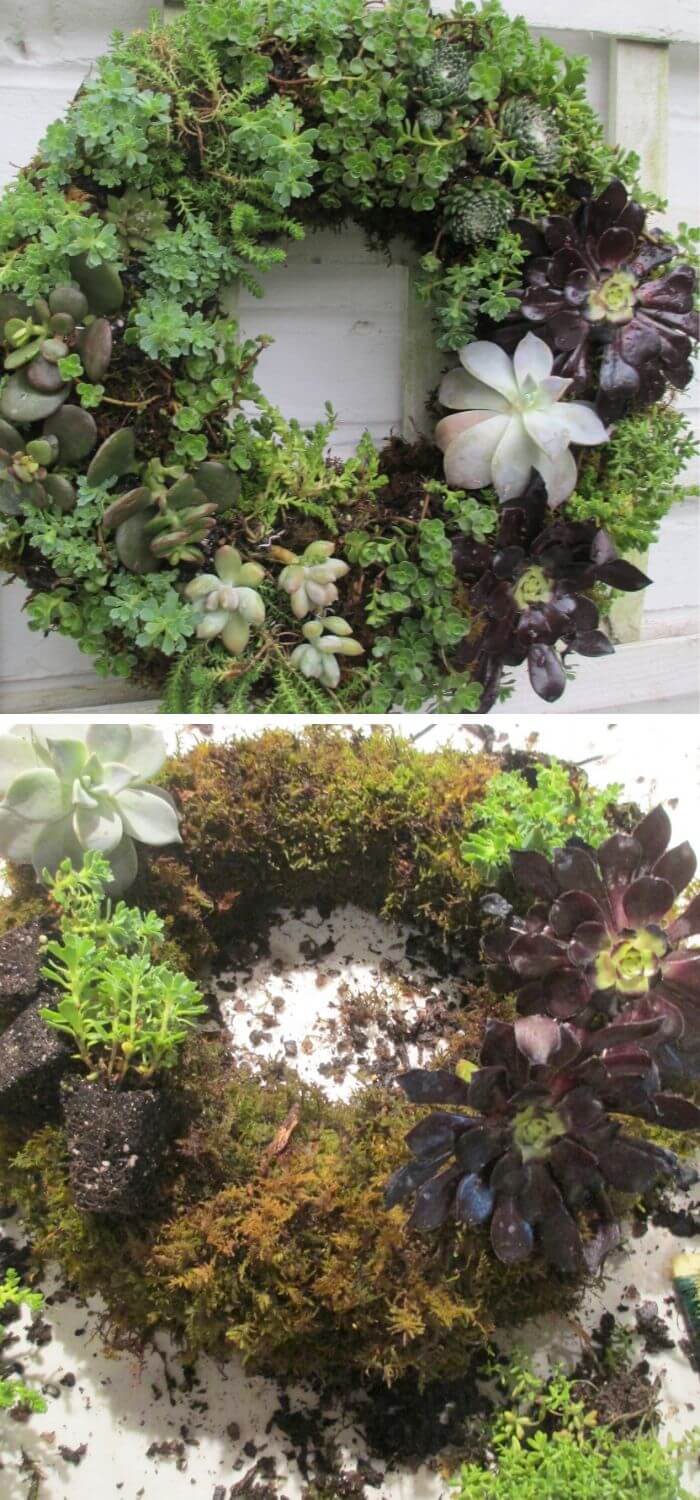 Source
This succulent wreath is perfect for you if you have very less space in your succulent garden. You can use a variety of different succulents to create the wreath which you hang on the side of your house or in your garden. You can use a floral wire to hold the succulent wreaths together.
7. Watering Can Succulent Planter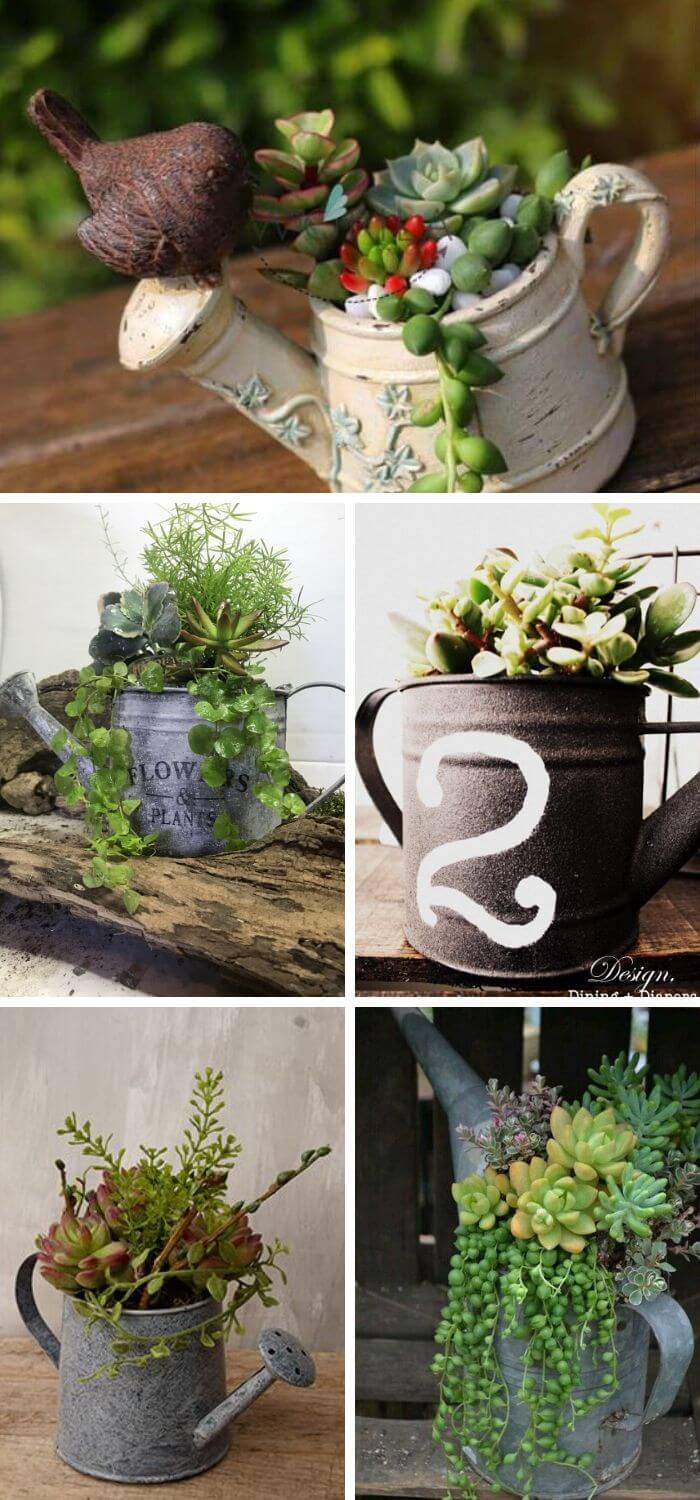 Source
If you have got some old gardening that you don't use anymore to water your plants, you can fill it with the succulents that you want and keep it at a place of your choice.
8. Shoe Succulent Planters

Source
Take old pairs of shoes that are just piled up in your store to turn them into wonderful planters for your succulents. You can just stuff the shoes with cactus soil and add your succulent.
9. Succulent Garden Chair Planter

Source
This chair turned mini garden looks wonderful. You can use a chick wire to hold the plants in one place and put the plants of your choice. This is a great upcycled project for broken chairs if you have a great creative base.
10. Outdoor Succulent Plant Shelf

This succulent plant shelf is perfect if you don't have enough space for a more traditional garden. If you have an old pallet, you can convert it into a lovely shelf and can hold a lot of succulents.
11. Succulent Planter Box

If you have a wooden box that is of no use, it can be turned into a planter box. Put different colour succulents in the box to get a wonderful looking rainbow. It is easy to move this box in a place where you want to keep it.
12. Succulent Dish Garden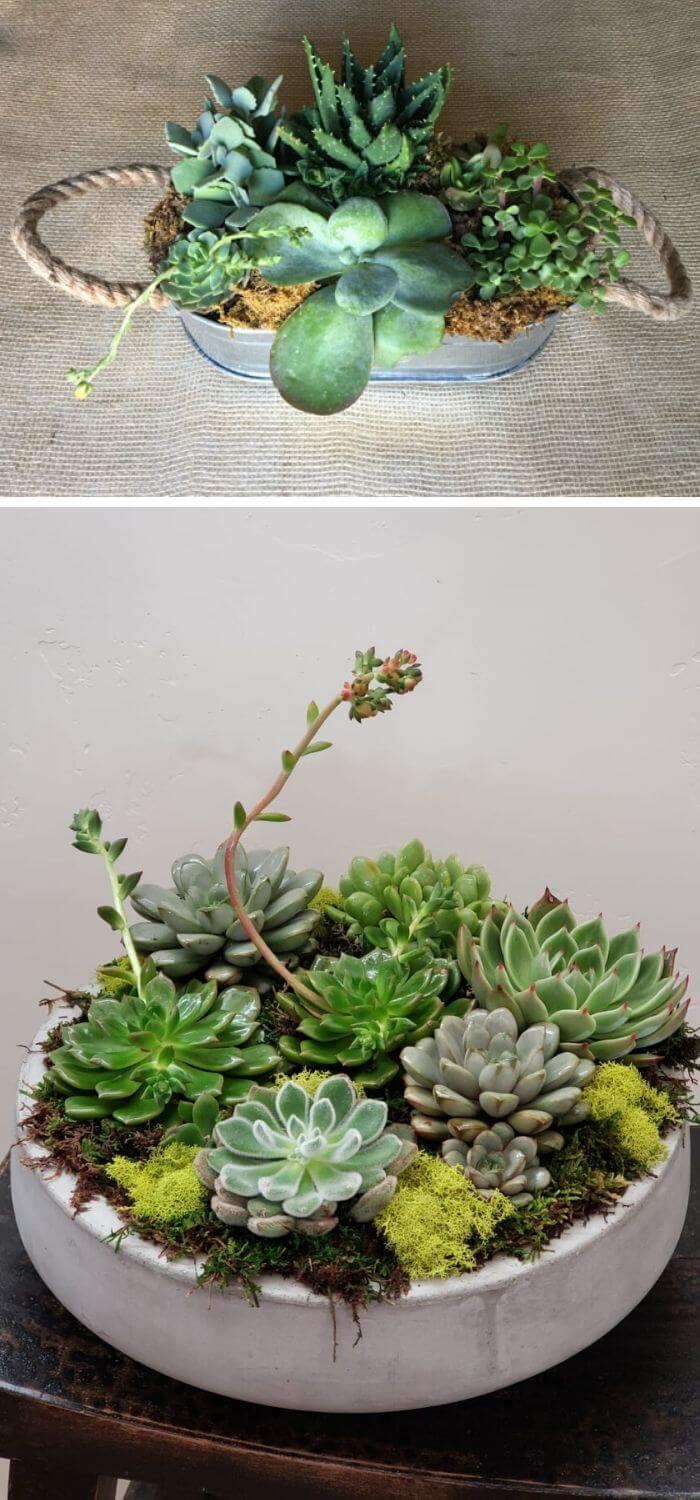 Source
If you are planning an indoor garden then this dish garden is the best choice for you. You can even use it outdoors by just adding more dishes.
13. Succulent Pallet Garden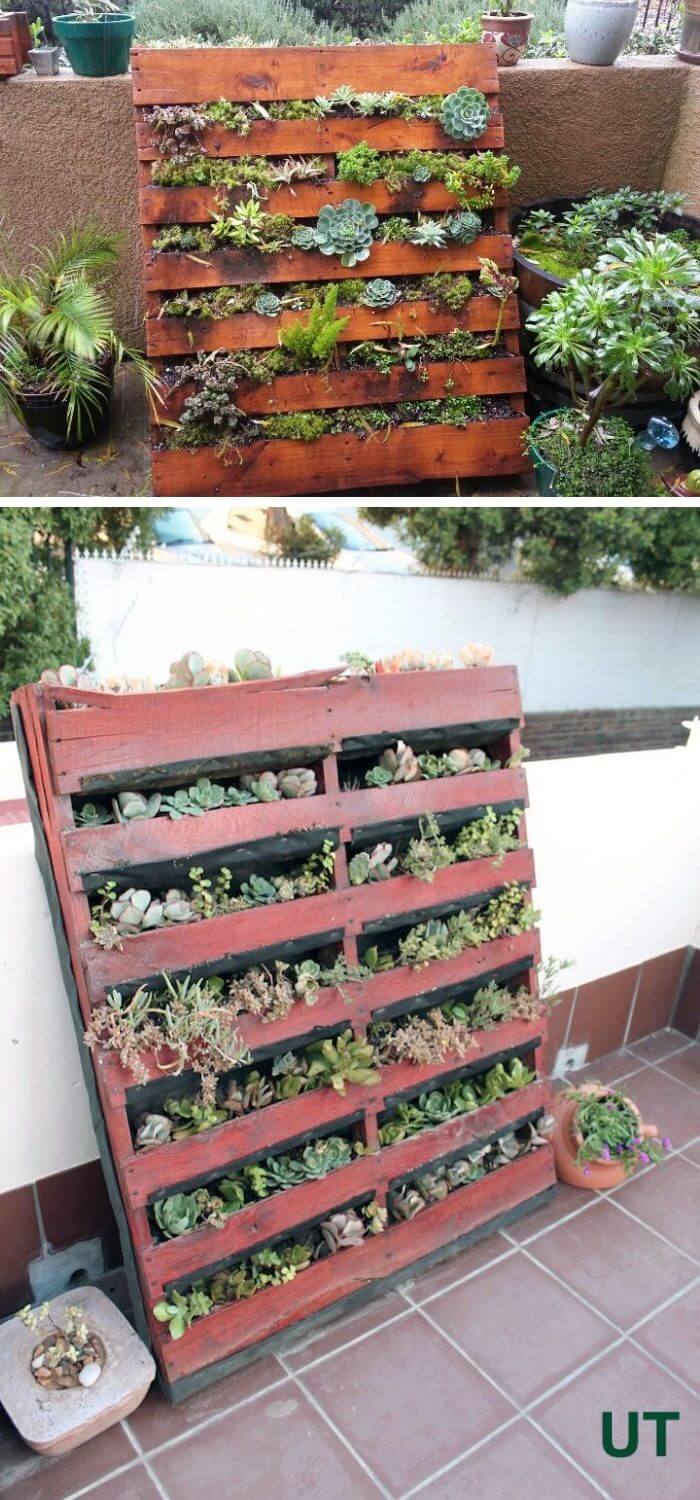 If you have an old pallet, it can be turned into a wonderful succulent garden. Simply lean it against the wall and use it to hold the small plant containers. Add succulents of different sizes and colours to get a colourful look. If you want, you can affix it to the wall to make it more stable.
14. Succulent Spheres

Source: bhg, drought-smart-plants
Your garden will look more beautiful with these hanging succulent walls. You just need peat moss to hold the plants in the sphere balls. These succulent walls can be hung anywhere to add grace to the place of your choice.
15. Old Fishing Tackle Box

Source
If you have a new tackle box or an old rusted one that is not used for fishing any more, it is perfect for creating a mini succulent garden and can be easily placed where you want.
16. Broken Pottery Succulent Garden

Instead of throwing old broken pottery, it can be used to create an appealing succulent garden. Broken pottery provides a beautiful backdrop to colourful succulents and gives it a unique setting. You can add decorations to turn it into a mini fairy garden.
17. Purple Pavement Succulents


Turning your concrete corner is a true work of art. You can use these beautiful succulents to fill in the crack between the sidewalk. The effect is really beautiful and you can plant this to turn it into a larger succulent garden.
18. PVC Pipe Succulent Garden Planter

Source: youtube, flickr
An old piece of PVC pipe can be converted into an amazing vertical planter. Just cut out holes where you want plants to show and then find the place to hang them.
19. Old Wagon Wheel Planter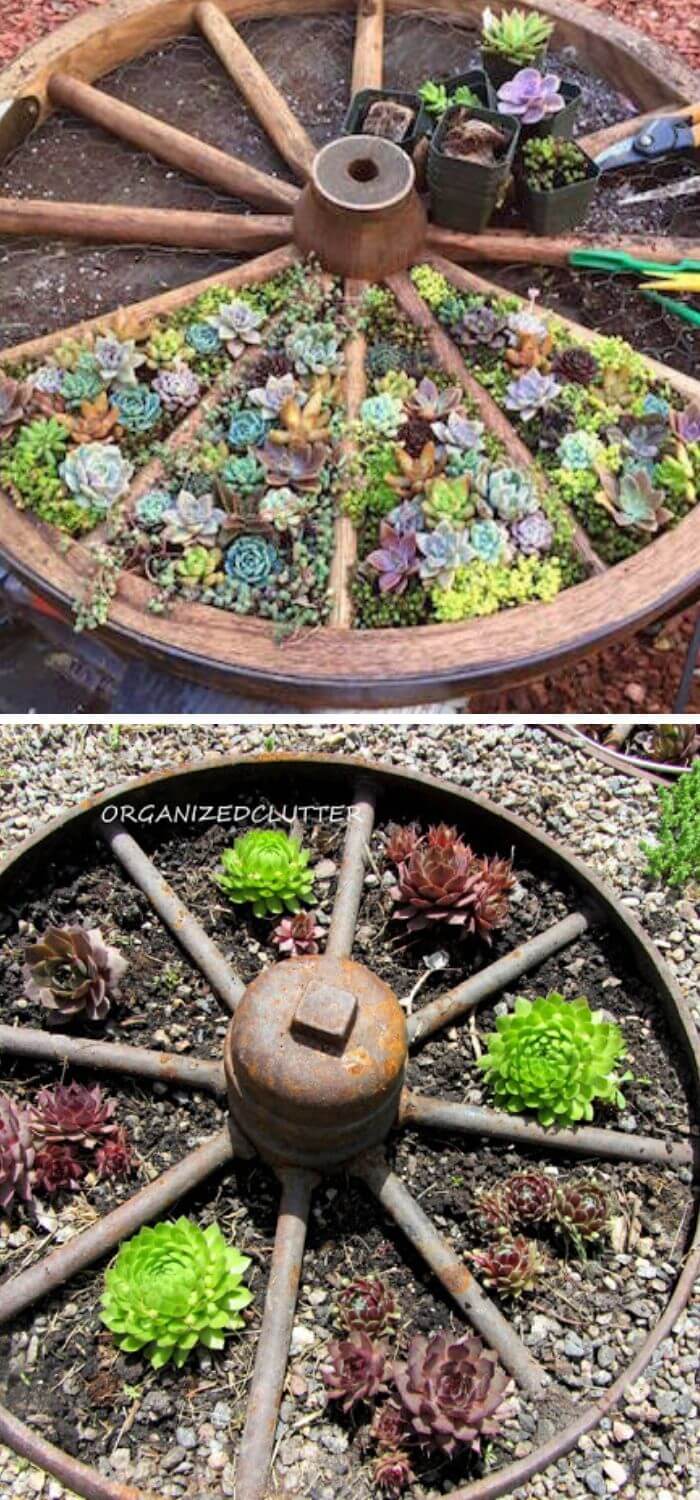 This old wagon wheel turned a succulent garden is great. Wagon wheels are pretty big, so this gives you lots of space to plant quite a variety of succulents. As you have different sections between the spokes, it helps you to create a unique design.
20. Tree Stump Succulent Garden

If you are looking to create a mini fairy garden or you want to showcase your succulents, an old tree trunk is perfect. You just need to hollow the center to fill it up with cactus soil and add succulents of your choice.
These were some of the DIY Indoor Outdoor Succulent Gardening Ideas that can help you to create a unique garden without spending a single penny in purchasing an overpriced designer plant setting.