Sedum morganianum is a beautiful type of houseplant which is native to Honduras and parts of Mexico. The beautiful succulent plant features bluish-green foliage which may sometimes appear as a teardrop.
The foliage is quite spectacular explaining why it is now one of the best houseplants you can have. The beauty and ease of care are the reasons why the plant is doing well.
Find out all you need to know when planting and caring for Sedum Morganianum. You need to know everything that will make the plant to thrive like any other flora species.
Planting Sedum Morganianum
The succulent plant grows like any other houseplant. It will do well if you neglect it for some days because it does not necessarily need water. When planting, you need to be sure of the right spot to cultivate. 
When to plant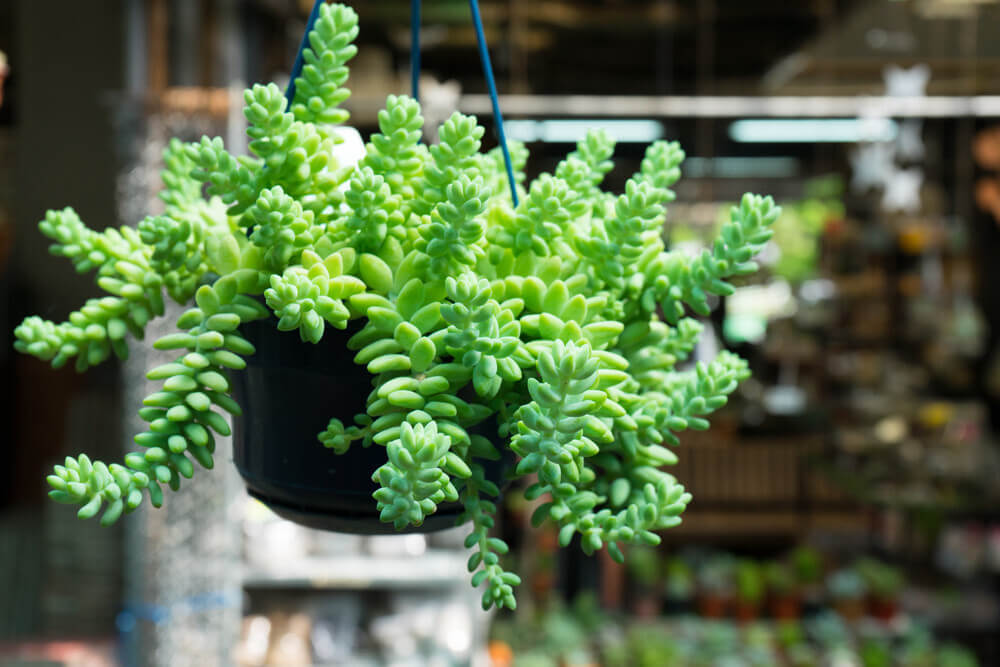 The best seasons that will make your propagated plants to grow faster is during the summers to spring. It is the season that fulfills all the conditions for the plant that needs to feed for it to grow.
You can grow it indoors if the conditions are harsh but make sure that you are placing it at a spot that will receive at least 6 hours of sunlight in a day.
Where to plant
The best place to plant your sedum Morganianum is a spot that has loam or sandy soils. Sandy soils will be the best because they are well-draining.
All the succulent houseplants need well-draining soils because they are not water hardy. The spot should also receive sufficient sunlight throughout the day and should be a moderately humid environment.
How to plant
Planting sedum Morganianum is easy. Transfer the leaf cuttings to a spot where you will grow. It can be a pot or a garden. Place them at the top of the soil and make sure that the soil is moist. The stem cuttings will grow roots and eventually start feeding after developing the first foliage.
Care for Sedum Morganianum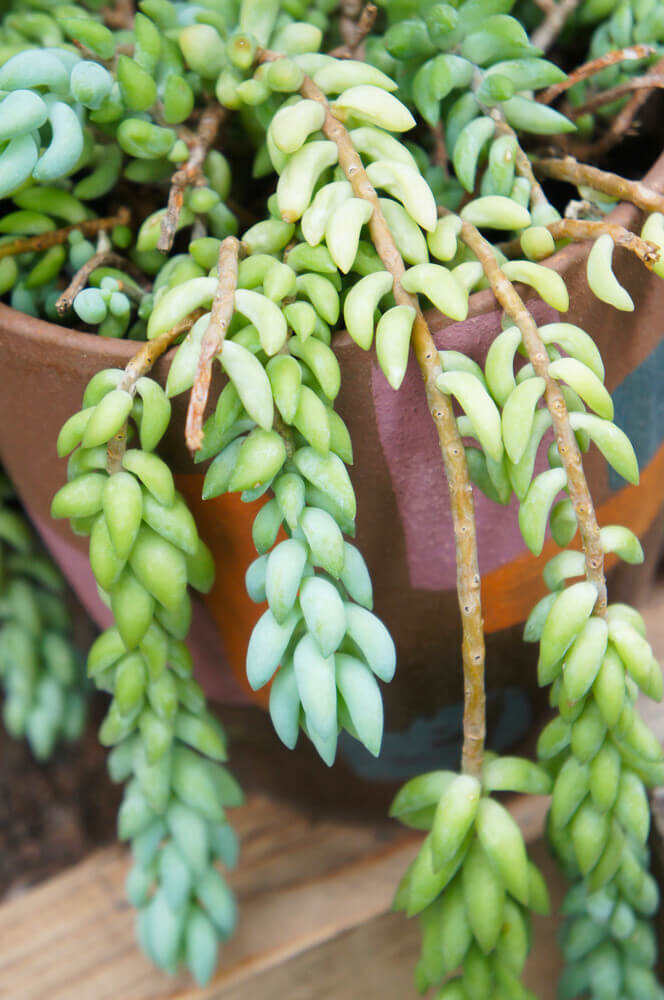 The decision to grow it outdoors or indoors is solely yours, but you should be careful when the conditions change.
Soil and fertilizer
You will want your succulent plant to blossom well that is why it will be wise to grow it well-draining sandy soil. Well-draining soils are the best when growing all types of houseplants.
You can use a gritty mixture if you opt to plant it in a pot or a container, but your container must have a drainage hole at the bottom.
Fertilizer is always not necessary for succulent plants to thrive well. If you opt to add fertilizer, it will enhance its blossoming growth. Apply fertilizer during the feedings seasons.
 Water and sunlight
Sedum Morganianum will thrive best in warm sunlight. Six hours of bright sunlight is good for the growth of succulent plants. Ensure that you choose a spot that receives sufficient bright sunlight during the day.
In case you aspire to grow your succulent plant indoors, make sure that you place it close to a window that receives sufficient sunlight.
The succulent plant can do well under neglect. You don't need to frequent irrigation. You can do it once a week. Do not do the watering during winters unless the soil is completely drying out.
Temperature and humidity
The plant does well in warm weather though it may survive cold temperatures. Maintaining the environment at 65 degrees Fahrenheit is best for your plant to thrive. The decision to keep your plant indoors or outdoors depending on the climate.
You don't need to wait until the temperatures fall until it begins forming frost. The average level of humidity is suitable for the growth of sedum Morganianum.
Repotting
The plant is fragile. Care needs to be put in place when handling it for repotting. You may not even necessarily do a repotting unless it is inevitable. Repot your succulent plant during the warm seasons, though you may lose tails because they easily break.
Soils should always be dry, and you will have to dust off the old soil in the roots. Transfer it to a new pot and backfill using a suitable type of soil.
Burro's tail Pruning and propagation
You can propagate the donkey's tail using the leaves. It often shades of its leaves even in the slightest touch. It is an advantage because all you need to do is collect the fallen leaves and use them for propagation. Wait for it to dry out then place it in moist soil, and it will eventually develop roots.
Burro's tail Pest and diseases
The plant is not prone to pests, though it may not necessarily imply that it won't be infested. The most common pests that affect them are aphids, and you can get rid of them using an insecticide. It may suffer diseases such as root decay if you will excessively water it.
Conclusion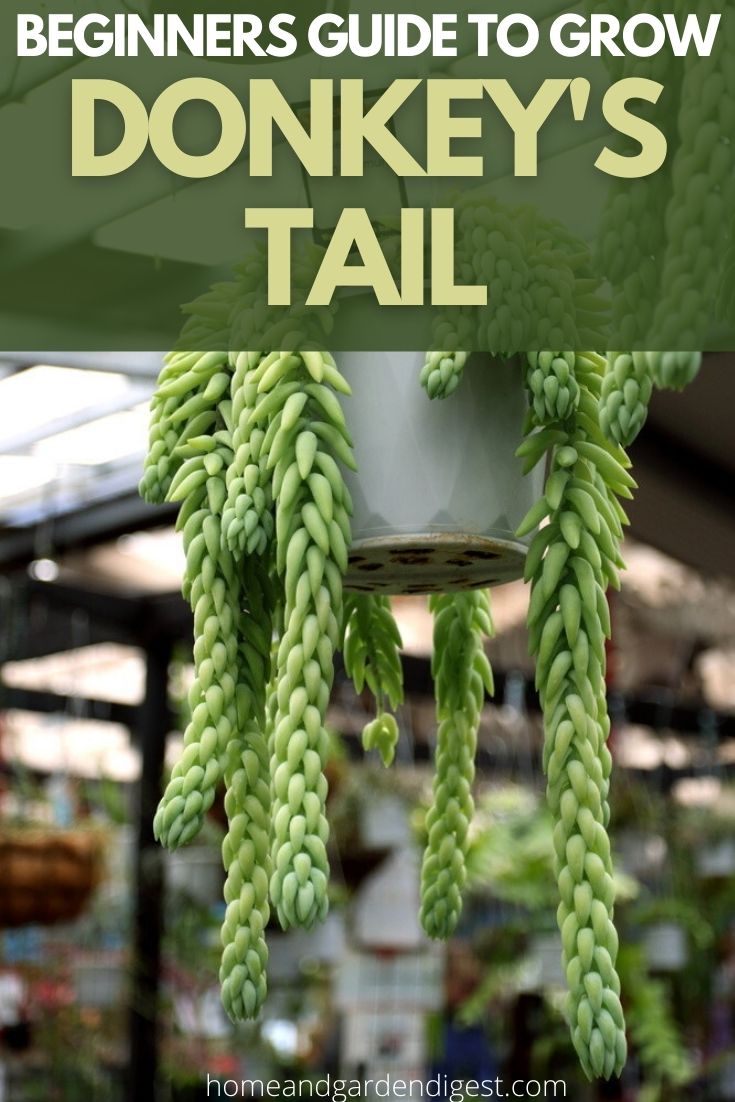 To conclude, Sedum Morganianum is a beautiful succulent houseplant that grows foliage that appears like a donkey tail. You need to understand the care tips if you want them to thrive well. All consideration is necessary for its growth.
.