A tree adds a sense of tranquility to any outdoor space and provides shade from the hot summer sun.
Trees also improve air quality, reduce noise pollution, and act as natural filters, removing airborne pollutants and trapping them within their branches before releasing them into the air. But, like all living things, trees need proper care to thrive.
When a tree is damaged or diseased, it can pose a danger to your house and property, as well as to other people and pets.
Trees that are overgrown, dead, or otherwise unhealthy can pose serious safety hazards. This is where a professional arborist can assist you in felling trees, removing stumps, or performing any number of other valuable tasks.
What Is An Arborist?
An arborist is a person who specializes in the care and maintenance of trees. Arborists are responsible for identifying, diagnosing, treating, and preventing tree diseases and injuries. They also provide advice to property owners on how to maintain healthy trees. An arborist's work may include:
Assessing tree risk: A trained arborist will understand the primary risks involved with tree maintenance and help you avoid costly mistakes. 
Identifying tree diseases: Most people struggle to identify a diseased tree, and if left too late, it could infect the surrounding environment. Arborists can identify most issues and offer appropriate solutions.
Planting new trees: Planting a tree might sound like a simple task, but there is more to it than simply planting a sapling. It includes understanding the surrounding environment, assessing future issues, and considering a tree's effect on other plants.
Protecting existing trees from damage: Trees are often victims of a raft of diseases and pest infestation. Although they can usually withstand a lot of damage, they need a helping hand every now and then.
So with that in mind, why might you need to hire an arborist to assist you in your tree-related issues?
Stump Removal
Tree stump removal is the process of removing tree stumps. The process can be done manually by using a chainsaw or a power tool, or it can be done with a specialized machine that grinds the stumps into small pieces.
However, stump removal is not just about getting rid of the tree stumps; it's also about preparing the ground for new plantings or landscaping projects.
You often need expert help to keep the surrounding area in good health. Moreover, some trees have stumps that are notoriously challenging to remove. For instance, palm tree stump removal requires specialist knowledge about the tree's health, root system, and, if necessary, how to use the heavy machinery needed to remove it.
While you can often remove small stumps by yourself, larger ones typically require the right combinations of skill, tooling, and lots of elbow grease!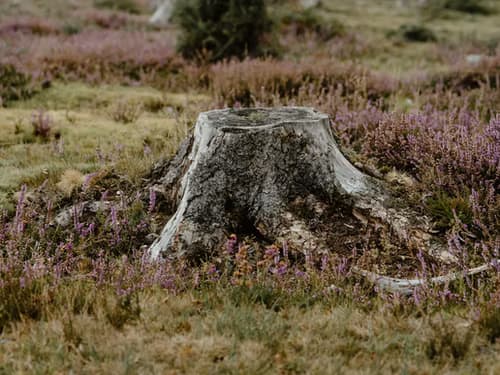 Tree Maintenance
Tree maintenance is the process of taking care of the trees on a property and typically includes pruning, watering, fertilizing, and pest control. Trees on your property that look worse for wear may result from numerous factors.
An arborist will be able to come in and perform a range of inspections to understand the issue. However, tree maintenance is more than emergency treatment; it also includes:
Trimming branches that are too close to power lines or structures on your property
Removing dead branches or limbs that storms have damaged
Applying the correct fertilizer
Providing protection from pests like termites, ants, or bugs
Maintenance also extends to more mundane tasks like pruning and trimming the branches. This takes on an extra layer of importance if a tree begins to grow over a house or powerlines. However, you could cause the tree an untimely death when done incorrectly. By hiring an arborist to prune your trees, you will ensure they remain tidy, avoid major structures and remain alive and healthy.
Dead Tree Removal
Like stump removal, removing a dead tree appears to be a straightforward task but is much more complex than you might think. Dead trees are a significant cause of damage because they can fall on buildings and cars.
Additionally, they can also be a fire hazard in hot, dry climates. Additionally, if the tree is dying or has died, it could be due to some kind of disease. In order to stop the infection from spreading, it should be removed promptly. Furhtmoremore, it isn't merely the process of taking the tree down before it can cause damage but also removing the waste in an environmentally-friendly manner.
Landscaping Advice
An arborist has a great deal of knowledge about different types of tree species, their growth patterns, and how to maintain them for optimal health. Arborists are landscape professionals who can advise you on how to maintain the health of your garden while also taking into consideration the trees already in your garden.
Trees need a certain amount of care in order to flourish. The consequences of neglecting the trees in your outdoor space can be dire, including damage to the tree and the destruction of property. Hiring an expert to take care of your trees can ensure that your parks are attractive, beautiful, and healthy.