We all want our pets to have that friendly place where they can rest. Did you know that you can use your crocheting skills to make a beautiful pet bed?
Here are the 15 best ideas that you can try at home. They are simple stitches that will deliver cute crochet pet bed patterns.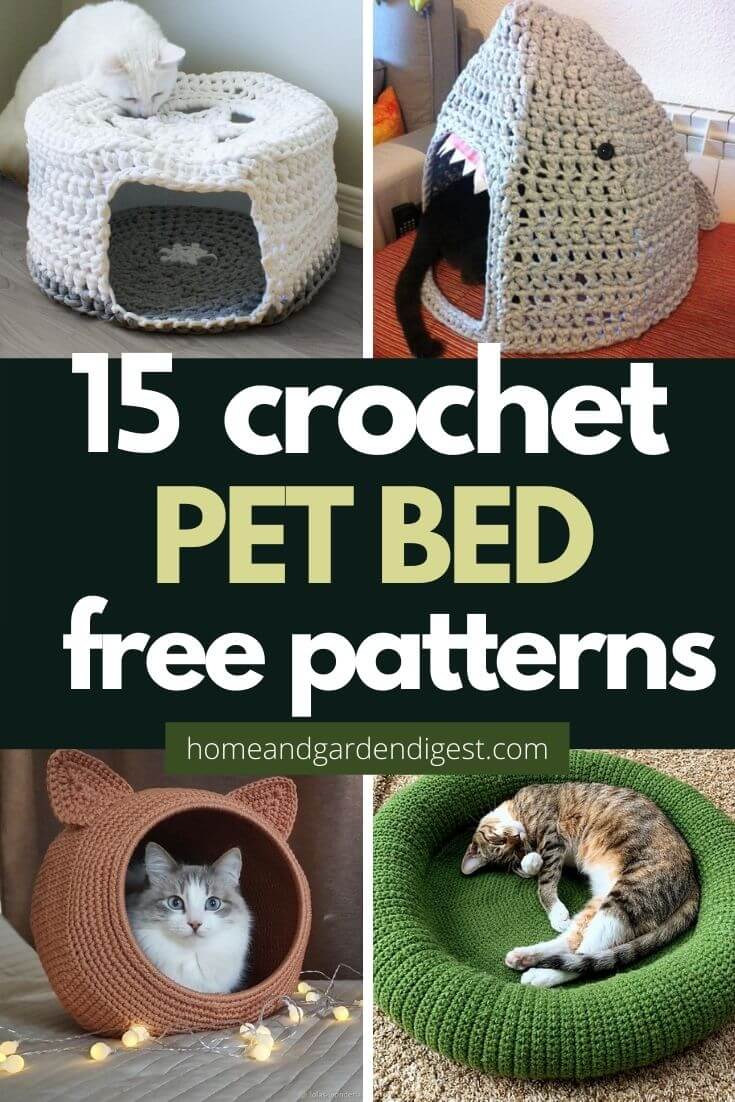 1. Crochet pet bed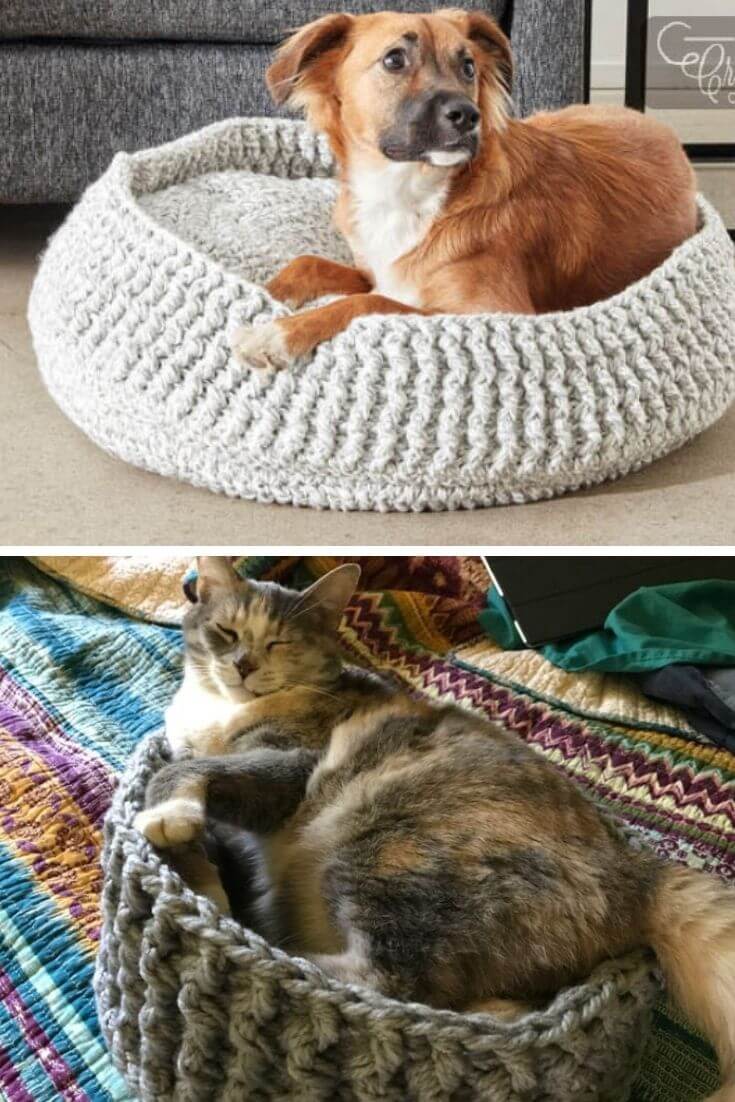 You will want o crochet something that will be easier for you to try at home. The crochet is available in four sizes, making it a flexible crochet for all sizes of pets.
The steps to follow when stitching this crochet are simple, and it won't consume more of your time. Check all the tips on the link below about the crochet pet bed.
2. Extra thick kitty bed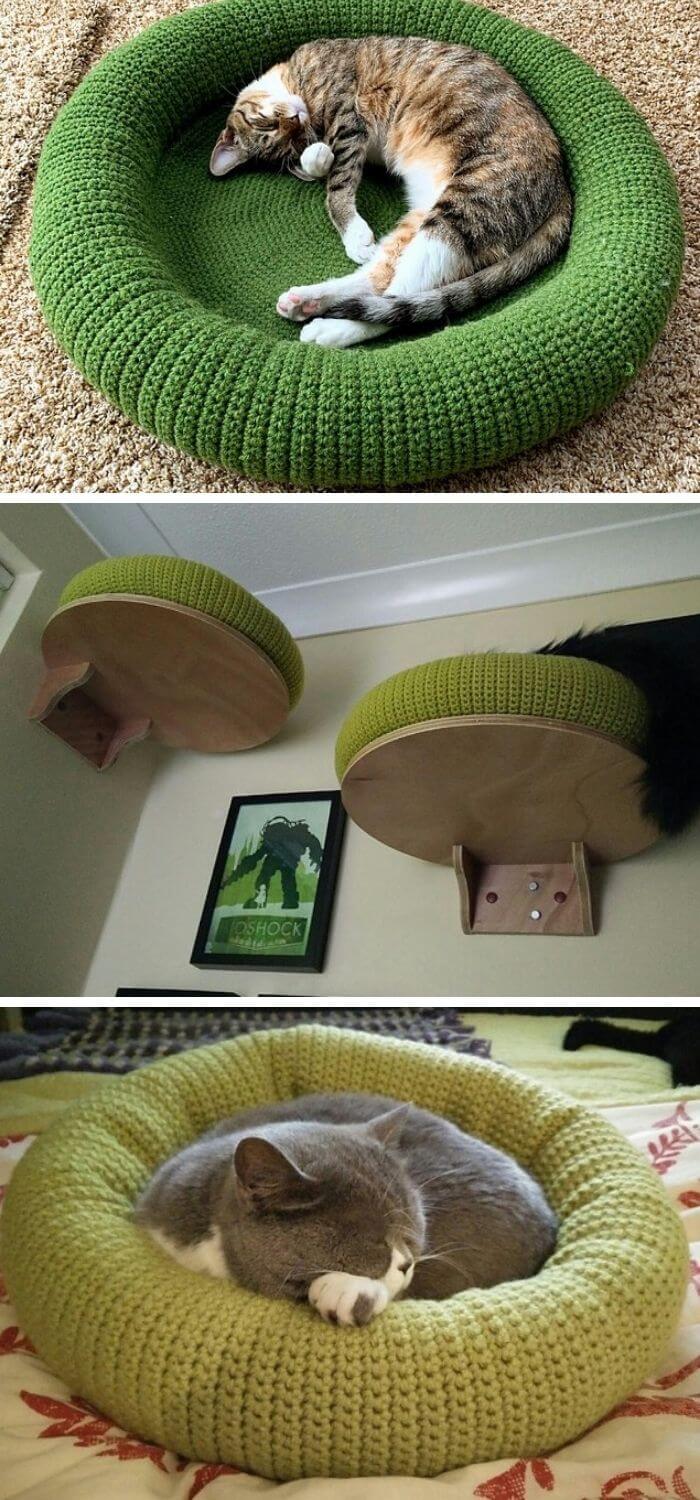 Extra thick kitty crochet bed will look perfect for your cat. It is an elegant crochet pet bed idea that you can make at home.
When you take a closer, look, you will notice that the pattern uses easy-to-make stitches, and the edges are thick to accord that comfort to your pet. Your pet will enjoy the feeling of a sweet home with an assurance of enclosure without an accidental fall.
3. DIY chunky knitted cat bed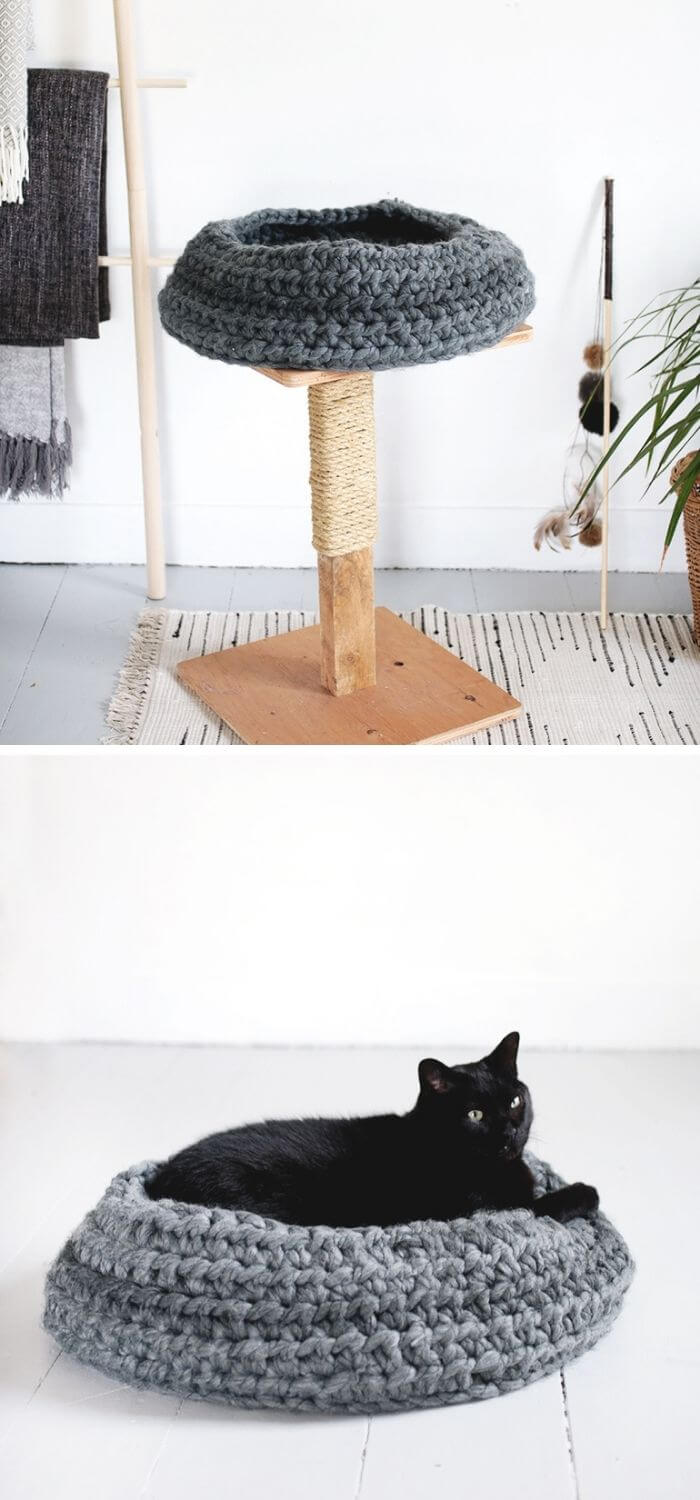 The chunky knitted cat bed is among the most comfortable crochet beds that your cat can ever have. The stitches that you use to make the chunky bed are simple. The beginners can follow them easily.
You may be having that pet-loving family, and it won't be a loss if you surprise them with one of the best pet bed as shown in the source below.
4. Lola's wonderland
What a beautiful bed pattern for your pet? It looks quite appealing when you have that pet cat staring at you from the cute mansion. You can check the stitching steps from the source below. It is the best project that you can try for your pet. It can be a gift or your gift for your lovely pet.
5. Crochet shark pet home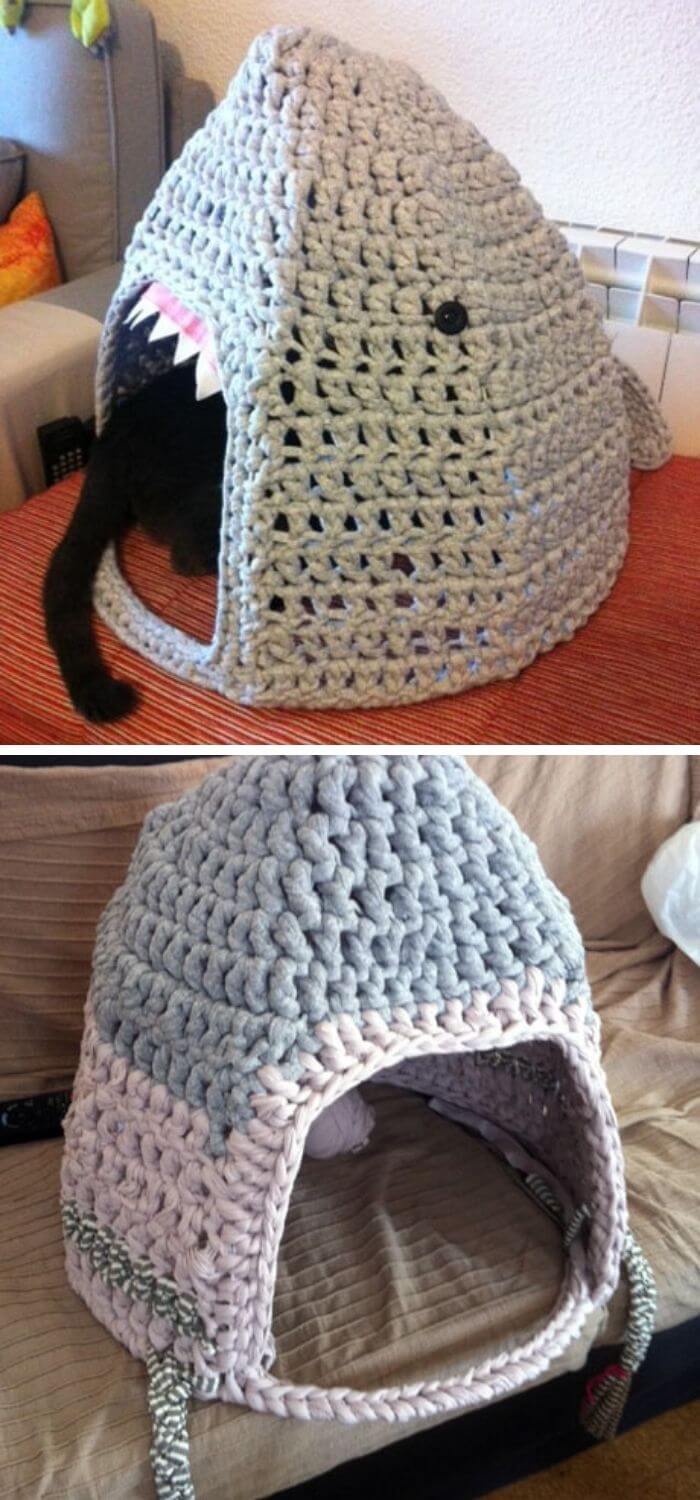 The crochet shark pet home is the cutest idea that you can try at home. It allows you to think more and create something that will be fun and at the same time an expertise show of skills.
It looks wonderful when you see your pet gets into that shark mouth. It is a cute home that will warm the heart for your little pet.
6. Big little pet bed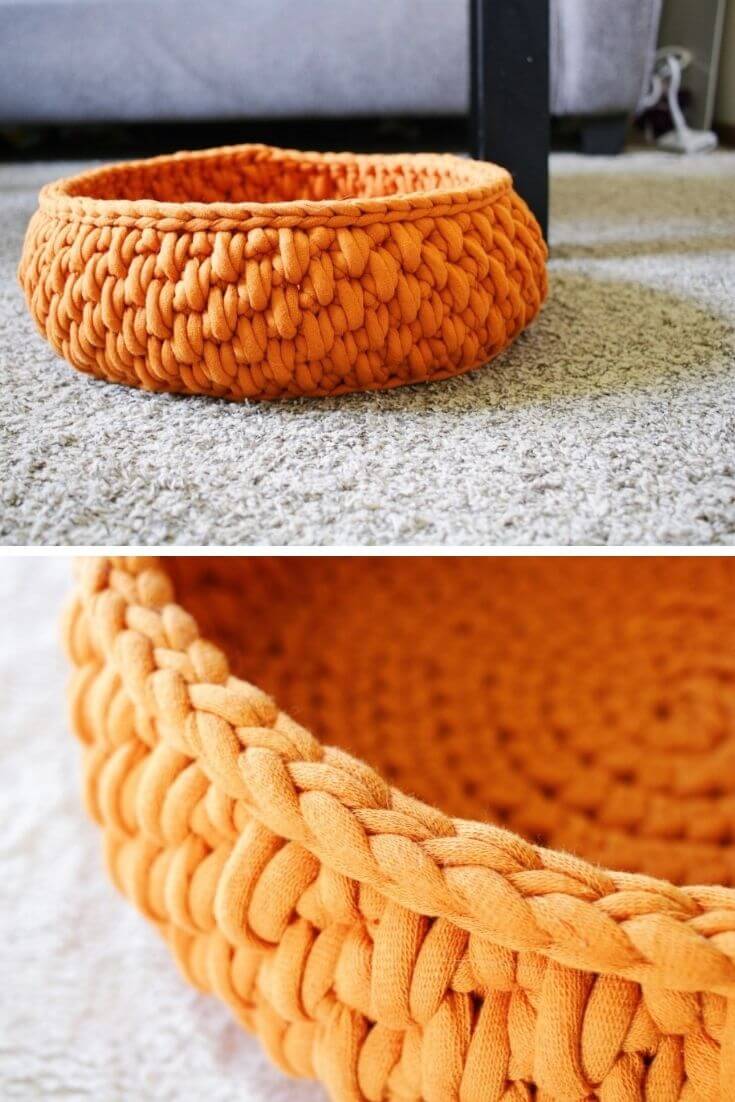 Try this new idea for your cute pet. It is interesting to note that you will be entirely in charge of the color choices and the stitches as long as you get something that resembles the big title pet bed. It is a lovely design.
Follow the steps in the source below for real insights on everything you need to know when making the crochet pattern.
7. Crochet dog bed with a fortified foam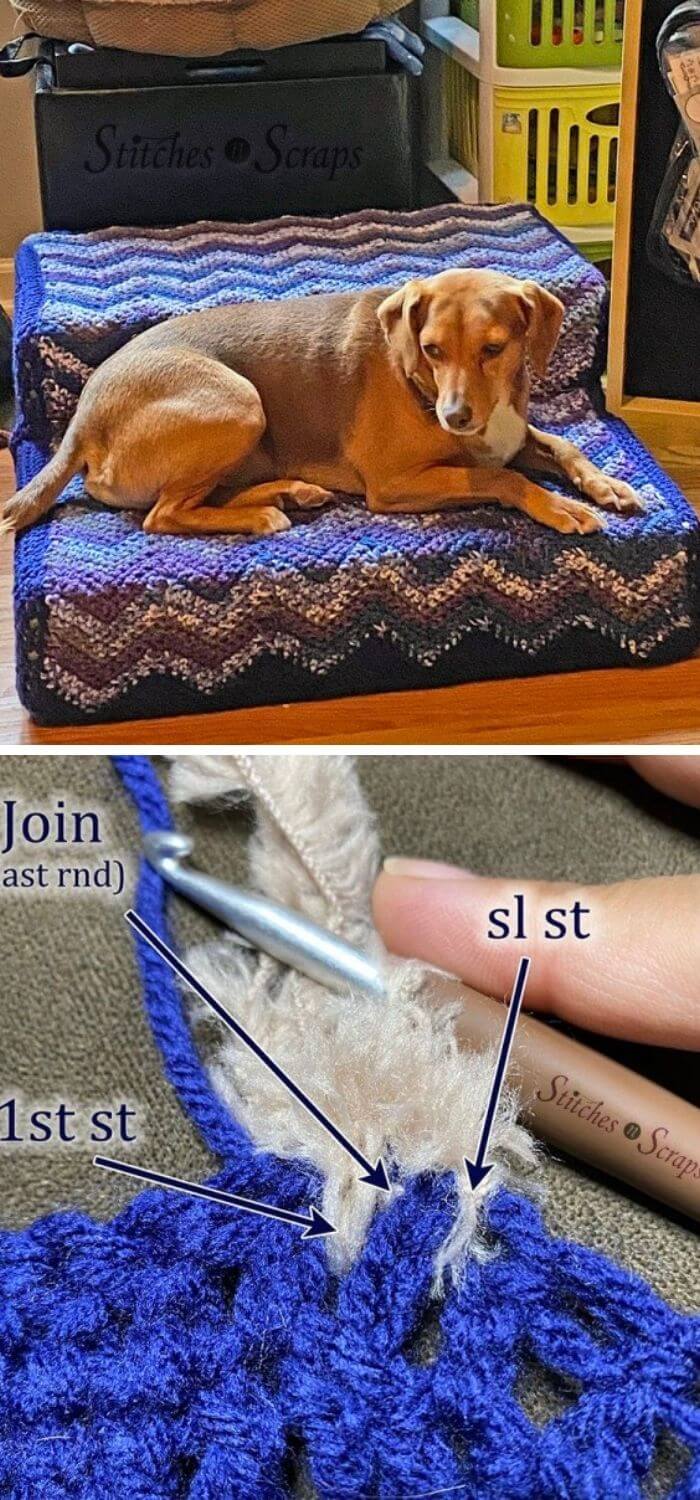 Here is a new project that you can try for your pet at home. It is a beautiful pet idea that is firm enough in a way that the dog will not compress it when it is sleeping on it. You can squish it, but it is smart for your dog. It is a comfortable gift that you can give to your pet.
8. Marley cat bed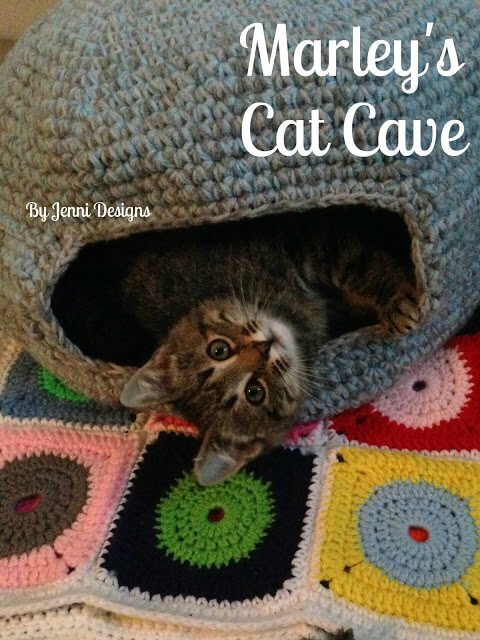 All you need to create this cute cat bed is a stiff yarn. Hold four strands together and get started with the creation of an acute bed for your pet. The steps can be hard to achieve when you are a beginner, but once you are used to it, it becomes easier. Follow the tips in the source below.
9. Crochet burger pet bed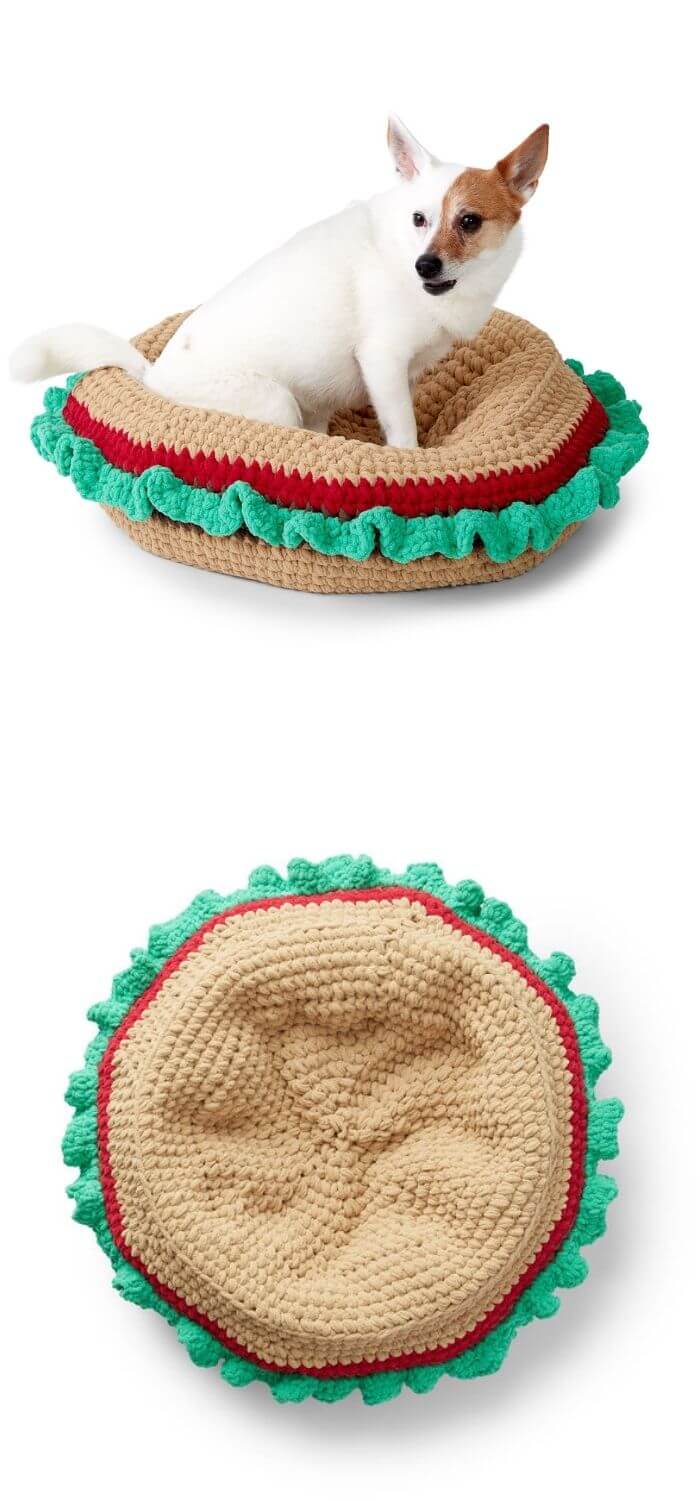 Here is another cute idea that you will be using a machine washable yarn. Every step you will follow here is reachable, and it will not cost you lots of time. You can inquire for more details about crochet from the link below.
10. ATTIC 166 crochet cat bed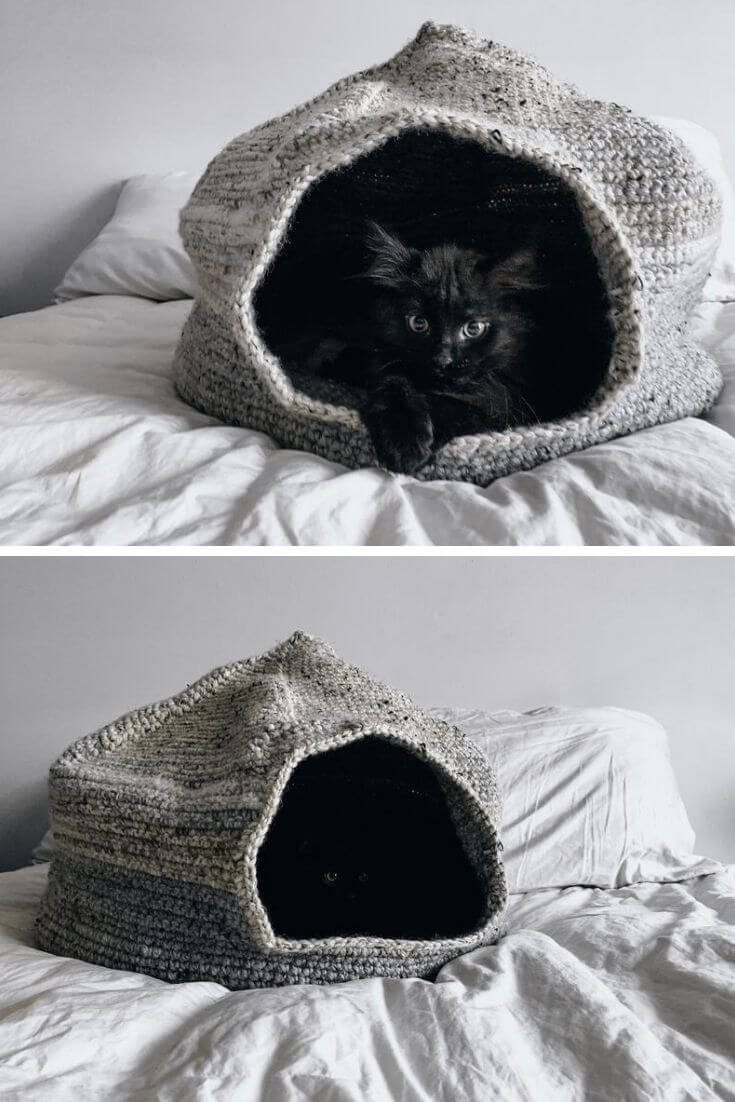 Attic 166 understands the needs of a cat. They designed a cute cozy bed that will be helpful to your cat during the day's rest. The cat bed can stand on its own due to a very tight gauge. It is easy to make a pattern that you can try at home.
11. Rainbow cat bed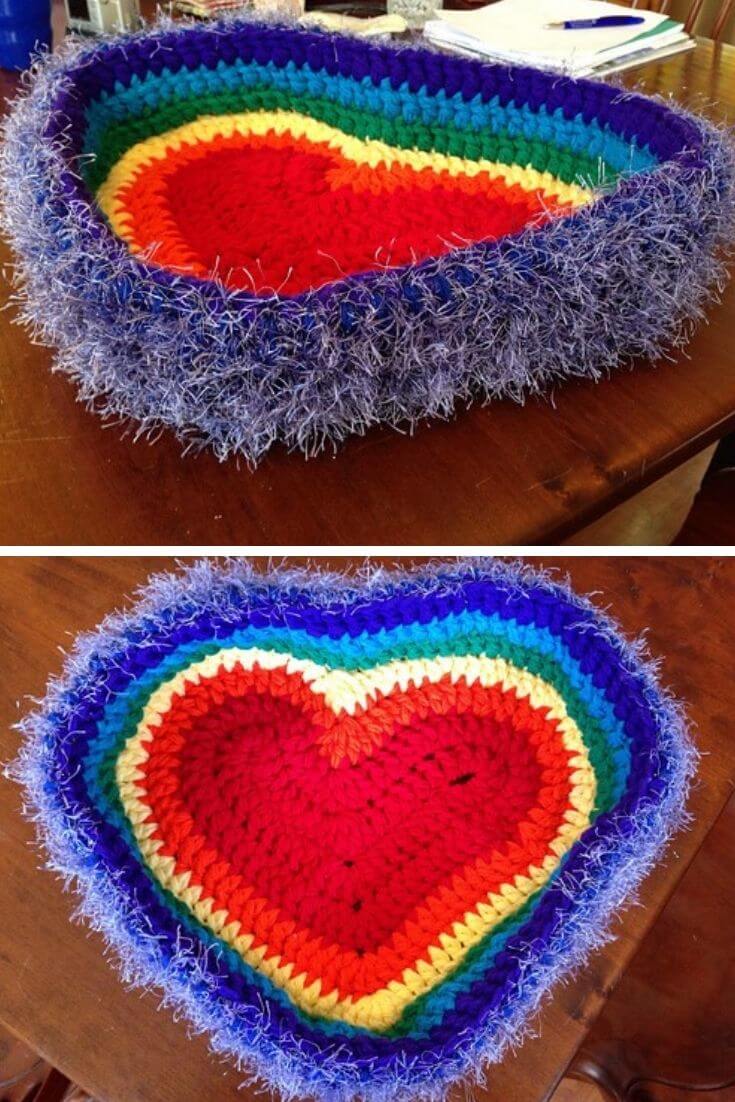 The rainbow cat bed is a cute pet bed idea. It is a perfect way to show your love to your pet considering its rainbow colors. The pattern is easy to make since it does need excellent skills in crocheting.
12. Fairy tale pet bed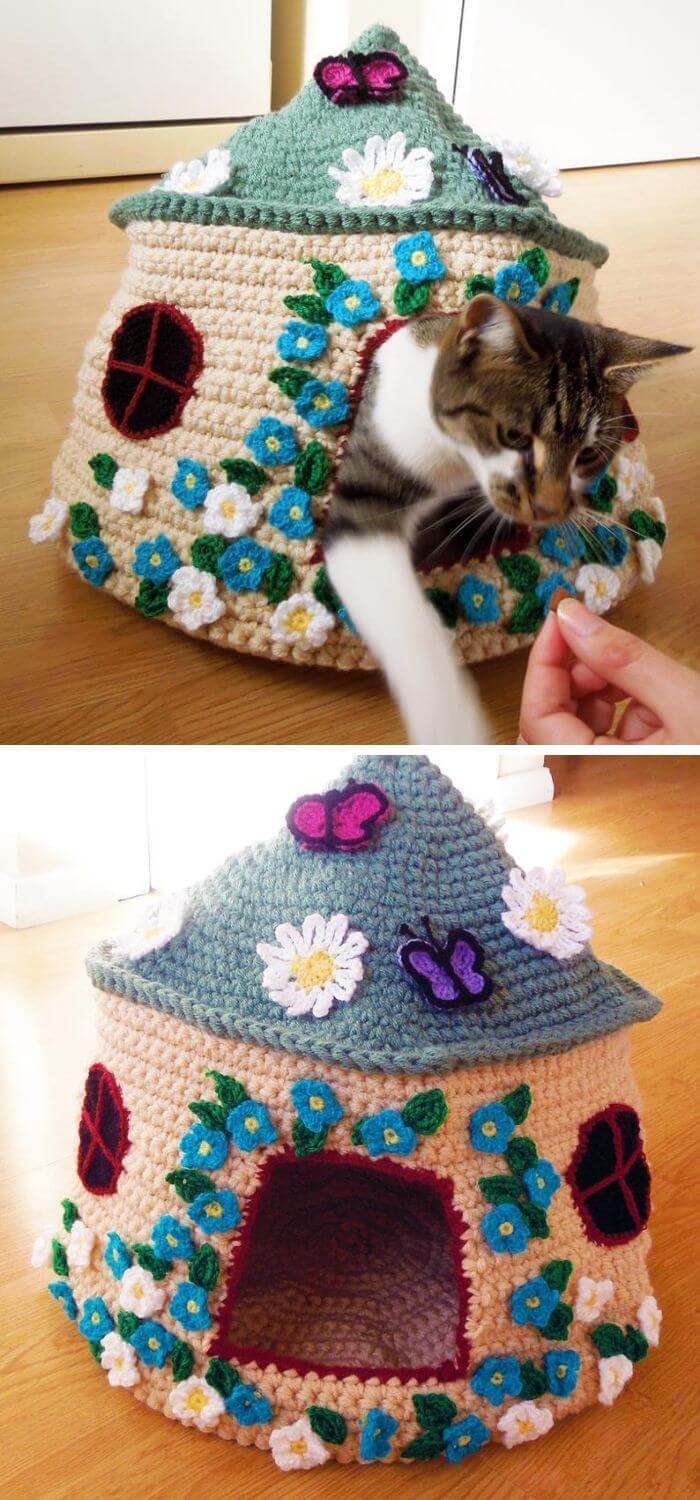 The fairy tale pet bed is among the free patterns available for you to try at home. If you love the fairy houses, then you can extend it to your furry friends. It is a completely cozy house that will be smart for your pet.
13. Mid Knits cat bed crochet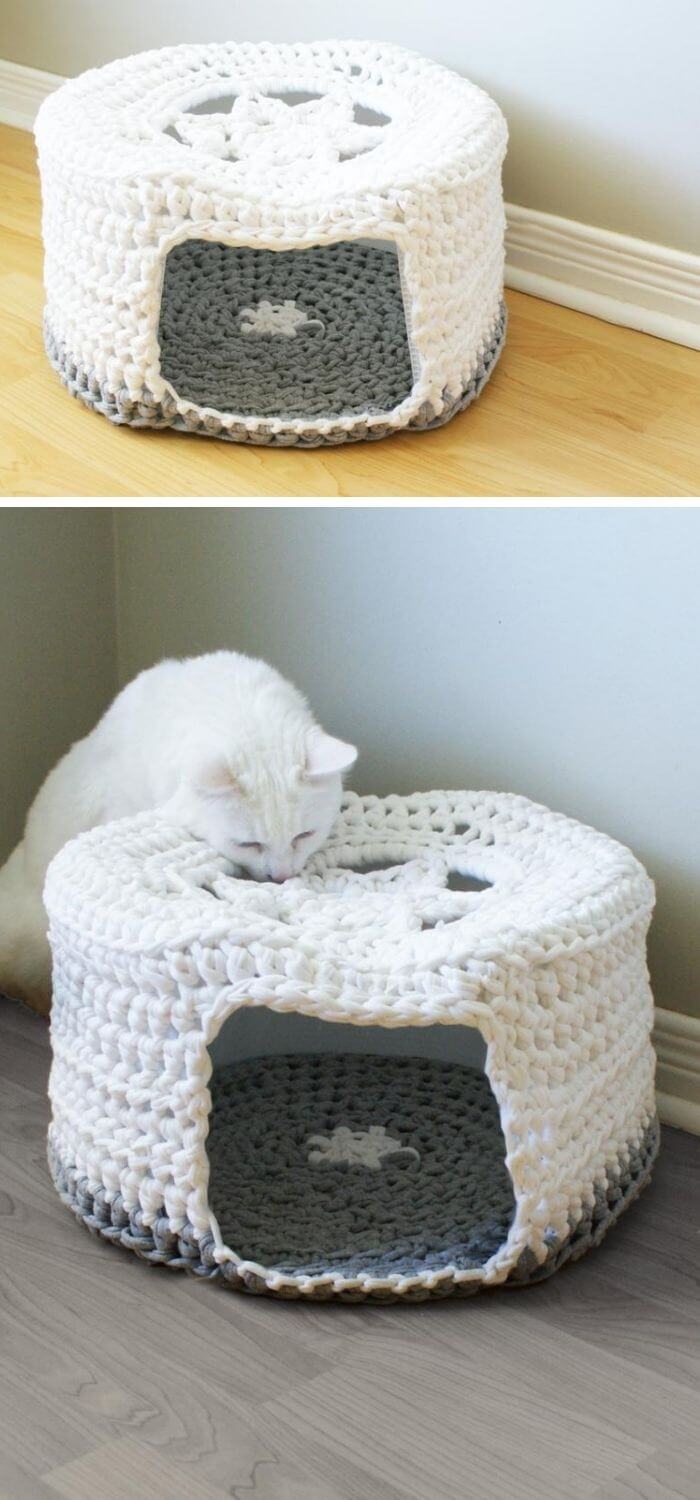 Do you wish to design a beautiful and functional crochet bed? Here is a pattern for you to try at home. You will need cotton t-shirts to get started. The design is durable and machine washable and will home for little pets.
14. Pet cave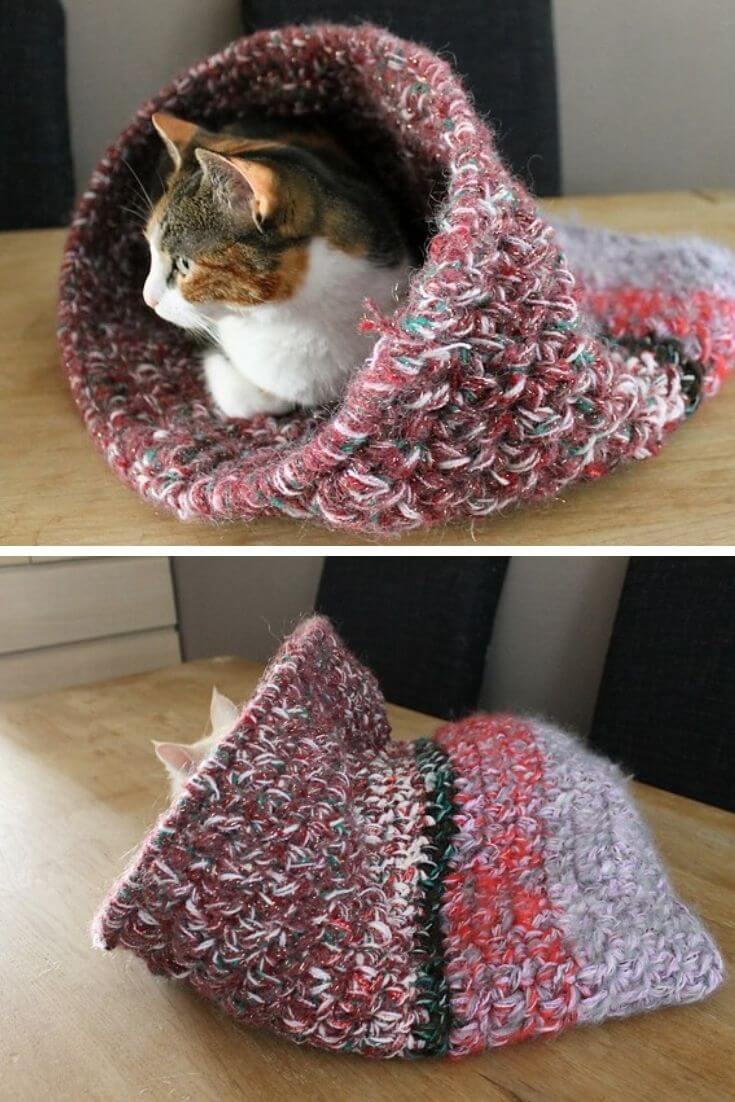 If you have leftover yarns, it is time to try the crochet cat cave. It is a beginner-friendly pattern that will impress your cute pet. It is a suitable bed for the kind of cats who enjoys hiding in the darkness.
15. Bago day crochet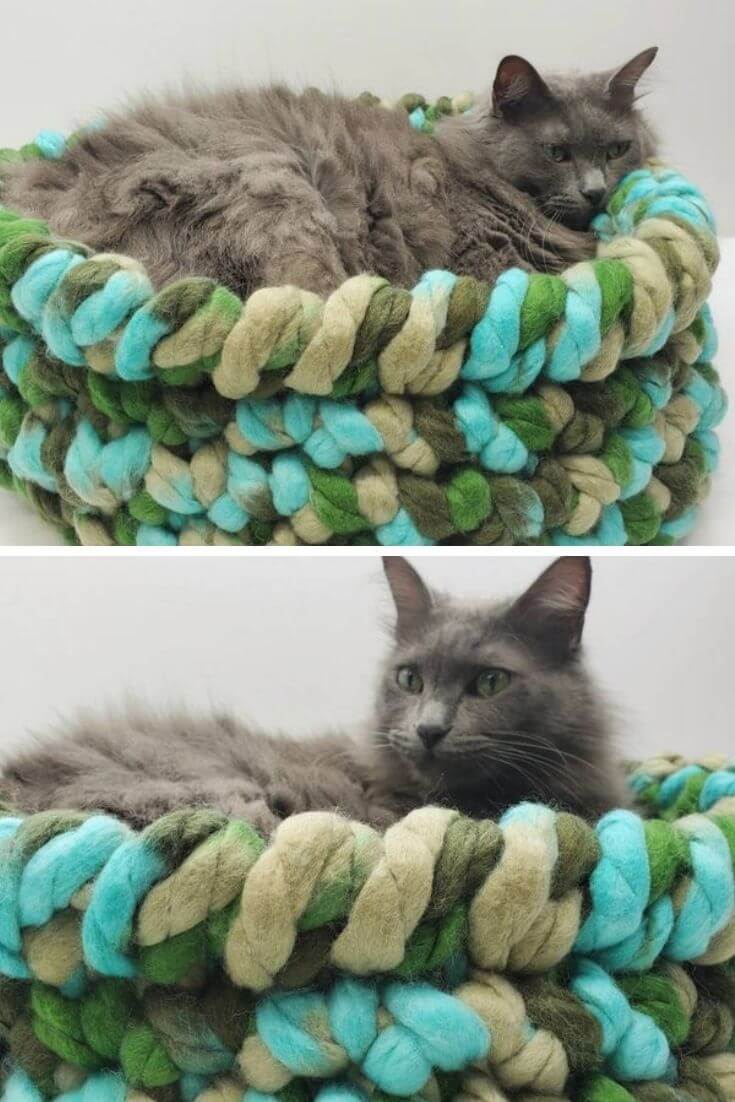 Bago day crochet is among the cute crochet designs that receive myriad of followers. It is a chunky and most comfortable design that will accord your cat with assured comfort. The basket-like structure design is stylish, and of course, it will be the best gift to your pet lover friend.