Everyone loves staying in an elegant house free from any form of dirt. You don't deserve to live with that dark spots infesting your hardwood floors! Hardwoods are notorious when it comes to preserving the dark spots making them unattractive.
To fully understand how to get rid of it, you need to start with getting the facts about the factors that will cause the black spots in the first case.
Black stain is a general term that elaborates on all types of stains affecting your hardwood floors. Activities we do such as ink spills, oil spills, and sometimes injuries cause dark spots. Other causes may include the pet mess in your house.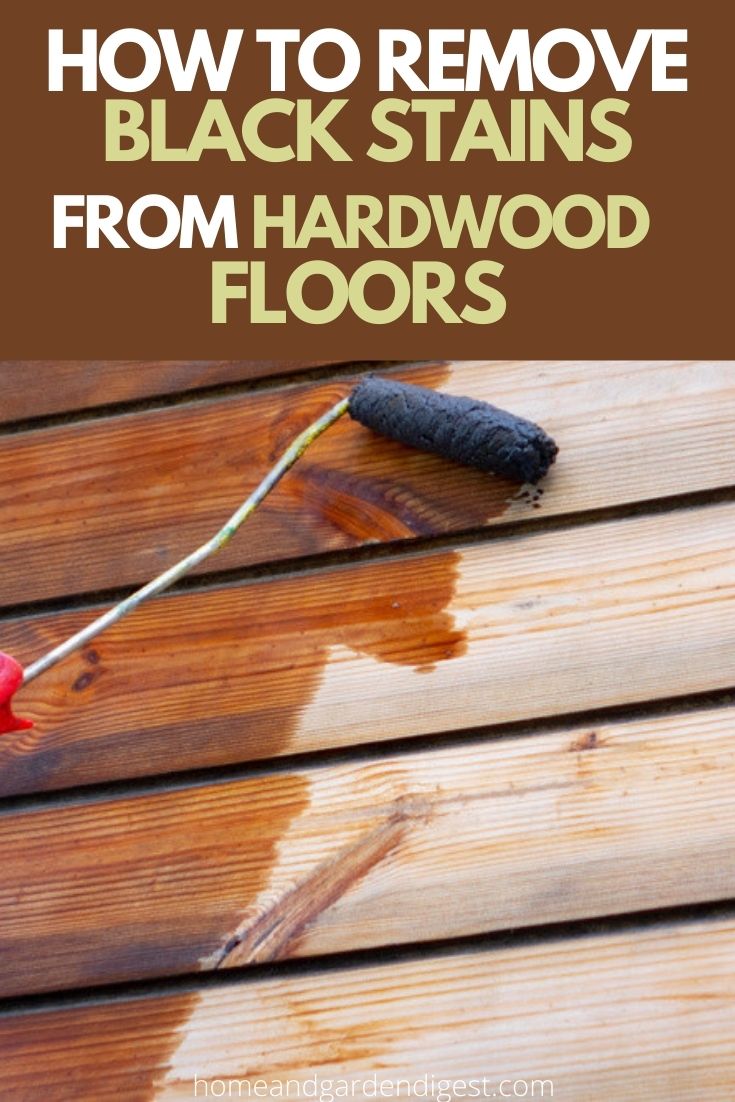 So, is there a way we can get rid of the black stains on our hardwood floors?
 Yes, but you should be ready to pay the price. The article will briefly discuss the methods that will be vital for you to remove the black spots. Some procedures are rampant, while others can be very complex and expensive.
Keep reading for all the insights on how you can clean the black stains on your hardwood floor.
Using a liquid detergent and water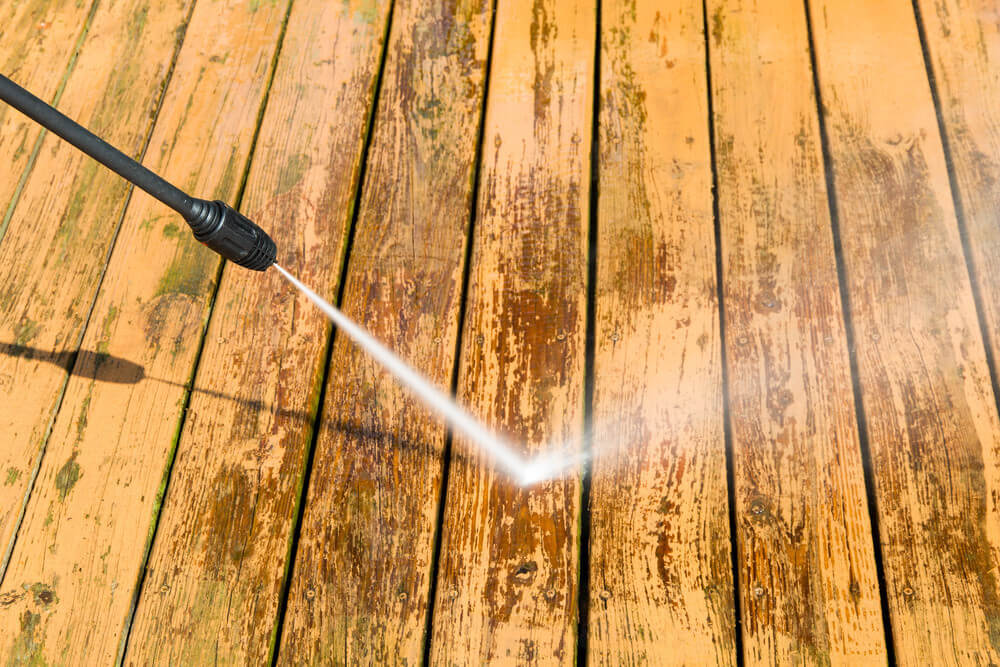 The use of a liquid detergent is undoubtedly the best process that will finish the job.  You will need a liquid detergent and some cold water. The method is fast-acting when you are dealing with ink spills and the pet mess.
First, mix the detergent and water to get a solution that you will use for cleaning your hardwood. Be sure to use equal measures of water and detergent. When the mixture is ready, use a microfiber cloth to apply to areas with stains. 
The solution should only apply to places where there are stains. You will then allow time for it to saturate. Saturation will ease the process, making it ready for cleaning.
The next step now is to start the cleaning process. Here, it is wise to be careful while doing it lest you interfere with the surface again. Dip a paper towel in cold water then use it to wipe the area with stains. If you intend to get better results, it will be prudent to be thorough on places with the spots until you are sure that it is clean. Wipe it dry.
Related: Is laminate flooring toxic?
Using water and Hydrogen peroxide
Using a detergent and water is a simple method, but you can also try using hydrogen peroxide and water. It is one of the most reliable ways that will help you remove the black stains. 
Start it by pinpointing the areas that have the dark spot and apply hydrogen peroxide. Be careful here because you will only be placing to areas with black stains. Any overspills, can bring damages to your surface for it will cause bleaching.
Once you have correctly applied to the areas with black stains, you will allow time to dissolve the dirt. It may take a few minutes before you embark on rechecking.
Ensure that the hydrogen peroxide solution is doing well. You can check this by using a paper towel. If you get very dark spots on your paper towel, you may be ready for the next course.
Clean the surface using water once you are sure that the hydrogen peroxide has taken action. You can detect the intensity of dark spots by checking the effect it will have on the water.
The darker the clean water, the more the dark stains. You can revisit it until you get favorable results. You can reapply the hydrogen peroxide to the areas where there are spots and give it more time to remove it.
It may take more hours before you get the best results. Note that the hydrogen peroxide can hurt the clean surface. And therefore, you need to take precautions not to apply on clean surfaces.
Related: Is laminate flooring waterproof?
Now, let us consider some hard types of spots that will need special treatment.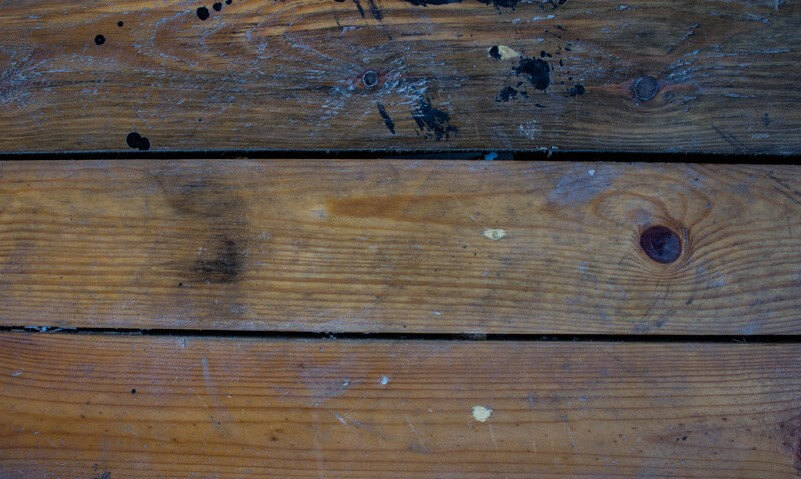 Removing these kinds of spots with detergents and hydrogen peroxide may not work. It will take a more complex approach to do this. Check through the tips below that will help you get rid of stains.
Some spots resulting from cases such as grease and non-grease factors need simple wiping. If what you are dealing with is non-greasy stains from nail polish, the simple wiping will do the math.
Understanding the cause of the stains will help you in choosing the right cleaning approach. Non-grease items do not need all those processes but rather hot water and a wiping material.
Let now check how you can remove greasy stains. This article considers greasy areas to be special and will need special applications.
 Here you will need ammonia solutions and water. Mix them and apply them to the greasy stains. Start scrubbing gently and remove it faster. You may use the baking soda if you are dealing with a pet mess that proves to be hard to remove.
Baking soda is not very harmful to your floor, and you can apply a sufficient amount and wait for them to dissolve the pet stains. You will depend on the baking soda to react with the dark stains on the hardwood floor. The reaction will discharge them from staining your walls. You intend to remove the black spots, and it won't be a loss if you do it repeatedly.
Related: How to shine laminate flooring
Bottom line
You can easily remove the black stains from your hardwood floors. You only need to pay attention to the type of spots you are dealing with to help you choose the right process. All the methods will serve well for specific cleaning. You should correctly apply to the right dark spot. The advantage of using the two possibilities above is the fact that it is inexpensive.
 All the solutions will are readily available, and it won't cost you a great deal of fortune.  The process is also time-saving, hence there is no point in staying in a dirty room! Get the right solution and clean the dark spots on your hardwood floors!
According to experienced professional Lara Blanco from Clean Focus, hygiene is always your responsibility, but that doesn't mean you should take care of it yourself. If you don't have the time or will to do the black stains on your hardwood floors, you can always reach out to professionals