If you are a proud homeowner and you want to make sure everything in your house is running smoothly, well-maintained, and cost-effective, this is a great guide for you. We are going to look at ways to keep your kitchen appliances functioning properly for as long as possible.
This will save you money and time in the long run. First things first, you will need to get a home warranty. Moreover, homeowner's insurance will complement the warranty nicely.
On top of these practicalities, we recommend that you buy quality appliances and care for them well. If you follow these simple but effective tips, you will have a well-maintained and cost-effective kitchen.
Home Warranty
This first and essential piece of advice can save you a lot of money when things go wrong. A home warranty is a service contract that will cover repairs and maintenance of home appliances for the set period of time specified in the contract.
This means that you can cover, say your fridge, for general wear and tear and breakdowns, and when your fridge needs to be serviced or repaired, your home warranty agreement will provide the services at a significantly reduced cost.
You pay a monthly sum toward your home warranty for the benefit of having access to much more affordable repairs and replacement services. This is a huge money saver, as these repairs and replacements can cost thousands, which is a huge hit to most households.
Experts at American Home Shield Arizona state that home warranties generally cost between 500 – 700 USD annually, and if you compare this to the unexpected cost of having to replace your air conditioning unit, for example, it is a no-brainer. For peace of mind and financial security, talk to a home warranty provider today.
Homeowner's Insurance
If you already have home insurance and you are wondering why you also need a home warranty, it is because they cover different things.
A home warranty provides discounted repair and replacement services for home appliances that break down. Meanwhile, homeowner's insurance protects your home and possessions from accidental damage caused by floods, fires, break-ins, and other disasters. 
Having a home warranty and home insurance working in tandem is the best way to ensure you are not suddenly faced with massive costs for damaged, stolen, or broken-down appliances and items in the home. Your warranty and insurance will work in tandem to keep you financially protected.
Whether you are a homeowner, landlord, or tenant, everyone is recommended to have homeowner's insurance. However, it is particularly vital for those who live in areas with extreme weather conditions, such as hurricanes, floods, or forest fires. These are exactly the kinds of disasters that home insurance will cover. Your home and its contents are likely your biggest asset, so be sensible and protect them from costly loss and damage.
Buy Quality
While having a home warranty and home insurance will provide you with great and thorough protection for your assets, you should also remember not to buy the cheapest kitchenware on the market. Do not try to cut corners on spending and end up with a subpar appliance that breaks down regularly and requires a lot of maintenance.
When buying a dishwasher, for instance, you can go for a model at the lower end of the price spectrum, or opt for a mid-range price or a high-cost dishwasher. Depending on your choice, you could get a dishwasher that does the bare minimum, a machine with more bells and whistles, or something designed to be sleek, aesthetically pleasing, and professional-looking.
Generally, it is worth at least going for a mid-range priced dishwasher, as the cheapest ones will be less reliable, less likely to last, and less capable. The high-end and fancy expensive dishwashers will have features similar to the medium-range ones, but with a sleeker final look. This is where it comes down to personal preference.
Maintenance and Care
Finally, as well as buying quality appliances, insuring them, and covering them with a home warranty, you should service your systems and appliances regularly, keep them clean and well-maintained and read instructions properly to ensure that you are not doing anything to damage them.
Remember not to try any repairs yourself, as this can void the terms of a home warranty and mean that you have to pay out of pocket to replace or properly repair the appliance or system. Moreover, attempting do-it-yourself repairs can be dangerous and lead to injuries such as electric shocks, falls, and bad backs. Stick to the help of experts!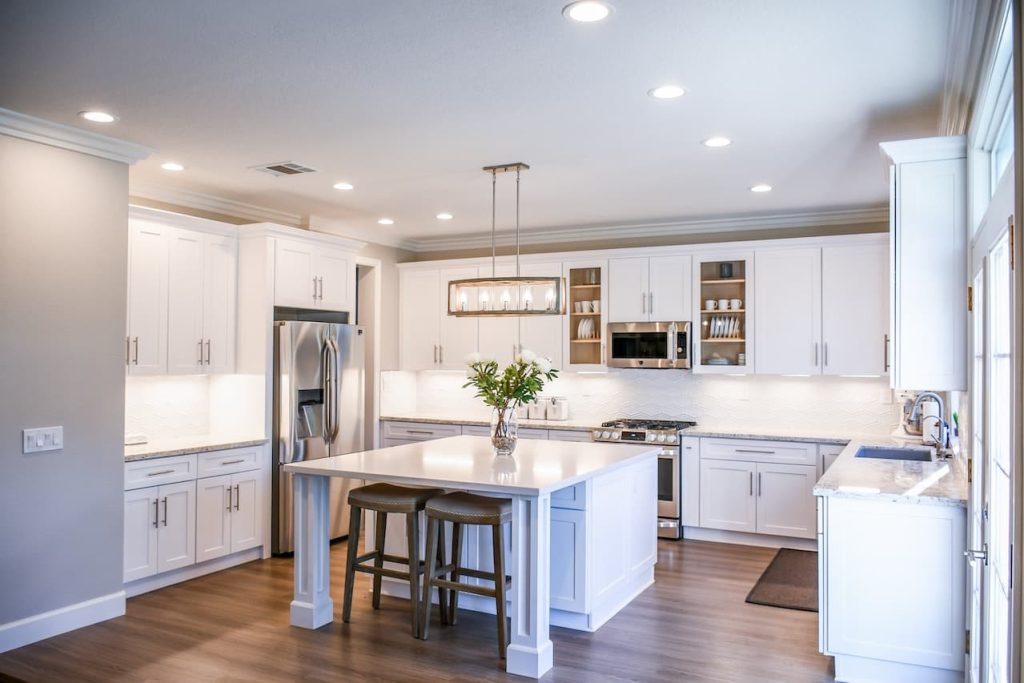 This has been a brief guide to ensuring your kitchen appliances run smoothly for as long as possible. We have looked at the importance of a home warranty, which will provide discounted repair and replacement services for broken-down home systems and appliances from general wear and tear.
Moreover, we have suggested that you complement the home warranty agreement with homeowner's insurance. This will protect your home and its contents from damages caused by fires, burst pipes, extreme weather, break-ins, and similar catastrophes.
On top of that, it is important to buy quality appliances and maintain them well. This will reduce the risks of breakdowns and the need for repairs and replacements.