When you're cooking, it's only natural that your kitchen will smell like something you've cooked. But if there's an unpleasant smell coming from your kitchen, it can easily spoil your appetite. Plus, bad smells turn off you and your guests; it makes your house uncomfortable. The good news is that there are plenty of ways to keep your kitchen smelling fresh and clean without breaking the bank.
Check the Drain
The drain is one of the most important parts of your kitchen. It's where all the dirty water goes out to make room for fresh water, and it's also where debris can build up. Ensure you routinely clean your kitchen drainage system to prevent foul smells. If you have difficult clogs, you'll need to use a snake drain or hire a kitchen drain cleaning expert for a perfect job. 
Change Your Kitchen Sponge
A sponge is a great tool for cleaning utensils, but it can also be a breeding ground for bacteria and other nasty things. You need to replace your kitchen sponge every two to four weeks, or when it starts to smell bad. If it's stained or fallen apart, still these are signs you need to replace it no matter how long you've used it — you don't want to keep cleaning with a sponge that's full of germs.
Light Scented Candles
Scented candles are an easy way to make your kitchen smell great. Light the candle and let the scent circulate throughout the space. You can also light more candles in other rooms to keep the entire house smelling nice.
Although the sweet smell will overpower any other smells, this is only a temporary fix to the bad odor problem. This means you need to find a more viable solution, including cleaning the kitchen more often. Another thing you need to keep in mind is that candles can cause fires if they get too close to anything flammable, so be careful when using them to get rid of kitchen odors.
Make Your Own Air Freshener
Making DIY air fresheners is easy and fun. You can use essential oils, citrus peels, and cinnamon sticks to add a fresh scent to the kitchen.
A few drops of each and some water are all you need—just add the mixture into a glass jar and leave it in the kitchen for a few days until the smell is gone. Remember to make a fresh mixture every few days so that your house always smells good.
Clean Your Oven Regularly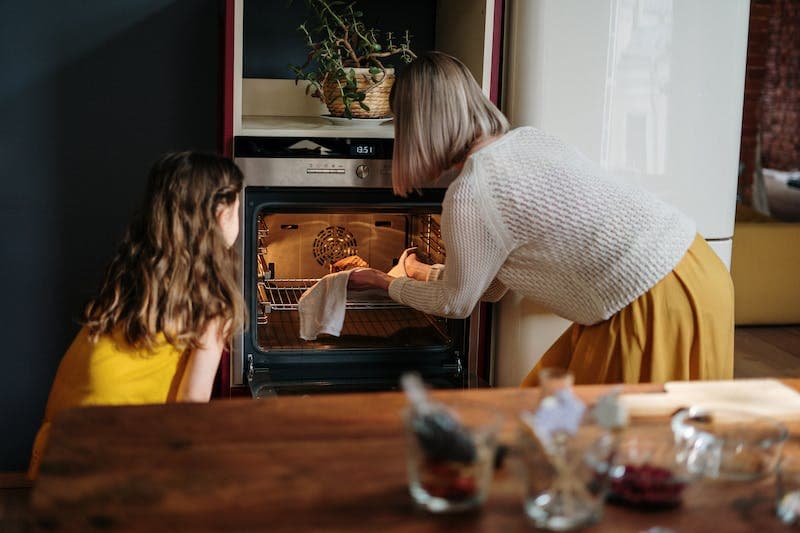 The oven is one of those things that you probably don't think about cleaning, but it's important to clean it regularly. Ovens can get pretty dirty and smelly, especially if they're left with food remnants inside them for too long.
The best way to clean your oven is with a product specifically designed for this purpose—it will help prevent any lingering odors from building up over time, as well as make sure that you get rid of all the harmful bacteria lurking on hard-to-reach surfaces like racks and trays.
Conclusion
The best way to keep your kitchen smelling fresh is by keeping it clean. I know that's a little overwhelming, but it's really easy. Cleaning is a good way to prevent bad smells because when dirt and grime build up on surfaces in the kitchen over time, they create a breeding ground for bacteria that leads to odors.
In that regard, ensure you wipe spills almost immediately, keep the sink clean, run warm water down the drain, and dispose of spoiled food early enough. Also, make it a habit to open windows when cooking to enable natural ventilation.