There's something about a well-worn building that just feels cozy. It might be the patina of age or the memories that have been shared within its walls. Unfortunately, not all buildings can be saved from demolition and replaced with new ones.
Sometimes, we have to work with what we've got and give new life to a worn-out building. In this blog post, we'll look at a few approaches to achieving that.
Restore Your Roof
When it comes to restoring a worn-out building, one of the most important elements is the roof. A leaking or damaged roof can lead to serious structural issues and costly repairs down the line. Fortunately, there are many ways to restore your roof and prevent further damage.
This can include repairing any holes or cracks that have been caused by age, or by doing restoration coatings such as paint, elastomeric coatings, or even metal coatings to protect the roof from future weathering and damage. By addressing any issues in your roof early on, you can make sure that the rest of your building remains structurally sound for years to come. 
Repair/Replace Windows
Windows are another important component of worn-out buildings, as broken or drafty windows can lead to energy loss and higher energy bills. If your windows are too far gone to repair, then replacing them with new ones could be the best option.
New, energy-efficient windows will provide better insulation for your building and add a touch of beauty. Additionally, if you choose the right windows for your building's style, you can give it an eye-catching new look that will draw attention and make it stand out from the rest. 
Update Your Interior/Exterior Decorations
When giving life to a worn-out building, it's important to also consider the interior and exterior decorations. A fresh coat of paint can do wonders for a building's appearance and give it an updated look.
Choose colors that complement your building's style or bolder hues if you want to add some extra drama. You might also want to update the lighting fixtures with ones that are more modern and energy-efficient. Replacing old window treatments or adding new accents like wall hangings or rugs can also make a huge difference in how the building looks and feels. 
Adding Green Elements
Finally, an easy way to give new life to a worn-out building is by adding some green elements. This can be done through landscaping, planting some greenery around the building, and even adding a living wall. This will not only help to enhance the beauty of the building but also helps to filter out pollutants from the environment!
Additionally, green elements such as plants can also improve air quality and reduce noise pollution in the area. Furthermore, this could also make a great area for people to come together and socialize.
This could potentially help to create more opportunities for community building and foster relationships between neighbors! By making the most of the greenery around your building, it can be given a new lease on life in no time at all.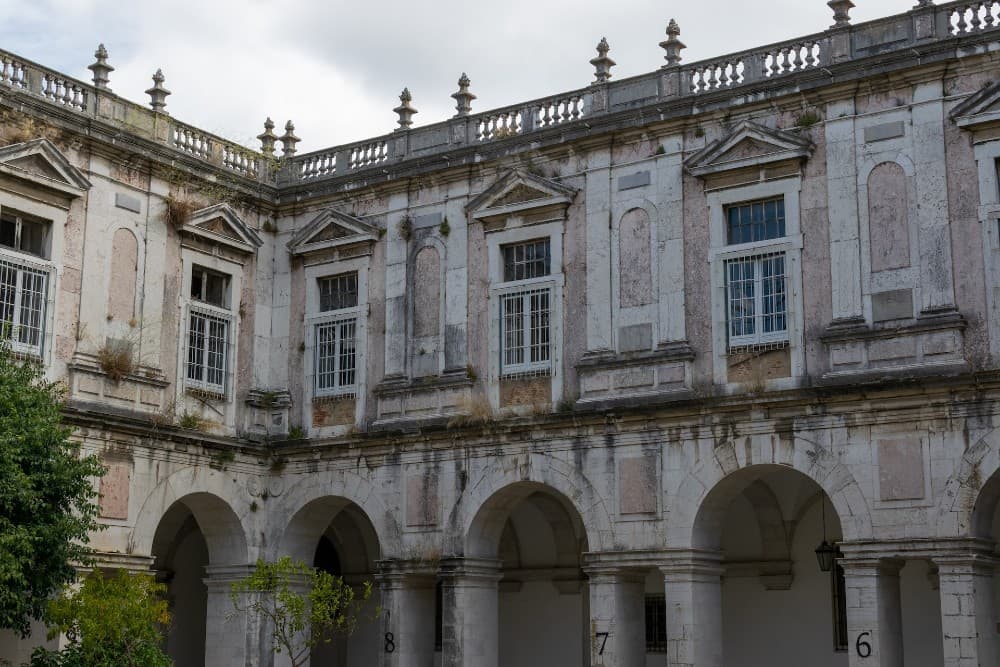 Clean Or Replace Carpets
To restore a worn-out building, one of the most important steps is to clean or replace any existing carpets. Carpets can quickly become dirty and wear out if they are not properly maintained. If the carpets in your building have seen better days, it might be time for a deep clean or an upgrade.
Professional cleaning services can help restore carpets to their original condition and extend their life. If the carpets are beyond repair, consider investing in new carpets that meet your needs and style. With a little effort, you can turn a worn-out building into one filled with warmth and charm. 
Lighting Up The Space
Another great way to give life to a worn-out building is to update the lighting. The right lighting can help create an inviting and cozy atmosphere in any space. Investing in new lights and fixtures, such as overhead lights or accent lamps, can make a huge difference. They can also provide ample illumination for activities and tasks like reading or doing homework.
The key is to choose lighting that is appropriate for the room and provides adequate light without being too harsh or glaring. With the right lighting, you can completely transform a worn-out building into one filled with warmth and character.
Update Outlets
One of the most effective ways to give an old building a new lease on life is to update its outlets. Updating the electrical system of a building can make it safer, and more efficient, and increase its lifespan. This can involve replacing outdated fuse boxes and wiring with modern systems that are designed to protect from surges and provide adequate power for all of the appliances and electronics that are needed.
Additionally, modernizing the outlets themselves can make them more convenient to use and can help to reduce safety hazards. Updating outlets is a great way to update an old building while continuing to maintain its vintage charm.
In conclusion, giving new life to a worn-out building is completely possible with the right effort, investments, and attention. This can be done through simple updates such as painting walls and replacing window treatments, or more extensive renovations like landscaping and updating outlets. With patience and creativity, it's easy to turn an outdated building into a vibrant and inviting space for people to enjoy. So, if you're looking to give your building a new lease on life, start by taking these steps!