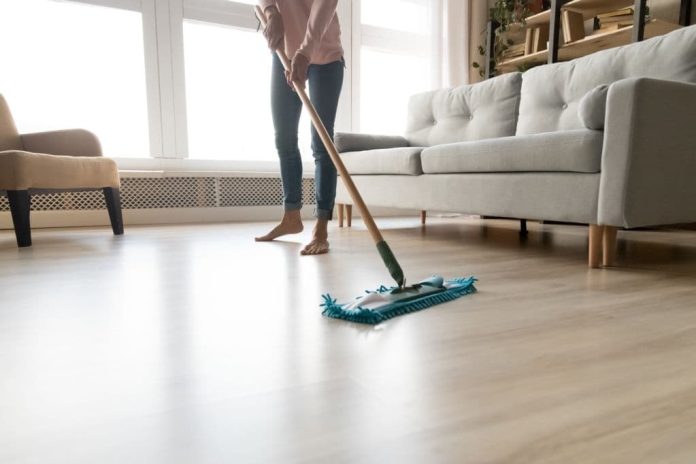 Giving your apartment a major deep cleaning is probably your least favorite task. The thought of deep cleaning and scrubbing your apartment floors on your own might make you feel like you're in a Cinderella movie. Fortunately, it doesn't always have to be that way. Whether you've recently moved in, moving out, or you simply want to refresh your current living space, apartment deep cleaning is manageable and doable.  
With the right tips, hacks, and cleaning supplies, you can efficiently deep clean your apartment in no time. So, how can you pull off this apartment deep cleaning project? Deep cleaning means you'll need to tidy up everything from top to bottom and room to room. To begin, take a look at these eight steps and simple hacks in deep cleaning your apartment. 
1. Handle Clutter First 
Deep cleaning your apartment may be easier if you've recently moved in, as you won't need to tackle things or clutter spreading in your living space. Meanwhile, if you're already an old tenant, you might need to handle clutter first and get everything in order before you get started with cleaning a condominium building. If you see items on the floor, make sure to pick them up first, put them away, or disposed of them if they aren't useful.  
If you think you've brought excess items or furniture into your apartment, it may be a good idea to send them back to your hometown or your house back home. Clearing and decluttering your apartment will make it easier to see clean surfaces and boost your motivation to keep cleaning.  
2. Work Room To Room 
Working one room at a time allows you to fully dedicate your time, energy, and attention to deep clean one specific room before moving on to the next one. Seeing one room clean will give you a sense of fulfillment and eventually motivate you to finish the whole thing. What's more, most apartments only have one to two rooms, unlike a house with five to seven rooms.  
3. Start At The Top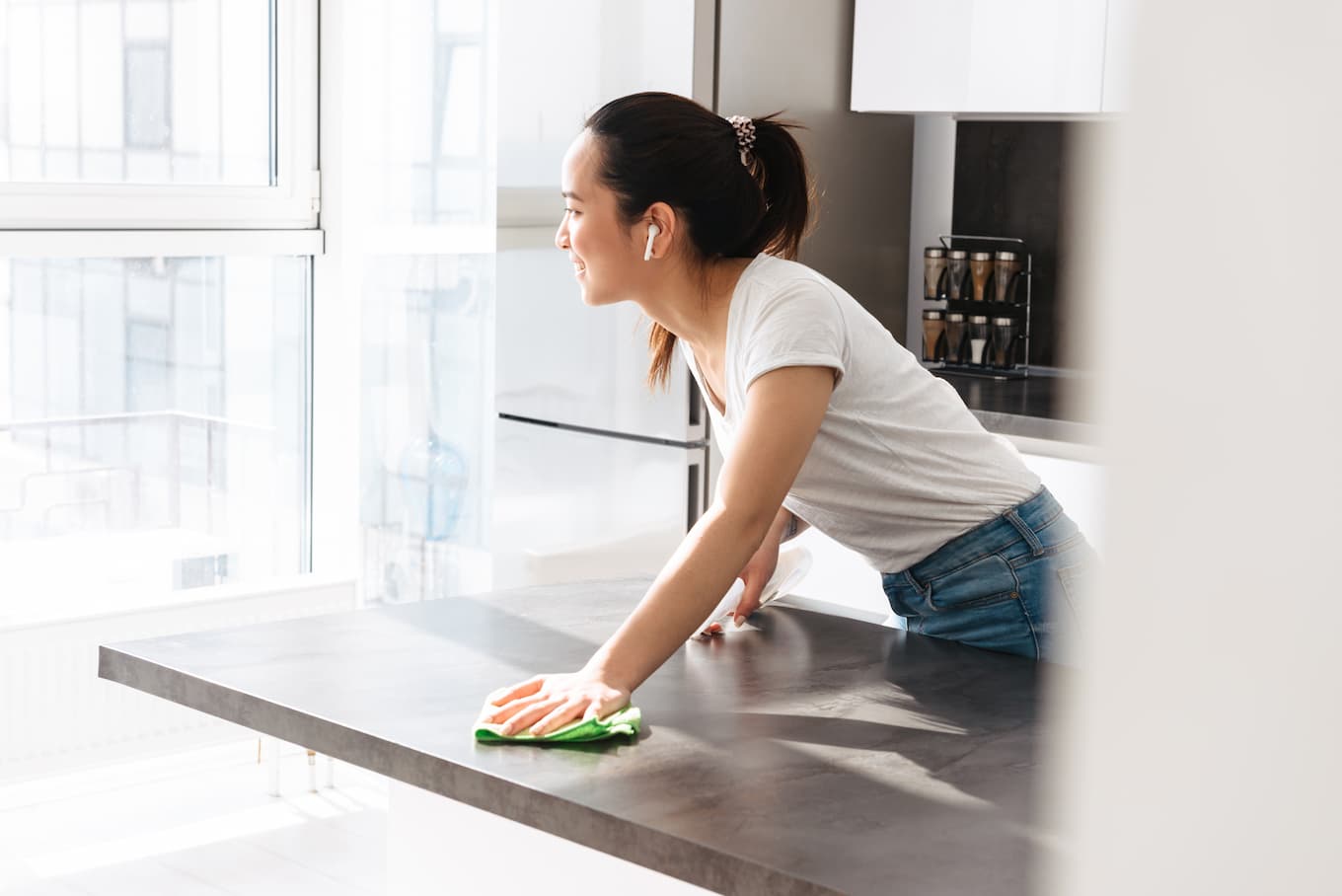 When working room to room, always remember to start at the top and end with the bottom areas. Cleaning the lower areas first before going at the top spots will only cause dust and dirt to fall back into the floors, requiring you to clean twice. So, to save time and energy, remember to start high and then go low. 
Some of the top surfaces you shouldn't miss are:  
Door frames 

Ceiling fans 

Above cabinets 

Light fixtures 

Top corners (Check for any cobwebs) 

Windowsills 

Lampshades (use a lint roller) 

Electronics (use a dry cloth for things like computers, TVs, radios, etc.) 
When wiping surfaces, use a dry microfiber cloth or a vacuum. For hard-to-remove dust and dirt, you can try this cleaning hack of using a vinegar and water mixture to spray and dust the stubborn areas.  
4. Tackle The Living Area First 
Ideally, it's best to start cleaning your living room and bedroom first. Assuming that you've already decluttered your living room and bedroom, it's time to start wiping off dust and dirt from your furniture. 
If you have wood furniture, make sure to use a cleaning polish specifically created for wood furnish. For the rest of the non-wood furniture, you can use vinegar and water to wipe off the dirt. For fabric furniture and upholstery such as chairs and couches, you may use a furniture vacuum cleaner to get rid of dirt.  
5. Follow The Bedroom 
For your bedroom, gather all the linens you can find, such as bedsheets, pillowcases, blankets, duvet, and so on. Wash them all and put them in the laundry. If you have extras, you can use them and fold away the ones on the laundry once they're dry. Aside from linens, you also need to clean your mattress.  
For a deep cleaning hack, you can use baking soda by putting it all over your mattress. Leave the sprinkled baking soda for an hour and let it absorb all the foul odors that may have been stuck in your mattress for a long time. Once the hour is up, grab your vacuum cleaner and take it all off. For finishing touches, spray a few drops of scented essential oils on top of the baking soda for a nicer smell.  
Ensure not to miss wiping your bedroom furniture clean, including your bedside table, headboard, footboard, closet, wardrobe drawers, and picture frames. Now is also an excellent time to declutter your closet and get rid of your clothes or footwear, which you don't use anymore. You can either donate, sell, or have them picked up by rubbish removers.  
6. Deep Clean The Bathroom 
When cleaning your apartment's bathroom, you'll need to do a lot of sanitizing and scrubbing. You also need to pay more attention to all nooks and crannies as mold and bacteria thrive best in these areas. Here are some cleaning tips you shouldn't miss to achieve a clean and sparkly bathroom: 
You can reuse an old toothbrush to scrub the shower and faucet heads. 

Disinfect the entire

toilet bowl

with a commercial bathroom cleaner. 

Use vinegar or a commercial glass cleaner to clean your bathroom mirrors and shower doors. 

When cleaning your shower head, you can use the deep-cleaning hack by submerging the showerhead inside a sandwich bag with vinegar.  

For shower curtains, wash them according to the instructions specified for the product. 

Clean your bathroom cabinets inside and out using the mixture of warm water, caked-on hairspray, and shampoo. 
As an additional tip, remember to declutter your bathroom and get rid of any empty bathing and cleaning products you've kept under your sink or inside any cabinetry. 
7. Deep-Cleaning Your Apartment's Kitchen 
Before you get started, remember that your kitchen, whether big or small, is your area for cooking and preparing food. Thus, make sure you use natural cleaning products or kitchen cleaners to avoid food poisoning when cleaning and sanitizing the whole area.  
Use a baking soda paste or soapy water to scrub your stovetop, oven, fridge, and dishwasher. Then, wipe your stovetop and dishwasher dry with a clean cloth. 

Cook a cup of water inside a microwave for a few minutes and let it steam before scrubbing it clean. 

Wipe your kitchen countertops and cabinets with a vinegar and water mixture or warm soapy water.  
Don't forget to rearrange all kitchen tools and equipment and put them away in their designated areas. 
8. Tackle The Floors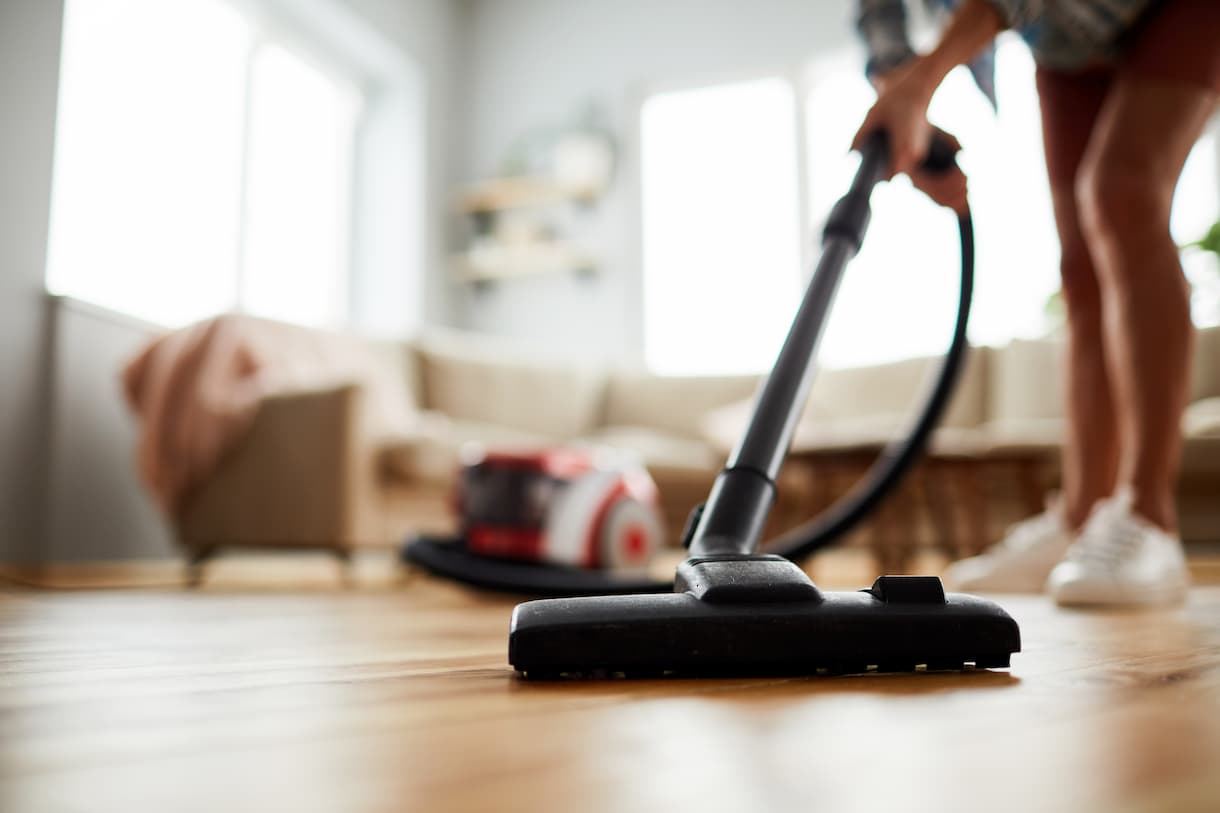 As mentioned, start with the top and end at the bottom, which is your floor. Before cleaning your flooring, make sure to ask your landlord first about the type of flooring to know which cleaner's best for the said floor type. 
If you have carpet flooring, you can use a spray cleaner to spot it clean first before vacuuming it. For apartments with hardwood floors, vacuum them first or sweep them with a broom before mopping them with a specific cleaning product for the flooring. If you have laminate, tile, or vinyl floors, sweep them first then scrub the grout with baking soda and water mixture. 
After all rooms and floors are deep-cleaned, go back to every room and spray some surfaces to sanitize them, such as doorknobs, handles, remotes, and light switches. 
Endnote 
There you go! Now you have a complete apartment deep cleaning guide with additional cleaning hacks you can refer to whenever you need to. So, get up and schedule your next deep cleaning right away, or if you have no free time at all, you can always call for professional cleaners.