Your outdoor area should be a haven, a place where you can relax and enjoy the company of family and friends. But if your patio is cluttered, it can feel more like a burden than a retreat.
Just like your indoor living space, your patio can become cluttered over time with furniture, accessories, and general miscellaneous items. If you find yourself struggling to keep your patio clean and organized, follow these tips on decluttering your patio.
1. Get Rid of Unused or Broken Patio Furniture
If you have patio furniture that you never used or broken, it's time to get rid of it. Donate any usable furniture to a local charity or thrift store, and dispose of any broken pieces properly. This will free up valuable space on your patio and make it easier to clean and maintain.
When it comes to replacing your old furniture, look for low-maintenance pieces that are easy to clean. Reading a buying guide on how to buy new patio furniture can help you make the best choices for your needs.
Wicker or plastic furniture is a good option, as it doesn't require much upkeep. And if you choose chairs with cushions, be sure to select a durable fabric that can withstand the elements.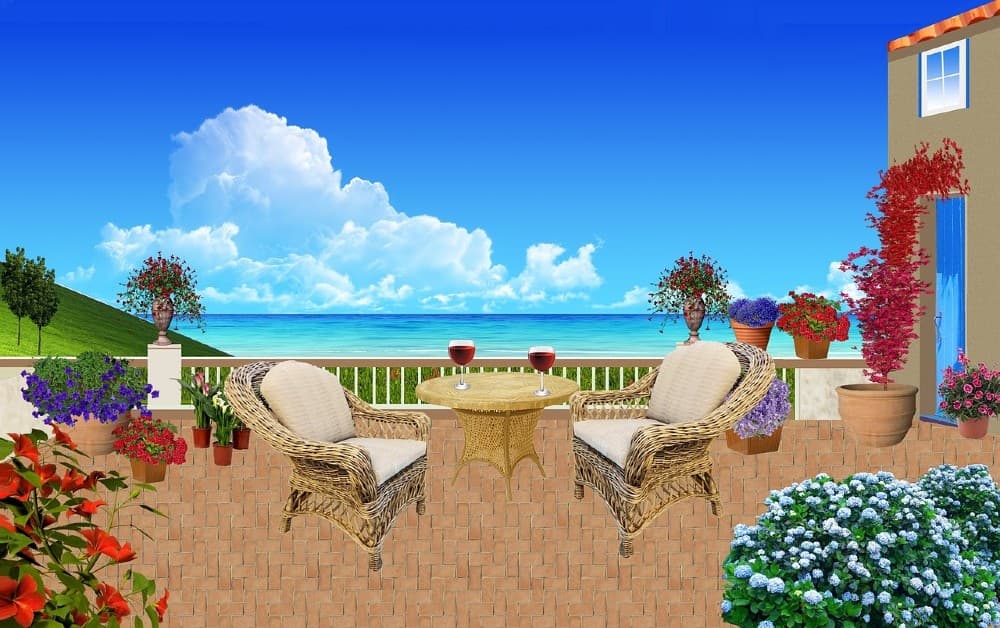 2. Organize Your Outdoor Kitchen
If you have an outdoor kitchen, it's essential to keep it organized to make the most of your space. Store items you don't often use in cabinets or drawers, and keep countertops clear for prep space.
If you have a grill, clean it regularly and store any propane tanks or other grilling accessories in a safe place. This will make your kitchen more appealing and functional and allow you to enjoy spending time outdoors cooking and entertaining. It is well known that a kitchen is the heart of the home, which is just as true for an outdoor kitchen.
3. Store Seasonal Items
If you have seasonal items, such as holiday décor or winter gear, it's crucial to find a place to store them when they're not in use. This will declutter your patio and make it more enjoyable to spend time outdoors. You can store seasonal items in a shed, garage, or basement.
If you don't have any extra storage space, look for storage containers that can be stored under a patio table or benches. And be sure to label all of your storage containers so that you can easily find what you need when you need it.
4. Limit the Number of Accessories
It's easy to accumulate a lot of small items on your patio, such as potted plants, candles, and statuettes. But too many accessories can make your patio feel cluttered and cramped. So be selective about your display items, and limit yourself to a few key pieces.
Choose stylish and functional accessories, such as planters that double as seating or end tables. And if you have items that you only use occasionally, like serving platters or tablecloths, consider storing them inside so that they're out of the way when you don't need them.
5. Keep Your Patio Clean
One of the best ways to keep your patio clutter-free is to clean it. Sweep or hose down your patio regularly to remove dirt, dust, and debris. This will also help prevent mold and mildew from growing. You should also clean any outdoor furniture or accessories as needed. It looks better, but it will also keep your patio furniture in good condition.
Regular cleaning will keep your patio looking its best and make it more inviting, so you'll be more likely to use it. And be sure to empty any outdoor trash cans regularly. If you have recycling bins, be sure to put them in a convenient location so that you're more likely to use them. When your patio is clean and organized, it will be much easier to enjoy spending time outdoors.
6. Create a Gardening Station
Designate a space on your patio for all of your gardening supplies if you love to garden. This will include pots, soil, fertilizer, tools, and seeds. Having everything in one place will make it easy to find what you need and will help you keep your patio organized.
You can create a simple gardening station by setting up a shelf or using a rolling cart. Or, if you have the space, consider investing in a shed or small greenhouse. A potting bench is also a great option, as it provides both storage and seating. This will give you plenty of room to store all of your supplies and keep them out of the way when you're not using them.
Decluttering your patio doesn't have to be a daunting task. The key to decluttering your patio is to be selective about your items and have a place for everything. By following these simple tips, you can keep your patio organized and look its best. So take some time to declutter your patio today, and enjoy the outdoors tomorrow. Remember, a cluttered patio is no fun for anyone.