Countertops are a necessary part of any kitchen, and they can also be one of the most expensive parts to replace. When you're in the market for a new countertop, it's important to do your research to ensure you're getting the best bang for your buck. Here are a few things to keep in mind when shopping for a new countertop:
Figure Out Your Budget
When you're trying to figure out your budget for a new countertop, there are a few things you need to keep in mind. First, you need to know the square footage of your countertop. This will help you determine the price per square foot that you'll be paying for your new countertop.
Next, you need to consider the type of countertop material you want. There are a variety of materials available, such as granite, quartz, and marble, to name a few. And each material has its own price point. For example, granite countertops are typically more expensive than laminate countertops.
Finally, you need to factor in installation costs. This can vary depending on who you choose to install your new countertop, but it's important to factor this cost into your budget. By keeping these factors in mind, you can get a better idea of how much your new countertop will cost. Once you have an estimate of the total cost, you can start shopping around for the best deal on your new countertop.
Figure Out Which Stone You Want
When it comes to countertops, there are many different options to choose from. But which one is right for you? Here are a few things to consider when choosing a new countertop:
The look you want: Do you want a sleek and modern look or a more traditional style?
How much maintenance you're willing to do: Some countertop materials require more upkeep than others. Are you willing to put in the extra work, or would you prefer a low-maintenance option?
Your lifestyle: Do you cook often? Do you entertain often? Your lifestyle will impact which type of countertop is right for you.
Once you've considered all of these factors, it's time to start shopping around! Compare prices and styles of different countertop materials until you find the perfect one for your home.
Decide What Type Of Countertop Edge
If you're considering a new countertop, one of the first things you'll need to do is decide on the edge. The type of edge you choose can have a big impact on both the look and function of your countertop. Here are some of the most popular options to help you make your decision:
Straight Edge: A straight edge is the most basic and simple option. It works well with most design styles and is easy to clean.
Beveled Edge: A beveled edge adds a bit of dimension and interest to your countertop. It can be more difficult to clean than a straight edge, but it's still a popular choice for many homeowners.
Bullnose Edge: A bullnose edge is rounded and soft, making it a good choice if you have young children or prefer a more traditional look. It can also be more difficult to clean than other options.
Ogee Edge: An ogee edge is similar to a bullnose, but with an additional curve at the top. This makes it even more ornate and sophisticated, but also more difficult to clean.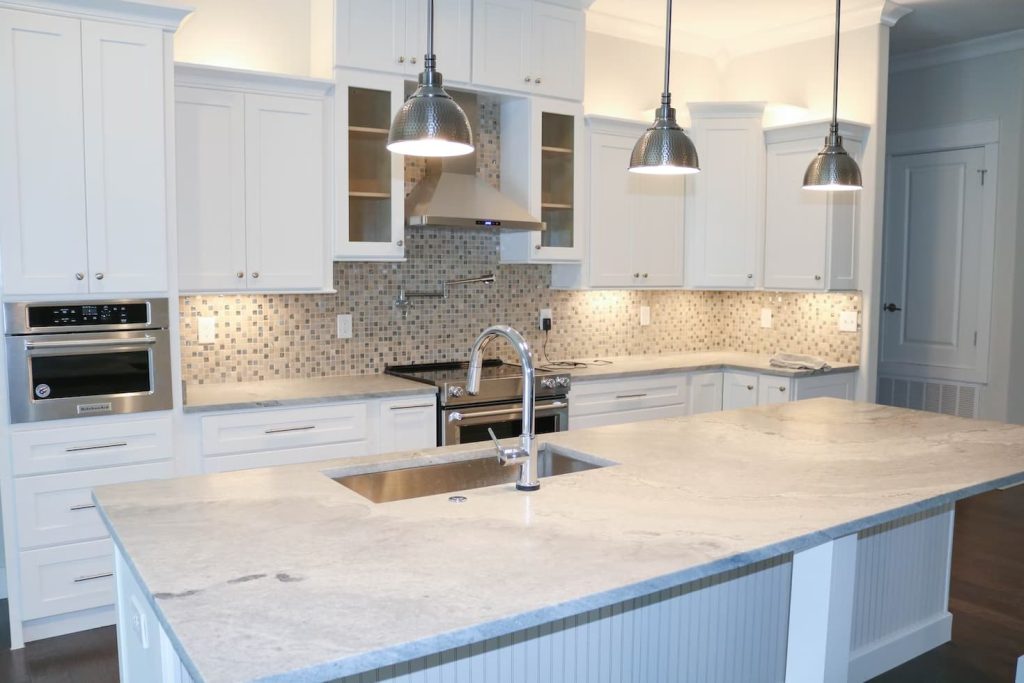 Ask For Samples
When you've finally decided on the perfect countertop material, finish, and edge detail, it's time to ask for samples! This way, you can see and feel the countertop in your own home to decide if it's really the right one for you. Most countertop companies will be happy to provide you with samples, but some may charge a small fee. Be sure to ask about this before requesting any samples.
Once you have your samples, take a close look at them in the space where your new countertop will go. Pay attention to the color, texture, and overall appearance. If you're still undecided after looking at the samples in your home, try taking them outside to see how they look in different lighting conditions.
You might also want to ask a friend or family member for their opinion. With all of this information in mind, you should be able to make a confident decision about which countertop is right for your home.
Check The Warranty
When you are ready to purchase a new countertop, be sure to check the warranty. Many companies will offer a limited warranty on their products. This means that if your countertop is damaged within a certain period of time, the company will replace it for free.
However, there may be some restrictions on what is covered under the warranty. For example, some warranties may not cover damage from heat or stains. Be sure to read the warranty carefully so you know what is and is not covered.
Pick The Perfect Countertop For Your Home!
In sum, there are many things to consider when it comes to finding the right countertop for your home. You need to consider durability, style, and your budget. Some countertops require professional installation, while others can be installed as a DIY project.
Be sure to factor installation costs into your budget if you plan on hiring someone to do it for you. With all of these things in mind, you'll be well on your way to finding the perfect countertop for your kitchen.