If you have been looking for creative garden bed edging ideas, search no more. We have a collection of 15 creative ideas that will help you make a lovely garden bed. Everything about the 15 garden bed edging ideas are easy to follow because there is a link that you can source the information.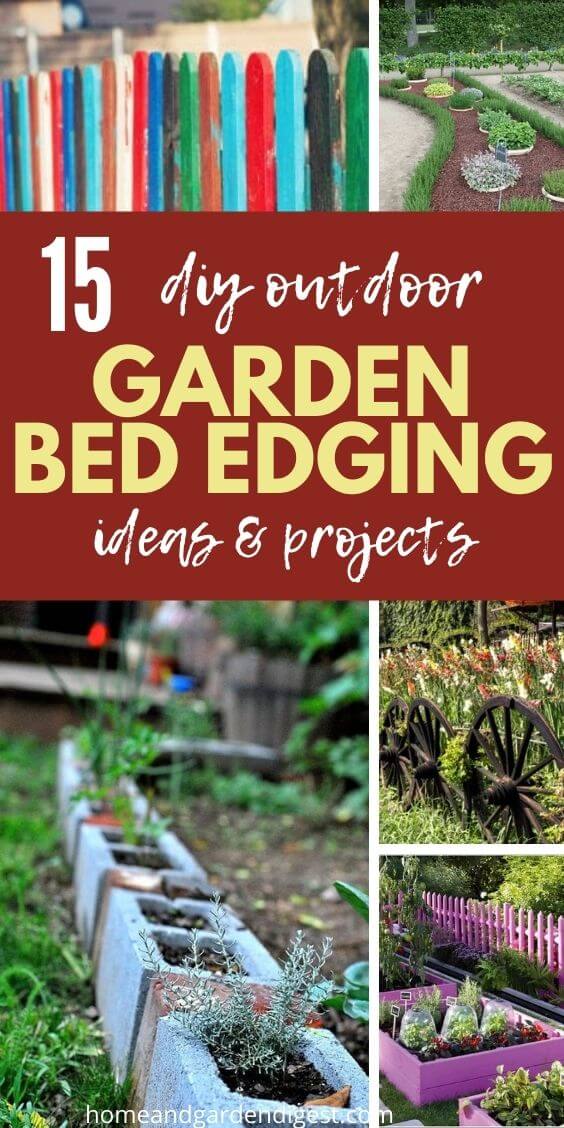 1. Wood log garden-edging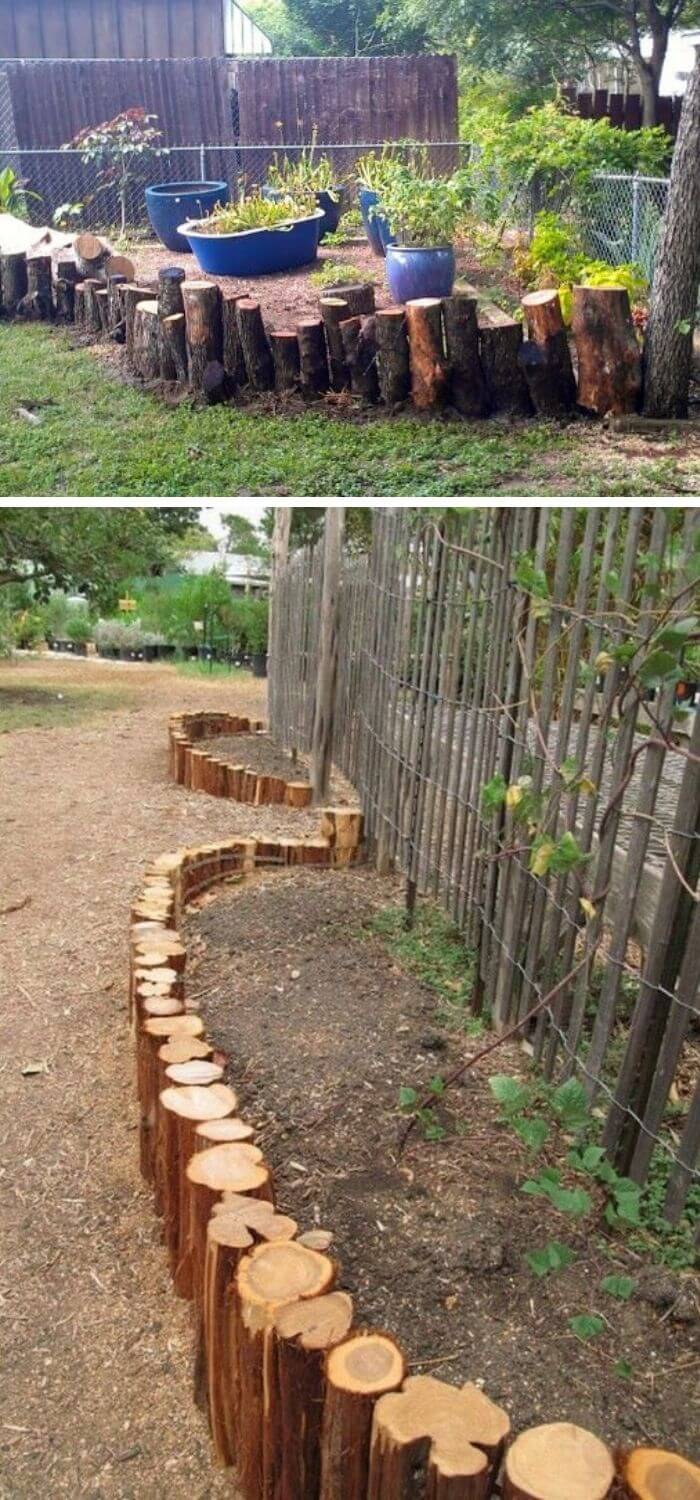 Wood log garden edging is one of the best ideas to emulate in your garden designs. It is about getting many pieces of logs, arranging them in a manner that best suits you, and making a cute garden in a space left in the middle.
2. China plate dish Garden edging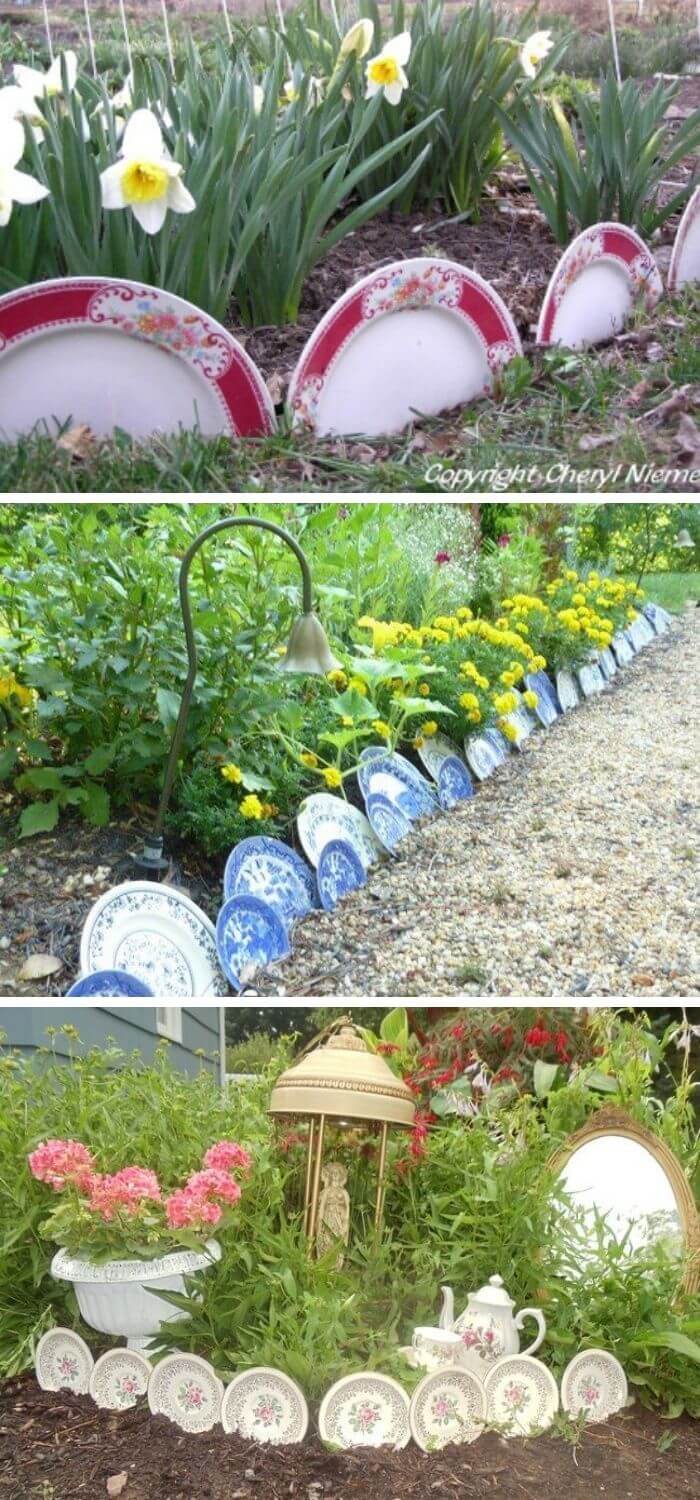 Your old plates can still do something for you. If you can refer to the source here, you will realize how it can make a beautiful garden edge. Follow the steps from the link to inspire you. It will be one of your holiday assignments.
 Source: https://33barefootlane.wordpress.com/2010/04/10/china-plate-garden-border/
3. Straw bale garden edging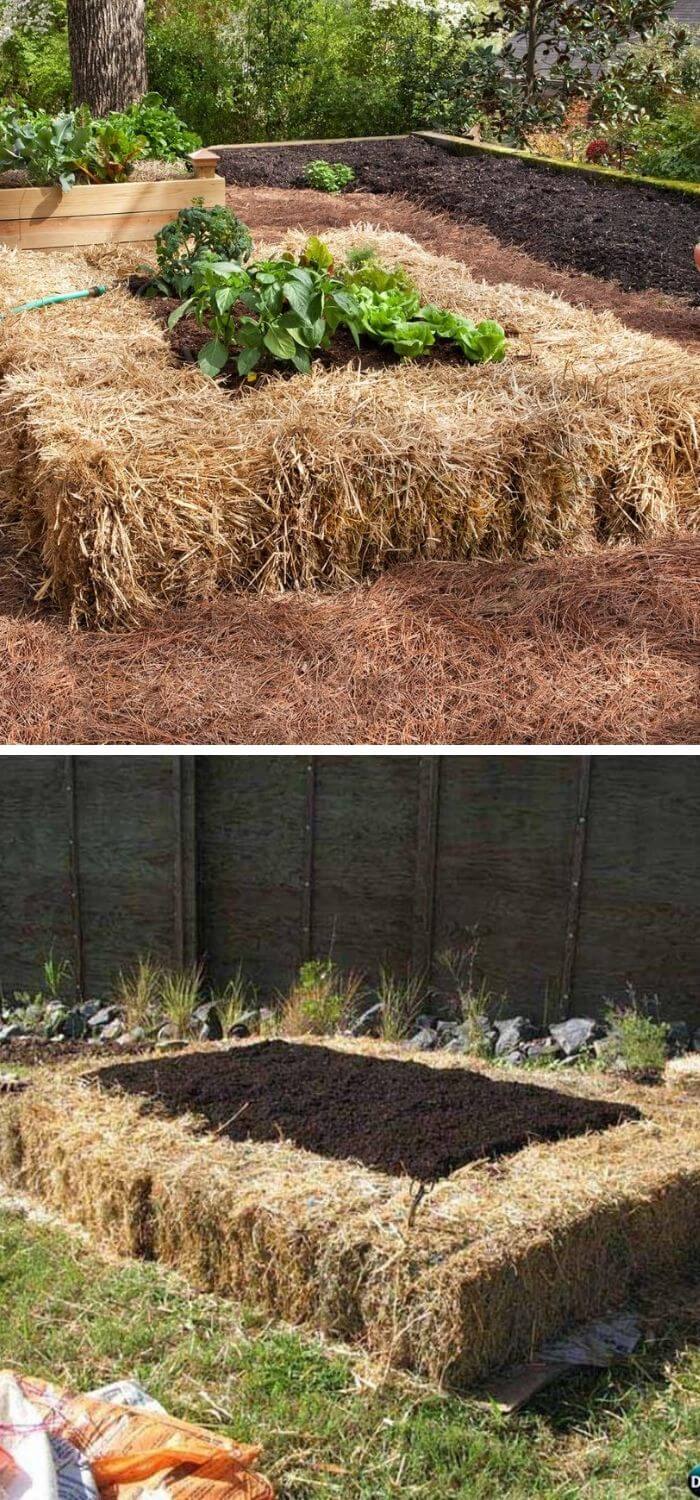 This one is the best for the people who can access many straw bales. You can see how you can arrange it to form a garden edge for planting flowers and other garden plants. The link here will guide you on every step that you should follow when dealing with the idea.
4. Steel garden edging
Steel garden edging is another idea that you will want to try if you like creative garden ideas. Check the steps here and make something that will inspire all your visitors. It will be a way to bring change to your garden.
Source: http://www.houzz.com/ideabooks/12206679/list/your-mini-guide-to-great-garden-edges
5. Living tree plant garden edging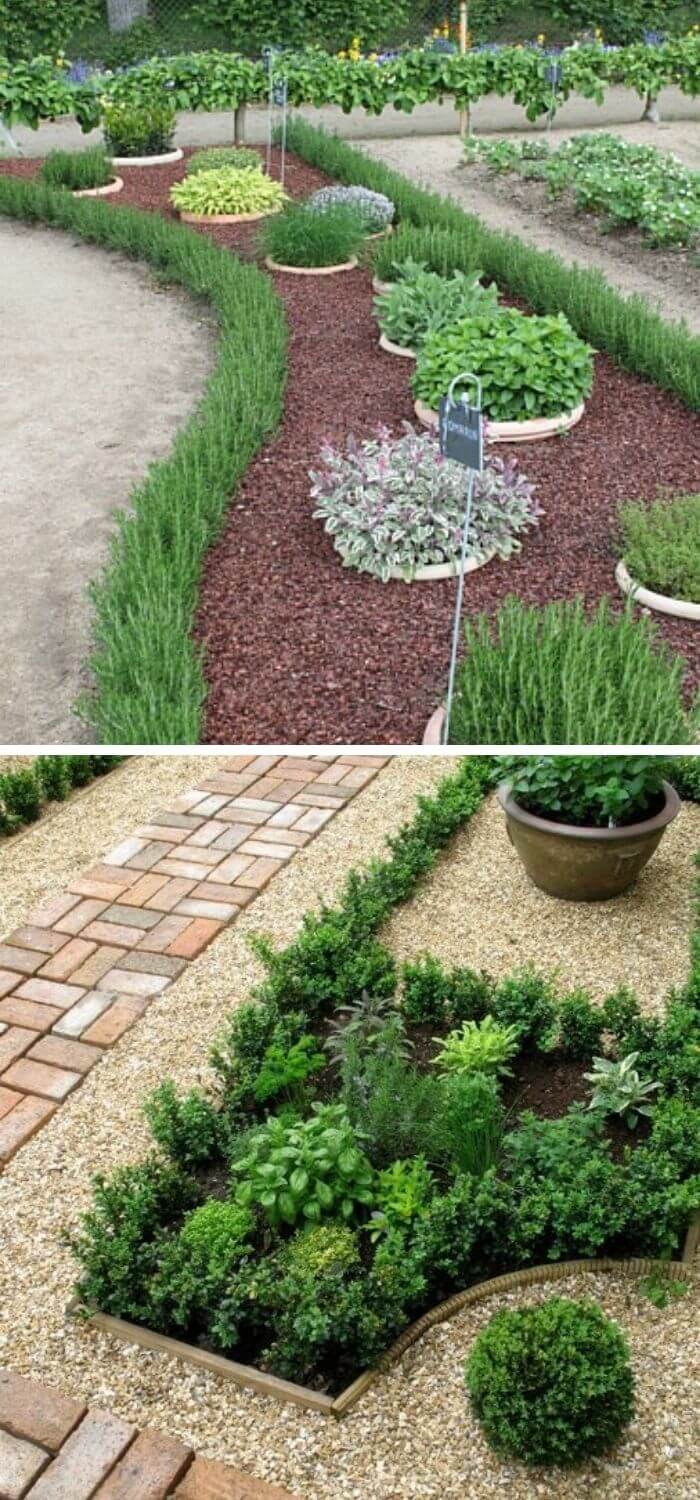 It is another beautiful idea for people who like vegetation. If you can plant many trees for garden edging, it will show your care about the environment and your love for the environment.
 Source: http://townmouse.typepad.com/townmouse/2010/05/the-best-and-the-worst-1.html
6. Old metal wheels' idea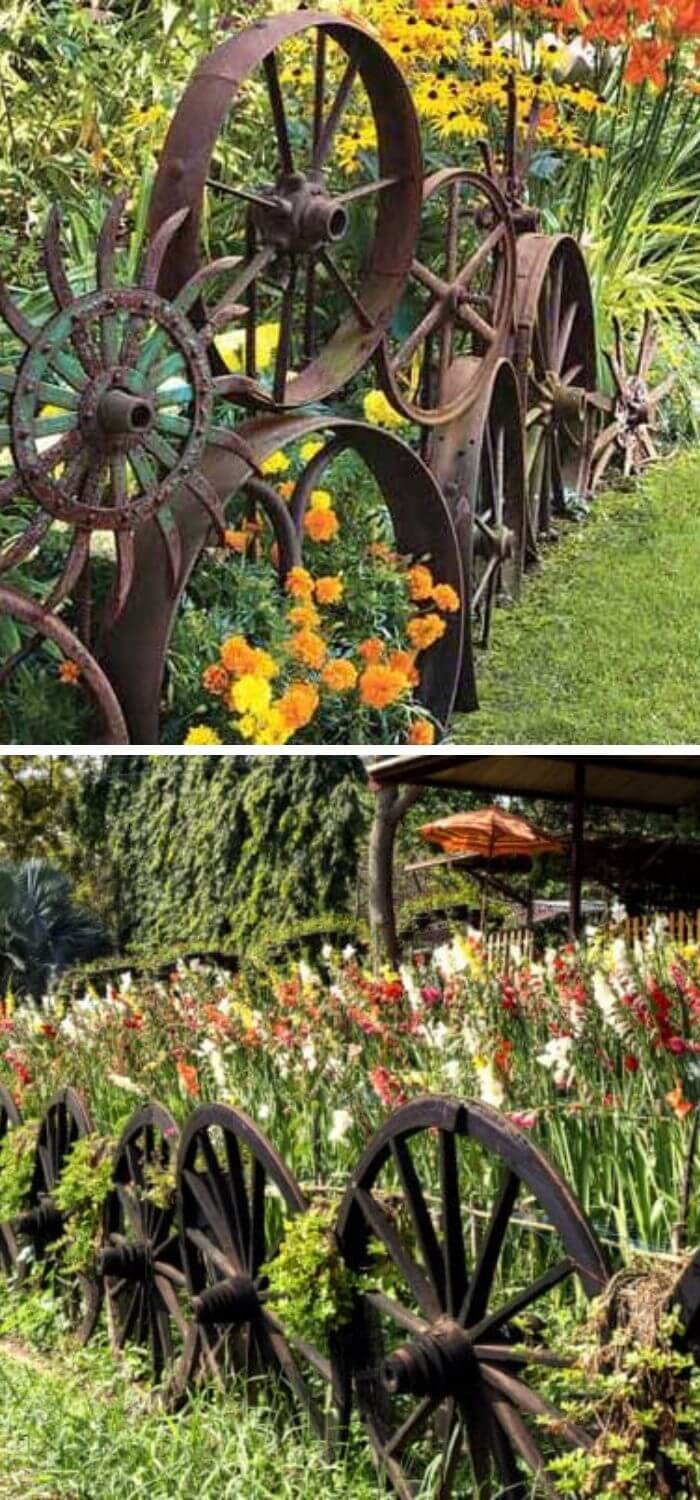 The old metal wheels' idea is another impressive garden edging idea that will work best for the people who can access the metal wheels. If you don't have the wheels, you can always try to buy some from the craft store.
Source: http://unconsumption.tumblr.com/post/23169133903/another-idea-for-the-garden-related
7. Bike wheel garden edging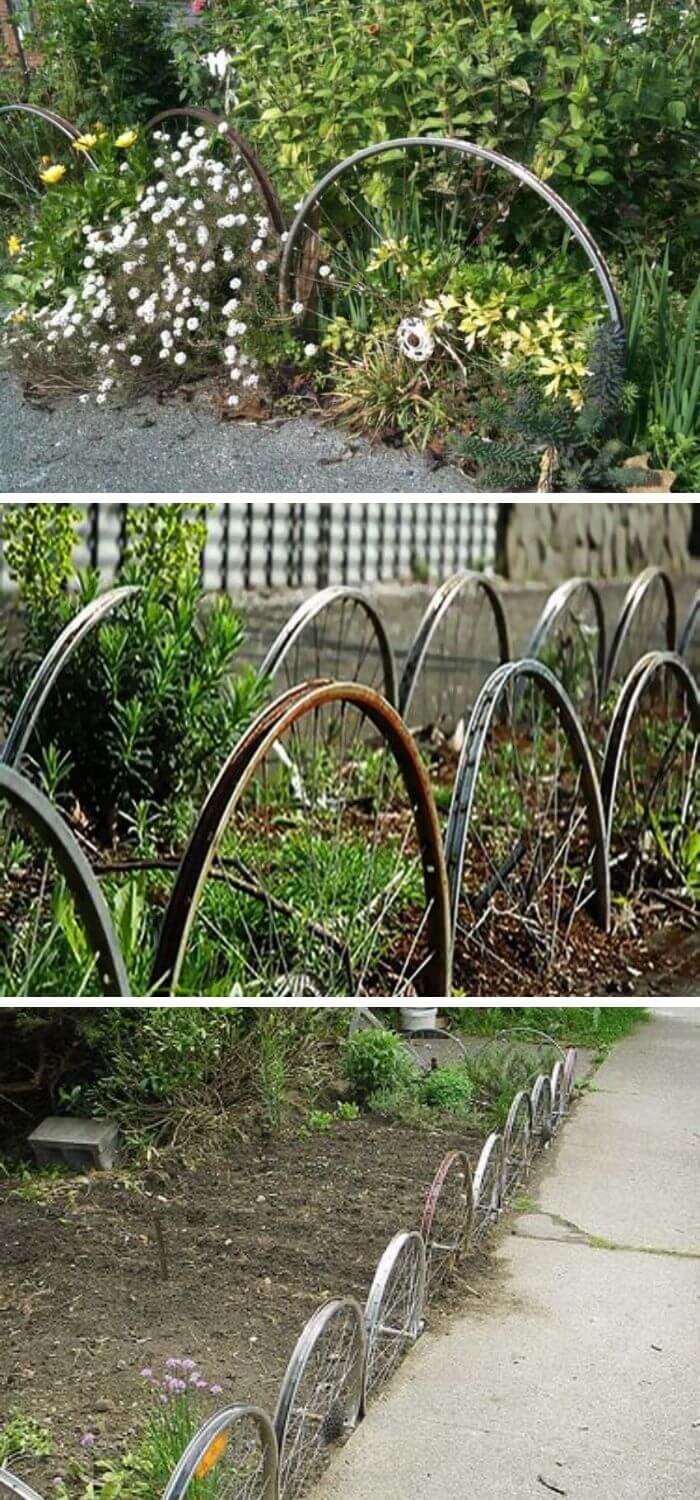 The bike wheel garden edging is another impressive idea that will be best for people who own many old bikes. Check the source to inspire you on everything you need to know when doing this creative garden edging idea.
8. Paint pallet garden edging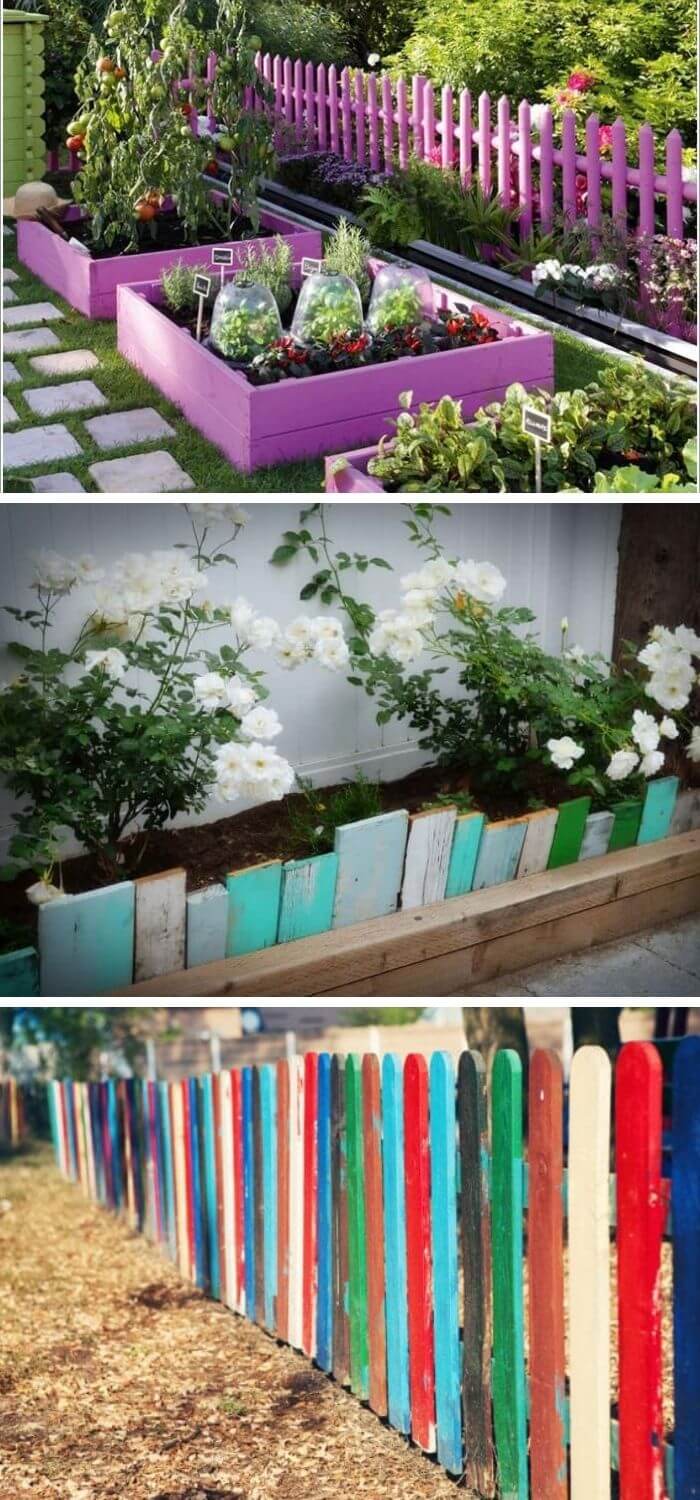 The paint pallet garden edging is among the best ideas to try when you want to do a garden edging. It is always beautiful when you use the pallets, but it is even better when you can do it with paint.
9. Rock stone edging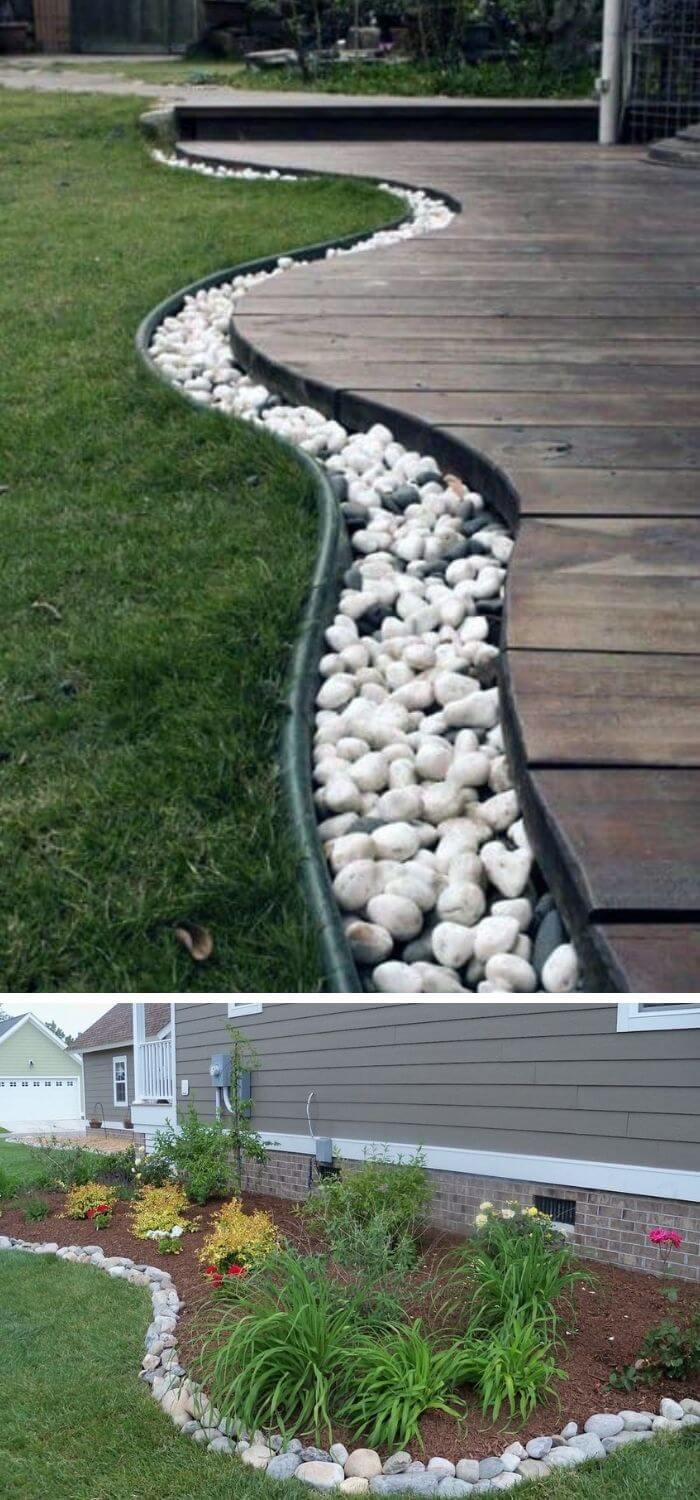 You will never realize the beauty of stones until you come across this creative gardening idea. It is even better when you have paint on the stones. All these are the things you should do with the stones around your home.
Source: https://farmfoodfamily.com/lawn-edging-ideas/
10. Pipe tuber border garden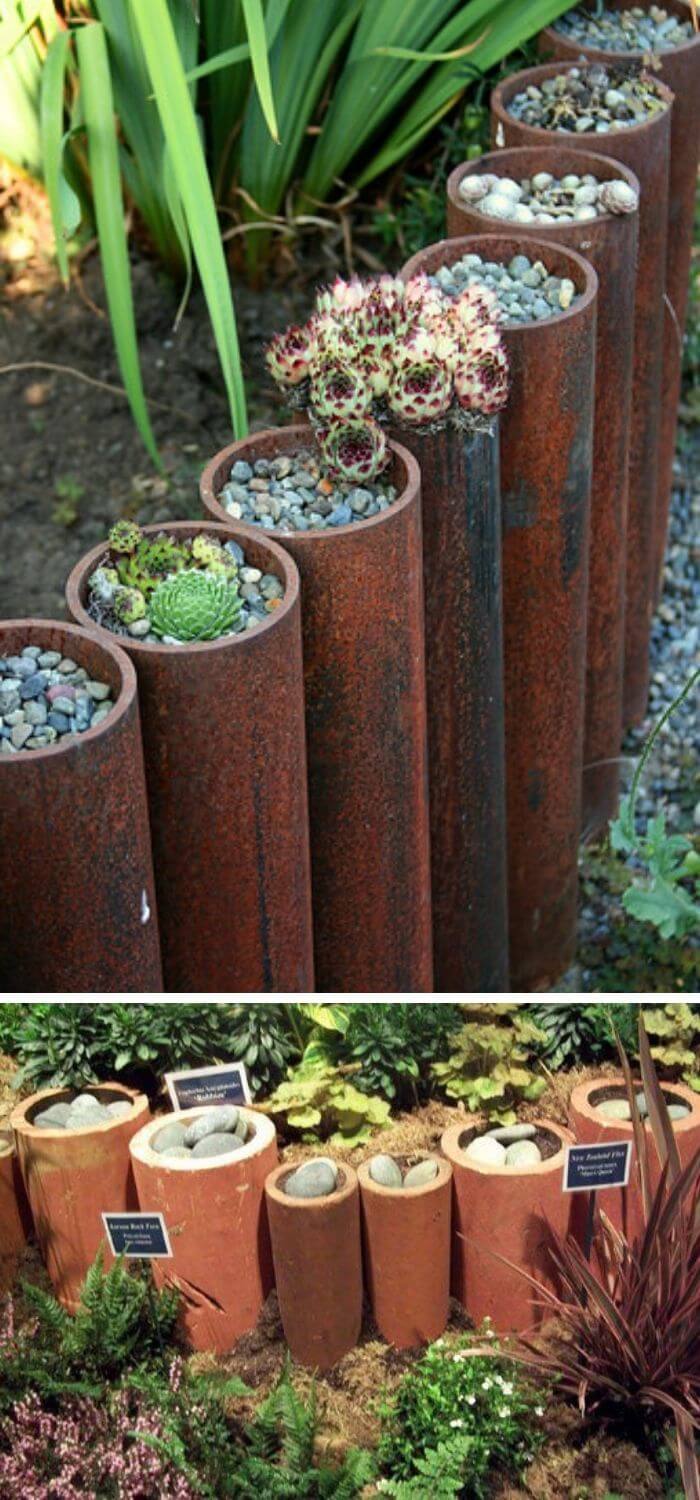 Pipe tuber border garden is another idea for creative gardeners who enjoys doing new things with the garden. Check out the instructions on how to make a beautiful pipe tuber garden border.
 Source: http://floradoragardens.blogspot.com/2011/11/meadow-creek-house-seattle.html
11. Stone bricks garden edging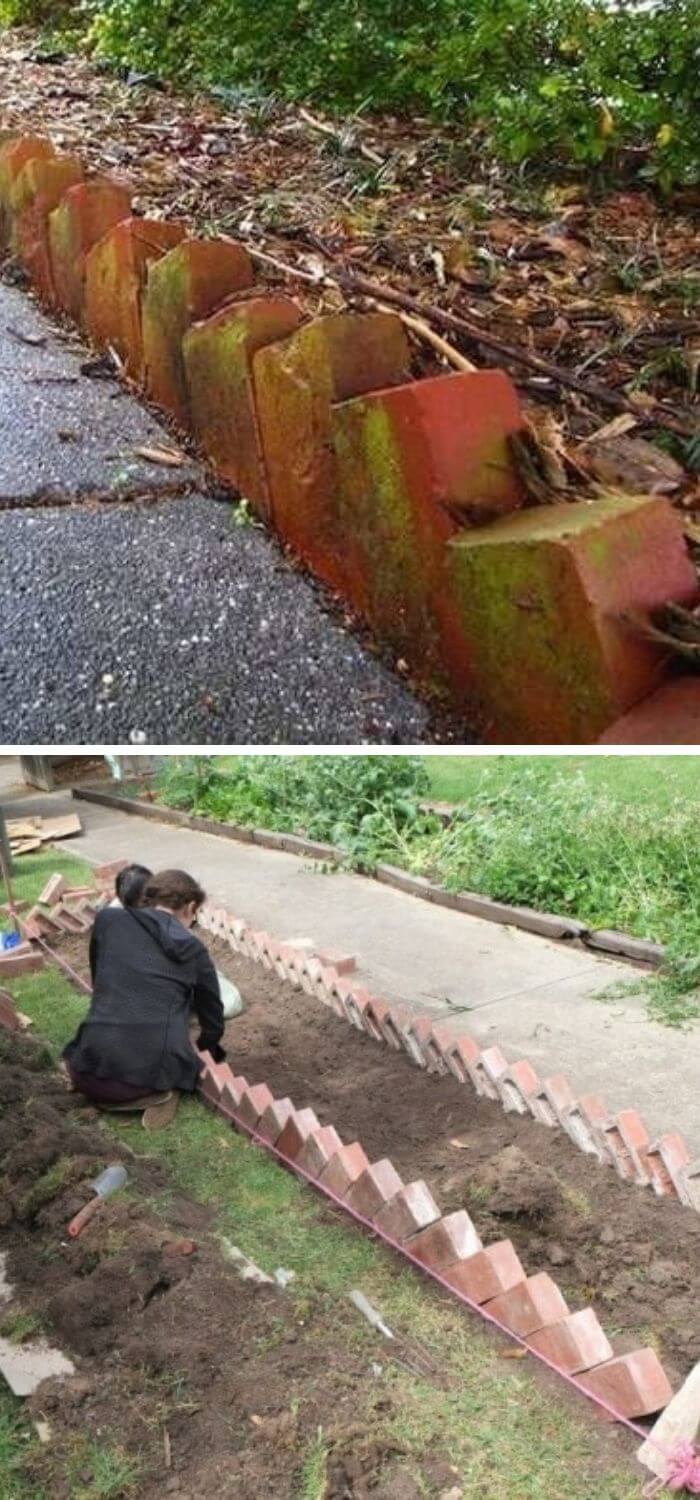 The stone bricks garden edging is undoubtedly the best idea for people who have the brick-remains after a building exercise. A garden edge out of bricks is beautiful and will make your house look even more appealing when you have this kind of garden.
Source: http://www.thedesertecho.com/blog/community-rehabilitation-garden/
12. Scrap wood garden bed edging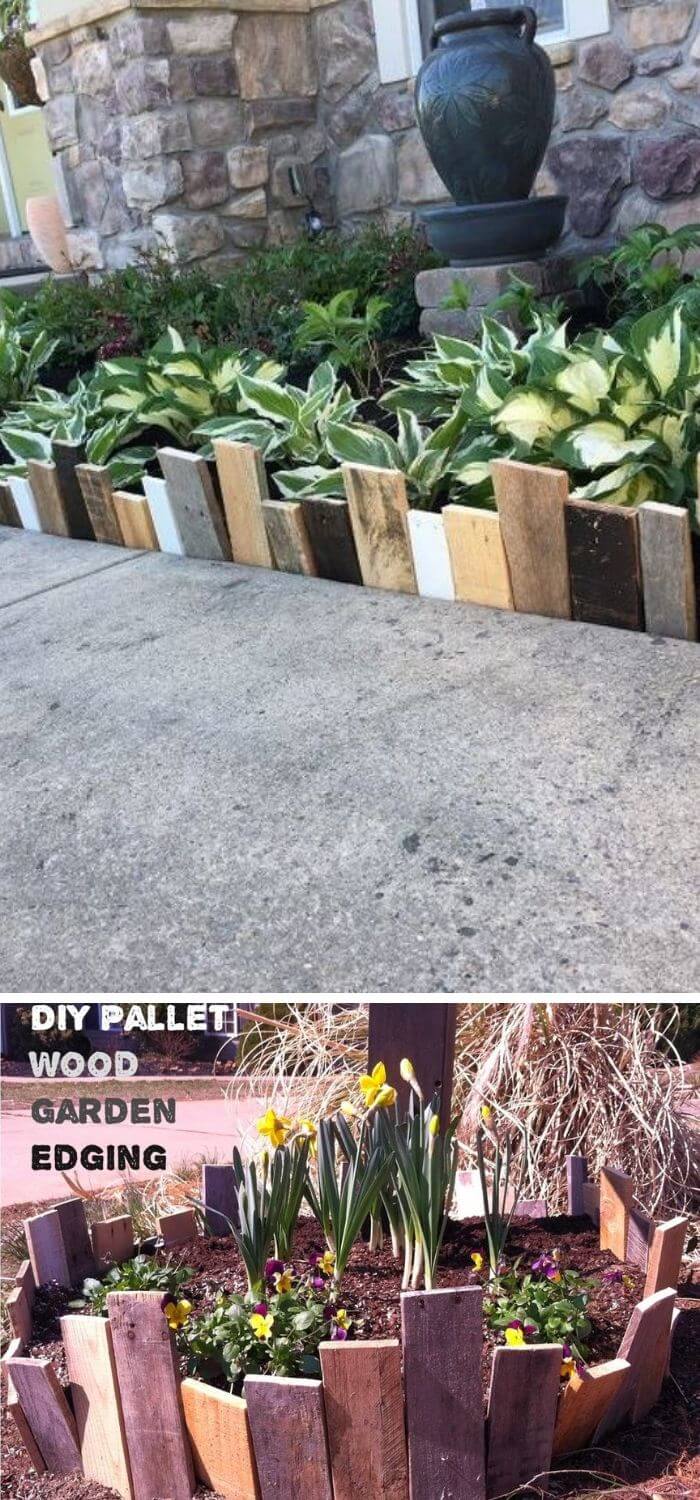 Try the scrap wood garden bed edging and be ahead of the rest as far as garden edging is concerned. Don't worry about how you will do it because we have an instruction manual to guide you through all the steps. It is a fantastic idea that favors everyone who enjoys creative edging ideas.
 Source: http://upcycledstuff.blogspot.ca/2014/03/how-to-make-garden-edging-from-pallet.html
13. White Gabion raised garden bed border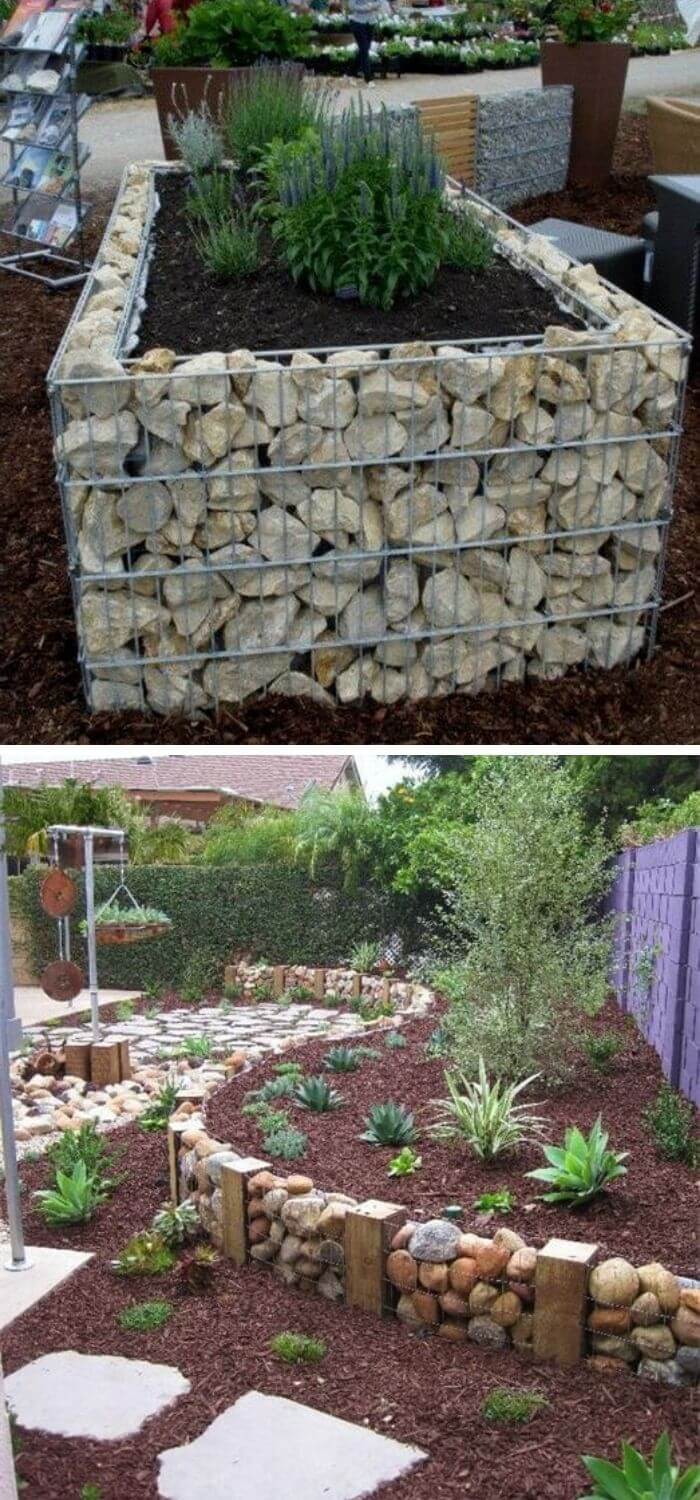 It is easy making gabions. That is why the garden bed edging idea will be a walkover for you. You can get inspiration on everything you need to know by considering what the creatives had for you here in store.
14. Terracotta pipes garden edging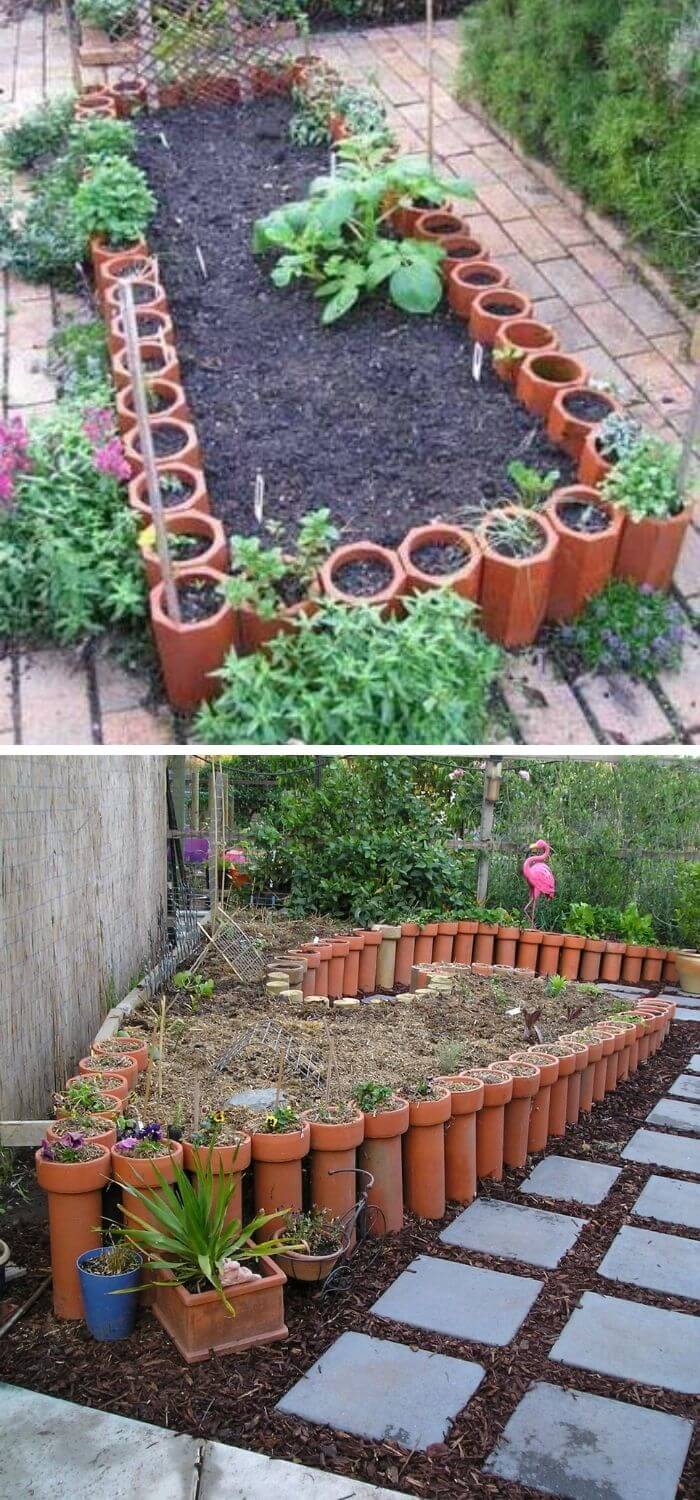 The source link will inspire you to start over a terracotta pipe garden edging project. Don't worry if you don't have the terracotta pipes because they are cheap at the craft stores. Make this cute garden edge and find reasons to make your garden a better source of happiness.
15. Cinder block edging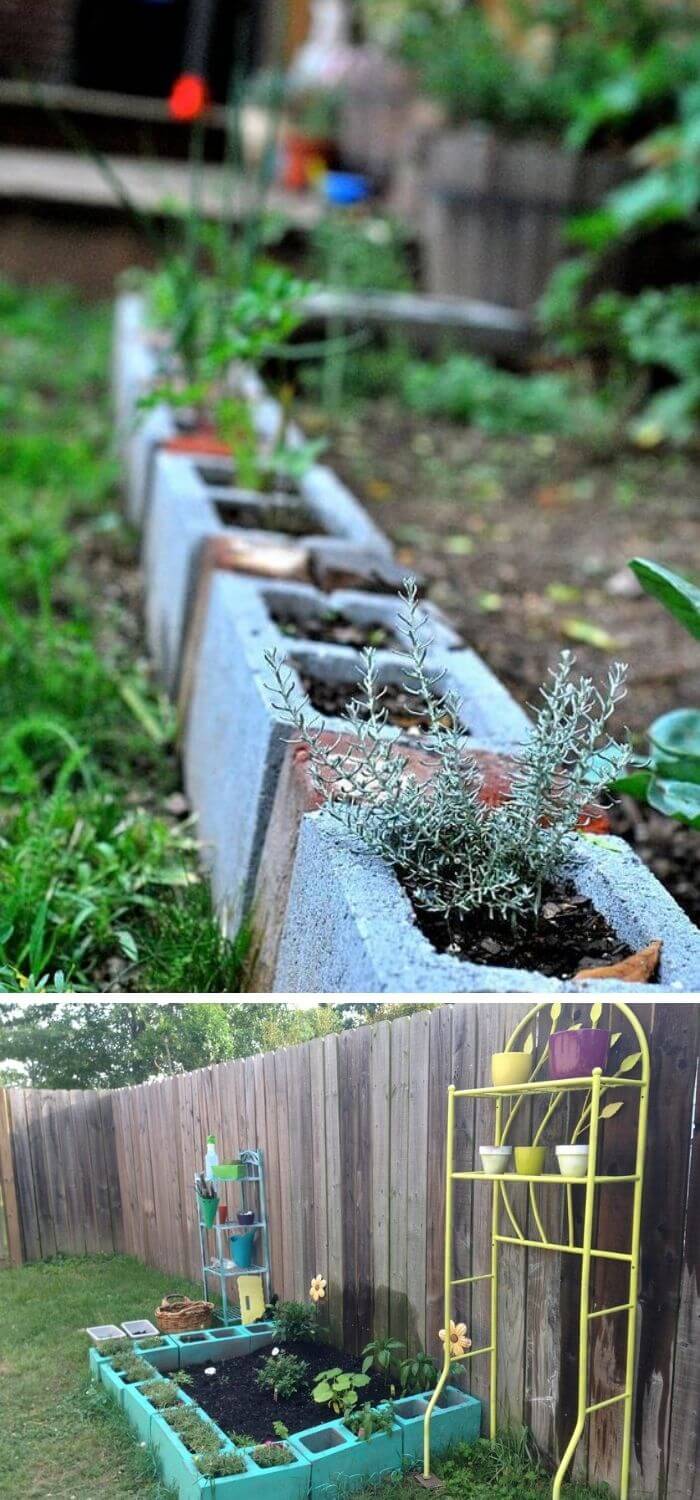 Cinder block edging is another cute creative garden edging idea that will demand less from you. Every step is well covered from the source here. Check it for inspiration on how you will get started with it.
 Source: http://www.abbisiler.com/crafts/my-happy-little-garden