Here are 15 funs free crochet cat patterns for pet lovers who enjoy funny cat hats. The ideas here have all the details. The knitting steps and the free image pattern are available to help you get a glimpse of what you ought to do. Check out the steps and see if you can begin a crochet hat pattern.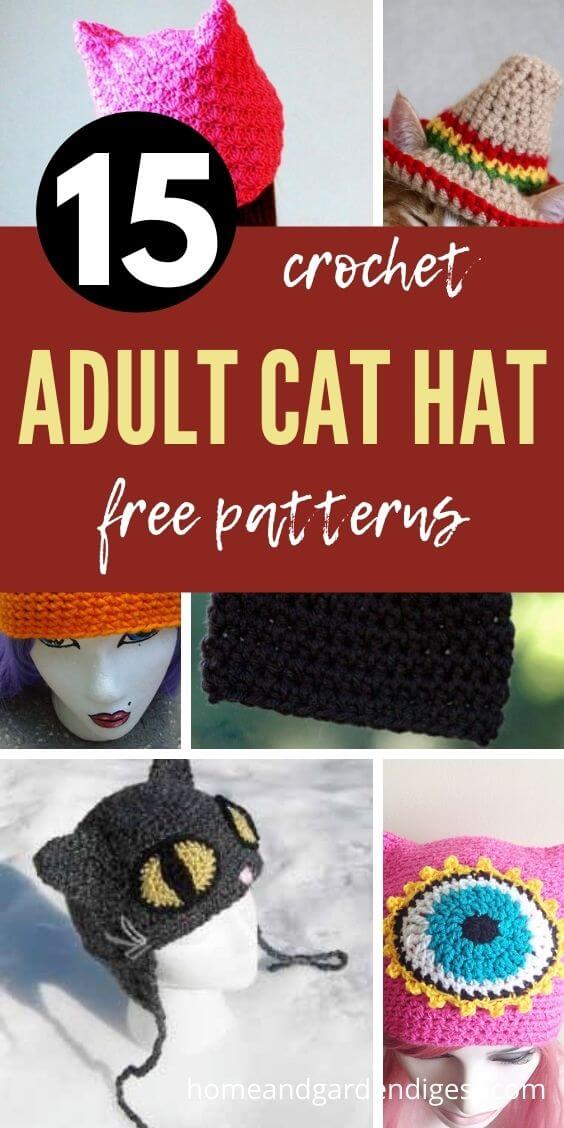 1. Crochet pussy hat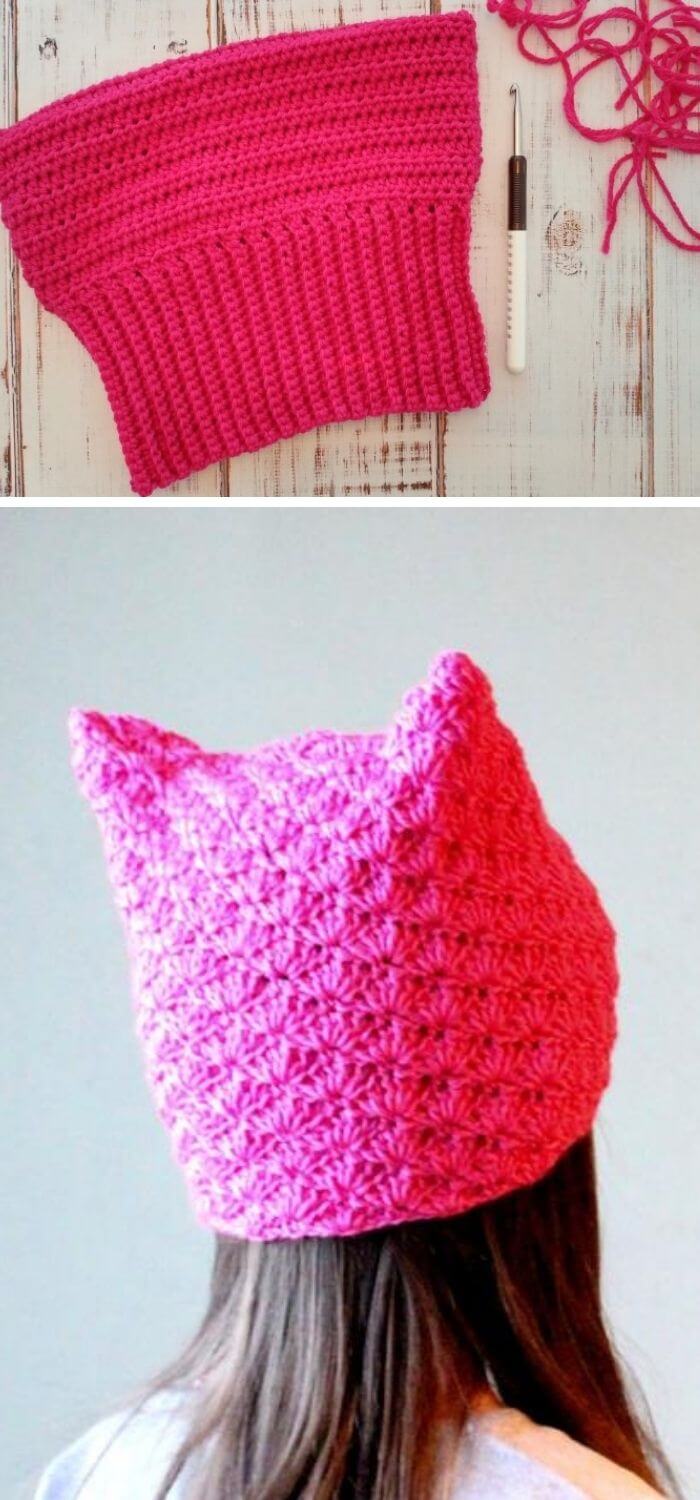 The crochet pussy hat is the easy-to-do idea that will favor whoever has yarn and a hook. The advantage here is that you will not be starting from scratch! You will have a manual that will guide you from one step to the next.
 Source: https://www.kimwerker.com/2017/01/11/crocheted-pussyhat/
2. Kitty ear pinny
Kitty ear pinny ranks among the cutest crochet ideas that bring out the perfect fun cat hat ideas. You will like this hat during the cold winters, and you will have saved some dollars that you may have otherwise spend to buy a hat.
Source: https://www.ravelry.com/patterns/library/kitty-ear-beanie
3. Kitty cat hat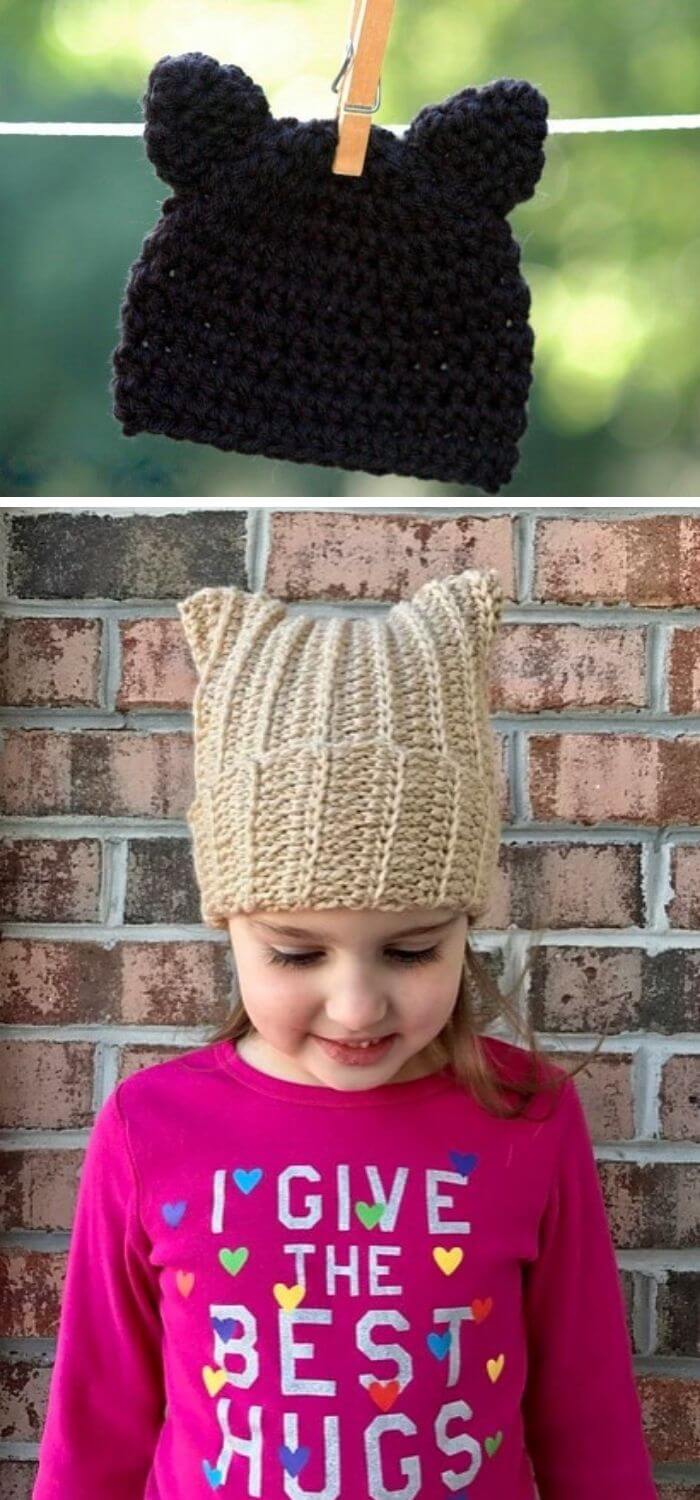 Kitty cat hat is another fantastic crochet idea that you want to do in your free time. The knitting steps for this hat pattern are simple, and it will be the perfect hat for your kid if you want to protect them against cold during the harsh cold seasons. Follow the source for inspiration on how you will get started with the crochets.
Source: https://www.poshpatternsblog.com/kitty-cat-hat-crochet-pattern/
4. A black cat slouch hat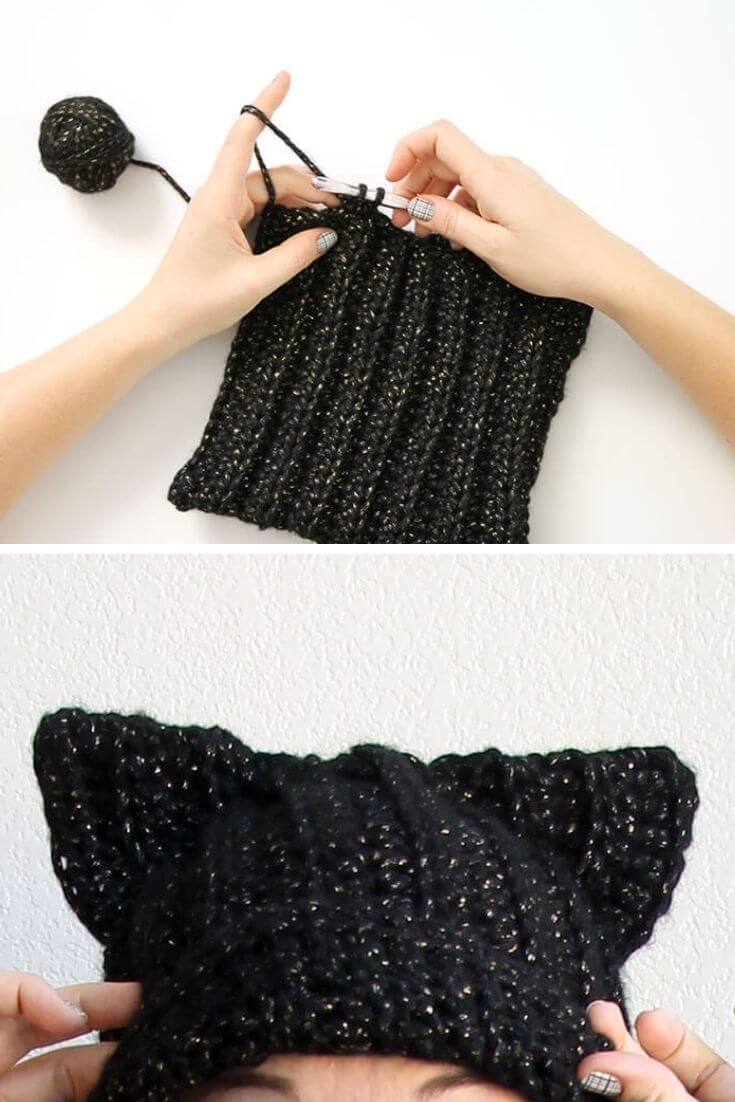 The black cat slouch hat appears to be the favorite as far as cat hats are concerned. Everything about this crochet pattern is impressive, and you can crochet it alone without any assistance when you are keen on the crochet hat patterns.
 Source: https://persialou.com/black-cat-slouch-hat-free-crochet-pattern/
5. Nasty pussy hat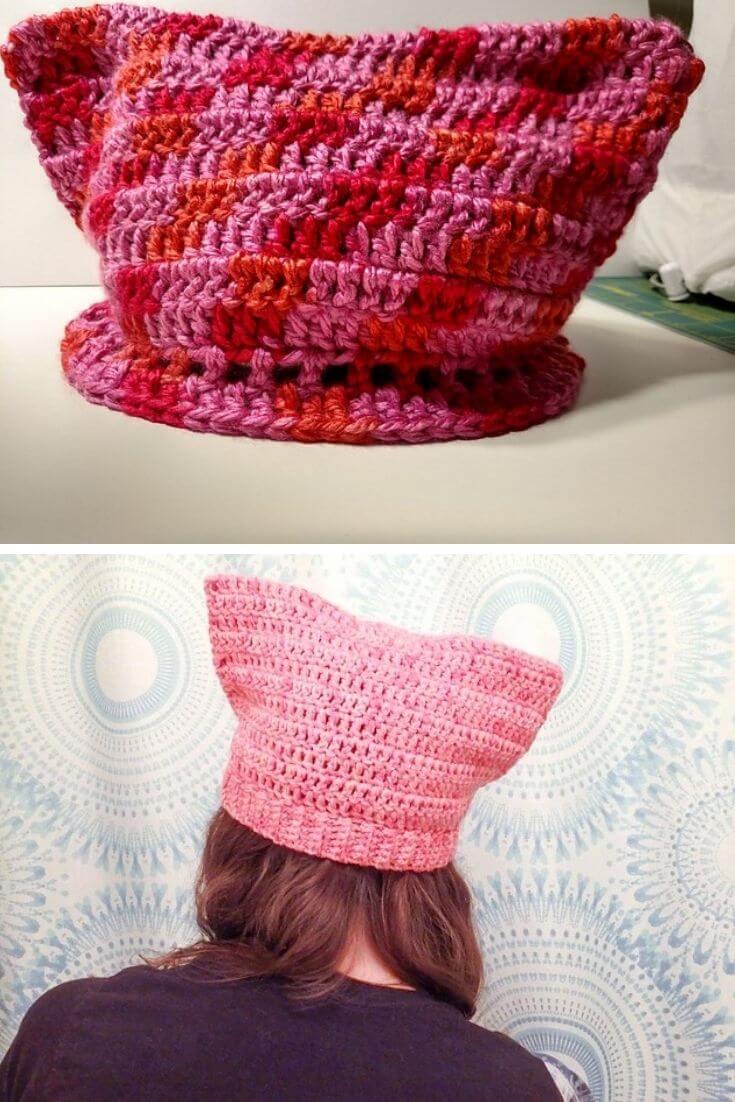 The nasty pussy hat is another beautiful hat pattern suitable for those who like crochet ideas. The hat is great when you are aspiring to be unique, or do things differently. Why can't you access the knitting steps from the source and start over the crochet idea?
Source: https://unwindfiberco.com/crocheted-pussy-hat
6. Crazy cat hat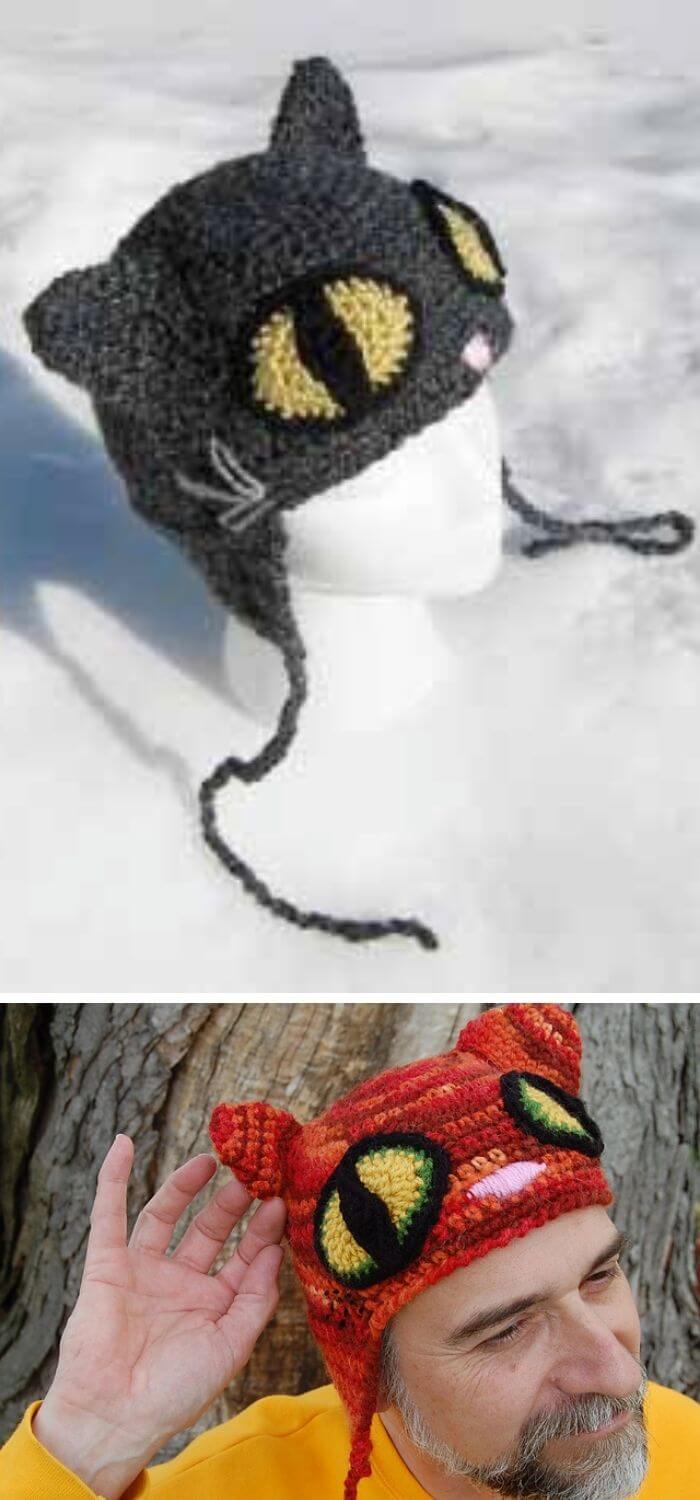 The crazy cat hat is a cute pattern for you. It is an idea that will give you memorable crocheting lessons considering the knits and the mix of colors. It is a perfect project for crocheters who wants a challenging crochet experience.
 Source: https://www.interweave.com/article/crochet/crazy-cat-hat/
7. Chunky cabled cat hat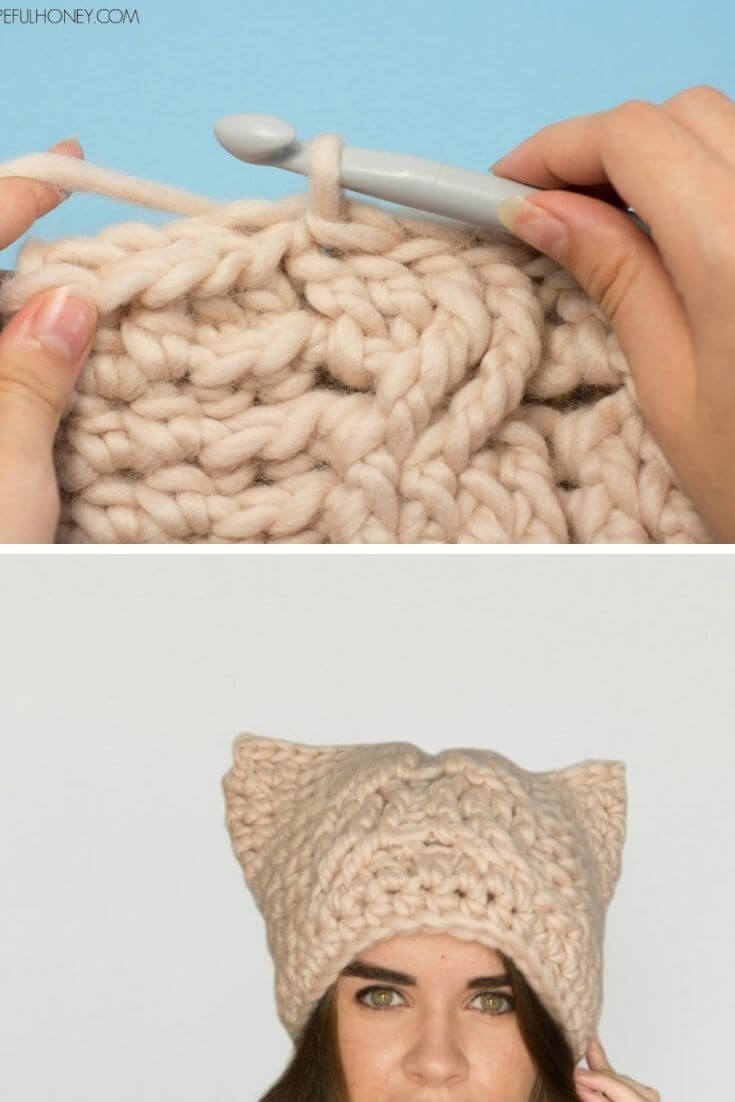 The chunky cabled cat hat is another smart fun crochet cat hat idea for smart crocheters who like new adventures. It will look great when you put it in because it is timeless and will favor you in all seasons. Check out the knitting steps from the source below.
 Source: http://www.hopefulhoney.com/2015/04/chunky-cabled-cat-hat-crochet-pattern.html
8. Kayla's kitty cat hat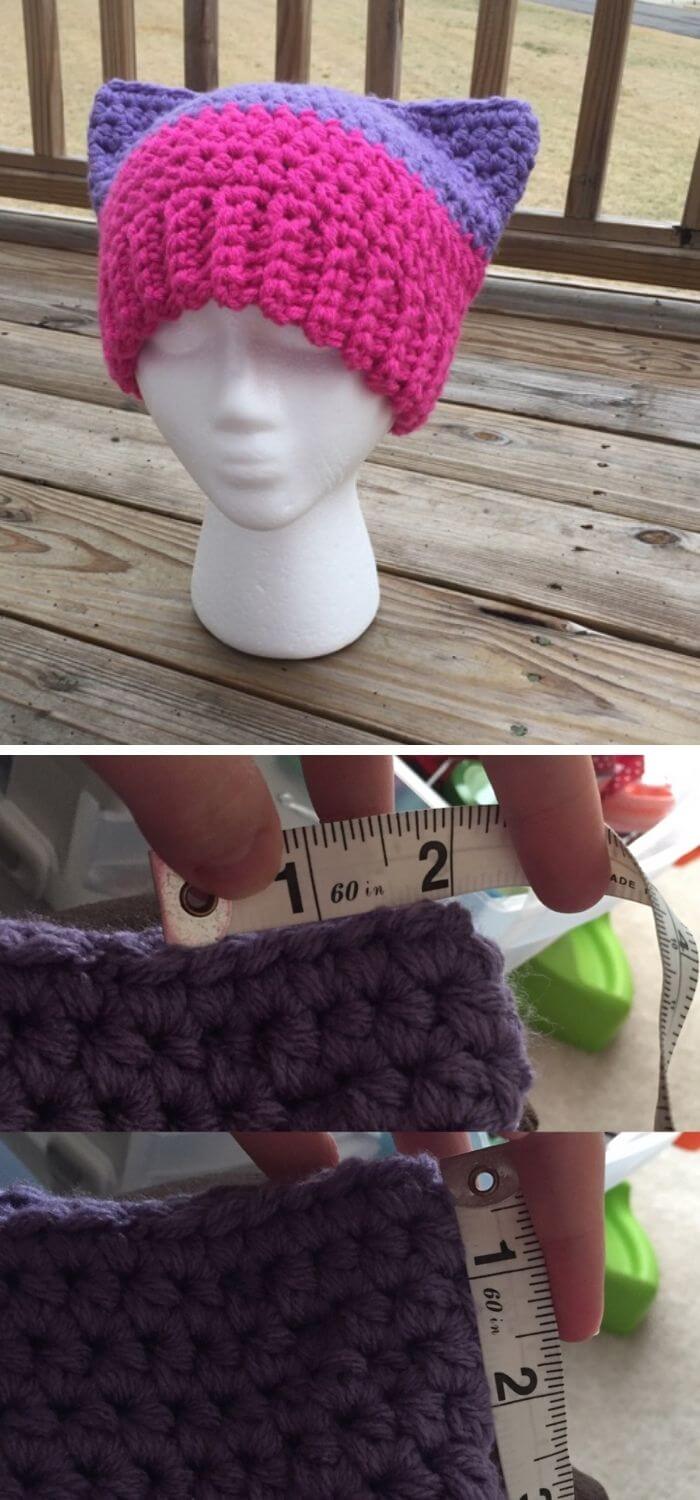 You will not run short of choices when looking for a fun crochet cat idea. Kayla's kitty cat hat is an excellent idea that will perfectly fit your kid and your friends. You don't need to run around looking for gifts. Start a crochet hat, and there you will have something cute to present.
 Source: https://kmtcreations.weebly.com/untitled/kaylas-kitty-cat-hat
9. Third eye cat ear beanie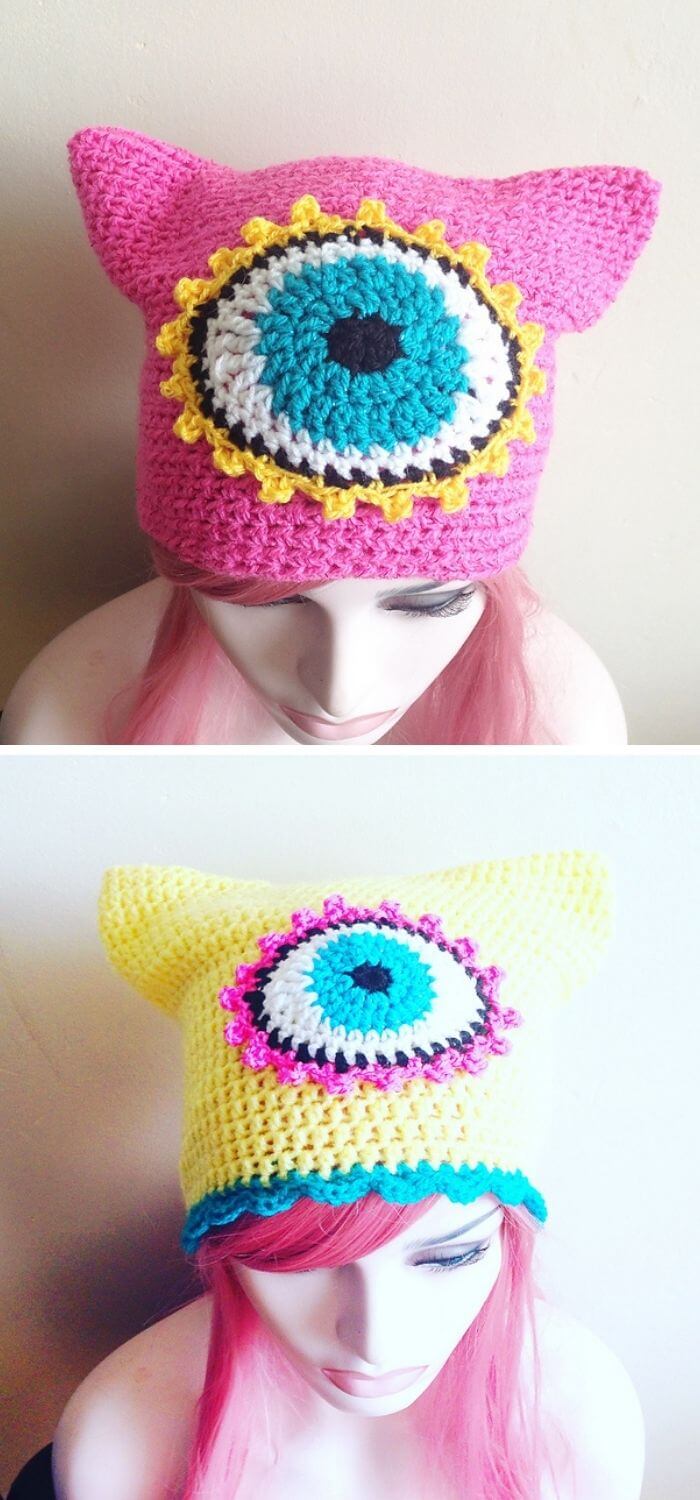 The third eye cat ear beanie ranks among the cute crochet ideas for cat pet lovers. Check out the knitting steps of this pattern and start over a crochet pattern to make a cute hat for cold winters.
Source: http://www.heycarrie.com/2016/08/third-eye-kitty-beanie.html
10. Meow beanie hat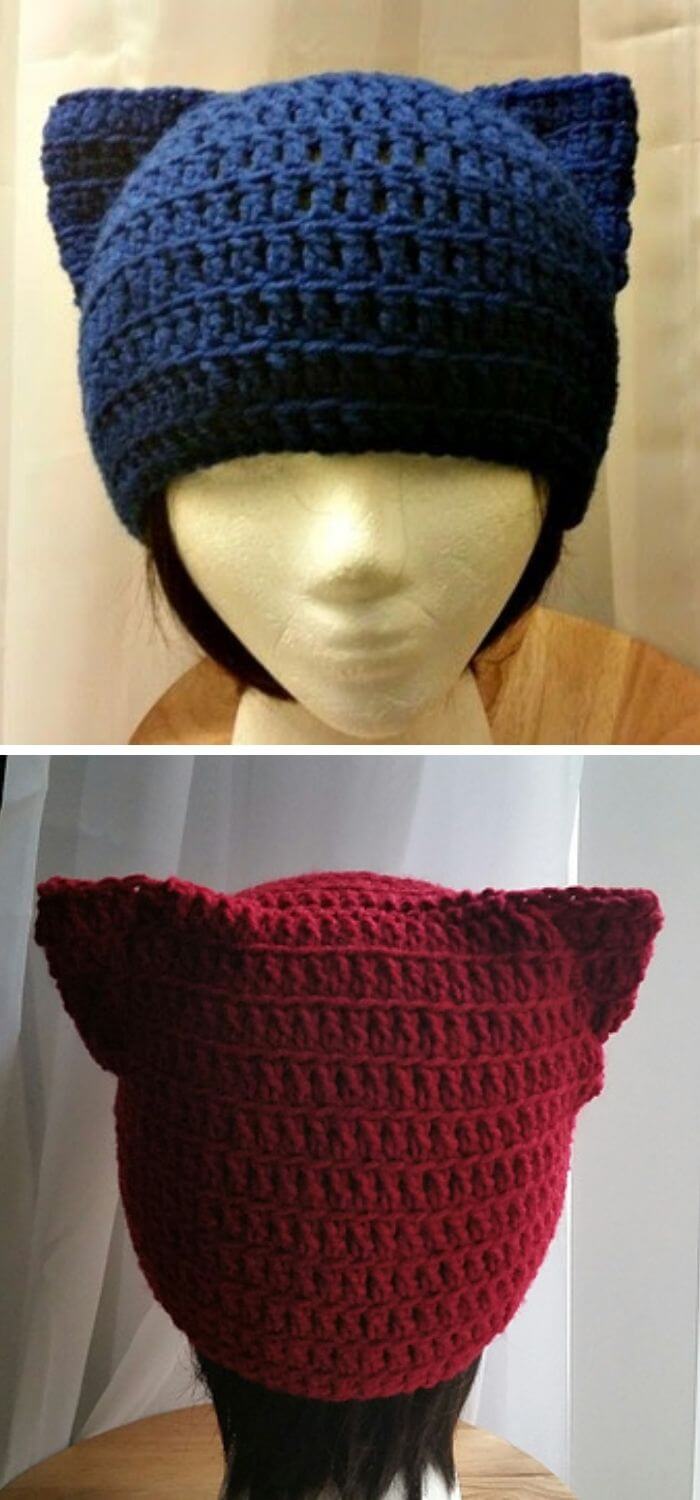 Visit the source below to inspire you to crochet a fun crochet hat. All the knitting steps are easy to follow, and it will be a milestone if you can stick to all details to make a perfect Meow beanie hat. It is the best of its kind and will demonstrate your love for cats.
Source: http://www.oliveandbrook.com/2016/08/free-crochet-pattern-cat-ear-beanie.html
11. Cute and easy cat hat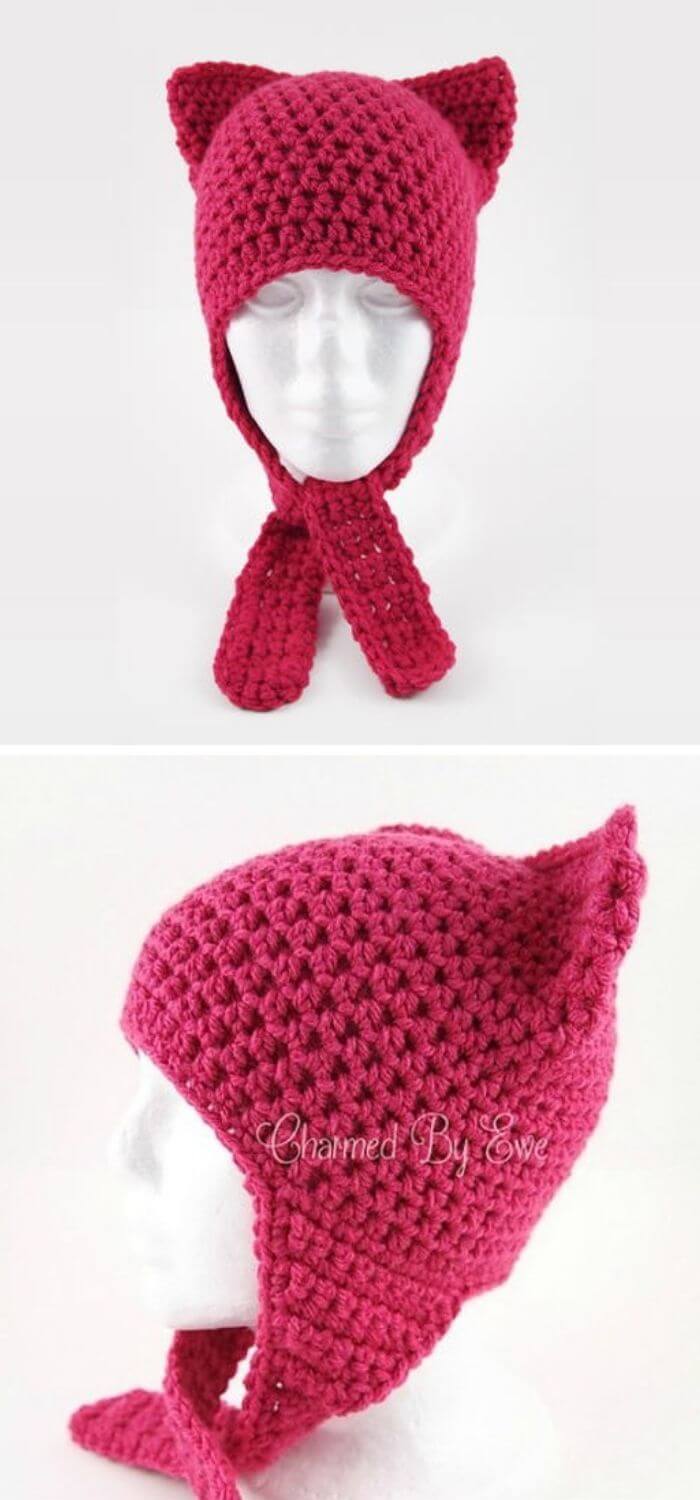 The cute and easy cat hat is among the best crochet cat hat-free patterns to try during your free time. Check out all the steps from the link to help you make a perfect cat hat. It is among the best ideas you can find in the crochet cat hat industry.
Source: https://www.allfreecrochet.com/Hats/Cute-Easy-Crochet-Cat-Hat
12. Anime cat hat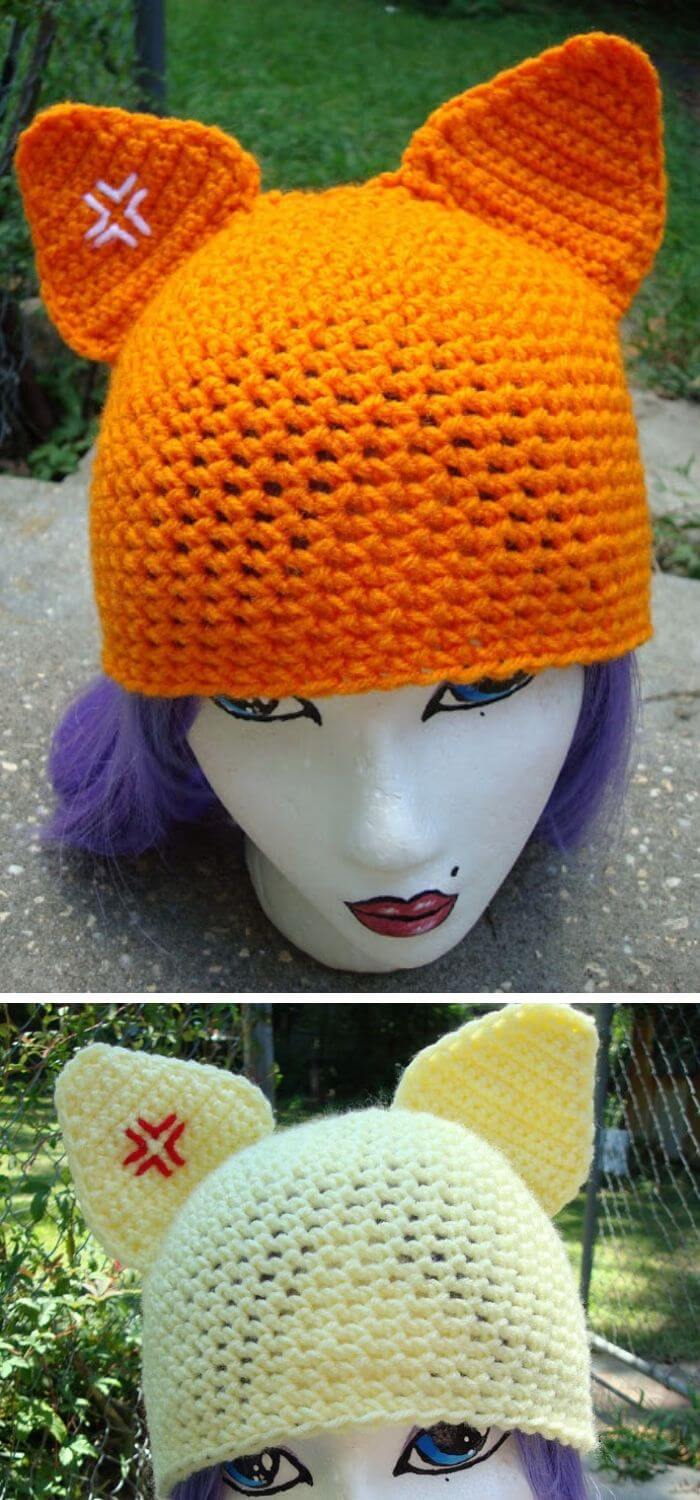 Anime cat hat ranks best among the available free crochet hat patterns. The source highlights everything you need to know when crocheting a cat hat pattern. It will be perfect wear during cold and hot seasons because it is timeless wear.
 Source: http://www.nyanpon.com/2012/04/anime-cat-hat.html
13. Cuddly crochet cat hat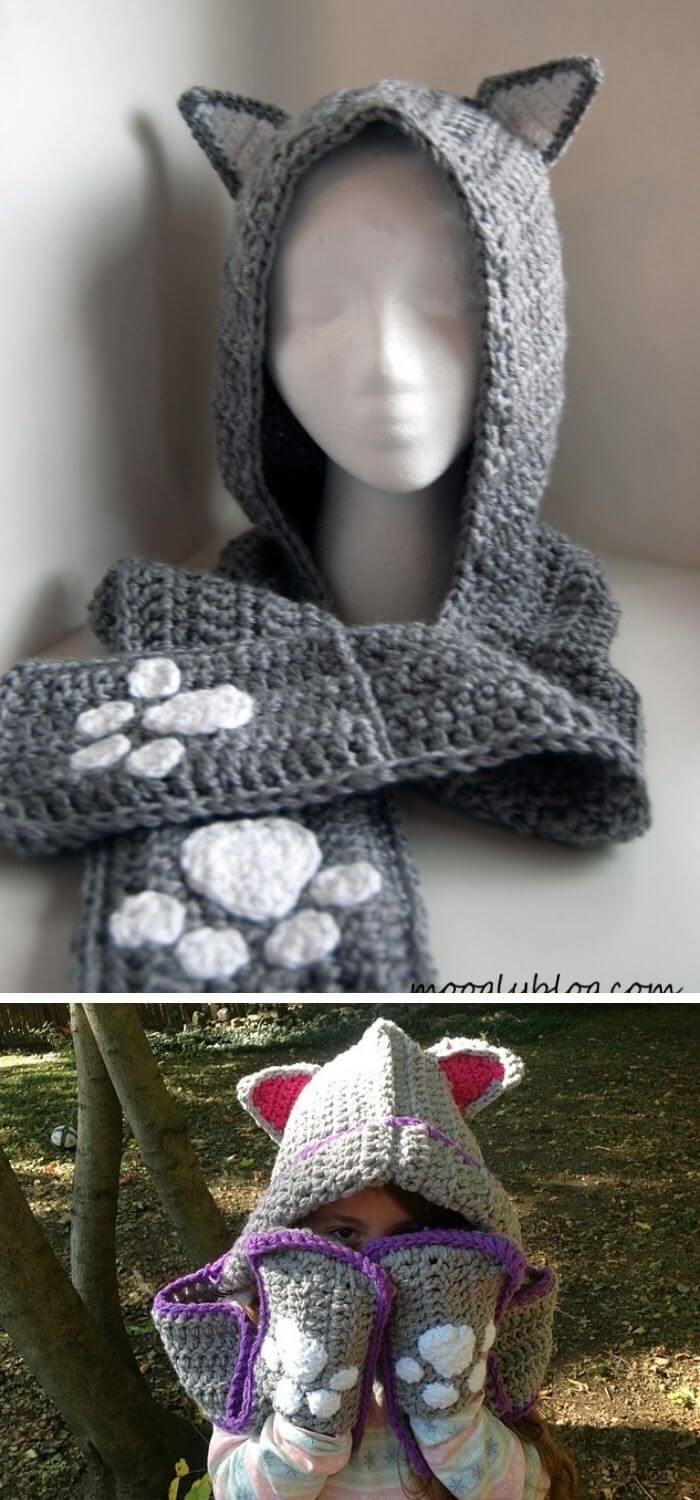 Try the cuddly crochet cat hat following the steps from the source here. It is a nice idea that will sharpen your crochet skills.
Source: https://www.mooglyblog.com/cuddly-cat-crochet-scoodie/
14. Kitten hat crochet pattern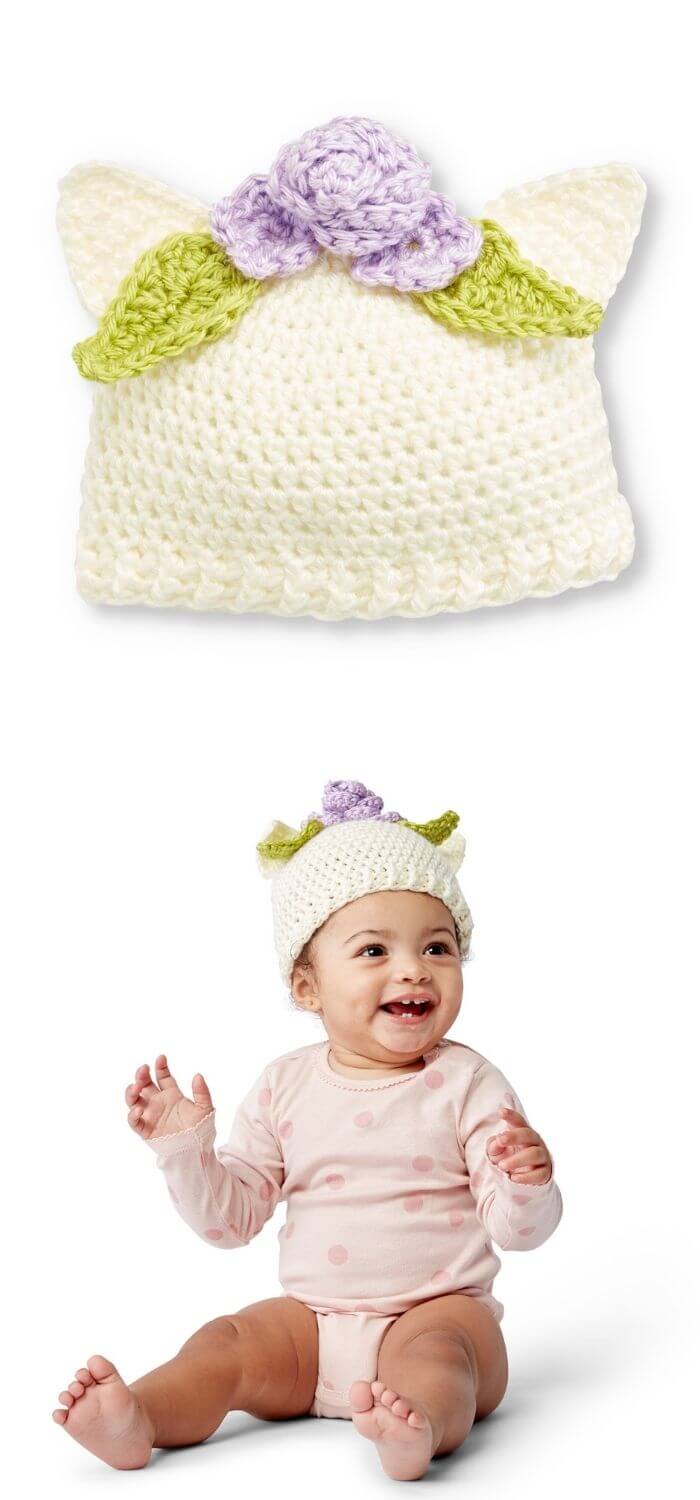 Do you wish to have crochet mental therapy? Try crocheting the kitten hat crochet that will take you through knit rounds. You will be an expert in the end.
Source: https://www.yarnspirations.com/row-en/caron-kitten-hat/CAC0216-009753M.html
15. Cat sombrero crochet hat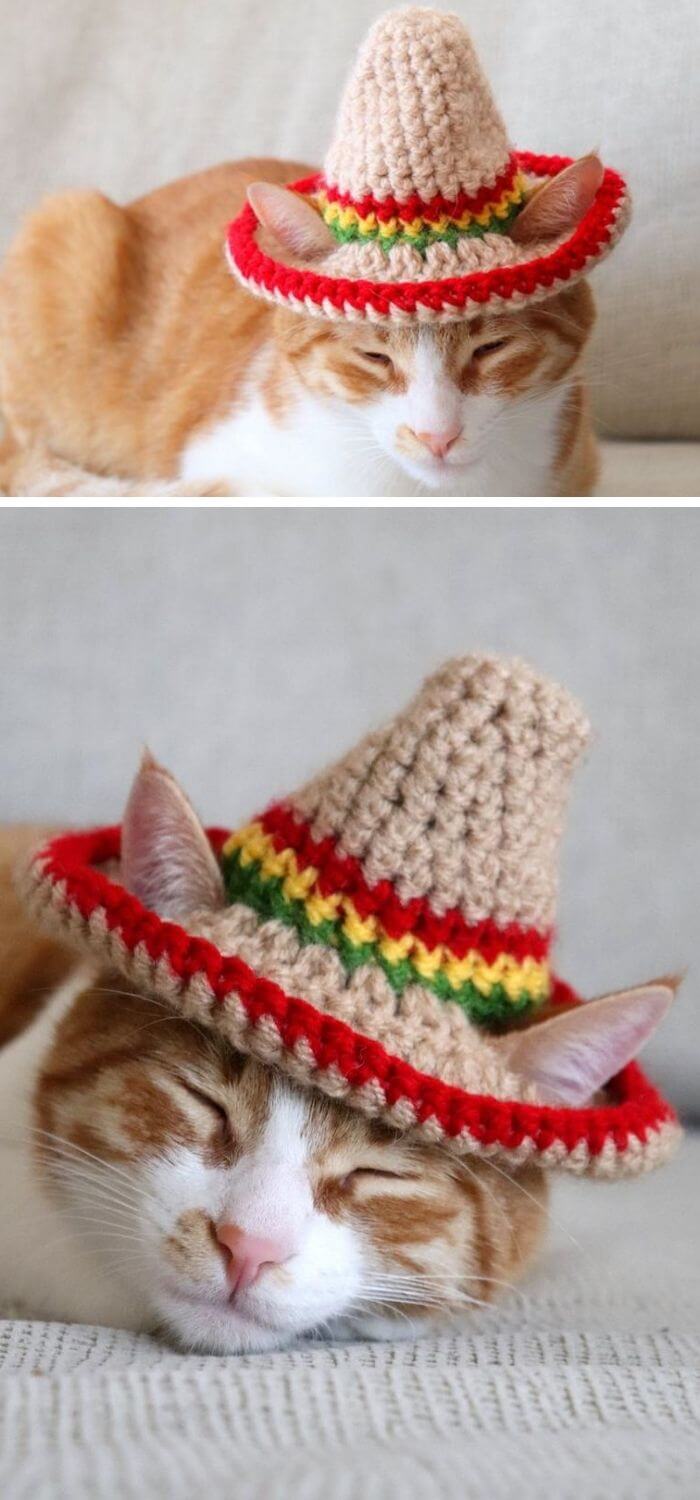 Cat sombrero crochet cat hat is another beautiful crochet idea for cat lovers. You don't need to be an expert to start this crochet idea. All you need to do is to follow the knitting instructions from the source.
Source: https://www.etsy.com/listing/672391385/cat-sombrero-crochet-pattern-crochet