Do you wish to extend your crochet skills to baby booties? Here are the 15 cute ideas you will want to put into practice during your leisure time. The intentions for making the crochet baby booties will vary, though it will be revolving around the gift, or even for the charity work.
The truth is, these cute free patterns are easy to make, and your little knowledge of crocheting can still deliver the best. Check the 15 crochet designs we have assembled for you below.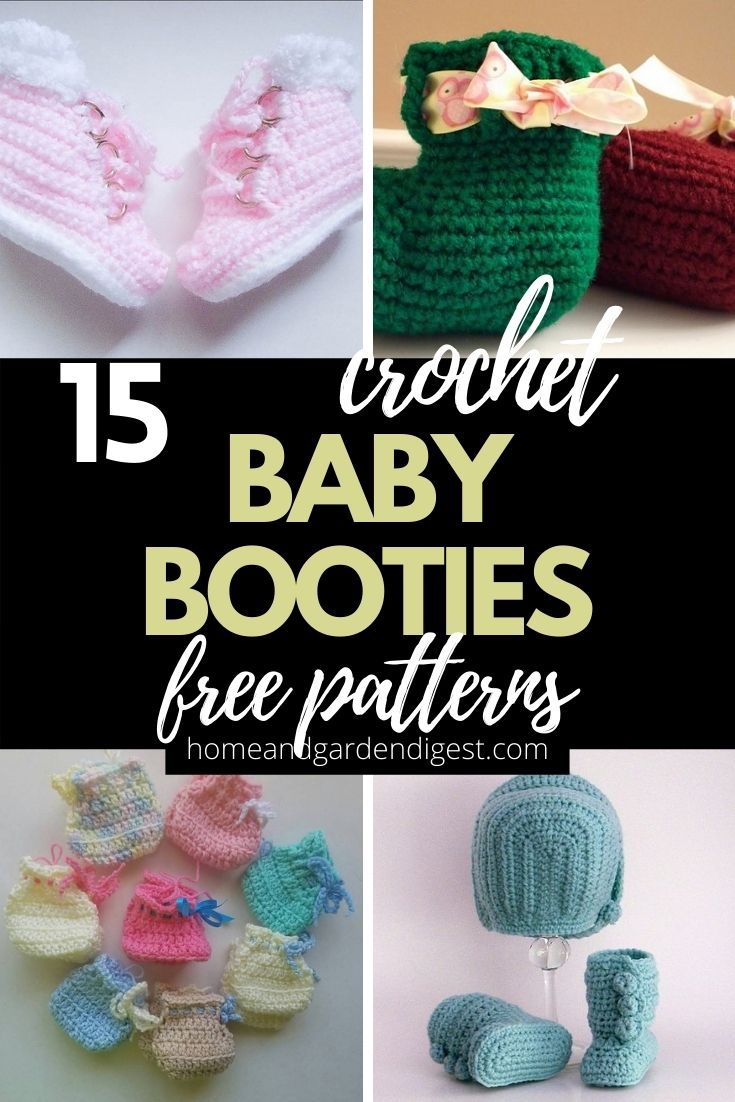 1. Rag guilt baby hats and booties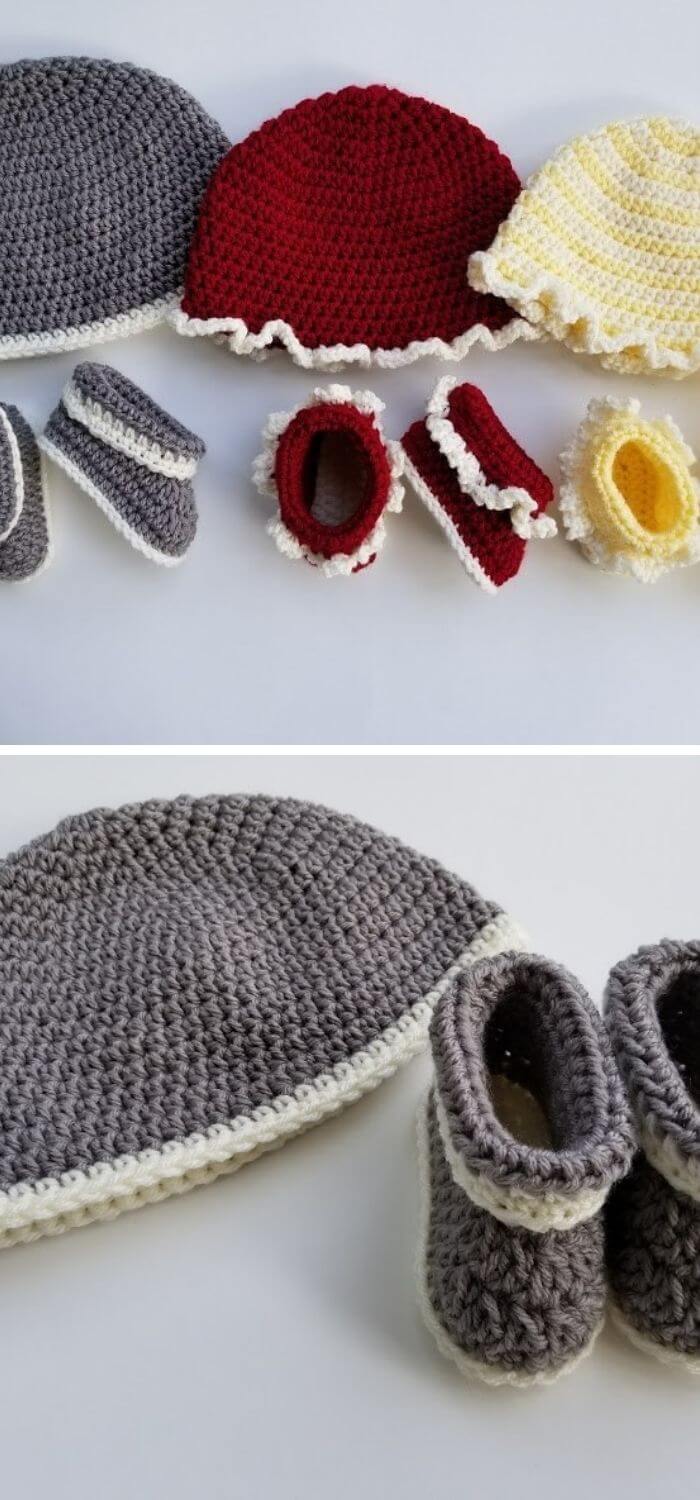 The rag guilt baby hats and booties are the pattern that you will want to try right away. It is a cue design that will match your crochet blanket. Which one do you prefer, a ruffled or a straight trim option? You want to have that personalized crochet hat, and it will be great if you consider the steps from the source.
Source: https://www.highlandhickorydesigns.com/rag-quilt-baby-hats-and-booties/
2. Baby bonnet and booties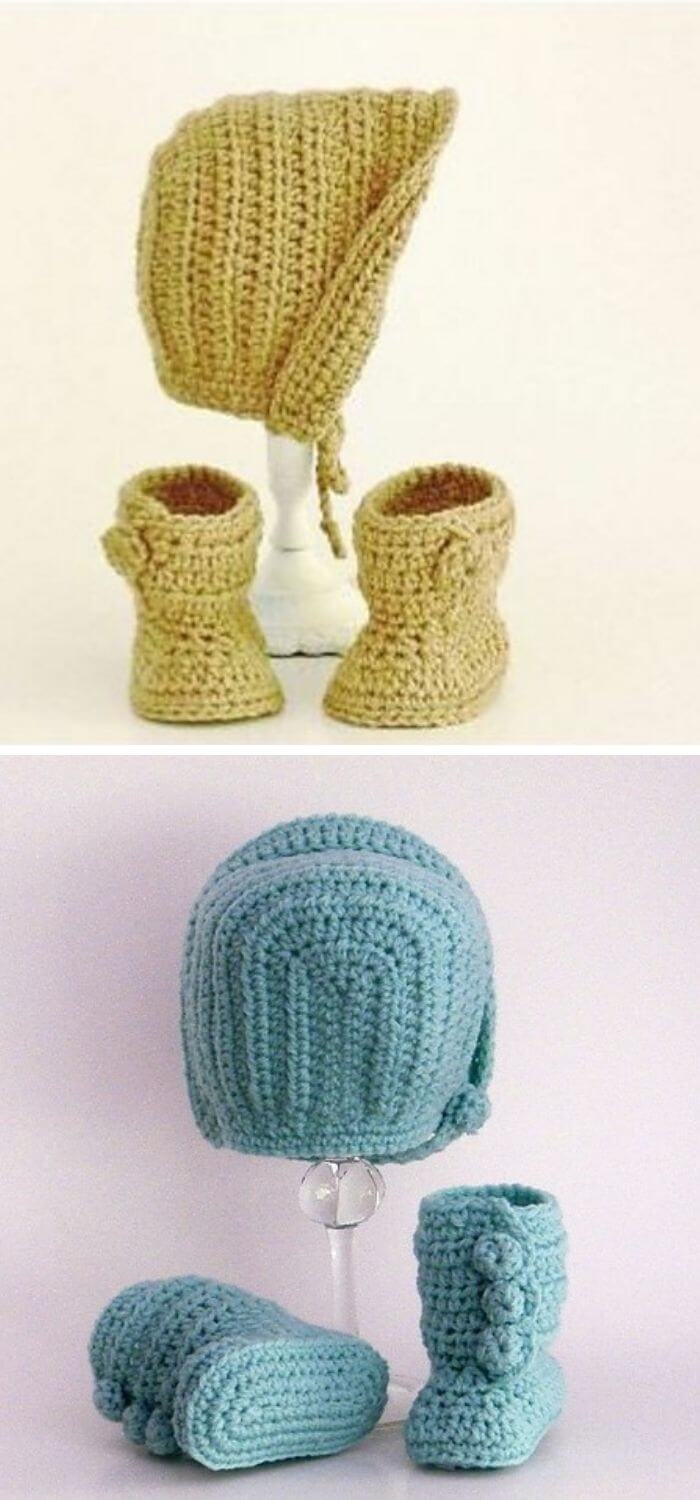 Baby bonnet and booties are among the cutest ideas you will want to try out for your baby. You can be sure to adorn your bay with a charming baby bonnet and booties crochet patterns. It is interesting to note that the crochet patterns come in over five sizes giving you're a larger set to choose.
Source: https://www.ravelry.com/patterns/library/baby-bonnet-and-booties-2
3. Crochet petal princess baby set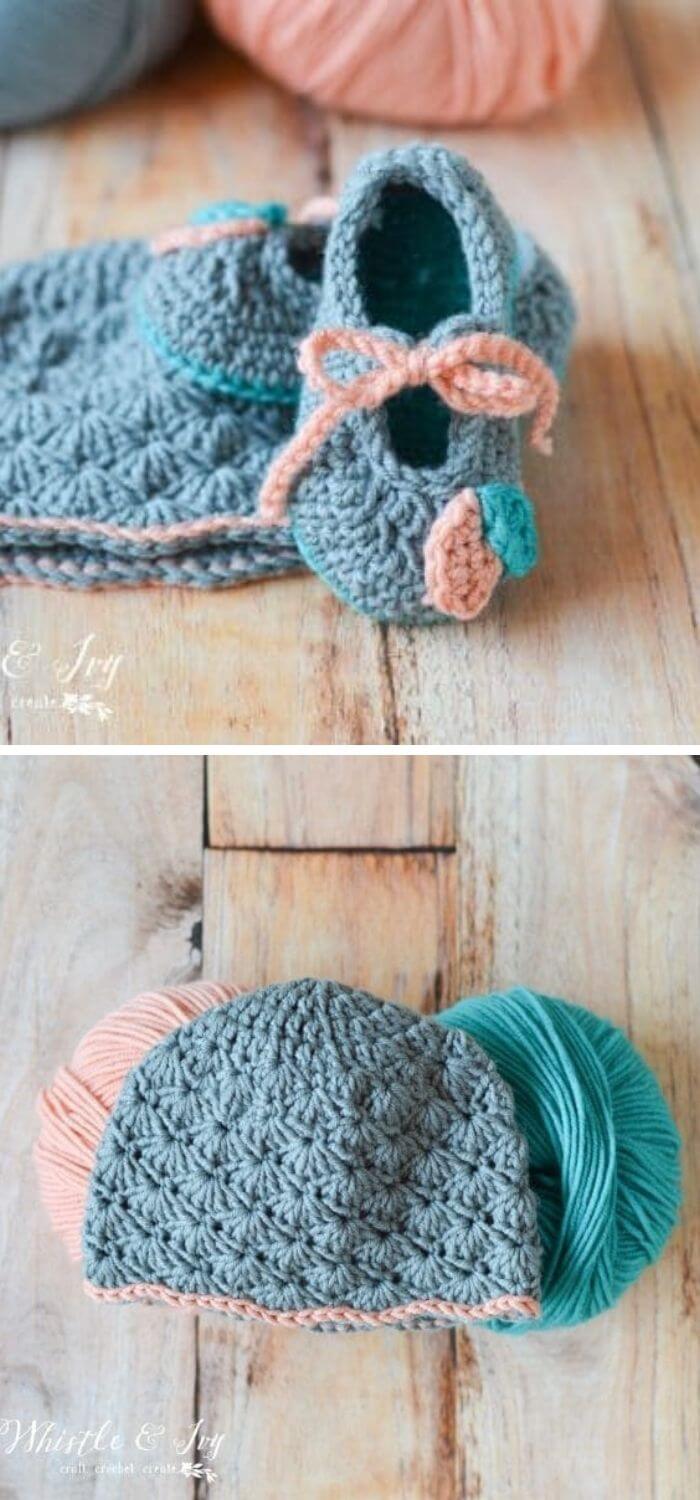 The petal princess crochet has a feature that makes it to appear quite outstanding among the rest. The little petal appliques will give them a lovely feel. Like if that was not enough, you will be happy to get a matching free crochet hat to make things even look more appealing.
Source: https://www.whistleandivy.com/crochet-petal-princess-baby-set/
4. High top kimono booties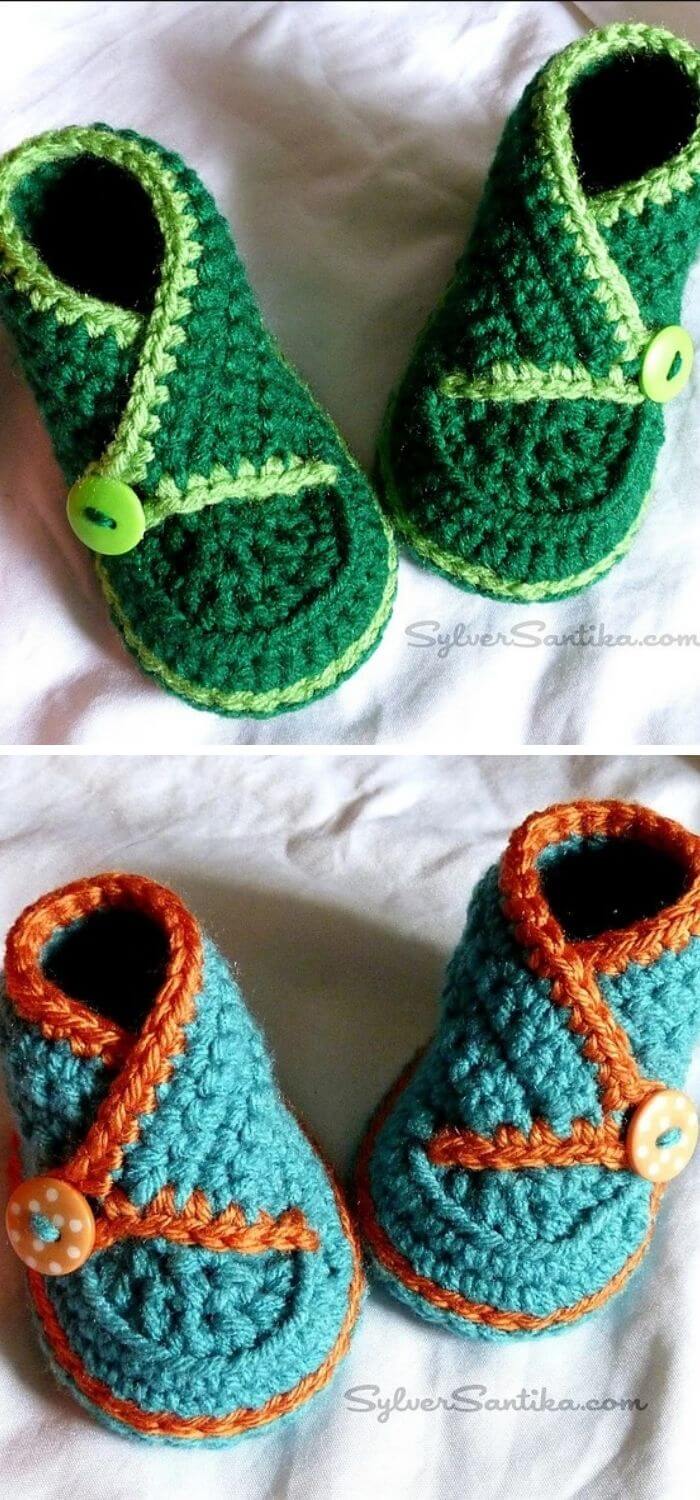 High top kimono booties could be the sweetest project to try out in crocheting. Everyone loves a fun version of craft and that is all you can get when you pay attention to kimono stitches. This cute patterns will be quietly adorable for your kid and they come in several sizes hence making it easier to get the best size for your little bay.
Source: https://www.ravelry.com/patterns/library/baby-high-top-kimono-booties
5. Cocoa baby ankle booties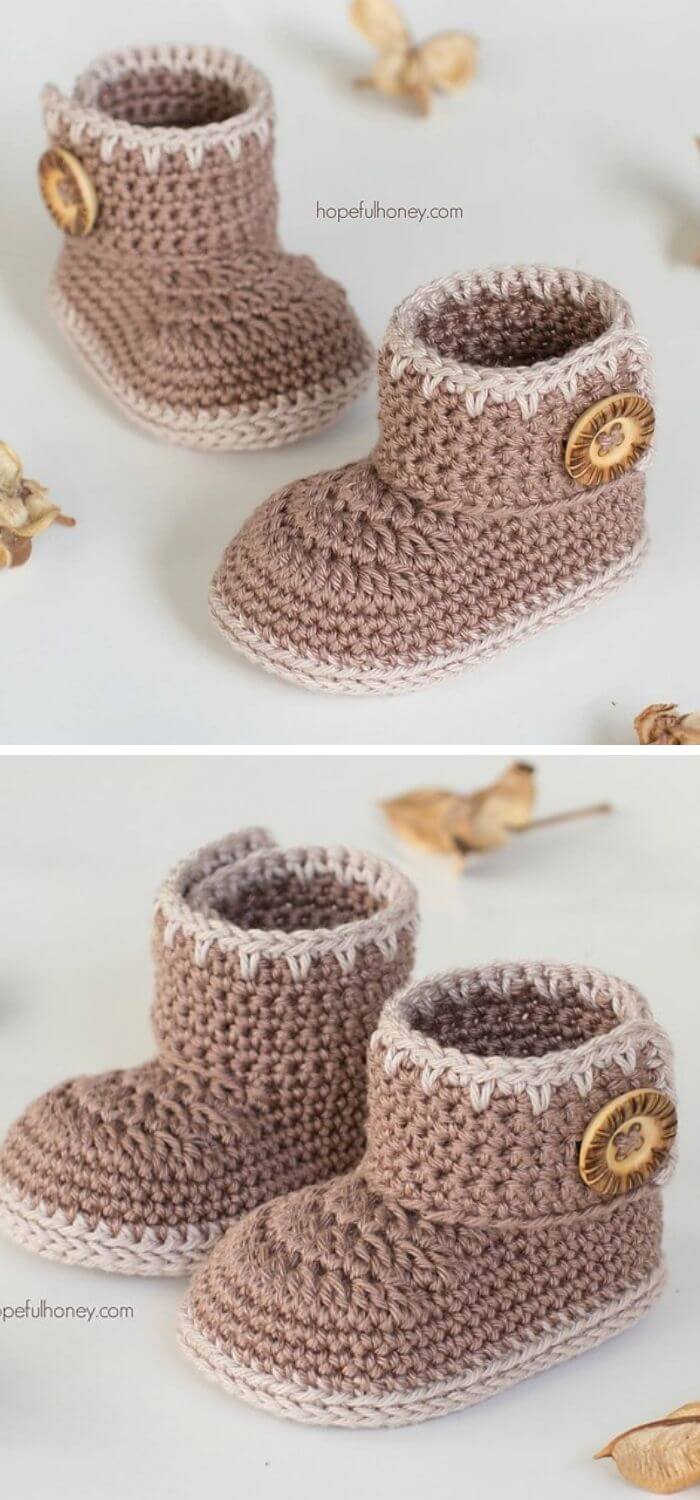 The autumn months can be cold, but not when you have the beautiful cocoa-baby ankle booties for your kid! They are the sophisticated types that will be nice with your baby. You should be careful when choosing colors, you should preferably work with the suggested colors if you want to feel the real beauty of this free pattern.
Source: http://www.hopefulhoney.com/2017/02/cocoa-baby-ankle-booties-free-crochet.html
6. Baby rain booties pattern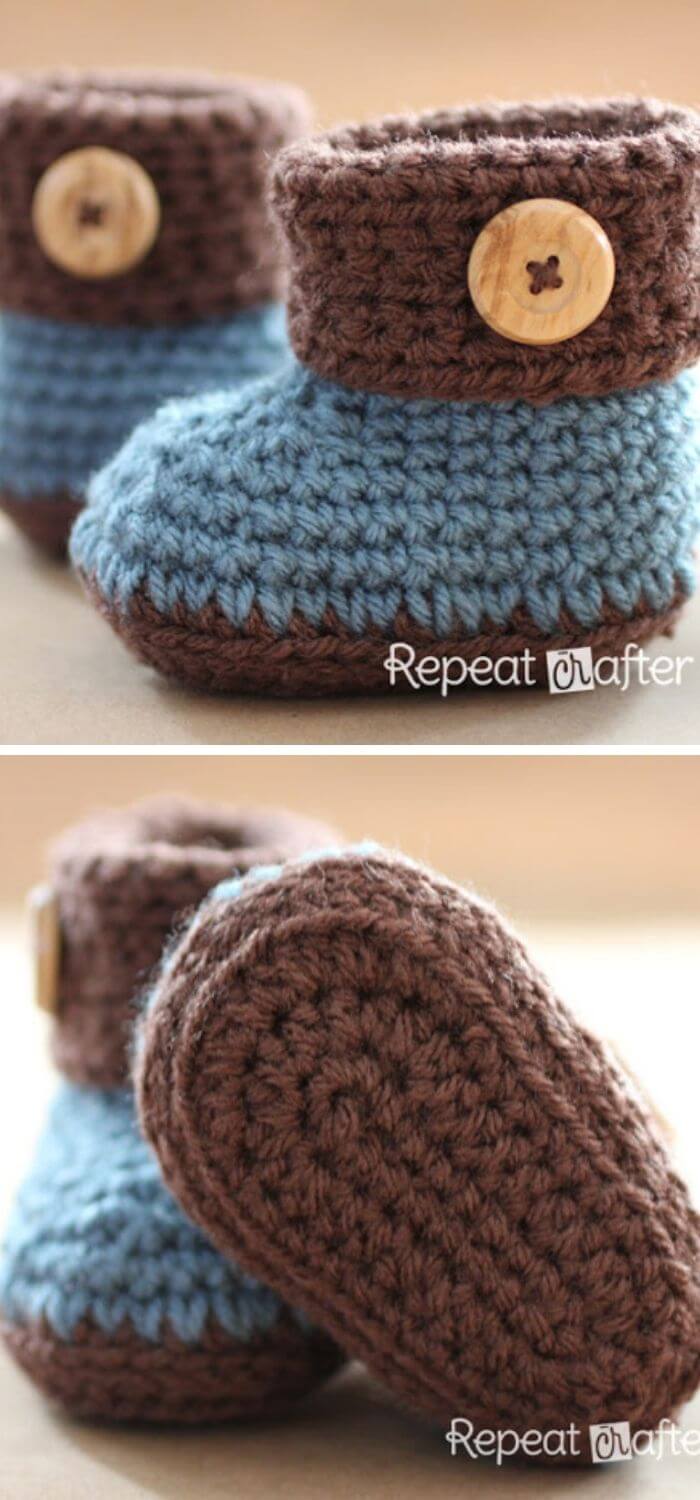 You may have come across the rain boots if you reside in a place experiencing heavy rains. Here is a crochet free pattern that will make the rain boots for your baby. It can be best for all gender, and you should not worry about the flower that exists underneath the button because it is optional, and you can have it when you are making it for baby girl.
Source: https://www.repeatcrafterme.com/2012/10/crochet-cuffed-baby-booties-pattern.htm
7. Dinosaur baby booties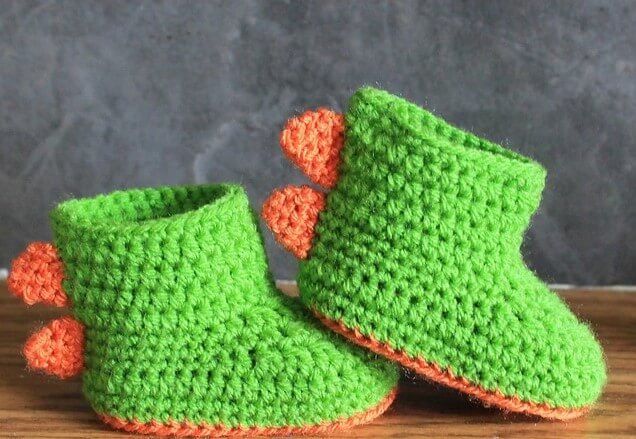 You don't need to stress about how you will make the dinosaur baby booties because they are instructions that will guide you as you crochet different sizes. If you believe your little bay will fall in love with the cute booties, then it is time to start the project.
Source: https://www.ravelry.com/patterns/library/dinosaur-baby-booties-rawr
8. Mary James simple booties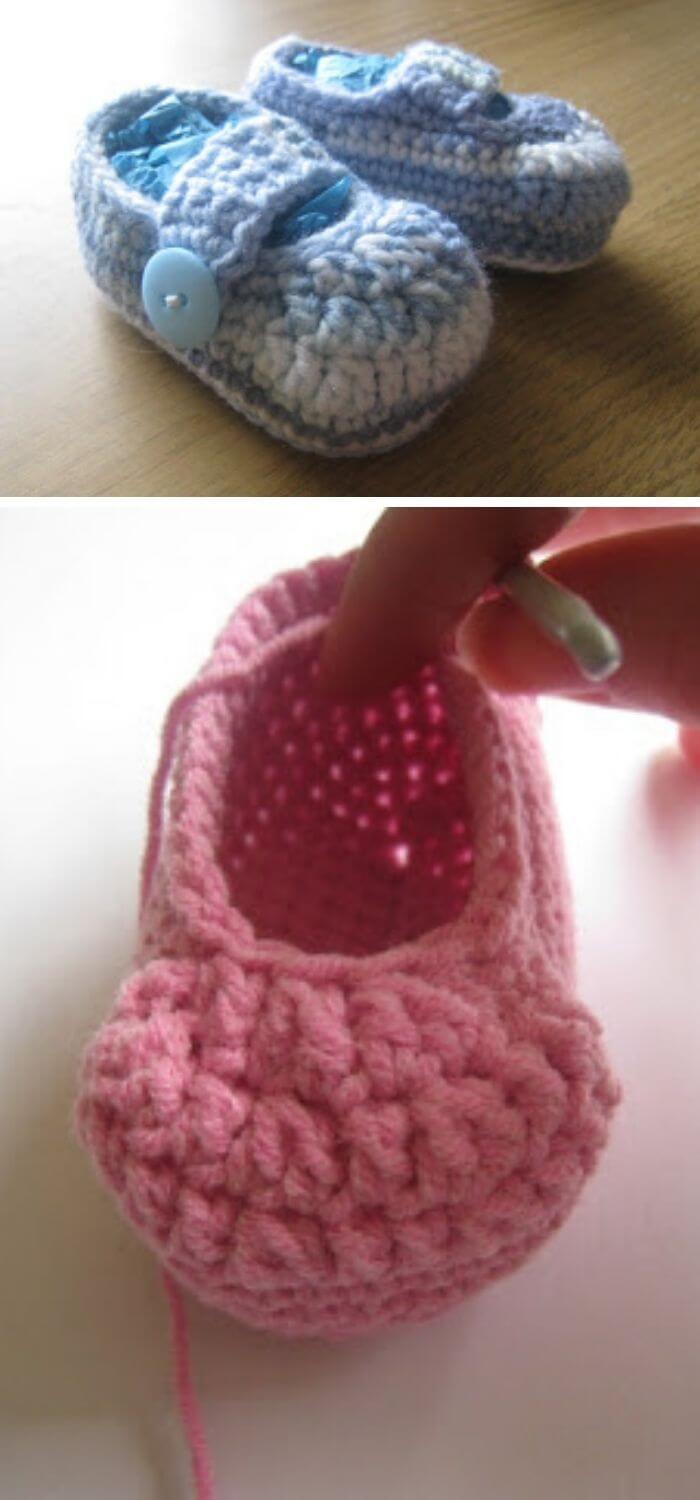 Here is free simple crochet that will help you get started with cute baby booties. The booties will look more like the baby slippers, but they are one size pattern which will fit any age not exceeding one year.
Source: http://www.loopyjess.co.uk/p/simple-bootie-pattern.html
9. Dapper drawstring booties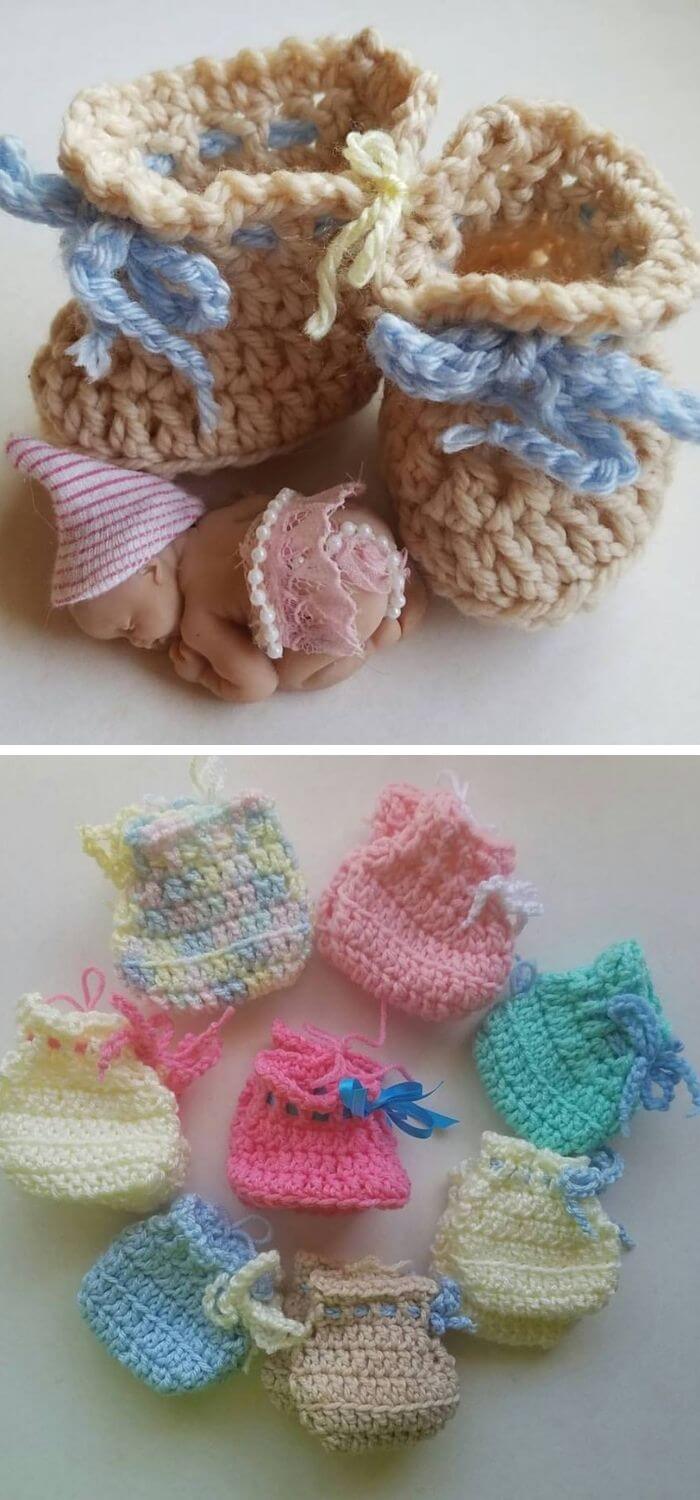 Dapper drawstrings exist among the high-quality crochet bootie patterns for you to crochet. It is a simple design which only takes seven rounds, and there you have a cute bootie with a down string.
Source: http://www.bevscountrycottage.com/bevs-30minute-bootie.html
10. Winter snowflake crochet baby booties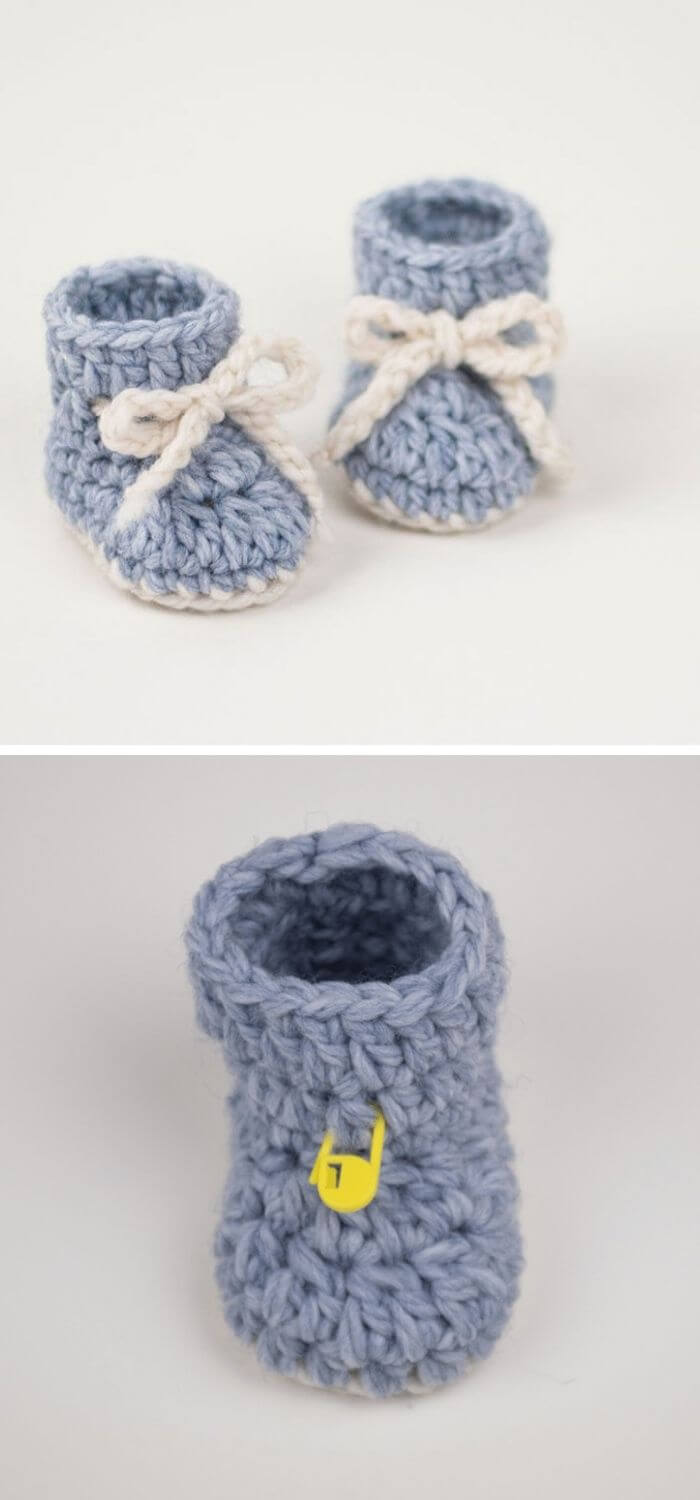 The advantage with the winter snowflake crochet baby booties is that it comes with an instruction manual that will guide the beginners in every step. Check out all these cute designs and try them. You can gift your baby or even your best friend baby.
Source: https://crobypatterns.com/crochet-baby-booties-winter-snowflake/
11. Baby booties with ribbon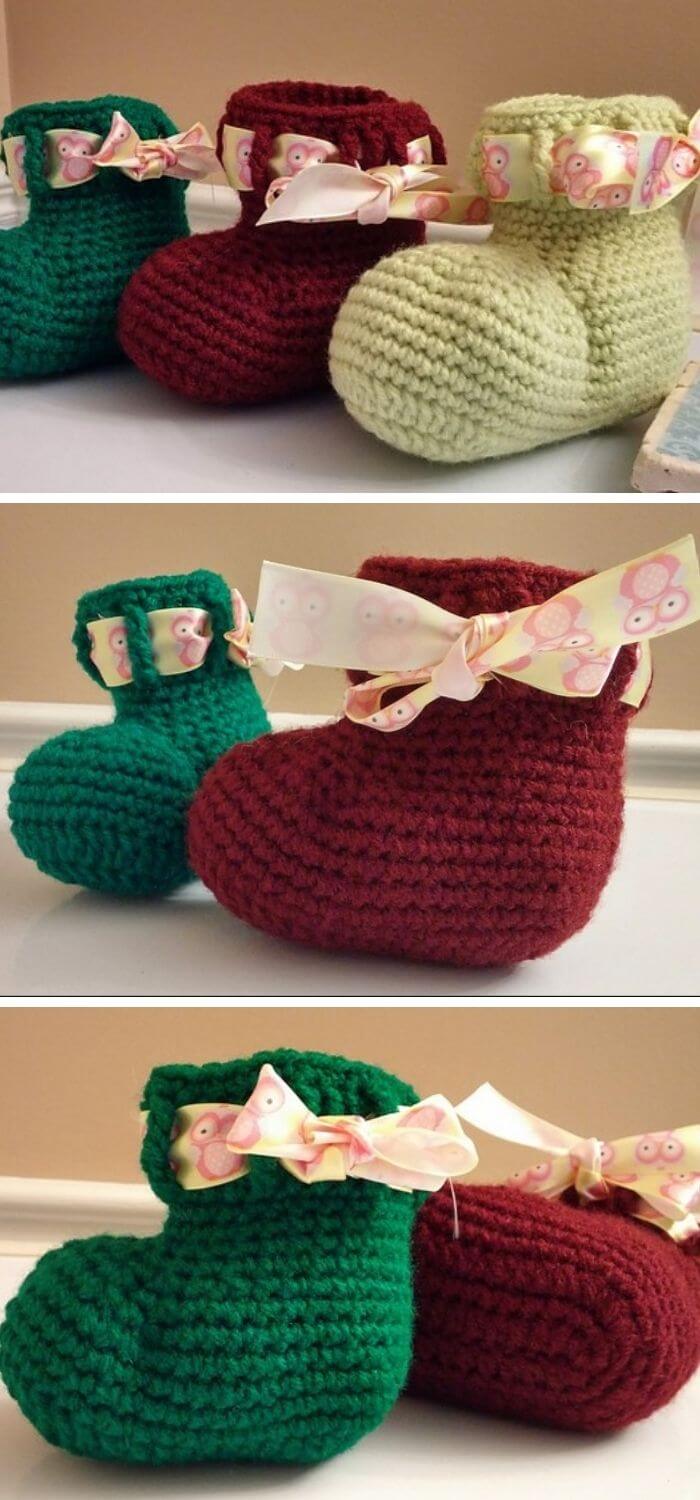 Most crochet booties will have laces for tying them up, but it is not the case with baby booties since it has a ribbon instead of the laces. How will you love to be creative with these decorative ideas? Check the instruction manual for all the insights on everything you need to know when crocheting the baby booties with ribbons.
Source: https://www.ravelry.com/patterns/library/baby-booties-with-ribbon-2
12. Booties with the fur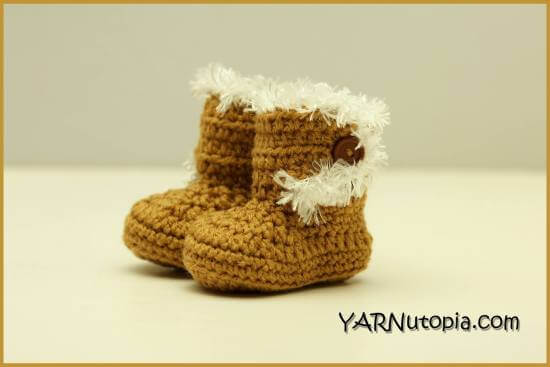 Most crochet patterns do have the fun fur like the booties with fur. It is the only reason you will want to have this cute looking patterns. The booties will be great for babies during cold winter months. The stitching instructions are reachable, and it won't demand lots of time form you.
Source: https://yarnutopia.com/2015/09/25/booties-with-the-fur/
13. Rib cuff baby booties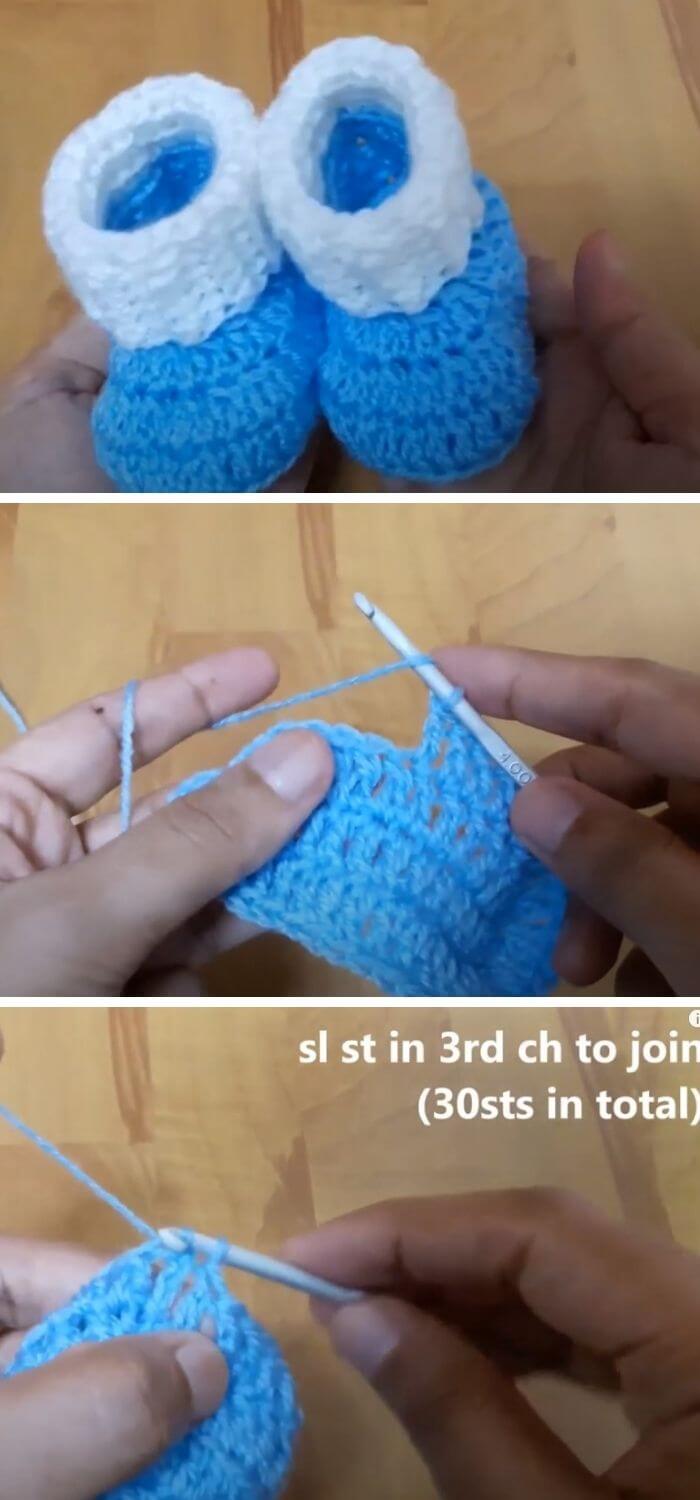 Rib cuff baby booties are cute free patterns which use a simple stitch making it easier to make. You only need a couple of hours, and the design will be ready. You can opt for the rib cuff baby booties if you need a rush hour gift for your friend.
Source: https://crochetncreate.com/rib-cuff-baby-booties/
14. Baby booties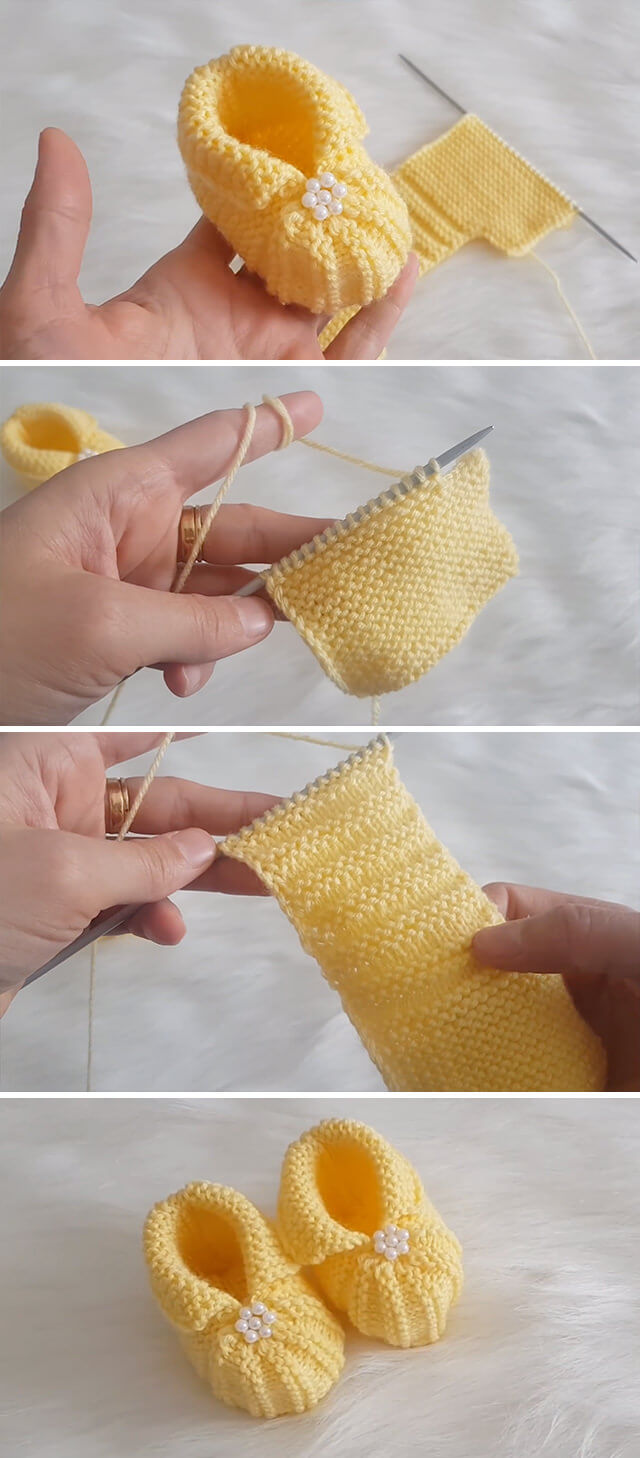 With countless designs and colors to choose from, it may be so daunting for you to choose one. Why can't you try the Baby booties crochet that will save you time? Check through the steps that will guide you when crocheting this cute crochet design.
Source: https://www.crochetbeja.com/lean-to-knit-baby-booties-easily
15. Lace-up sneakers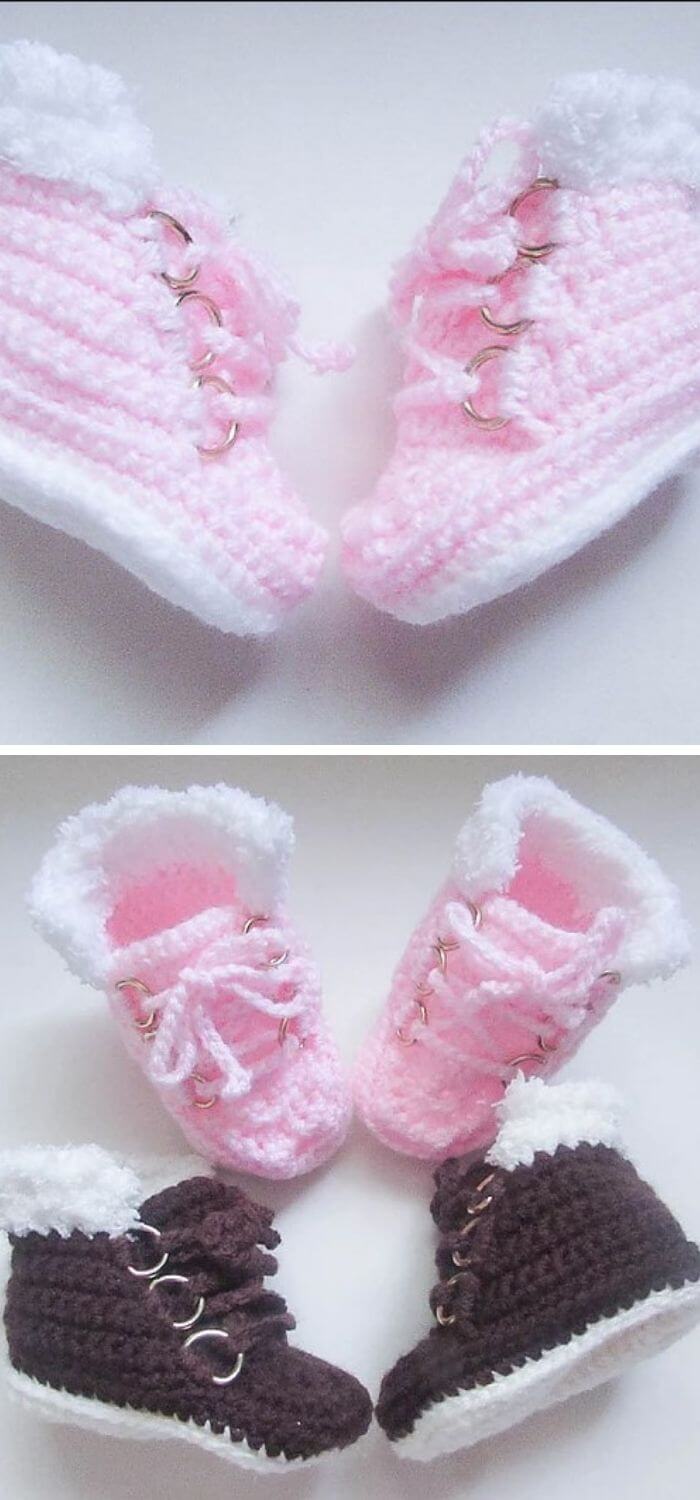 The lace-up sneakers crochet are quite a challenge for the beginners, but it will be easier when you have mastered the art. Check out for instructions from the source for real inspirations on how you will crochet the cute crochet booties for your baby.
Source: https://www.ravelry.com/patterns/library/baby-booties-fur-topped