Every woman wishes to keep her feet clean, nice, and warm. Well, feet care is never easy and requires personal care and attention. Keeping feet away from dust and dirt becomes crucial to prevent any damage to the feet or heel cracks. This is where crochet slippers can prove to be the best solution. There are endless options to customize the crochet slippers and it keeps your feet protected all day long! Here, we bring you some of the finest, cutest, and easiest crochet women slipper patterns that you will surely love to try. 
1. Ballet Slippers Crochet Pattern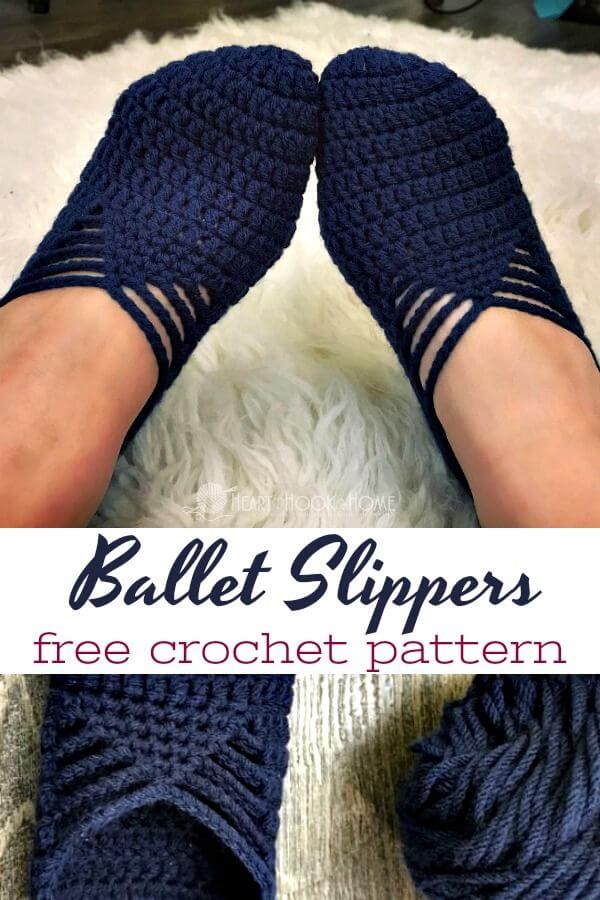 Sit back, relax, and create. Here is an easy yet elegant pattern that looks cute and comfortable. Choose your color and design one for you! 
2. Heart and Sole Slippers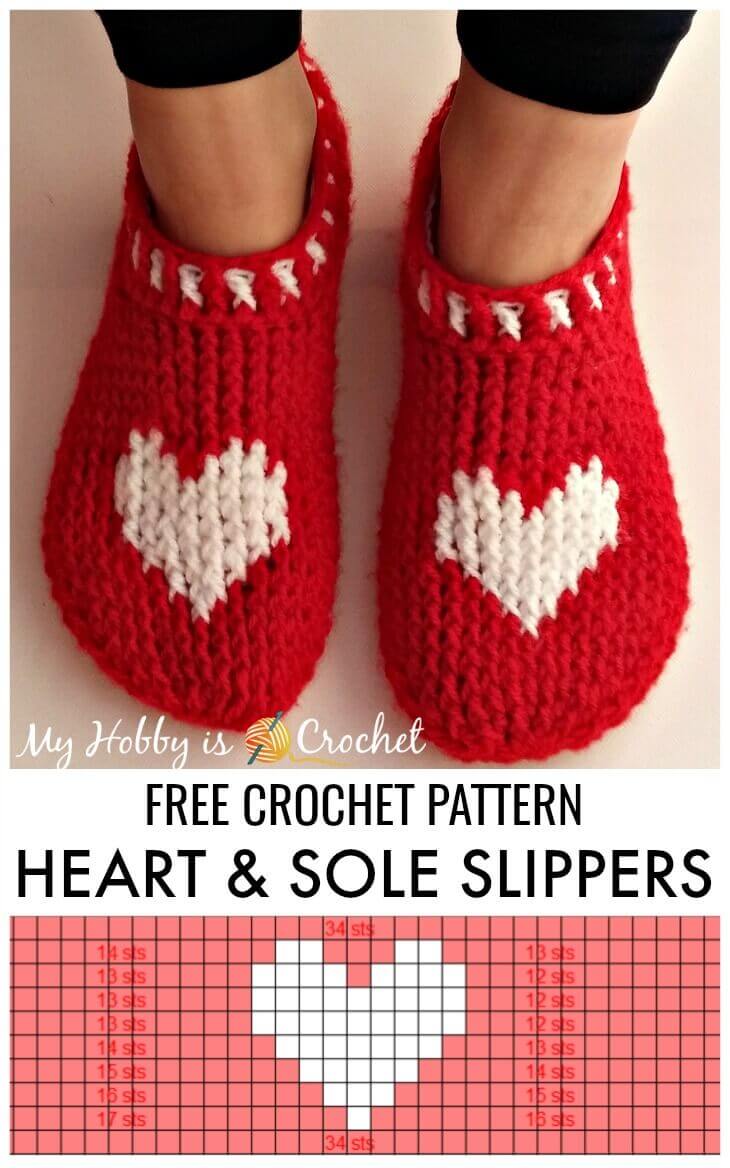 A design that you can crochet up in a couple of hours, the pattern is so beautiful and you will surely love to play with colors in this heart slipper design. 
3. Crochet Drops Christmas Slippers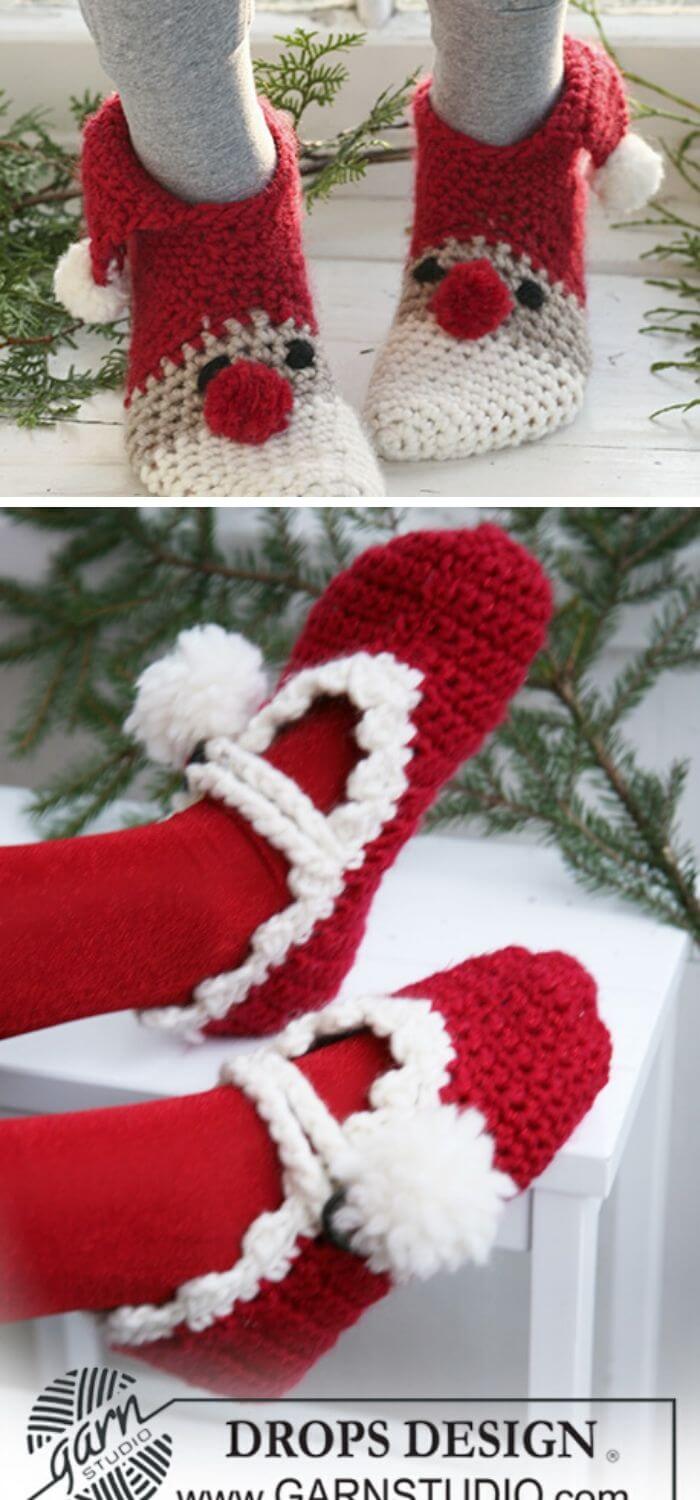 You will surely love to wear this pair on Christmas! Check out the cute design and your loved ones will ask you to create more for them. 
4. Mini Pom Pom Slippers Crochet Pattern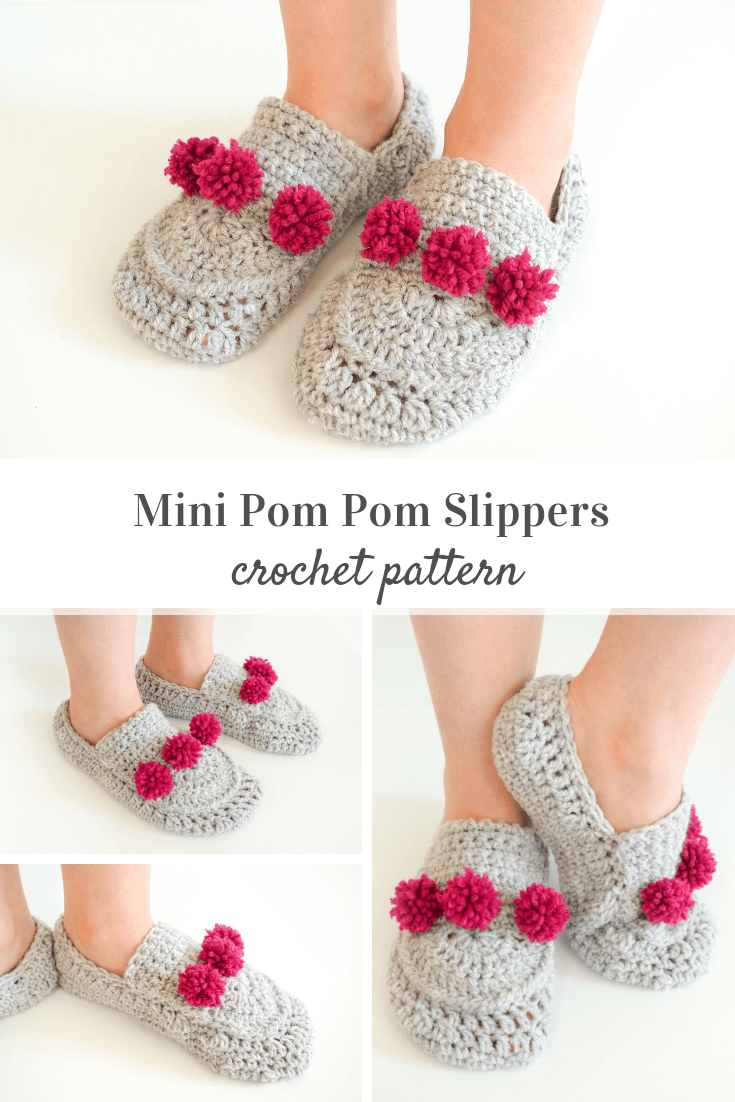 Women love small little luxuries, and this Mini Pom Pom Slipper is no exception! This is worked in a single crochet. Try now! 
5. Tassel Slip-on Slippers Crochet Pattern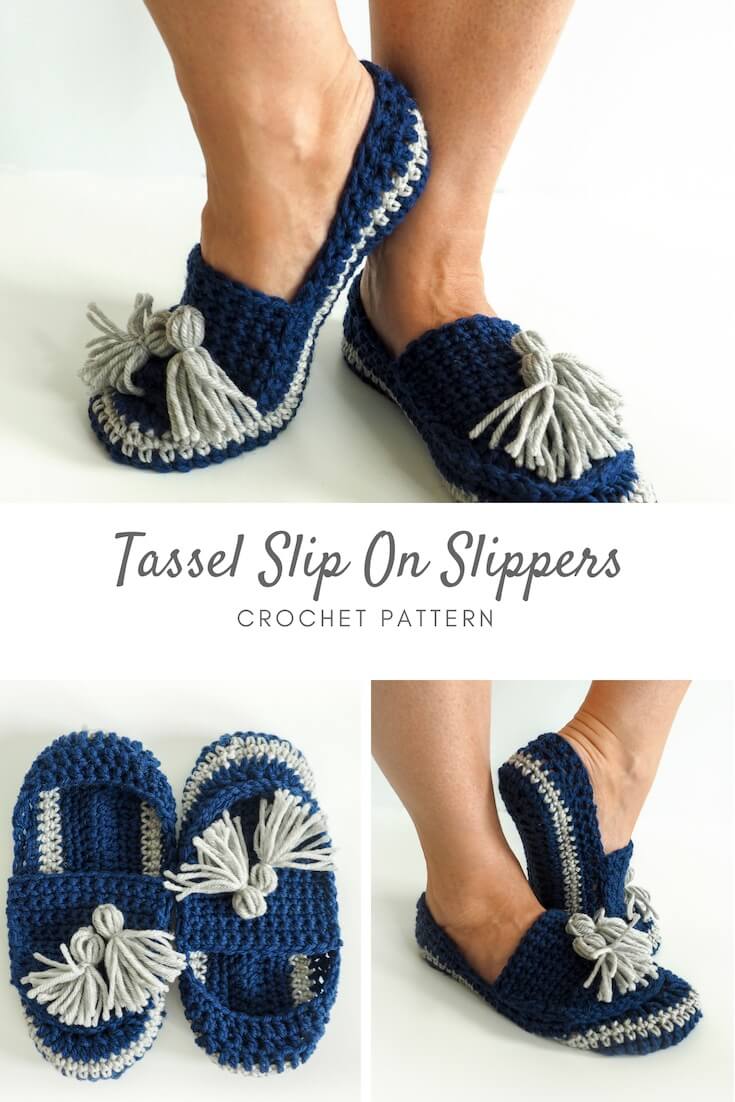 Want to try a combination of boho and modern style? Here is the one! It's fast and easy to crochet! 
6. Crochet Tribal Moccasin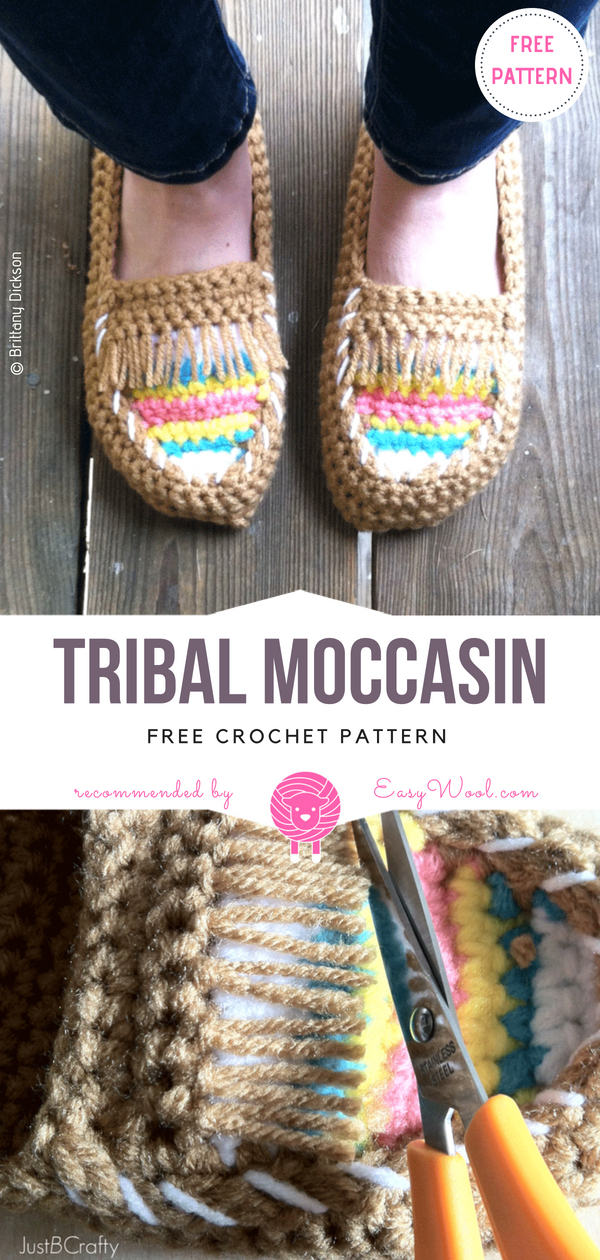 A trending pattern with colorful stripes to the top, try this pattern and make a different style statement. 
7. Crochet Boat Slippers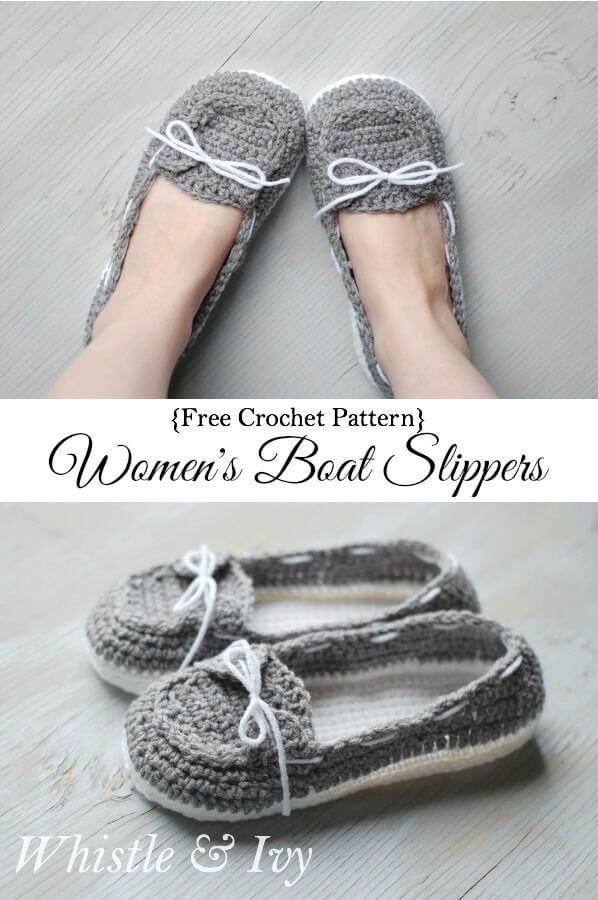 You will love making and wearing this pair, the boat slippers look like crochet Sperrys! If you want some extra comfort, the slipper has a double sole to fulfill your comfort needs. 
8. Family Slipper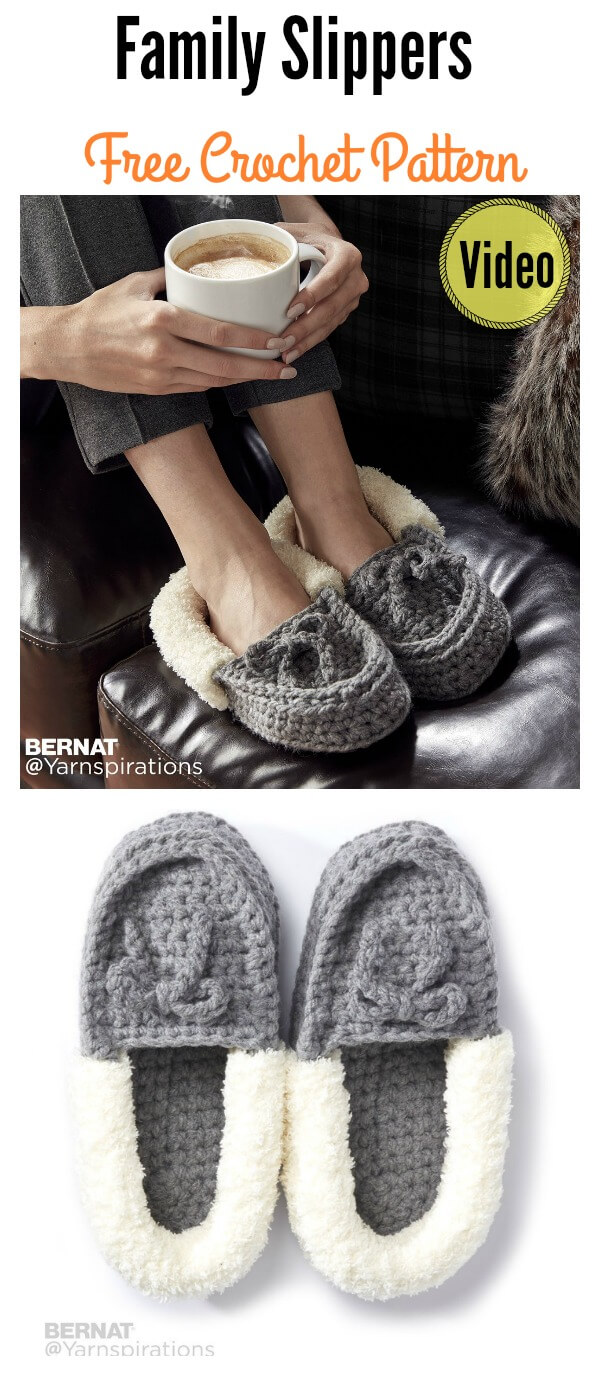 It's time to keep your feet toasty all winter with this amazing Family Slipper. Create some creative pairs for your entire family and try some different colors and patterns. 
9. New Dakota Slippers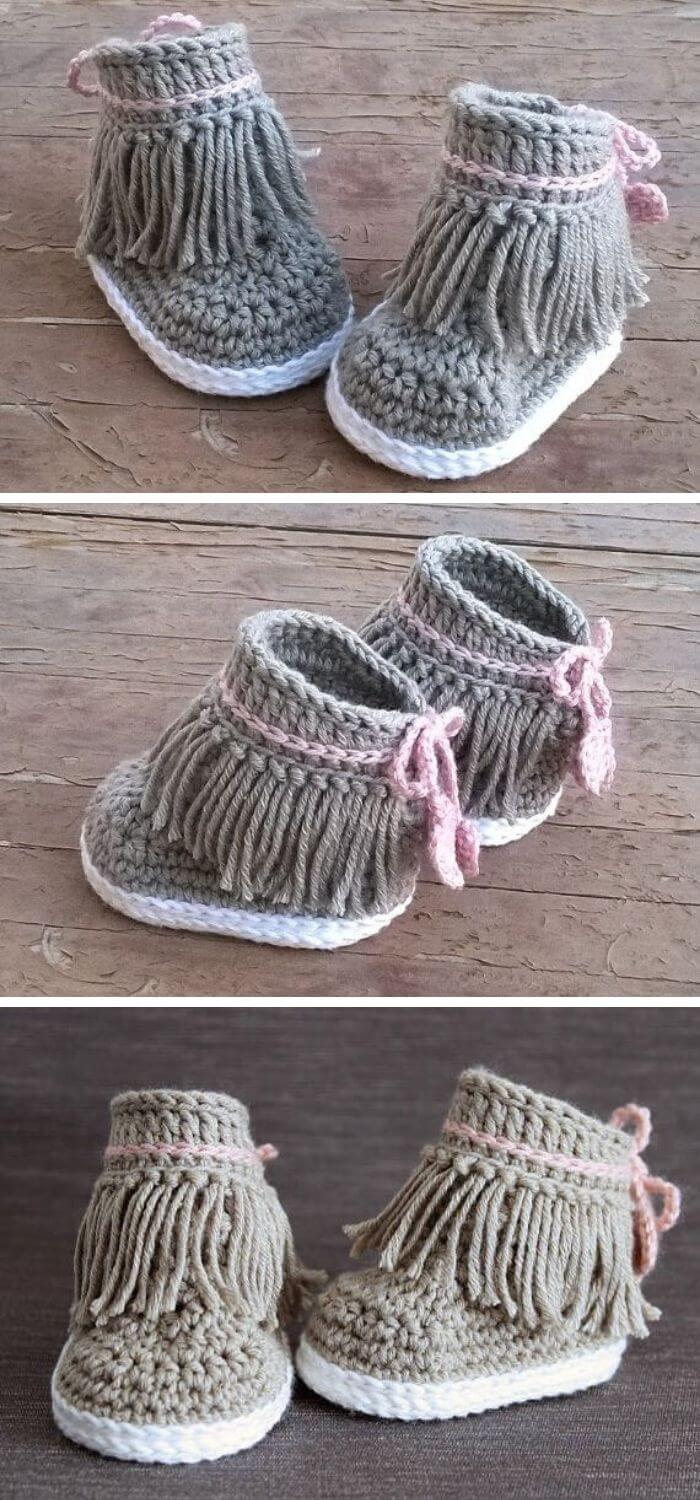 This is something WOW! The moment you will see the pattern, you will be keen to create it. It covers your feel well and can go well with different kinds of outfits. Create one for you and enjoy comfort with style. 
10. Pozy Toes Crochet Slippers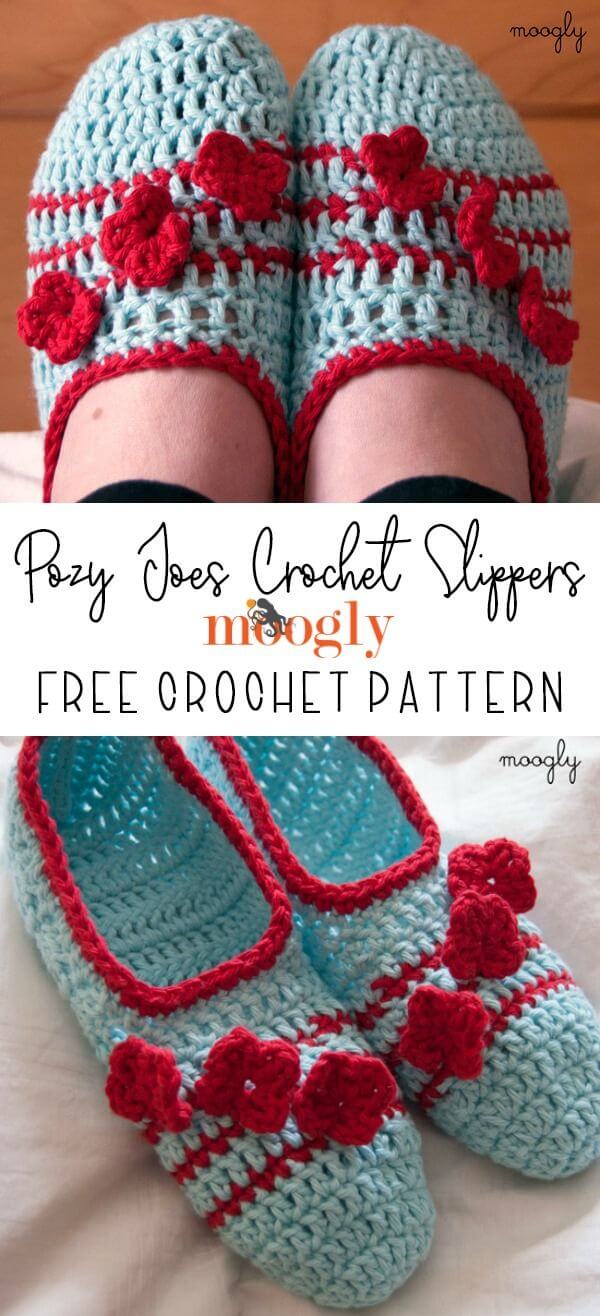 Get a little feeling of the garden on top of each foot with this stunning design. This pair looks pretty and features flowers! 
11. Speed Stitch Slipper 
Sometimes, you may not have hours to invest in crocheting. So, here is a quick and easy pattern that can be done so quick and still look pretty in your feet. 
12. Crochet Slipper Sandals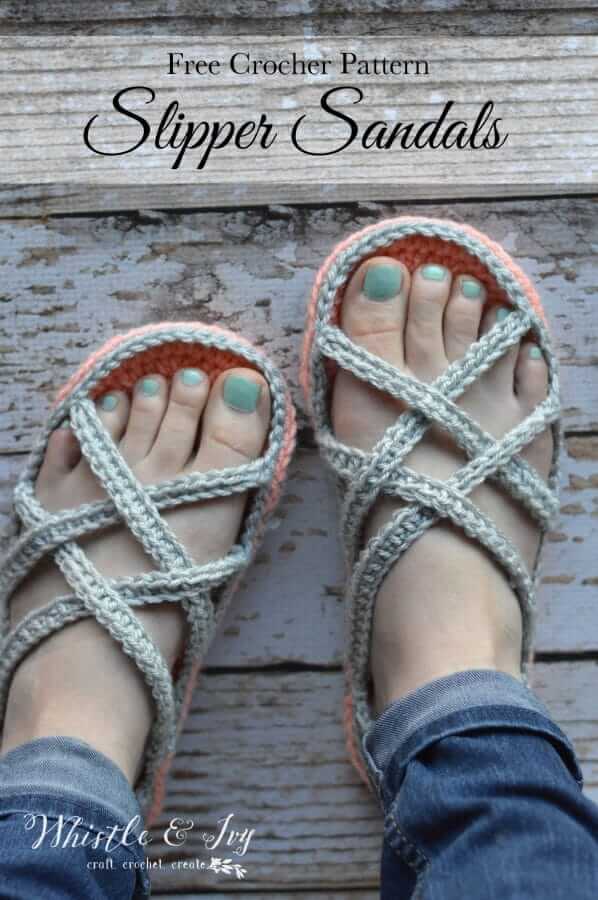 Want to give your slippers a sandal like a look? Check out this exciting pattern. You can pair this up with jeans and other outfits and it will look so cool. 
13. Oriental Style Slippers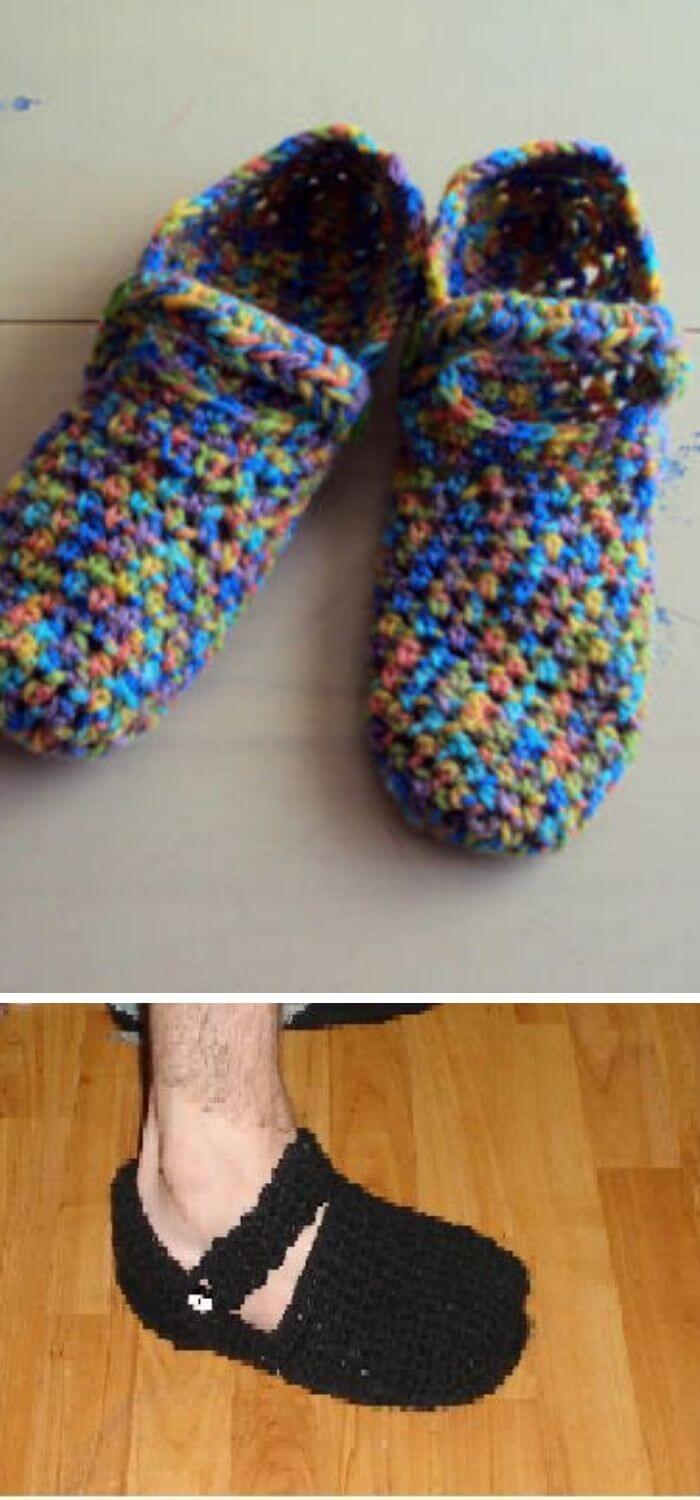 How many of you love black? Adjust this pattern according to the size that you need and you can feel free to play with the color and design of this oriental style slippers. 
14. Easy Crochet Slipper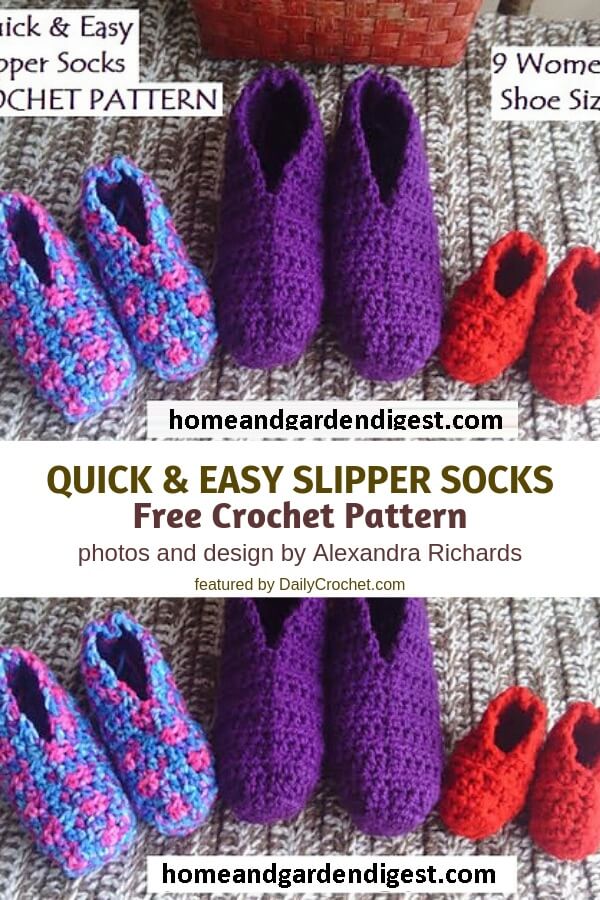 Simple and elegant design that you can create in the least possible time is here. Here again, you can feel free to play with the color of your choice. 
15. Chunky Crochet Boat Slippers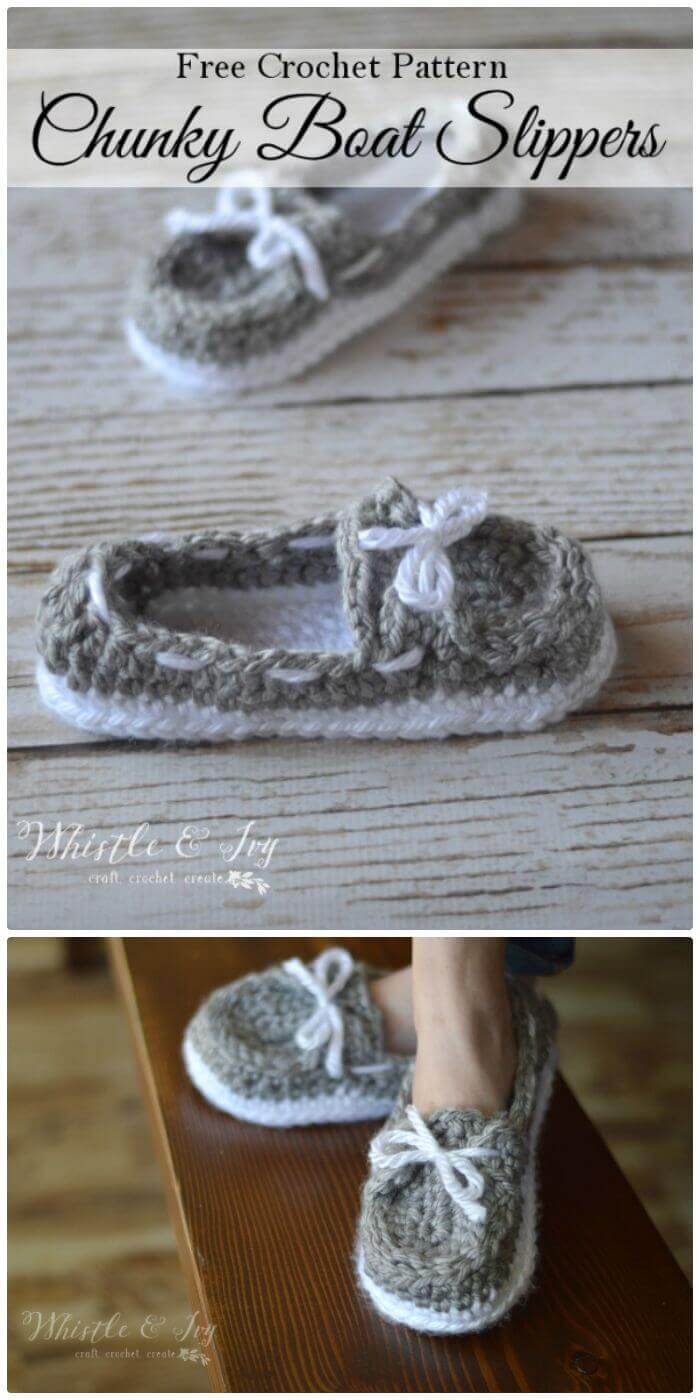 This is cozy and comfortable and it can be done so quickly. It features a fun boat shoe style and will look classy. 
16. Button Strap Slipper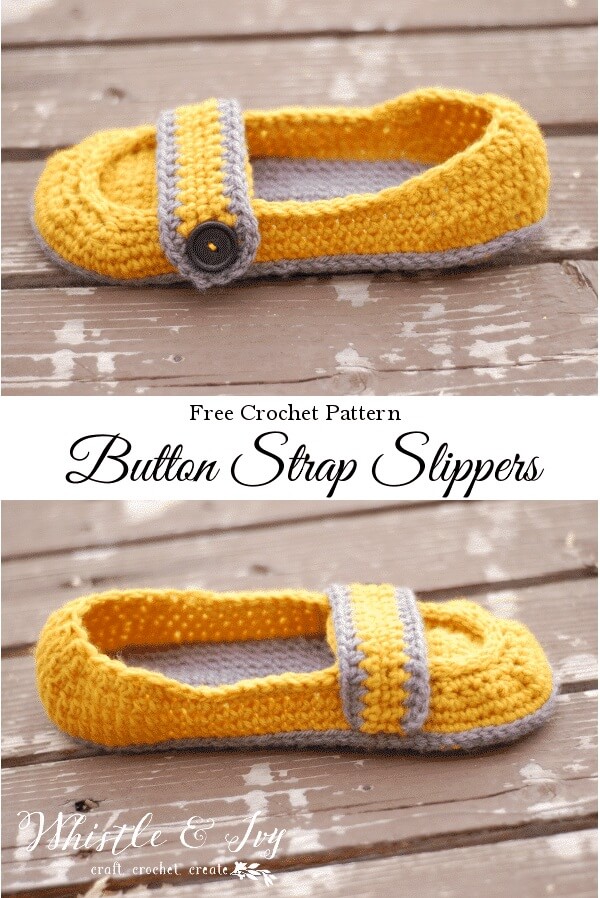 This pair of button strap slippers is super cool. It can help your feet to remain warm and the look is also very pretty. 
17. Flower Crochet Slippers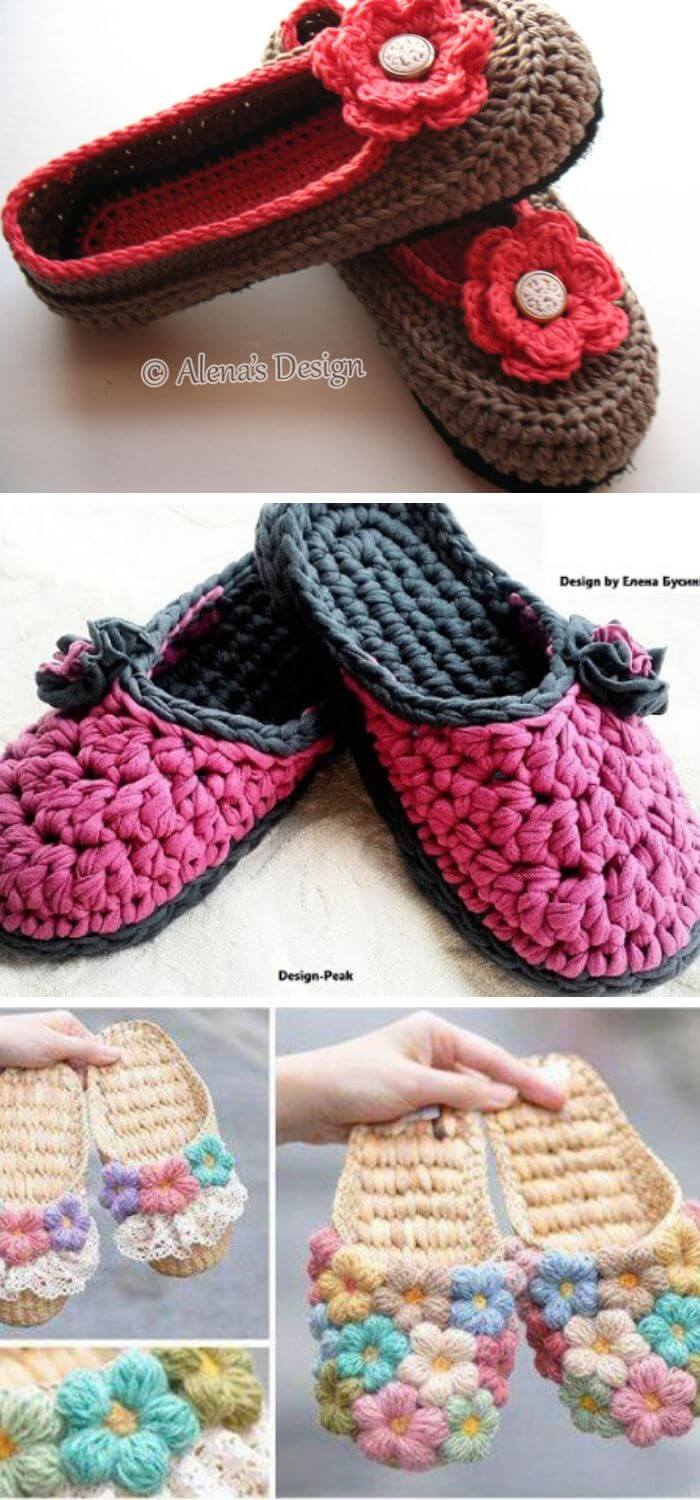 Keep your feel smooth like flowers with this flower crochet slipper. This easy to make pattern is very pretty and features a beautiful flower. 
18. Sweet Granny Rose Slippers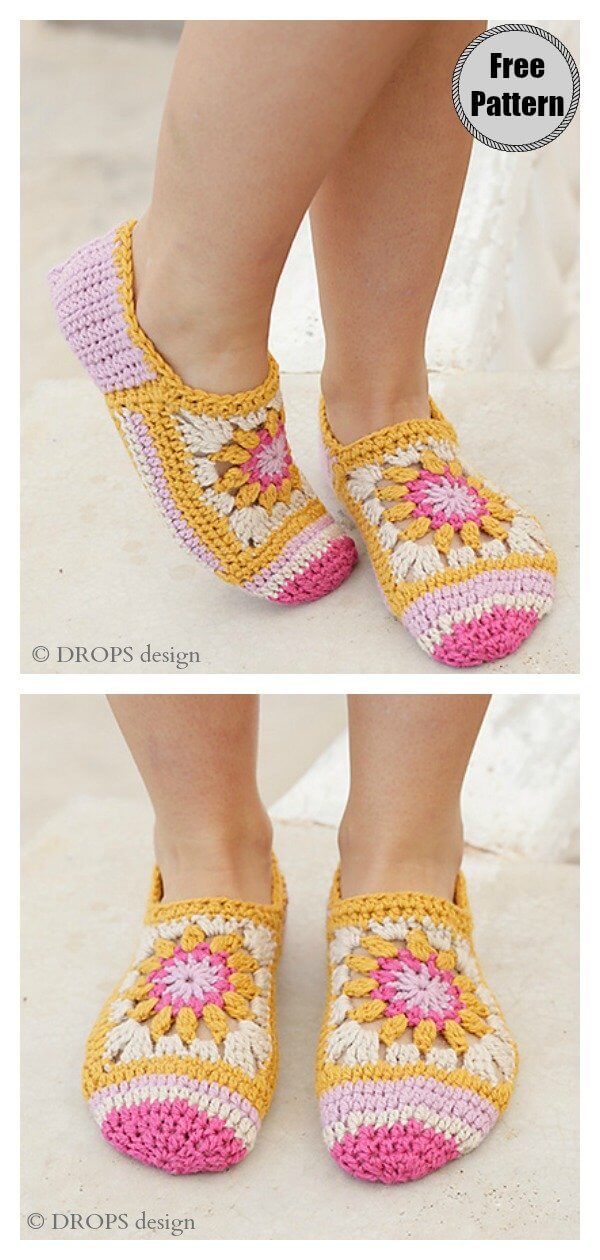 If you want something colorful and stunningly beautiful, then here is something special for you. You can pair this with a variety of outfits. 
19. Caron Chunky Cakes Slouchy Slipper Socks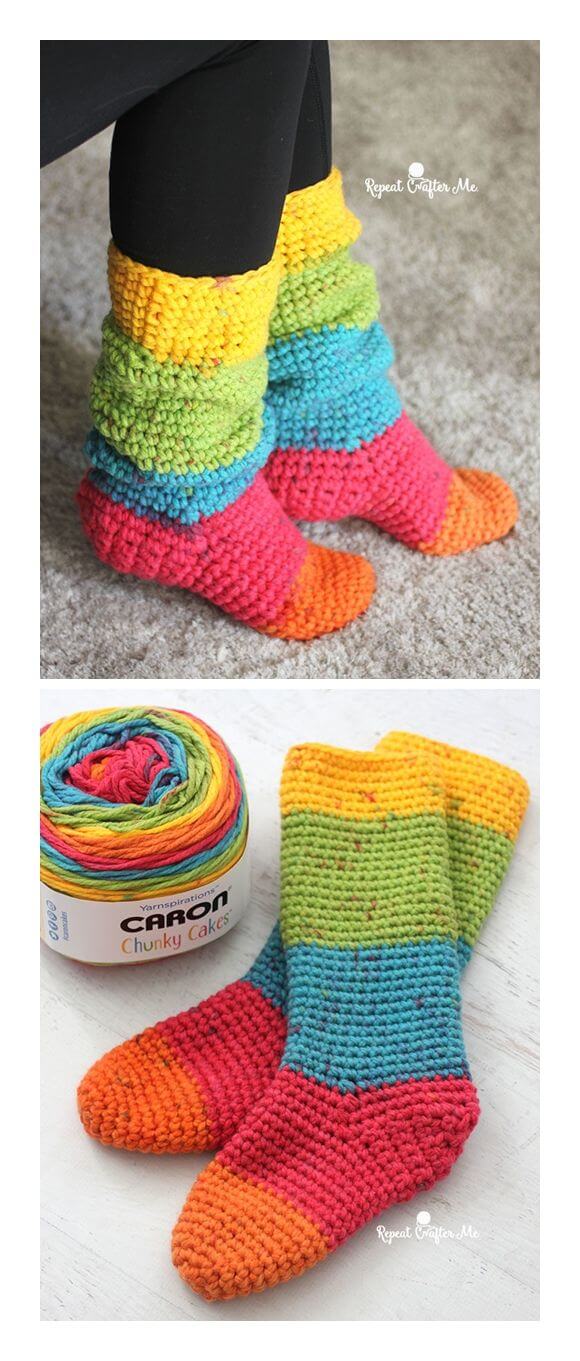 Here is something completely different and an extremely stylish pattern you will fall in love with. It will work as a slipper and socks and will keep your feet happy! This multicolor pattern can work well with various outfits. 
20. Flip flop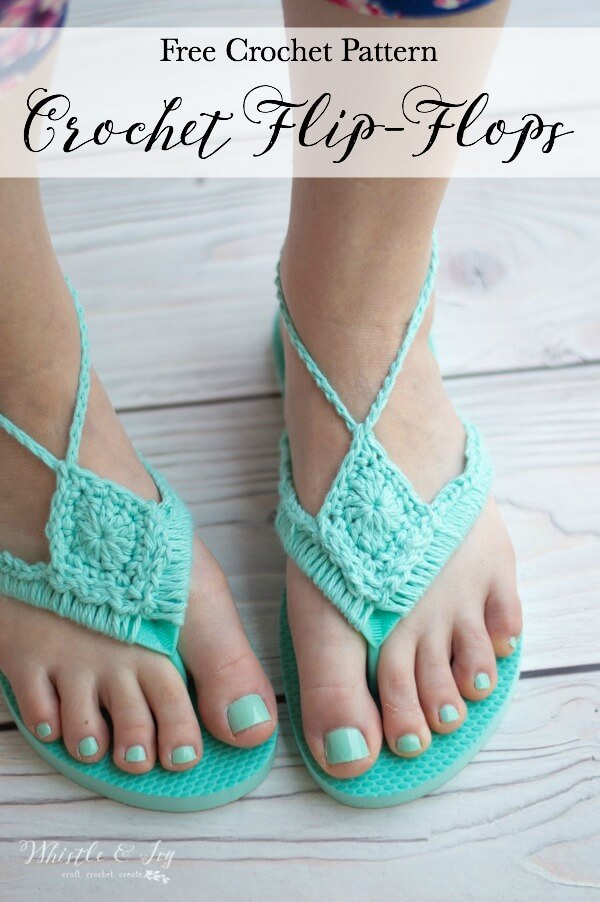 Flip flop with a bit of decoration to enhance its chick look. Try this in different colors that fit with your personality and styling needs. 
Conclusion: 
So, what are you waiting for? Get your tools and start working on the project that you love the most. Feel free to share with your loved ones and keep your feet clean, warm, happy, and healthy!