Do not dispose of or burn the old tires! It can make a piece of furniture if you get creative enough. The following 15 ideas will help you realize the beauty of the old tires. Take a look at furniture ideas here and use the old tires to try something new in your home.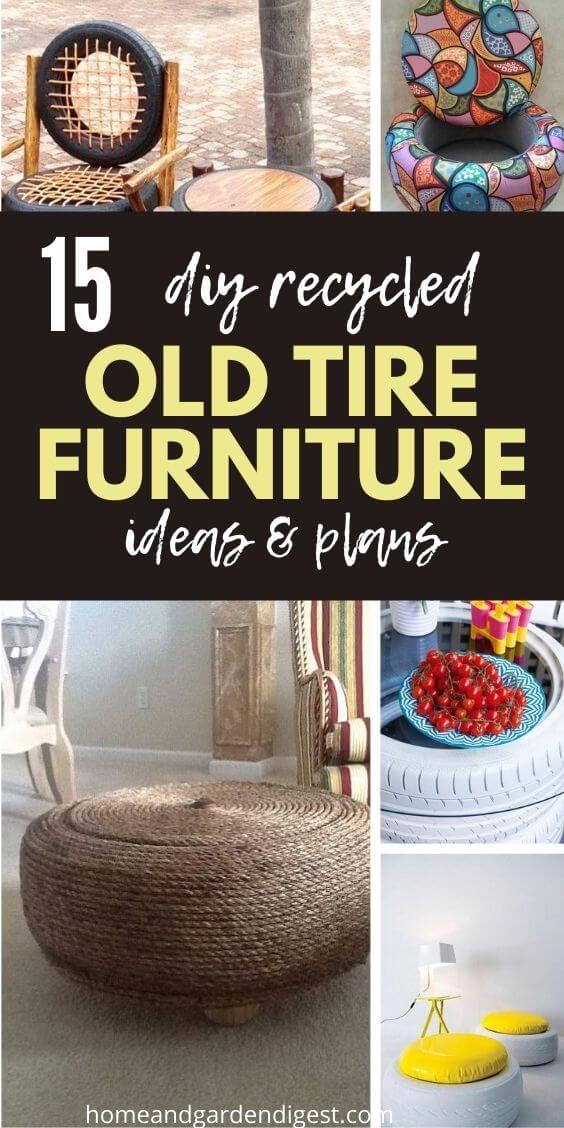 1. A set of living room tables and chairs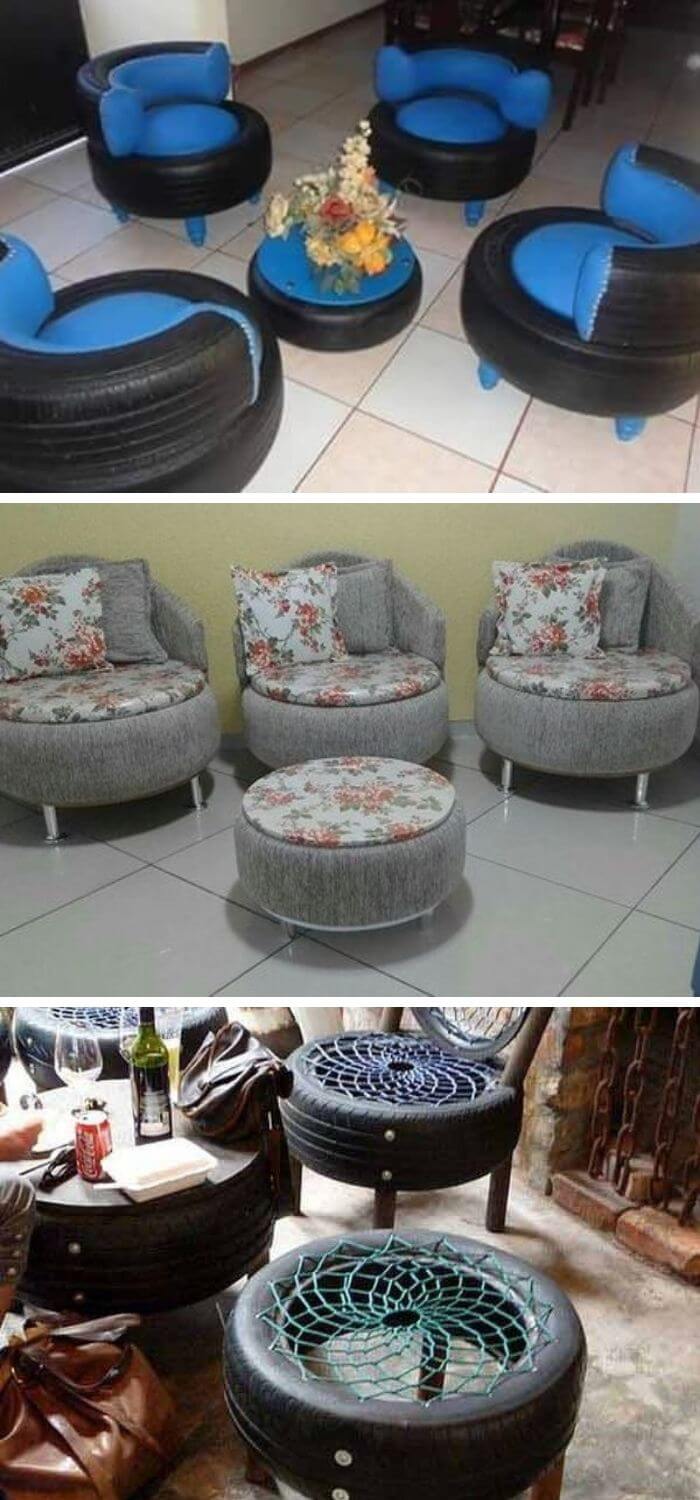 The source here gives us a cute set of chairs and tables that uses old tires. You can refer to the source for details on how to do it. If you check it from the pictures, you will notice how beautiful they are. It won't be bad if you have them in your living room.
2. Chic sofa tires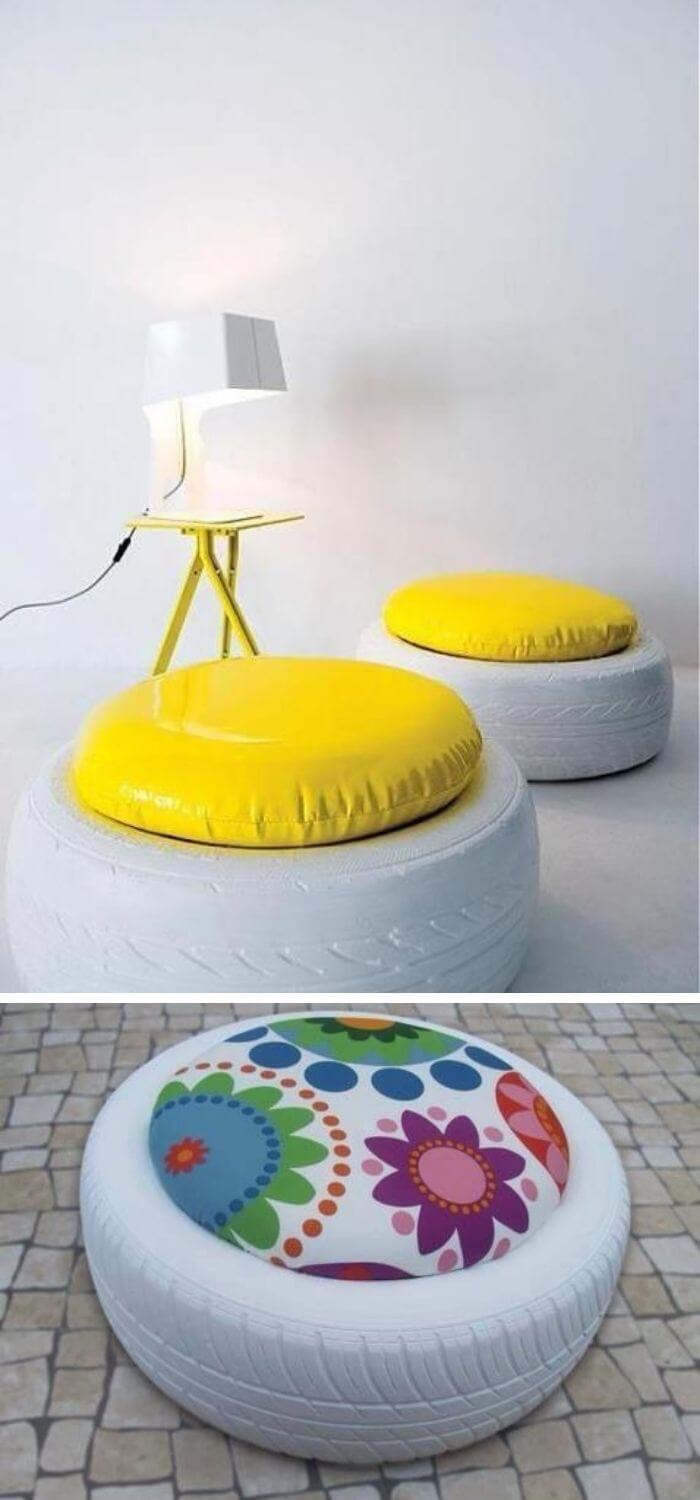 Your old tires can make chic sofas that you can use on your patio, or even along the corridors of your house. It won't be a bad idea if you have some in your living room. Get inspiration about the idea from the source here.
3. Modern sofa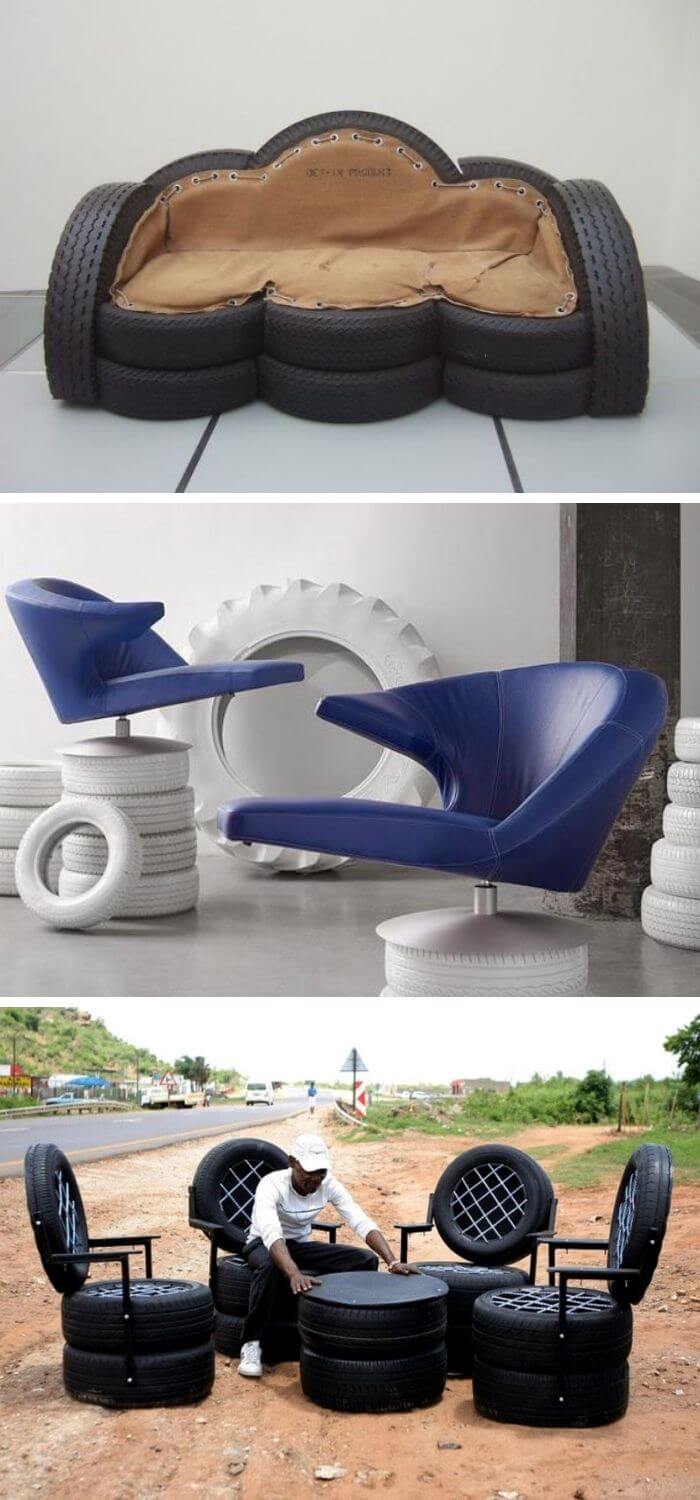 Your old tires will work together to form this beautiful sofa. Everything here looks pleasant. You can improve the beauty by painting it with your color of choice. The old tire idea is easy to make, and it won't cost you a great deal.
4. The round table furniture ideas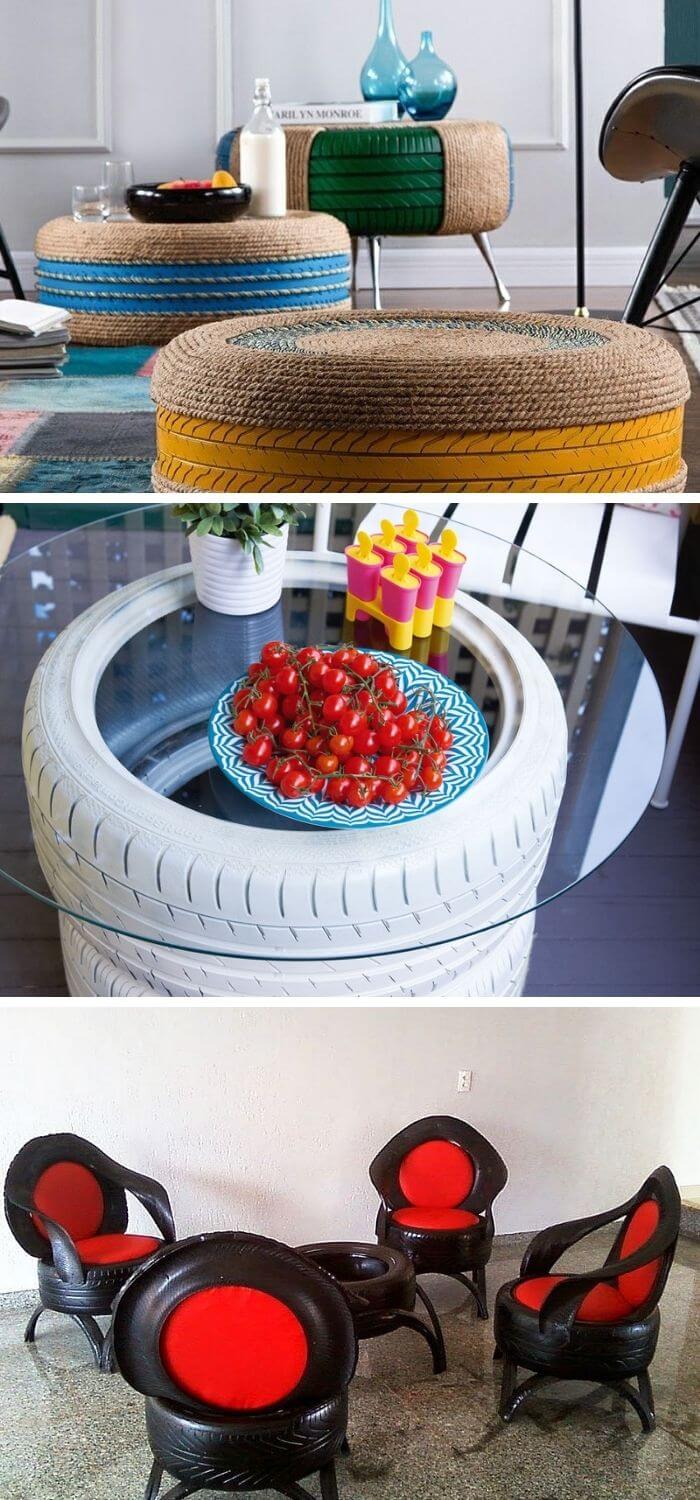 With your old tires, you can mold them to make a set of chairs and a round table. It could be a nice tea table set where it can accommodate a family. Check out the steps on how to do it from the source here to help you get some use with your old tires.
5. Old tire bed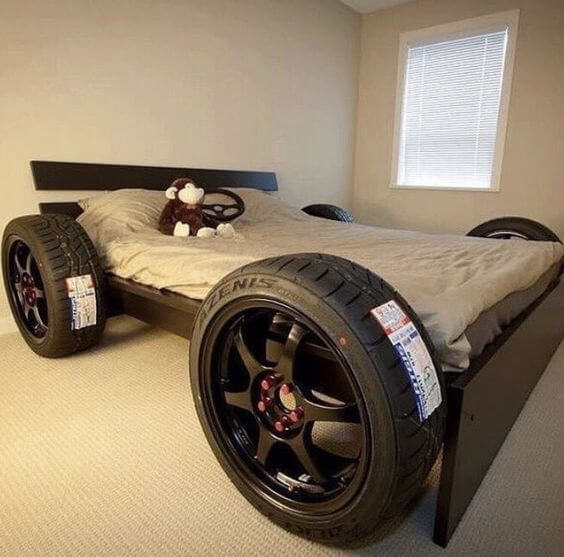 Your bed is part of the furniture. Check out what these creatives had to do with the old tires? It is a lovely idea that can utilize the old tires. It is not always about disposing of, but of course, it can serve as perfect furniture in your house.
6. Modular seating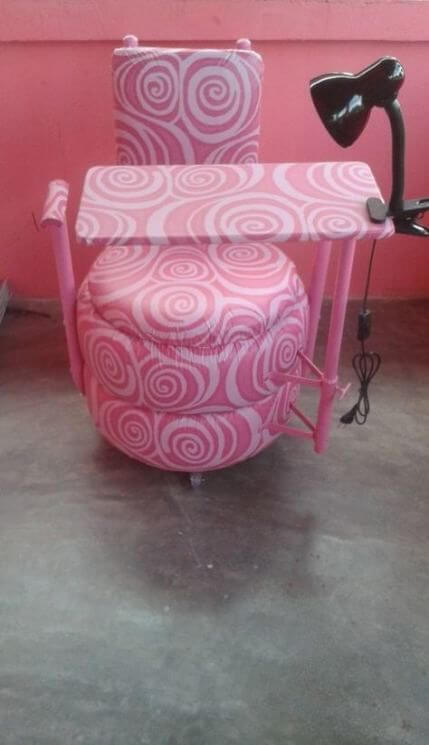 Here is another set of furniture that uses old tires. It is a seat that can serve as a study table for your kids. Check out the instructions from the source and get some work for your old tires.
7. Coastal beach chairs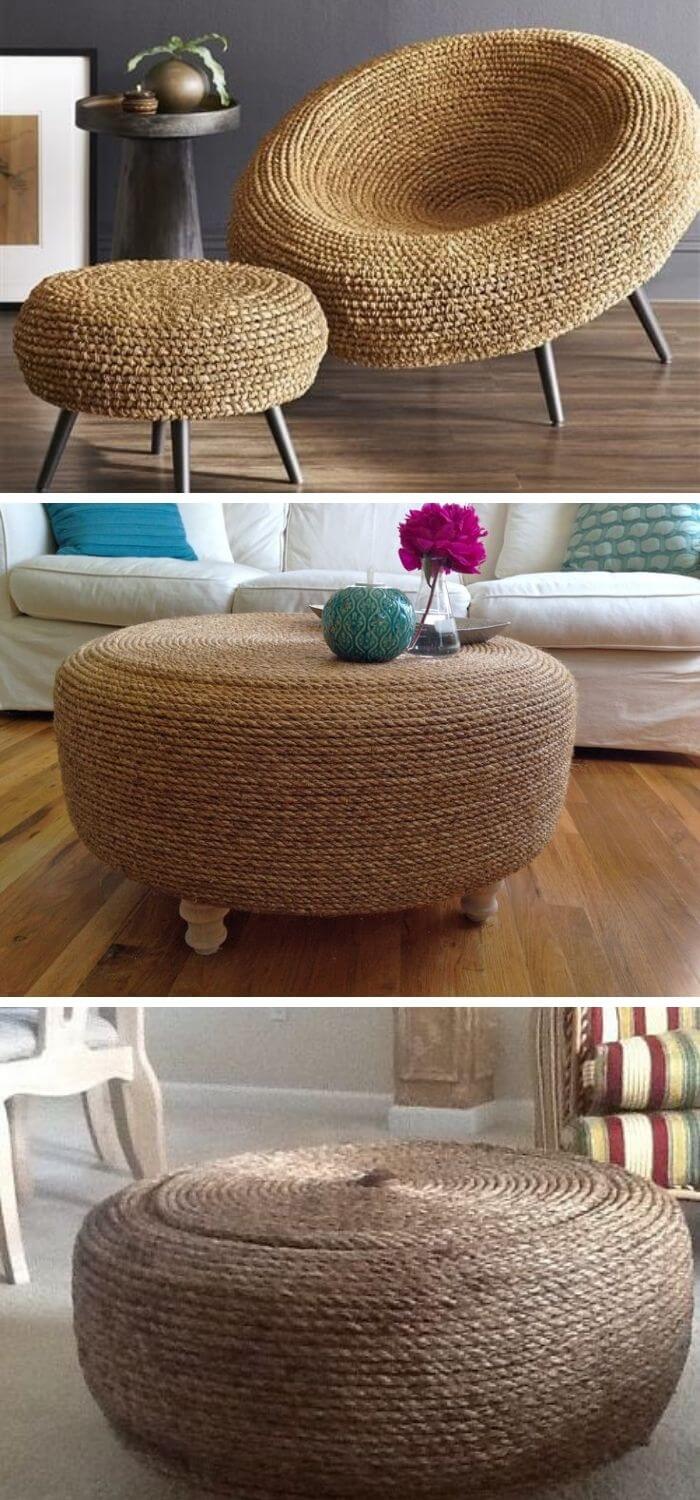 Coastal beach chairs rank among the best furniture that uses old tires. No one will hate this idea considering how cute they are. It also offers rare coastal comfort, and you can relive this moment on your patio!
Source: https://www.kathykuohome.com/Product/Detail/28532-Palecek-Paxton-Coastal-Beach-HandWoven-Natural-Seagrass-Metal-Saucer-Chair
8. DIY fur groovy sofa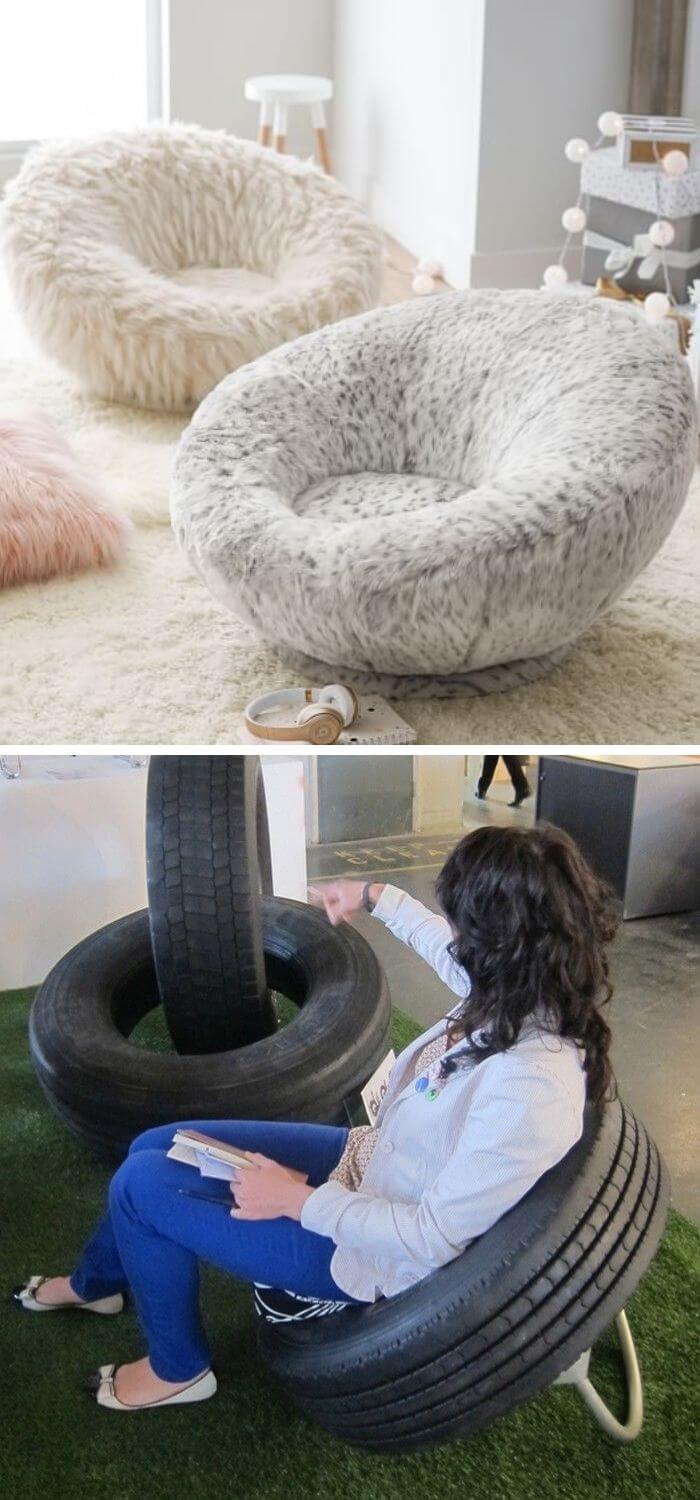 Your recycled old tires can make this cute old sofa. You only need a few supplies to make it. Check out the source here to see if you can make the groovy sofa to change the look in your living room.
9. DIY old tire furniture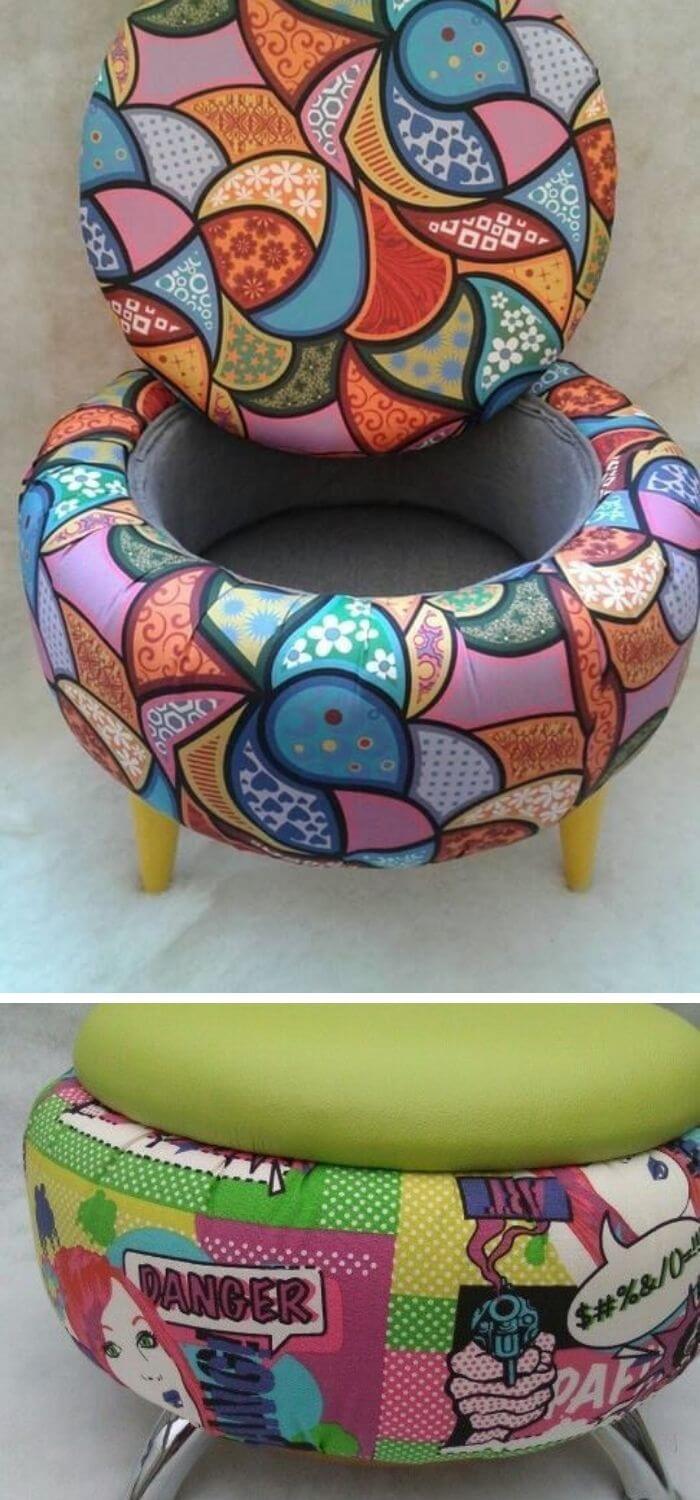 The old tire DIY ideas could be décor in your home. Old tire furniture from the source here is appealing, and it will be a nice resting place when you are doing something such as polishing the shoe. Check the instructions from the source, and try this cute idea in your house.
10. Two recycled tires chair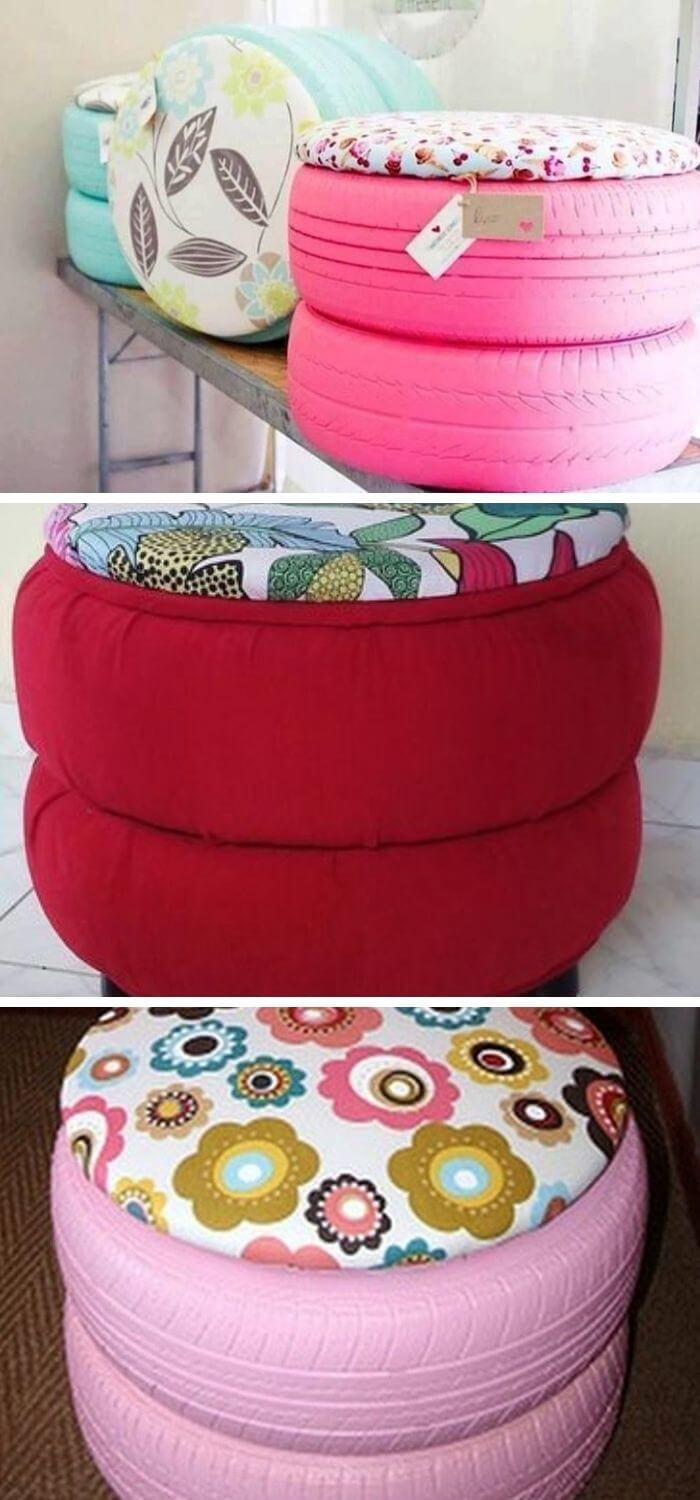 You can make elongated hair using two recycled tires demonstrated by the source here. It is a lovely idea that demands very little from you. You deserve this cute table in your home. You can place it as one of the patio furniture.
11. Elegant DIY coffee table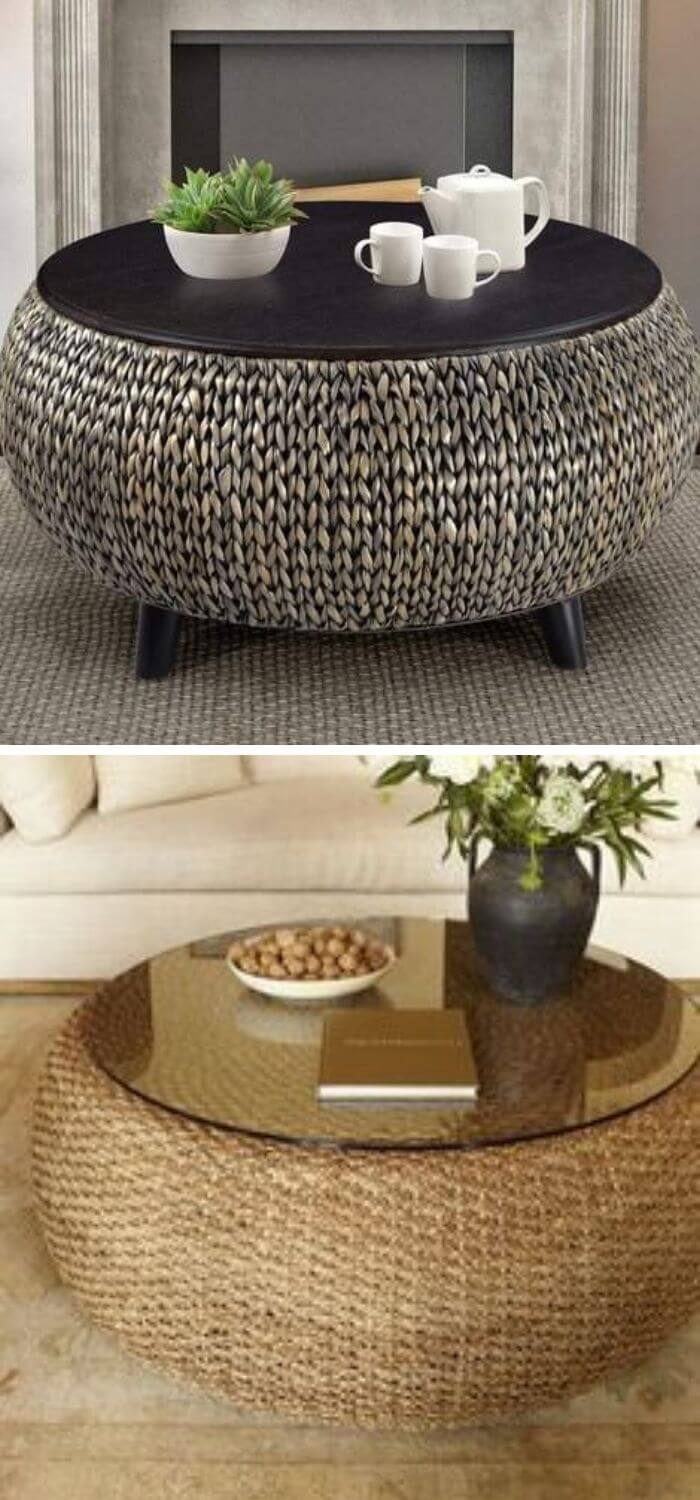 You can make an elegant coffee table using old tires. We love the simplicity and elegance. It makes it real to believe in the old tires again so that you don't end up burning or disposing of the old tires thinking that they are useless.
12. DIY old tire table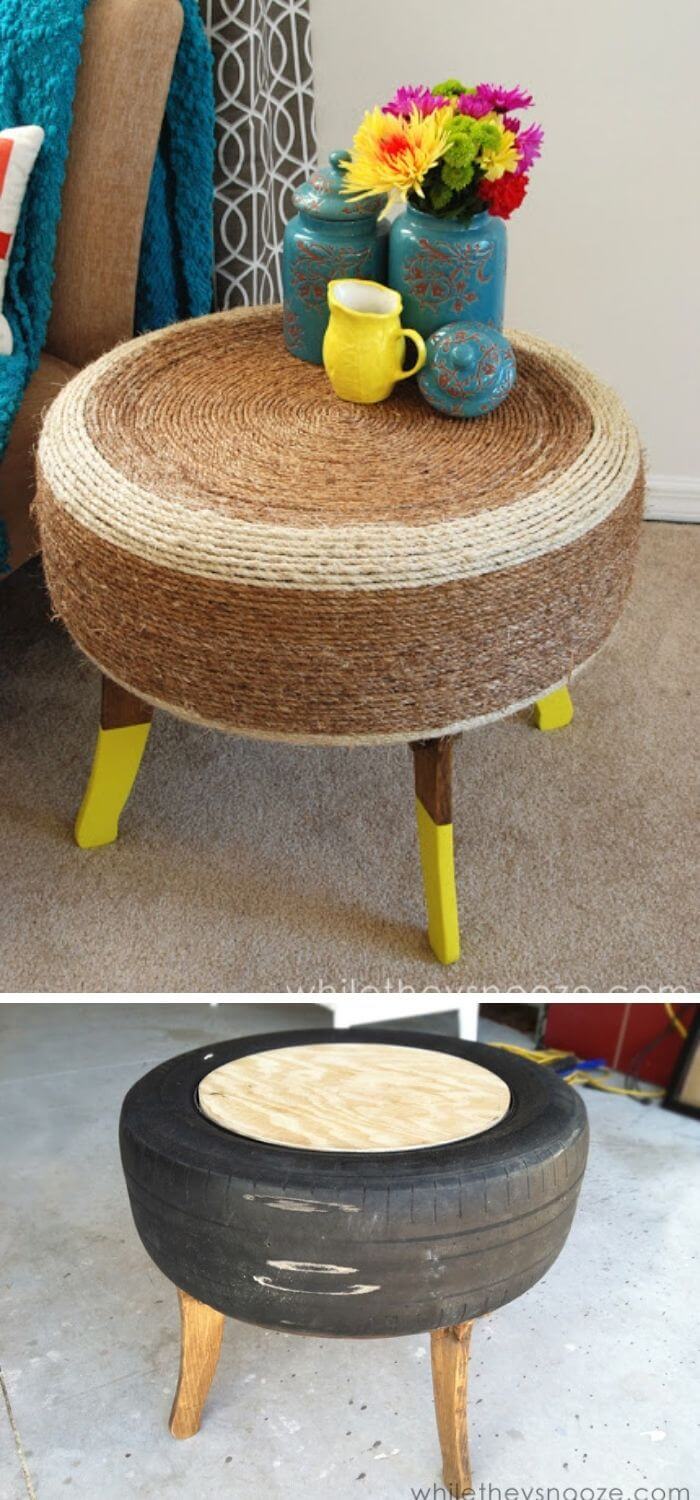 The DIY old tire table ranks best among the tire furniture you can get. It may work well with the coastal chairs because it supports the same them. Check out the source for inspirations on how to go about the project using old tires.
Source: http://whiletheysnooze.blogspot.com/2013/07/trash-pile-tire-made-trendy-table.html
13. DIY tetherball set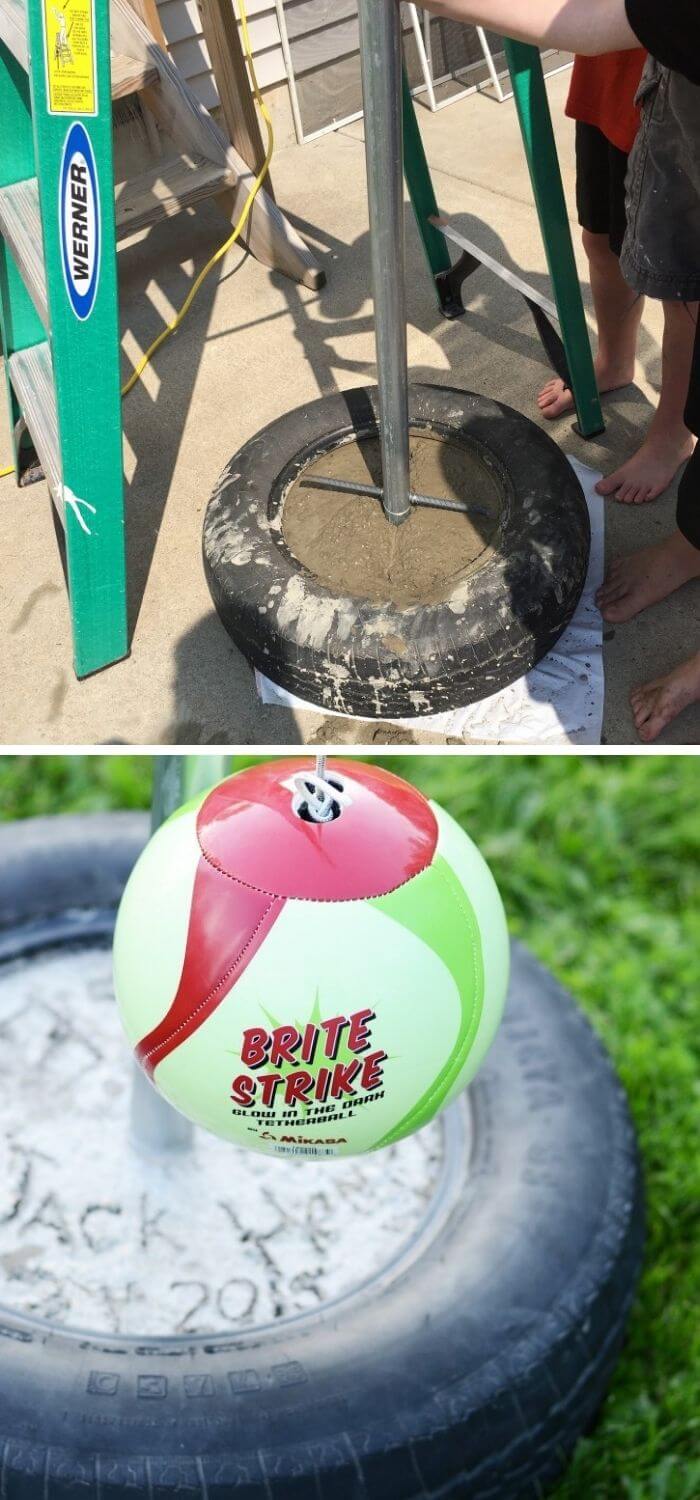 The DIY tetherball set is among the best old tire furniture ideas for you. Check out the instructions from the source and begin the DIY project to make this set of furniture. It is an easy way to use old tires.
Source: https://simplykierste.com/backyard-fun-make-your-own-diy-tetherball-set#_a5y_p=4061520
14. Dream catcher tire chair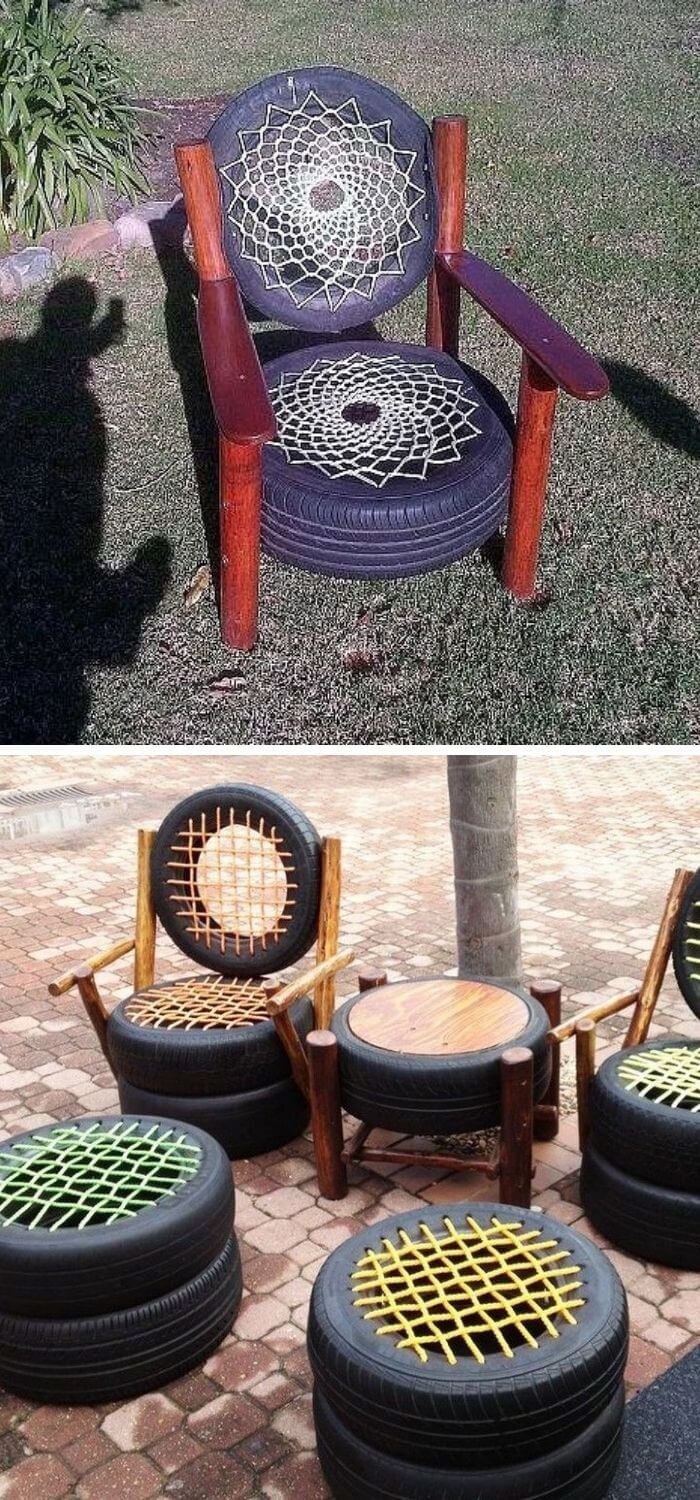 Home talk designers now have a beautiful old tire furniture idea for you. Try the dreamcatcher chair idea to add some cute ideas to your living room. It is the best idea that can help you use old tires from your car.
Source: http://www.hometalk.com/1891451/recycled-tyre-chair-rocky-road-backpackers-south-africa
15. DIY tire see-saw rocking chair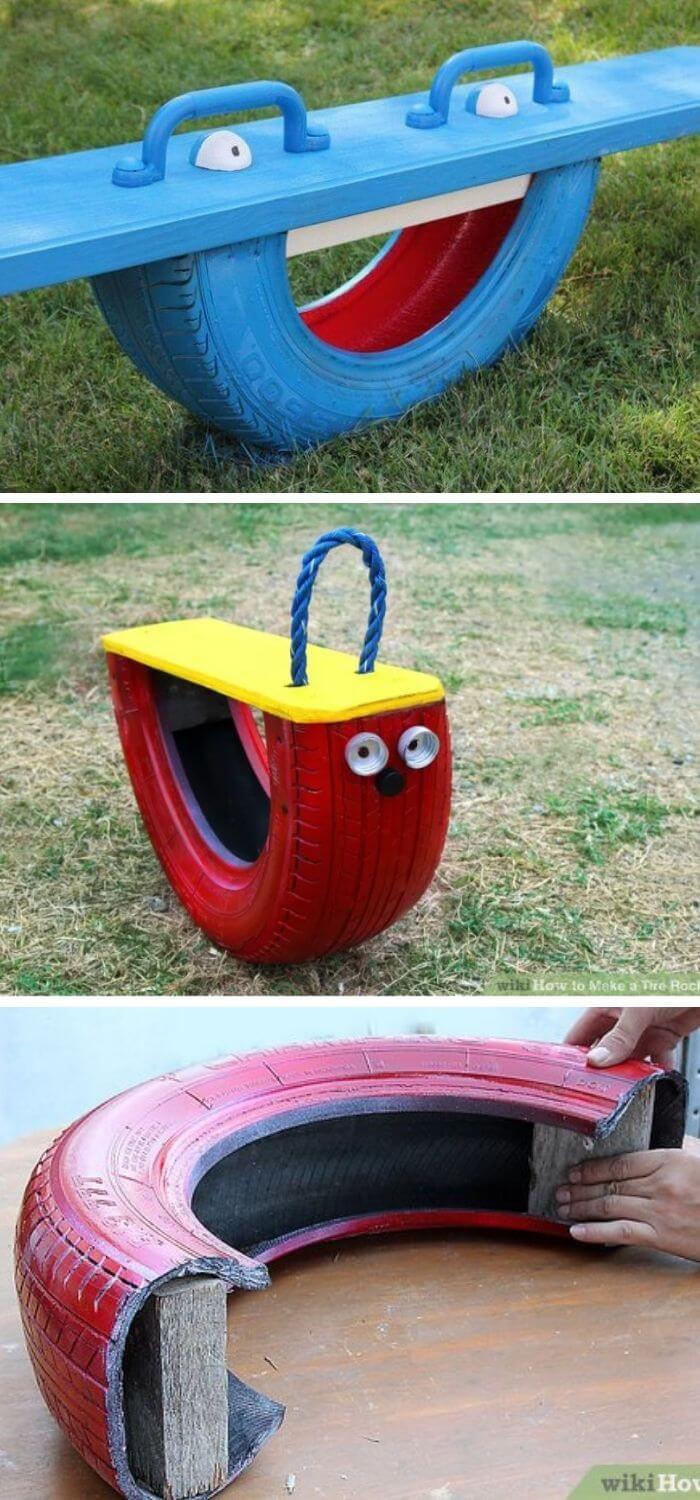 The tire see-saw rocking chair is an idea that will please your kid. Make a piece of new furniture for your kid by employing this old tire idea from the creatives. 
Source: https://www.youtube.com/watch?v=6MPs9FjzXEo&t=2s
Park View City offers the best residential investment opportunities that provide an environment-friendly area that makes your kids happy and healthy. The place offers several parks and recreational areas for the healthy development of your kids.