Do you have a broken pot? Are you unhappy about it? Well, there is now a perfect use for broken pots, so do not discard. You can now put your broken pot into a more catchy and attractive garden that will tell its own story.
Don't we all love stories! especially a fairy tale of godmothers, animals and the rustic. We will show you 16 amazing DIY broken pot fairy garden ideas that will give your broken pot a new purpose.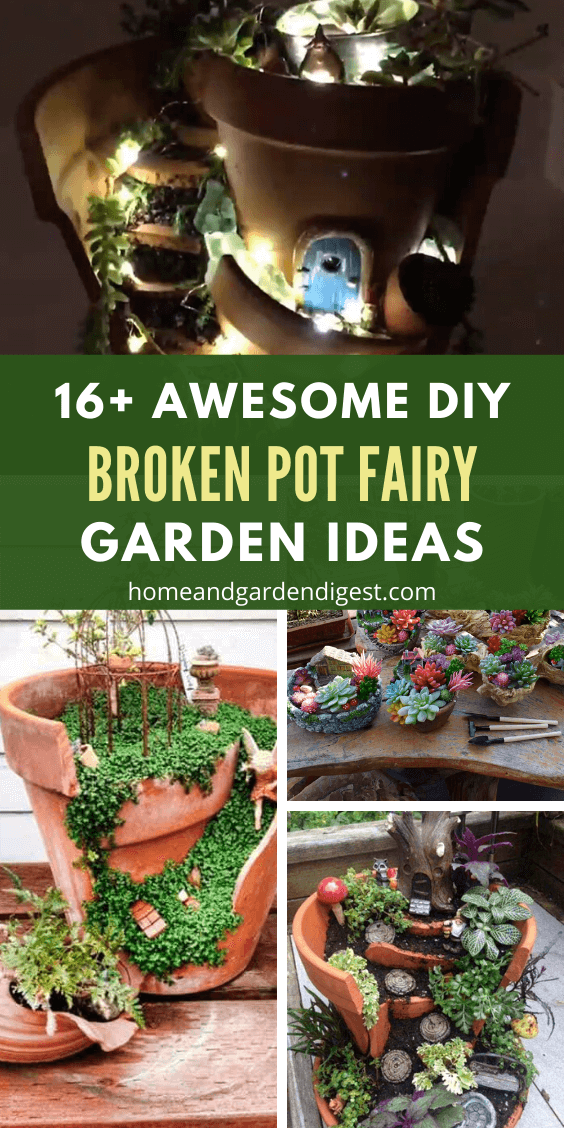 16 DIY Broken Pot Fairy Garden Ideas
1) The nightingale nest broken pot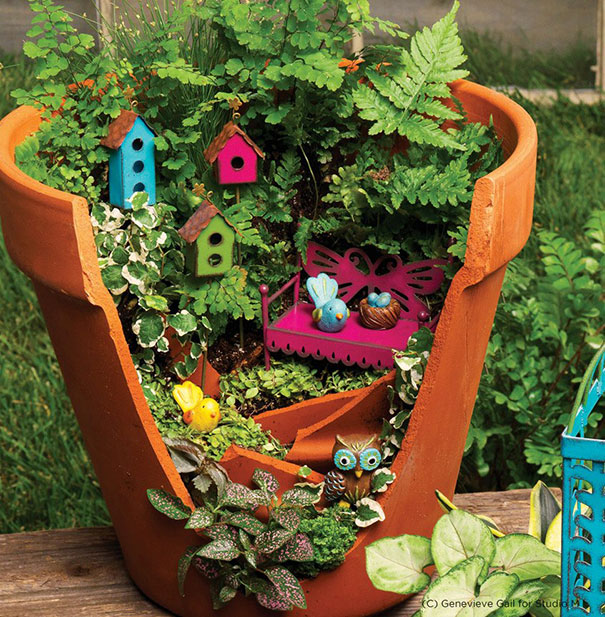 This broken pot idea is perfect and simple for anyone who loves birds. If you want to describe or tell the tale of a country life with the arrangement of nightingale birds and wooden houses, this is your pick. It's a rural, rustic and simple garden idea with the right splash of color.
2) The cabin style home pot
Source
This pot is catchy with the arrangement of steps by the side and the castle above. It makes you wonder what you will find in the castle. Would it be a princess or a monster? The castle further enhances the fairy tale look.
3) The broken squirrel tree house

Source
If you love animals, the squirrel pot is for you. The carved tree house gives the garden a mysterious look dotted by a few mushrooms like plants adorn the surroundings. If you like this adornment of simplicity with a mix of mystery, then this is the right pot for you.
4)Terra cotta Fairy Garden

Source
This idea will get all the children around you loving your pot. Who doesn't love a fairy godmother story? This pot is filled with interesting details of the godmother working to make your dreams come true. Who would want to take their eyes off these beautiful godmothers?
5) Broken layered pot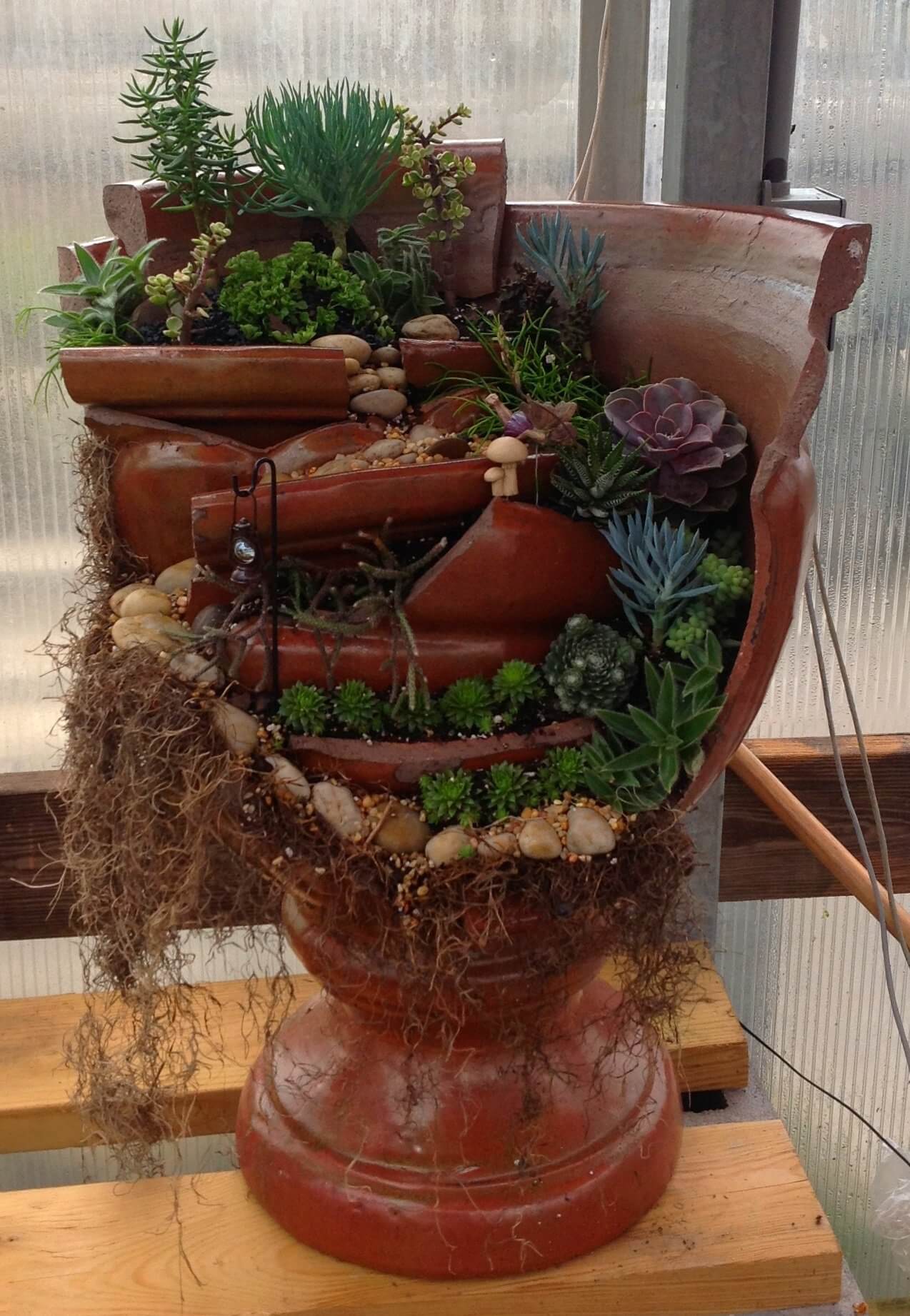 Source
This is another simple pot with little or no details. With a simple layering of the broken parts of the pot. Viola! The pot garden is set.
6) Angel winged pot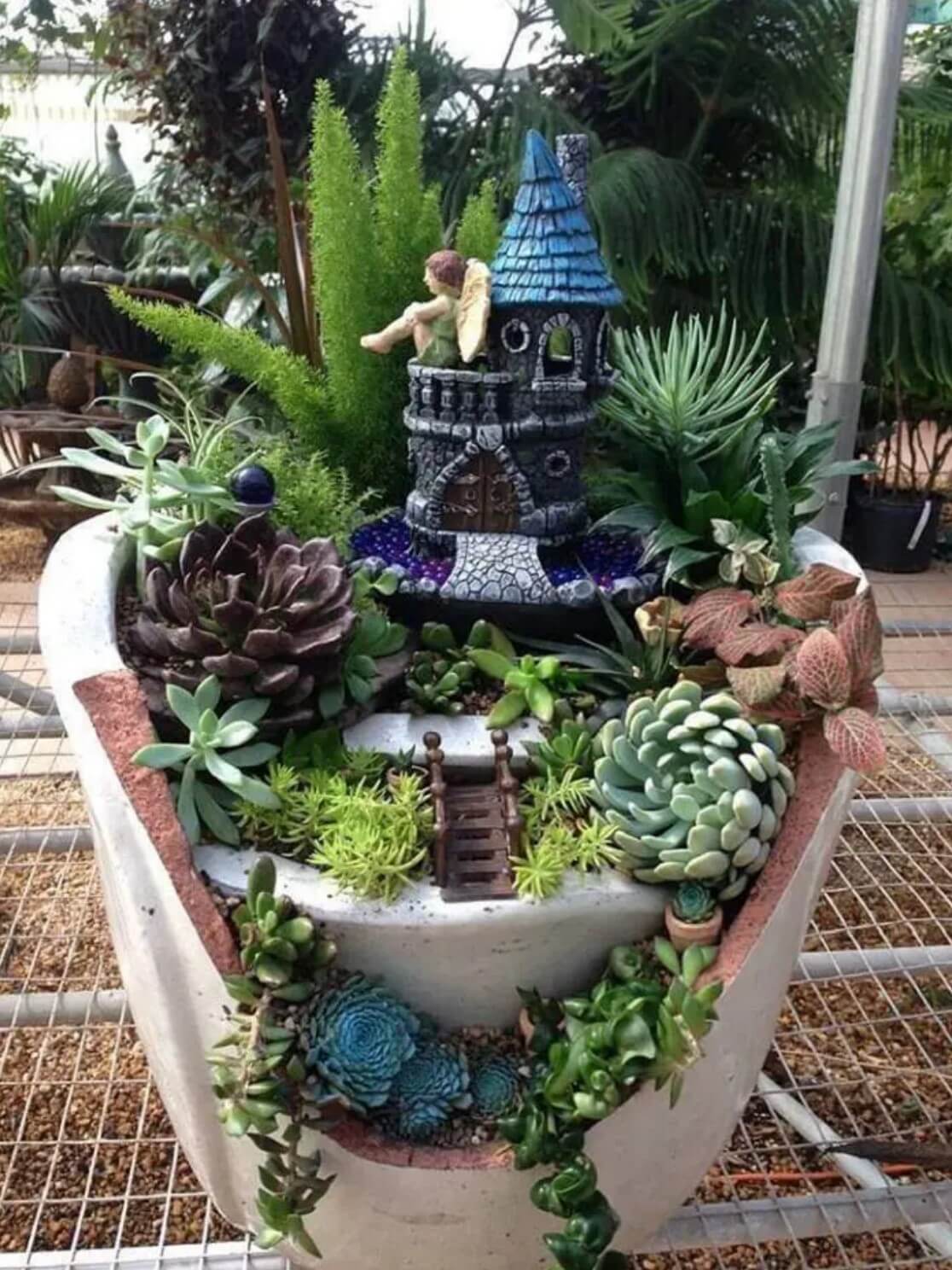 This is another pot that tells a beautiful tale. It appears the boy with wings is watching over the tower and nothing bad can happen under his watch. It's so serene!
7) Broken courtyard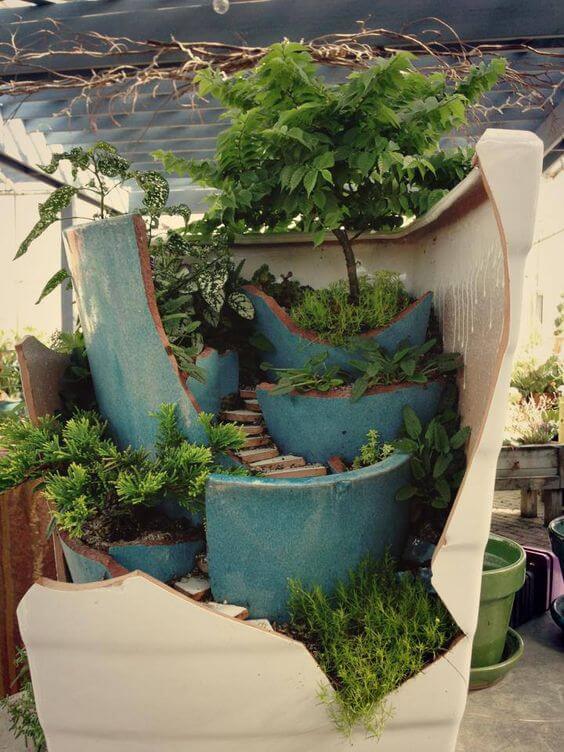 This pot has details of a courtyard in a large castle. You see the beauty of the castle in its partially enclosed walls. Simple with an elegant pattern, it's a sight to behold.
8) Mother and child broken pot

Source
This is an expectant mother having a mother and child moment in her idyllic world. It's like she tells fate not to be cruel to her but rather give her all the beauty of the world. This pot is perfect and homely, if that is what you are looking to achieve.
9) Doubled staircase broken pot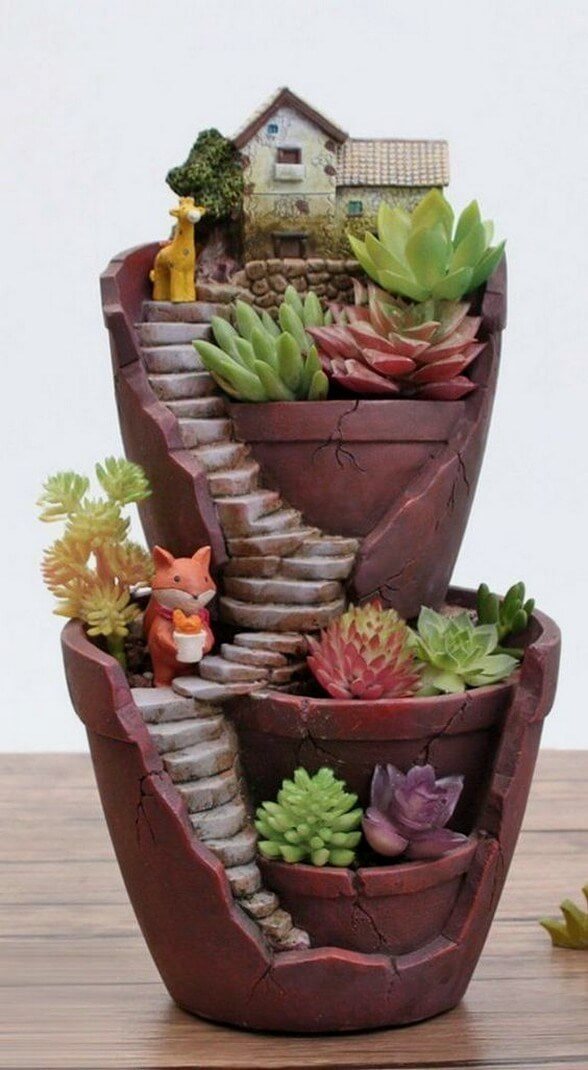 This pot is your go- to if you have more than one broken pot to use. With little shrubs by the side. It's not a fuzzy arrangement rather it's well layered with a long walk to the house at the top of the pot.
10) Artistic broken pot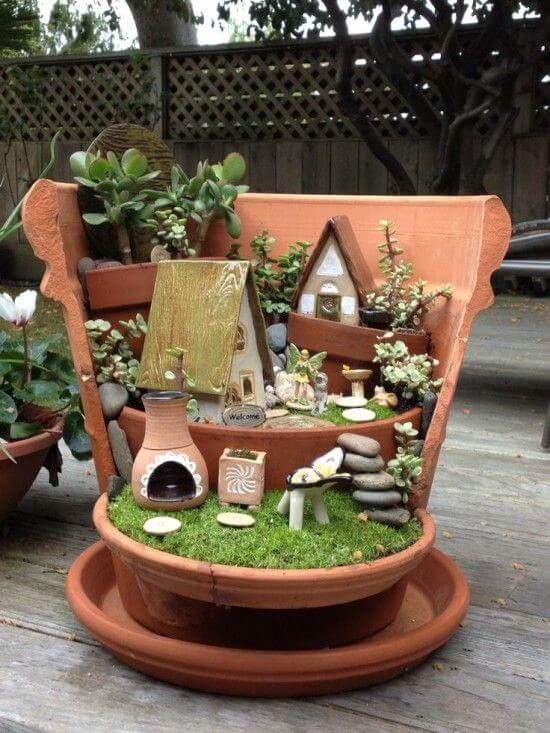 This pot is well detailed and arranged. It's no doubt a fairy community with beautiful little houses and seats. It's a wonderland , perfect and creative.
11) Metal inclusion with lights pot


This pot includes metal in its arrangement giving it a different shine. Its shine captivates animals around.If you would like a little shine and something out of the box, then you have found the right pot.
12) Chimney broken pot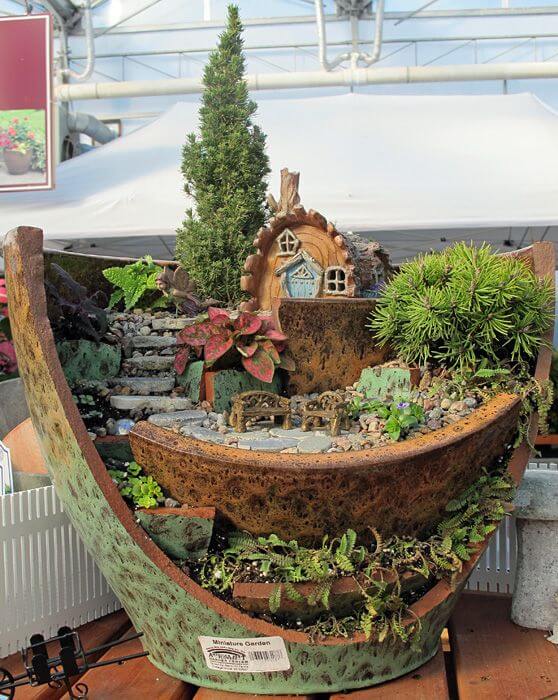 The chimney pot garden is for anyone who loves a good old fireplace. If you love houses with such fireplaces then this is the broken pot garden you require. With a few stairs and wooden doors, it looks welcoming after a long day outside.
13) Sheen broken pot

Source
Looking for a broken pot arrangement that would appear unbroken, then this is the pot for you. A first glance at the broken pot will leave you enthralled at its beauty. A closer look will reveal that it is broken. Filled with pretty flowers and toadstools with a staircase, it's a sight to behold. It's indeed a sheen pot.
14) The forest broken pot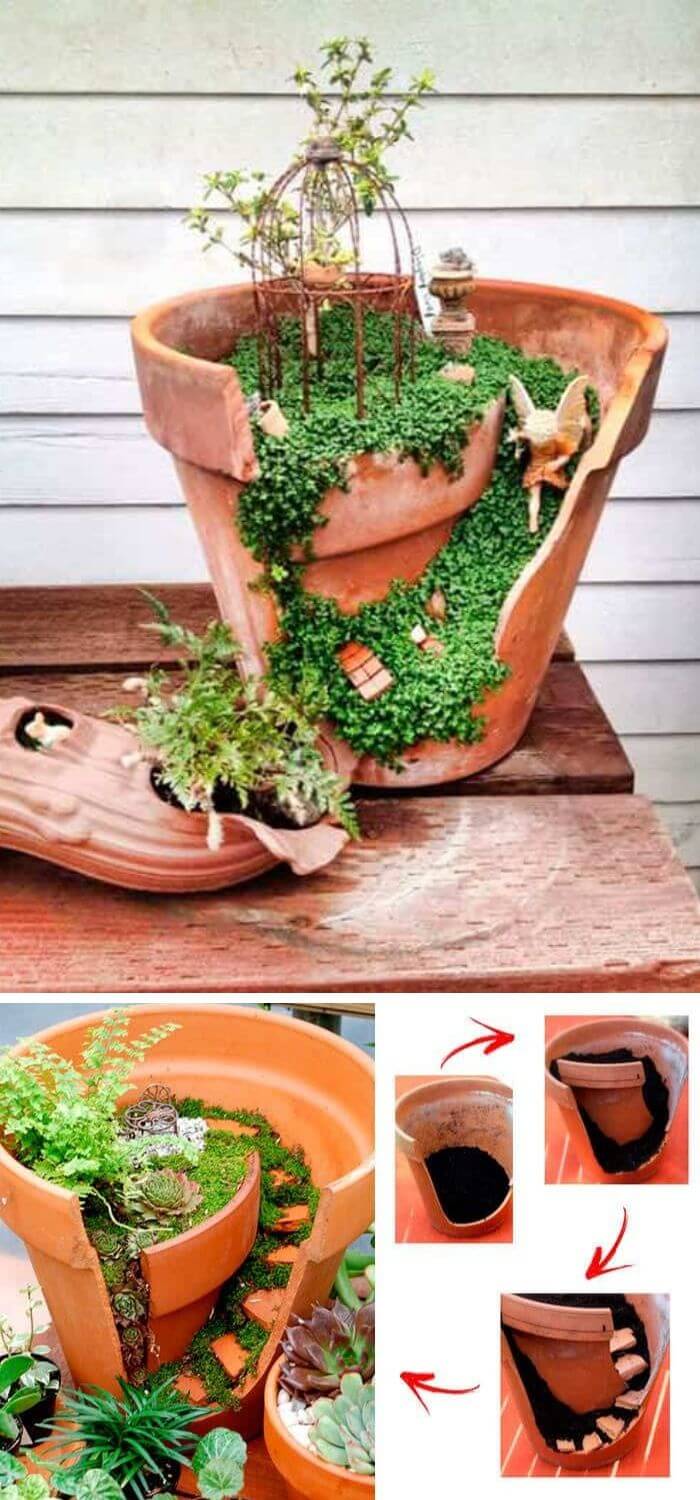 Source
This pot has a beautiful rail with the greenish flowers of the forest. It has no stairs or many other adornments of a fairy garden. It is simple, easy and lovely.
15) The blue vase broken pot

This blue vase pot is the rich color of nature with a beautiful arrangement of stunning flowers .It has no form of adornment and has a stunning mix of different colors. Should you require a broken pot without any adornment, then this is the right pot for you. The mix of color is a lovely sight.
16) Leisure garden pot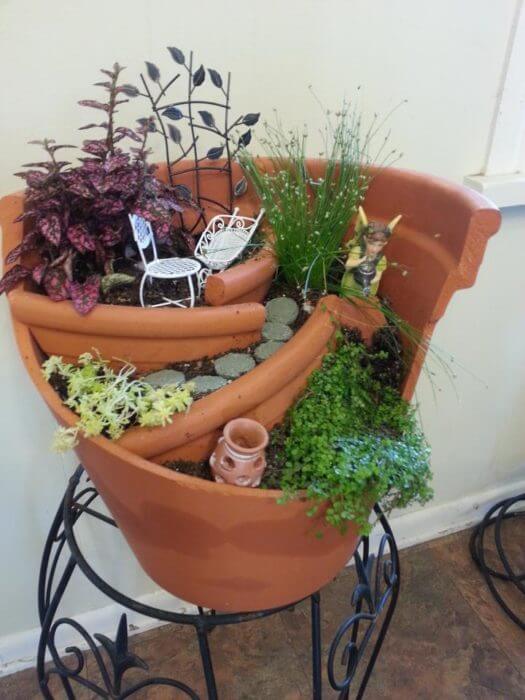 This flower has a beautiful arrangement coated with few flowers. It hosts a chair for sitting and relaxing with a fairy to the side. Thus, the fairy with wings is there to make all your thoughts and wishes come true.
Conclusion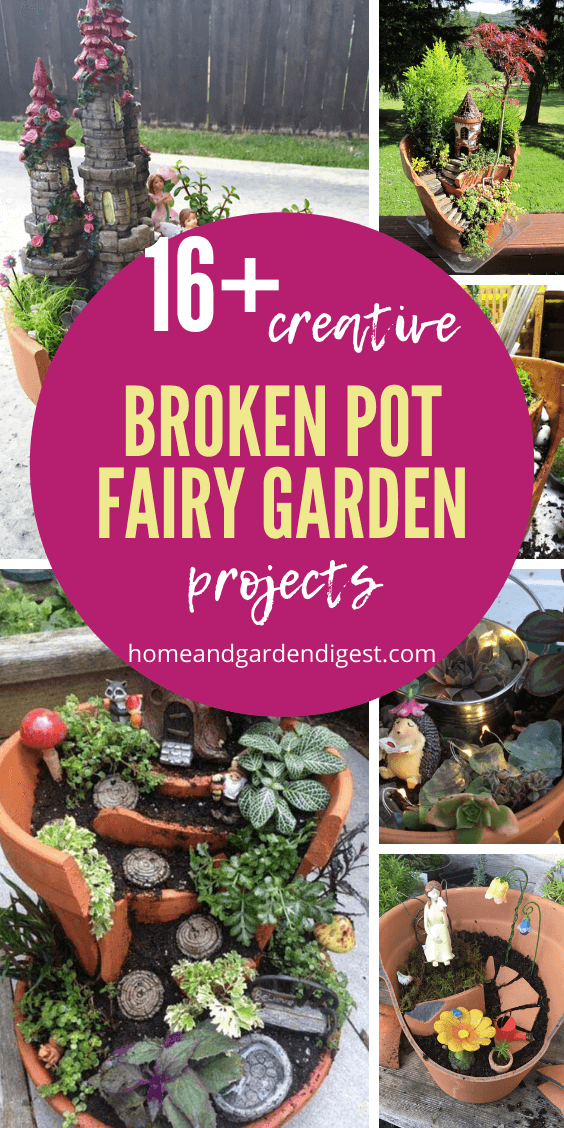 The 16 DIY broken pot fairy garden ideas will help you turn your broken pots into amazing gardens. More importantly this is fantastic for anyone who has a broken pot. You have found great use for your broken pots, so get started.