Crochet Women Pullover Sweater Free Patterns
Ladies have a wide range of crochet clothing made in many different designs and colours compared to men. When it comes to sweaters, there are a bunch of patterns and designs to rock the ladies wardrobes for all seasons and occasions. 
Bulky yarns sweaters are perfect for the winters season while light weight yarn sweaters are perfect for summer and spring when the air is warm.
Are you searching for a great pullover pattern project? Check out these amazing Crochet Women Pullover Sweater Free patterns.
1. Paton's Boho Pullover Free Crochet Pattern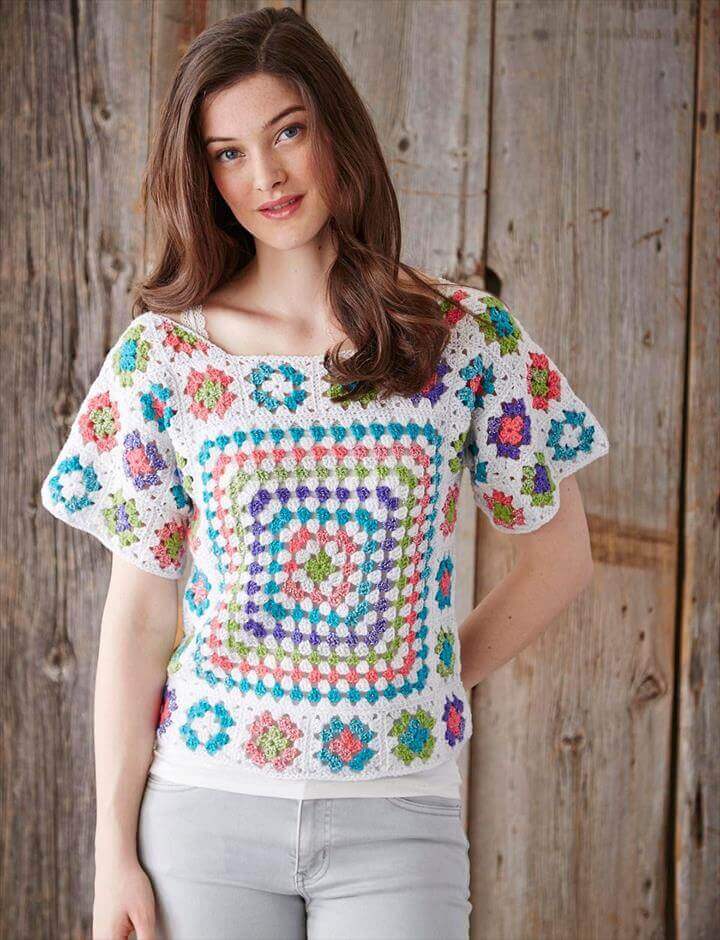 This gorgeous shot sleeved Boho pullover pattern uses a granny square motif. It is crocheted in Paton's Glam strips using a spot- weight yarn. This is a perfect retro chic pullover for you.
2. Granny Square Pullover Sweater Crochet Pattern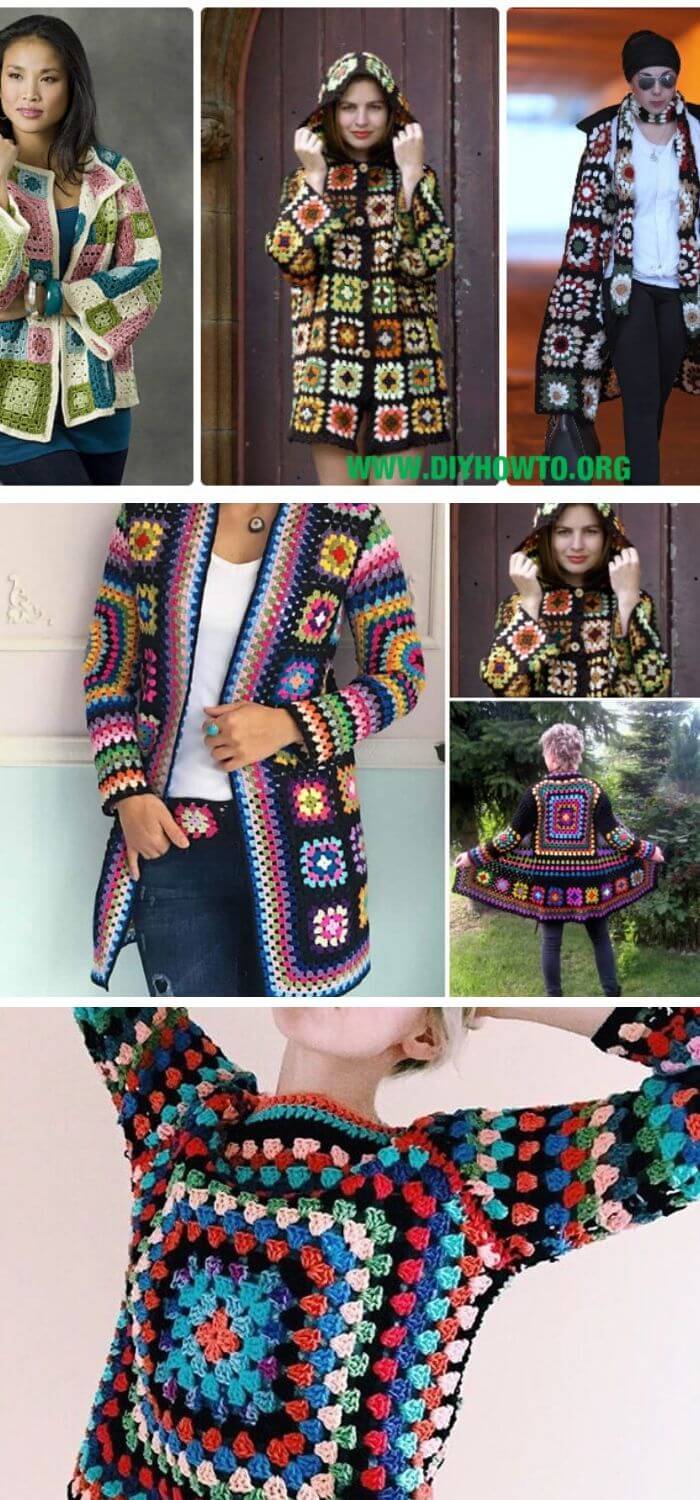 Have you crocheted granny squares before? If not, they are quite simple to learn. This granny square piece is worked on by crocheting granny squares piece by piece which are then stitched together. Grab your favourite colours and make your own design.
3. Flattering Seamless Tunic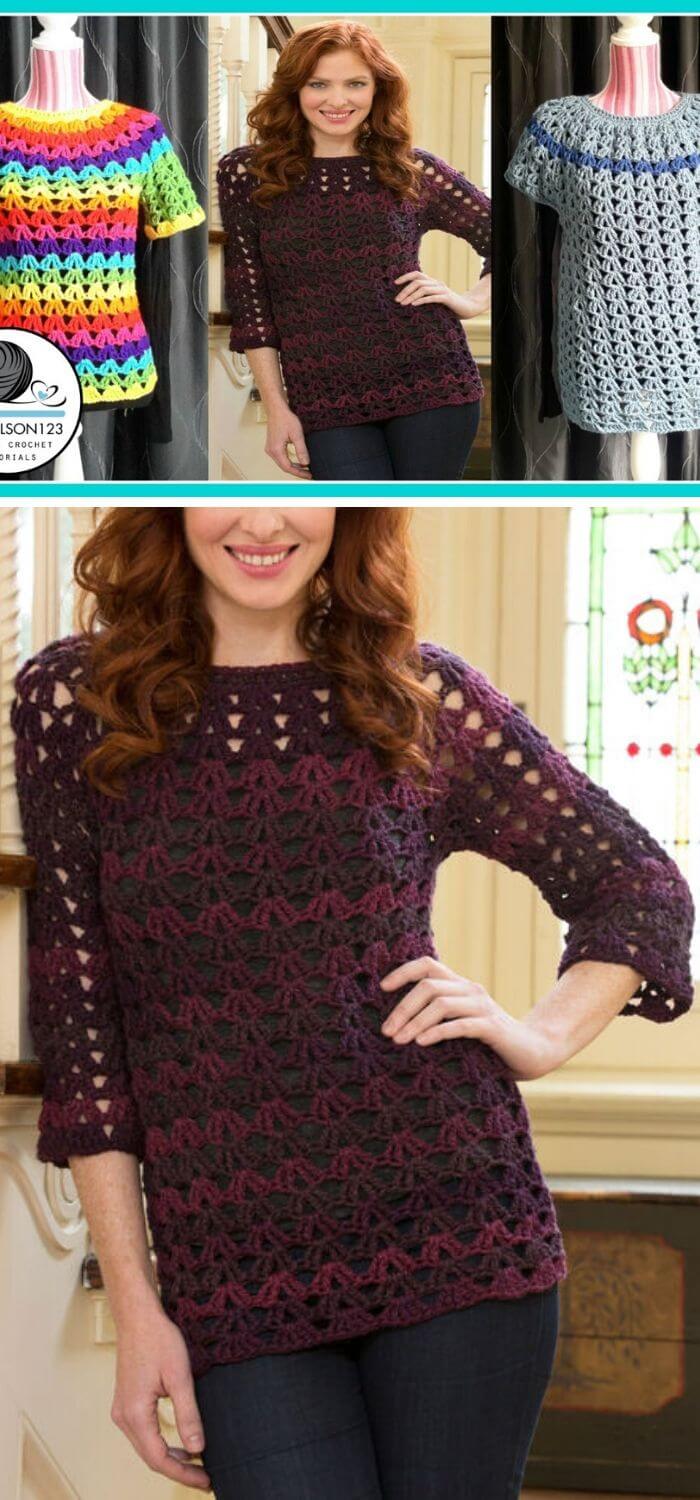 This flattering seamless Tunic is a perefct addition to your crochet pullover wardrobe. It is worked in rounds from top to bottom. You can rock it to work in the morning or to a late dinner date.
4. Flower Hill Crochet Pullover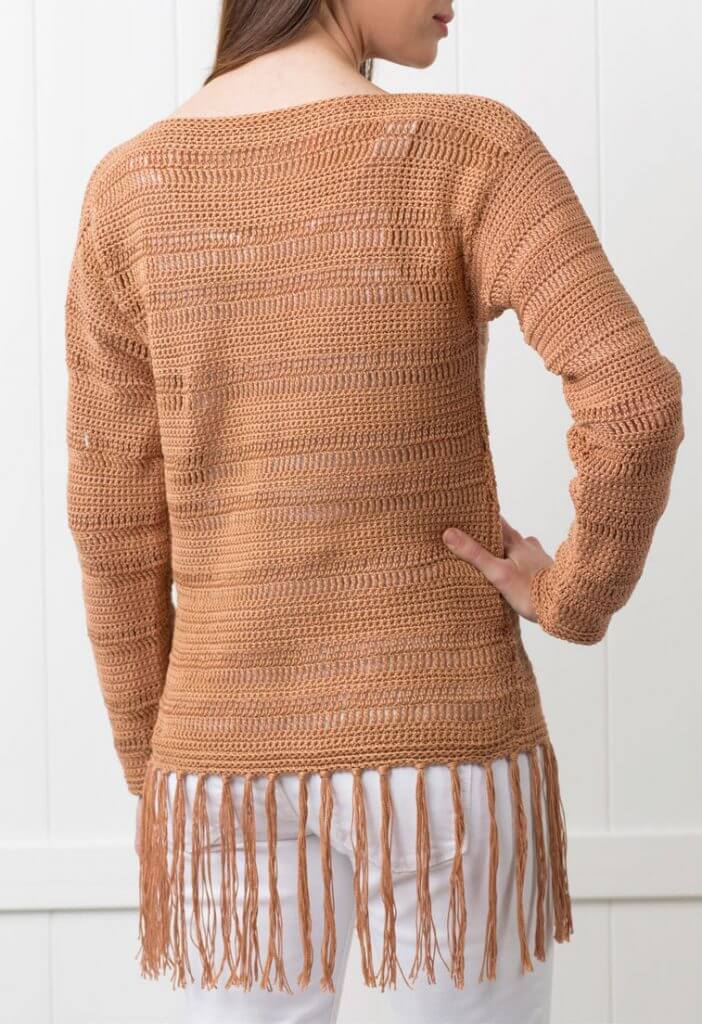 This lovely flower hill crochet pullover is classy and flattering at the same time. It is an easy pattern that is crocheted using a copper-coloured yarn. This enchanting pattern blends in perfectly with any outfit.
5. Mesh Stitch Crochet Sweater Pattern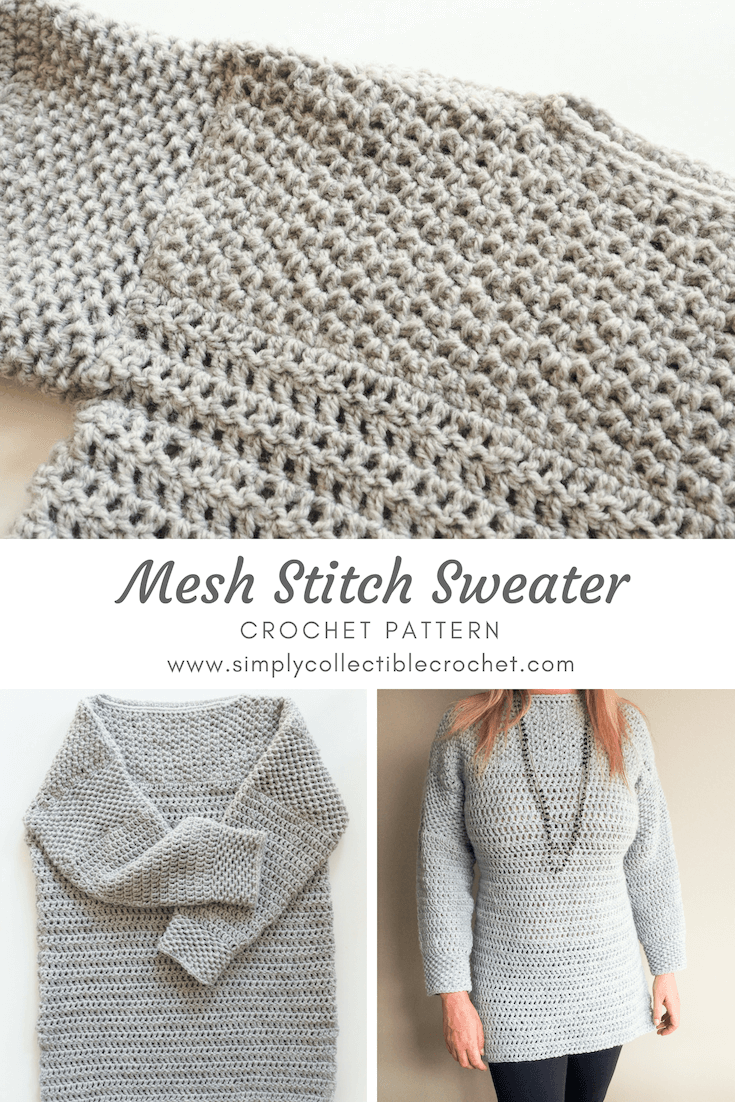 This stylish mesh sticth pullover is easy to make. It is crocheted using the plymouth Encore Worsted yarn made with an acrylic /wood blend. It is super cozy and stylish and blends with almost any outfit.
6. Everygirl Sweater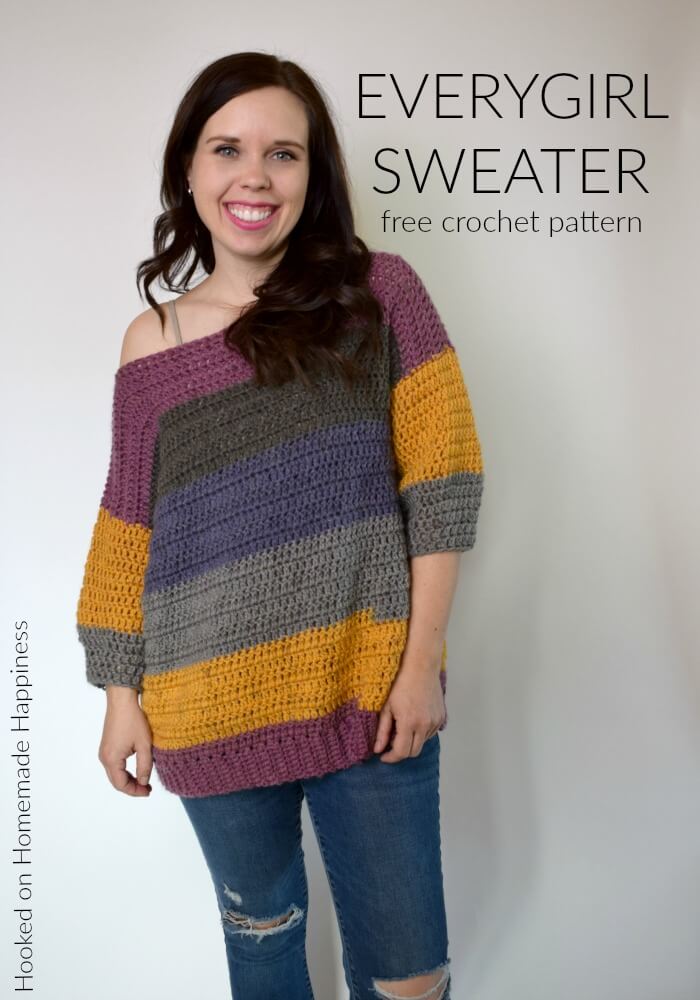 Any girl will fall in llove with this gorgeous pullover sweater! it is super comfy and quite easy to make. Make sure that you select skeins that have same starting colour to ensure that the stripe on the front and back piece match.
7. Boat Neck Pullover Sweater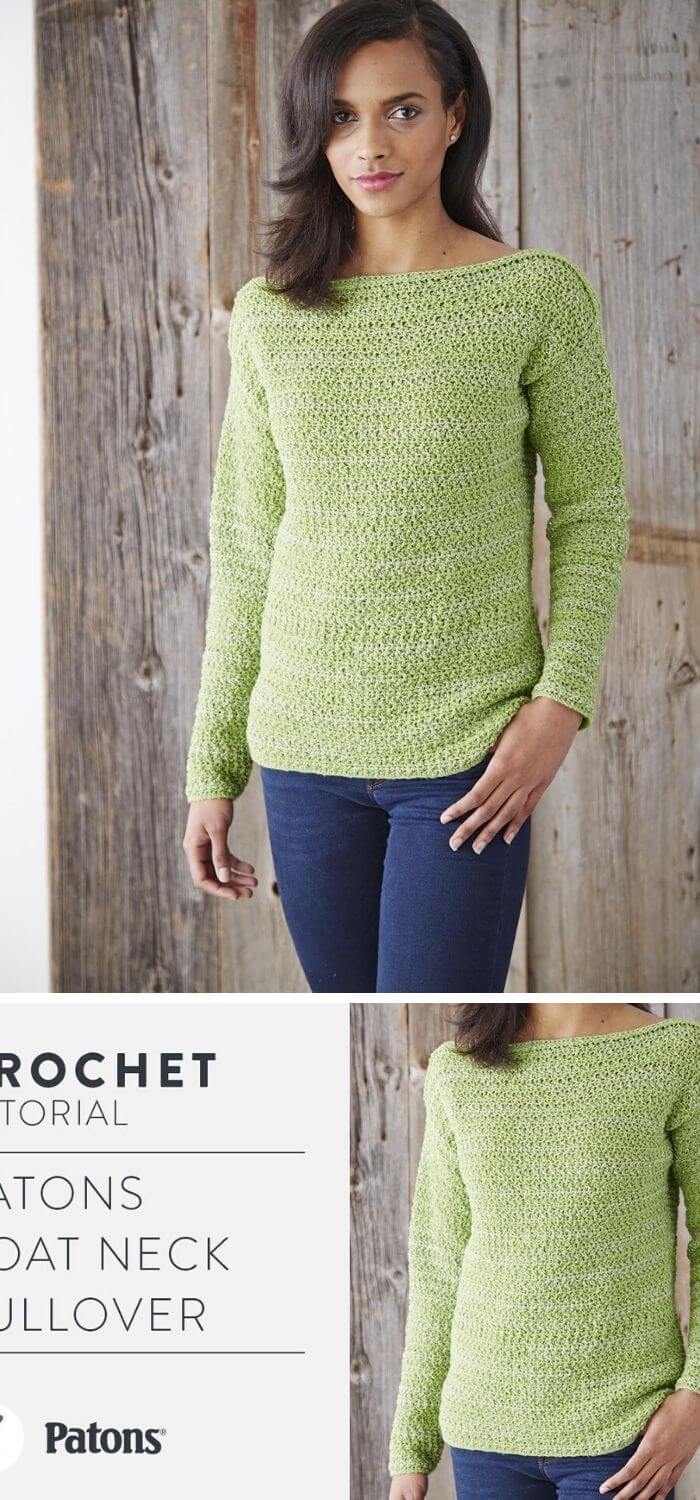 This is the perfect summer/spring sweater addition you need. The boat neck makes this pullover sweater uniquely glamourous. You can wear it as a sweater top or with a t-shirt for more coverage when the sun sets.
8. Varsity Crochet Pullover Sweater pattern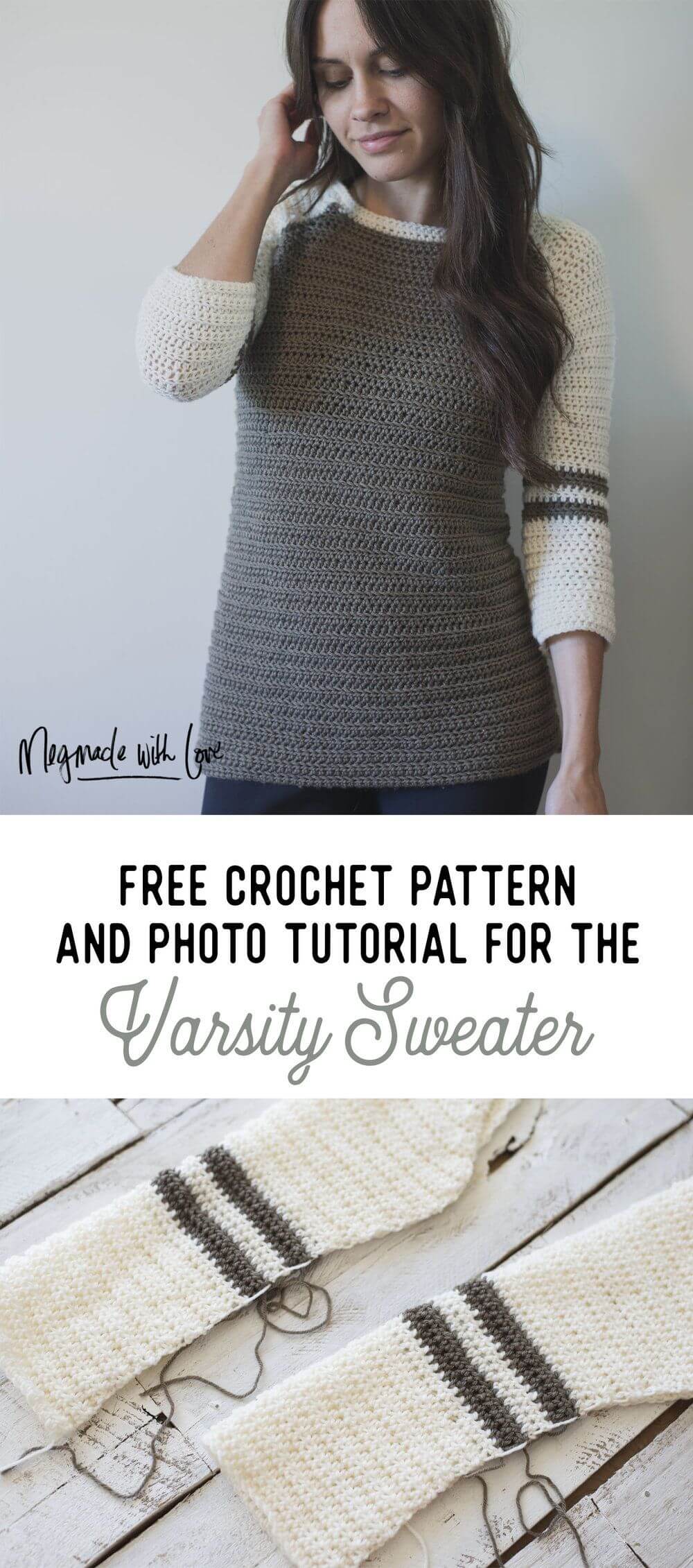 Don't be intimidated by the fancy sleeves. This gorgeous crochet pullover is quick and fun to make. It features a ribbed stitch and can be customized into different sizes.
9. Off the Shoulder Sweater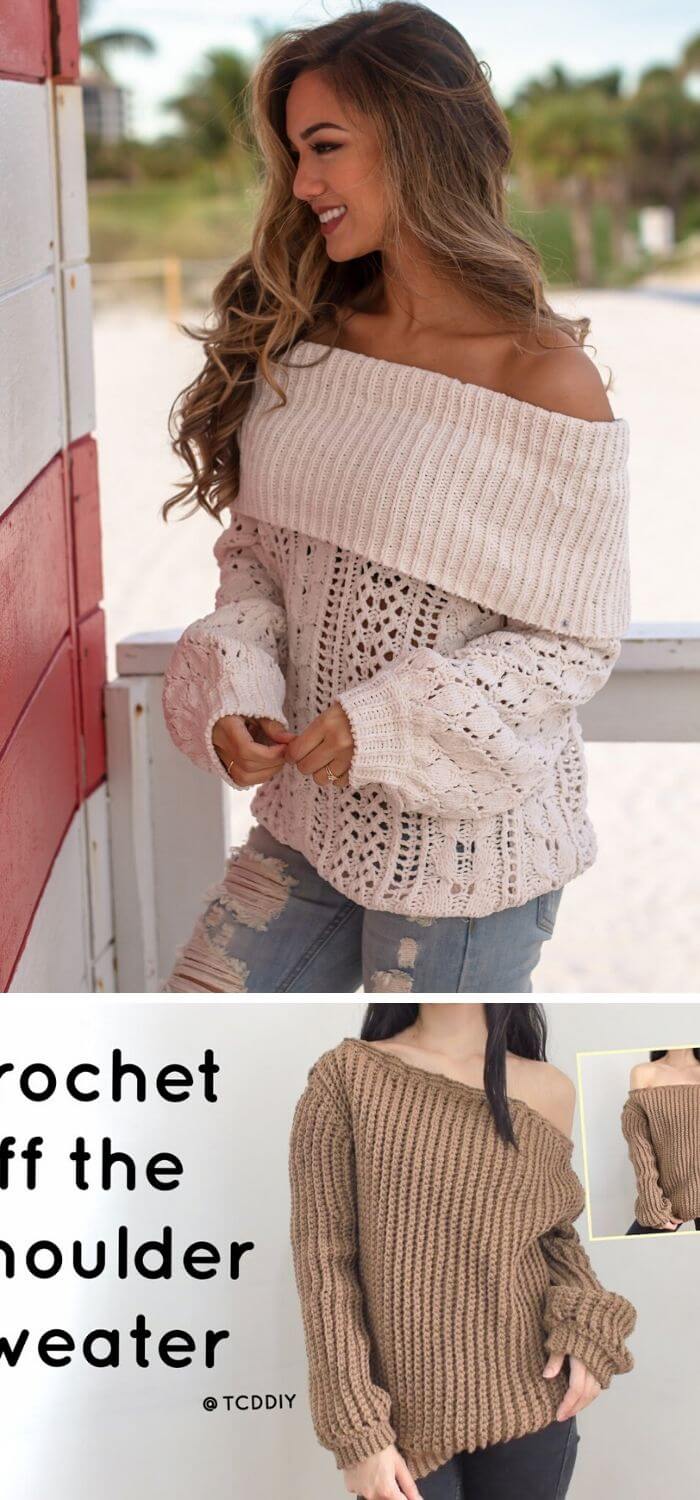 This is a lacy stylish crochet sweater that sits off the shoulders with three-quarter length sleeves. It is great for dressing up for all body types especially when made in staple colours like black, tan, or white.
10. Monochrome Sweater Free Pattern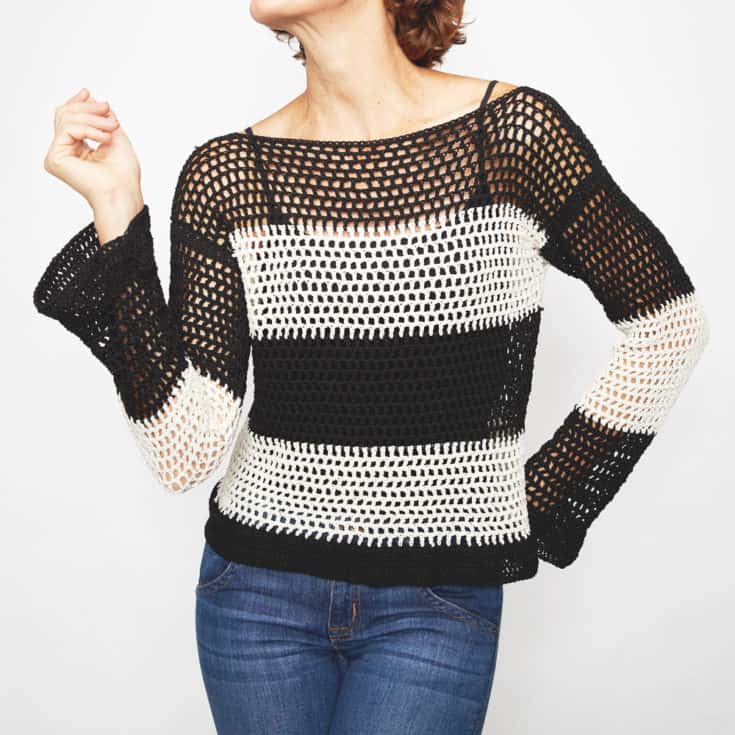 This is a classy crochet sweater that would be a perfect addition to your pullover crochet collections. It Is very easy to make as it mostly employs the basic double crochet stitch pattern
11. Chunky Pullover sweater free pattern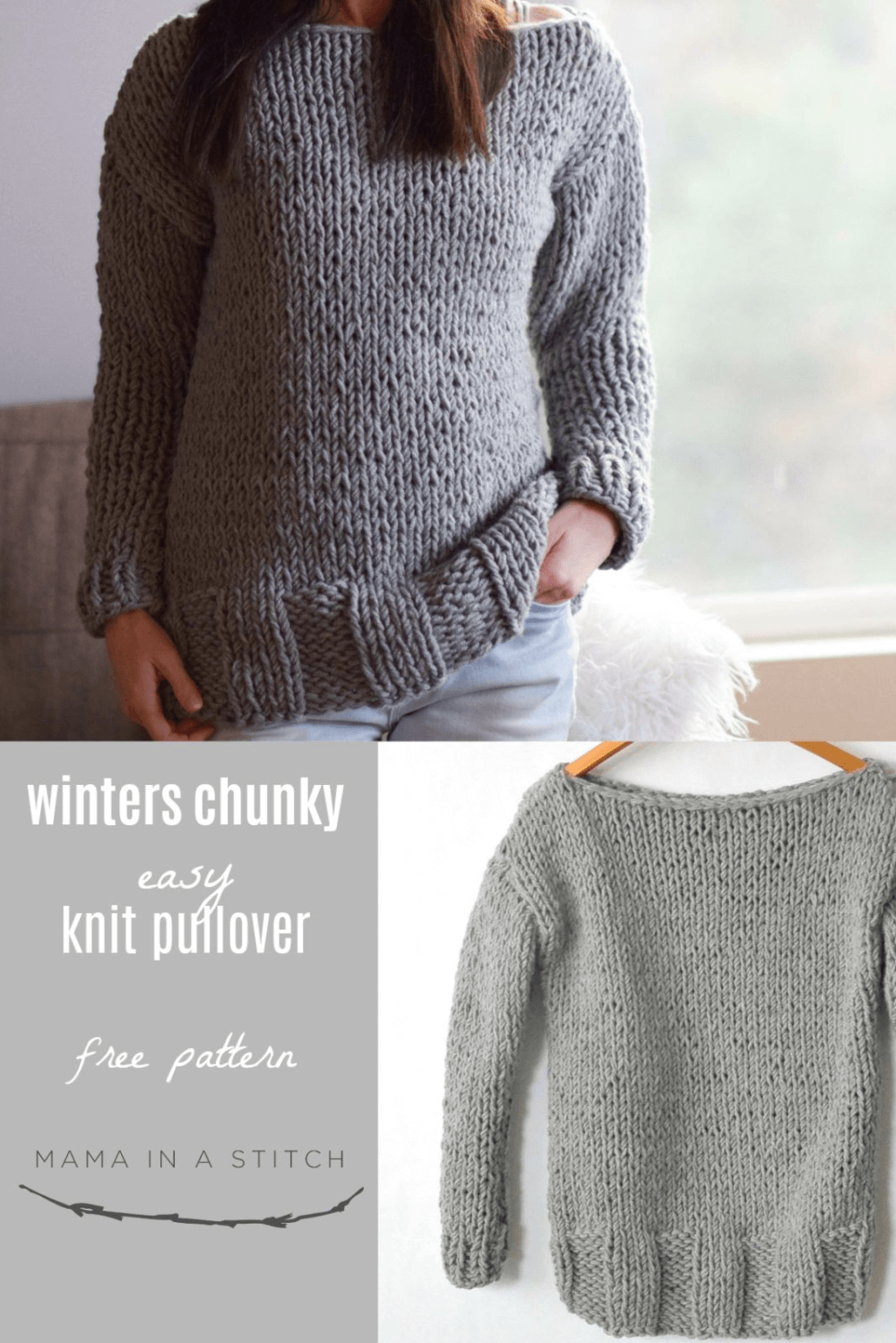 The chunky pullover sweater is so versatile and looks amazing over many outfits. This pattern employs Caron Tea Cakes yarnand is super luxurious and very warm, a perfect winter project.
12. Easy Crochet Pullover Sweater Pattern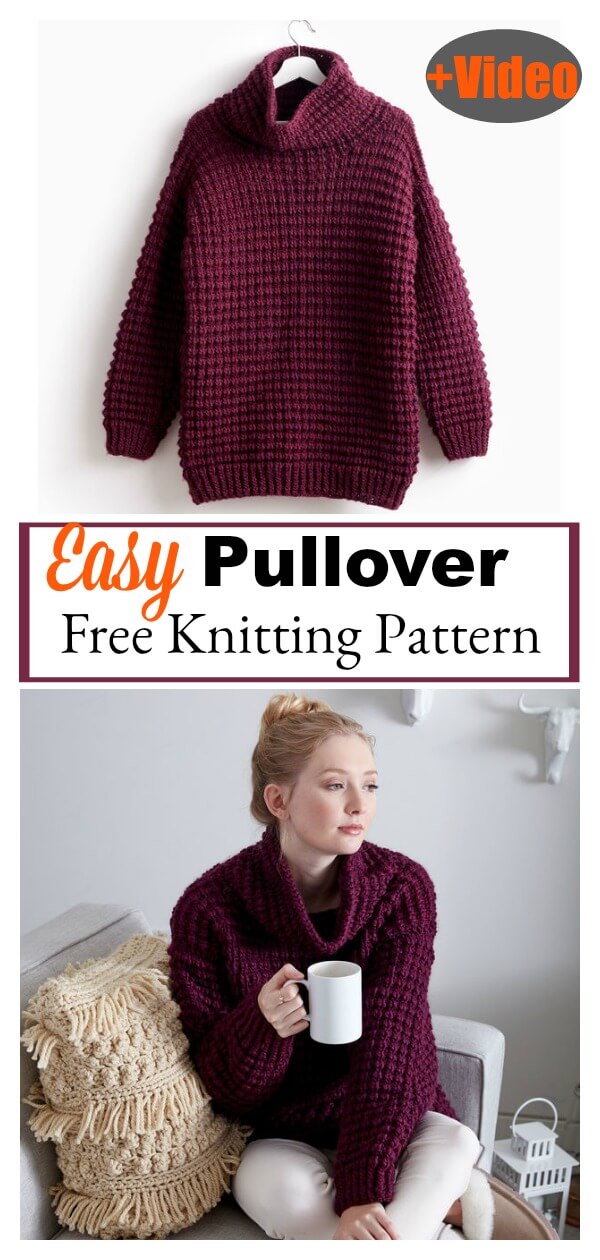 This gorgeous pattern is a Bernat design featuring a turtle neck and a long body. It is cozy and warm, perfect to rock during the cold winter season. 
13. Crochet Bobble Sweater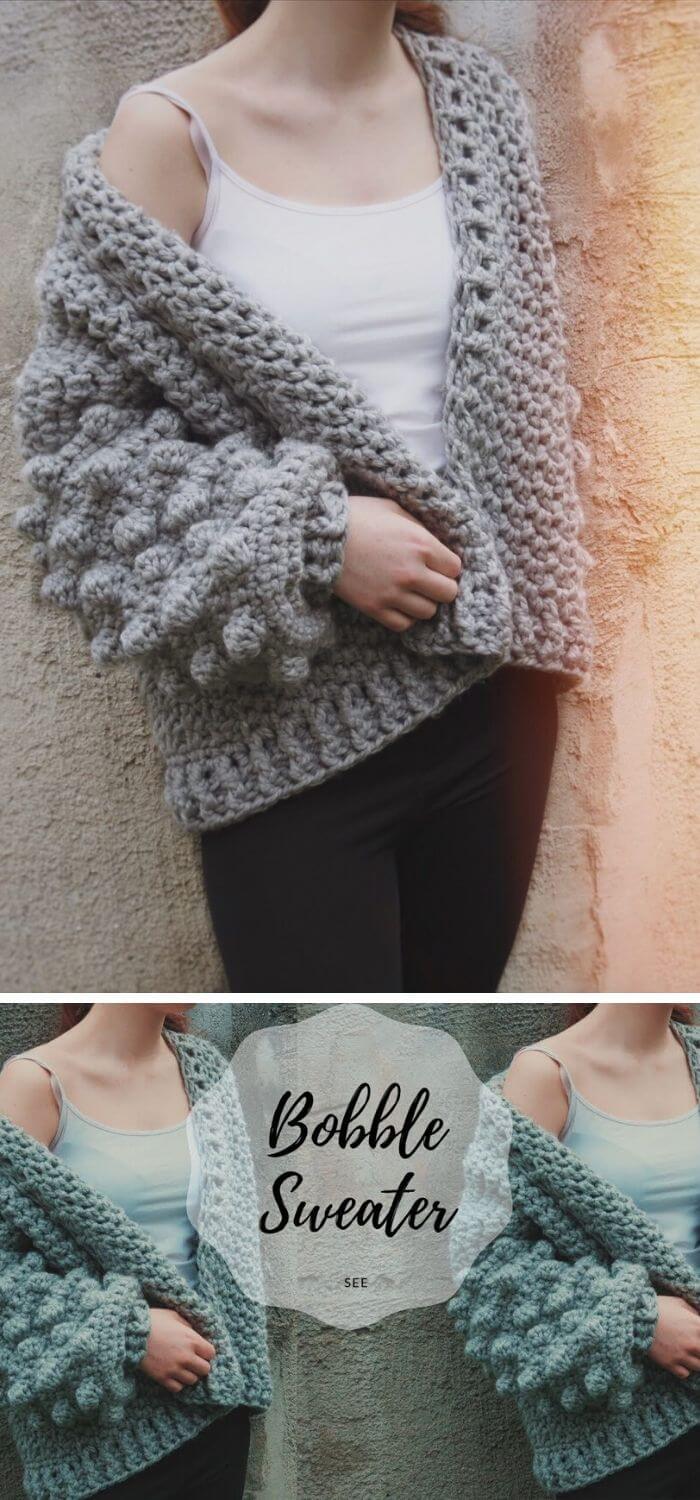 This crochet bobble pullover sweater is a design by Mellissa Langer. This stylish piece is crocheted using the bobble stitch. Feel free to use your colours for a personalized design. 
14. Four-Hour Fall Sweater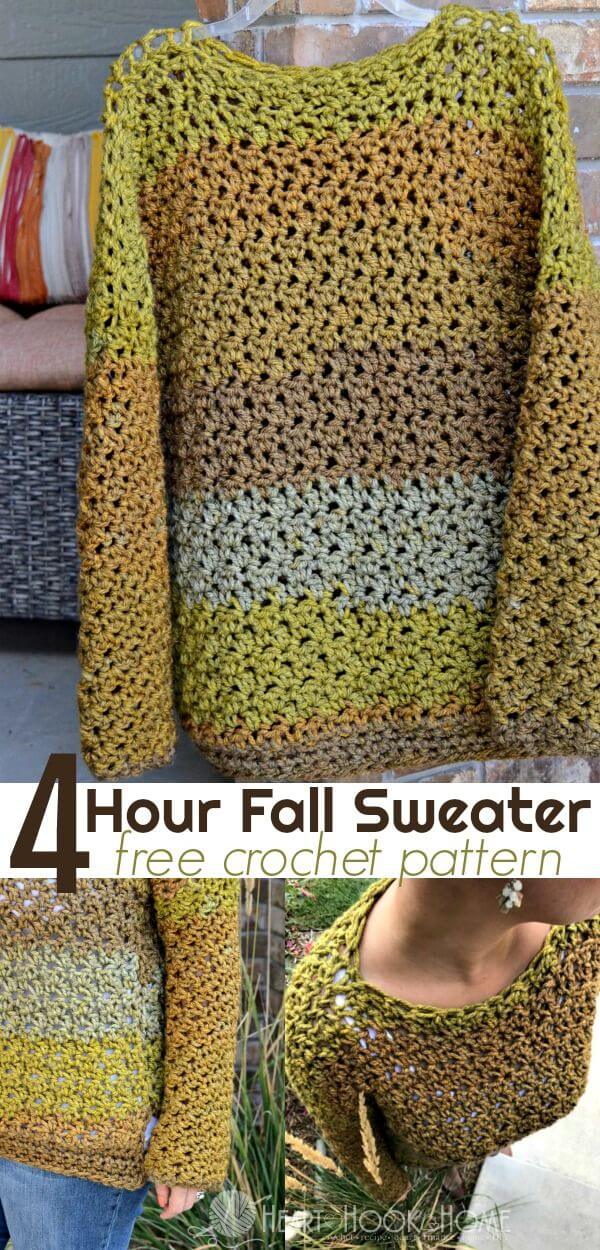 This beautiful sweater is eye-catching! It is crocheted using a super chunky yarn or any other chunky yarn that prefer, and an oversized crochet hook. This creates the tiny holes keeping you warm and cool at the same time. This pattern can be customized in to different sizes and colours of your preference.
15. Easy Pullover Crochet Sweater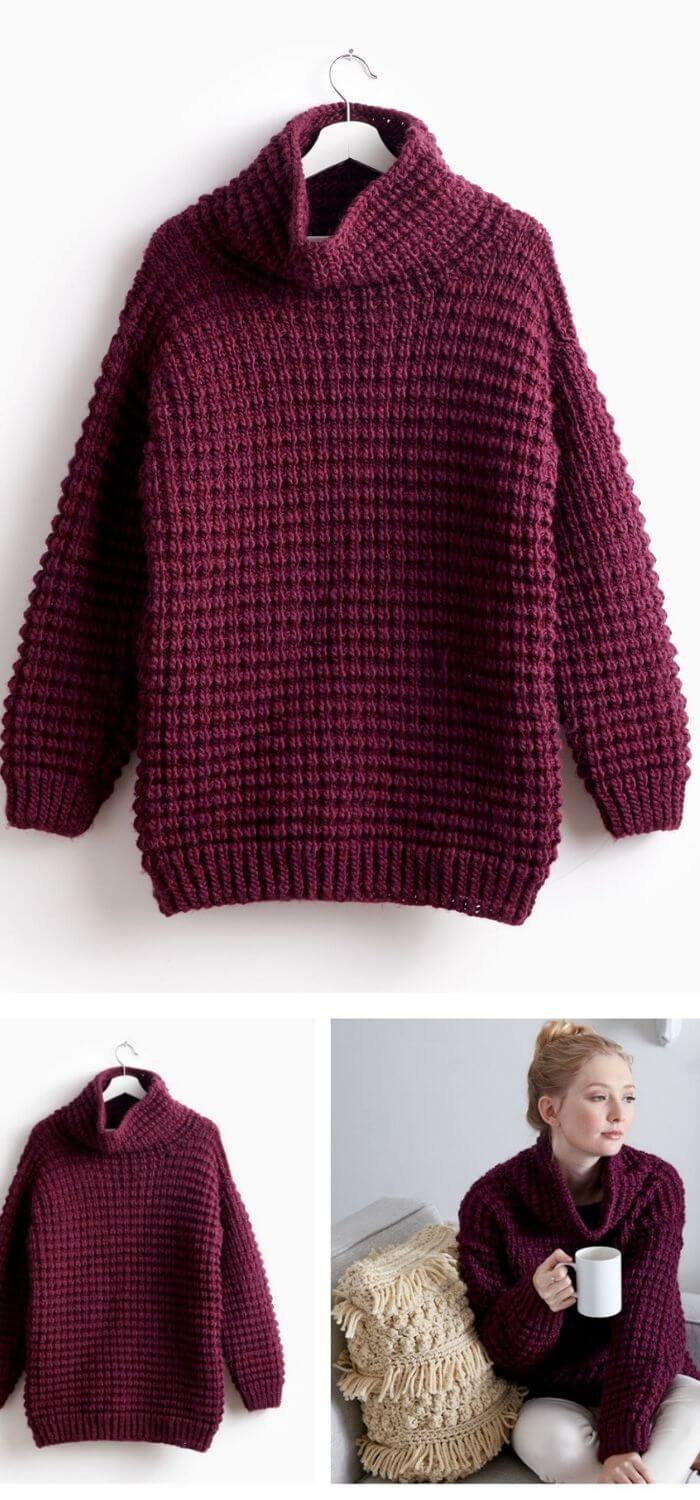 This a super easy pattern for both beginners and intermediate level crochets. It can also be customized into bigger or small sizes too.
16. Julia Peplum Crochet Sweater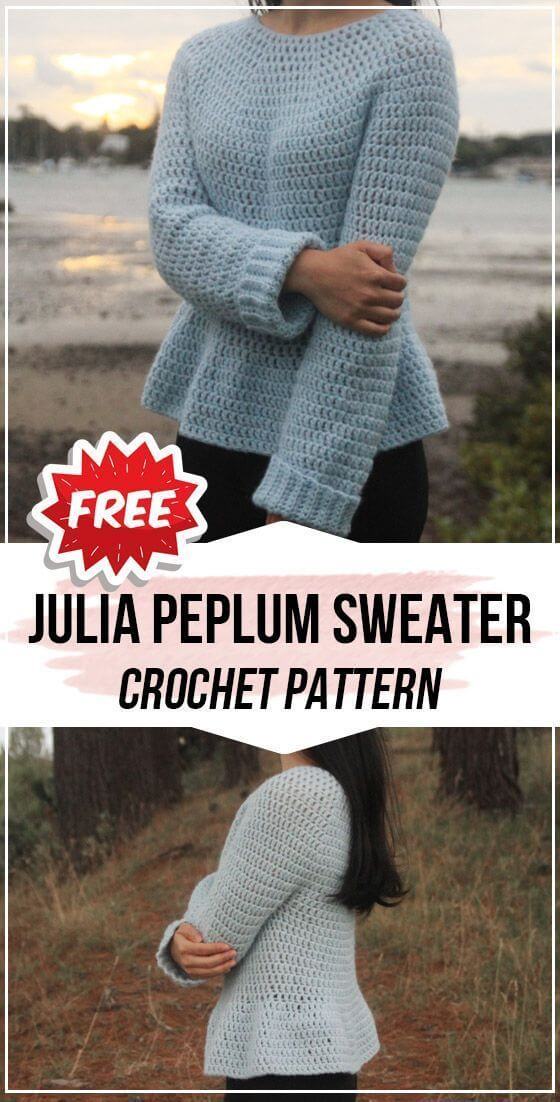 The Julia Peplum pullover is a gorgeous lightweight pattern perfect sweater to transition between seasons. It is worked in the round from the neck down. This pattern features a light, feminine peplum with long spacious sleeves with ribbed cuffs.
17. Wide Sleeve Sweater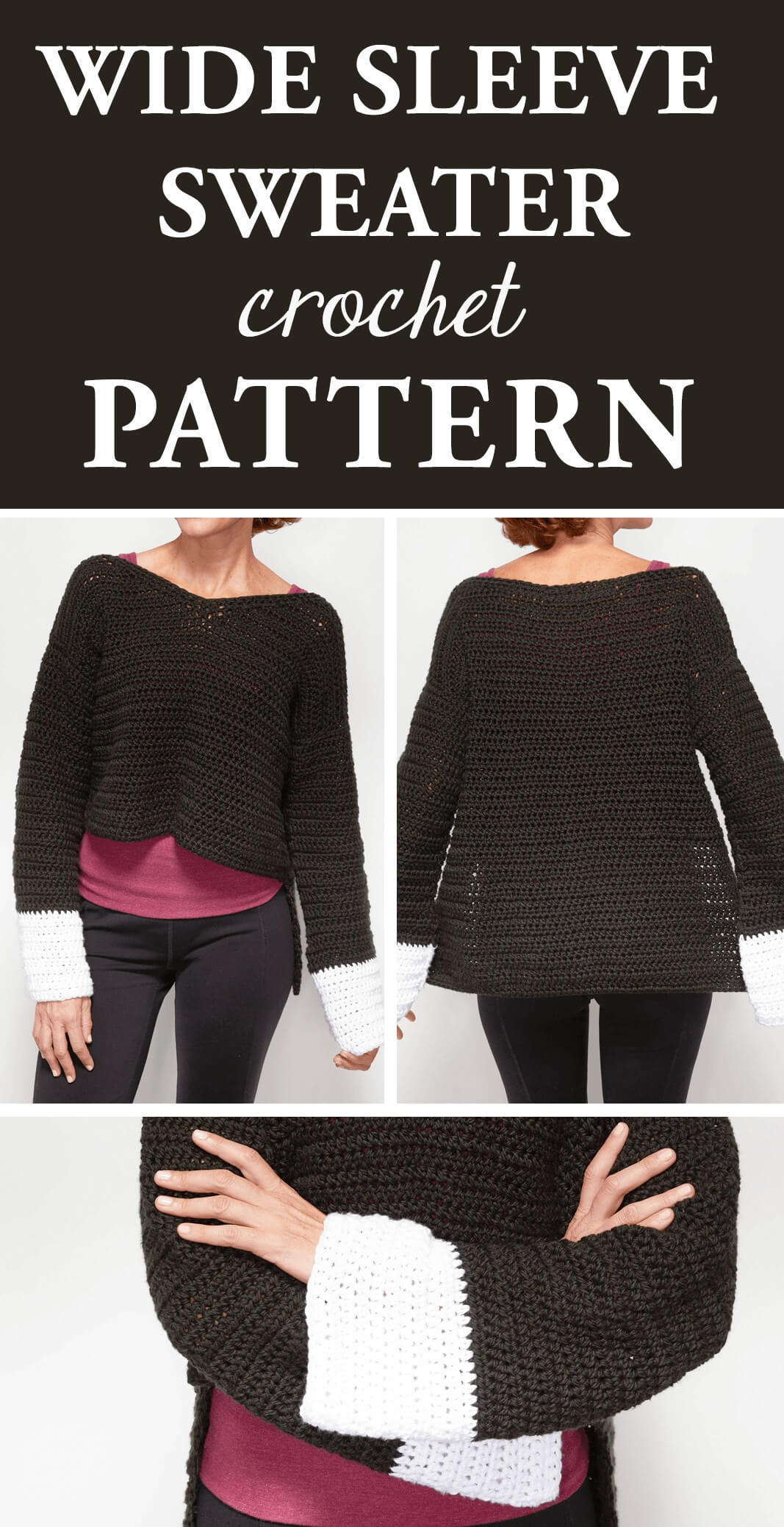 This gorgeous sweater features cute flared sleeves and a high low hemline. This is a unique stylish design that is worn with a casual outfit.
18. Lightweight Cropped Crochet Sweater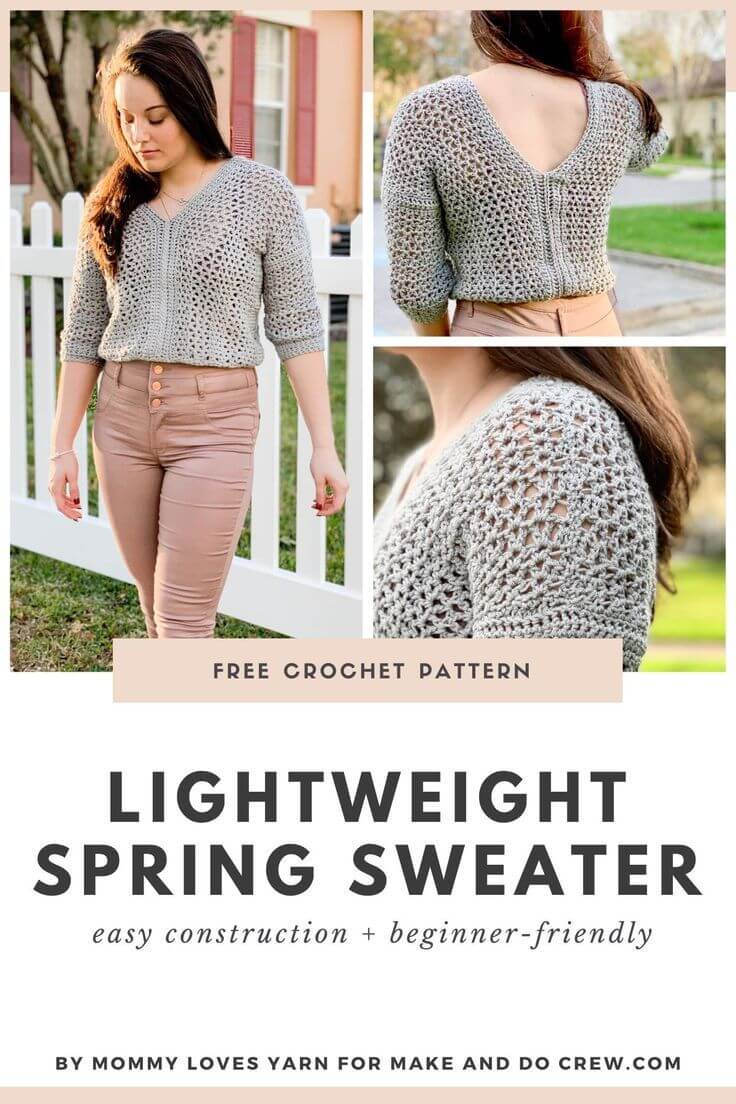 This amazing V-neck pullover sweater is an easy pattern that works up pretty fast. You can wear it with just about any outfit to any occasion. It looks great in denim trouser and sandals for a day out with friends.
19. The Acacia Cropped Sweater Free Pattern

This gorgeous Acacia cropped sweater is worked in 4 separate panels which are seamed together at the end. It is an easy and fun project perfect for beginners and intermediate level crochets.
20. Farrow Sweater Crochet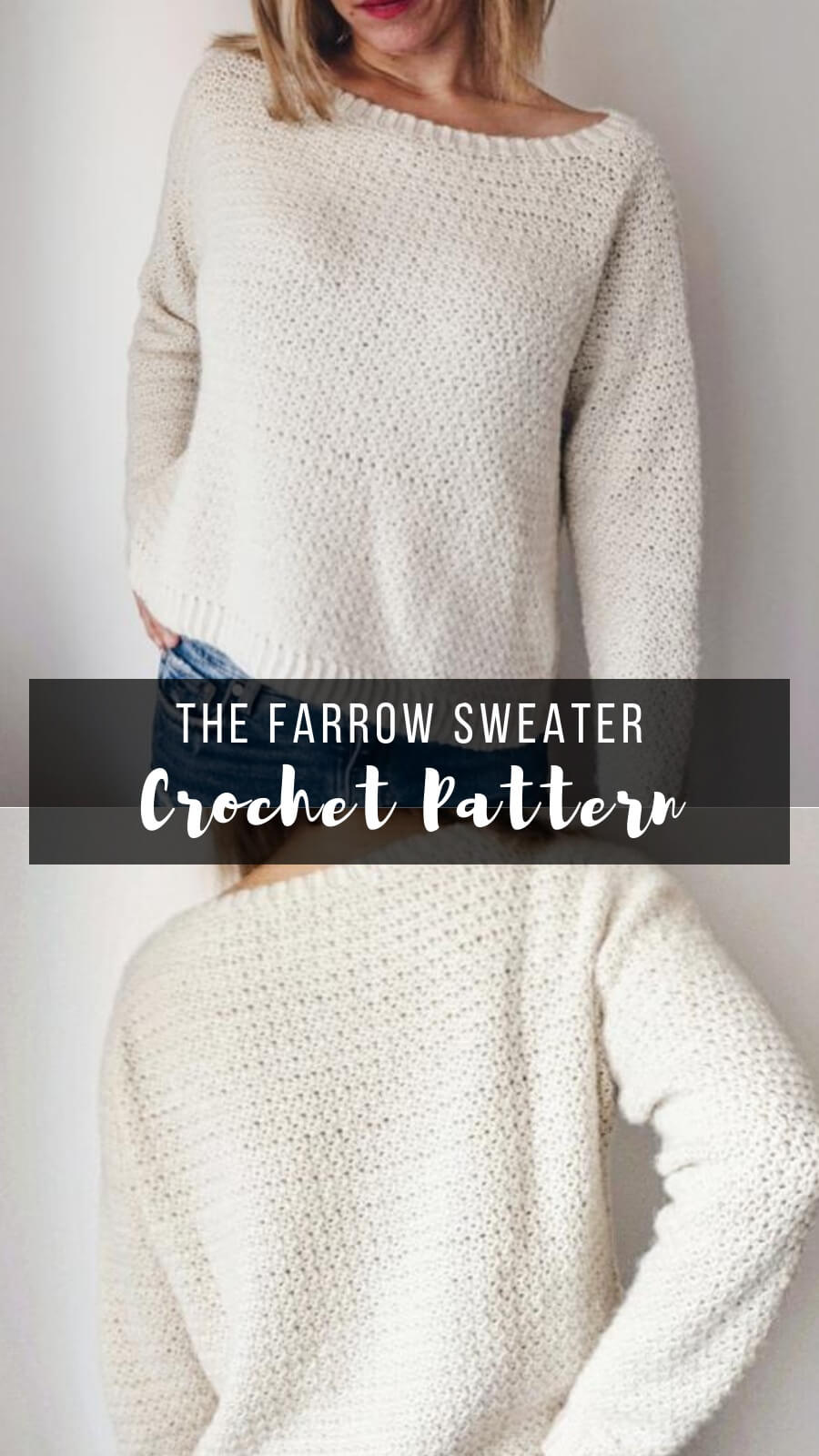 The Fallow pullover pattern is basically an oversized cropped sweater. It combines both the single and double crochet stitches to produce this great textured design.
Conclusion
Give your sweater wardrobe a new look with this amazing Crochet Women Pullover Sweater Free Patterns today!