Stylish women will often appreciate the crochet capes and Poncho patterns. Your love is valued. That is why we have assembled free capes and poncho ideas for you to crochet for yourself.
Every pattern has a link that will guide you when crocheting it. Keep reading to understand how to crochet the 15 best capes and poncho-free patterns.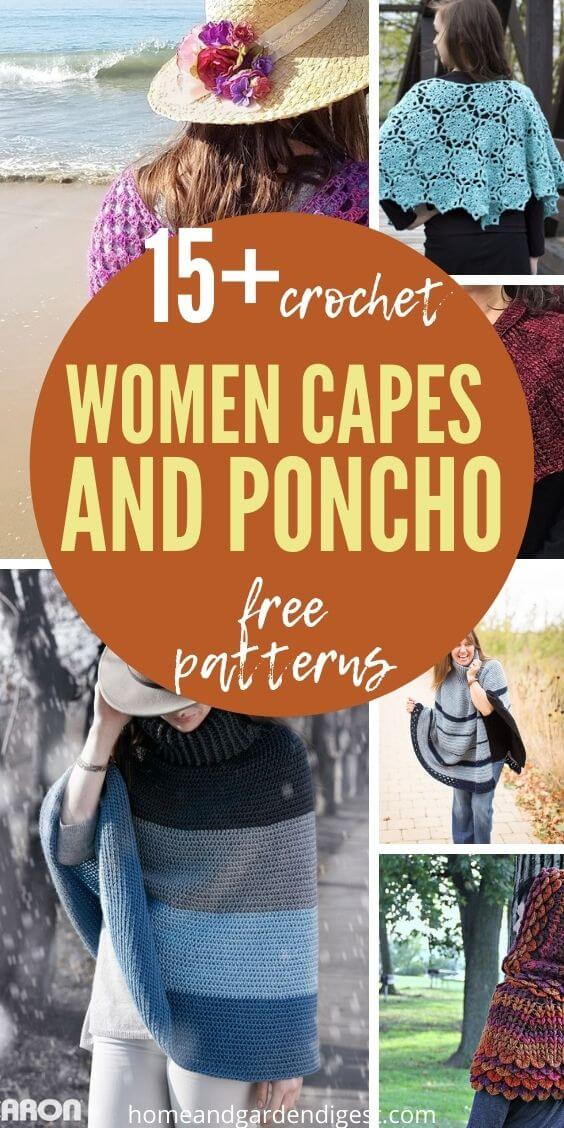 1. Warm embrace poncho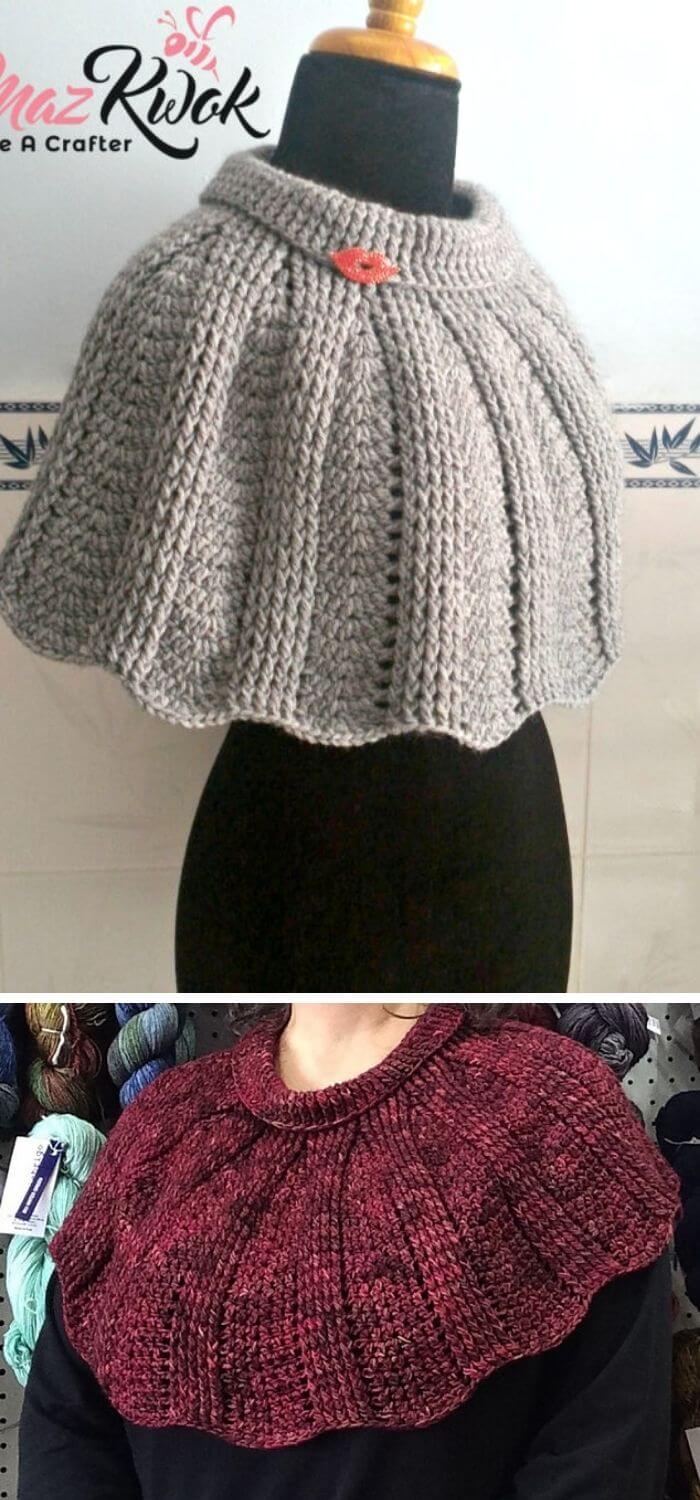 The warm embrace poncho looks quite appealing in its umbrella design. It is a perfect shawl that will warm you during the cold winter seasons. Check out the link for real insights on how you will stitch the warm embrace poncho.
 Source: http://beacrafter.com/crochet-warm-embrace-poncho/
2. Sun seeker modern poncho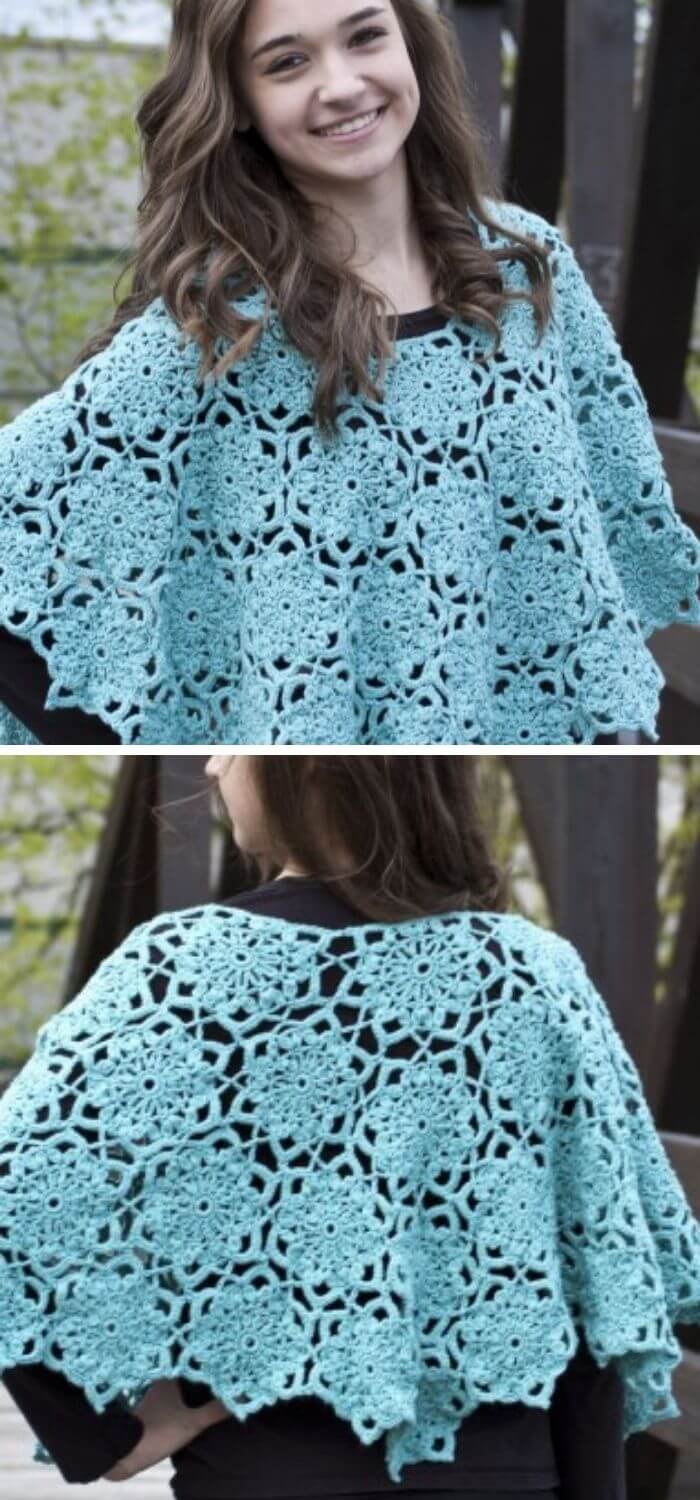 Look at this beautiful sun seeker modern poncho? It is a perfect idea that always wins the hearts of crochet lovers. You will admire the cute flowers and more open knits that allow better aeration. You can wear the crochet poncho during the hot summers.
 Source: http://www.cascadeyarns.com/patternsFree/dk307_sunseeker_modern_poncho.pdf
3. Crochet Bohemian square poncho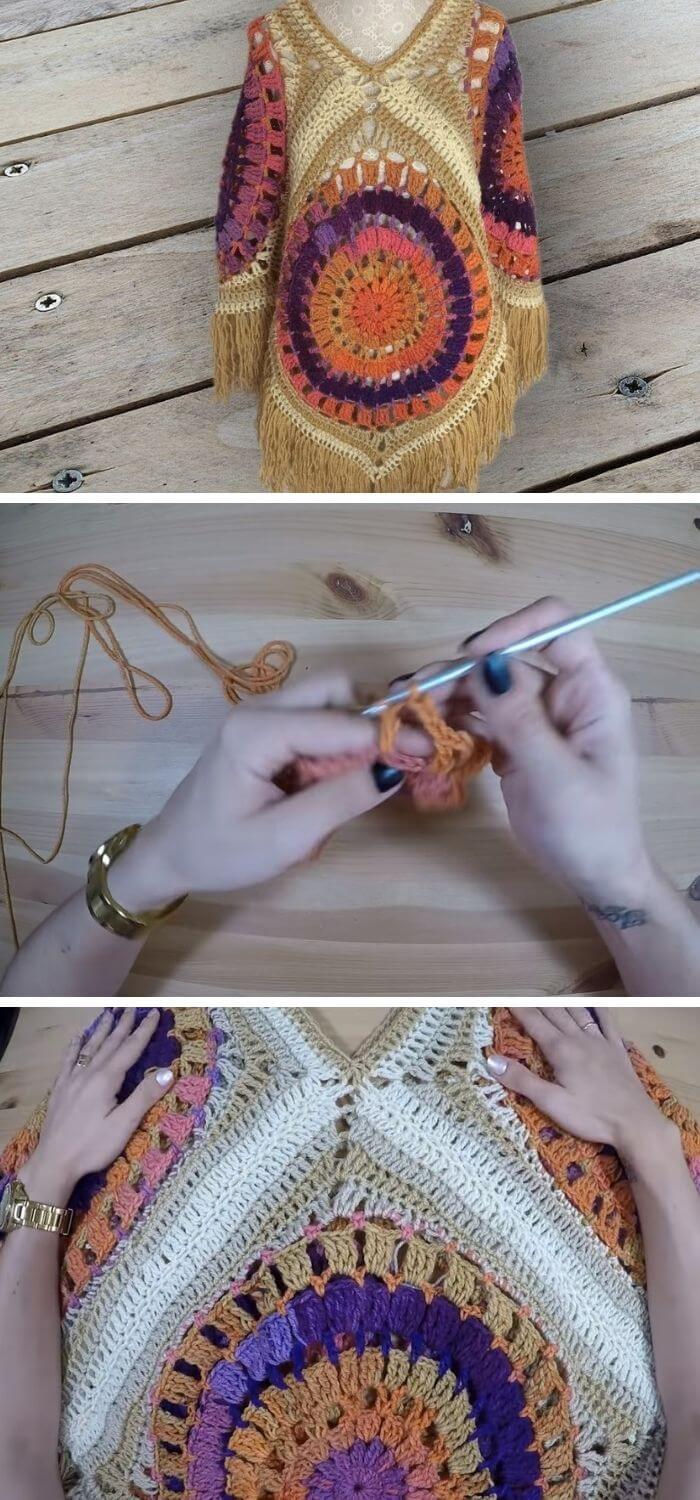 It is a lovely shawl that will impress women. All the knits here appear to be complicated, plus the beautiful crochet back flower gives it a gorgeous look. All details with the Bohemian crochet poncho are perfect. Check out everything you need to know about crochet.
 Source: https://www.youtube.com/watch?v=Prt8xNLAgeU
4. Crochet Montana poncho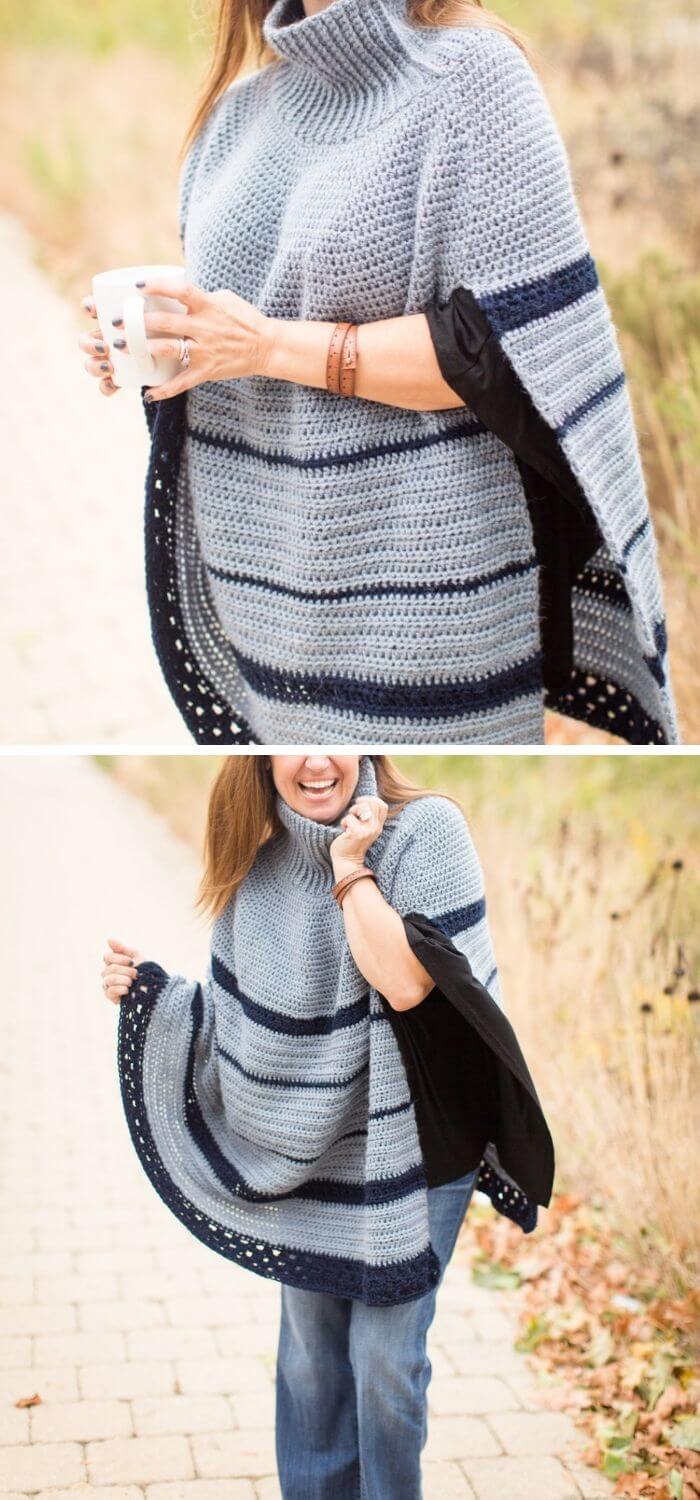 The Montana free crochet poncho is another smart idea that will make a woman stylish. All the knitting instructions are easy to follow, and it will take few hours before the crochet is ready. 
Source: https://www.stitchandhustle.com/free-patterns/lion-brand-touch-of-apaca-montana-poncho-crochet-pattern
5. Brave Vinga Belted Cape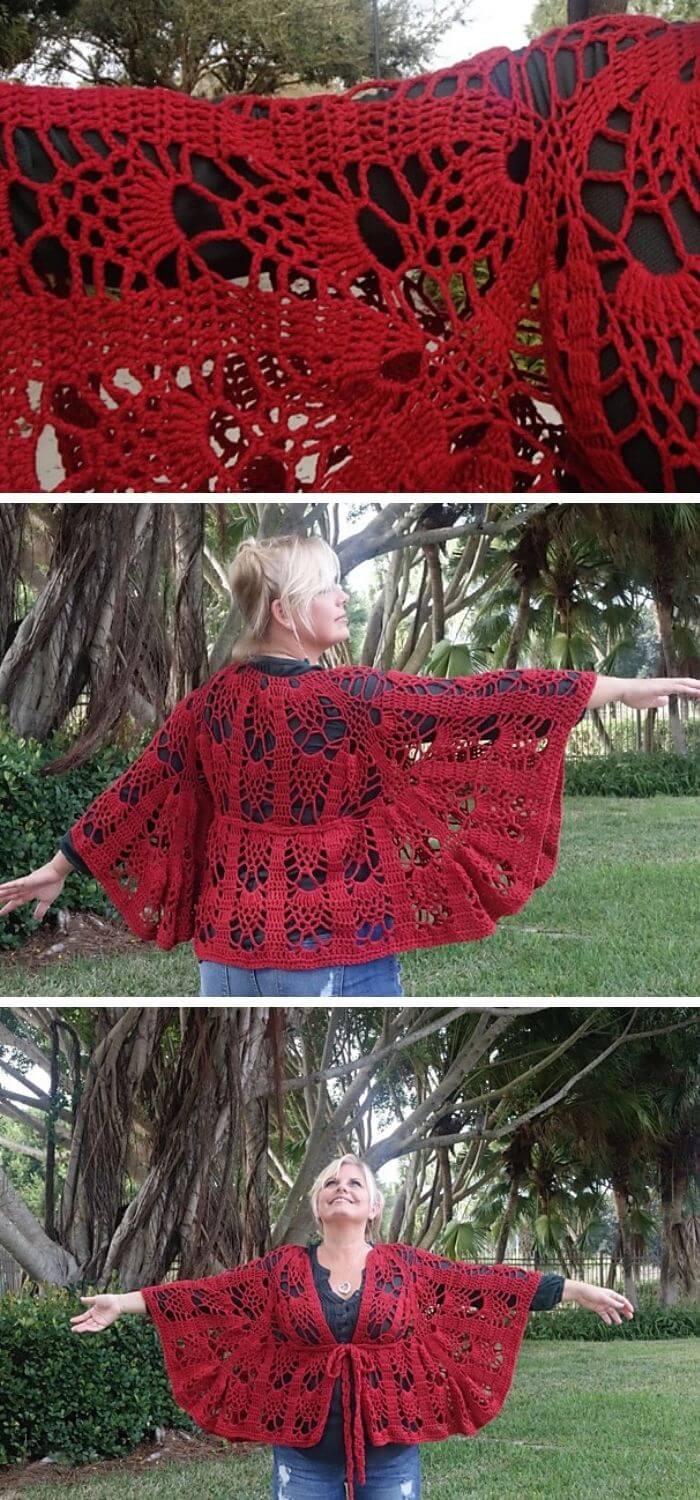 The beauty of having Vinga Belted poncho is that you will always be stylish, even during the hot summers. The knit patterns are also lovely, and it won't be a loss of time if you spend a few hours in a day crocheting the belted cape.
Source: http://www.ravelry.com/patterns/library/brave-vinga-belted-cape
6. Daisy granny square Poncho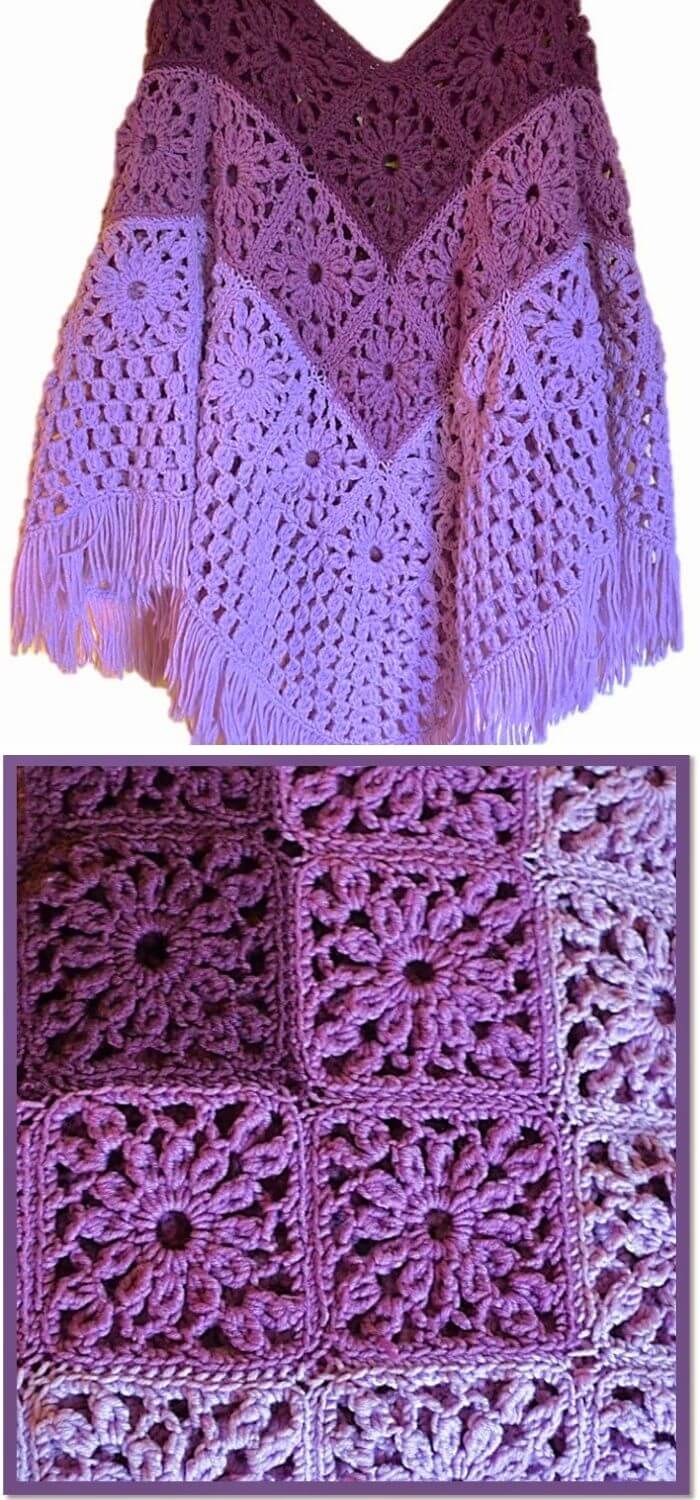 Granny square patterns are famous, and the majority of crocheters agree that they are easy to do. It will be even lovely when you extend the granny square art to poncho ideas. Please look at this Daisy granny square poncho and even check the steps to help you crochet it.
 Source: http://mylittleshopoftreasures.blogspot.ie/2014/08/daisy-granny-square-project-pattern.html#.Wbgu08iGNPb
7. Crochet Boho Poncho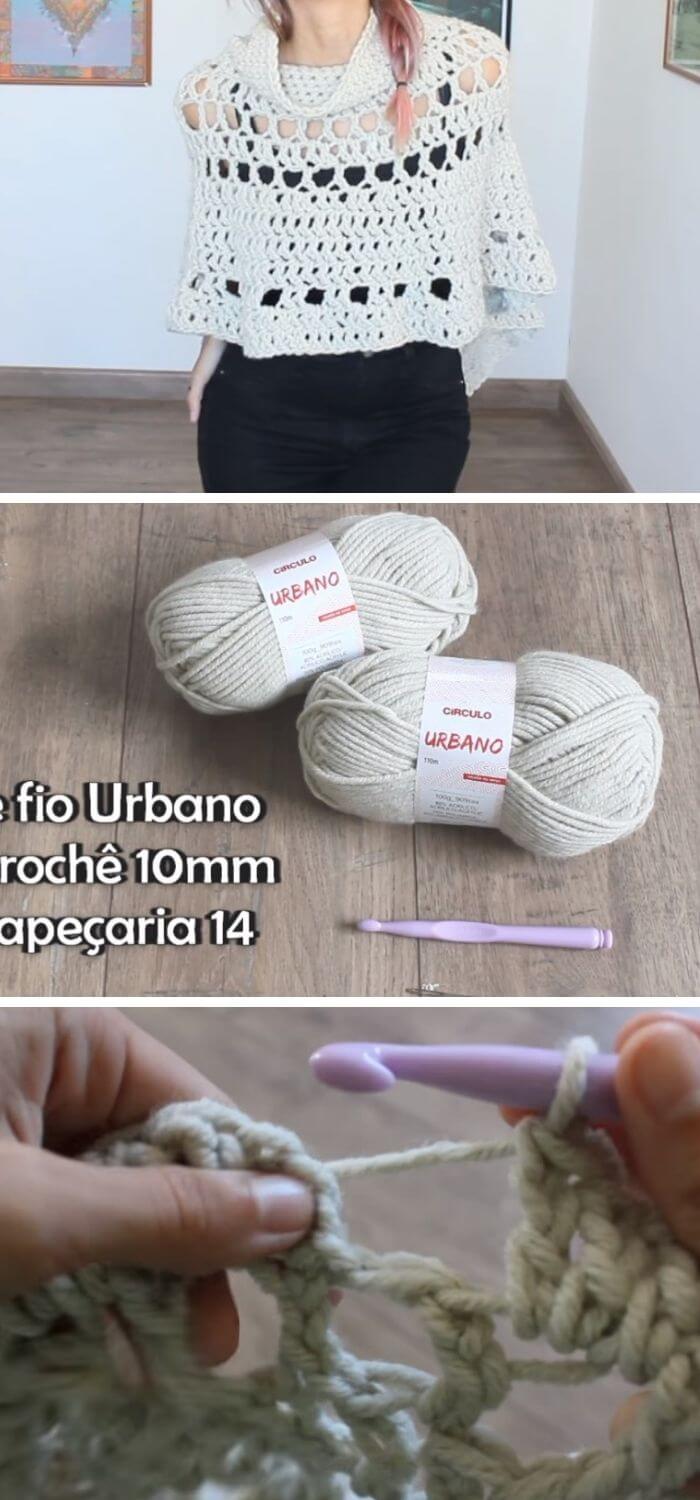 Crochet ideas are always cute, and among the best patterns that you can try with your crochet skills is the Crochet Boho poncho. The white color is impressive, but of course, we all have different tastes, so you should try it with your favorite color.
 Source: https://www.youtube.com/watch?v=rnnKAzaKUy0
8. Crochet crocodile stitch capelet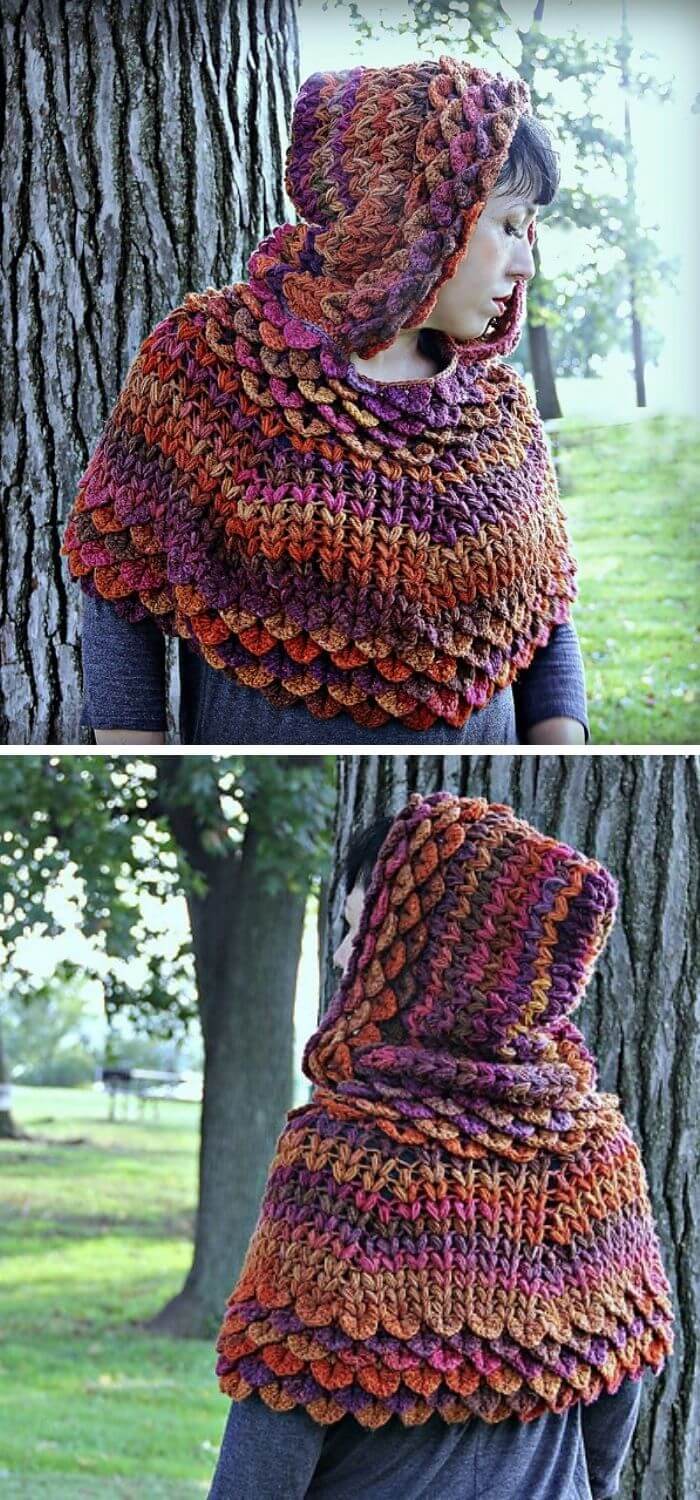 Every crochet lover will find a reason to try this cute pattern. It uses simple knits though it consumes a big yarn which makes it to be expensive. The pattern is also stylish, and it is a reason it is perfect for young ladies who aspire to be celebs!
Source: https://www.ravelry.com/patterns/library/crocodile-stitch-capelet-cal
9. Sporty Poncho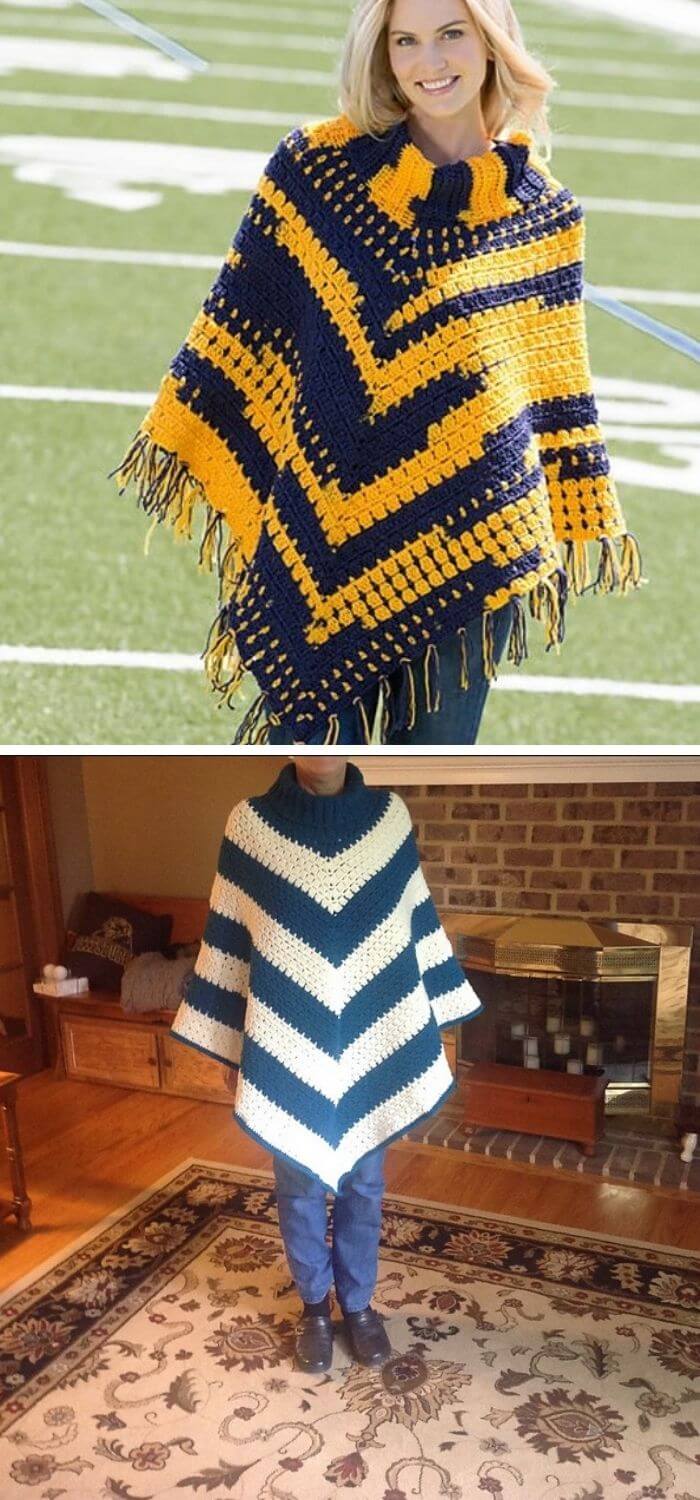 The sporty poncho will be lovely when your teenage daughter puts its own. Why can't you crochet this lovely pattern as you wait for your daughter's birthday? It will be the best gift in her life.
 Source: http://www.ravelry.com/patterns/library/sporty-poncho
10. Lacey trellis spiral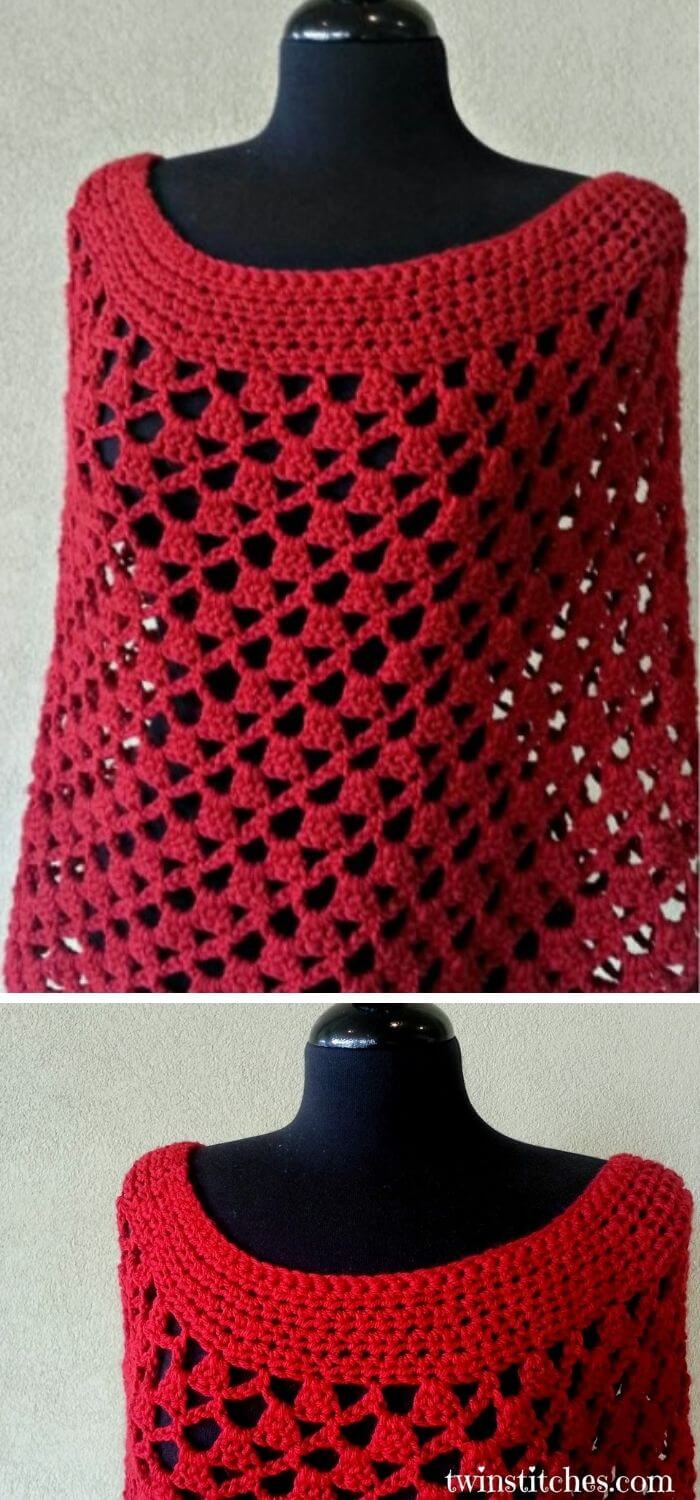 You can get inspiration on how to crochet the lacey trellis spiral by following the link source. It is a smart idea that will make you outstanding from the growth. It is also interesting to note that its patterns are easy to follow.
Source: http://www.twinstitches.com/2015/01/lacy-trellis-poncho-spiral-version.html
11. Crochet cowl neck poncho
It is a lovely poncho idea that will cover you during the cold winters. Please don't allow the cold seasons to torment you, yet you can do something about it. Check the source here and start a crochet project that will solve your problems.
Source: http://www.ravelry.com/patterns/library/cowl-neck-poncho-3
12. Cozy cowl cape poncho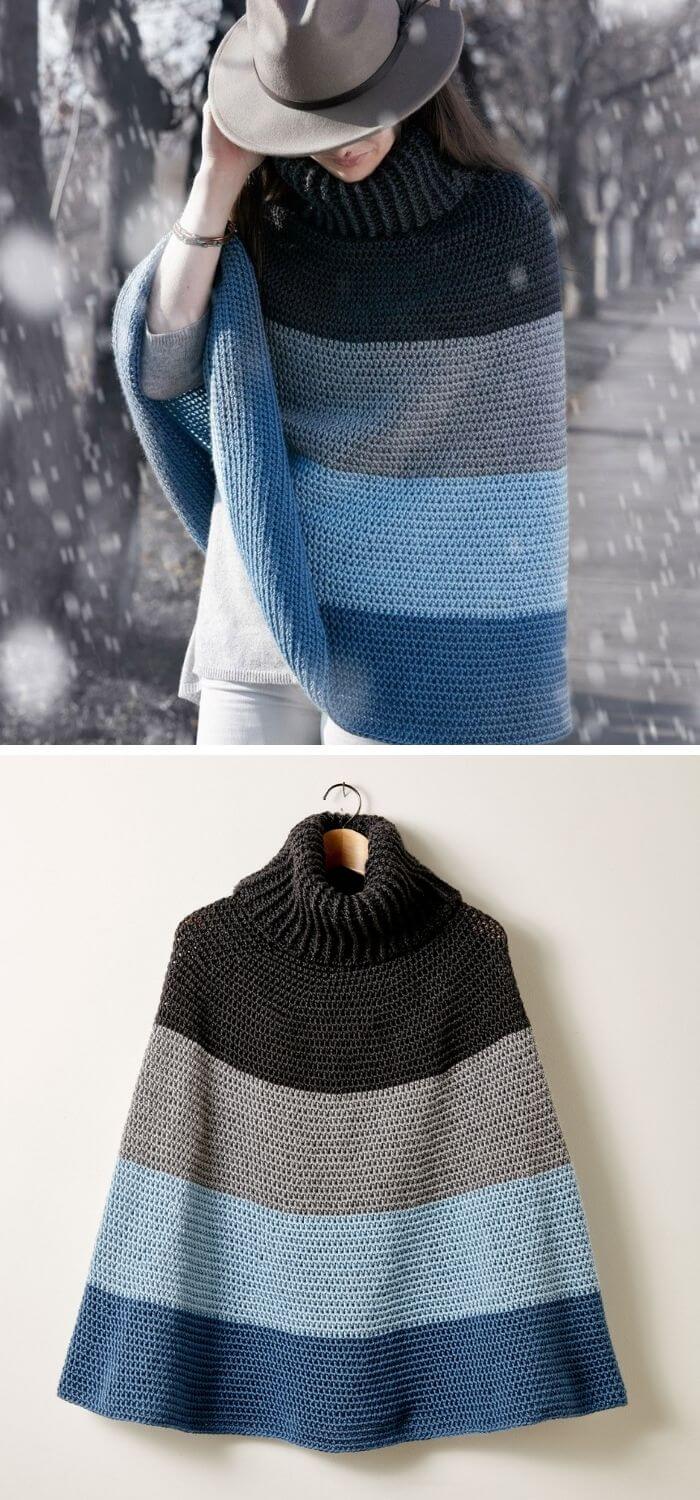 The cozy cowl cape poncho is your next crochet if you are always looking for a stylish poncho pattern. Check the source link and start over this easy to crochet design. All steps are reachable and straightforward for everyone to try.
 Source: https://www.yarnspirations.com/on/demandware.static/-/Sites-master-catalog-spinrite/default/dwcce33d18/PDF/CAC0107-004327M.pdf
13. Gaucho poncho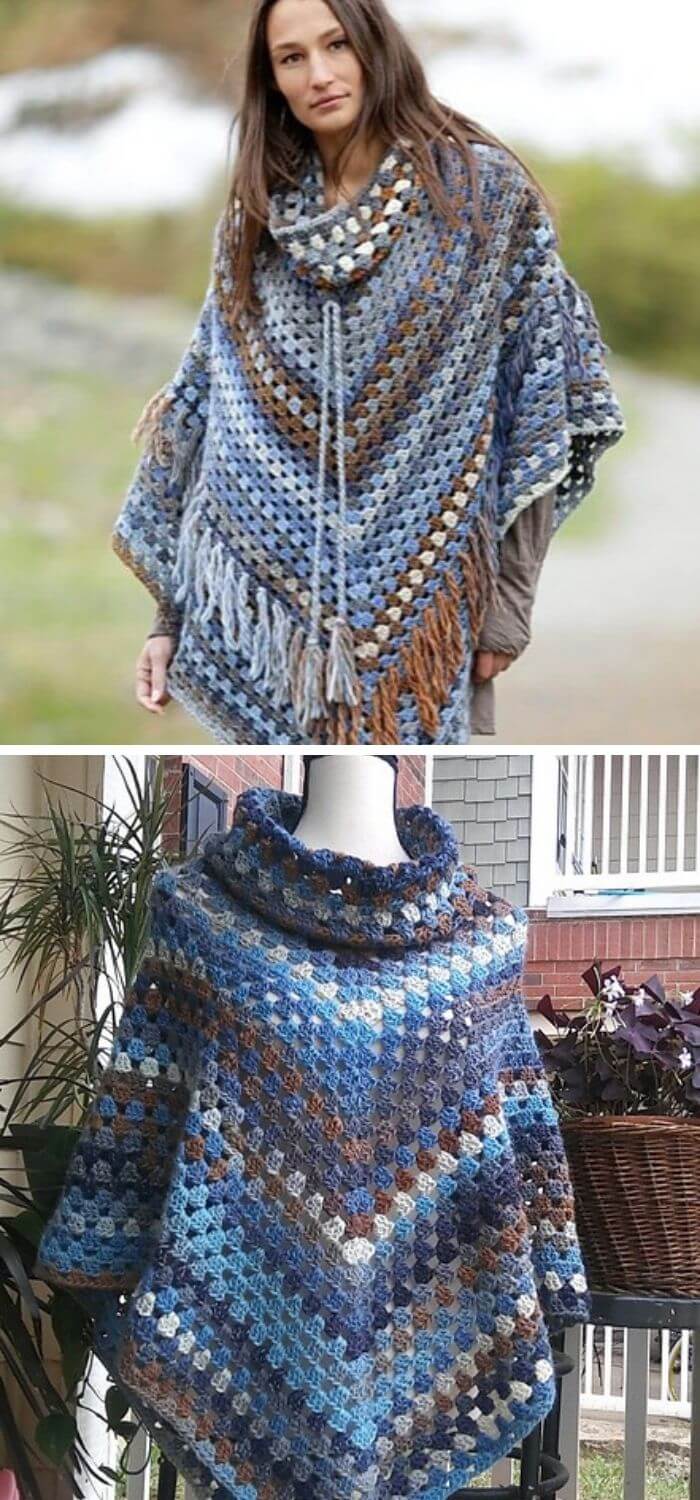 Here is another smart pattern that adds to your must-do list. You don't need to be an expert to try Gaucho poncho because its knits are comfortable even for beginners. You can use the color options that will best impress you to design the crochet poncho.
Source: https://www.garnstudio.com/pattern.php?id=7098&cid=17
14. Timeless Boho poncho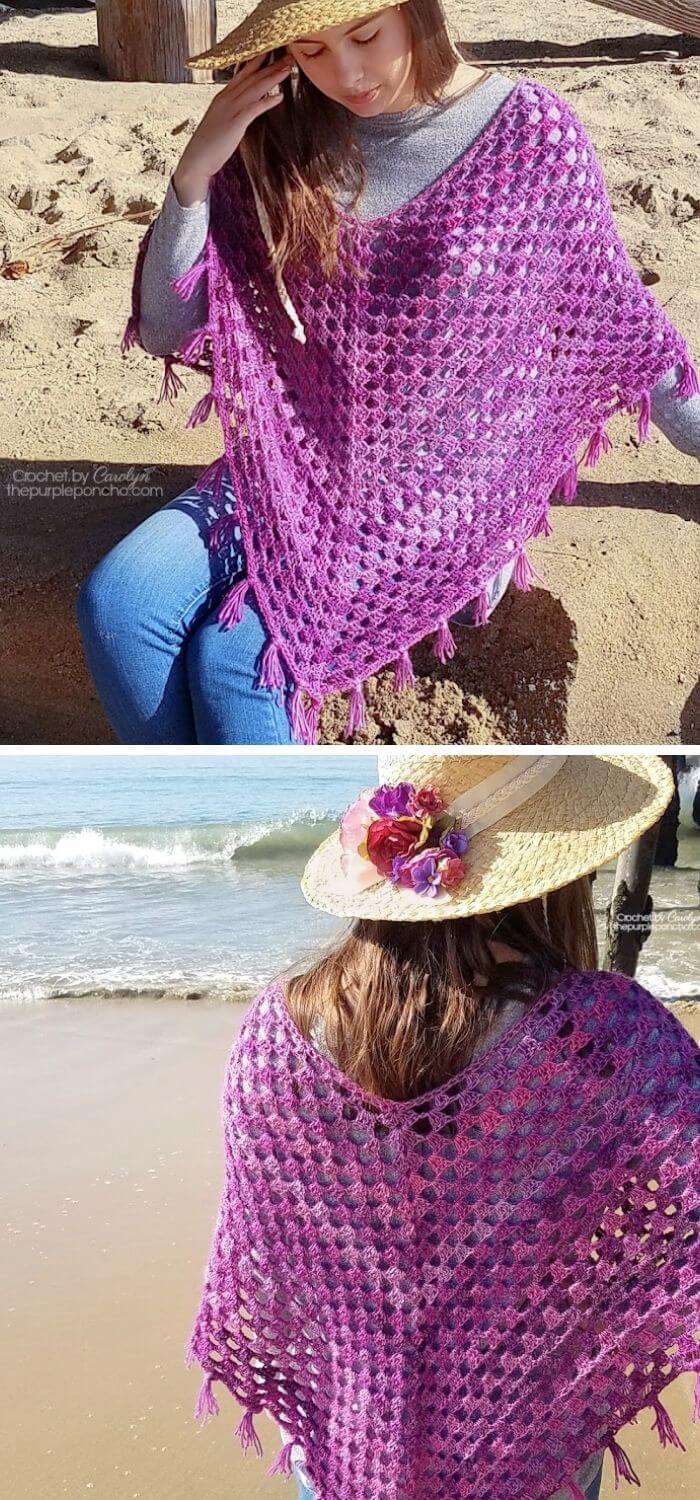 Why is it called timeless? Of course, you will put its own anytime regardless of the season. It is a cute idea that every crochet master will appreciate doing. Check out the knitting instructions from the source and see if you can get started with it.
 Source: http://www.thepurpleponcho.com/timeless-boho-poncho-free-crochet-pattern/
15. Milena twist cable hooded poncho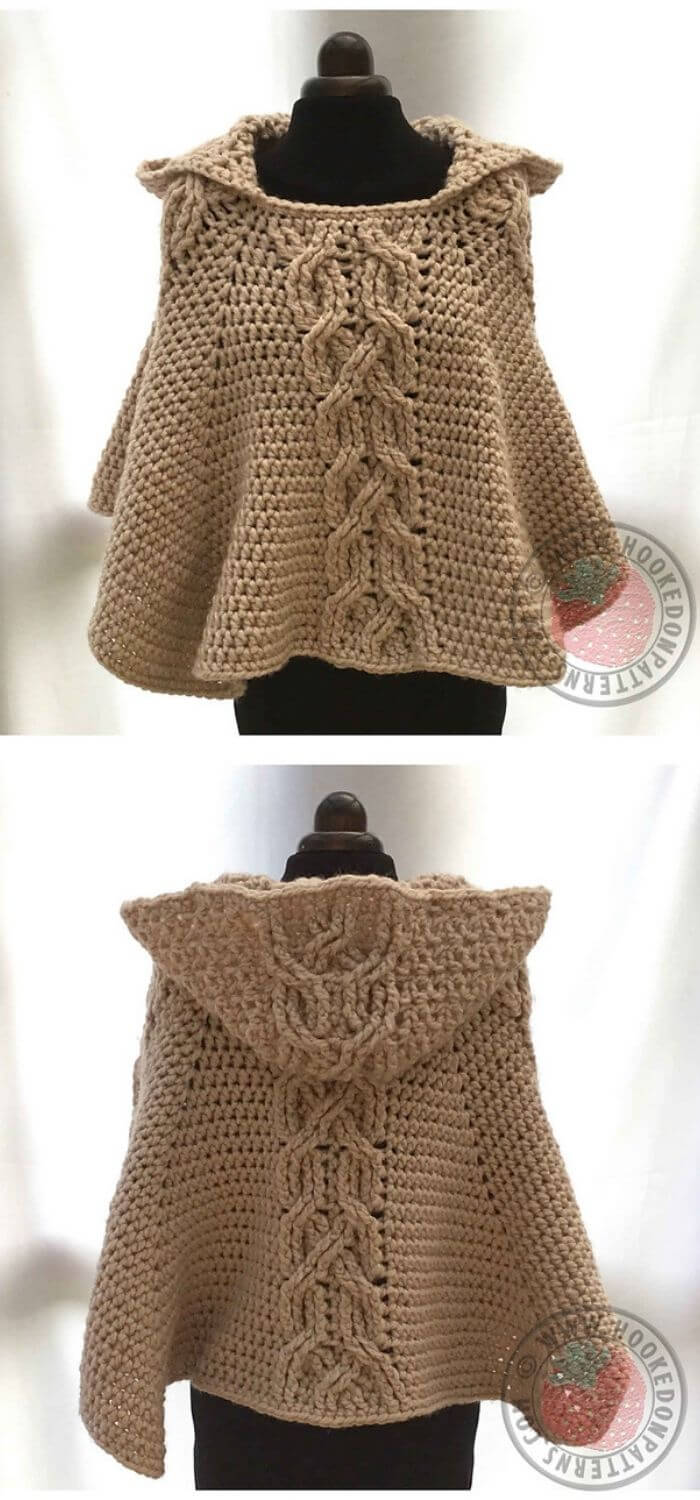 You deserve this cute idea that has a hood. Everyone will love something that will cover a larger percentage of the body. That is why the idea will be perfect for beginners and pros. Check the source to inspire you.
Source: http://www.ravelry.com/patterns/library/milena-twist-cable-hooded-poncho