Creative people will always find interesting ways to use the crochet wine glass lanyard holder-free patterns. Below are 15 patterns for wine glass lanyard ideas. It will be best during the winery tours. It will be a helping hand allowing you to do other things with your hand.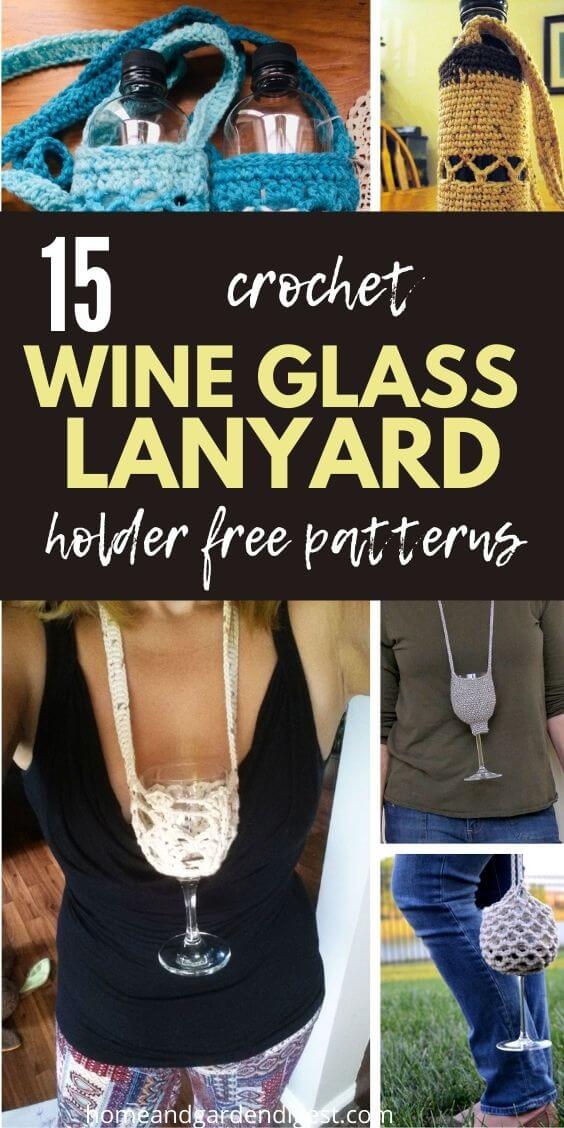 1. Spiral lanyard wine glass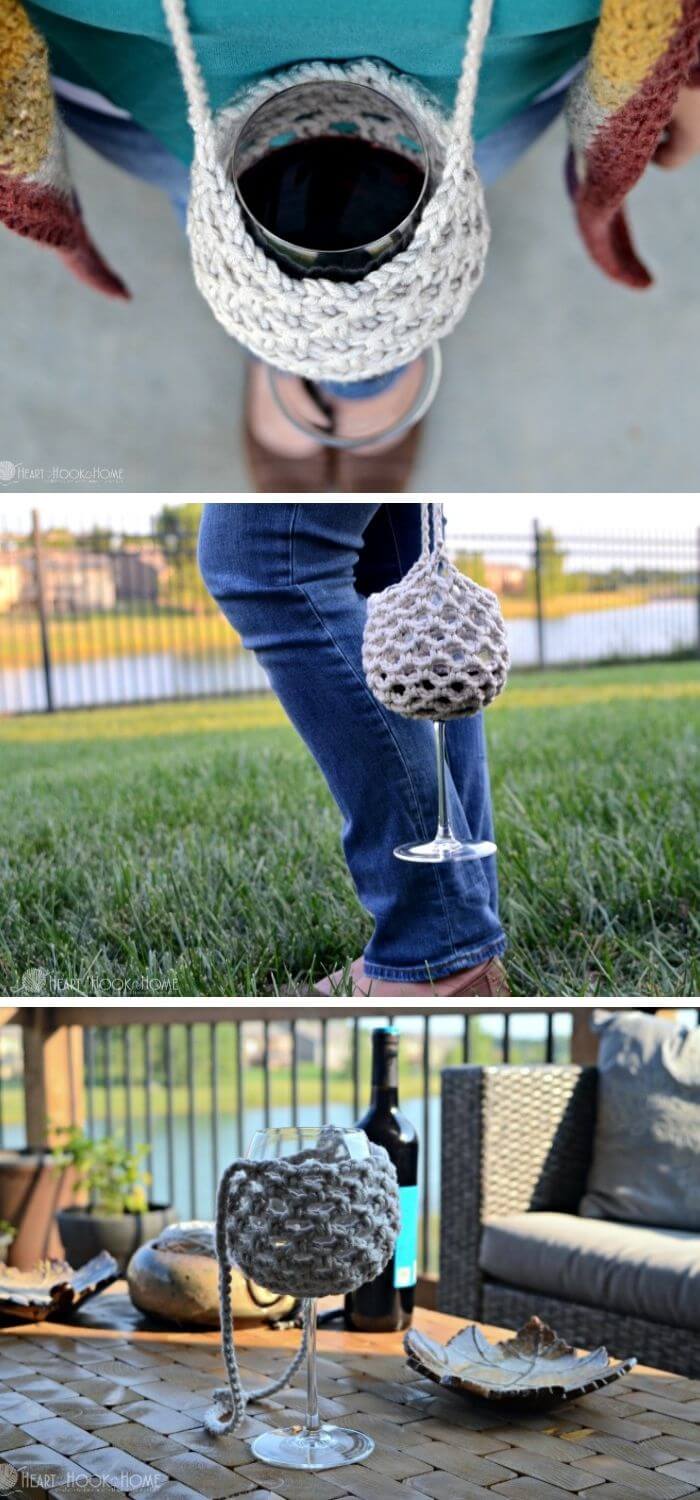 Crocheting is a great art that will impress in all cases. Many people agree that crocheting is a perfect mental therapy that you can try when you have time. Why can't you spend some hours doing something about those cute-looking spiral lanyard wine glass? It is the best among the rest.
Source: http://hearthookhome.com/free-crochet-pattern-wine-glass-lanyard/
2. Lace ember Ruby wine glass lanyard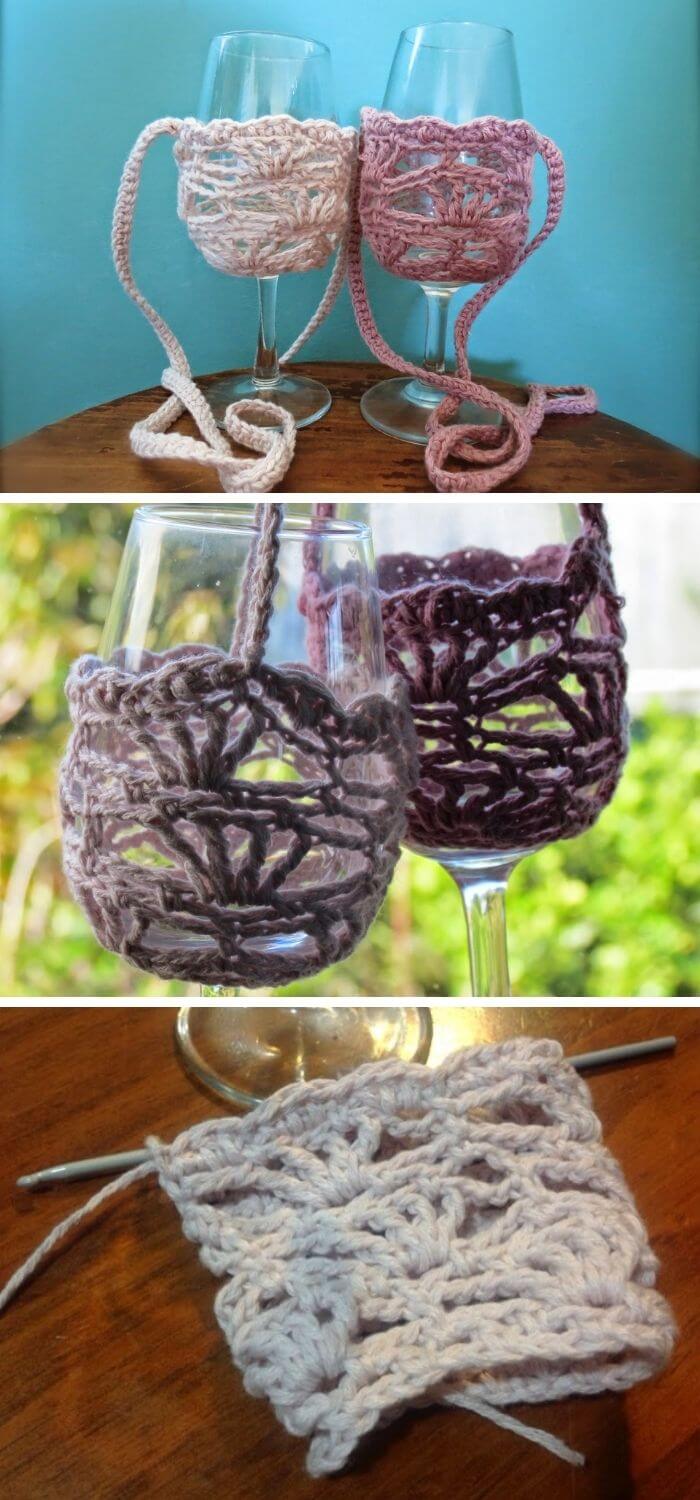 The pattern is lovely. It is even better when you have a glass of wine in it, and you hang it on your shoulders. Focus on the instruction manual to guide you to get started with this project with all the details you want to see in a crochet design.
 Source: http://serenpurcrafts.blogspot.co.nz/2014/11/the-ember-ruby-wine-glass-lanyard.html
3. Knit Wine Glass Holder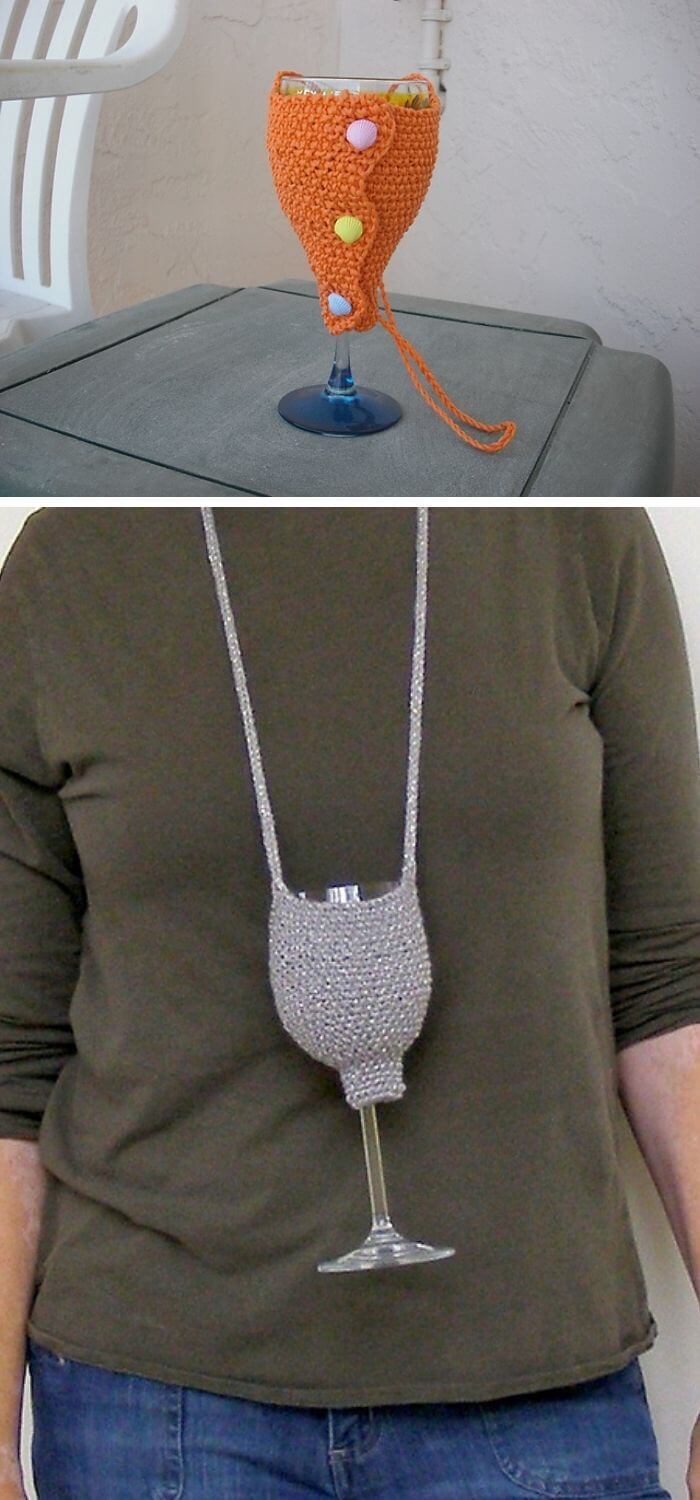 It is interesting when we can have some appliances made of crochets. Check the stitching instructions to guide you to start over a crochet wine glass holder that will be the perfect assistant when you have lots of work to do in a winery.
Source: http://www.ravelry.com/patterns/library/wine-glass-holder
4. Crochet Firene wine glass crochet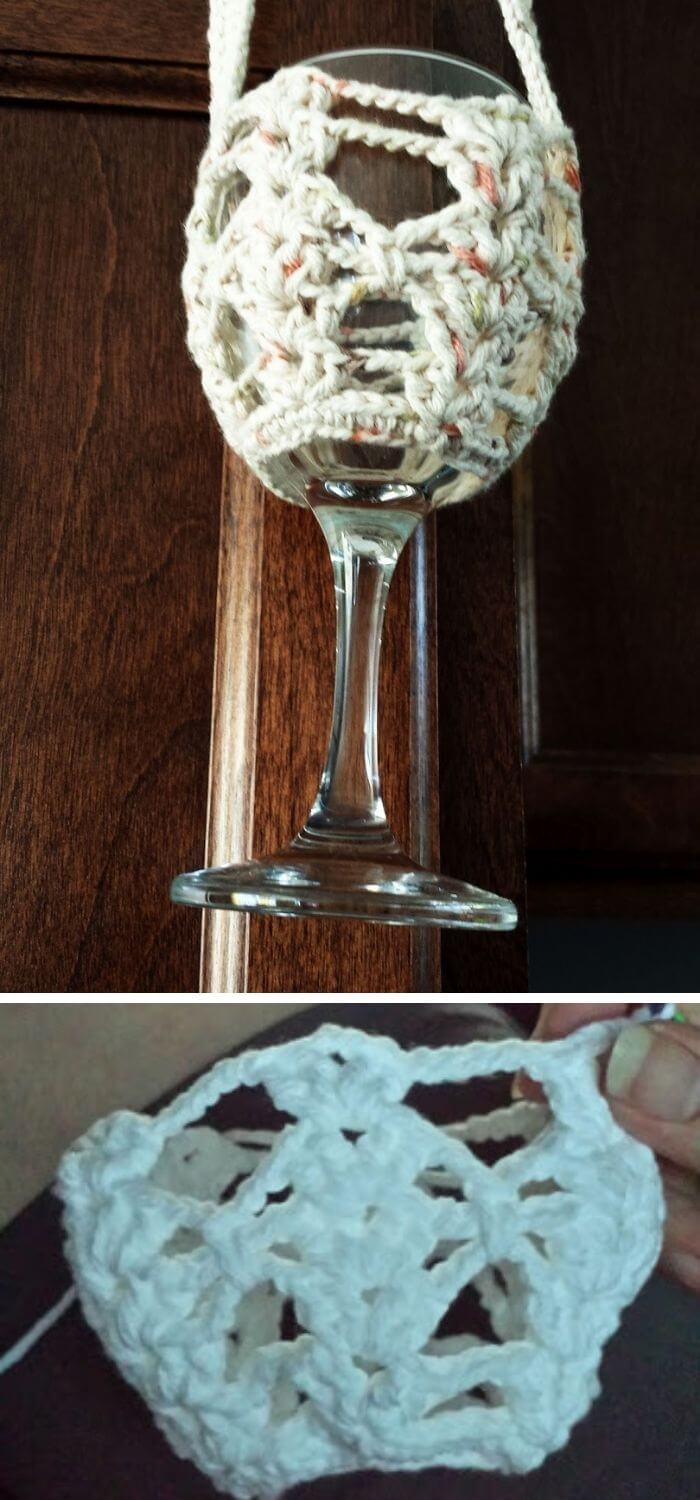 The firene crochet wine glass holder could be the next assignment that you will wish to give a try during your free time. Everything about the crochet design is impressive. Check the source to inspire you on everything you need to know when crocheting the crochet pattern.
Source: http://www.365crochet.com/2016/09/firene-wine-glass-lanyard-free-crochet.html
5. Crochet net wine Glass Holder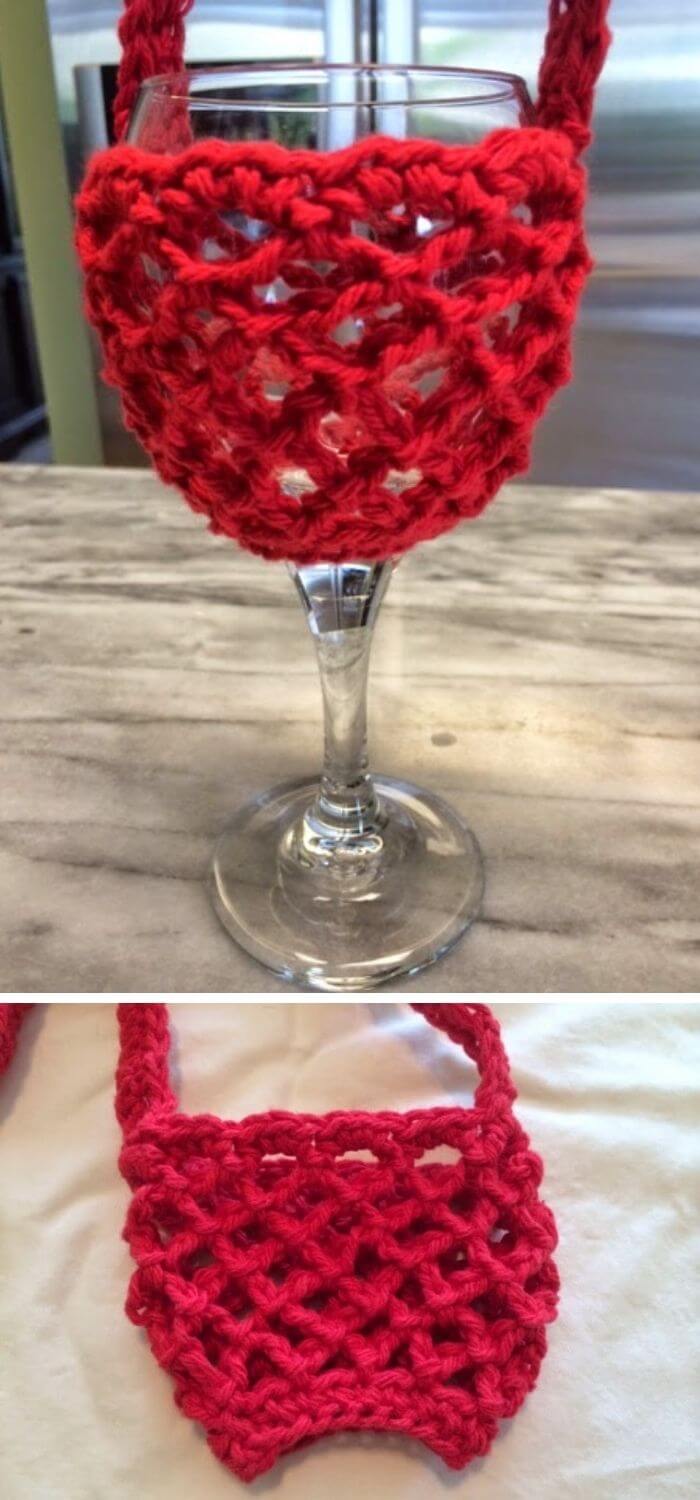 You will love the crochet net wine glass holder because it is elegant. The pattern has a neck and holders that you can hang on your shoulder. Check the source to inspire you to make a perfect wine glass holder that can get work every day at your parties.
 Source: http://hookedbyheidi.blogspot.com/2014/07/crochet-wine-glass-holder-with-neck.html
6. Wine glass lanyard free pattern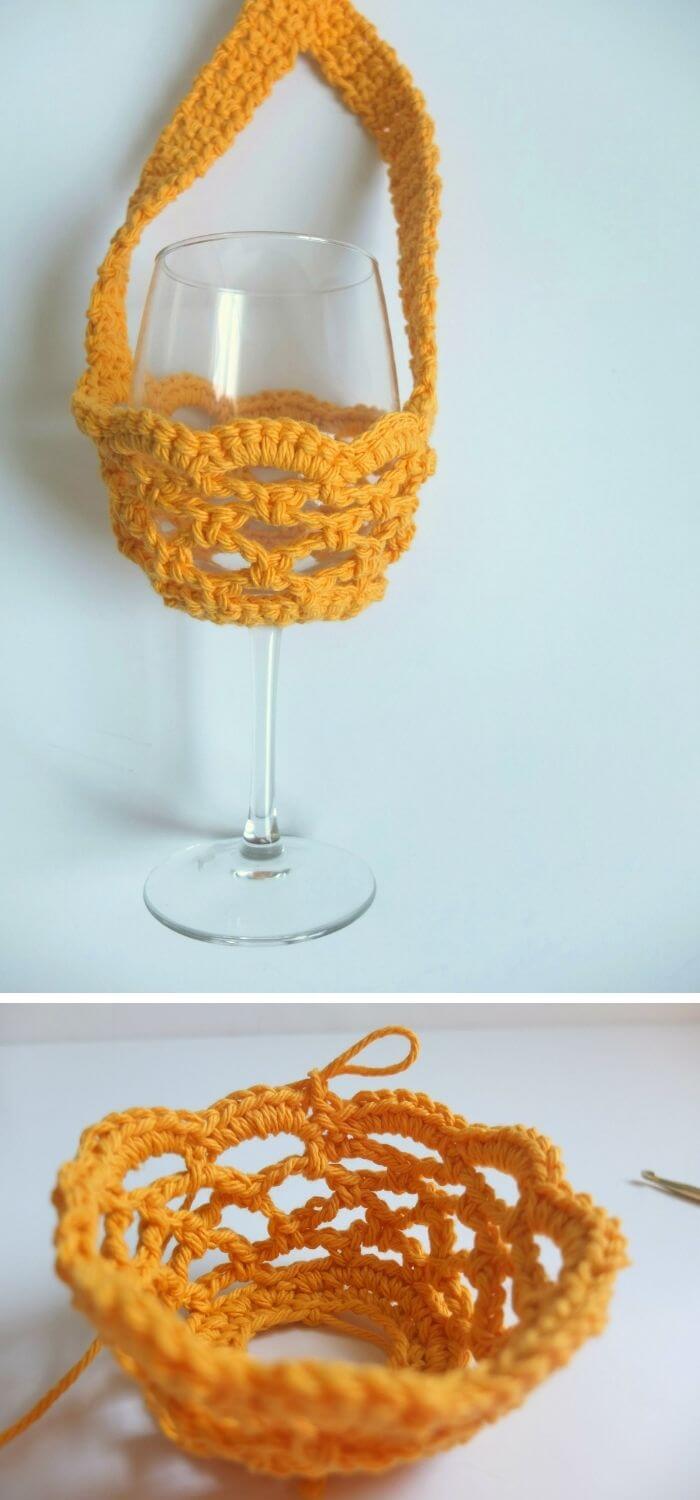 Here is another perfect wine glass lanyard idea with simple instructions to help you when you want to work on it. The idea is perfect for people who always stand while eating. You will have an extra hand to hold your wine even as you enjoy the stew while standing.
 Source: https://www.sigonimacaroni.com/lacy-wine-glass-necklace/
7. Crochet water bottle carrier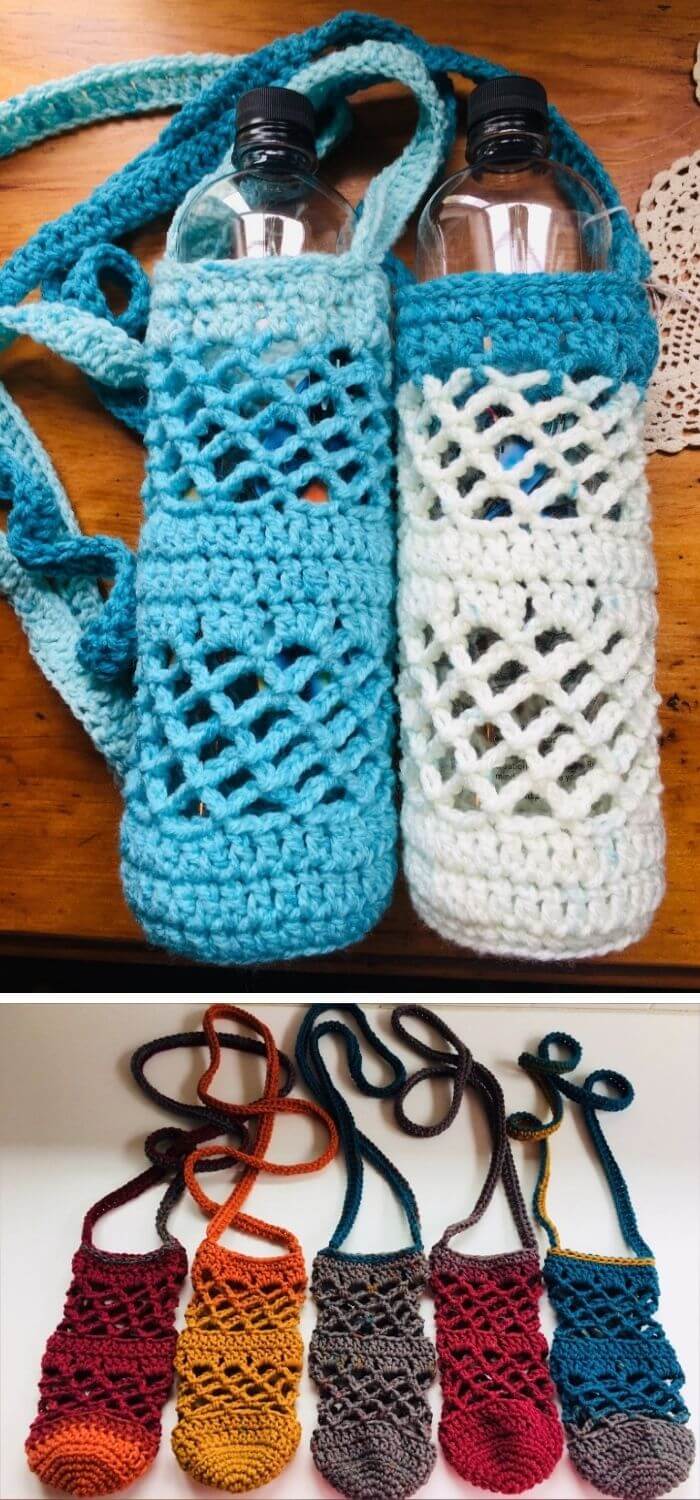 Crochet water bottle carrier is another wine glass crochet idea. Though the pattern is exclusively talking about water carriers, type space in it will be sufficient to hold wine, and you don't have to think that it is meant for water bottles.
Source: https://theburgundybasket.com/crochet-water-bottle-carrier/
8. The wine glass holder idea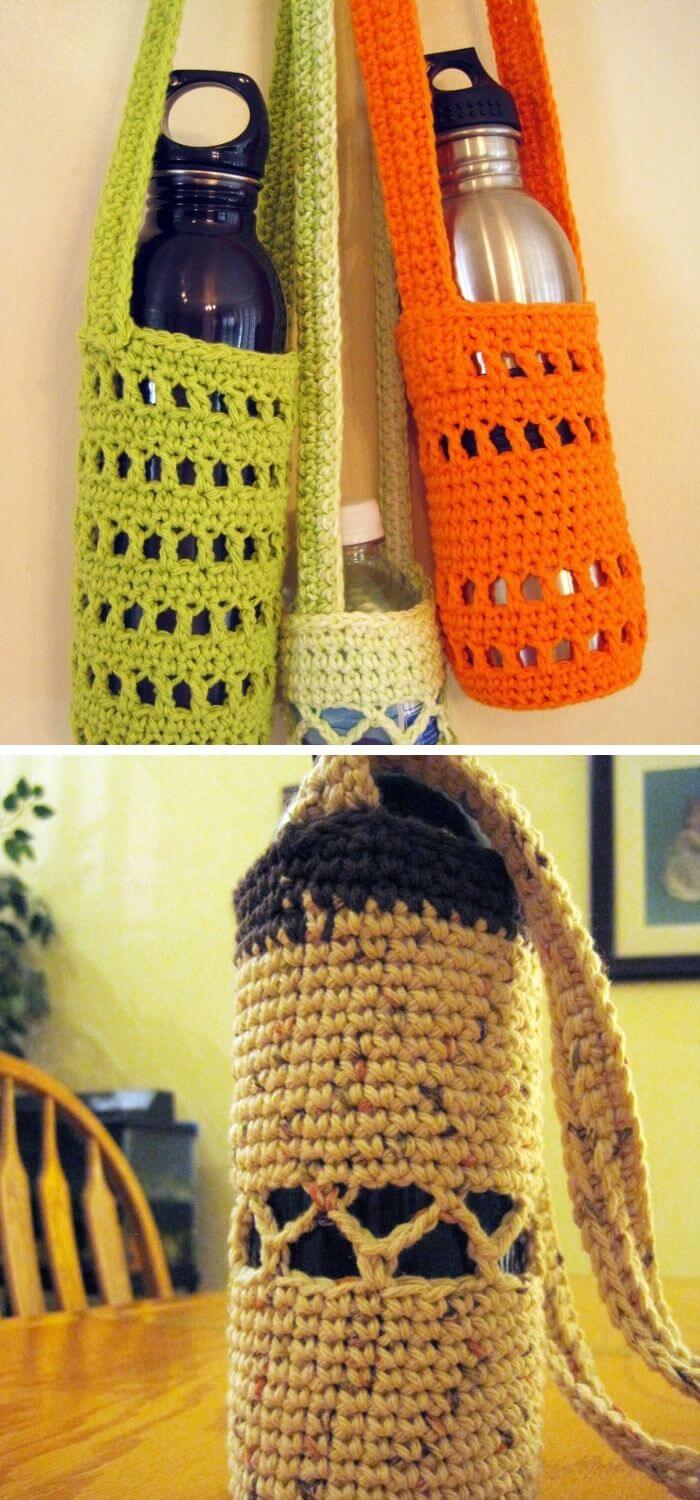 Here is another wine glass idea that looks pleasant when it lies on the side of your shoulder. you will appreciate the stylish look it will give you. Hoping you enjoy being stylish even when you are on an outing.
 Source: http://www.littlehouseincolorado.com/2012/05/pattern-for-crochet-water-bottle.html
9. Crochet wine glass holder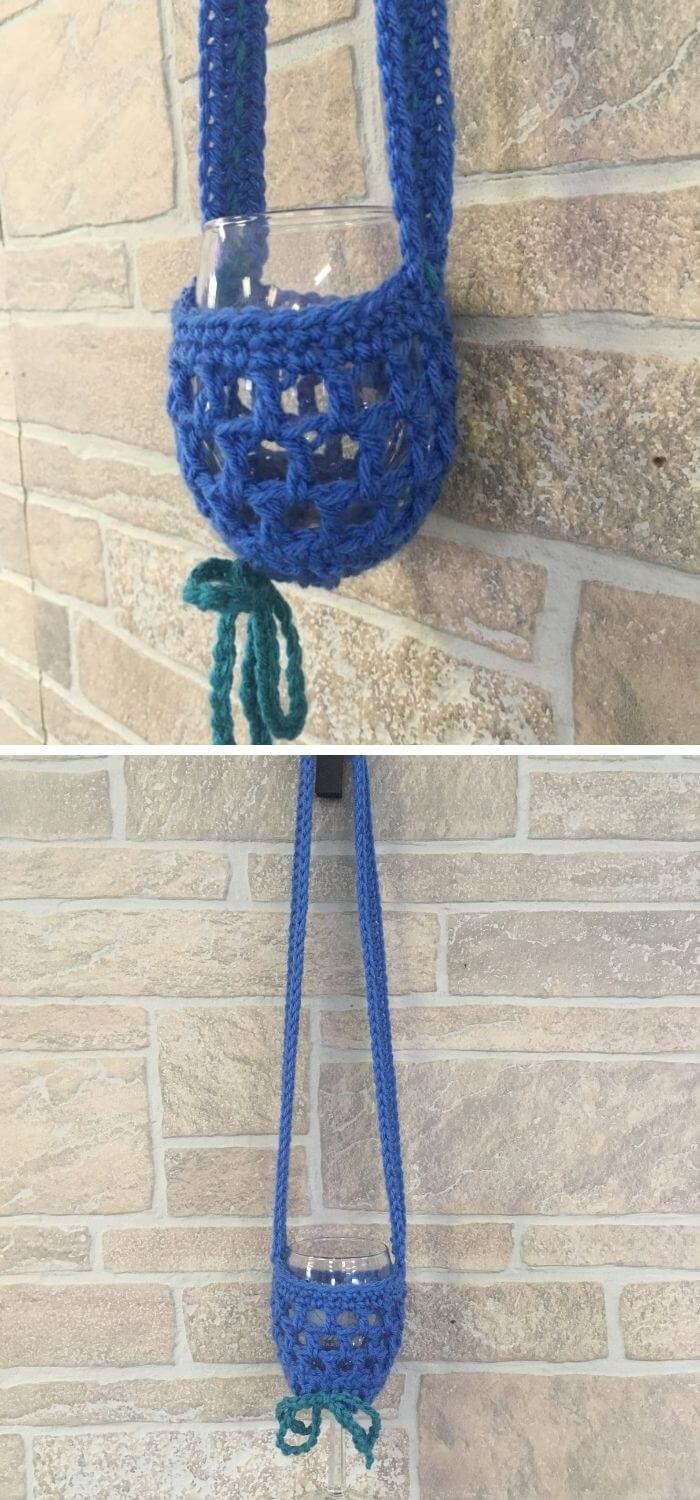 The crochet wine glass holder from this source looks quite appealing. All details about the crochet pattern are available from the source. Follow the link to inspire you as you get started with the crochet pattern project.
 Source: https://coachmelscrochetcorner.com/crochet-wine-glass-lanyard/
10. Crochet wine glass Cozy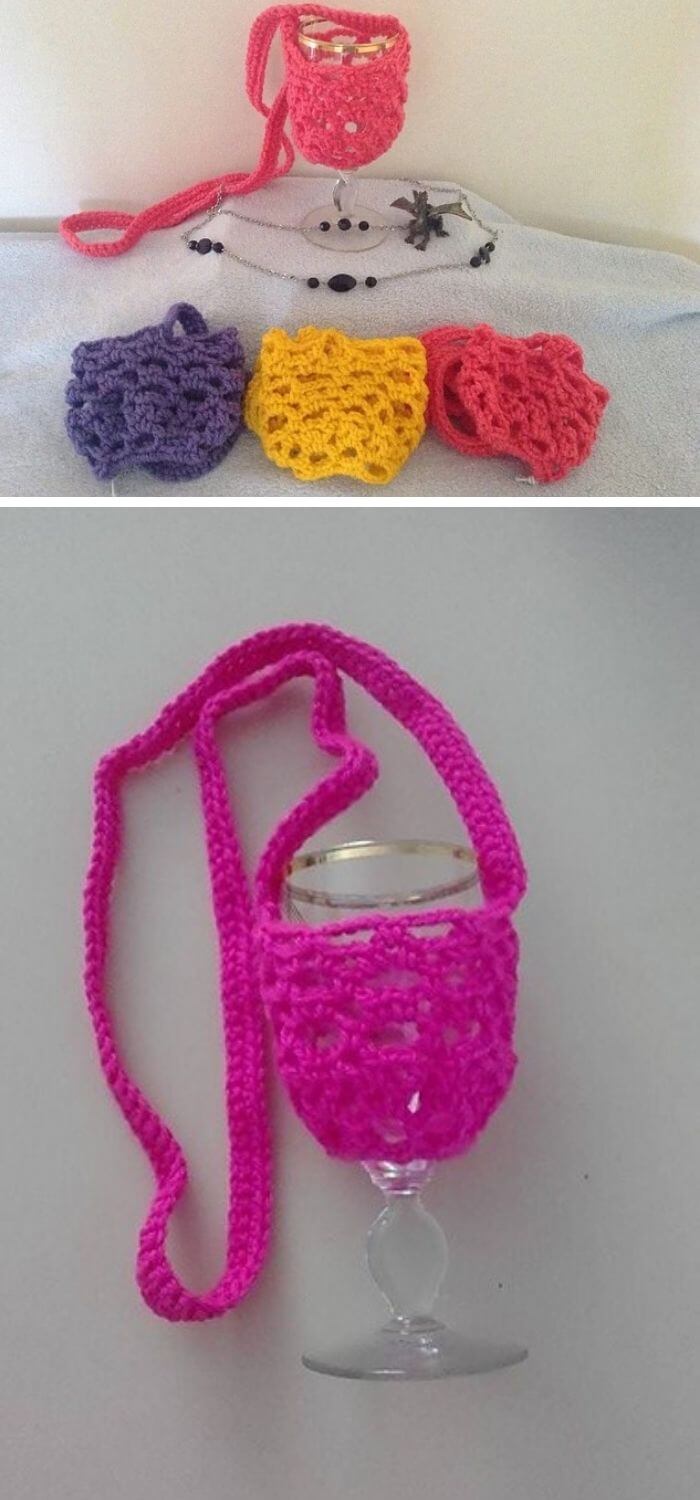 The crochet wine Glass Cozy ranks among the best crochet patterns You can try during your free time. You will be happy to work on this crochet even if you are a beginner because the stitching steps are beginner-friendly.
Source: http://www.ravelry.com/patterns/library/wine-glass-cozy-2
11. Crochet striped shells glass cozy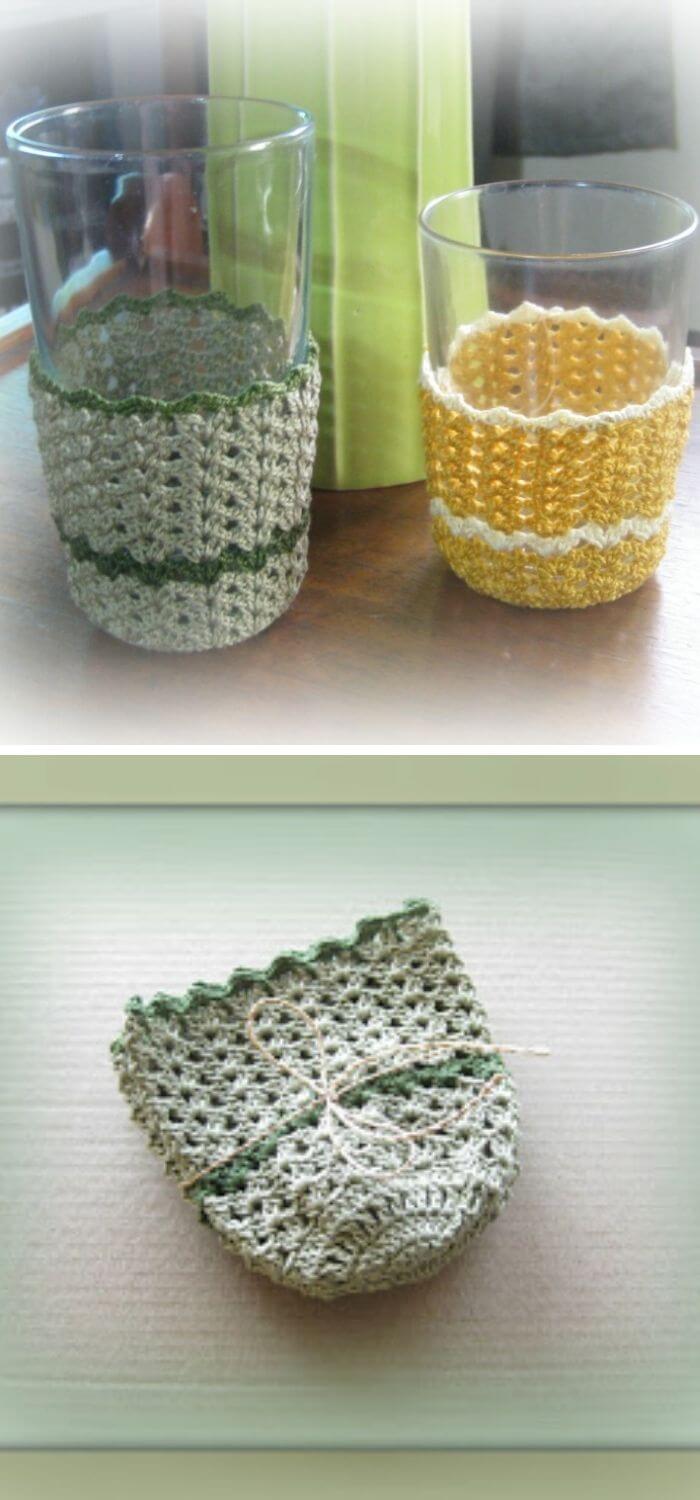 The crochet striped shells glass cozy do not have laces, but it perfectly fits the glass, making it look like a jewel. It is interesting to have this type of pattern during the events that will involve consuming wine.
 Source: http://mycottonthreads.blogspot.com/2012/03/striped-shells-glass-cozy-free-pattern.html
12. Crochet fantastic wine glass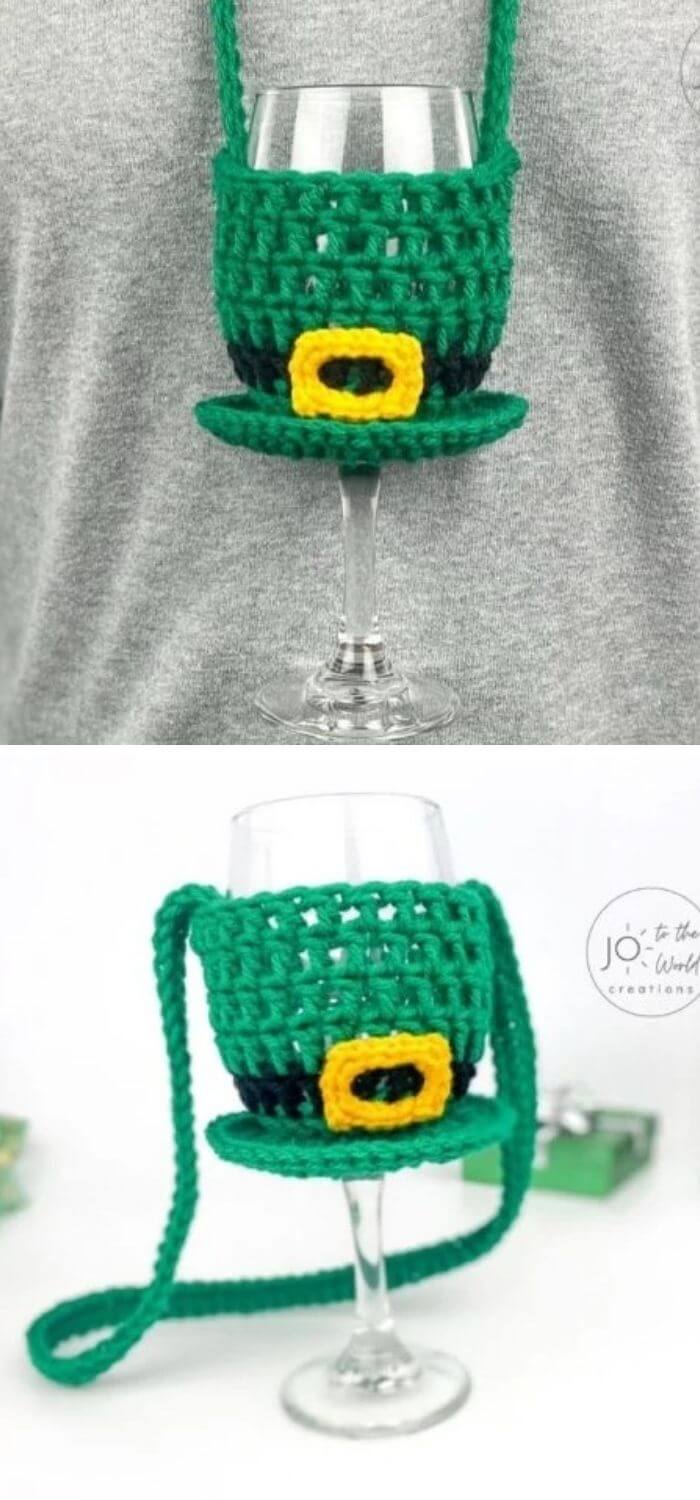 Look at the way the crochet fantastic wine glass will impress? It is a lovely jewel-like crochet pattern that will take basic crocheting skills to have done. All the stitch instructions are available from the source for you to consider.
 Source: https://jototheworld.com/st-patricks-day-crochet-wine-glass-lanyard-pattern
13. Crochet mesh lanyard wine glass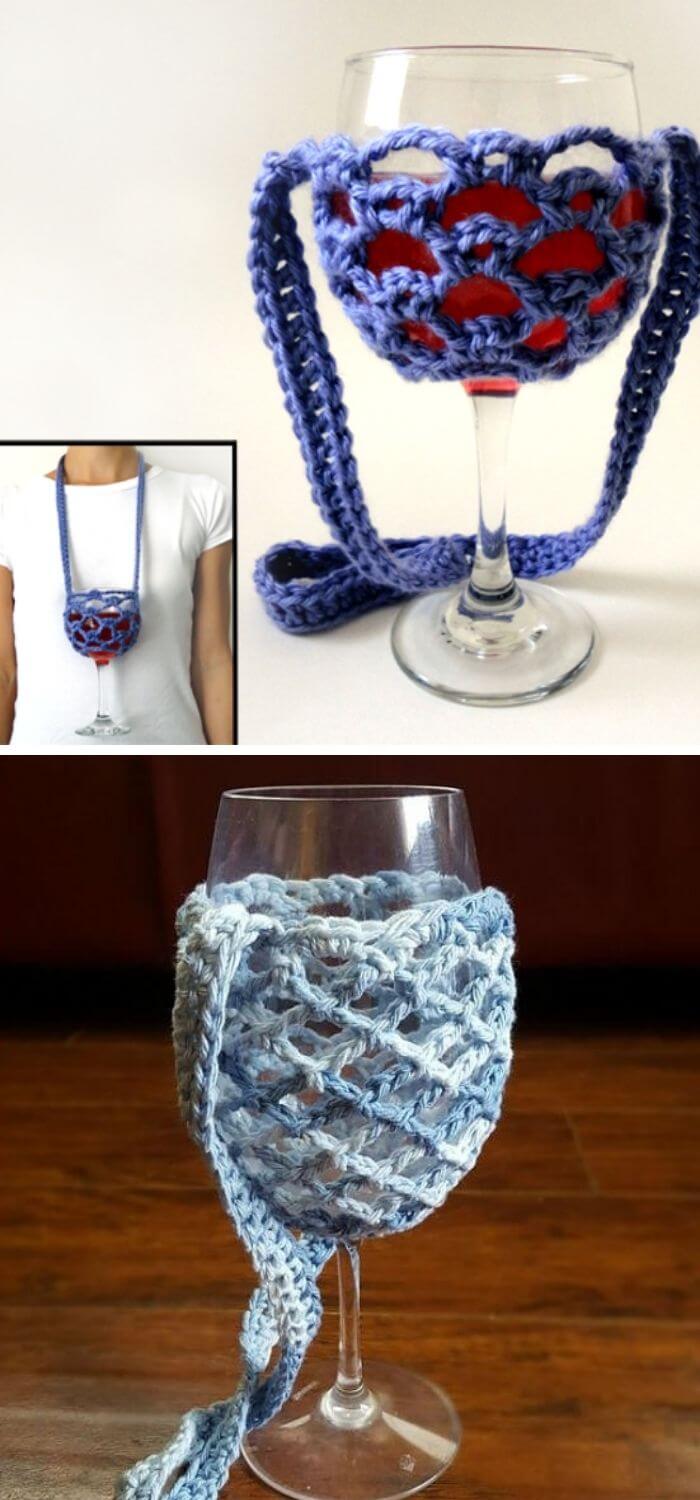 Even if you don't like crochet art, the crochet mesh lanyard will give you every reason to start loving the art. Every stitch perfects to make things look quite impressive. Check out all the stitch instructions from the source to guide you as you begin this perfect art.
 Source: https://www.youtube.com/watch?v=GYh-6N1u5mQ
14. Crochet pink flower glass lanyard holder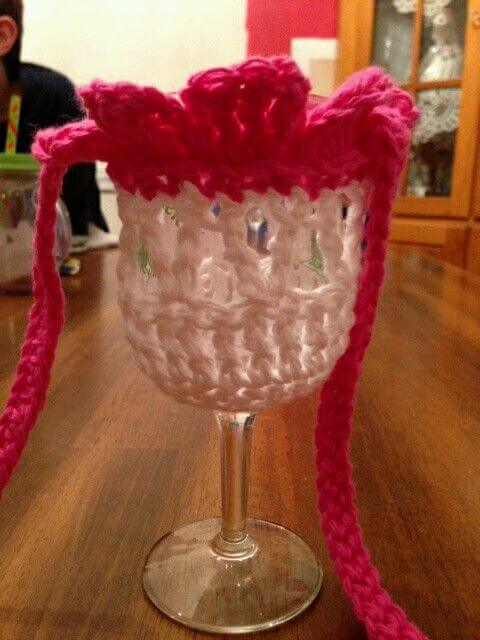 The details about this excellent crochet pattern will impress everyone. The creator put everything to be easy to understand to favor the beginners. Check the source for inspiration on how you will go about the work.
 Source: https://www.pinterest.com/pin/496451558904333901/
15. Stemless Wine glass lanyard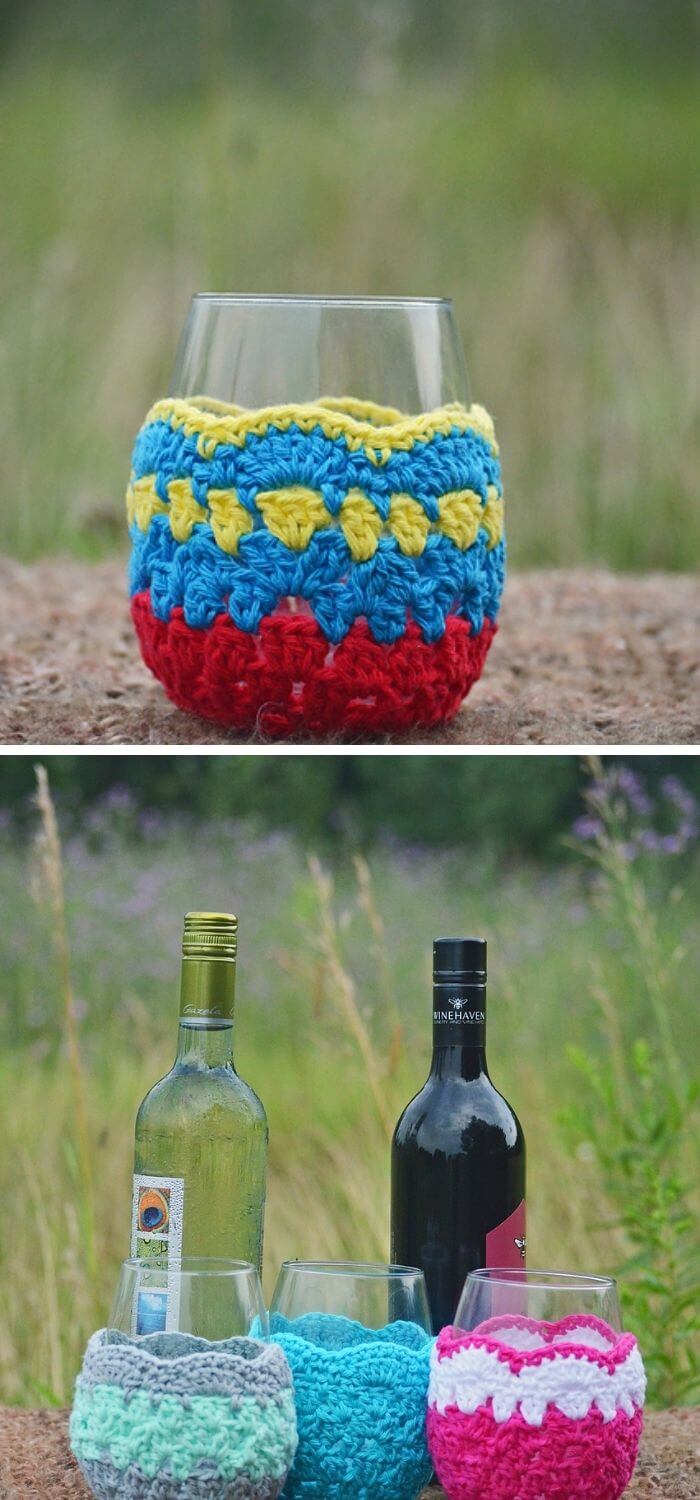 You can try the best wineglass ideas from the source below to inspire you to make something for the events ahead. It is a fantastic idea though it does not have the laces.
Source: http://www.ravelry.com/patterns/library/stemless-wine-glass-cozy-2