Here are 15 crochet wine bottle cozy bags and sacks you can try if you are a fan. These crochet free patterns will be the best gifts that you can surprise your friend or anyone.
Don't worry about the time because it only takes a short time to design them. If you are curious, you will realize that some patterns are adjustable, and all you will have to do is t check the instructions for adjusting.
1. Crochet wine bottle cover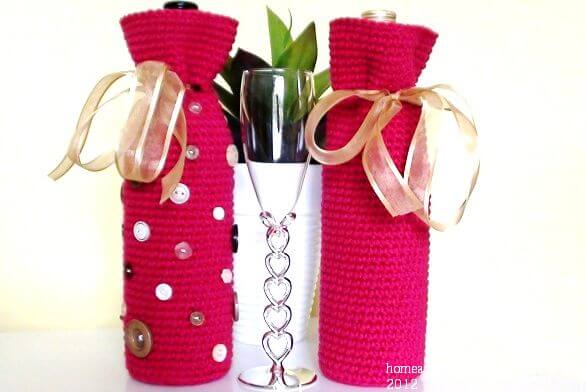 Our list starts with this cute crochet wine cover. It is a lovely design that you can give it a try at home.
Color choices will vary, and it does not mean you will have to stick to the color in the source, but you can design your own a do make some adjustments. Find out all the instructions from the link below.
2. Bottle buddy gift bags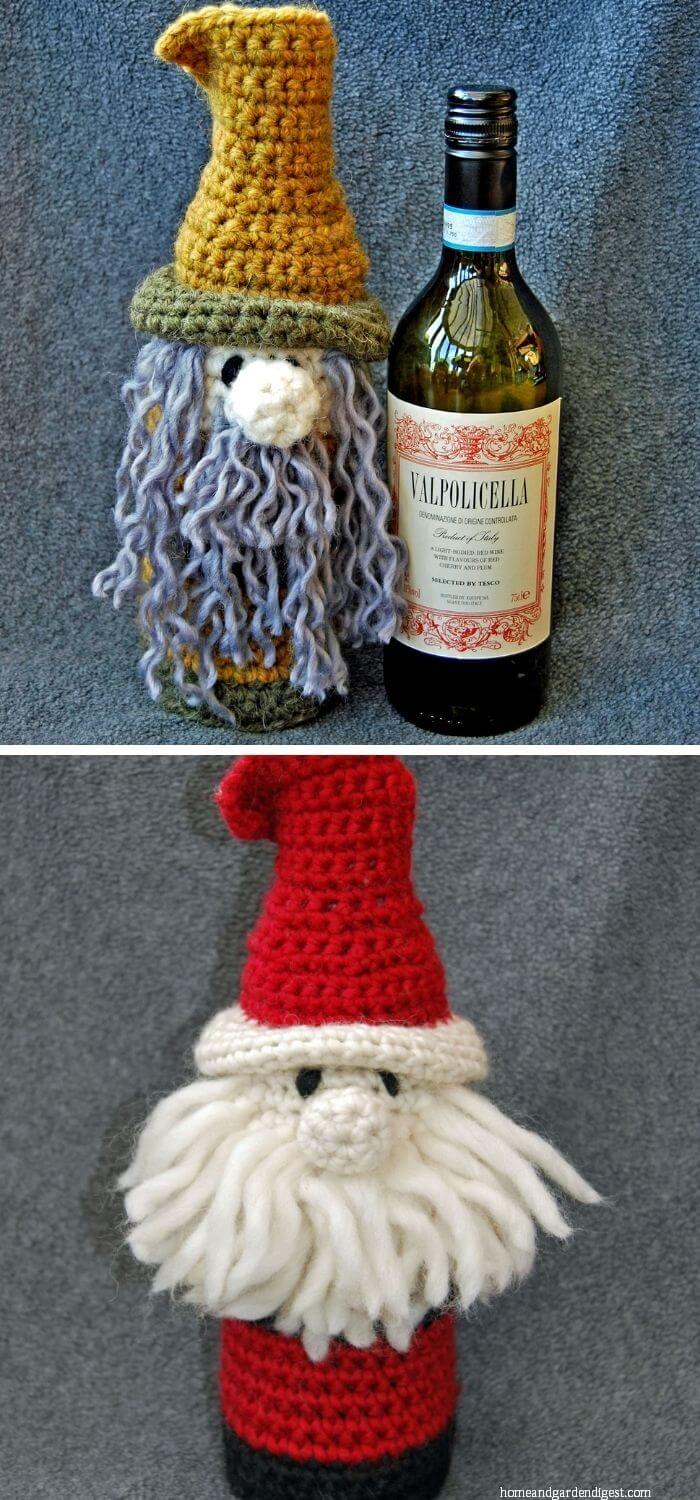 It is a festive season, and you don't have the carry the naked bottles just like that. There is something you can try! Crocheting a bottle gift bag will do marvelous because your friend does not need to know what he is about to take.
3. Crochet drops pinot bottle cover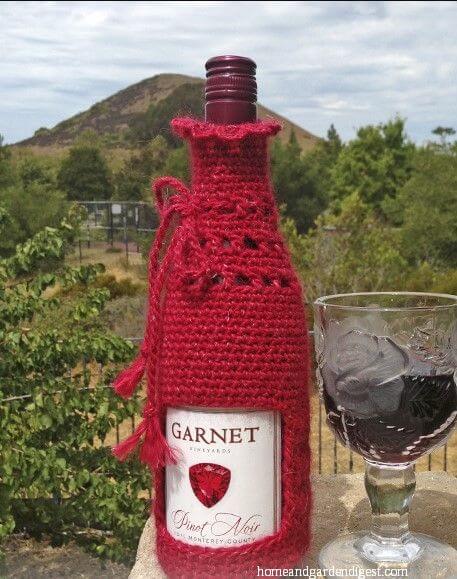 The drops design is a cute, and yet presentable pattern. Its single color is just so appealing, and you won't have anything against this pattern because all it has the best features including the droplets symbols. Try out this cute crochet bottle bag by checking the stitching instructions from the source below.
4. Christmas Gnome wine bottle cozy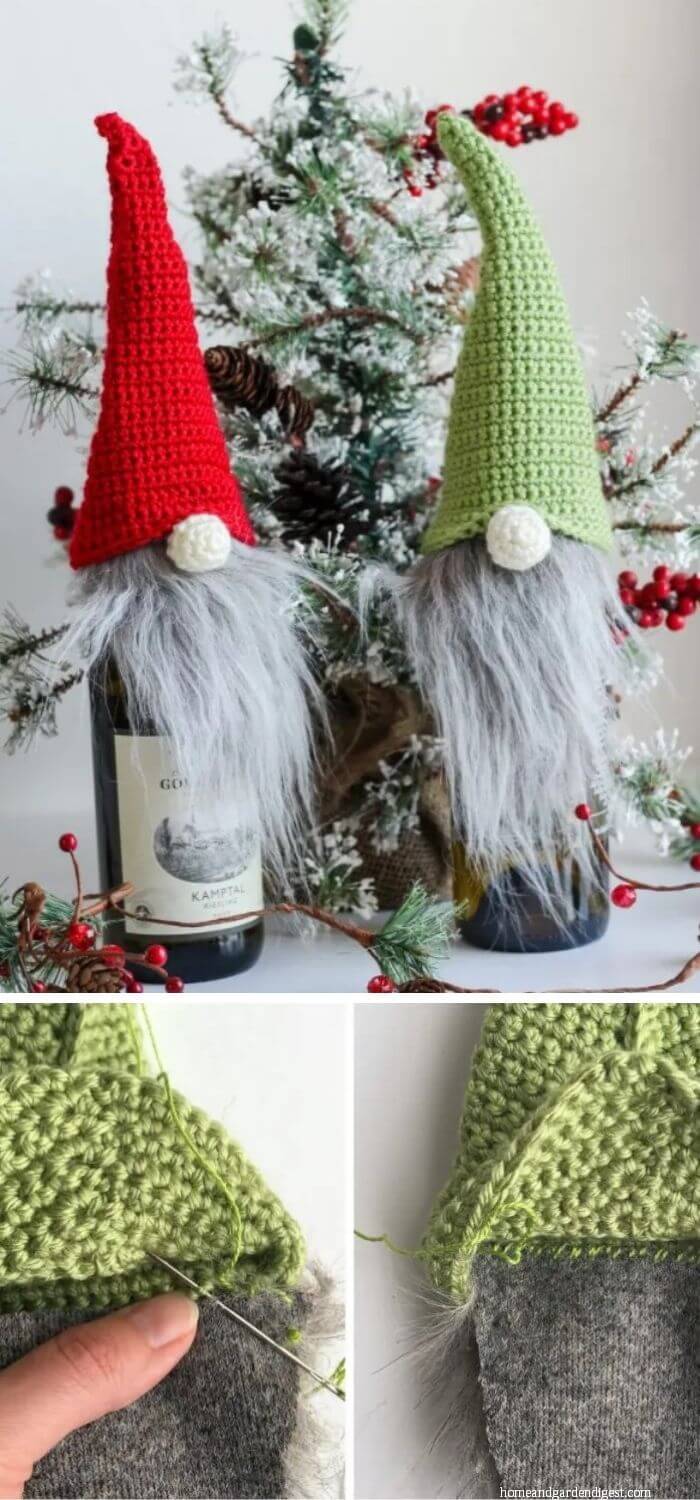 If you are not used to crochets, you will be wondering if a little kid is sitting at the table! The truth is, the cozy bottle is bringing the Christmas mood to your table, and even the bottles will have something to put on during the event. Check out if this cute free pattern will fit your Christmas needs.
5. Santa pants gift basket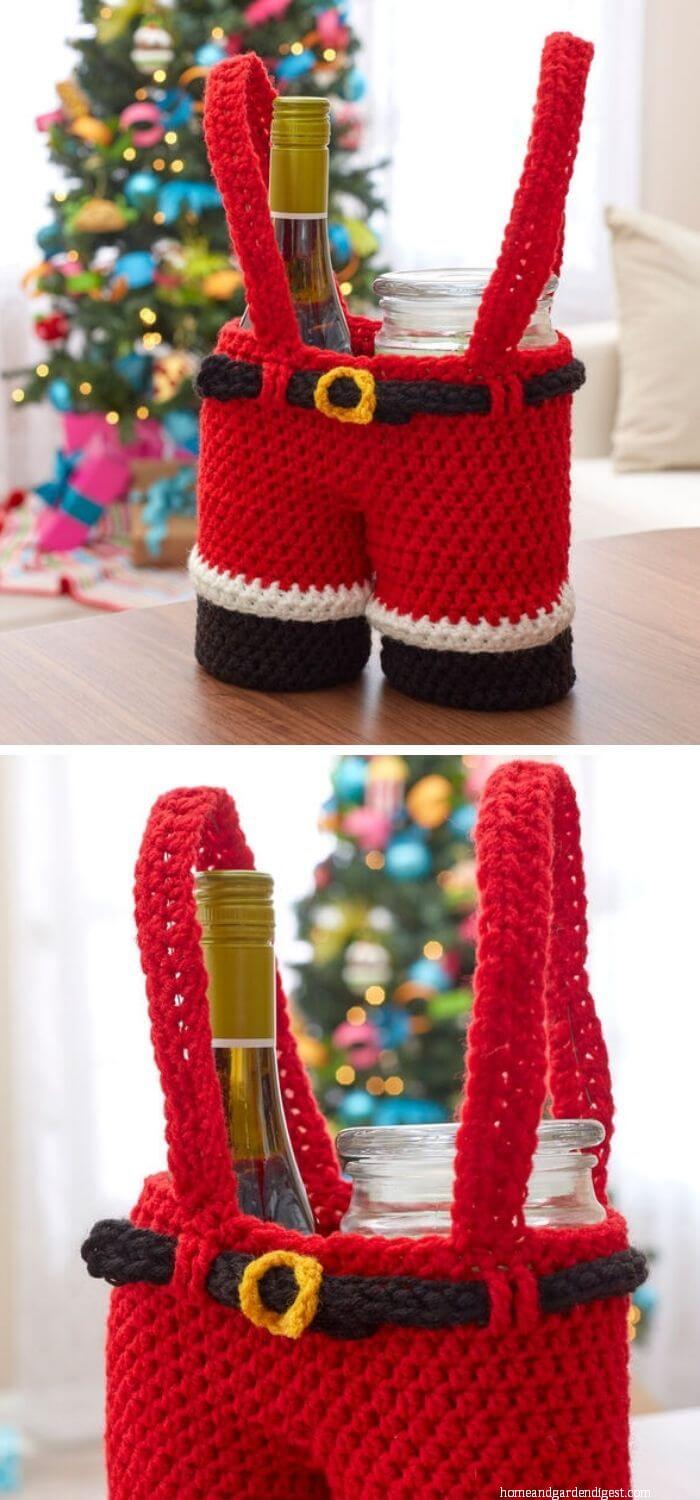 We should have started with this cute crochet basket that will serve to carry your drinks at the serving table. You deserve something that will bring elegance to the table, and it should be the beautiful Santa pants basket that can carry four to five bottles!
6. Poinsettia bottle cozy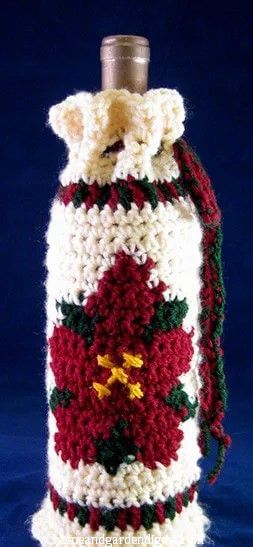 Stitching is fun when you need to focus on the right positions to insert flowers in your crochet bag. Here is a real pattern that will guide you to do that. Choose your best color choices and design something that you will use to carry that bottle for an event you are ready for. Check out the instructions from the link below.
7. Autumn wine bottle cozy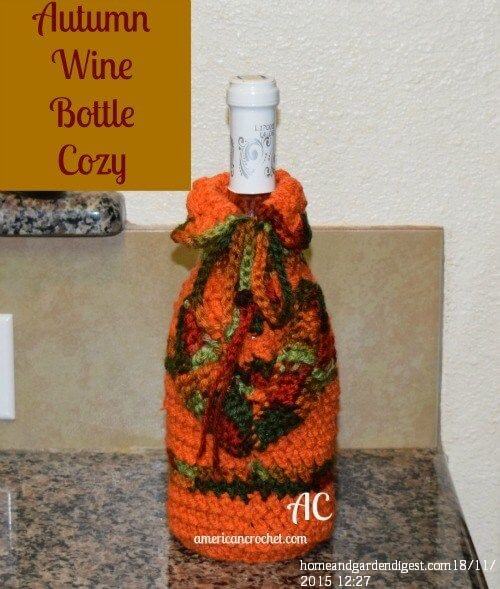 Many crochet bottle sacks are available, but of course, you want something that will be a bit outstanding. Did you check the autumn wine bottle cozy?
It is among the cute designs that will dress your gift well as you prepare for the upcoming event. Gone are the days when people will take a drink in a naked bottle.
8. Crochet holiday spirit bottle bag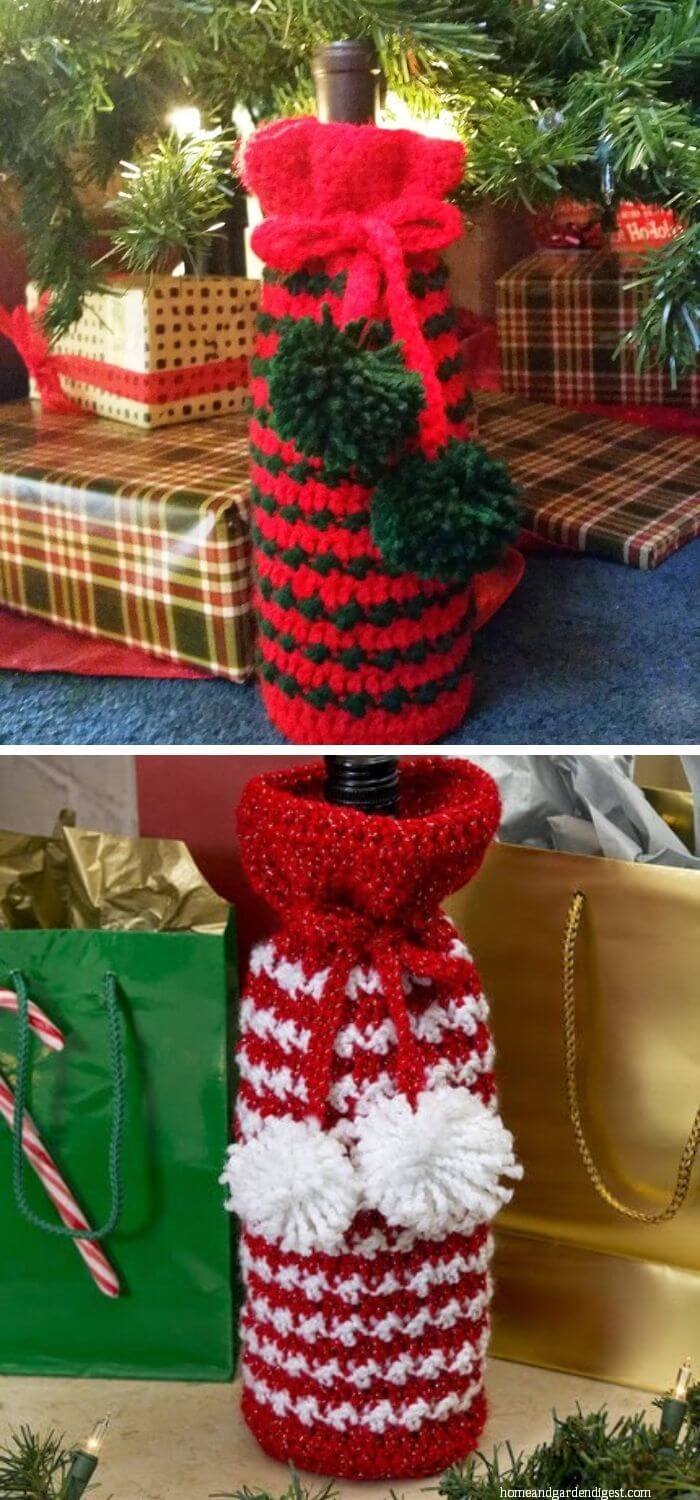 Here is something else for you to try out with crochet yarns. You don't have to ponder on something so hard. The crochet holiday spirit bottle bag saves lots of time, and it will be easy for all. The steps are just reachable, and you can get more inspiration from the source link here.
9. Willow wine bottle cozy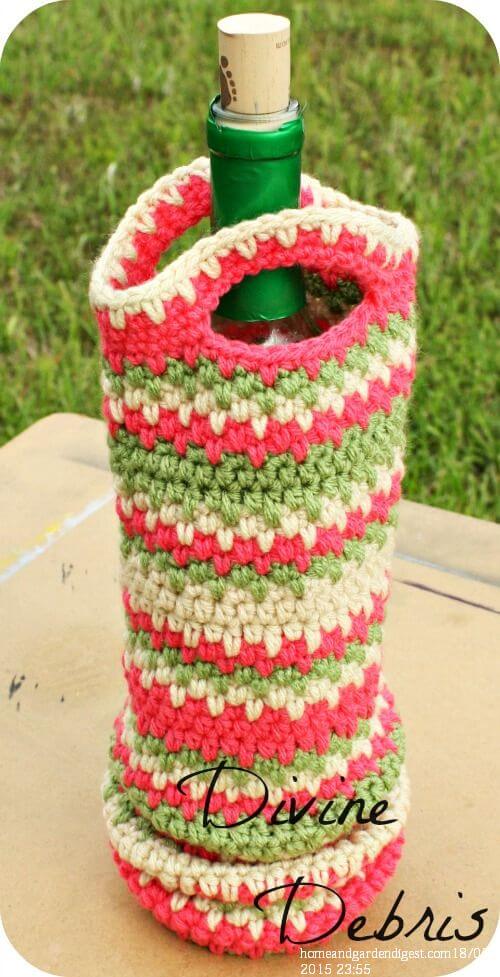 Devine debris has another cute free crochet bottle cozy design. The cozy pattern can save you a great deal even as you prepare for Christmas. It is appealing to the eye, and it will add an imaginary flavor to your drink. Serve them in style with this cute bottle dressing.
10. Happy Christmas wine bottle bags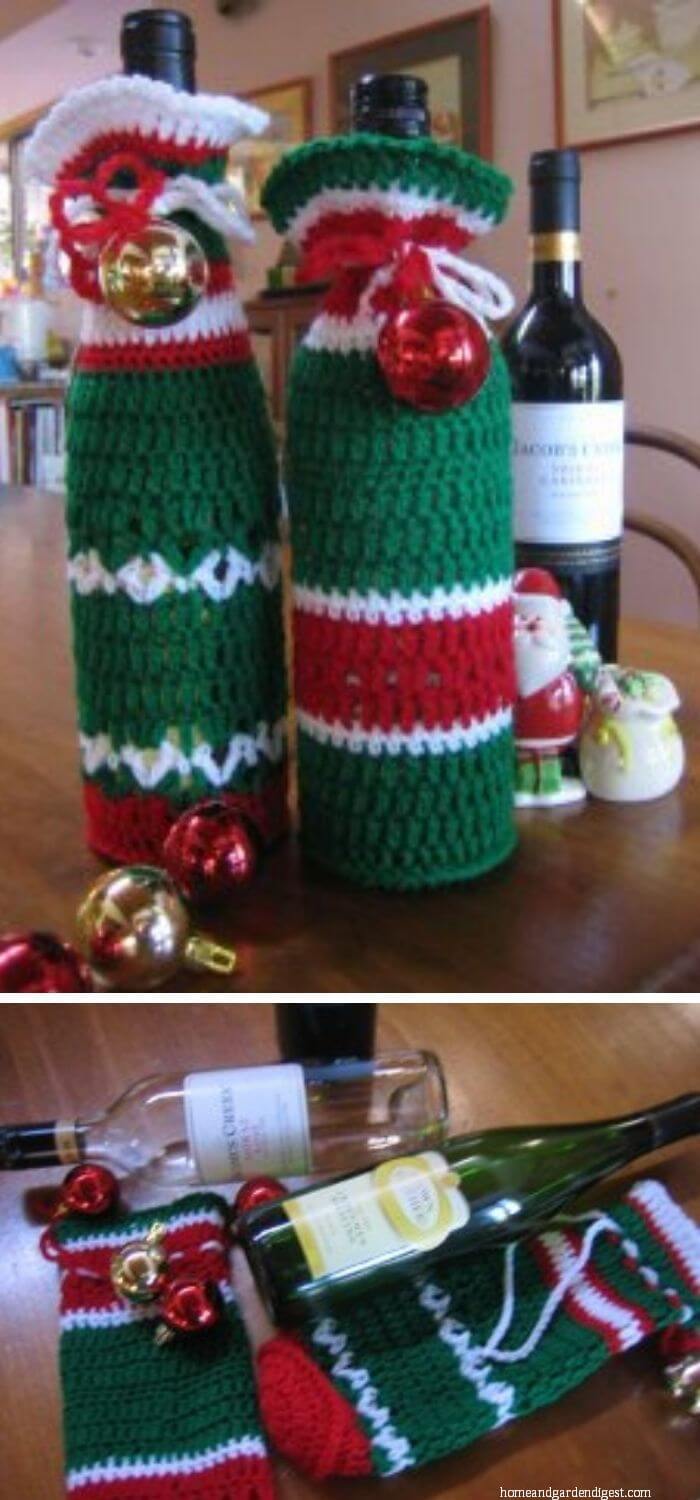 Will you appreciate the crochet designs that get inspiration from colors and wildlife? You should check the rare Christmas wine bottle bags that now dresses almost all Christmas bottles. Try this cute design that will bring relevance and fun to the event! It is Christmas Eve, and you want to do things differently.
11. Crochet wine bottle cozy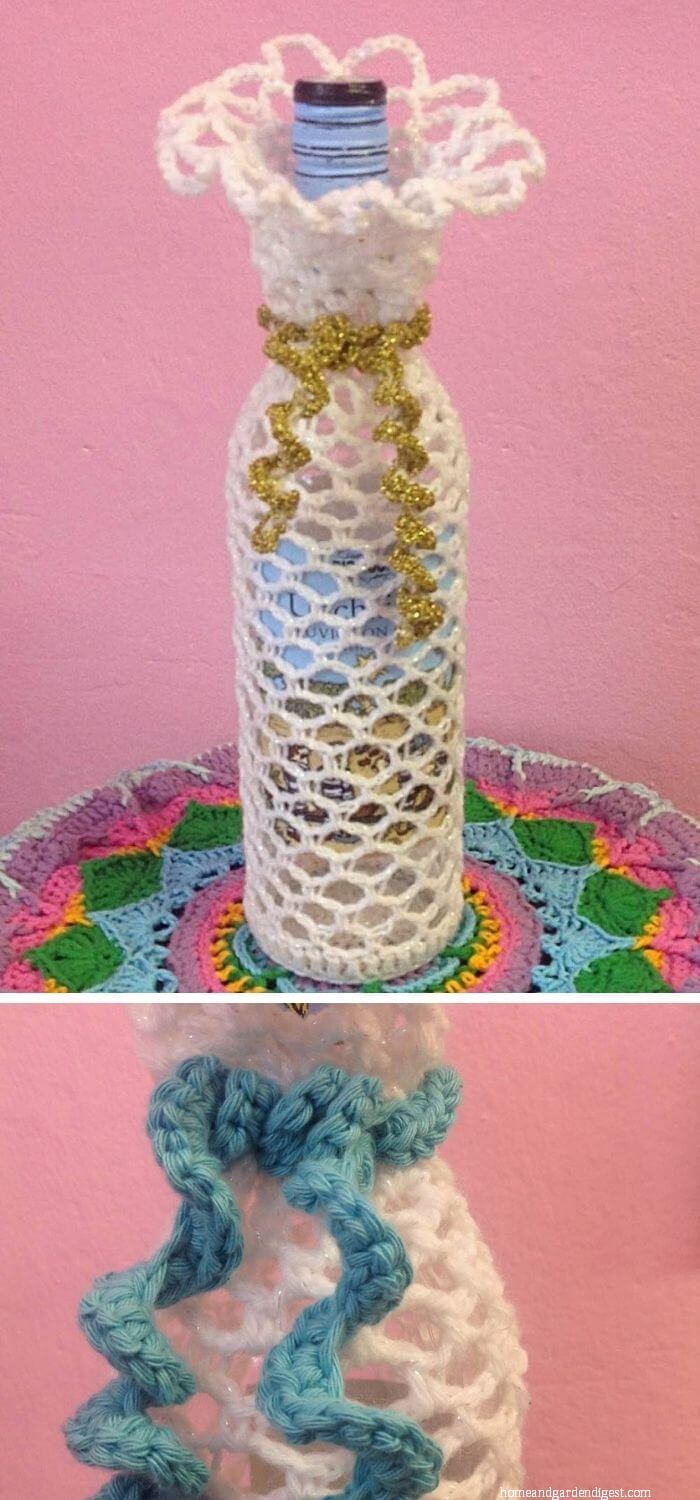 The crochet is really beautiful when you use a crochet table cover and lace the crochet bottle bag above it. The stitches are really simple and I even become simpler when you get inspiration from the guide. Check the instructions from the link and prepare something for your next big event.
12. Gnome wine bottle cozy

Which drinks do you often prefer? If your case is champagne, then the Gnome wine bottle cozy will be an excellent bag for your bottle.
This sack is easy to top on and off. It is a cute pattern that offers a chance for adjustments because you can easily remove the bottle and stitch it again to make a toy.
13. Bobble wine bottle bag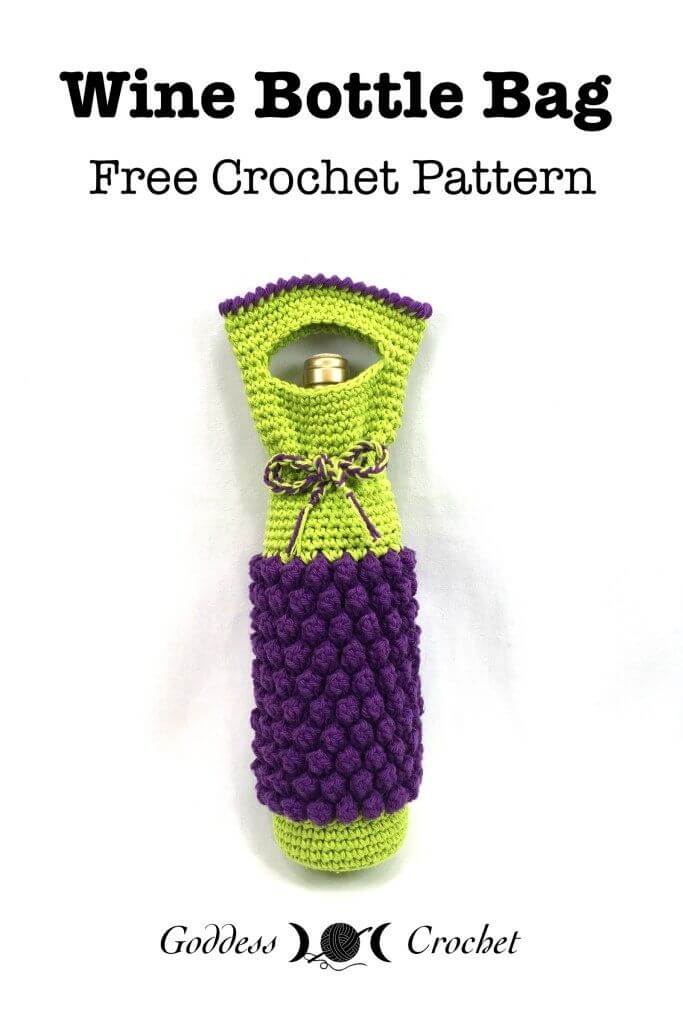 You will want a free pattern that will protect the bottles by offering a cushion against any shock. If this is among the features you want to seal in your crochet bottle bag, then it is time to try this beautiful design that offers convenience when stitching plus elegance when you dress your 750mls bottle.
14. Puffy spike stitch wine bottle cozy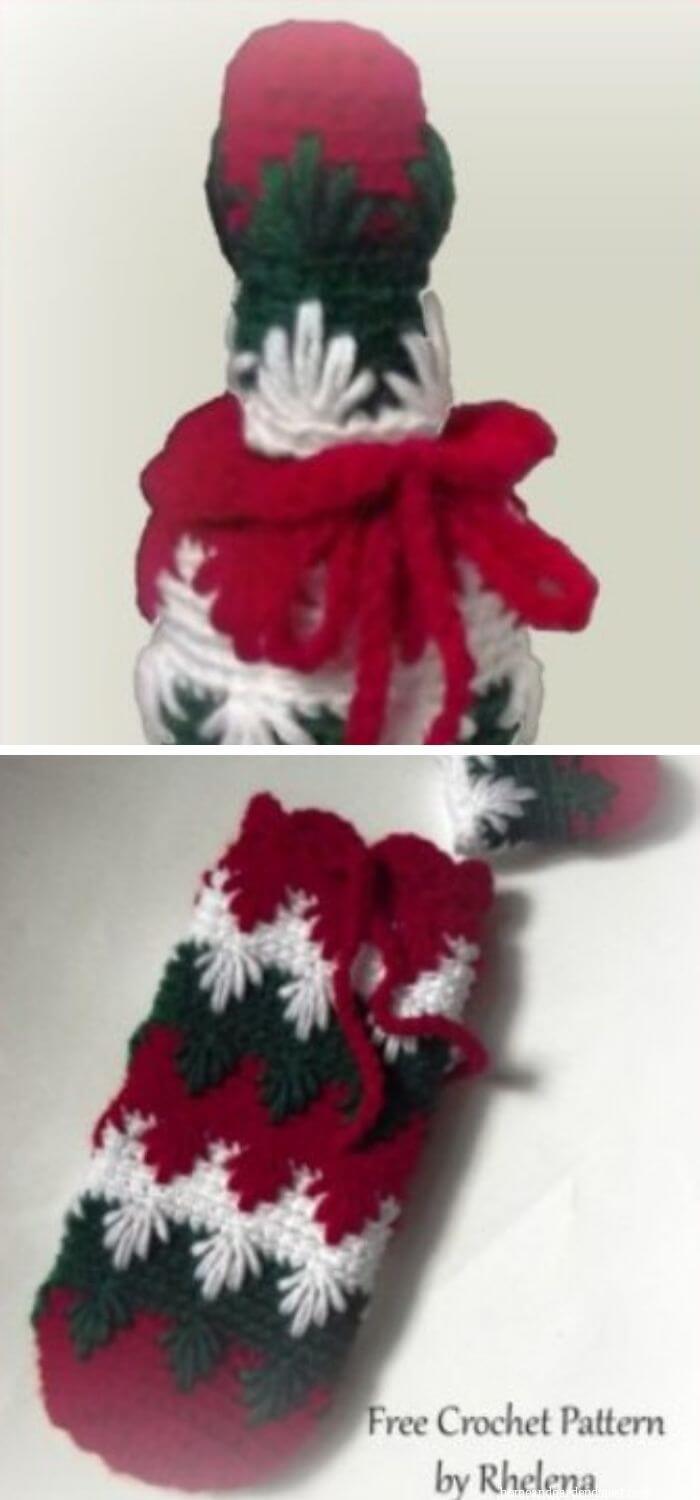 It is not easy making the puffy spike stitches because the stitches are closer together. It means that you will need to arrange as early as possible to manage to make it. You can still do it considering how cute the bag will appear after you dress your bottles in the big event.
15. Shelia sheep bottle cozy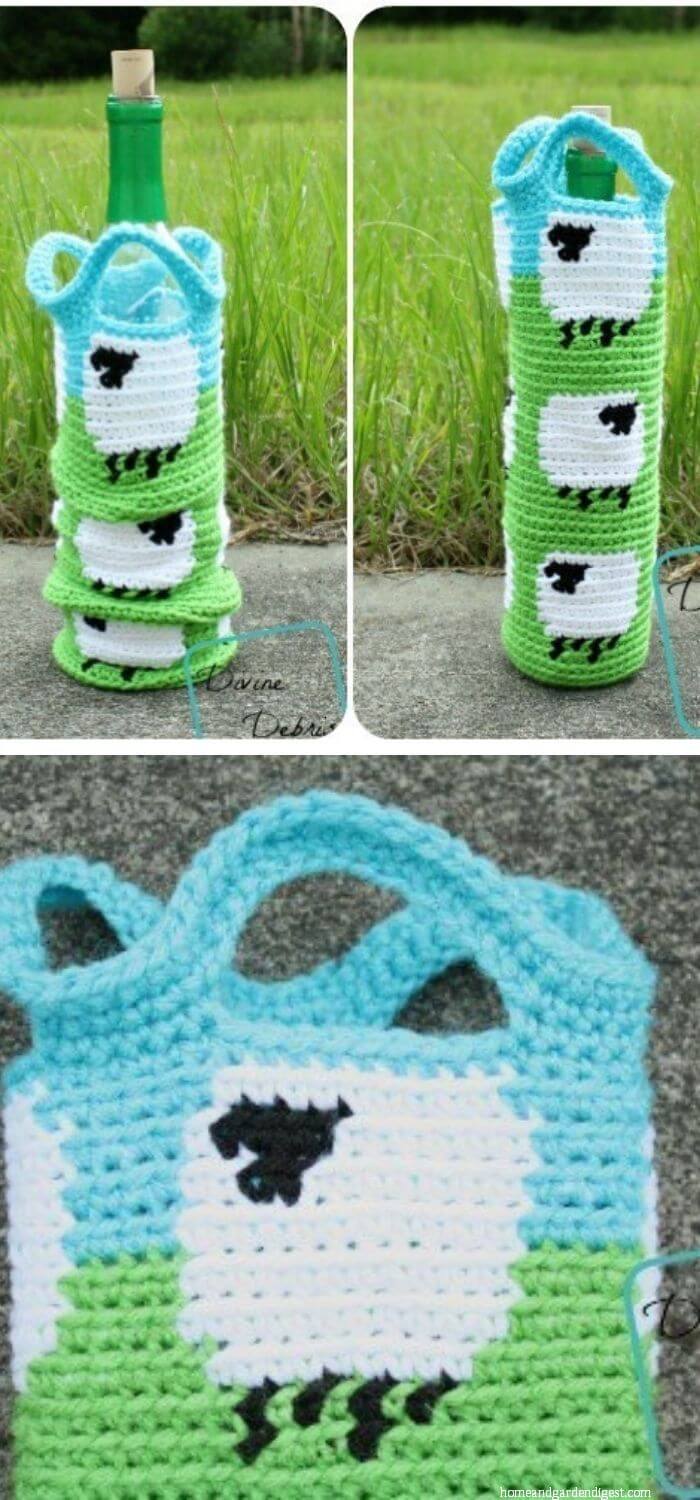 It is the last on the list, but it doesn't mean that it is the worst. It is among the cute free crochet patterns that you can do for your Christmas. Check the easy steps from the source attached below and see if you can get something for your friends during the festive event.