Turbans have been very interesting and one of the beautiful accessories people love to put right from the early years of fashion. The reasons could be because of its uniqueness, gorgeousness, and always a well befitting accessory especially on little pretty girls, and also adults.
Its uniqueness includes the hat elegantly covering the ears of them as it spreads out and comes down the face of the wearer. Crochet Turban Hat befits females with both long and short hair, with a good-looking chic also.
If you are a lover of Crochet Turban Hat, then you might need to relax, free your mind, and confidently scroll down to see our different list of Crochet Turban Hat Free Patterns with a short description of each of the patterns.
15 Crochet Turban Hat Free Patterns
We bring to you top 15 different patterns you can go for when it comes to Crochet Turban Hat.
1. Crochet Textured Turban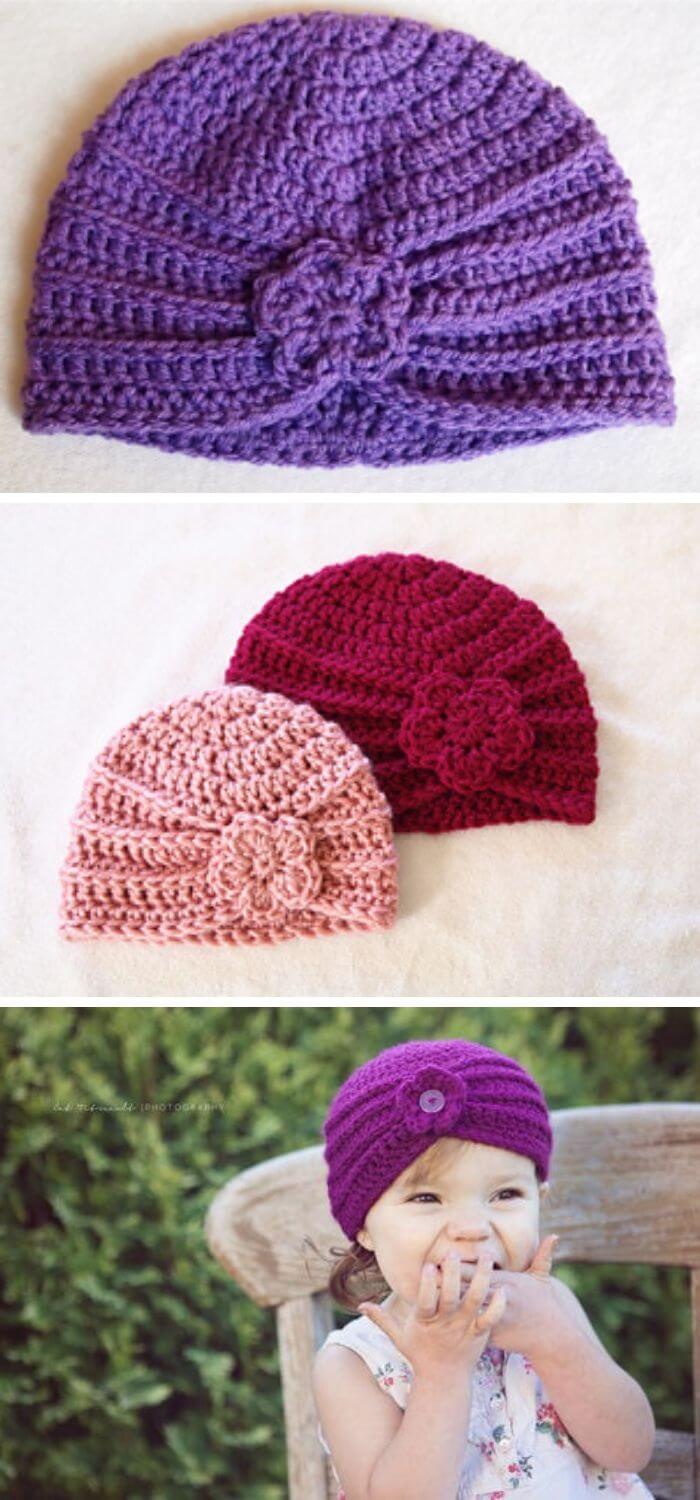 Crochet Textured Turban is a simple but yet unique pattern that could be tried out by anyone. This particular pattern is made up of simple stitches and the interesting part is that it is produced in multiple sizes ranging from baby size to adult size. Try it out.
2. Crochet Baby Turban Hat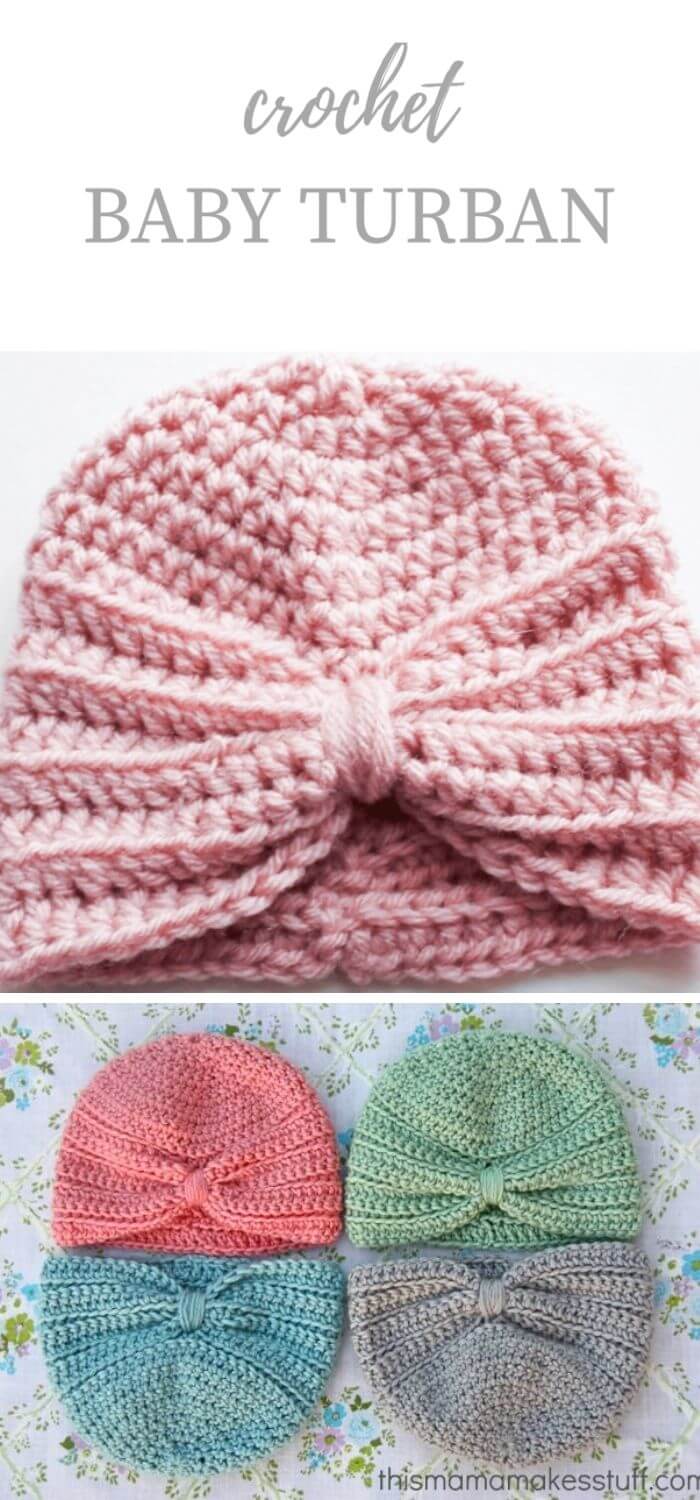 Are you looking for a hat pattern to get for your baby? Or you want to give a friend on her baby shower night? Then I would suggest you try out this wonderful simple crochet stitch with divers kind of colour out. 
3. Crochet Shell Stitch Turban Hat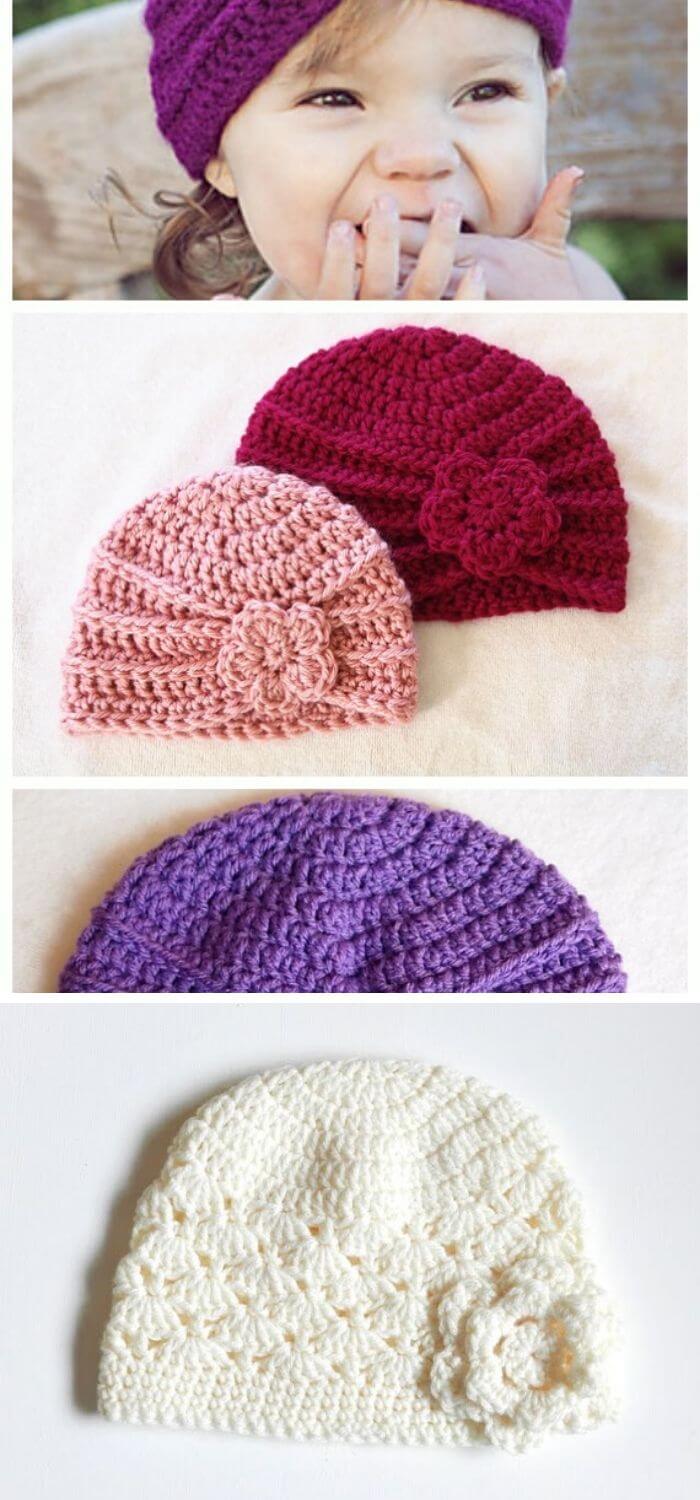 This Crochet pattern is a well-fitted hat patter that most ladies love to wear. Aside from the general likeness people have for crochets, there is a particular magic about this pattern and that is the fact that it makes ladies look smart whenever they put it on. I bet you might consider rocking this in your next hanging out with friends.
4. Crochet SOHO Turban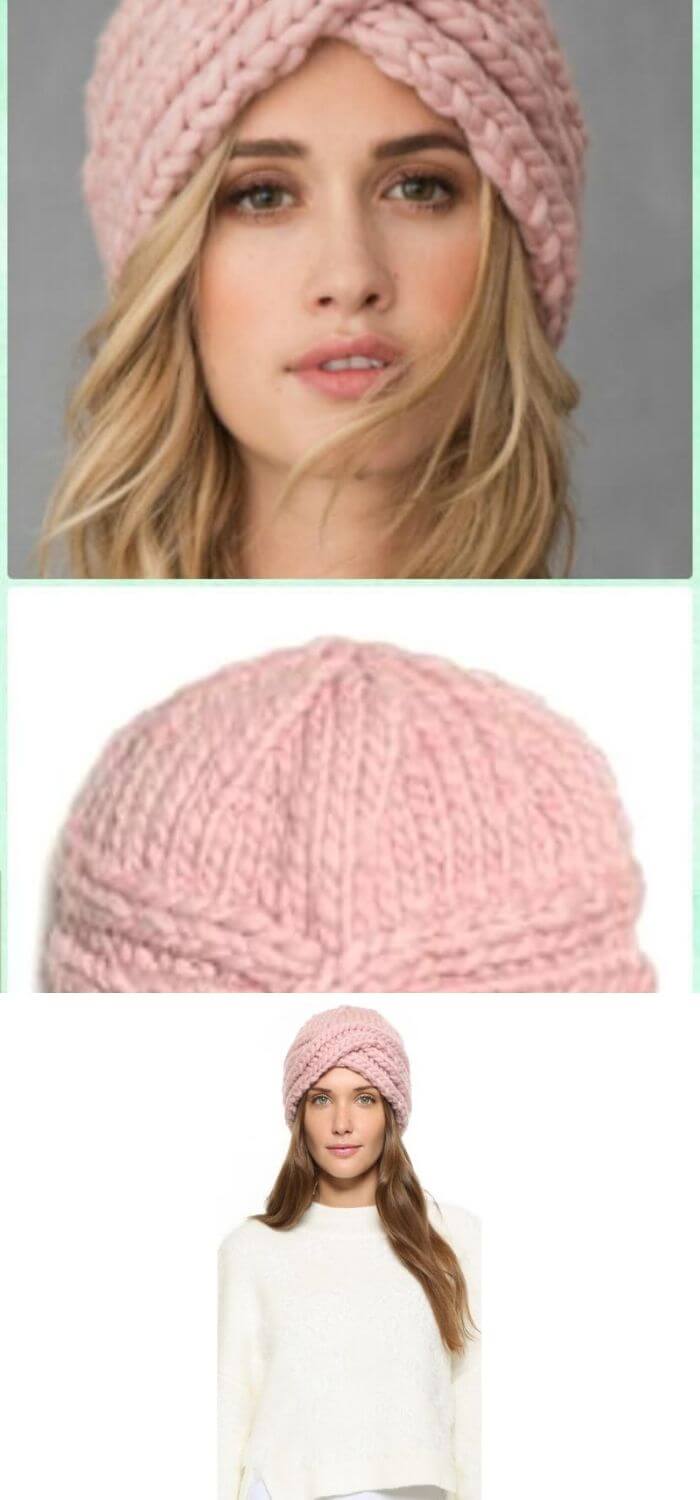 Are you planning on looking sophisticated in your next outing? Is the weather cold a little and you wish to keep your head warm and yet look nice and appealing? SOHO pattern might just be the best pattern you need to try out.
5. Crochet Hollywood Style Turban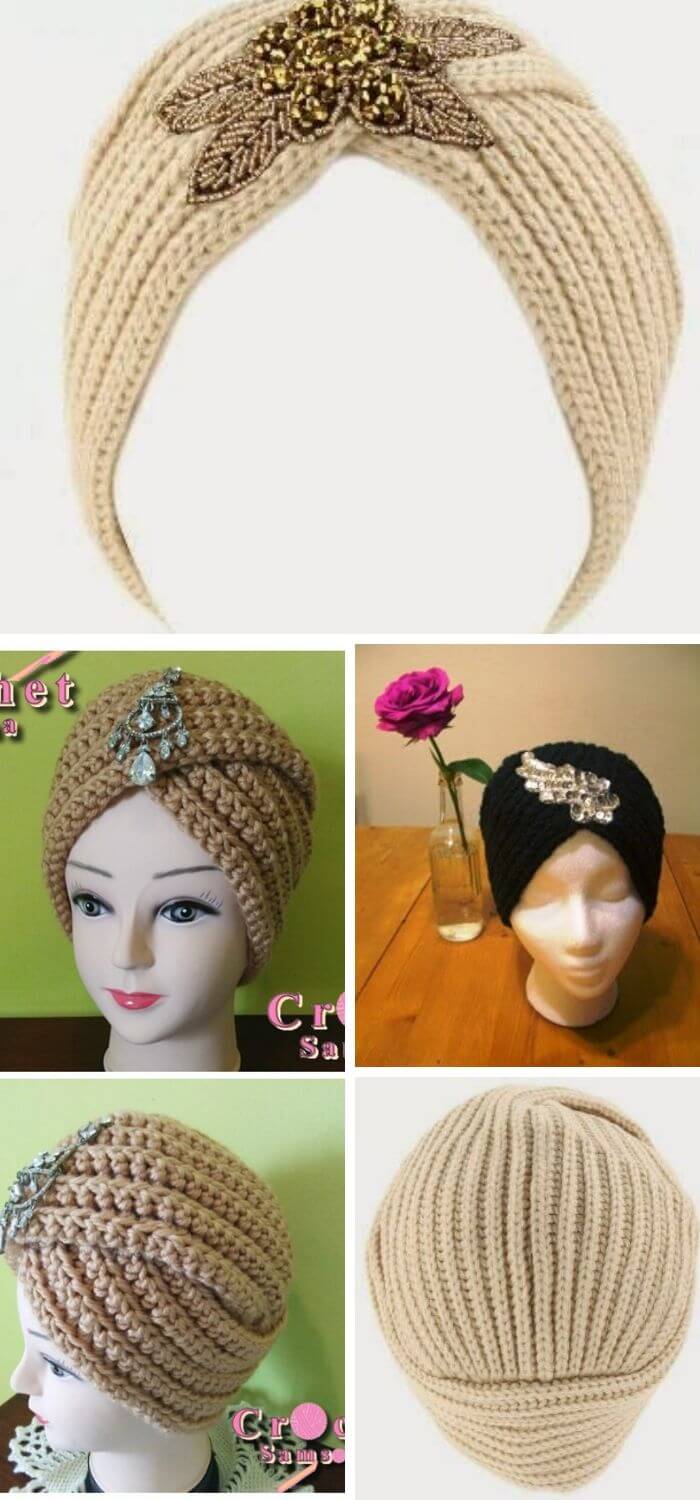 This pattern is one of the best Crochet hats you might want to have your pretty daughter wear. It looks smart on teens better.
6. Shell Ribbed Turban Hat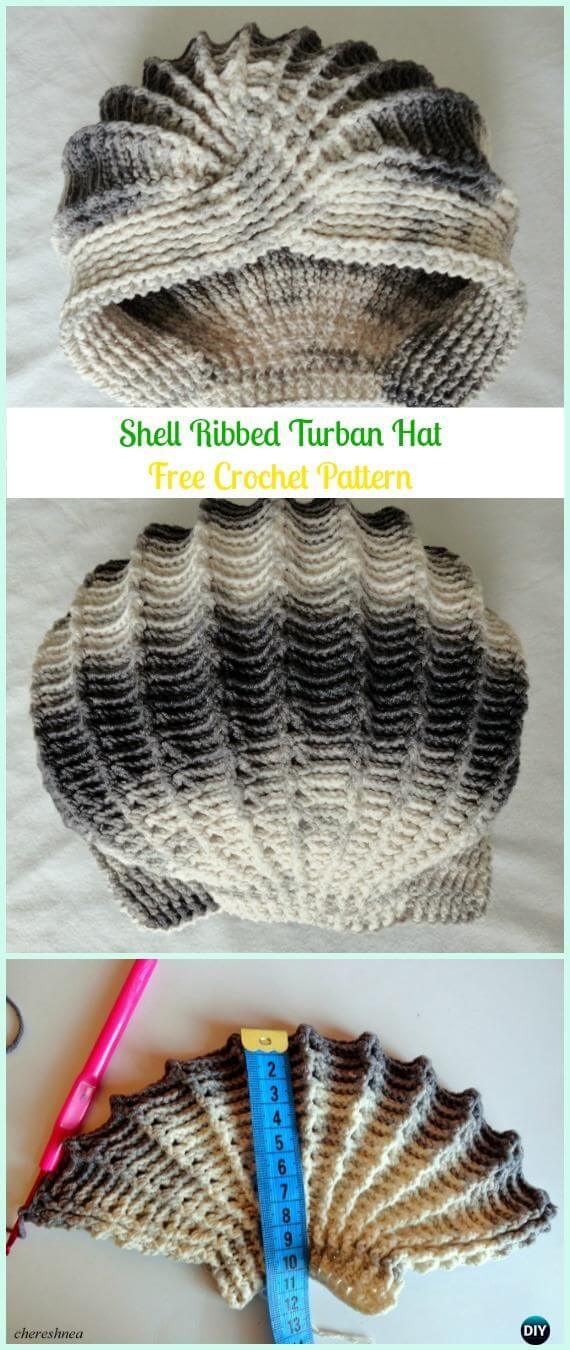 Shell Ribbed Turban Hat is a beautiful pattern that is lovely on small girls. From stories and pictures captions, it has been proven to be a pattern that always looks beautiful on whoever is rocking it. The good part is that it is an adjustable pattern such that both adult and teen can share the same Hat.
7. Crochet Turban Chemo Cap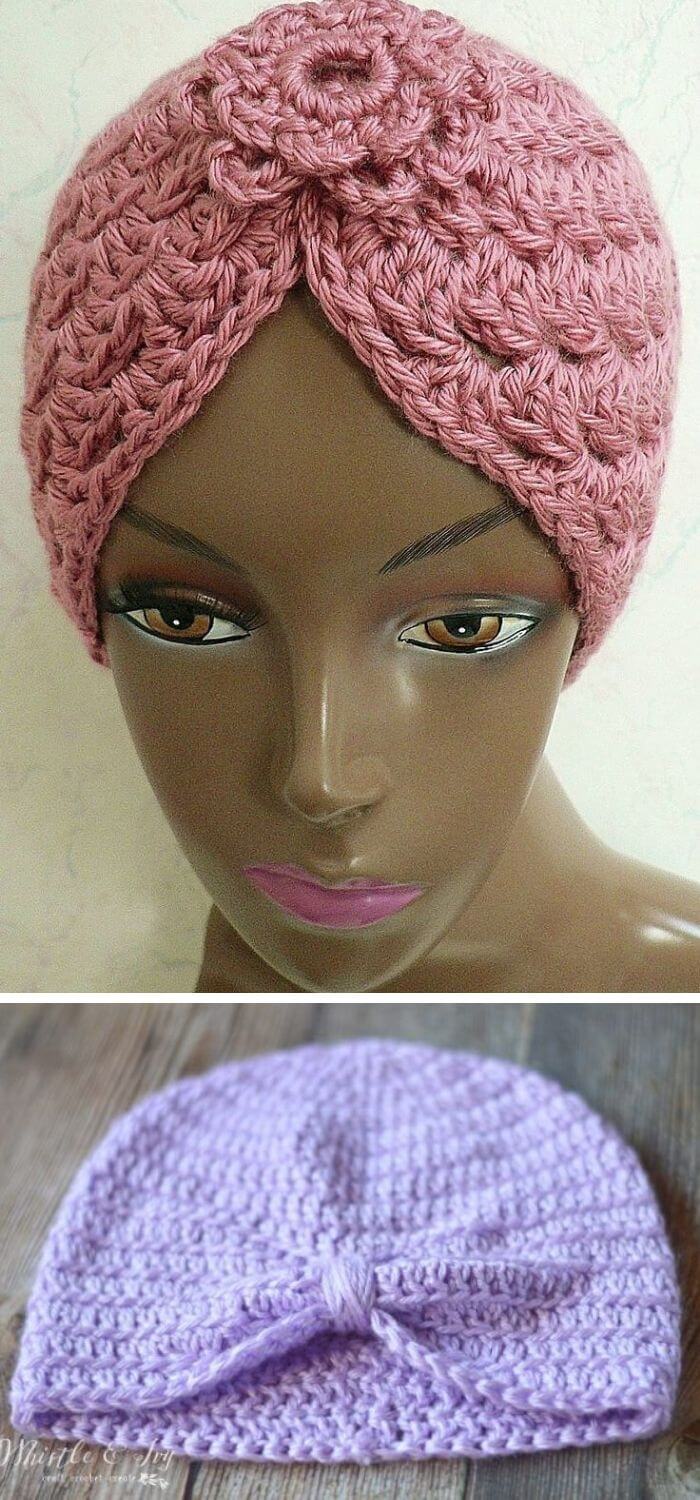 Are you looking for a pattern whose material is soft and with a smooth texture? Then you might have to consider going for a Chemo Hat Pattern. This also looks good on anyone irrespective of their age. 
8. Crochet Ribbed Turban Hat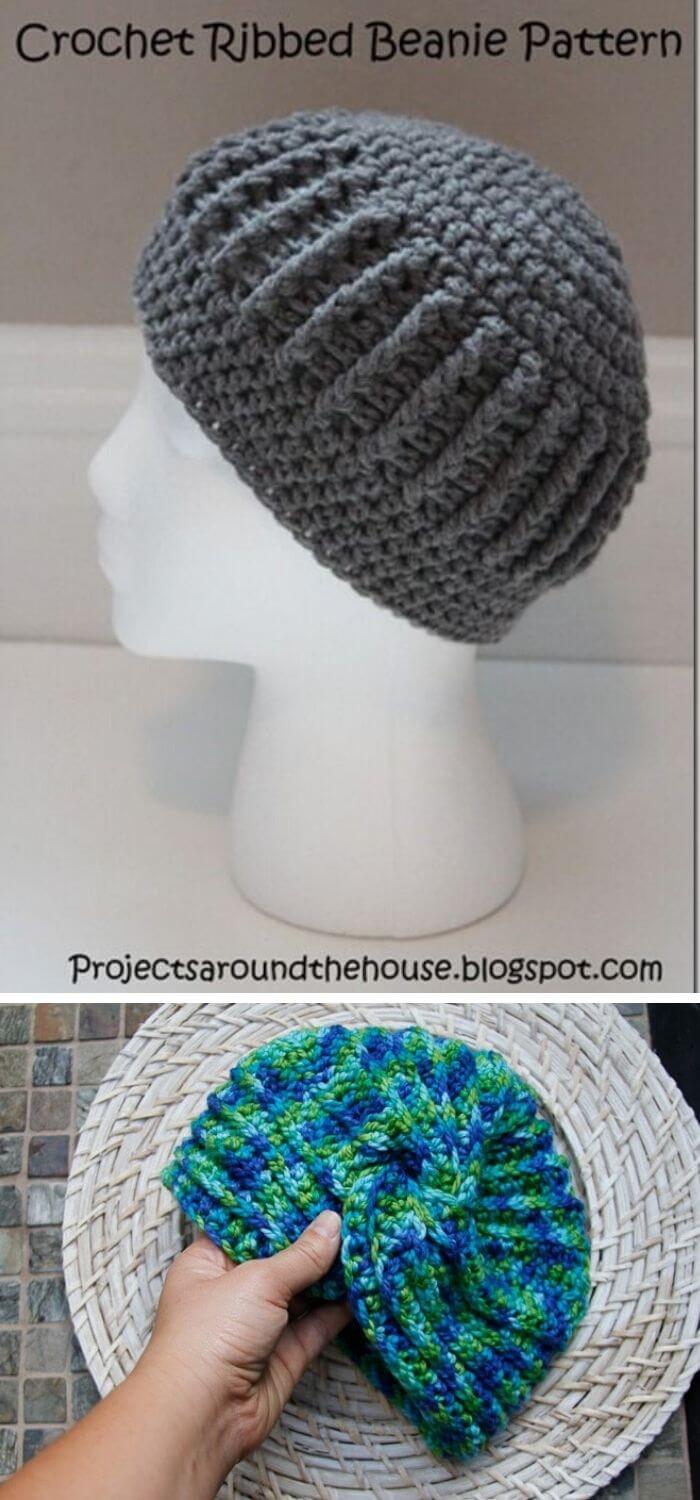 This pattern is especially known for its high cold resistance ability. While it is saving you from cold, it is also beautifying your beauty by adding to your good look and also giving you that smart look you've always been craving for.
9. Crochet Bow Turban Hat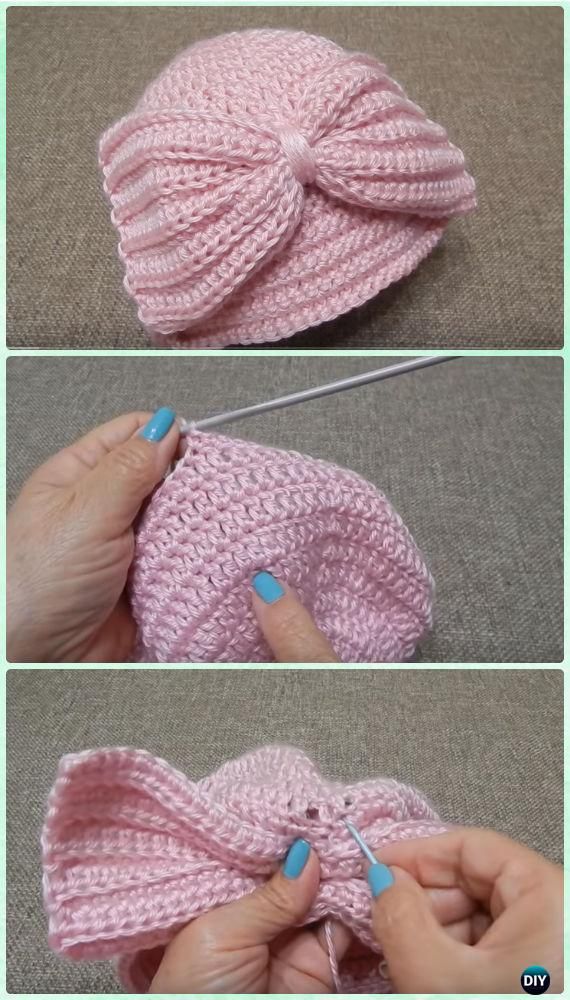 Crochet Bow Turban Hat is a pattern that is distinct and unique. This pattern is readily available for babies, teens, and adults. They are well known for the special look that the wearers always possess and also, they give this warming and tender contact with human flesh. 
10. Crochet Eleanor Turban Hat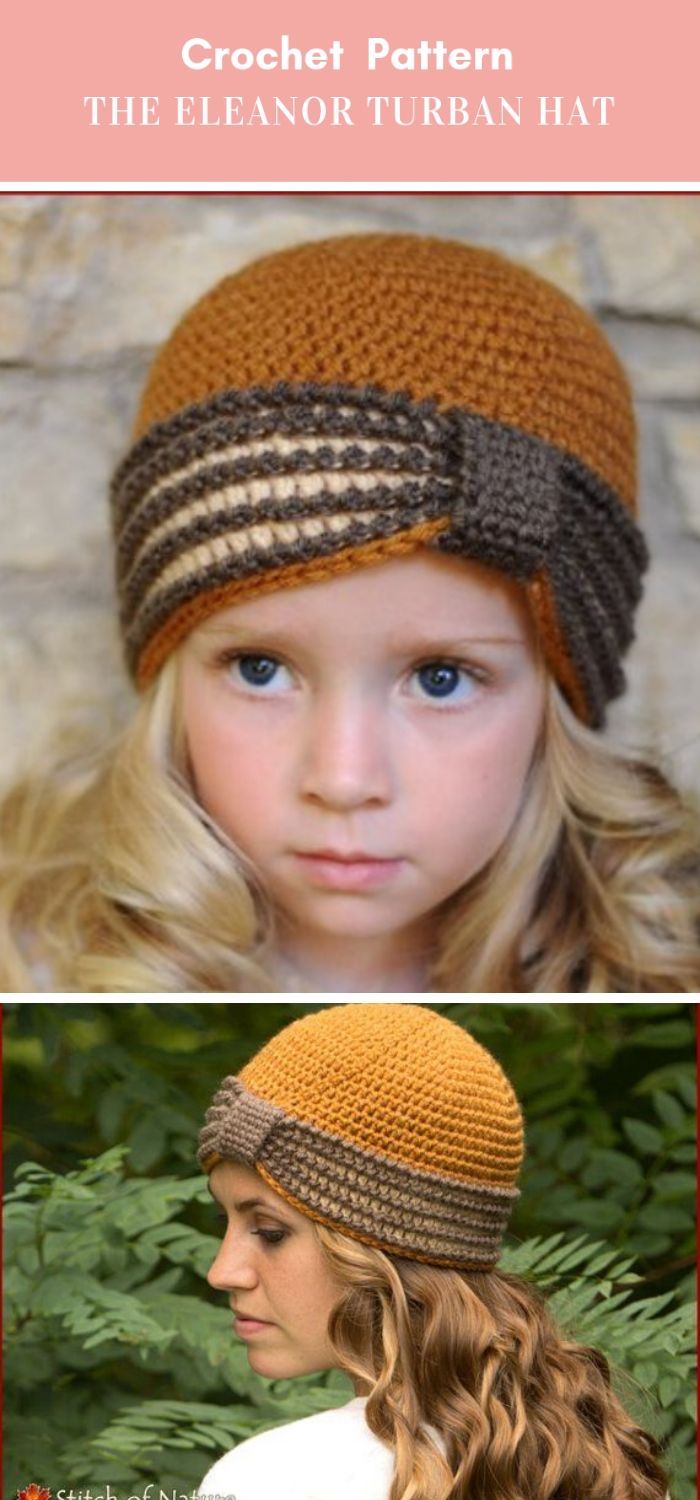 With this design, you are guaranteed to have an elegant and stylish look. This pattern is especially inspired by the classic and evergreen styles of the 20s.
11. Simple Striped Crochet Turban Hat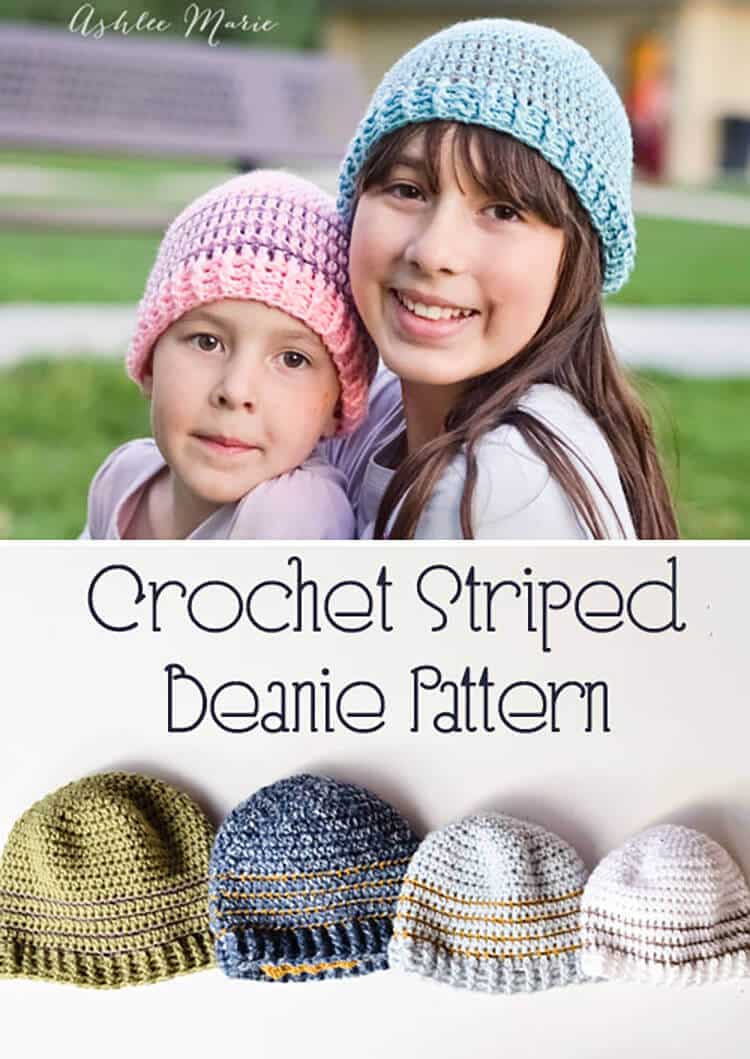 This pattern is beautiful and also very versatile in the sense that it exists in several kinds of variety. Besides, this pattern allows a combination of several colours which are always beautiful in all cases.
12. Crochet Turban Style Hat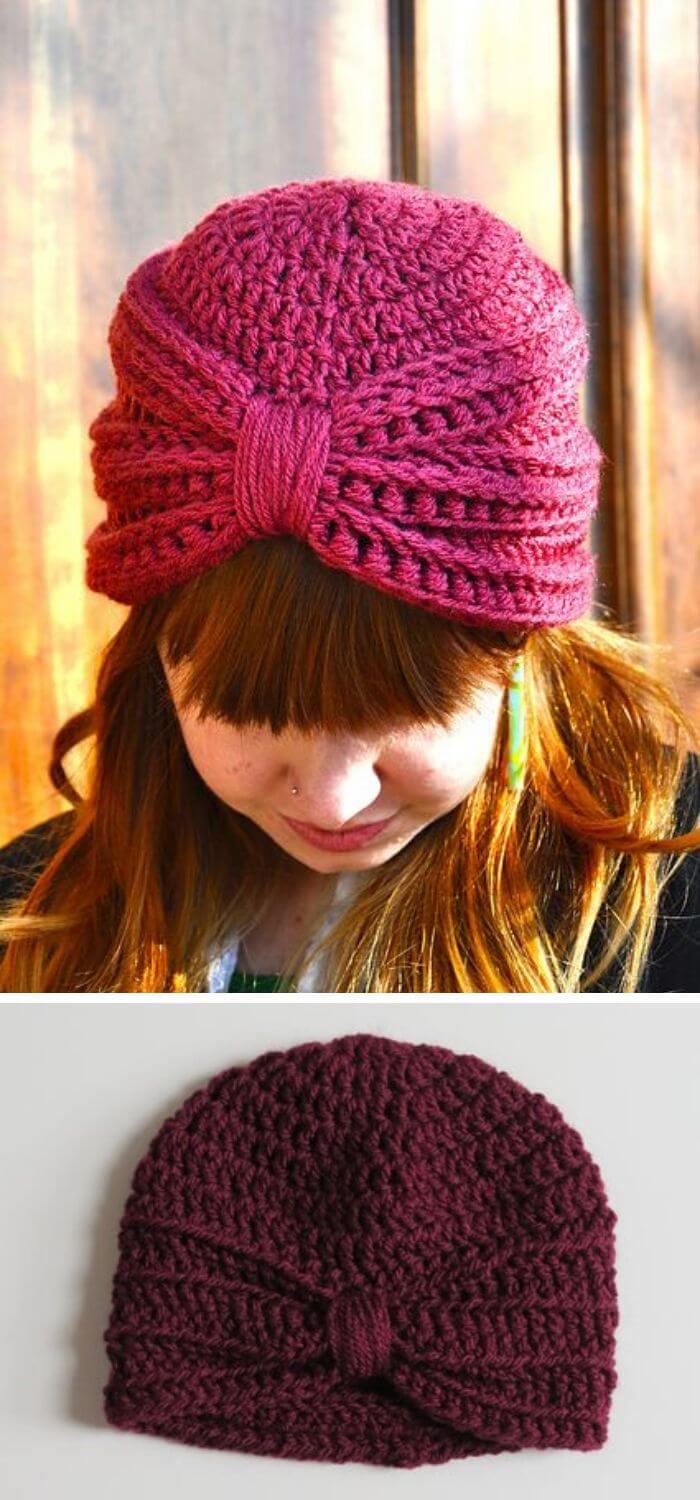 This pattern is always a good way of completing your facial expression as it adds to your beauty. Available for both young and old.
13. Crochet Turban Kids Hat pattern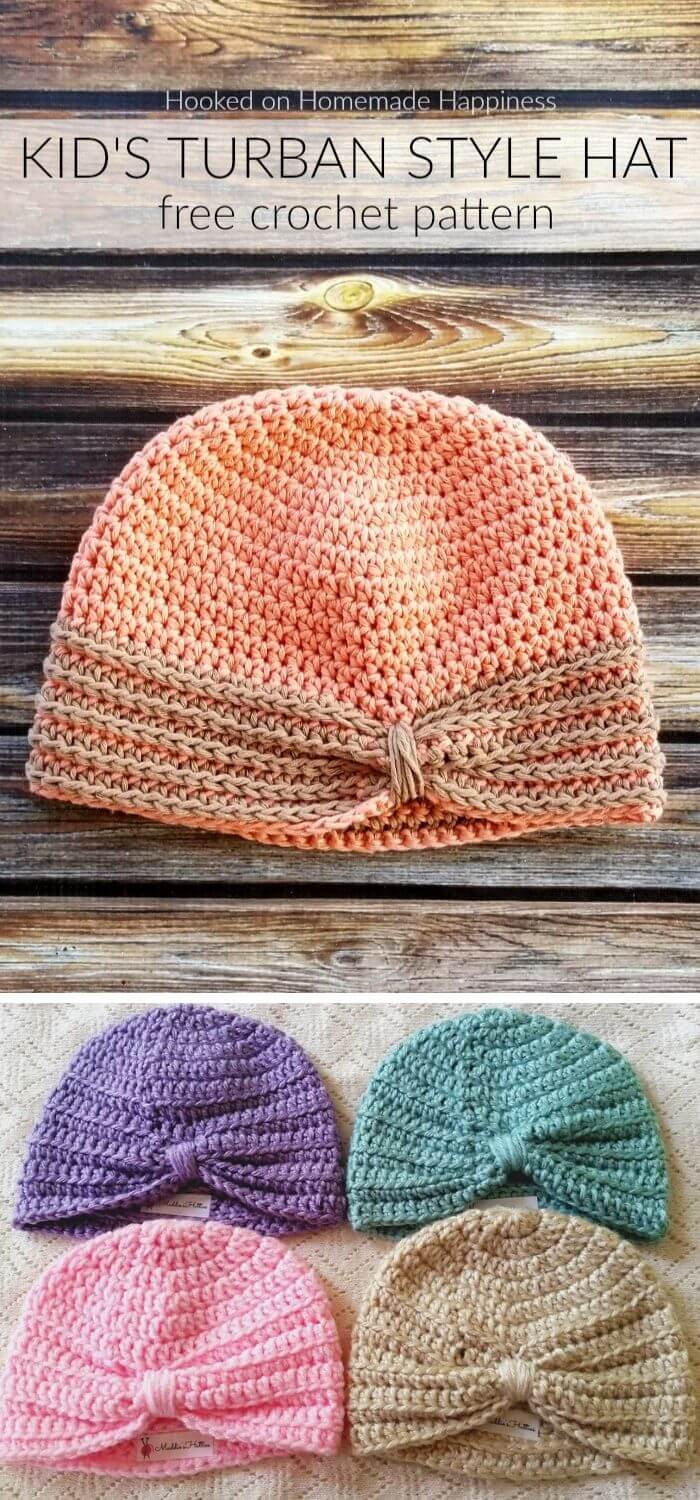 Do you want to make your baby look more radiant? Do you want to have her glowing all? Then you might need to consider getting this particular pattern and colour for your baby.
14. Jaya Crochet Turban Hat Pattern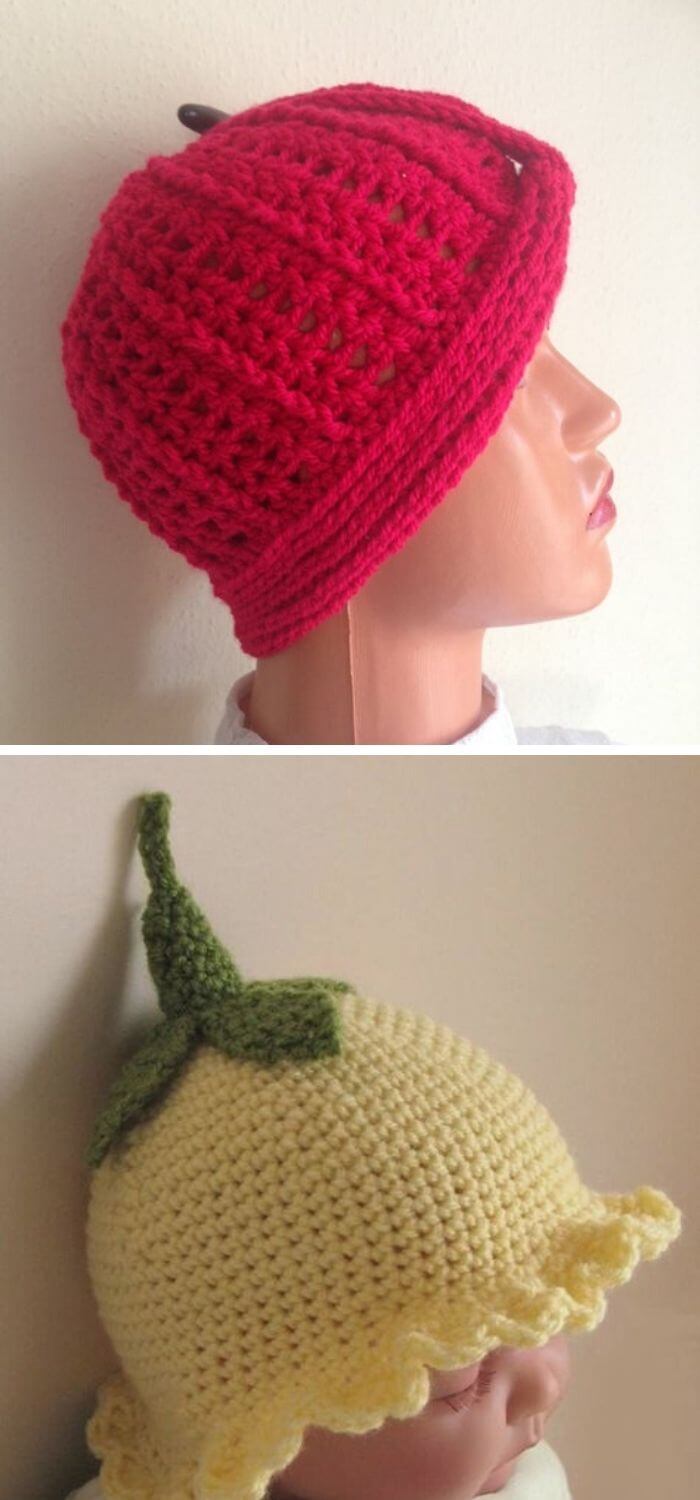 Do you want a pattern that is readily available for teens, adults, women, big girls, etc. then you have Jaya Crochet Turban which also supports several colours and also befitting to wear.
15. Crochet Turban Bucket Hat Pattern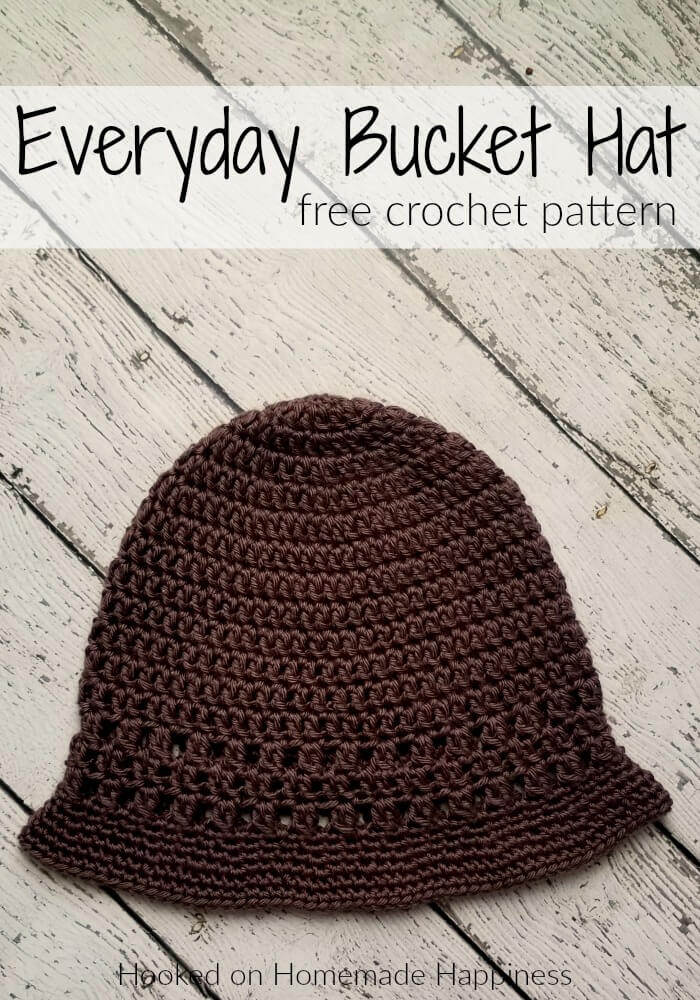 Looking for a more mature looking pattern? Would recommend you go to this pattern. It is beautiful
Conclusion
From our 15 listed different patterns of Crochet Turban Hat Free Patterns, we can now easily find our way around the best pattern to rock anytime for any outing or even as casual wear. All of them are the best, it's just a matter of the circumstance surrounding the usage.