Need some inspiration and ideas for your next crocheting project? Here we have 20 stunning free patterns for mitered granny squares, blankets, covers and baby accessories that will surely start the flow of your creative juices. These designs are suitable for everybody, from those just starting to crochet to the most experienced of crochet enthusiasts.

1. The plain granny square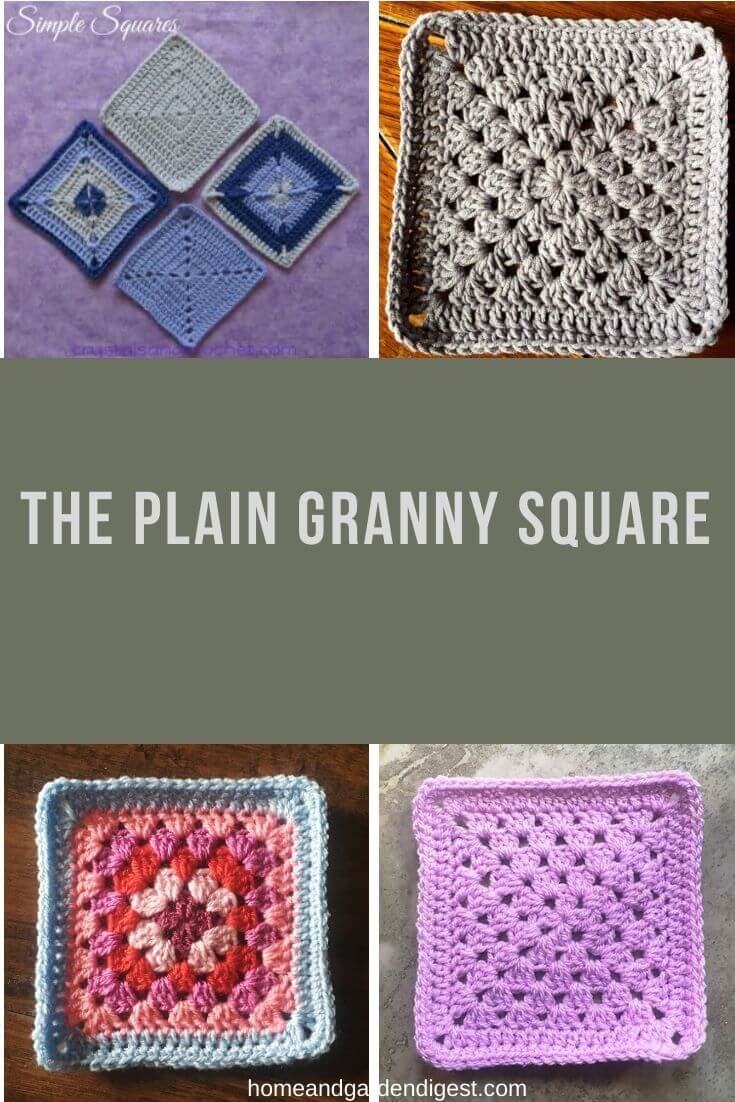 If you're a crocheting beginner than the plain granny square is the best place to start. It is very easy to make, but the results will still be impressive. The plain granny square is simple and elegant so it fits every space and has many purposes.
2. Colorful mitered Granny Square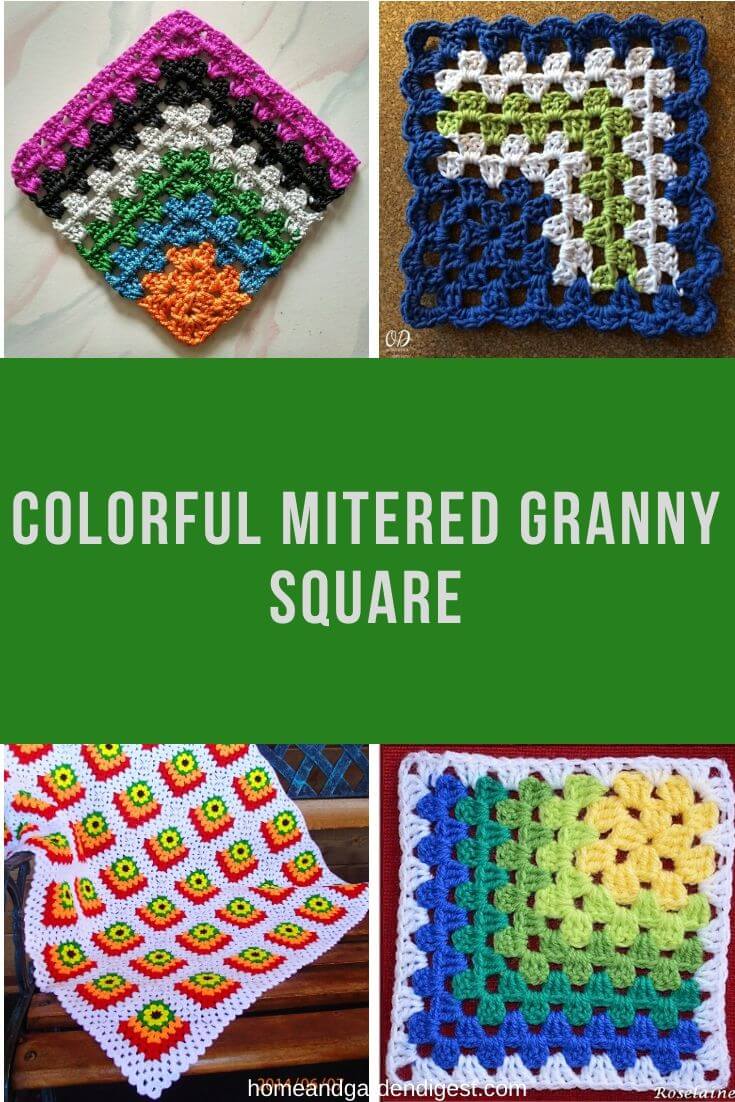 This is a typical colorful mitered granny square that's pleasing to the eyes and can liven up your room. You can change the colors and make it a perfect match for your other home decor.
3. Daisy square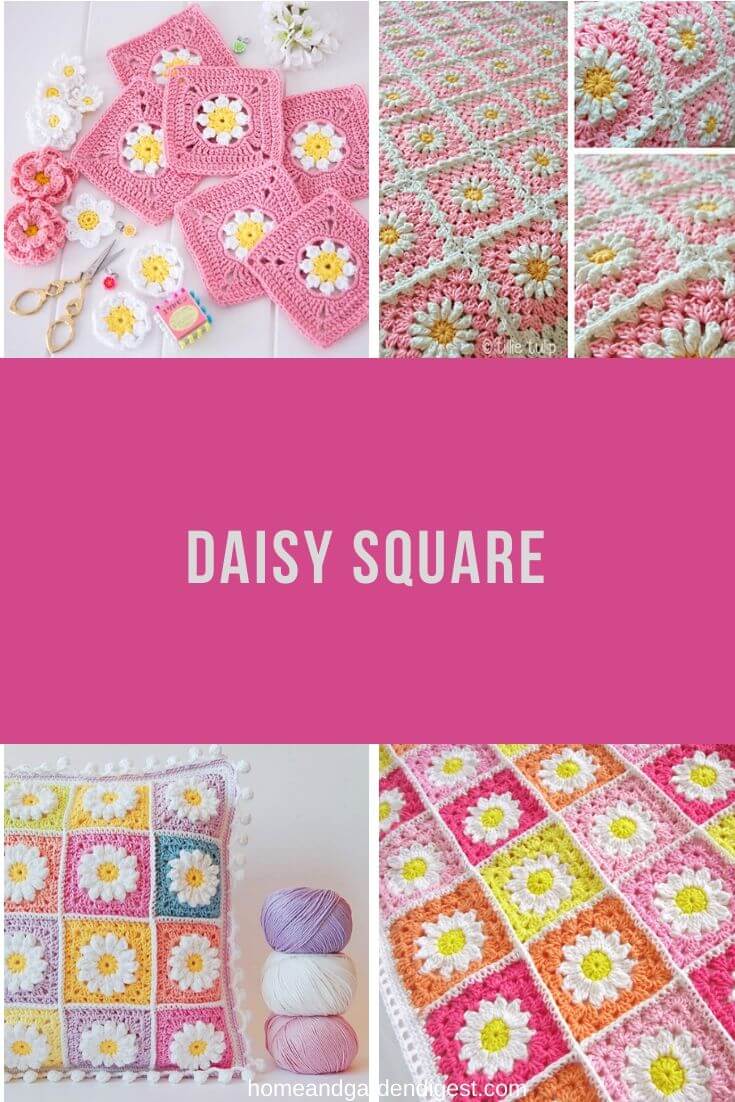 The daisy square is a lovely pattern that incorporates a flower into the typical mitered granny square for more cuteness. It looks amazing when crocheted into larger throw blankets or bed covers.
4. Baby blanket pattern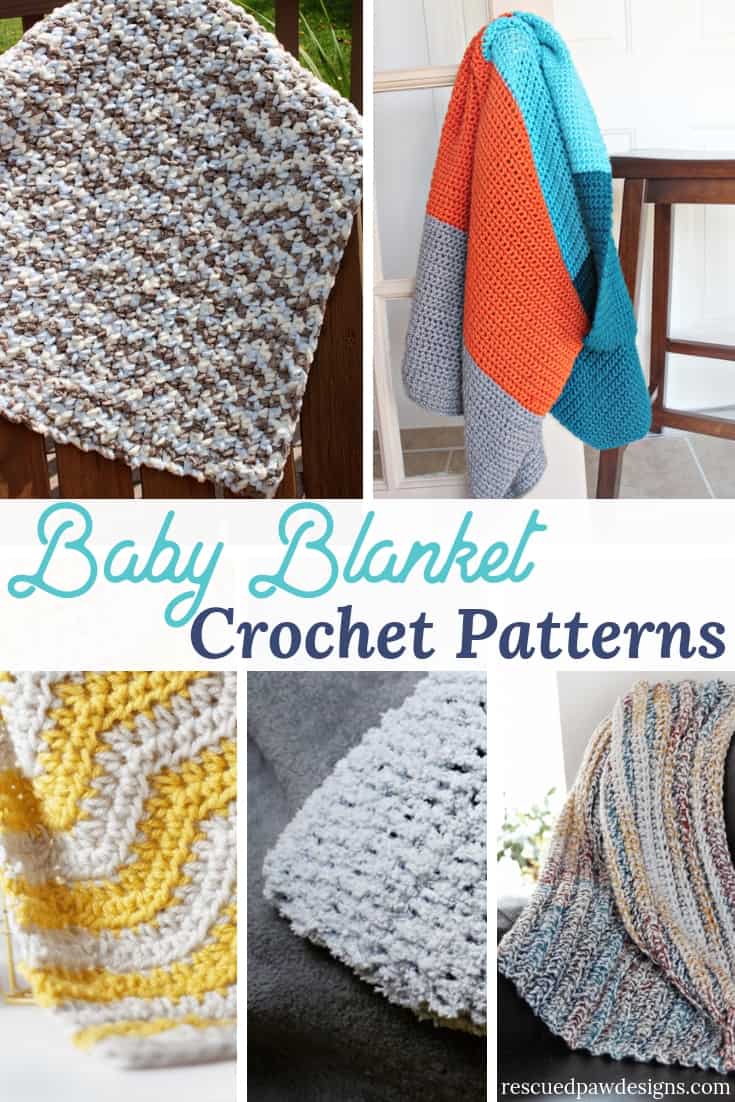 Every baby needs a special homemade blanket with lots of love crocheted into it. This pattern uses multiple mitered squares but creates a variation on the design by alternating the colors.
5. 3″ Crochet Afghan Square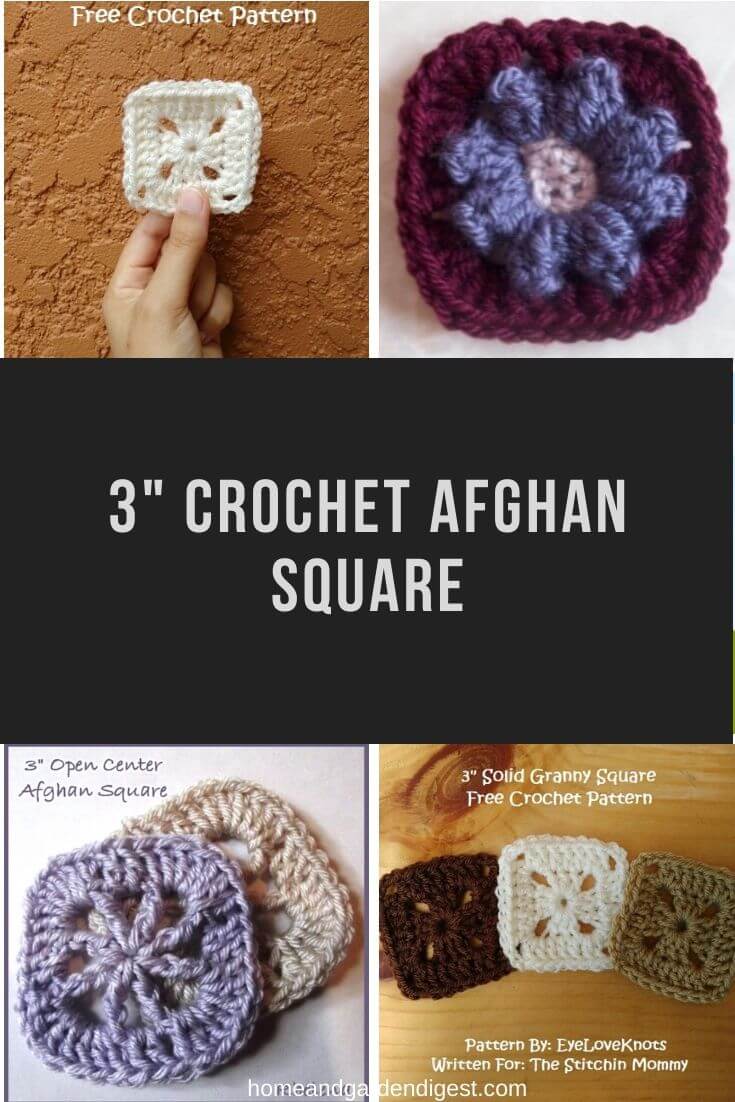 A central design compared to the corner granny square, this Afghan square looks especially lovely in tri-color variations that include bright colors, like the red shown in the image.
6.

Mitered Modern Granny Afghan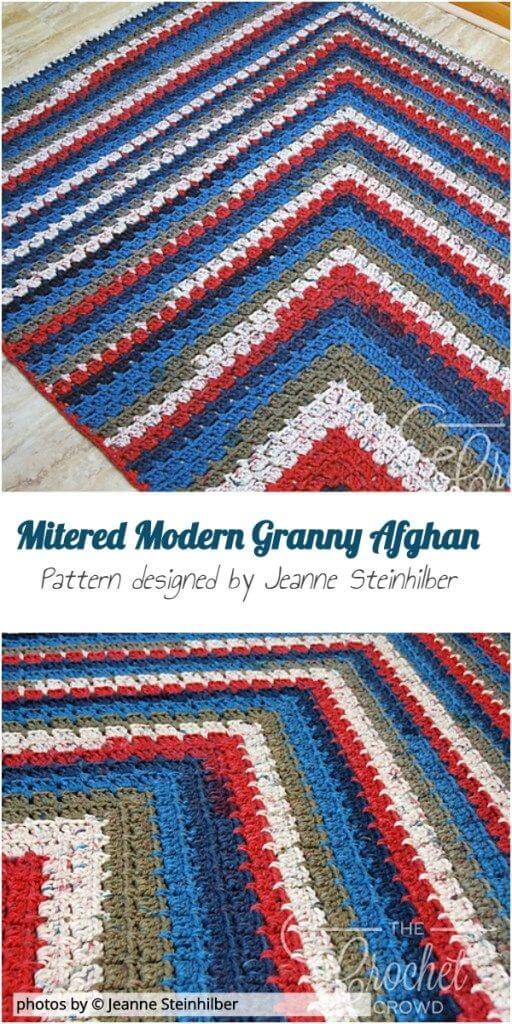 If you want to move away from the traditional square design you can opt to make this modern granny afghan. It looks very distinguished and is full of modern elegance.
7. Dishcloth square pattern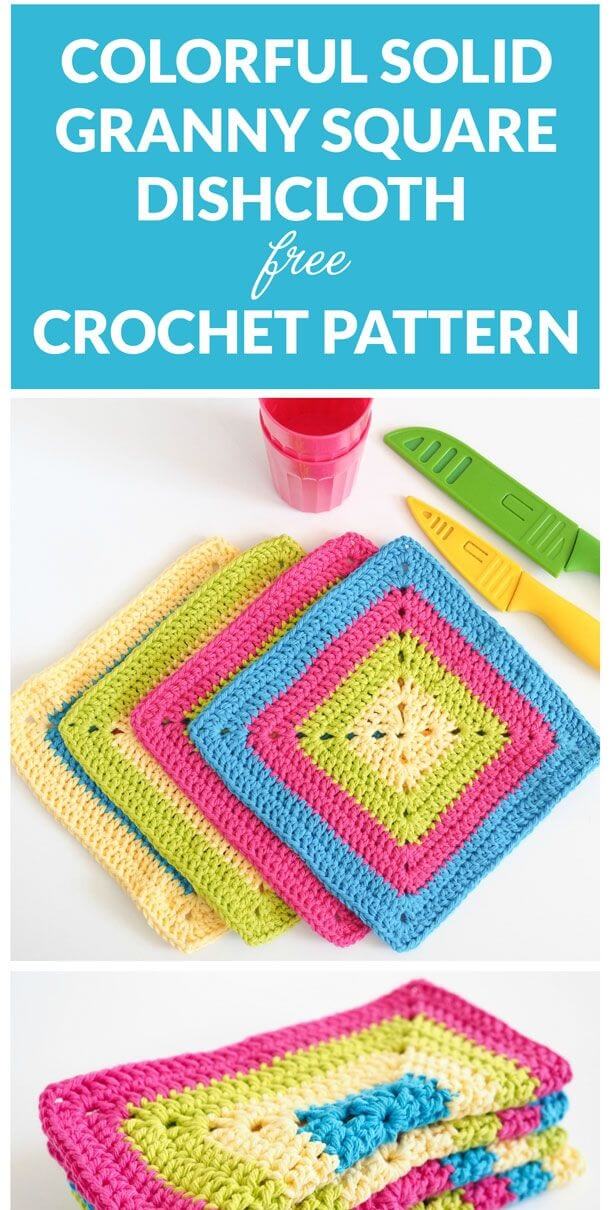 Here's a variation of the granny square that the designer believes is most suitable for dishcloths. The corner crochet is the same color as the border making for a simple and utilitarian design that will look at home in just about every kitchen.
8. Bernat mitered granny square throw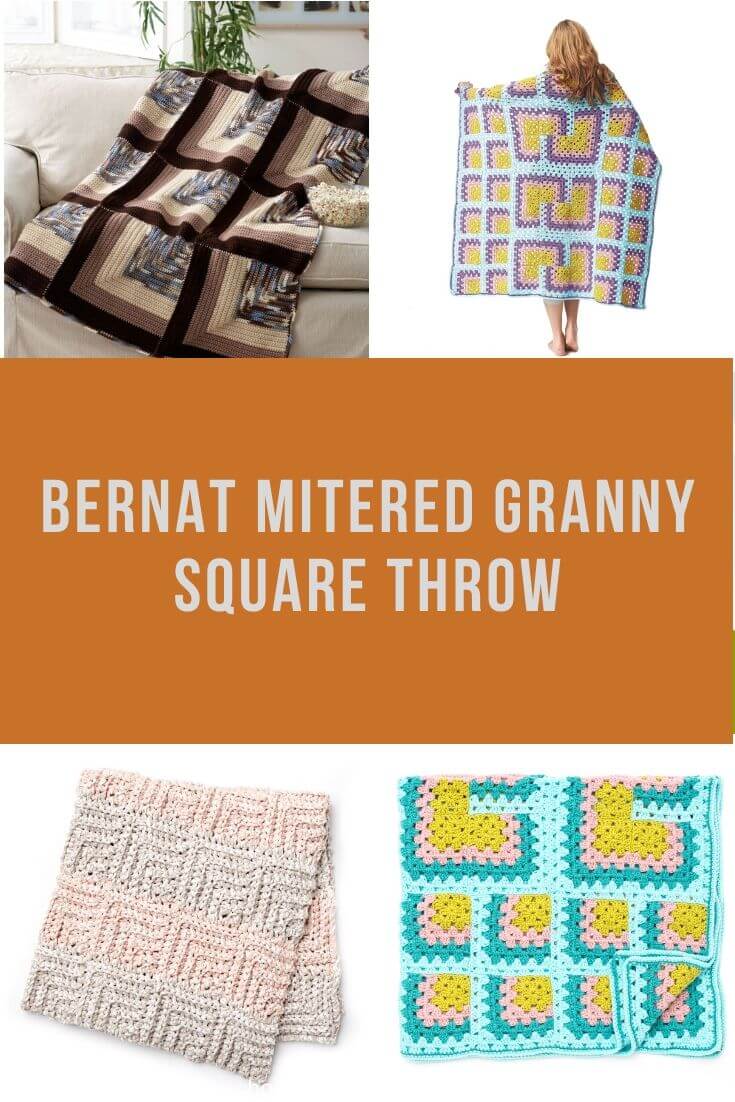 Here's a more advanced crochet pattern that alternates the squares and places them against each other for a lovely and eye-catching effect. Looks best in a combination of gentle and bright colors.
9. Purple two tone crochet pattern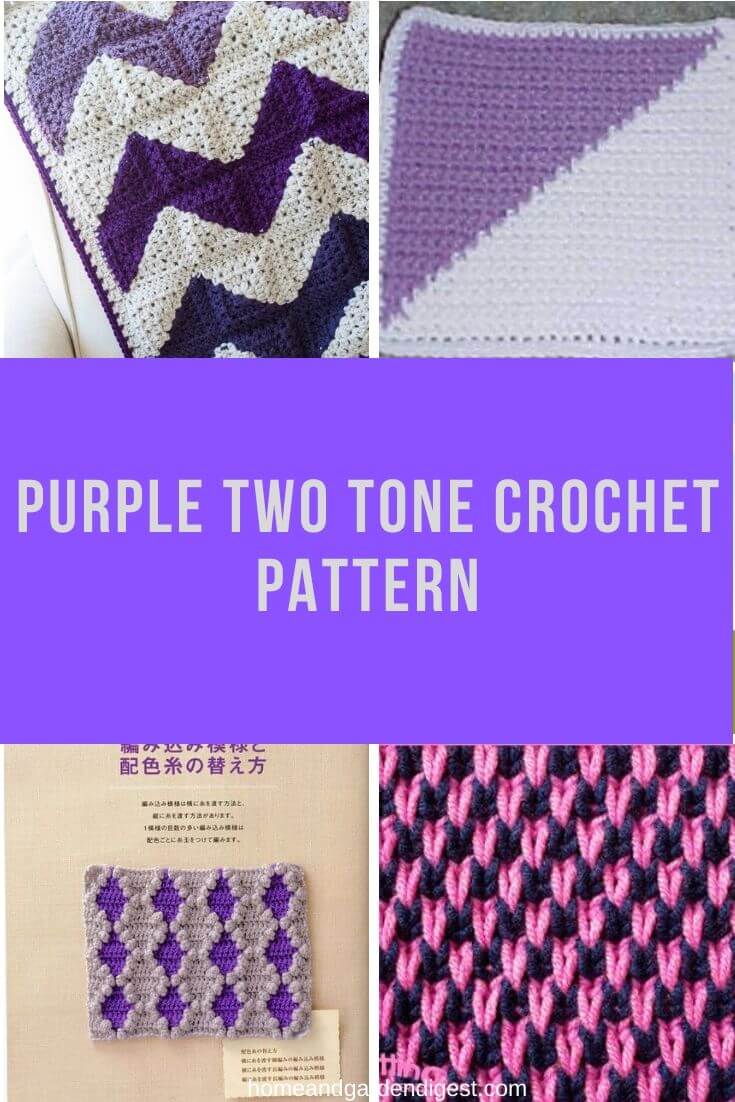 A simple but effective two-tone pattern that is easy to make and will bring warmth into your home. It's great for baby blankets, caps and scarves.
10. Large square crochet pattern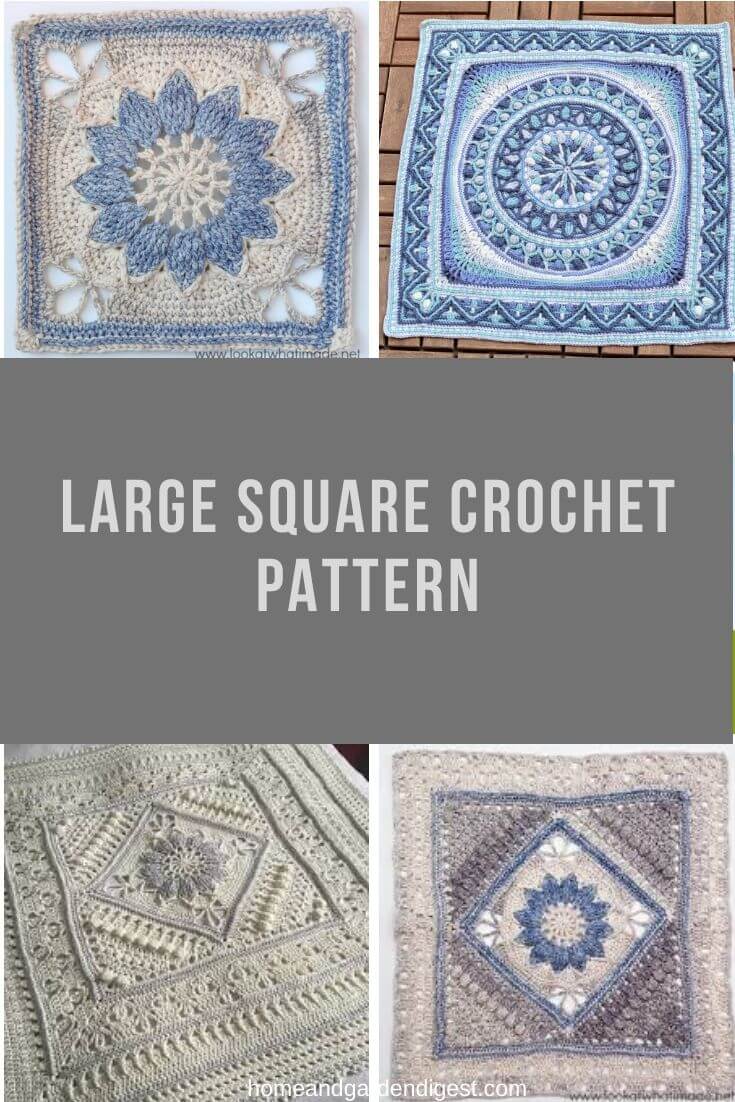 A modern and extravagant design that will please those looking to spice things up in their home. It will make for a warm and homely atmosphere in your living room while stepping up your design game.
11. Chunky chevron crochet pattern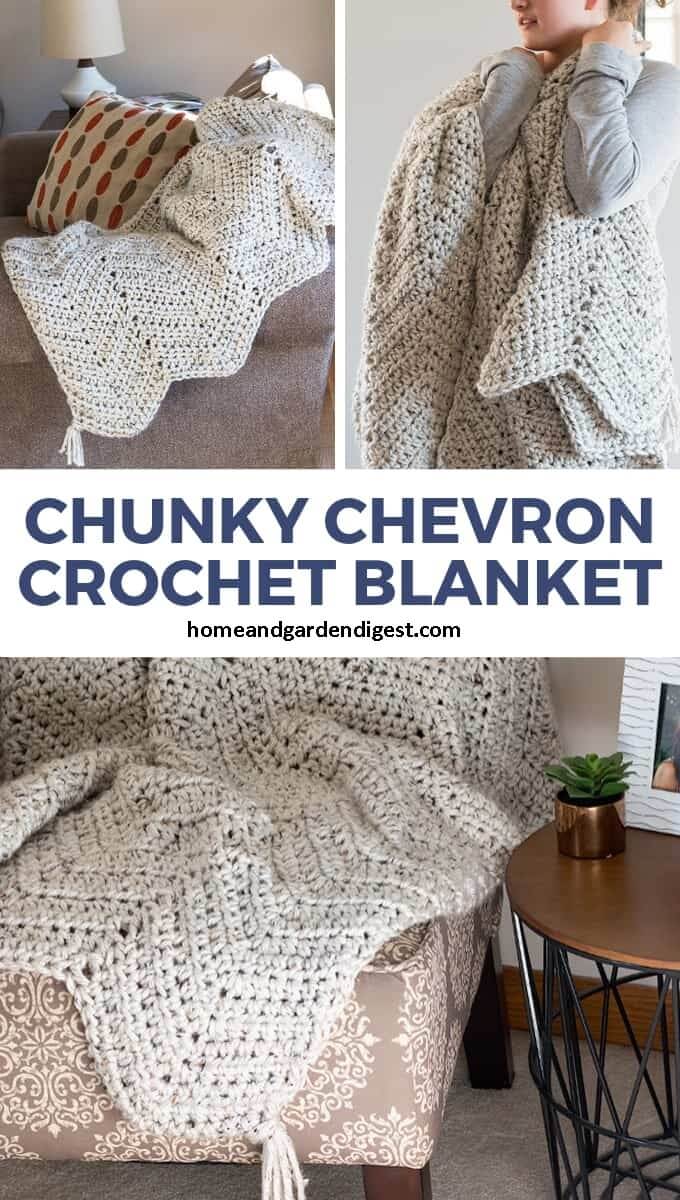 A crochet pattern with a unique name and a unique design. It's irreplaceable when it comes to making cute baby accessories with an air of modern elegance.
12. Mitered floral granny square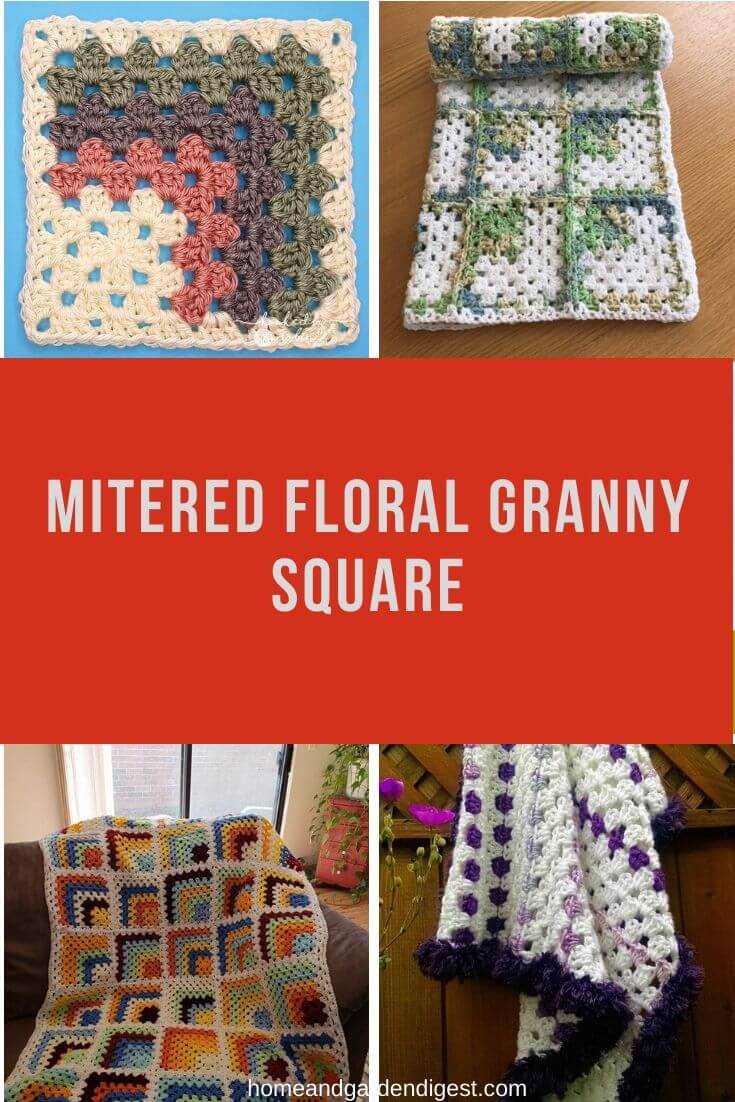 Here's a more daring variation of the classical floral granny square pattern. It contrasts dark and bright colors for an eye-catching effect.
13. Pastel mitered granny square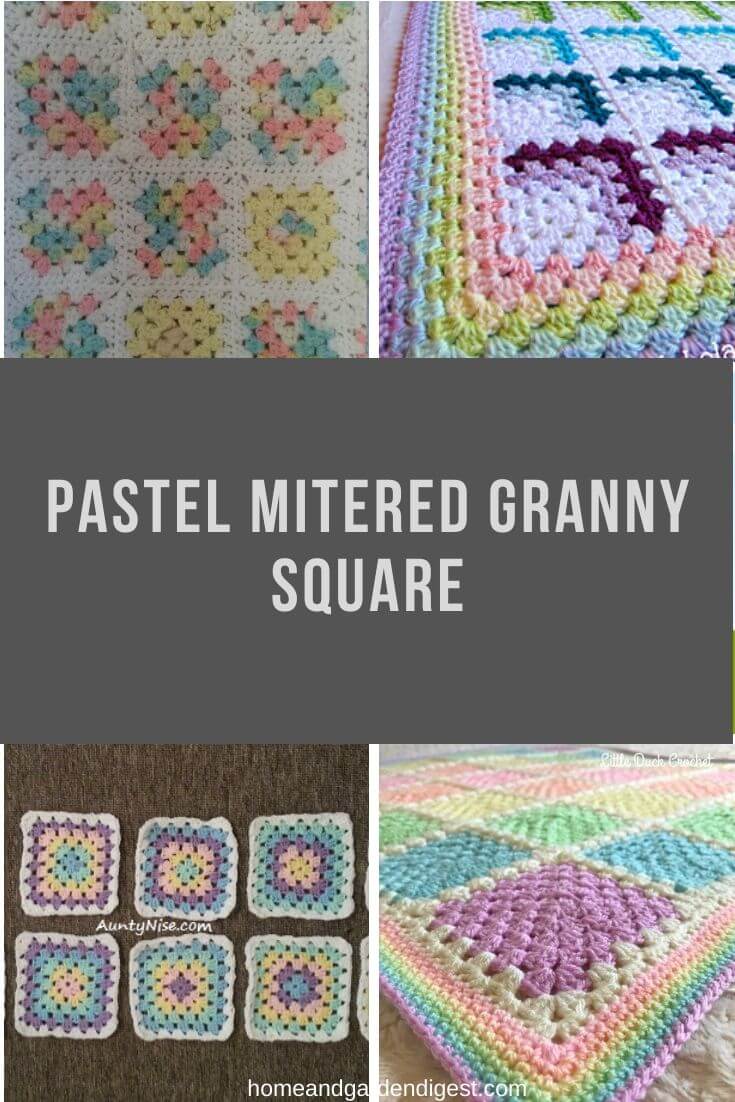 Another modern design that relies on multiple pastel colors to achieve a very fashionable look. It will give your home extra warmth but also make it fit for a home decor magazine.
14. Granny square bloom pattern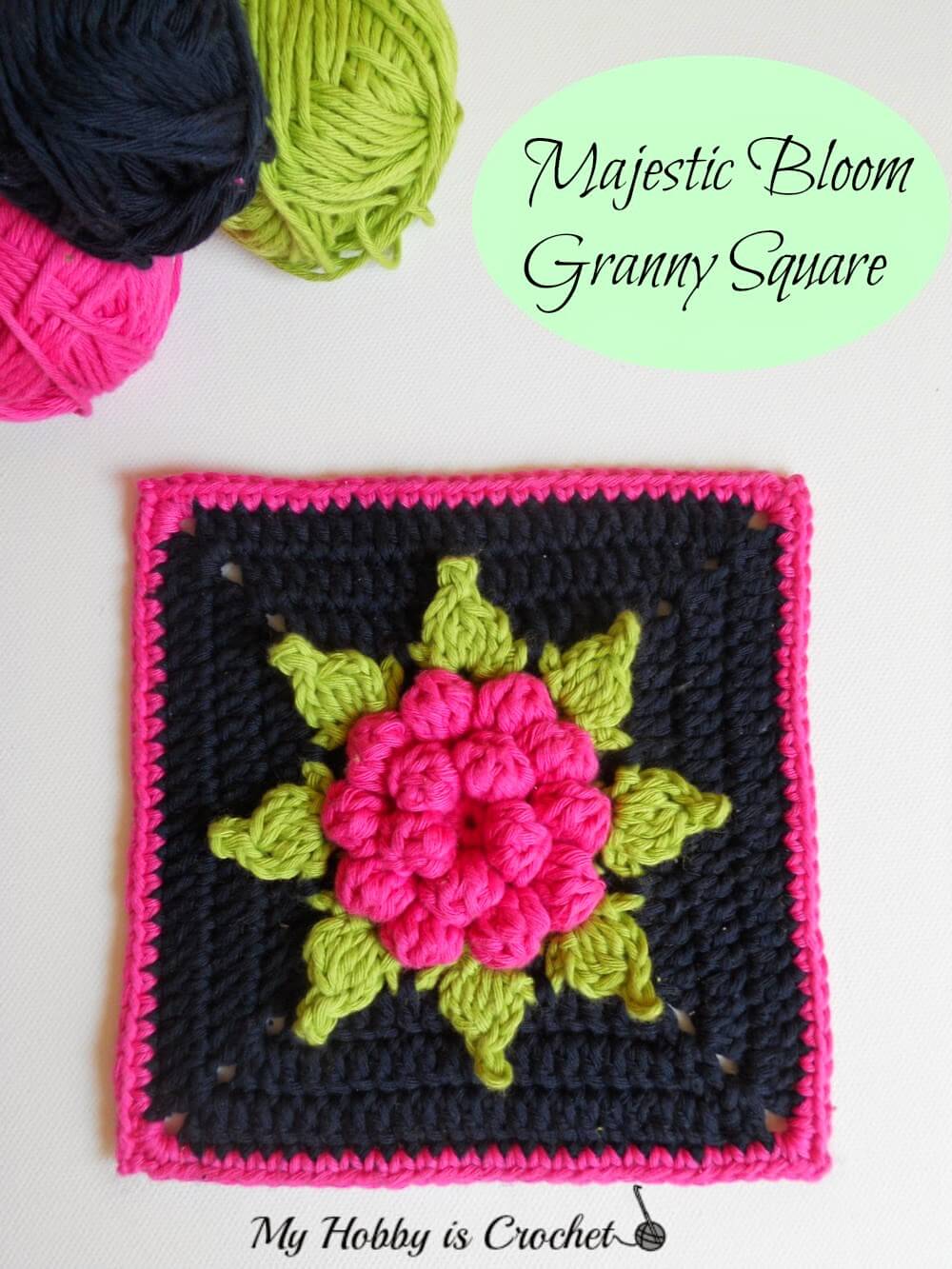 The force (of the flowers) is strong in this one. As you can see, the floral element is the central motif here making for a very cute pattern that works great on blankets and accessories for girls and young women 
15. Jacob's star afghan
Here's a pattern for those looking to step away from the square design. Yes, this one will be a bit more complex to make, but the reward will be a very impressive design that will leave crocheting fans visiting your home impressed and inspired.
16. The Namaqualand blanket pattern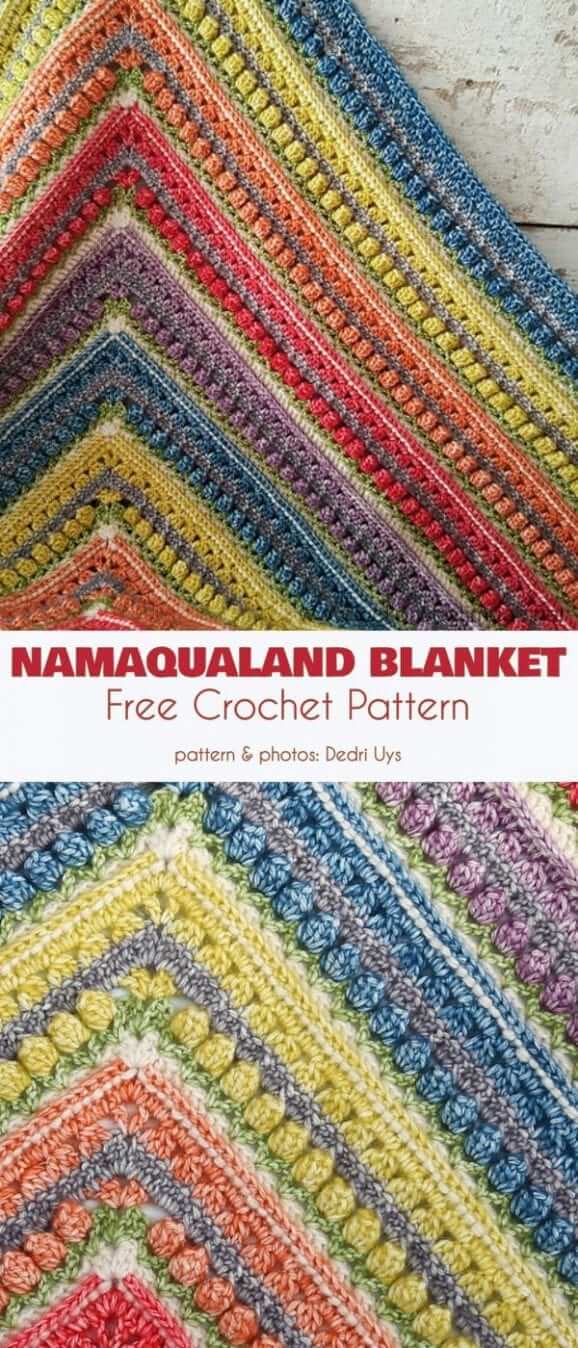 Inspired by the Namaqualand flower, this pattern is a real conversation starter. It is tasteful and looks at home just about anywhere. It's carefully selected pastel flowers create an illusion of blooming before your eyes
17. Block stitch baby pattern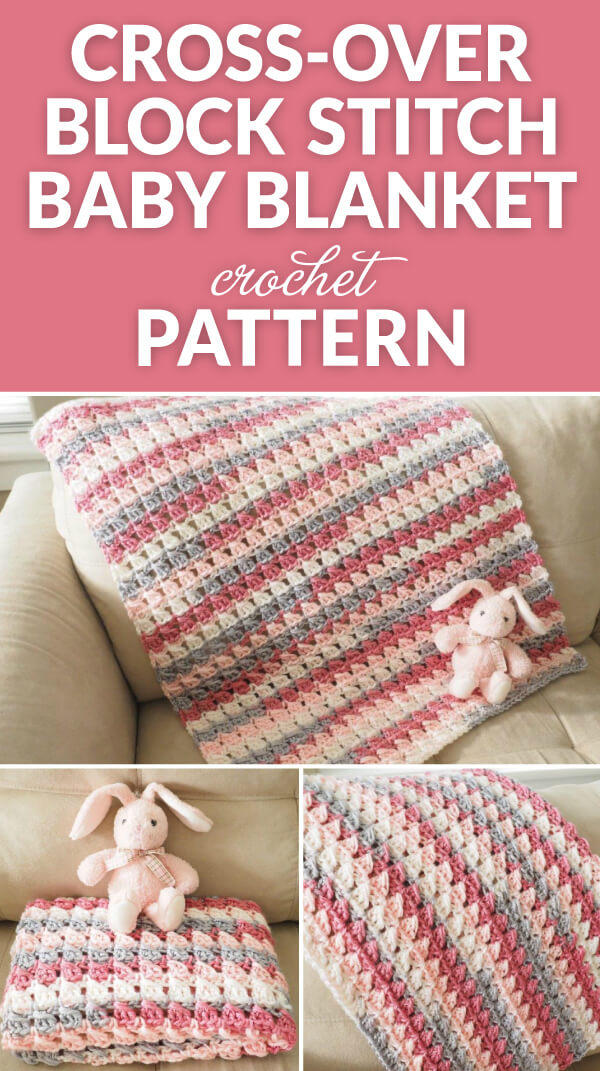 Here's yet another design that looks amazing in nursery rooms and on baby cribs. It's a block pattern different from the typical granny square, making it a bit more creative. Make sure to leave a thick border of the same color on the outer square for extra elegance points.
18. Candy blanket pattern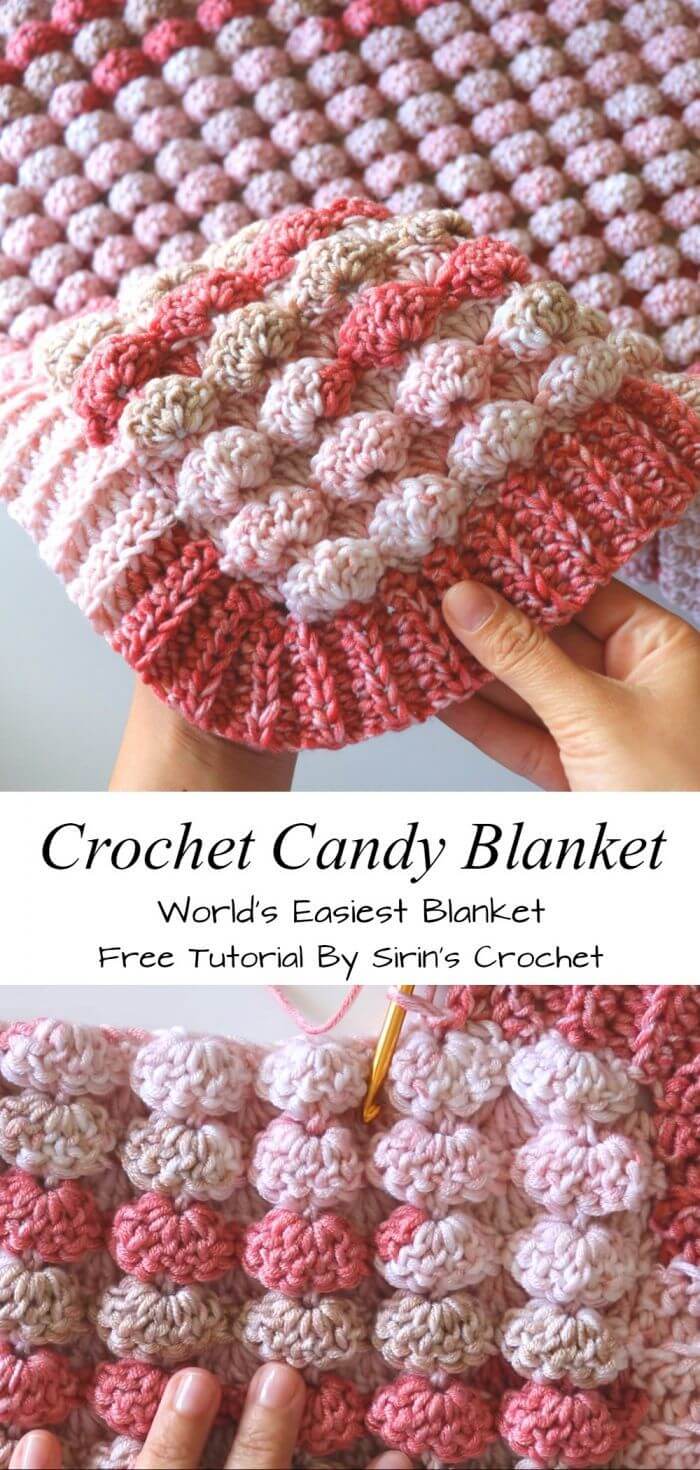 This is a 3d crocheting square pattern that might seem daunting when you try it for the first time, but once you get the hang of it you will realize it's a lot easier than it seems. It feels simply amazing in your hands.            
19. Corner granny Afghan pattern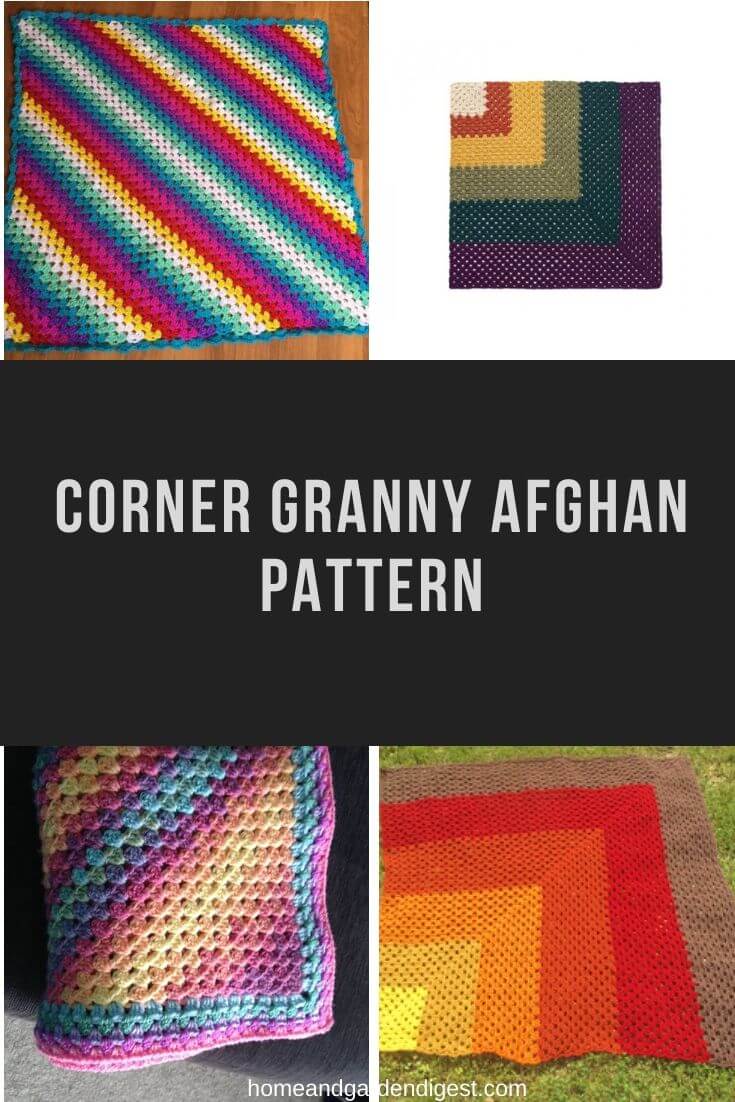 Another elegant Afghan pattern that seeks to please distinguished taste. Looks amazing on modern furniture with deep and dark wooden accents.
20. Sunburst Granny Square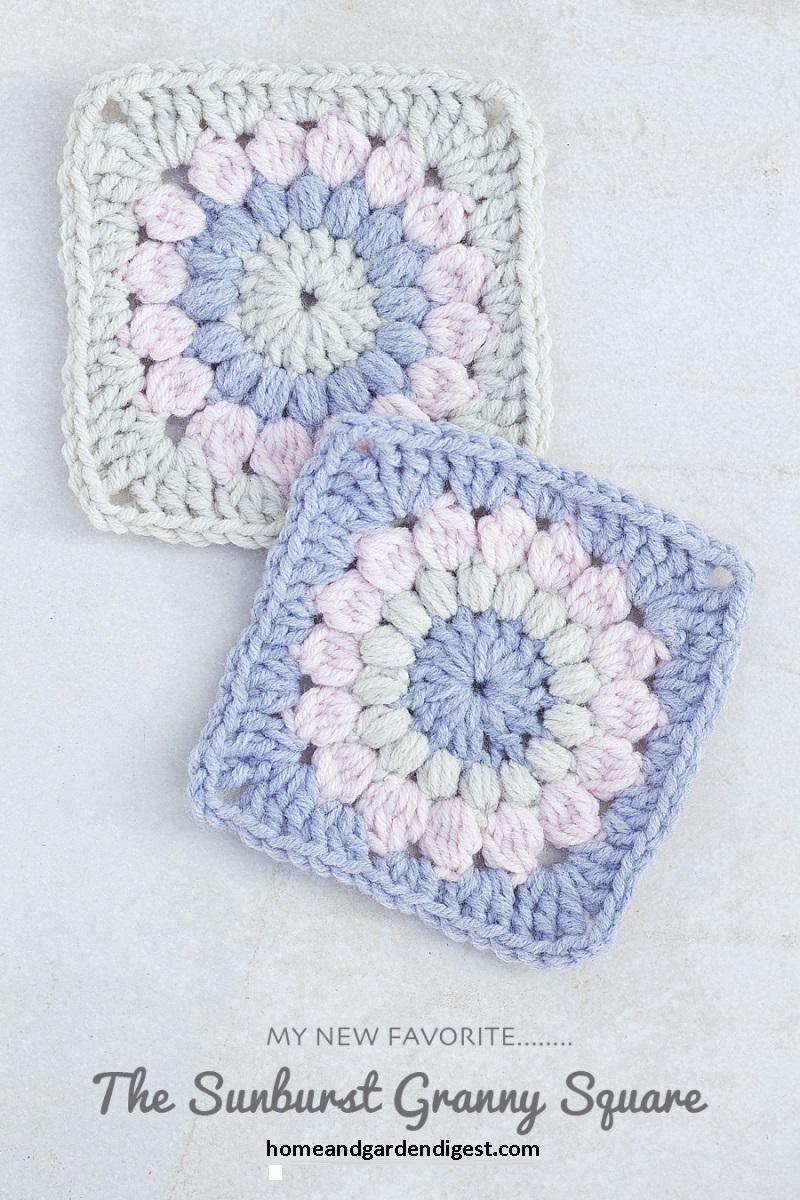 Here's a unique floral pattern that does an amazing job of contrasting very bright and very dark colors. Its uses are extremely versatile and it looks amazing on anything, from baby blankets to large bed covers.
We hope that you enjoyed our 20 crocheting free patterns for mitered granny squares, blankets, covers and baby accessories. We tried to fulfill all the criteria and presented all sorts of designs, from cute and lovely to distinguished and modern, so we're sure you found one that fits your needs and tastes.