Crochet coasters are easiest patterns that can be created. Some elegant and unique styles can be achieved by making circles or square patterns. With the help of some stitching skills, you can create beautiful textures and designs for coasters.
The best thing about Crochet Coaster patterns is that they are simple to design, and you will have a wide variety of designs to choose from.
A Crochet is basically a craft which helps to create scarves, blankets, baby cloths, shawls or other household items using wool or cotton. A special curved needle with a hook or a curve at its end is used to crochet. A coaster is basically a small mat that is used to place bottles or cups that are generally cold or hot. Coasters can be wooden, plastic or even handmade.
Coasters were originally made to protect wooden tables from coming in direct contact with extremely hot drinks. Nowadays, you can create beautiful coaster designs that will make your place much attractive and stylish.
There are many crochet techniques that you can follow to create these free patterns for coasters. There are some very basic stitches that you need to learn before creating coasters. Here are the three different techniques that are very useful to create these coaster patterns.
Single Crochet
Double Crochet
Half Double Crochet
Double Crochet
Treble Crochet
These techniques will help you to create countless number of coaster designs. You will discover that you can create some beautiful patterns with the help of these crochet techniques. Here are our top 20 Crochet Coaster patterns just for you.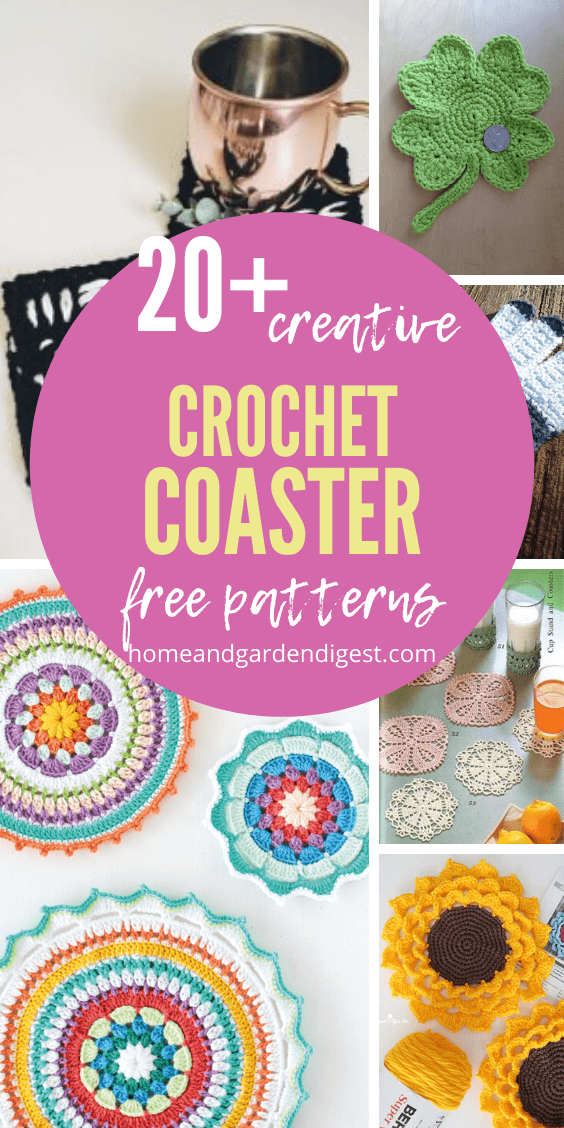 1. Basic Square Crochet Coaster
This is a simple design which is perfect for beginners. Choose a bright color and a cotton yarn or fabric to start making this coaster design.
2. Heart Shaped Crochet Coaster

This is another simple design for beginners and a perfect valentine's gift or a cute setting on your dining table, perfect for a romantic dinner.
3. Sun Shaped Crochet Coaster Pattern

A delightful sun shaped pattern with additional single and double crochet on the outside boundary. Make sure that you add various innovative patterns at the center.
4. Doughnut Coasters

This perfectly designed doughnut shaped coaster can be entirely made up using yarn or cotton. Use a 5mm crochet hook and yarn needle which will help you to weave at the end parts. The entire doughnut is created using a single crochet, chain and slip stitches. Make sure you do not stitch a turn at the end of each round and the first chain stitch is not included in the complete design.
Source: etsy, crochetdreamz
5. Turkey Shaped Crochet Coaster

This is a great design and it will look perfect in your kid's bedroom or at the dining table where the little ones eat.
Source: yarn-pixie, ravelry
6. Fruits Shaped Crochet Coasters

These designs are fun to create, and they are perfect for all types of parties or functions. You can choose various colors to create strawberry, lemon, pear or watermelon designs. Not only for your home decoration, these coasters can also be a perfect gift for your mother or a teacher. You can also use them to educate your little ones and introduce them to various colors and fruits.
Source: etsy, repeatcrafterme
7. Simple Flower Crochet Coasters

Another simple design which looks like a starfish. This is one of the simplest and the most popular designs for coasters.
Source: molliemakes, aspoonfulofsugardesigns
8. Filet Crochet Coasters

Filet crochet is an easy technique that helps you to create coasters using open and solid meshes. Mostly, double crochet stitches are used to create the solid blocks look of the Filet. 4 to 5 additional double crochet stitches are used according to the length of the Filet Crochet coaster.
9. Tapestry Crochet Coaster
Tapestry is a decorative fabric that is used for designing various weaving objects. It is a form of textile art which has been woven by hand since the time of its origin. It is also a great option to create crochet coasters as tapestry crochet looks very beautiful and artistic.
10. 4-Leafed Shamrock Crochet Coaster

This is also an attractive design for a coaster. Try to create it according to the size of your utensil or glass that will be placed over it routinely. Here is a perfect design for your reference.
11. Football Crochet Coasters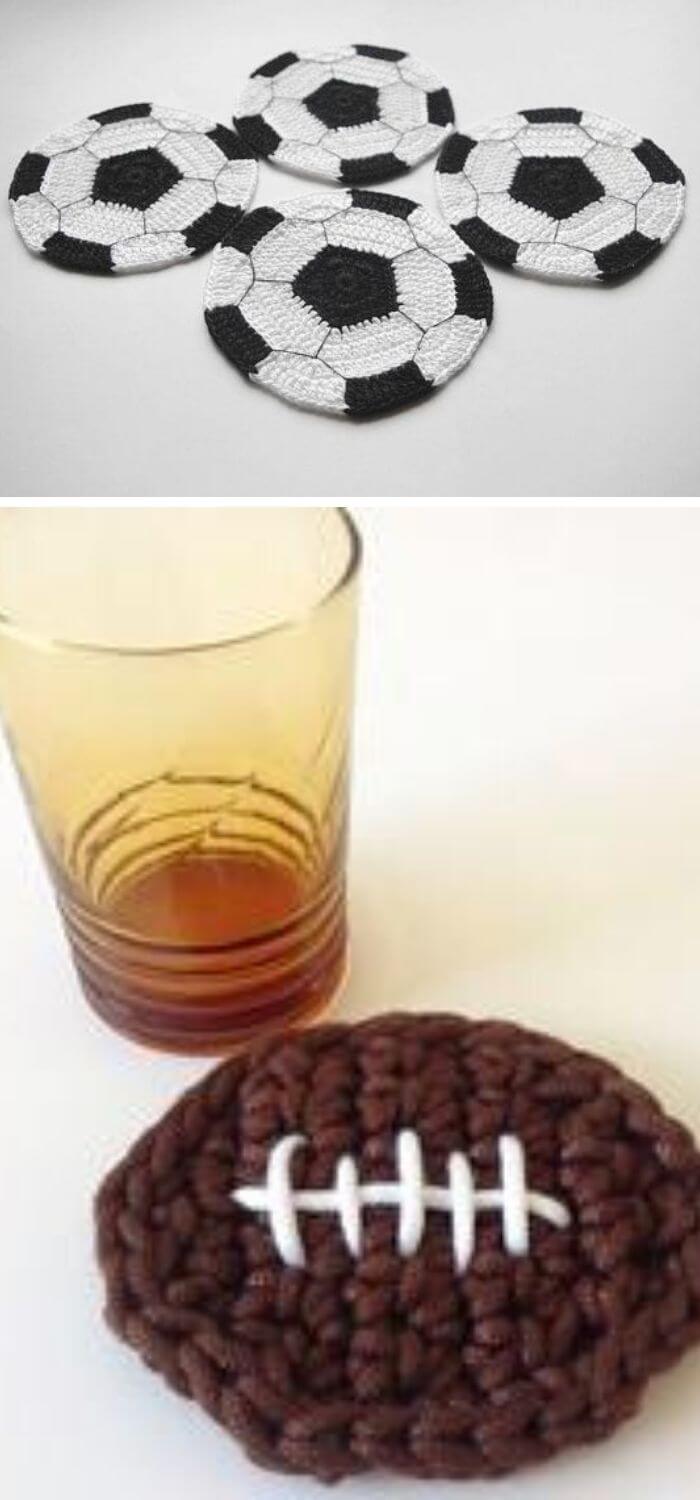 The perfect holiday gift for all the sports fans. Try to use different colors according to the place they are going to be placed at. You can also make tennis or even rugby balls.
12. Mandala Pattern Crochet Coaster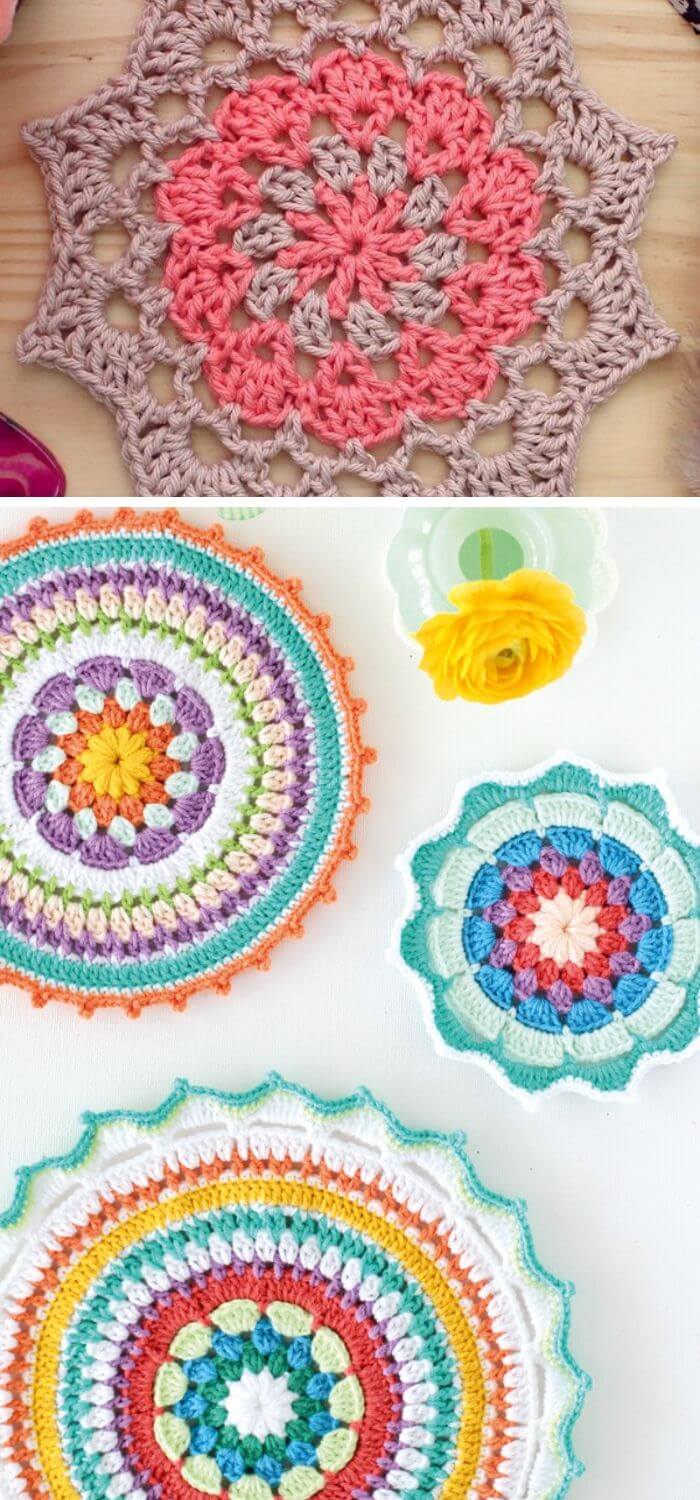 Create different designs using innovative Mandala patterns. Try to stitch it circular and add different colors accordingly.
13. Sunflower Crochet Coasters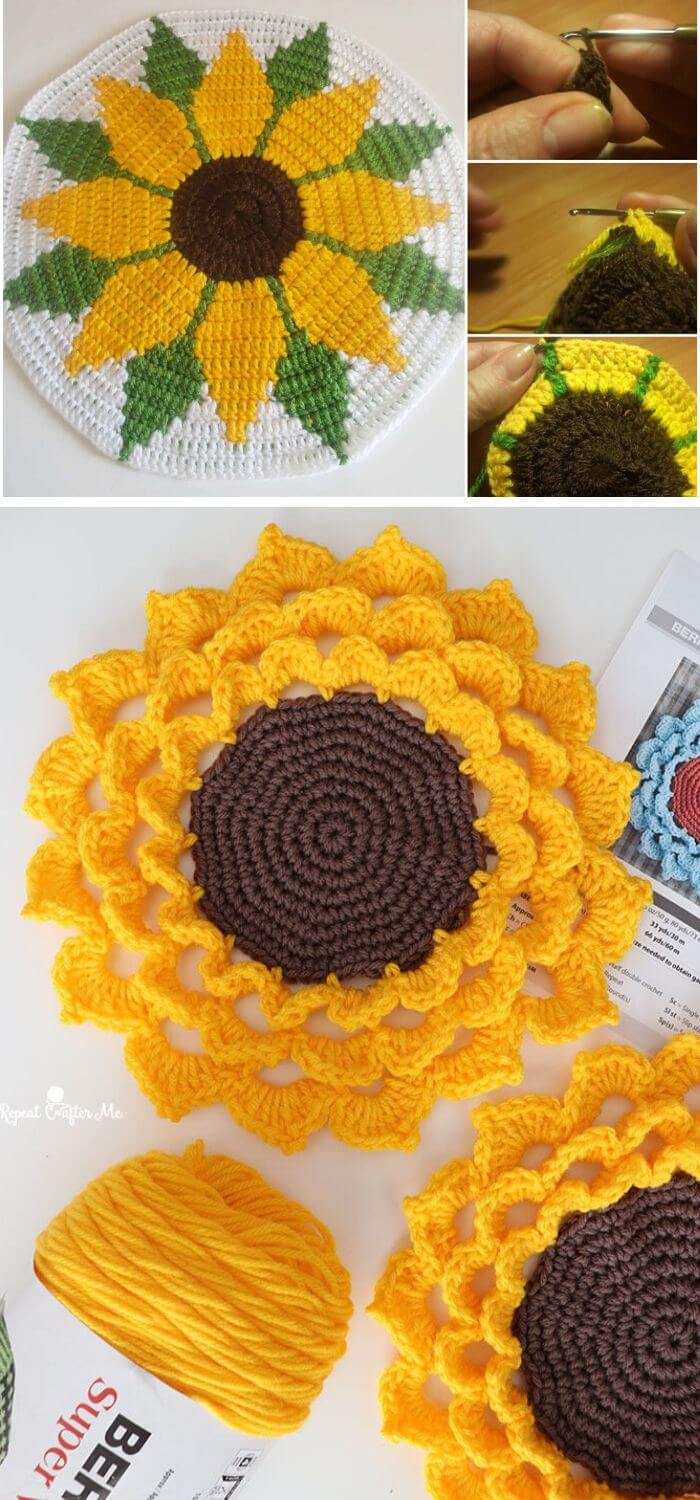 Just like circular mandala or fruit coasters, add 2 different layers of fabric to create a sunflower shaped coasters. Use the yellow color on the outside and brown on the inner circular layer.
Source: repeatcrafterme, youtube
14. Mud Cloth Crochet Coasters

Mud cloth is made from cotton strips that are woven and stitched together to create a larger sized cloth. There are many different patterns you can choose from and many of these mud cloth crochet coasters carry a tribal like design. Here is an example of the mud cloth crochet pattern.
Source: reddit, sweeteverlyb
15. Glove Shaped Crochet Coaster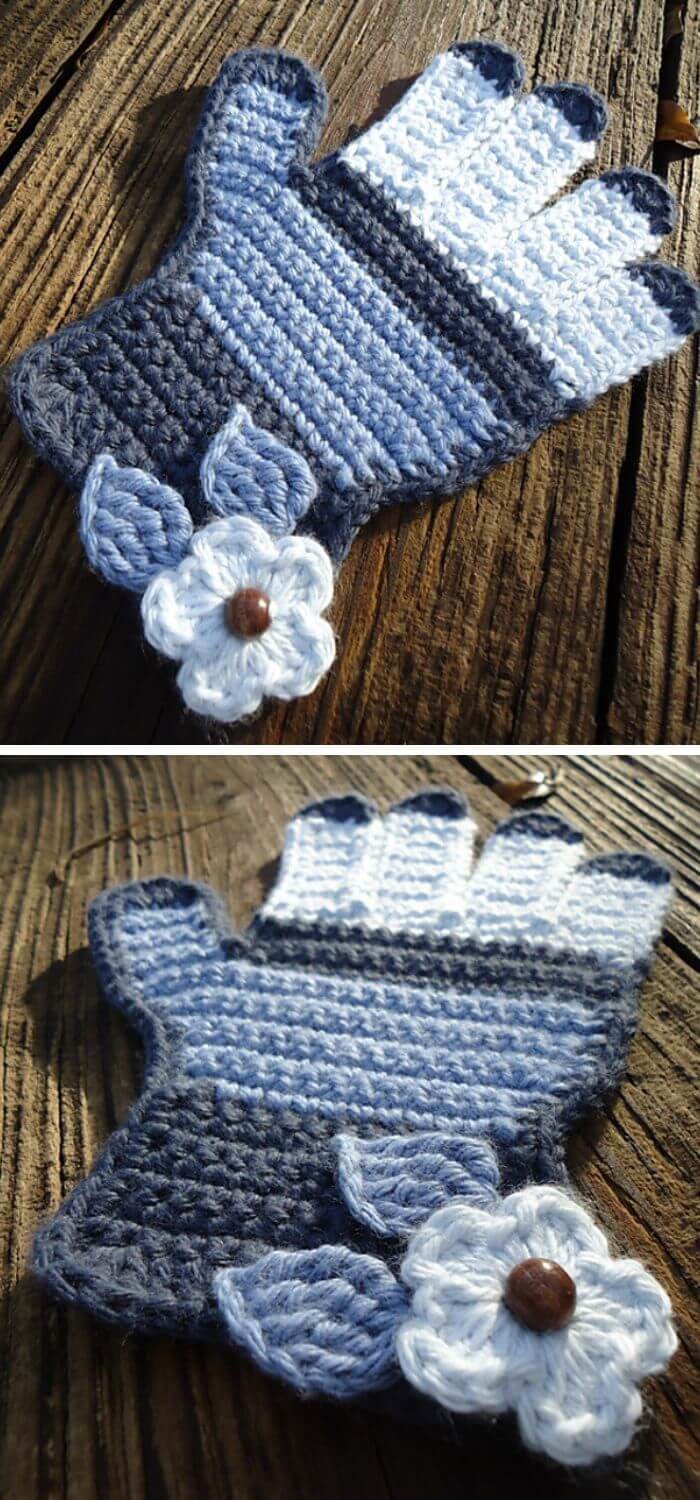 This is a great design which is best for outdoors as you will be able to place your large cups, bottles or even drinks on it.
16. Plarn Coasters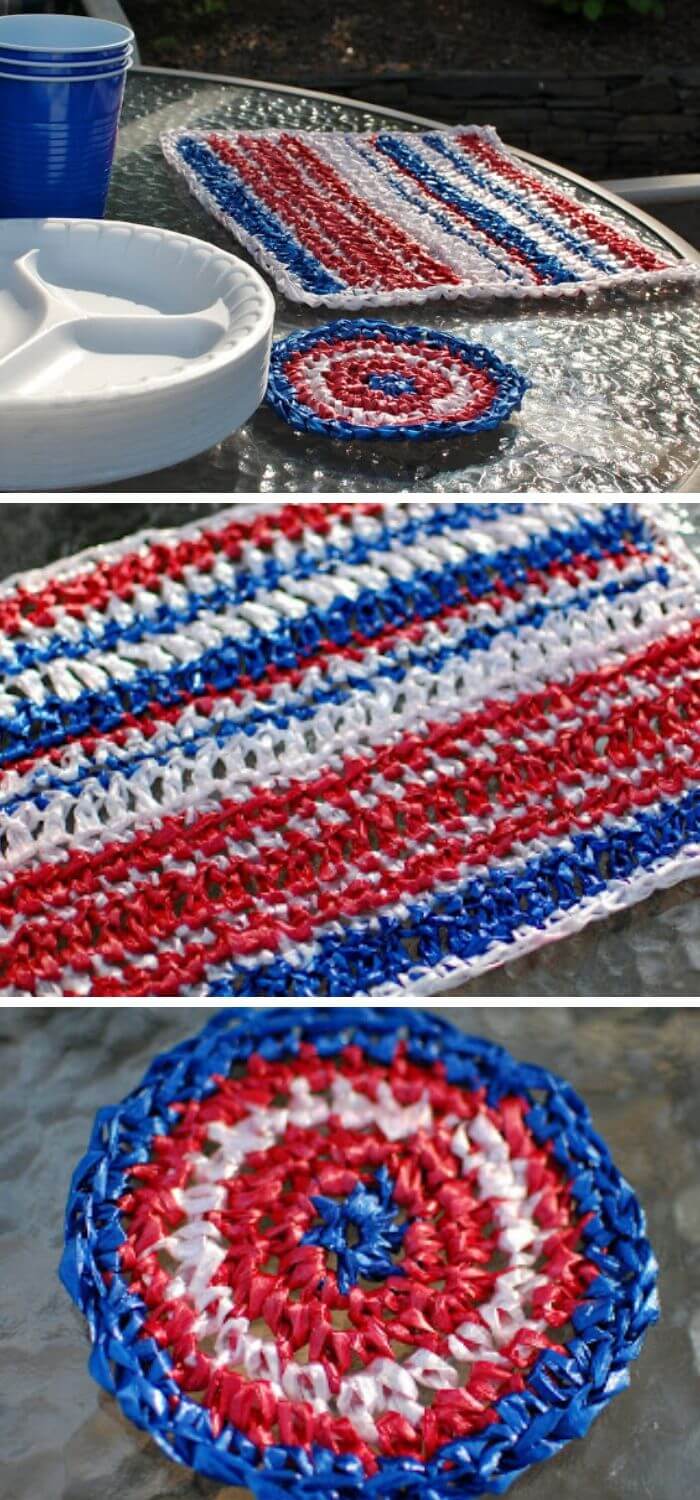 Plarn is known as an upcycle plastic bag and it can be used to create different coasters. To make your very own plarn, cut up a plastic bag vertically in straight lines and then cut off the alternate lines of these vertical cuts.
At the beginning and end of the bag, add loops hanging together and then cut the plastic bag in a spiral manner. Trim off the end and the bottom part of the bag before cutting it in a spiral manner. This will help you to create different colored coasters using plarn.
17. Ghost Shaped Crochet Coasters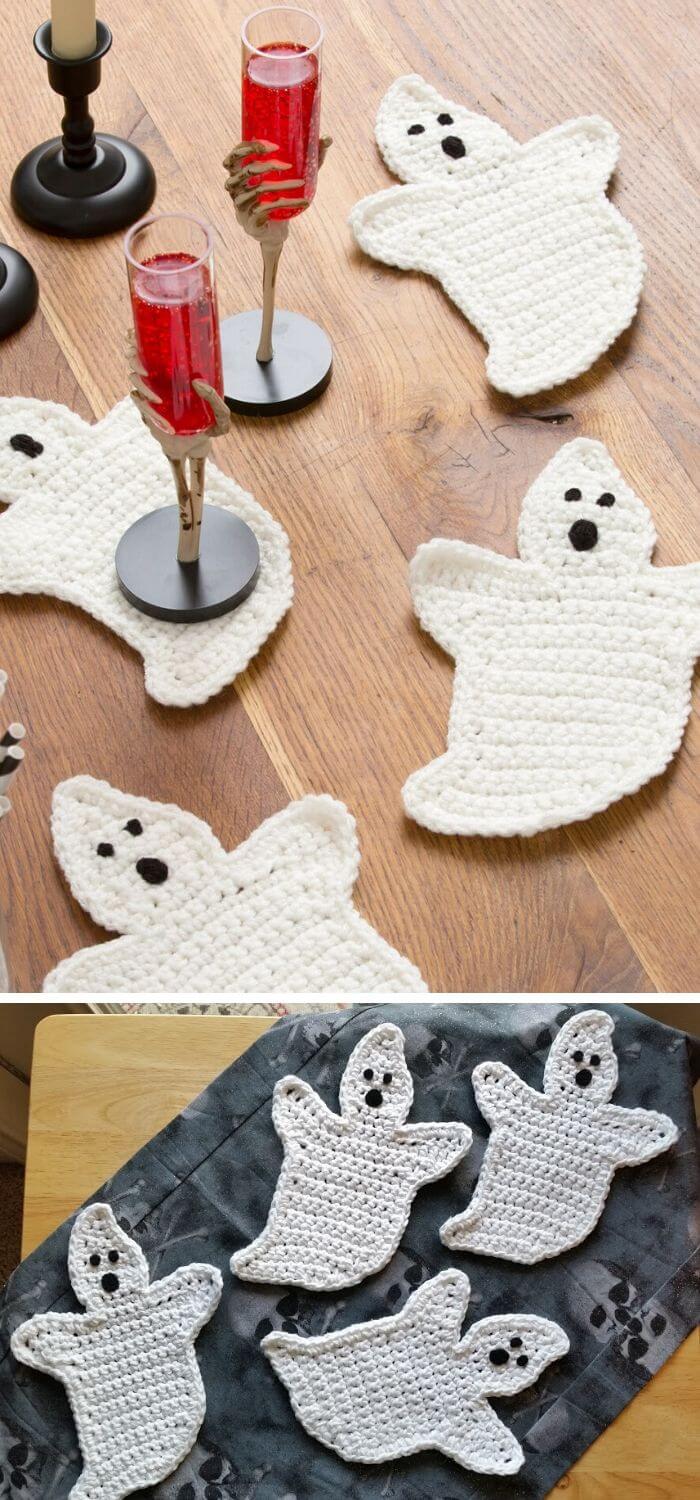 Innovate and design this white colored ghostly shaped coaster by using a white fabric for background and small black dotted pieces of wool to stitch its facial features.
18. Snowflake Crochet Coaster
Take inspiration from the white animated snowflake design and create its shape using some idea. This is a perfect design which makes it a perfect gift for Christmas or the cold holiday season.
Source: crochetspot, ilikecrochet
19. Square Crochet Coasters with Basket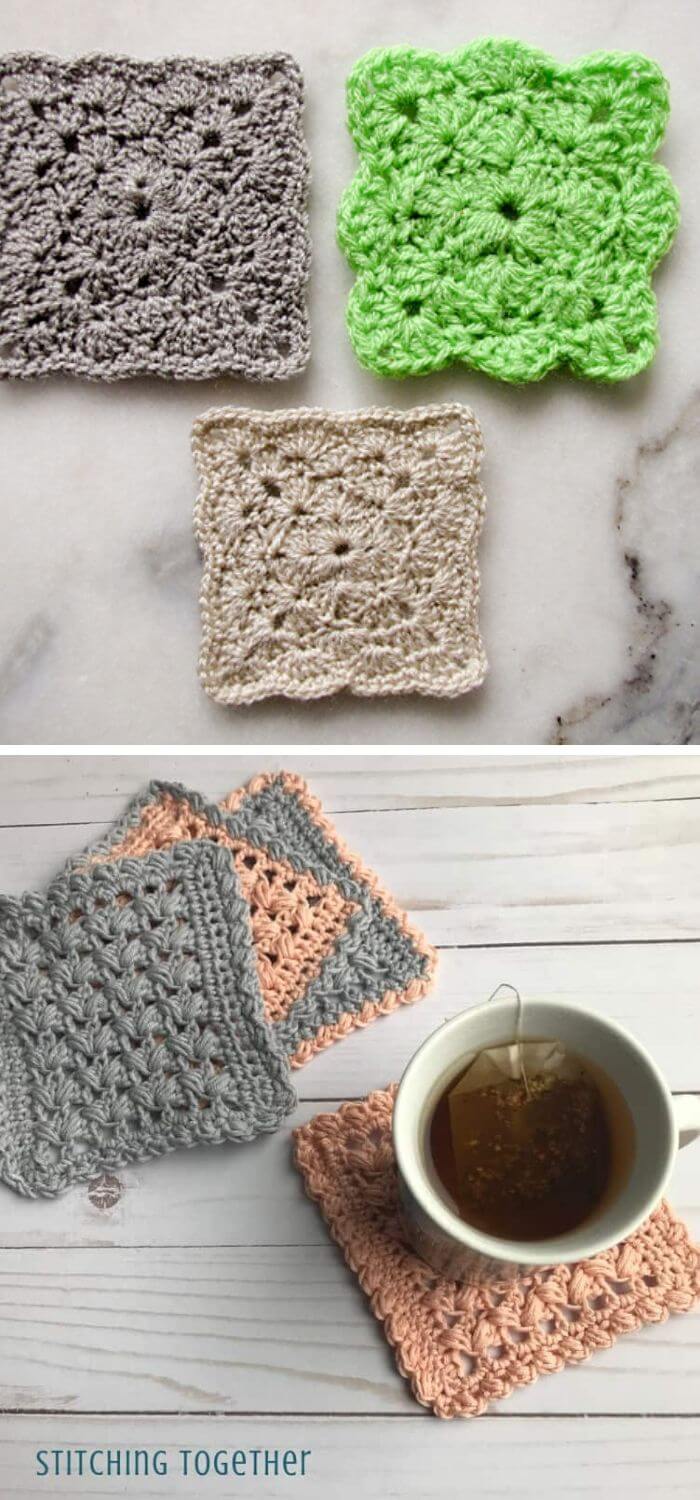 This is a cute and attractive design if you are looking for 3 or 4 coasters. The basket should be circular with a firm base so that your square coasters can easily fit inside.
Source: ravelry, stitching-together,
20. Colored Coasters
With the help of some color mixing and your own experimentation, you can create these magical and colorful coasters using crochet and some stitching. They will not only serve as a seat for your glass, but they will also look beautiful around your house. Make sure that you match the colors of the coaster to the interior of your home or the colors on your walls. Here are the few different colorful designs you can choose from.
Conclusion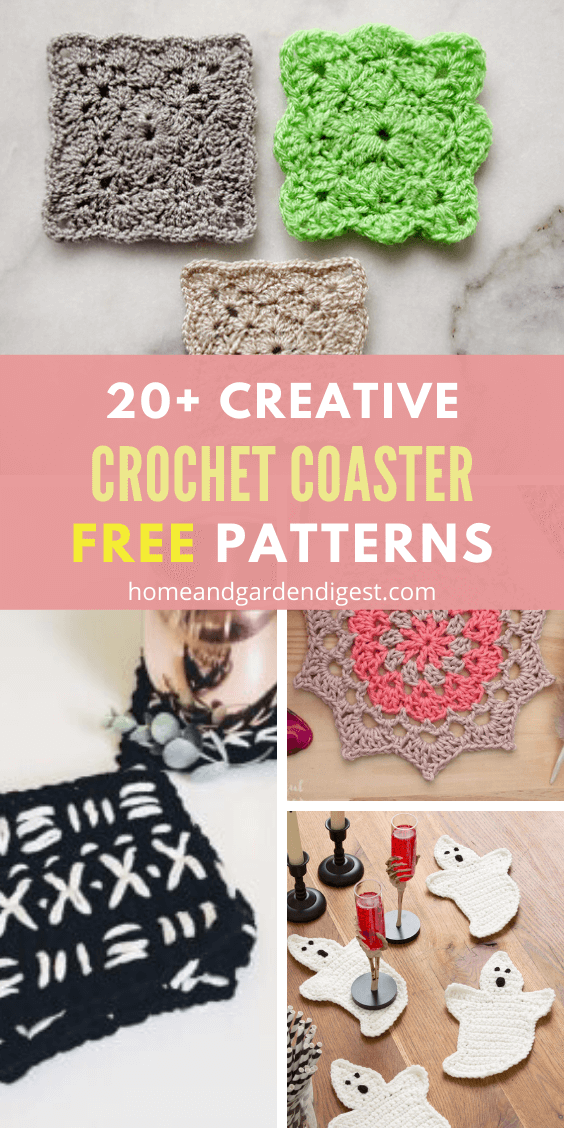 Creating coasters using crochet stitching is more than just creating cup holders. It requires having the knowledge of stitching, not only using crochet but other methods as well. To master the art of crochet and to successfully create crochet coaster patterns, make sure that you focus on your designs and think of innovative patterns that can go well across your place. The art of crochet is great and so are these innovative coaster ideas. We hope that you will find some of these ideas interesting and helpful.