Easter holidays are around the corner! Do you want to do things differently this holiday? I have an idea, why don't you spice up your Easter holidays with handmade crochet bunny antiques?  They are all quite easy to make and are perfect embellishments on sweaters, scarves, hats, and just about anything you can think of.
Come with me as I take you through 20 fascinating and very easy to make Crochet bunny antiques that you should try out this Easter Holiday.
1. The granny bunny Free Pattern Applique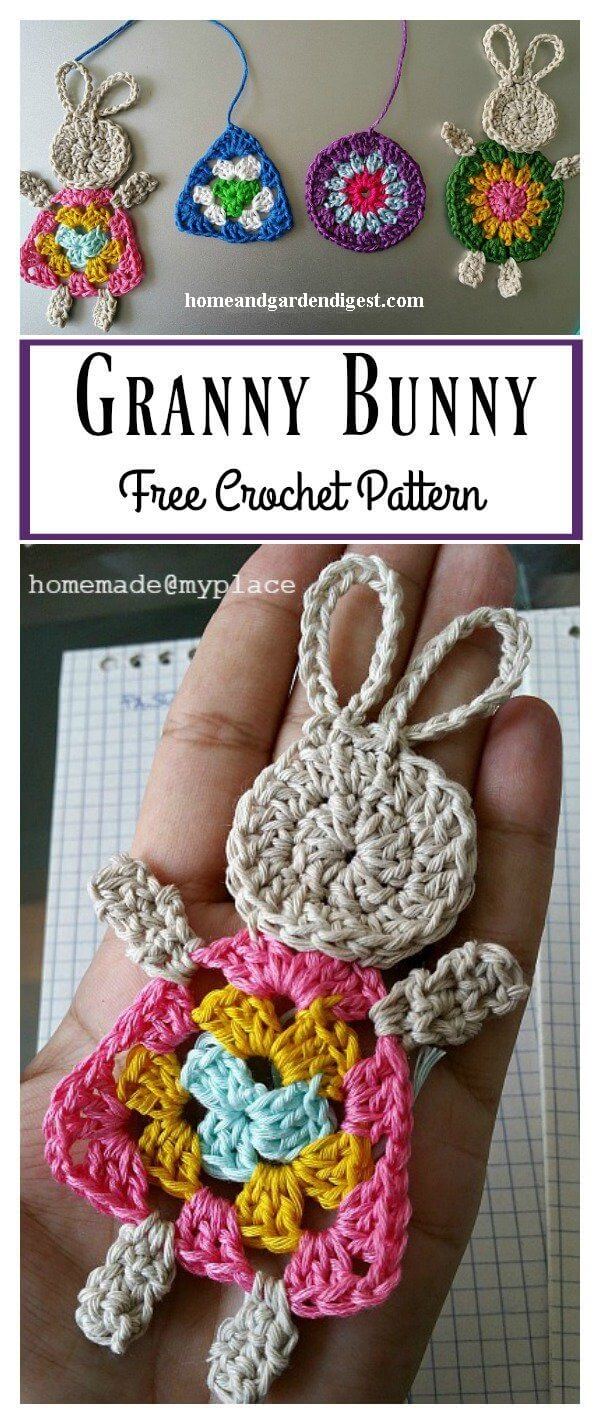 The Granny bunnies are so easy to crochet!. Each bunny stands at about 13cm, and you can make them in different colours and hang them as decorations, garlands, stitch them on napkin rigs or use them as ornaments. The list is endless!
2. DIY Spring Crochet Bunny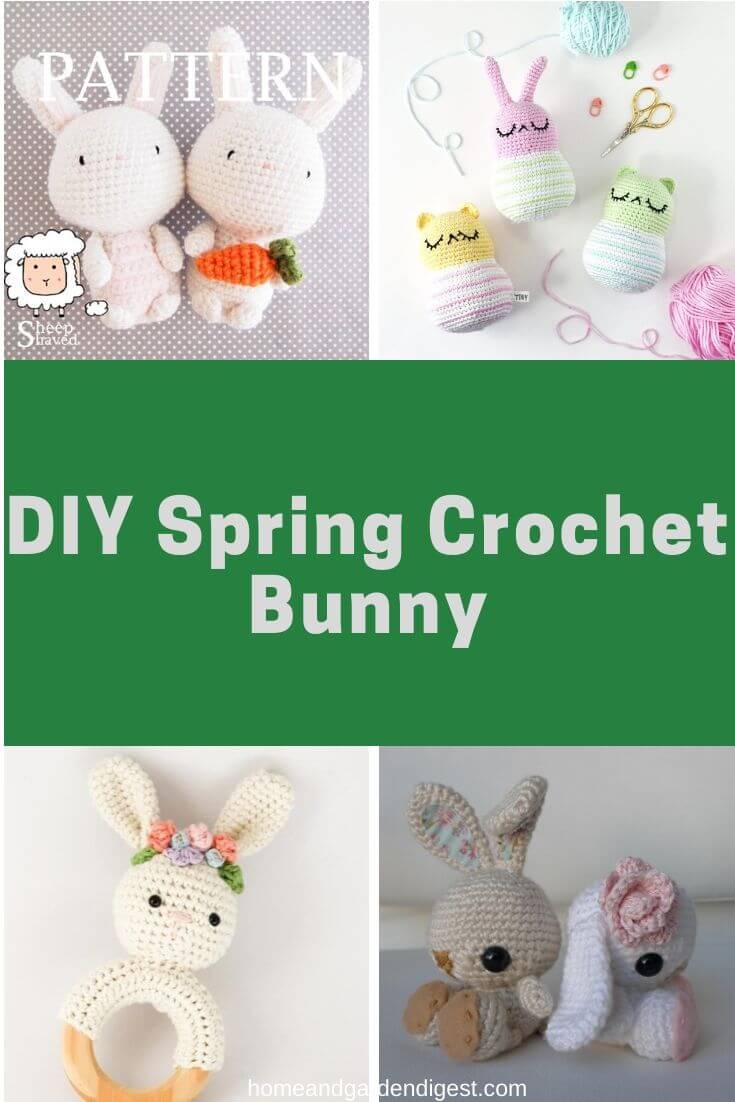 You can't help but fall in love with gorgeous spring bunnies! Making these little designs is fun and exciting. With the boy bunny ears sticking right up and girl bunny floppy ears, these bunnies will be the best Easter decorations for you and your family.
3. Crochet Easter Bunny Garland

I must admit, am addicted to making these cute bunnies! These adorable bunnies with their little pom tails are the perfect Easter decorations. This creative art is a perfect way to repurpose those leftover yarn scraps. They are also quite simple to create.
4.Simple and Quick Bunny Applique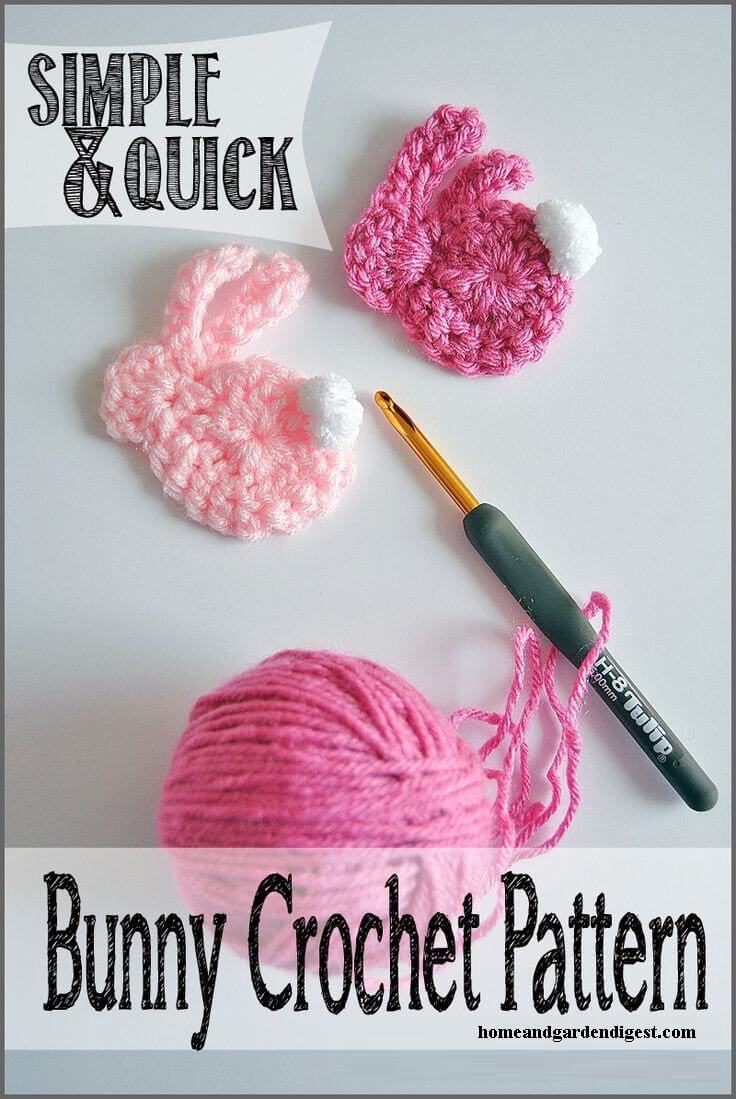 As the name suggests, this bunny is pretty quick and simple to make. Crochet this little bunny in just a few minutes with a few simple instructions. You can vary the size and the colour to your preference.
5. Easter Bunny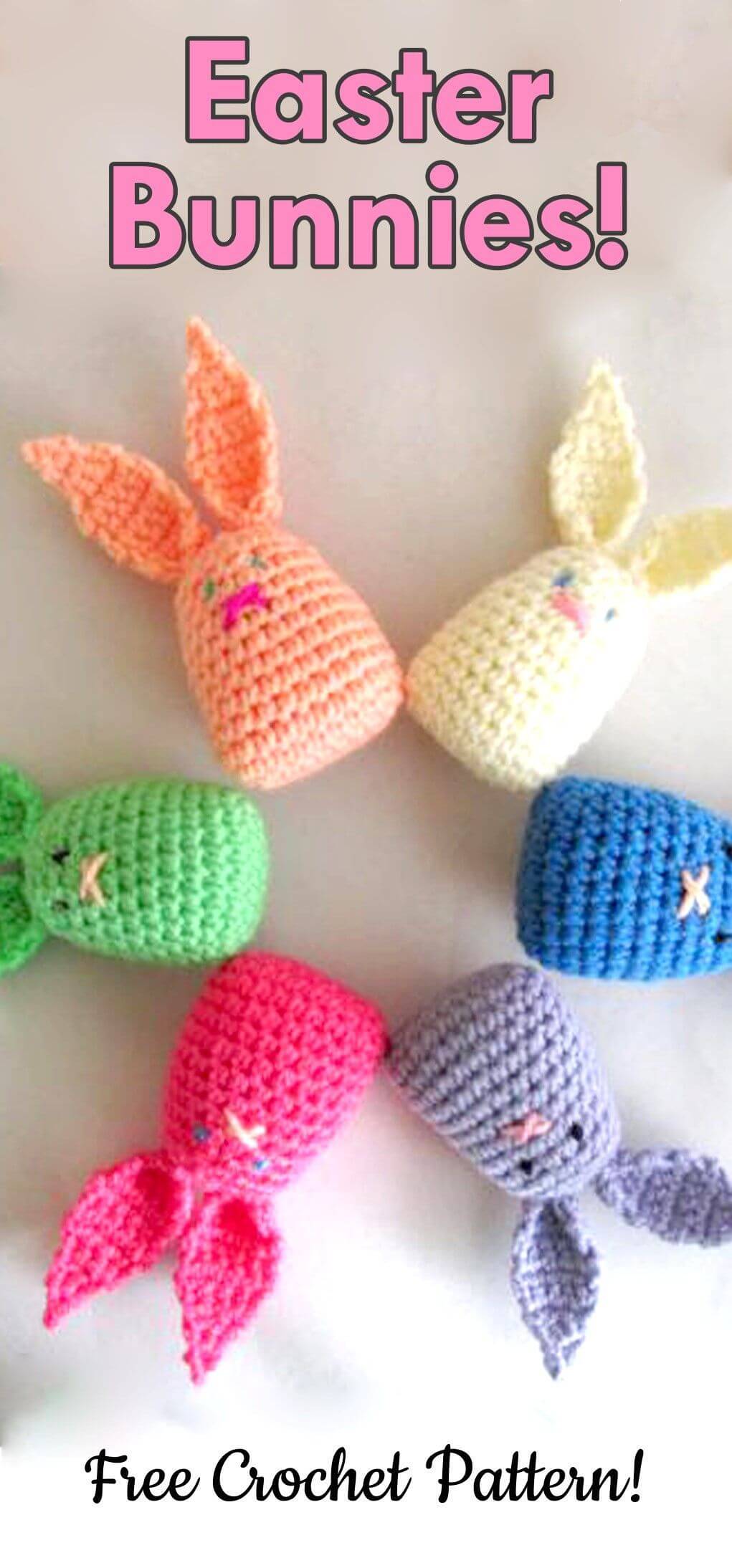 This simple crochet design is a great Easter decoration idea. You can also make one and give as a gift to a family or friend.
6. Baby bunny Applique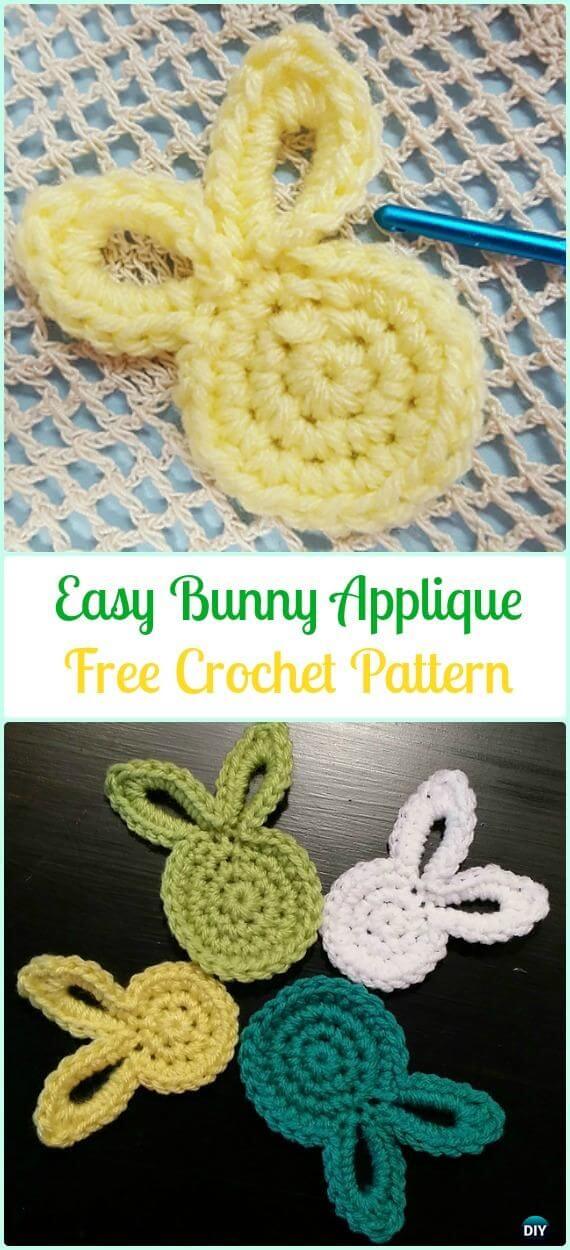 This gorgeous baby bunny applique is a perfect project for your home décor. It is also easy to make. You will need a 3.5mm crochet hook, and you can vary the number of yarns to create large or small baby bunny appliques.
7. Cute Bunny Applique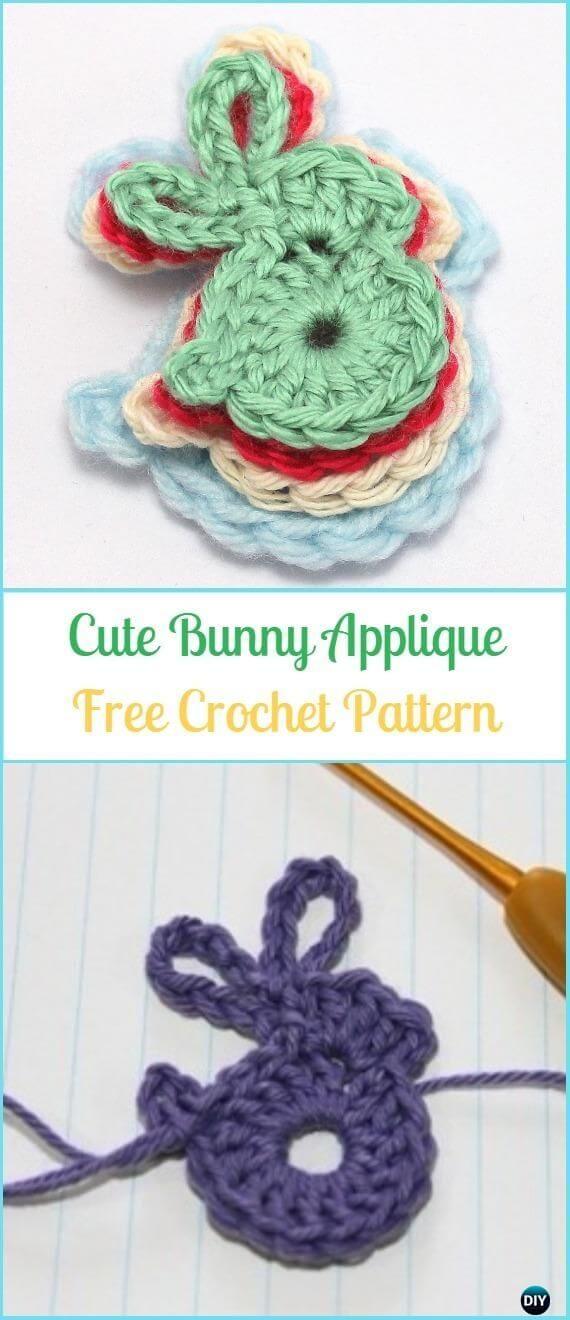 This cute little bunny is so easy to make.  You can make several of them in such a short time. You can use this cute bunny to make a brooch for your hair clip, stitch them on your cloth or table runners as decorations. Choose the yarns careful according to the purpose of the bunny and make them in all sizes that you want.
8. Bunny Silhouette Appliques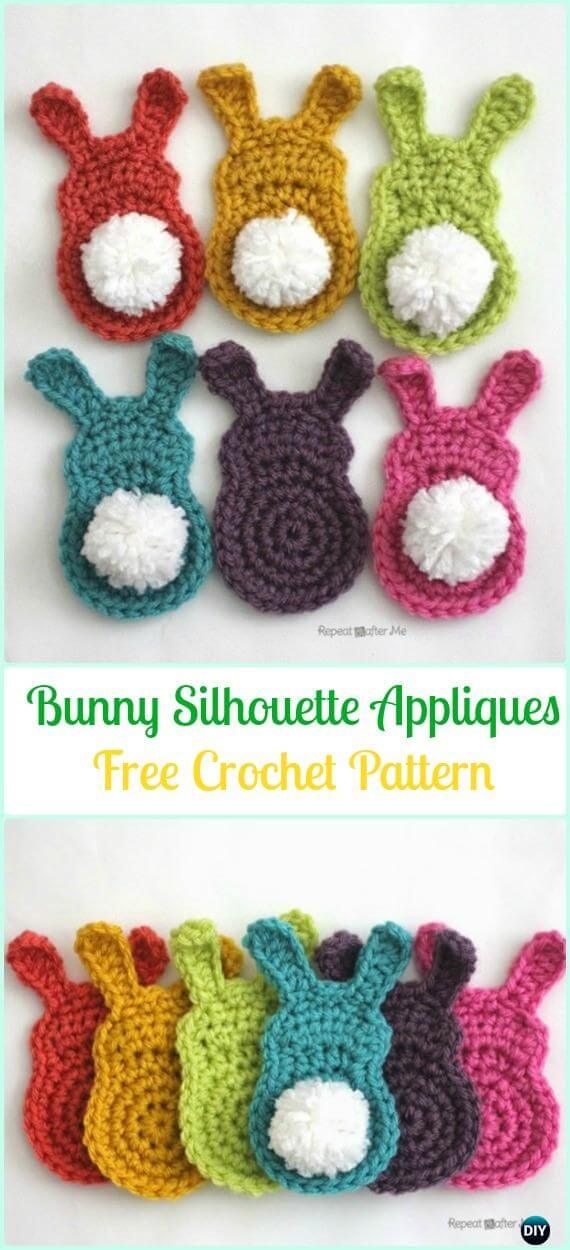 This beautiful Silhouette applique comes in 3 different sizes and four different stitch patterns including satin, vintage-style, diamond stitch, and zigzag. They are pretty decoration ideas and also simple to make.
9. Flower Easter Bunny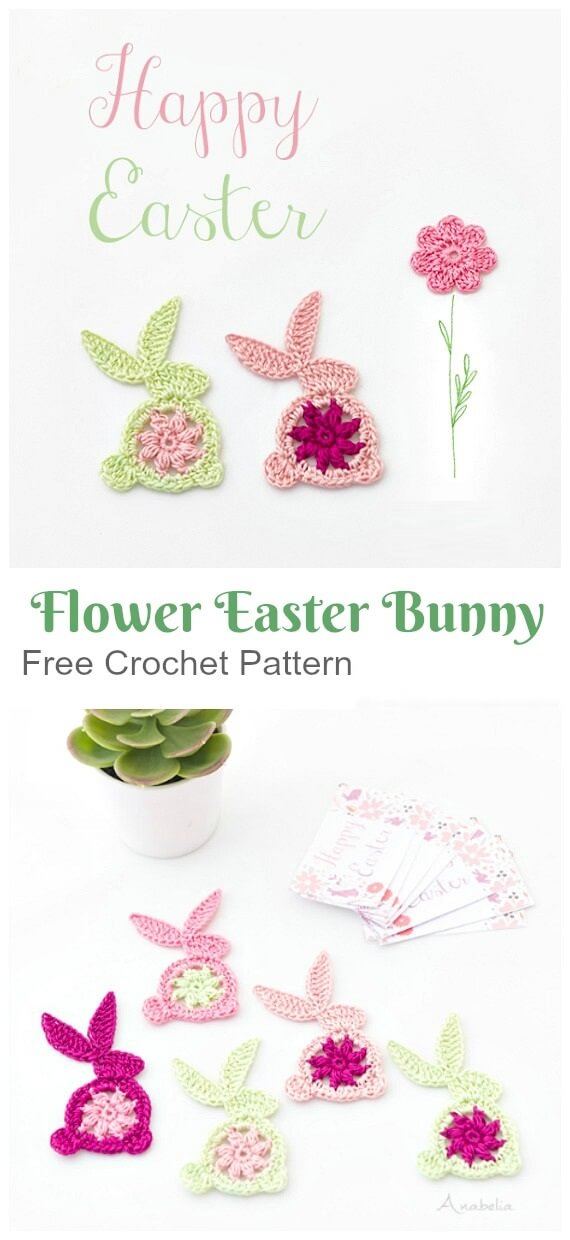 These little bunnies with their flowers look cute. You can manipulate different scrap yarns of different colours to come up with this creative bunny. 
10. Easy Bunny Applique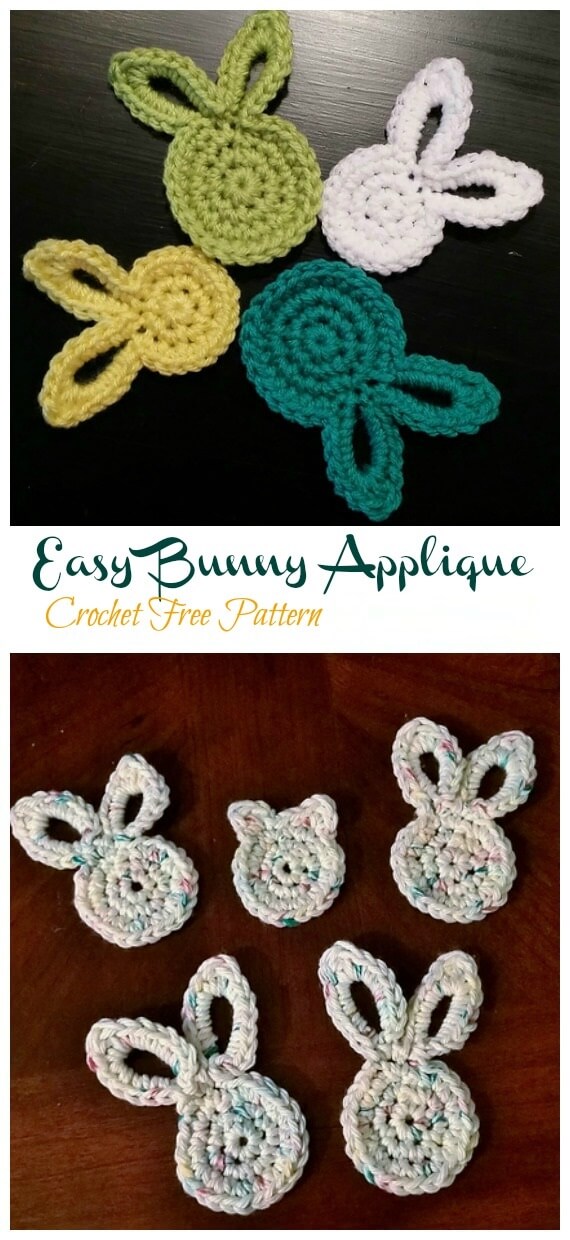 11. Easter Bunny Fridgie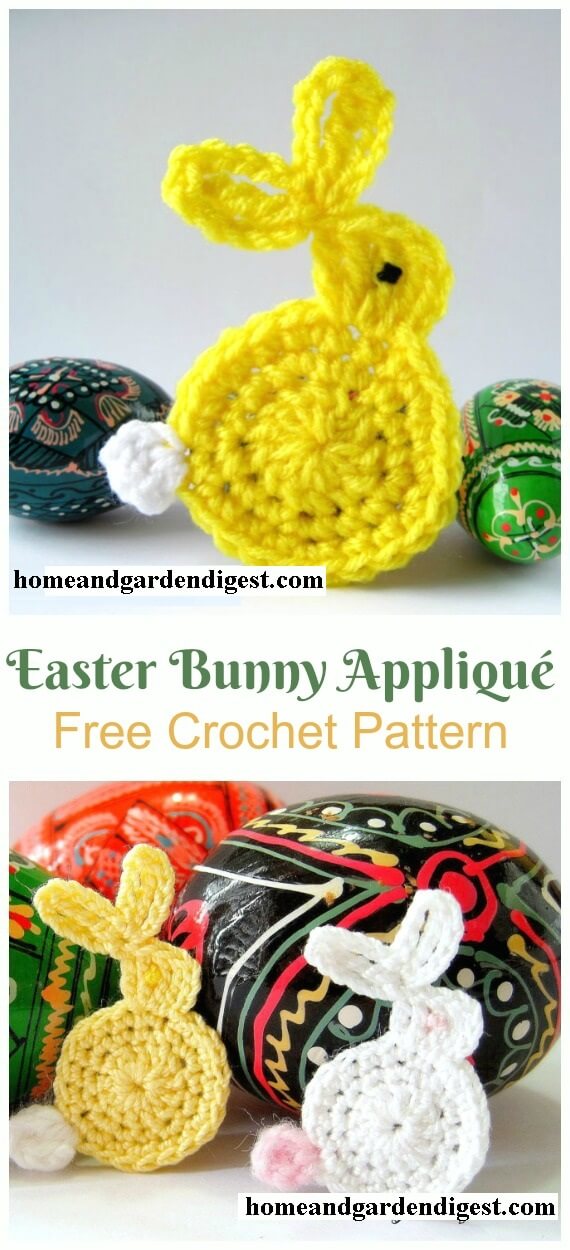 This simple Easter Bunny Fridge requires almost no effort to make. The tinny bunny has a white pom tail and is a perfect Easter décor idea.
12. White-Tailed Bunny Applique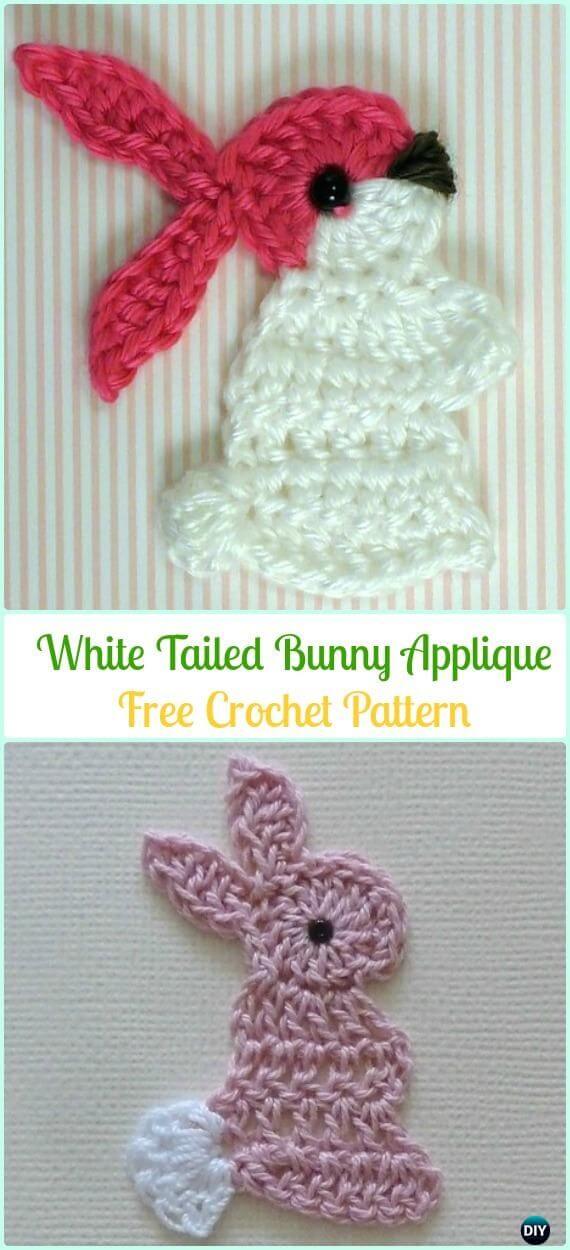 This cute little bunny imitates the white-tailed rabbit. They are also very easy to make and make perfect Easter decorations.
Source: 3rd of 7 Designs, The Crochet Blog
13. 5-minute Bunny Applique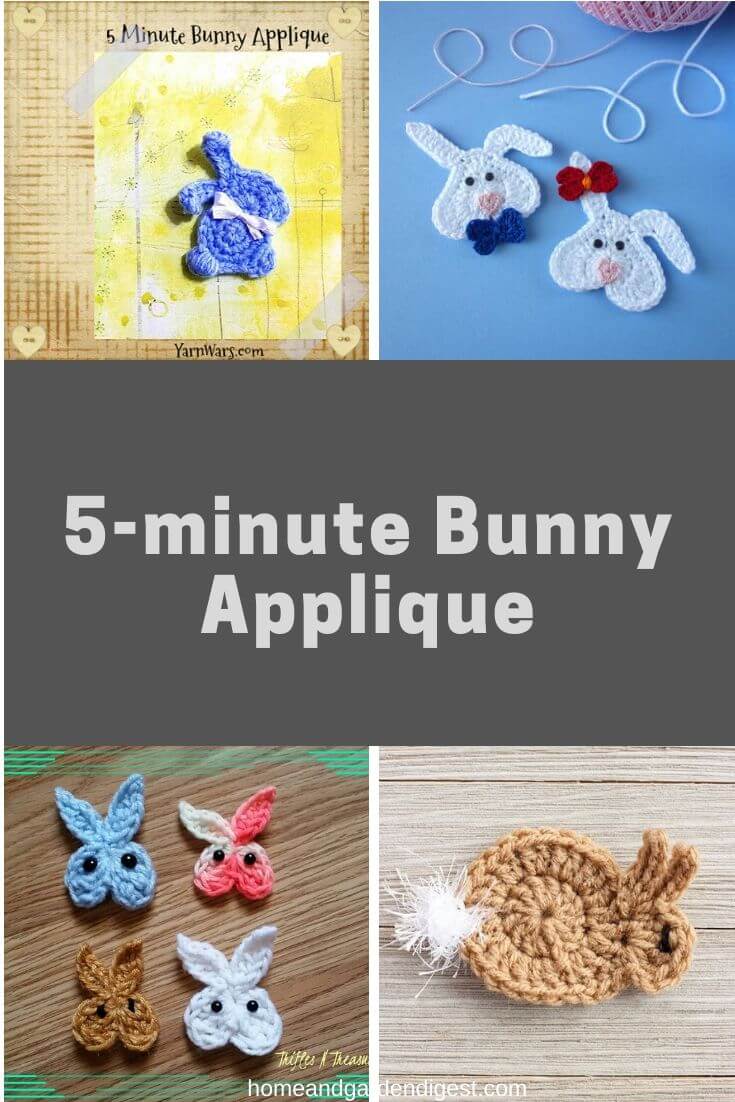 With just five minutes and a small scrap of yarn, you can create this gorgeous bunny applique. They are perfect gifts to family or friend s who are going through a rough patch.
Source information: Trifles & Treasures
14. Bunny Napkin Ring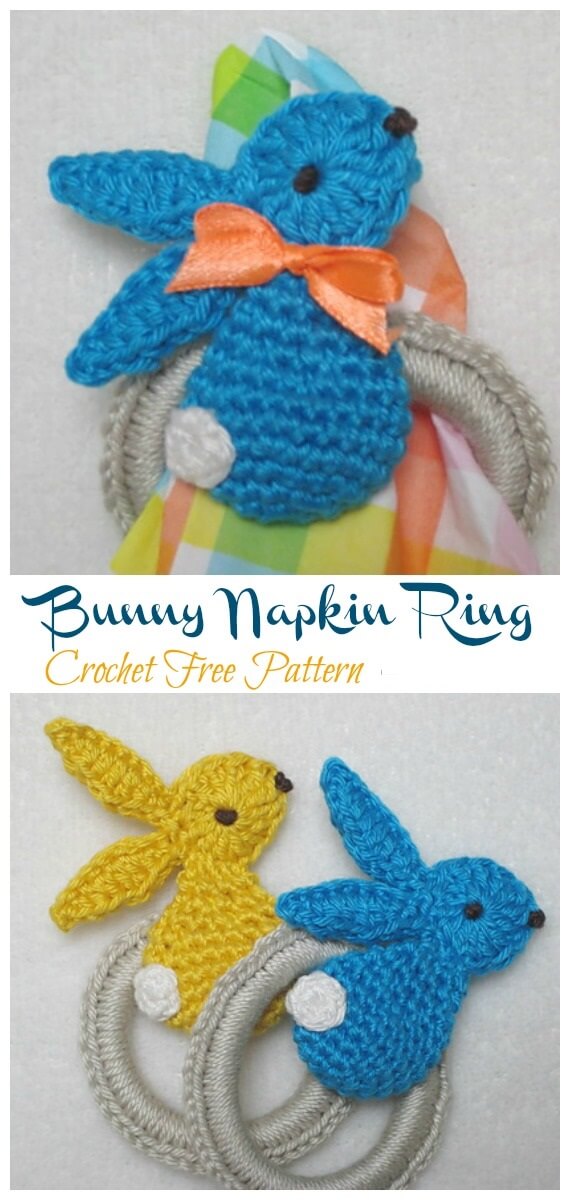 Drees up your Easter tables with this adorable bunny napkin ring. They are quite easy to make and will not take up much of your time.
Source information: Millionbells' Ravelry Store
15. Hoppy Bunny Applique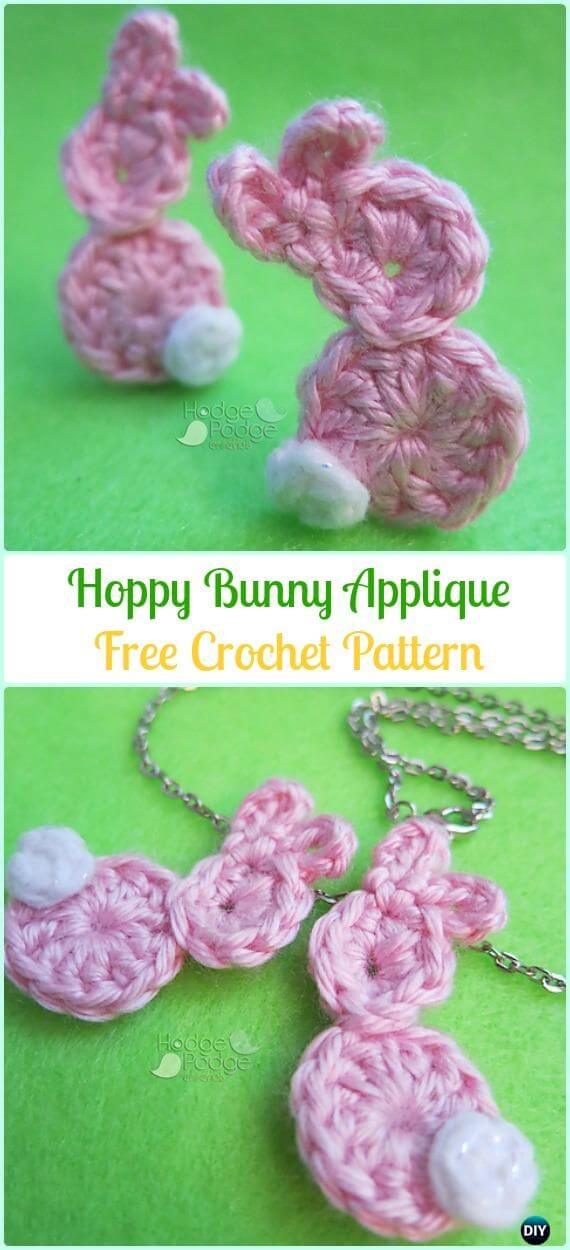 These beautiful bunnies are perfect embellishments on hats sweaters scarves and wristers. They are pretty easy to create, and the pattern comes with clear instructions on how to make left or right facing bunnies.
16. Bunny Pin Applique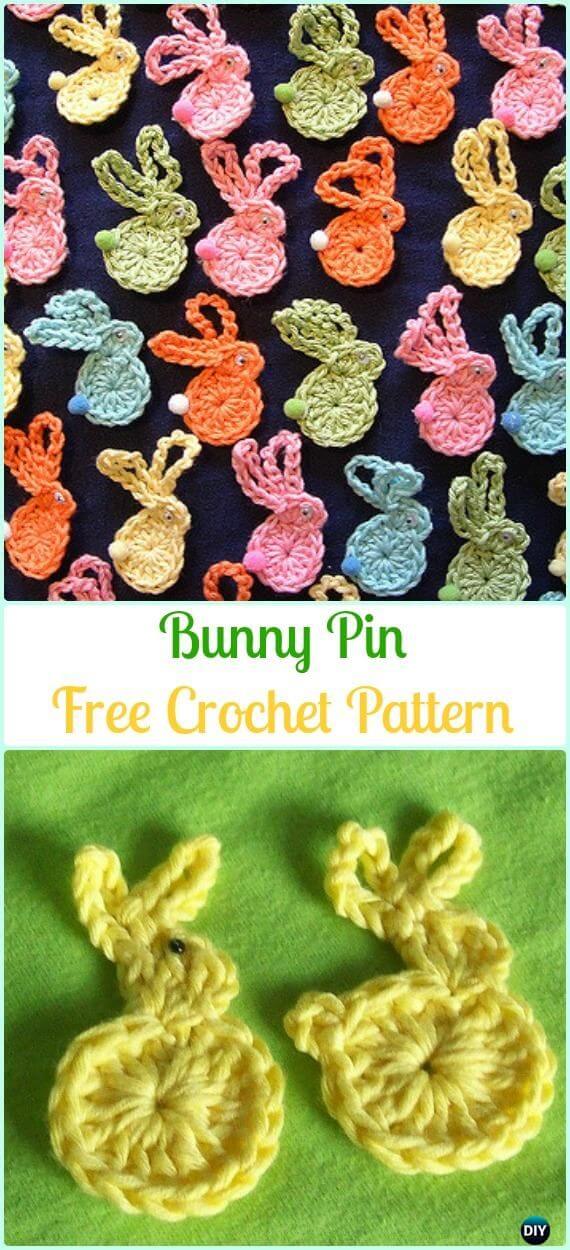 These cute tiny bunnies are fitted with a pin that opens and closes to hold on to something. These bunnies fitted with a pin are perfect for your blouse, denim jacket backpack, and other uses. These pin crochet bunny badges are the newest trend in town!
17. Bunny in Bloom Applique free pattern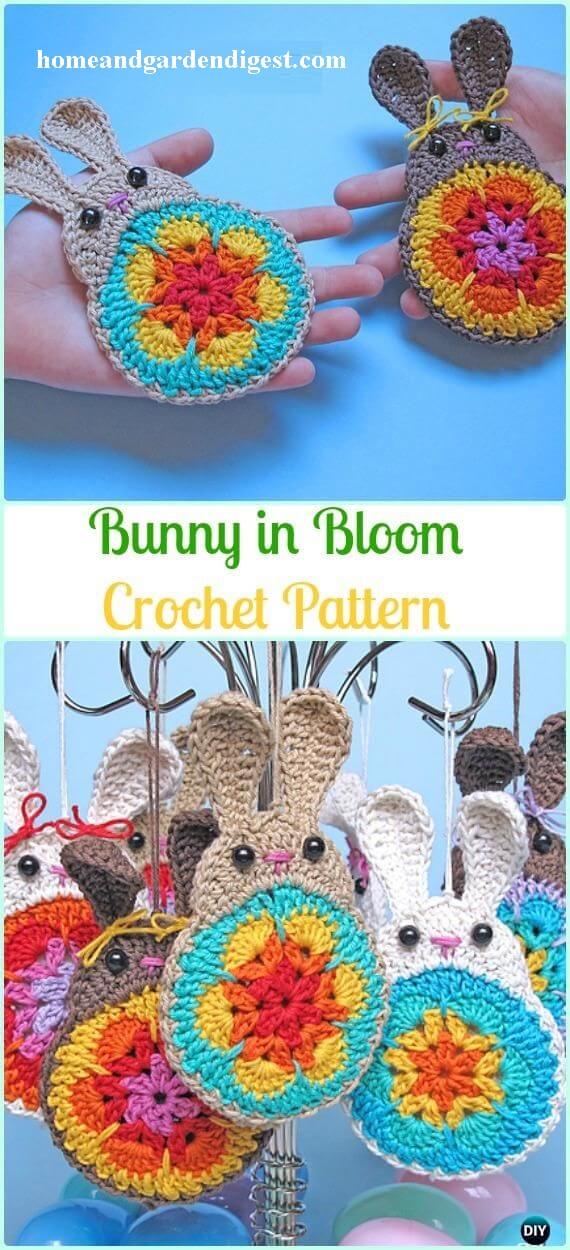 This beautiful Bunny in bloom design is made without the backside or the tail. You can also make them in different sizes and colours in your preference.  With step by step instructions, you can easily come up with this design.
18. One Round Bunny Applique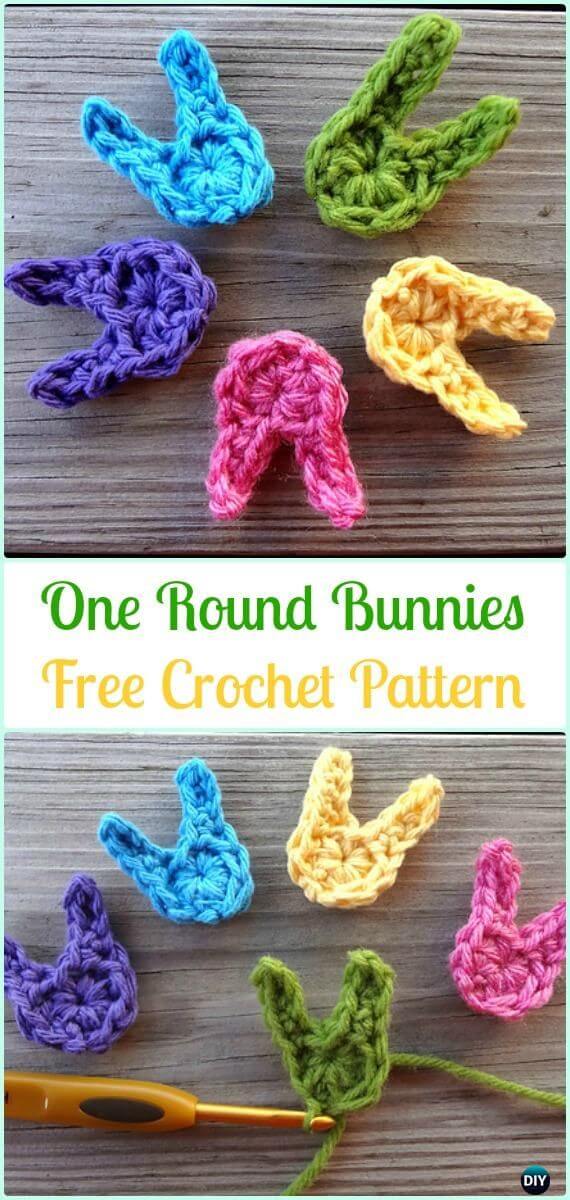 These attractive bunnies are so cute and cheerful perfect spring décor ideas. They are the simplest bunnies you can make and requires little effort and a few minutes of your time.
Source information: Fiber Flux
19. Easter Bunny Applique
These cute little bunnies are perfect Easter decorations for kid's clothes, kitchen towels,  picture frames and other décor ideas around your house.
Source information: lovecrafts
20. Last Minute Bunny Applique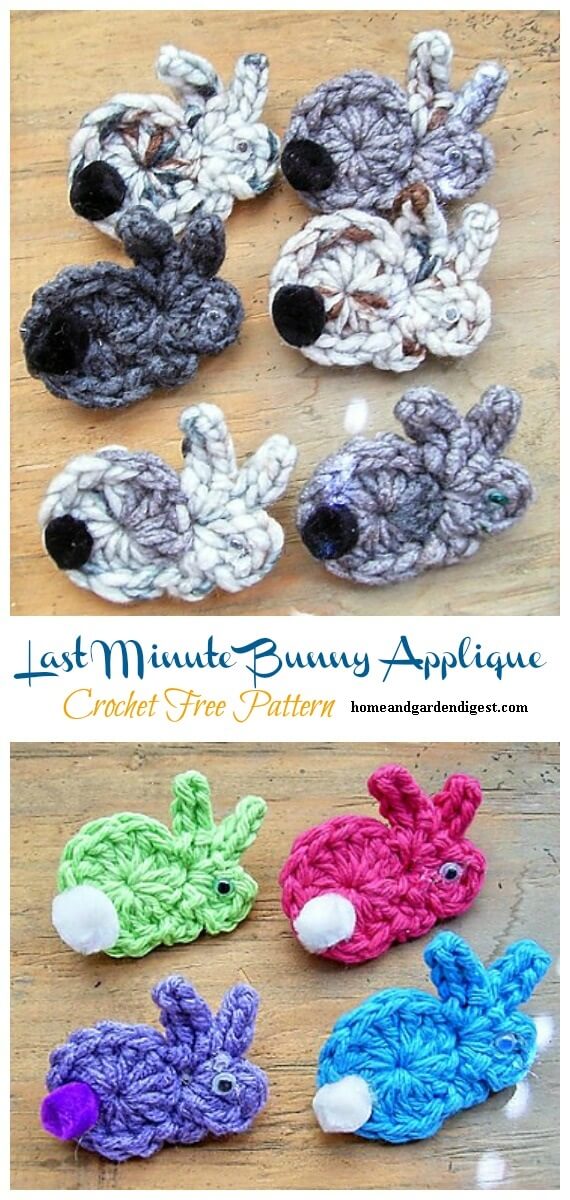 Do you need a super quick bunny to add to your Easter décor craft? You should try this last small but very beautiful bunny. It will only take you a few minutes to create and only require tiny leftover scraps of yarns. 
Source information: Flower Girl Cottage
Conclusion
I challenge you this Easter holiday to try out these amazing Crochet Bunny Appliques and have fun all the way!