If you are a crochet lover, and you intend to take your fashion to a higher level; then it won't be a mess if you take a look at the beautiful Barbie fashion doll clothes.
The fashion designs will look elegant and give you that unique fashion. Check out the following 15 free crochet Barbie fashion dolls and try your crochet skills at home.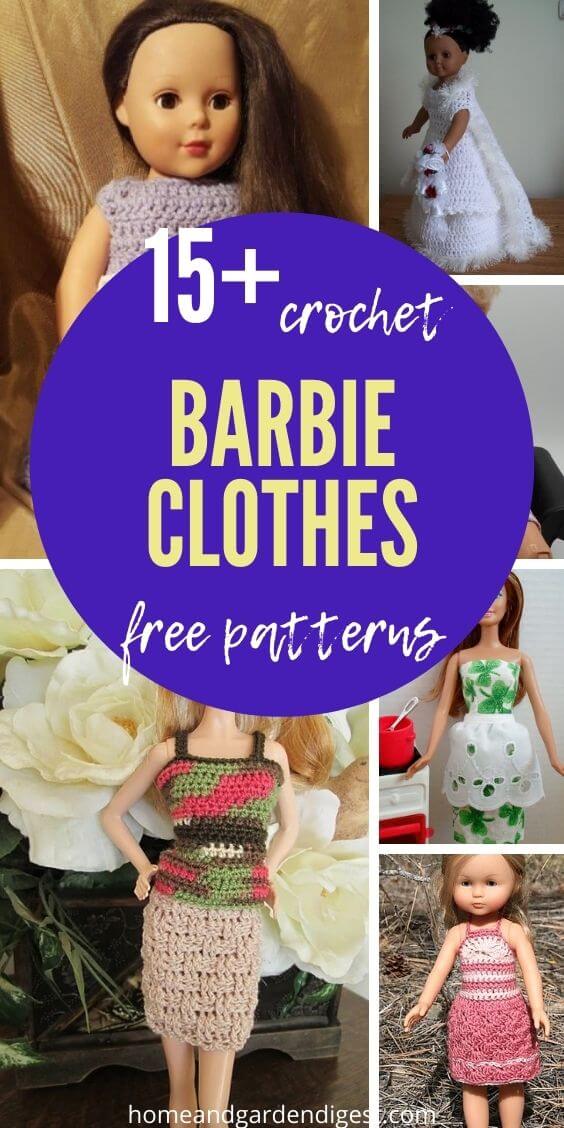 1. Cotillion hoop gown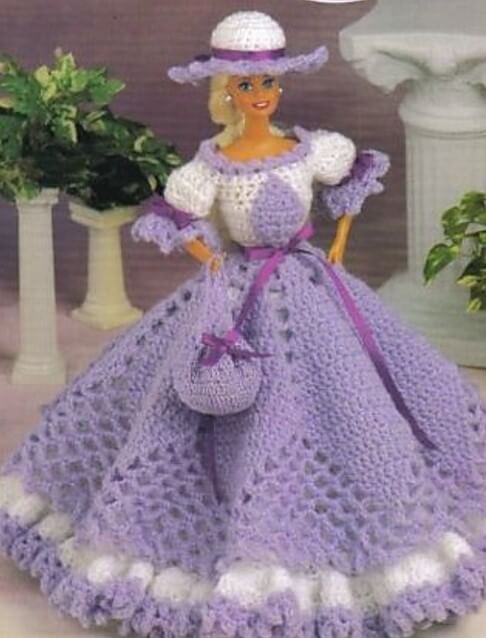 It ranks among the beautiful crochet ideas that you can try at home. If you admire long dresses, the cotillion hoop gown will be the perfect crochet project for you. Check out all the stitching instructions from the source link below.
Source: http://falim.pins.life/image.php?id=134950
2. Crochet Barbie princess gown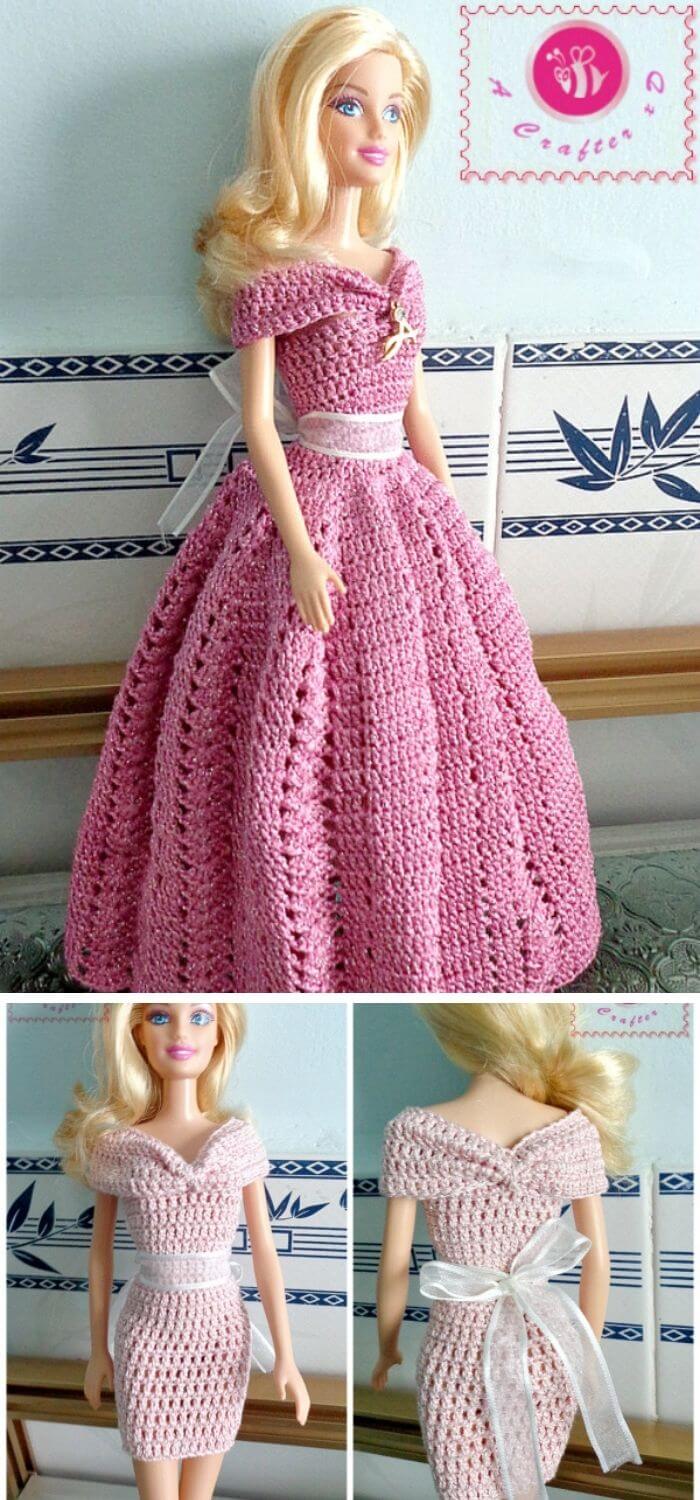 The crochet Barbie princess gown is among the cute designs which has an off the shoulder style. You can try this with several colors that please you ensuring that you stick to all its stitching instructions. The crochet Barbie princess gown is long, and it may require quite a large yarn.
Source: http://beacrafter.com/crochet-fashion-doll-off-the-shoulder-dress/
3. Knitted crochet dress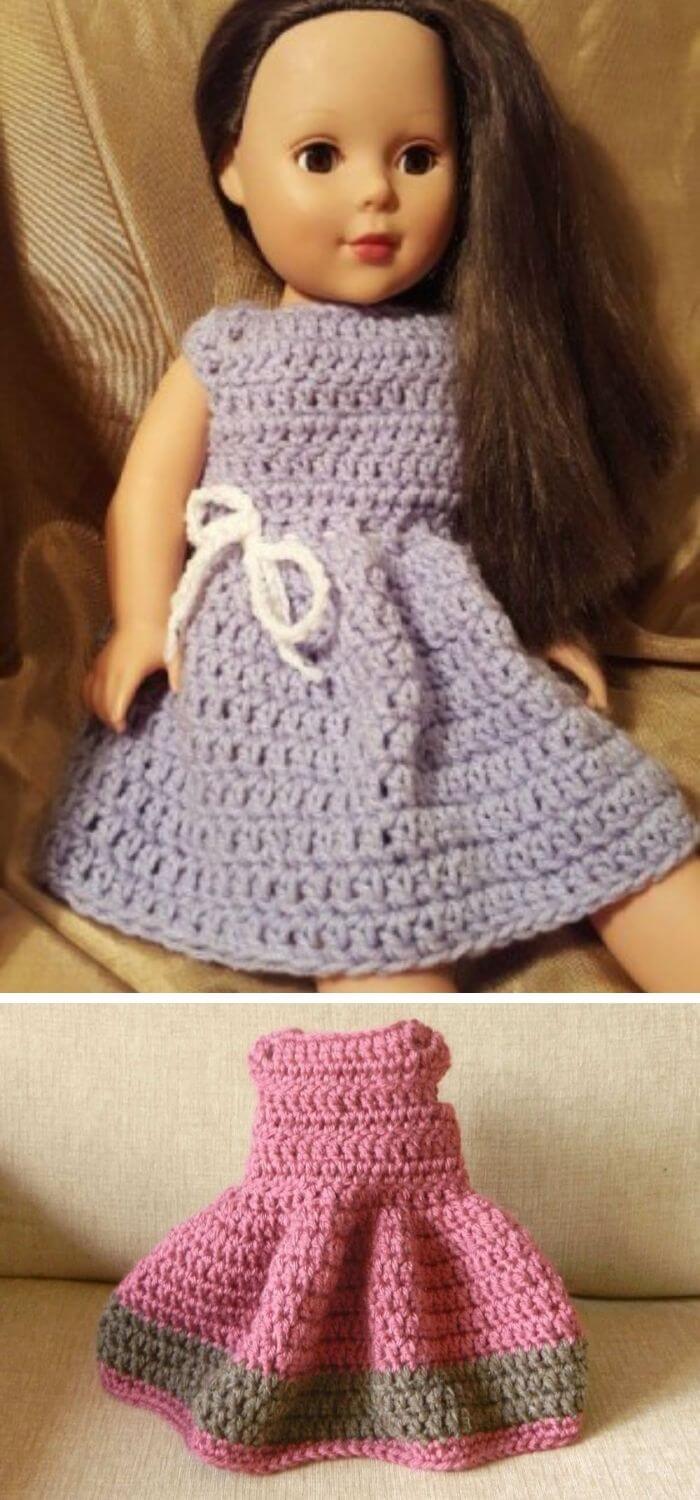 Crochet doll fashion dresses can be quite overwhelming, and you may have lots of choices to make. Don't allow the confusion to disturb your plan for a crochet project. Try out the knitted crochet dress from the easy shop. It is the cutest design you can ever find.
Source: thriftyfun and shawnmosch
4. Barbies crochet wedding dress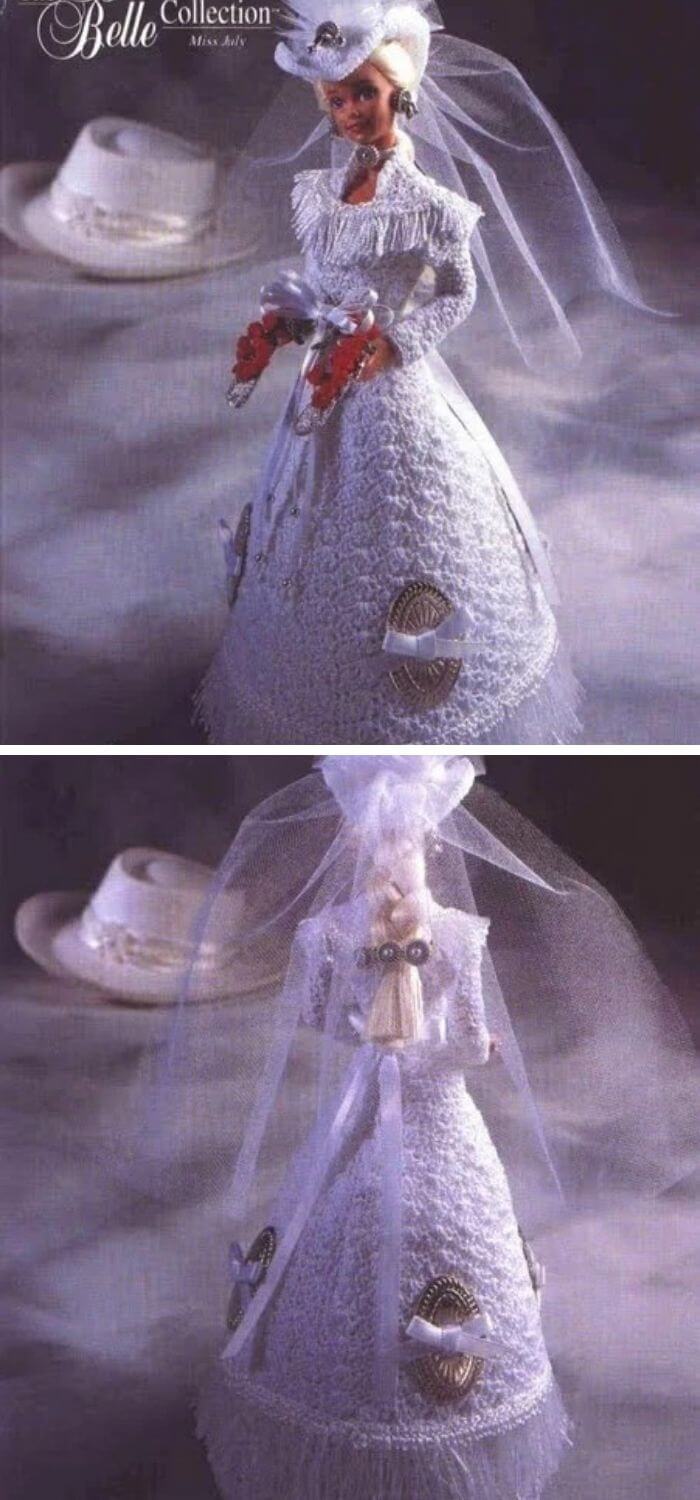 Barbie's crochet wedding dress is beautiful. It may be hard to think about barbies organizing a wedding, but you can use it to bring that theme. The crochet dress looks nice on a Barbie doll, and that is why you will need to try it out. It will require the best crochet skills to complete the project.
5. Crochet Barbie doll clothing set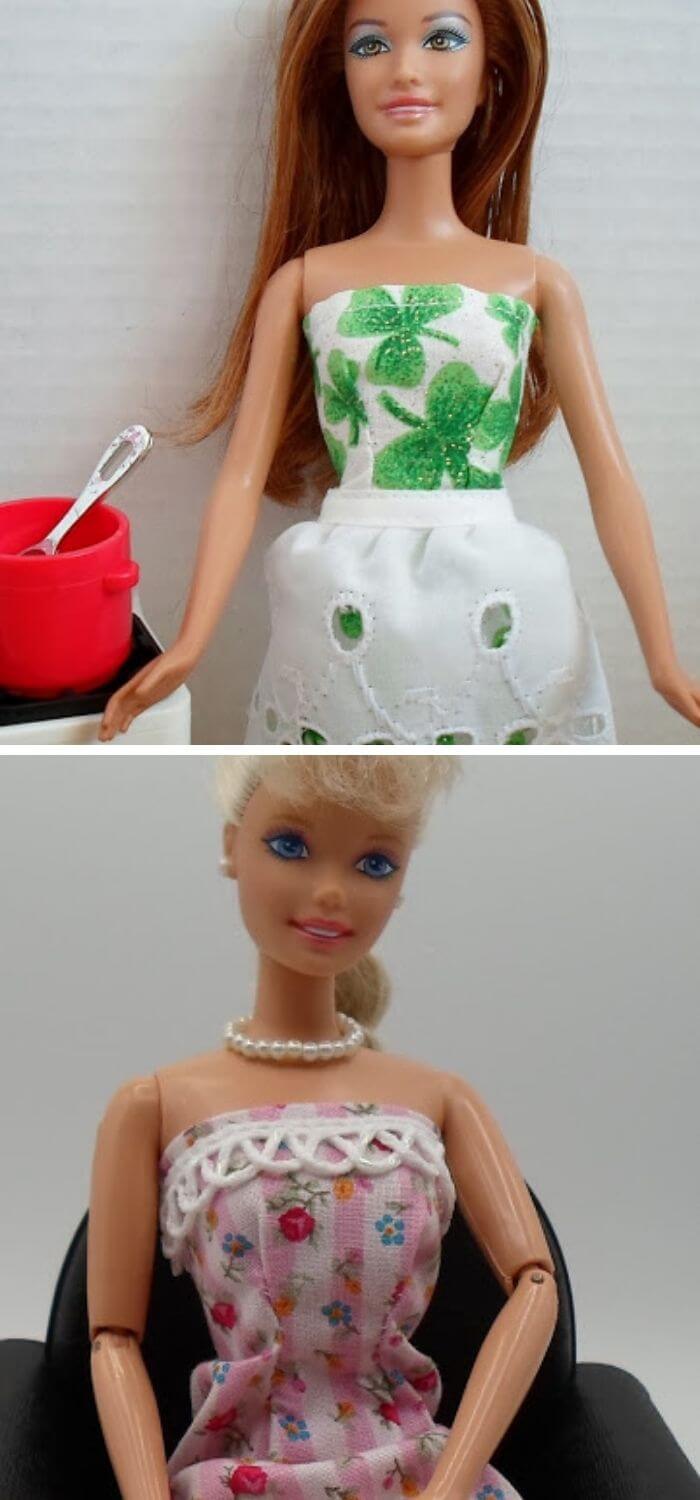 It is a collection of the best clothing that you will love to have for your Barbie. A shrug, a cap, a skirt and some other accessories make the set to be quite appealing. It is a free download, and you can master the knitting steps from the source attached.
Source: http://happierthanapiginmud.blogspot.com/2014/03/strapless-barbie-dress-with-or-without.html
6. Vintage Liddle kiddle dolls free patterns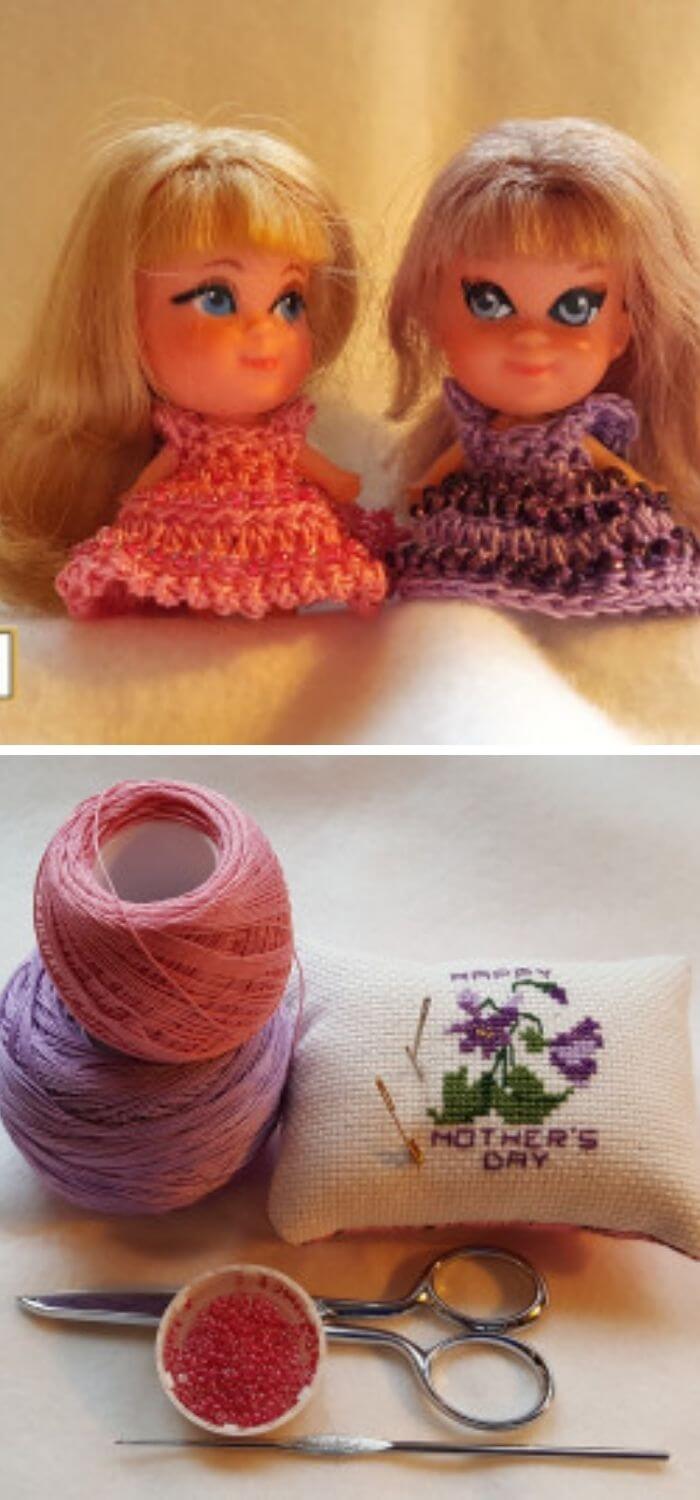 The vintage Liddle kiddle Barbie dolls are the oldest dolls that date back to the late 1950s. The Barbie has large heads but very tiny bodies. You can crochet a Barbie dress for this large head dolls; it won't consume a lot of your yarn.
Source: https://karenglasgowfollettdesigns.com/2016/01/06/doll-dress-crochet-pattern-for-2-inch-doll-liddle-kiddle-locket-kologne-doll-modeling/
7. Doll onesie free crochet pattern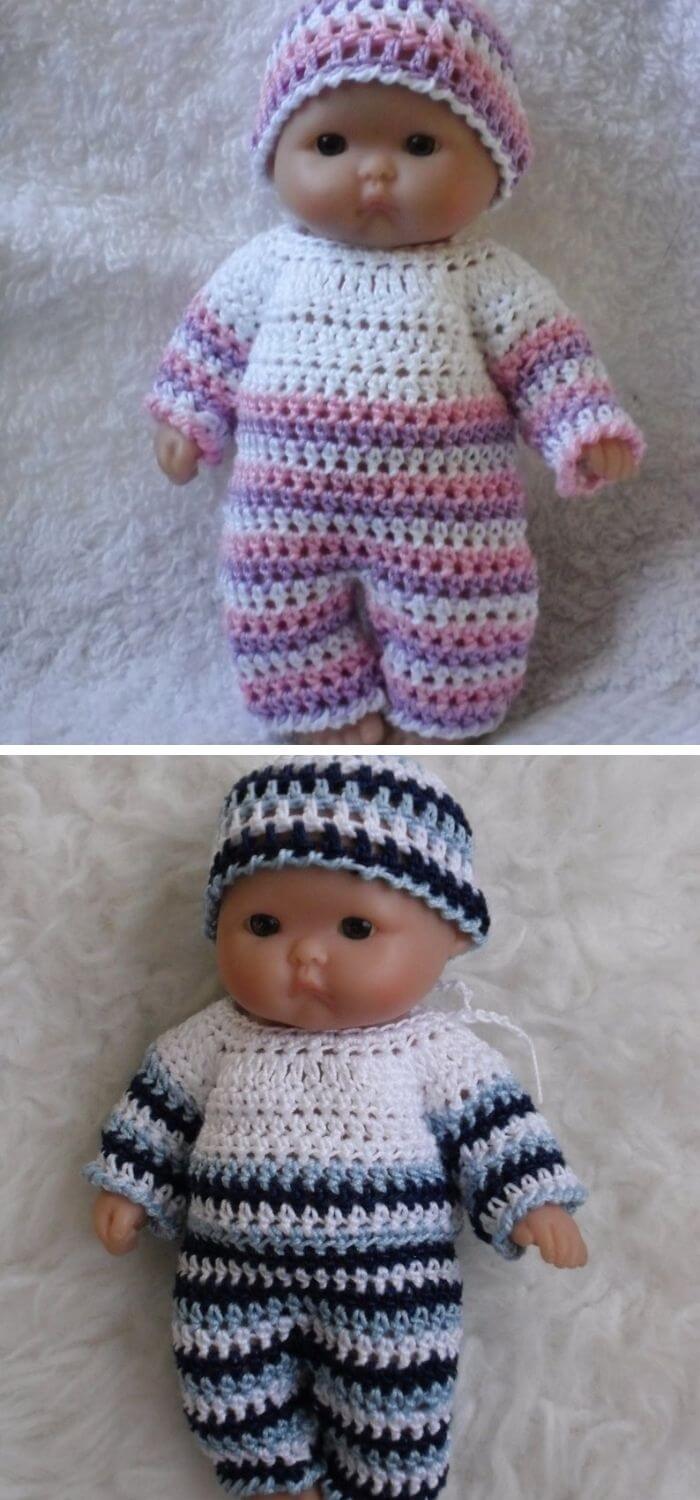 This crochet idea is cute. It entails a cute granny stitch hat, a onesie and cute matching doll slippers. You need to try out this for your Barbie doll and experience the results for yourself. All you need is bulky yarn to work out this cute design. You can check out all the stitch instructions from eh link and see if you can try it out for yourself.
Source: https://www.etsy.com/uk/listing/159798126/crochet-pattern-for-berenguer-5-inch
8. Crochet short overalls for dolls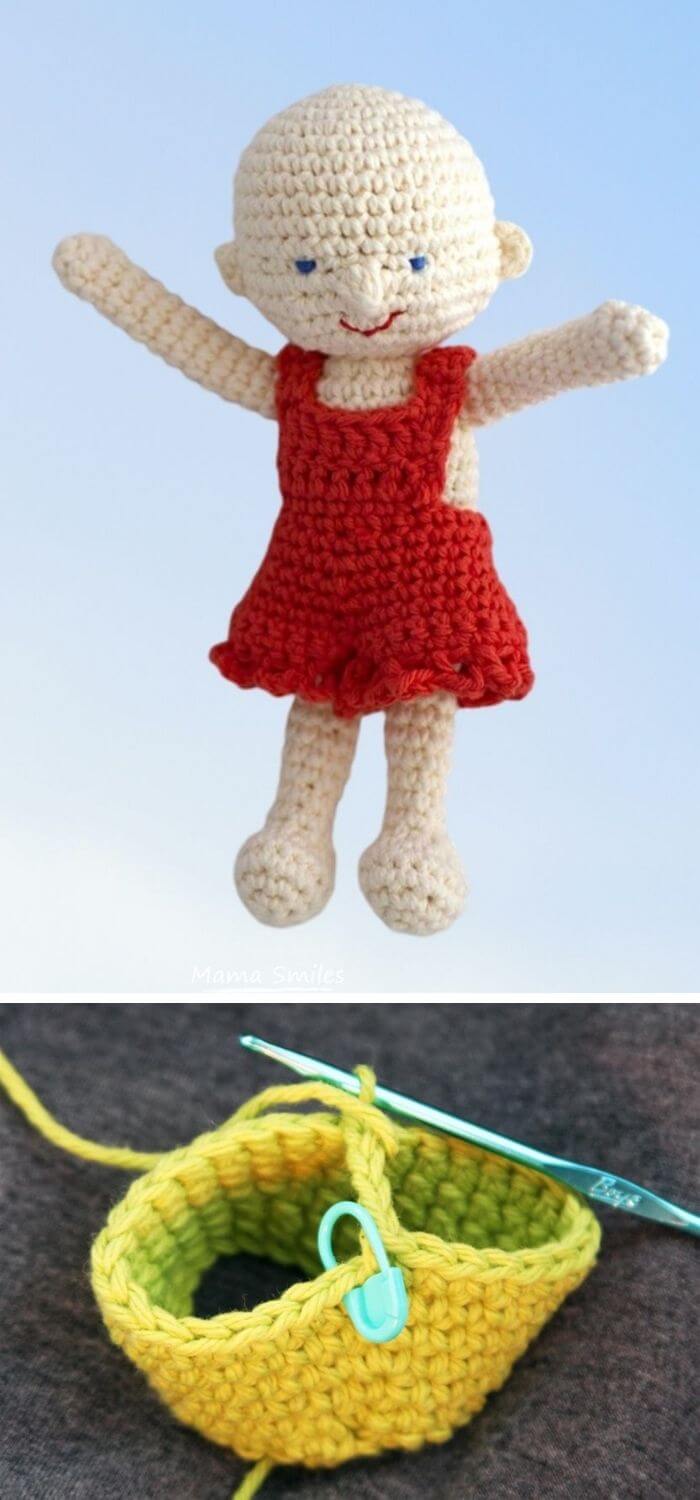 Here is an excellent crochet idea that may miss out on in the store. All you can do is fetch the stitching ideas from the family crochet ideas link and try it out for your cute small doll. It's a pleasant design and will be perfect for your Barbie dolls.
Source: https://www.mamasmiles.com/crochet-doll-overall-shorts-pattern-the-girly-version/
9. Doll undies free crochet pattern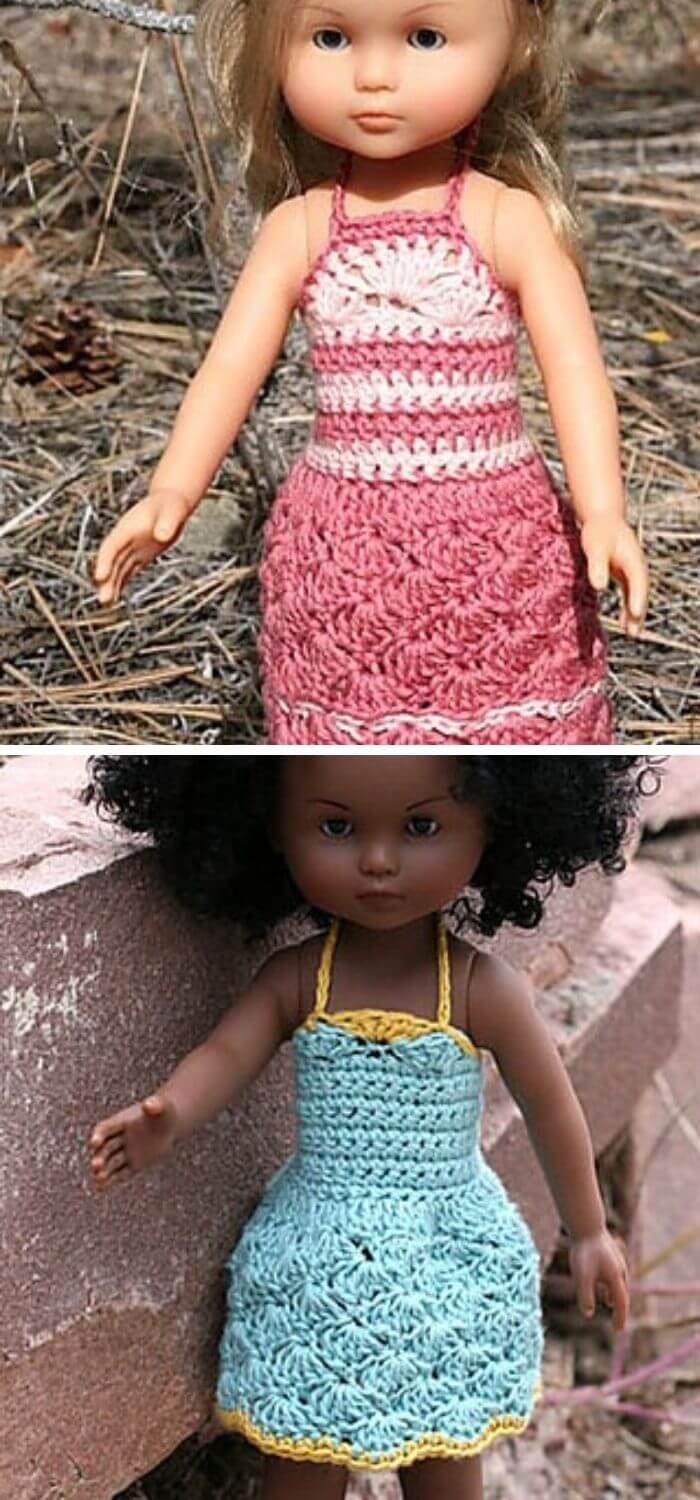 The doll undies free crochet is the best option for the conservatives who won't like to see their dolls walking bare. You can create that sense of respect by knitting this simple undies crochet for your Barbie doll. The steps are easy to follow a won't eat lots of your time.
Source: http://www.ravelry.com/patterns/library/see-shells-sundress
10. Crochet doll with changeable clothing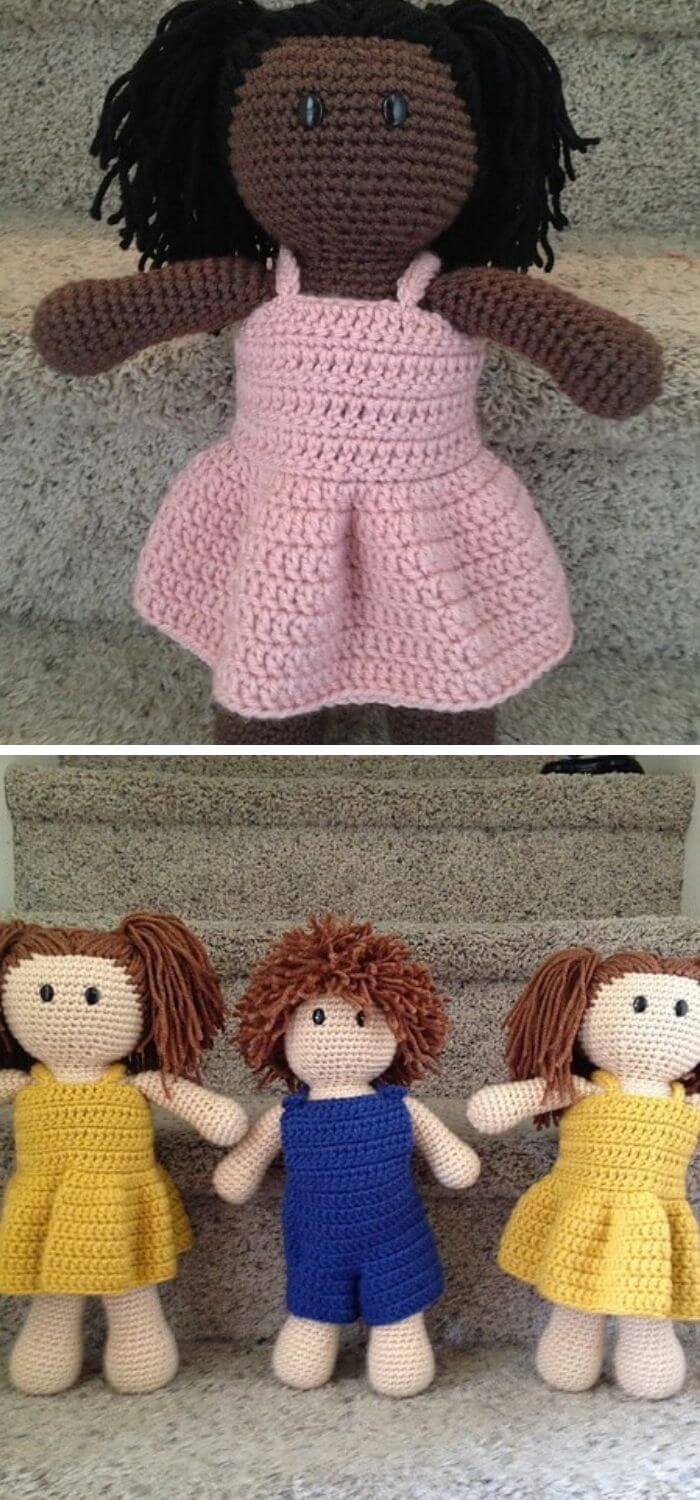 Here is a beautiful idea that you can do for your 14-inch doll. Every stitching steps easy, plus you can make multiple types of dresses for your crochet doll. It includes a dress and cute crochet overalls for your Barbie. Check the knitting instructions from the source link below.
Source: https://www.ravelry.com/patterns/library/crochet-doll-with-changeable-clothing-plus-hair-options
11. Sweetheart gown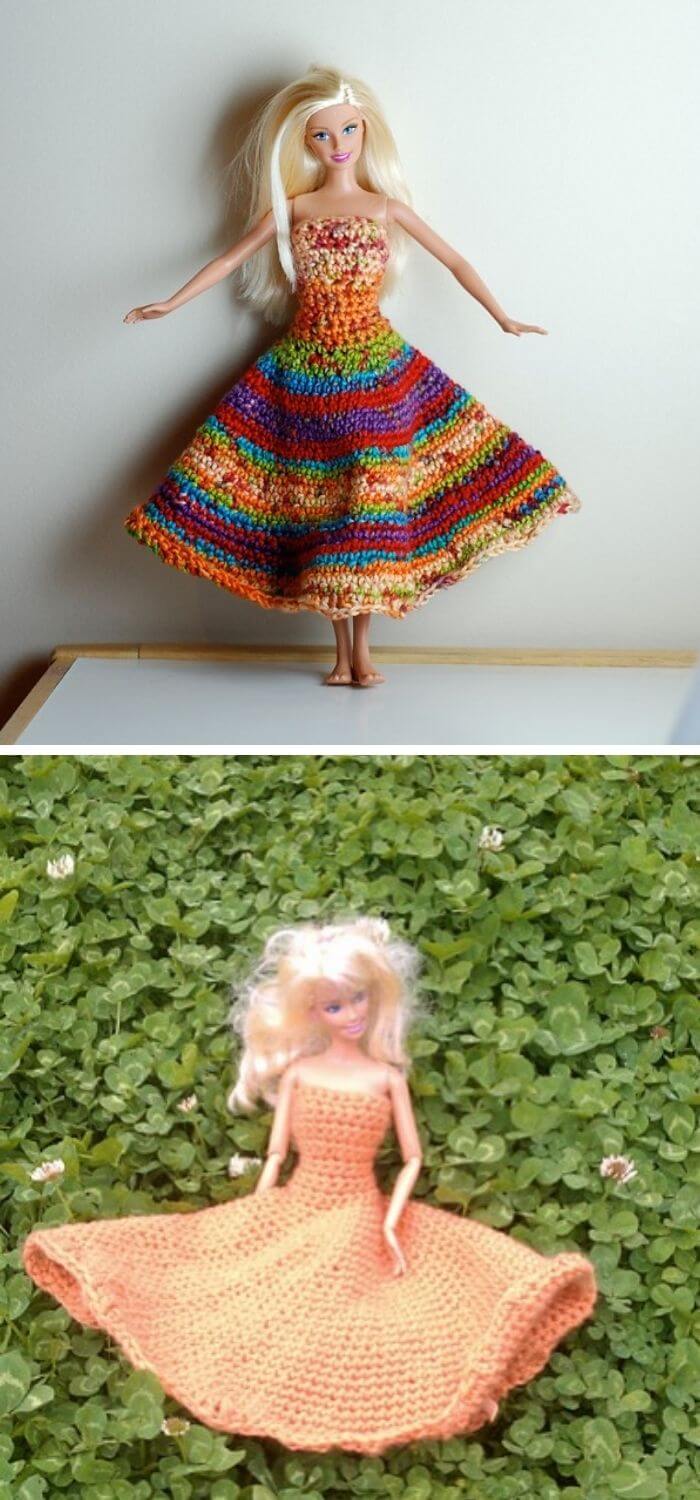 Sweetheart gown ranks among the cute dolls that you can stitch at home. It is eh cutest design that will dress your small doll. The picture has all the details you need to know when stitching it, and you have not to worry about how you are going to crochet the pattern.
Source: https://www.ravelry.com/patterns/library/barbie-gown
12. Mini or long fashion dress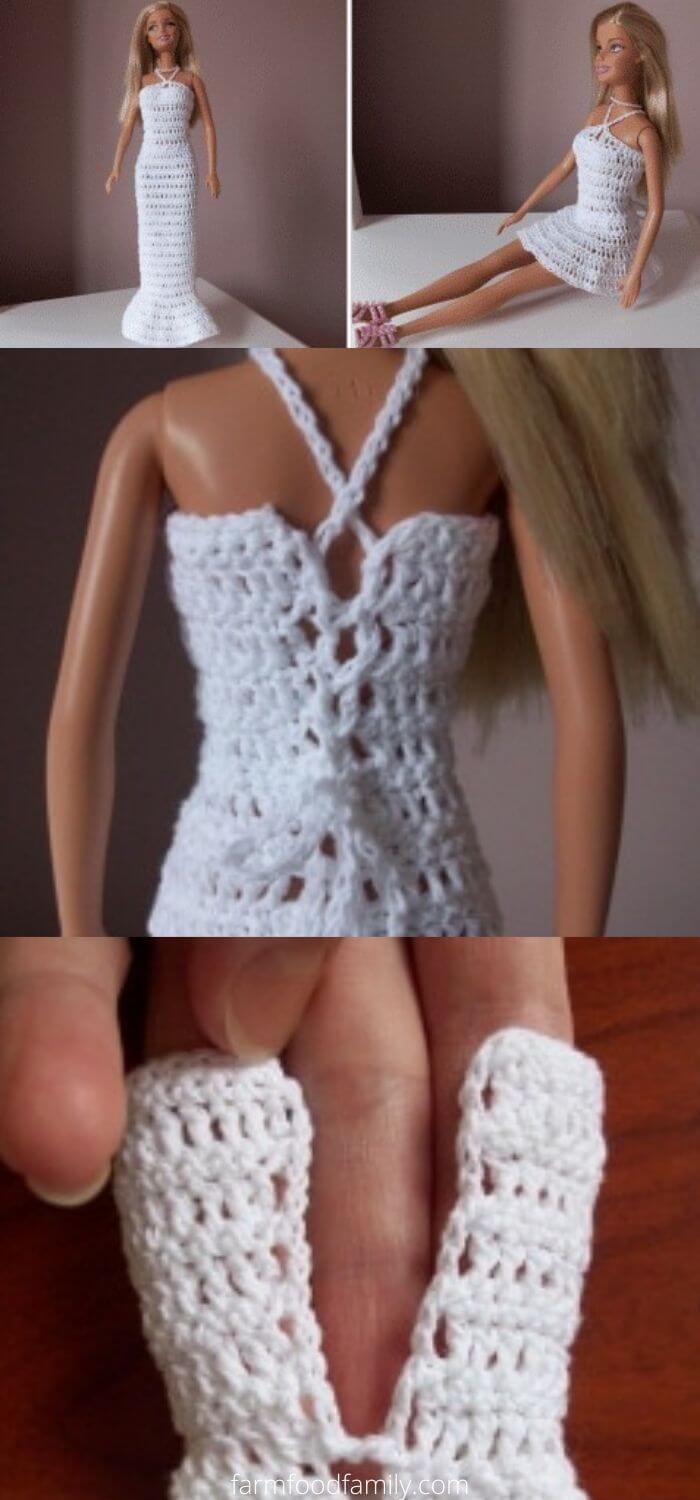 Another cute doll fashion clothing is the mini or long fashion dress. It's is a cute design, and you will be choosing the best dressing that will best fit your dol. You can alternate the dress depending on the event. Check out eh stitching instructions from the source link here.
Source: https://crochetncrafts.com/mini-or-long-crochet-fashion-doll-dress/
13. Dream wedding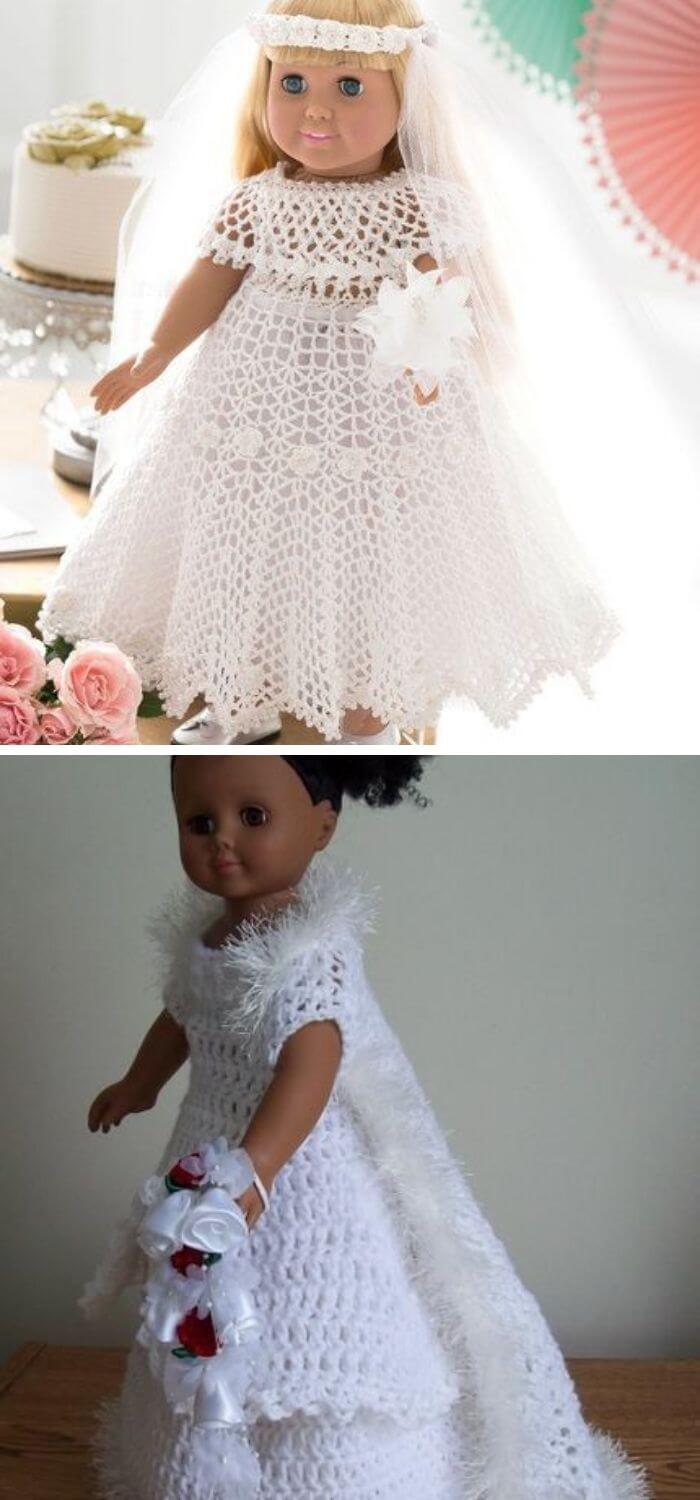 It's wedding time, and you want to bring out that cute wedding theme even with your dolls! What if you try the crochet skills with the dream wedding designs? They are elegant and yet easy to crochet. You won't stop admiring what you get after such a project.
Source: https://www.yarnspirations.com/red-heart-wedding-dress-for-doll/RHC0334-024800M.html
14. Crochet Barbie doll skirt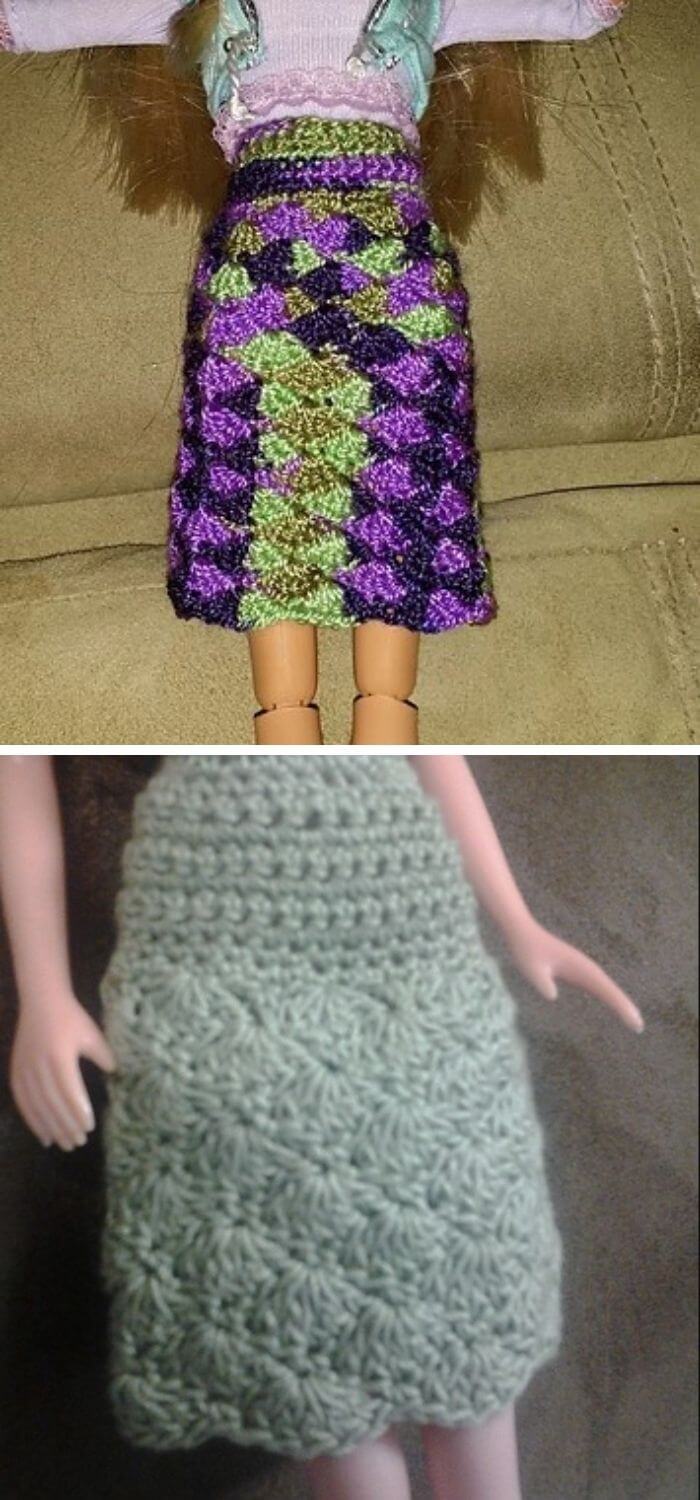 The crochet Barbie doll skirt looks nice. It's a stylish Barbie doll that you will want to have in your house. You will appreciate how the dress will look good on that doll. It appeals eye. Why can't you try your crocheting skills with the best project that will be fun for you to do it?
Source: https://www.rebeckahstreasures.com/blog/crochet-barbie-skirt-pattern
15. The Barbie doll skirt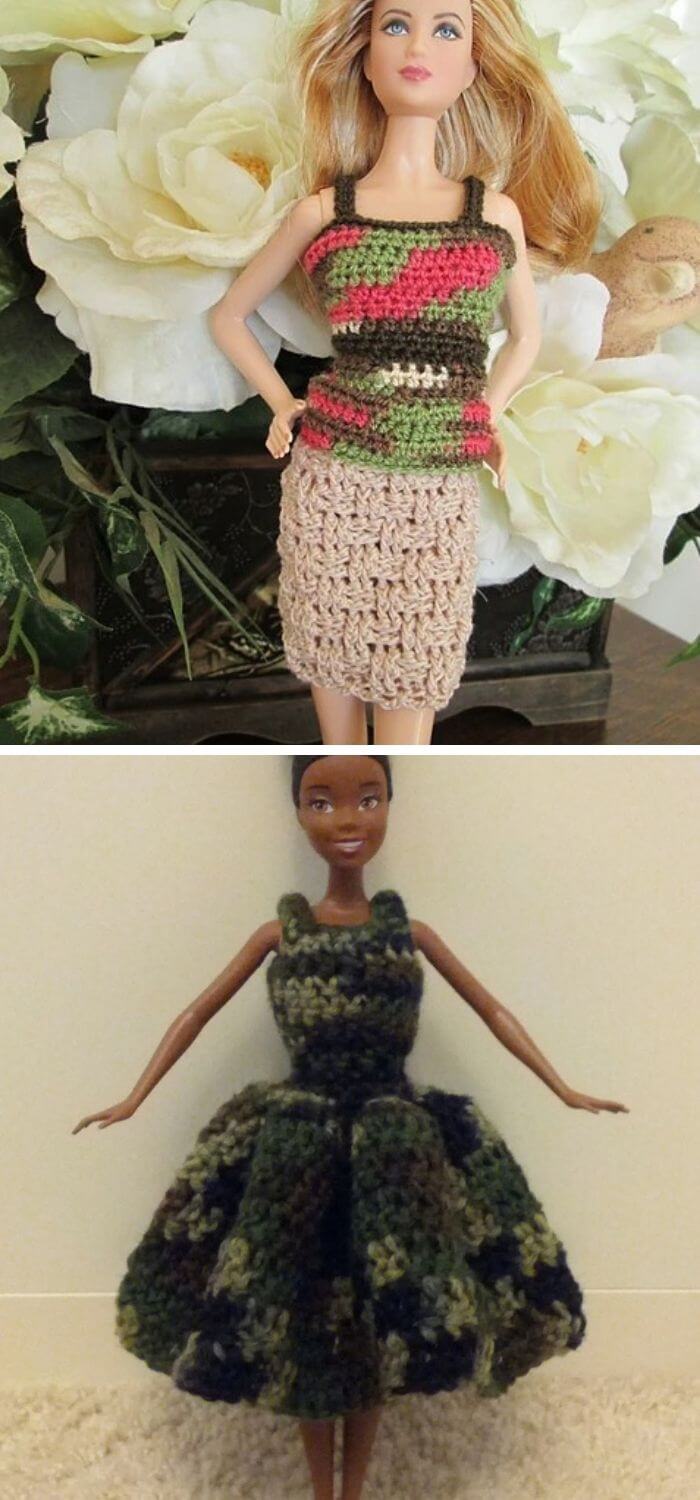 Finally, you can check out the Barbie doll skirt for your doll. The colors are cute, though you are at liberty to choose the colors you will want for your Barbie dolls. It's a cute design that you will want to give a try. Check out the tutorial below for real insights about how you can crochet the Barbie doll skirt.
Source: Ravelry and danimoms-corner