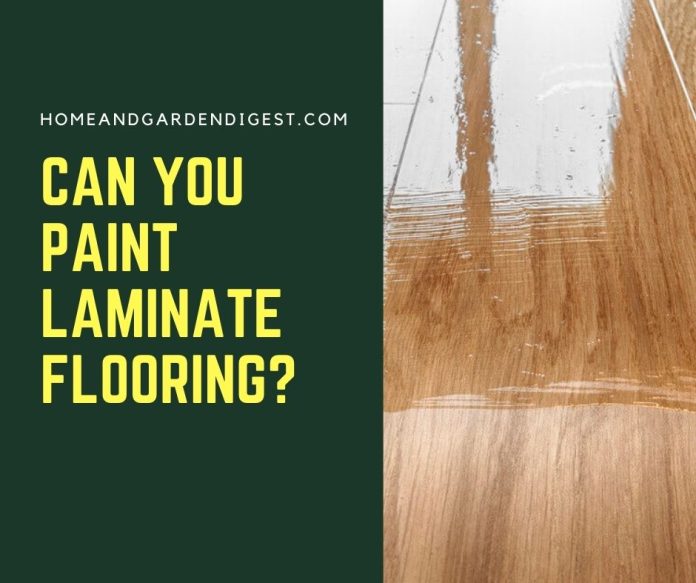 Of course, you can do it! You only need to be ready to adhere to all the rules to will take you to success. Painting a laminate floor involves choosing the right paint that will work well with your fiberboard.
There is specific paint that will only work on laminate floors. It is not about visiting a store and buying paint but getting the best that suits the floor.
There are special requirements that should never miss when you are painting a laminate floor. They are sander and high-quality primer.
Notably, a laminate floor will readily accept the paint since it is a soft fiberboard. A laminate floor will have layers that are a protective overlay and a design layer.
A protective overlay is responsible for protecting your floor from stains, burns, and chemicals. A design layer gives your laminate floor that natural look and it will appear like real wood.
Now, you intend to paint your laminate floor, but you need to start with choosing the best paint that will deliver the best results for you. We all have different provenances. Some will love a bright shiny room, while others like a dull room.
Your prevalence is the factor that will guide you to choose the best. If you prefer a bright room, then ensure that you have large amounts of gloss. If you can do with a dull room, then you can do with little.
Good things always come with a price. Low cost is not an option here. Ensure that you are balancing between the cost and the quality you deserve. It won't be a bad investment because you will not be doing this annually. It will be a milestone purchasing something that will stand the test of time.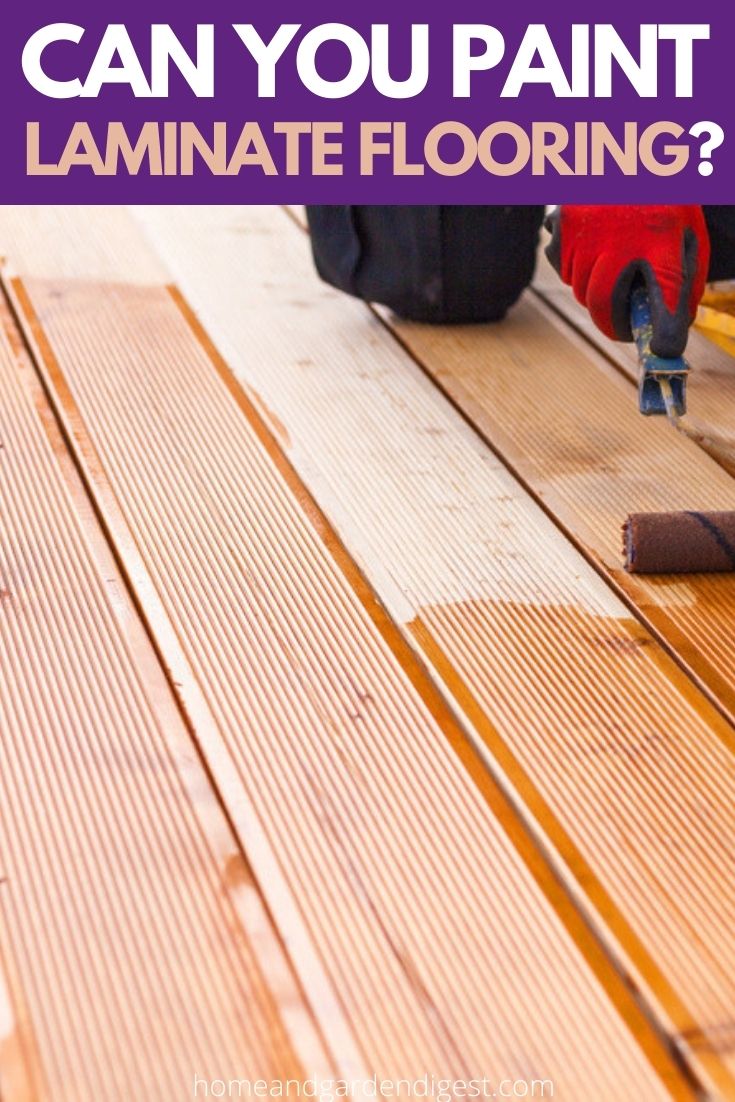 Related: Is laminate flooring toxic?
Steps to follow when painting a laminate floor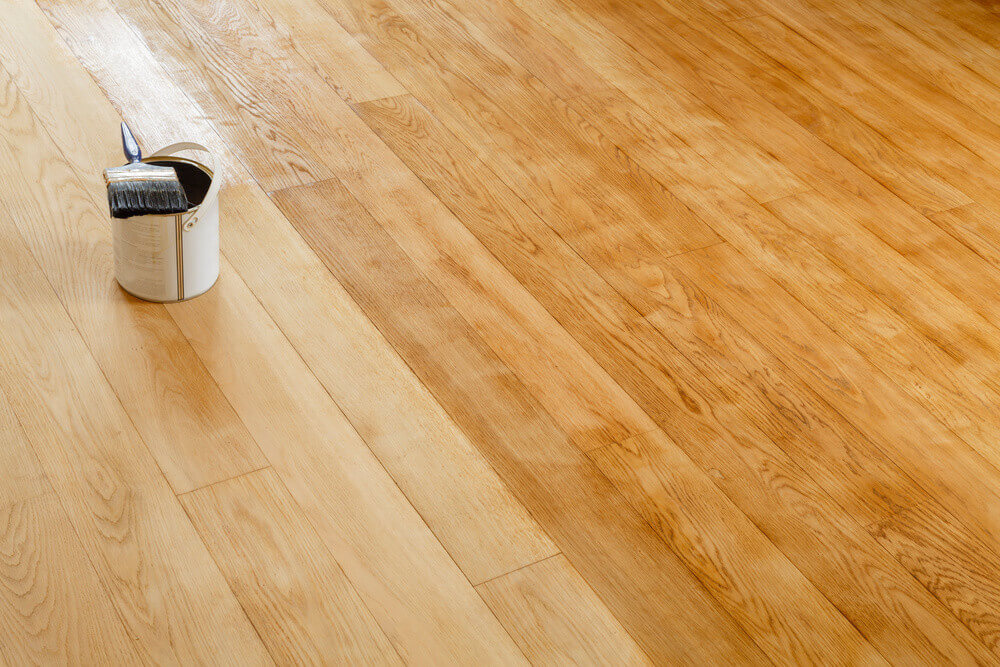 When you have your goals set right, the next step is to start painting. Of course, you have the best paint that will deliver the results you are looking for. Consider the following steps that will guide you while painting your laminate floor.
The success of your painting is preparation. Part of the plans includes arranging the tools that you will use when painting. You will then remove all the furniture in your house because you need a perfect job and there is no room for anything that may hinder a good job. Do some cleaning and ensure that the room is tidy before you start painting.
So, you will need the following requirements before you start painting your laminate floor;
Paint roller
Polyurethane sealer
Sander
Flooring paint
Painters tape
angled paintbrush
All these supplies are necessary when you want to paint your laminate floor. You can order them from the nearest paint store.
Related: Is laminate flooring waterproof?
How do you tell if you have the right paint?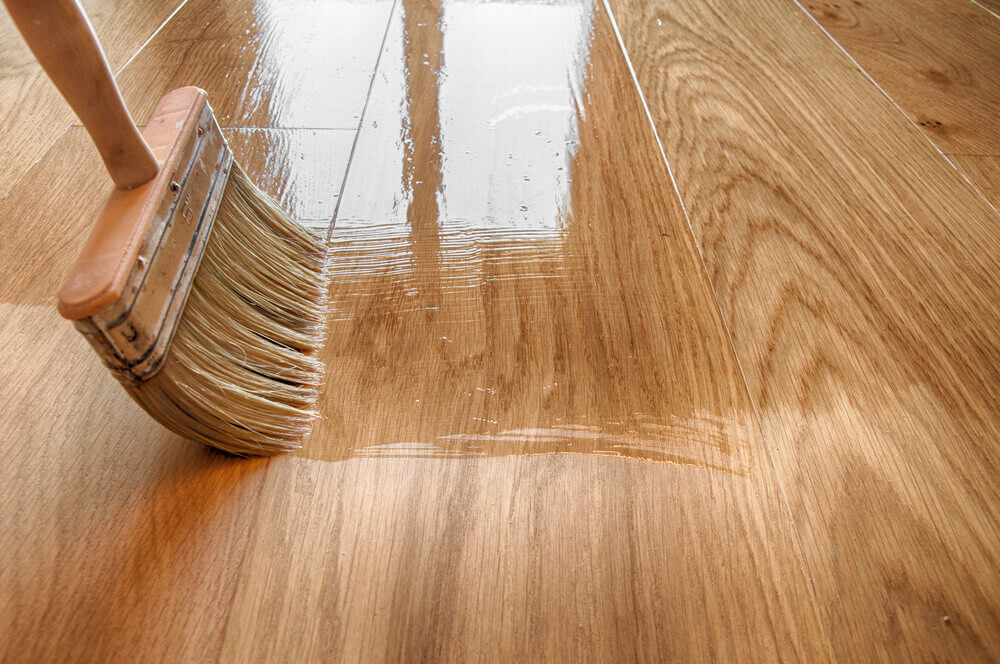 You can always do this by testing your pain in a small area before embarking on the actual painting. You can check the strength of your paint in unnoticeable parts of your floor.
Sanding
What next when you have all the supplies and the right paint? The next part is now a bit harder. You will need to do a proper sanding.
Sanding is an essential process when painting the laminate floor. You can opt to use the 180 –grit sanding pads in the instance where you are dealing with an old gloss.
The gloss you are removing is not the plastic coating. Don't remove the plastic that serves as a protective layer that keeps the wood intact. Do the sanding on the surface. Be cautious when sanding lest you interfere with the inner layers of your fiberboard.
Wiping off the dust
Sanding is a time-consuming practice that you must do it correctly. When you finish sanding, the next step is to wipe off all the dust from the floor.
Wipe off all the dust before you start painting. Proper cleaning will ensure that you get an easy time when painting. If you don't remove the dust, you will risk losing the perfect paint because the dust will hinder proper bonding.
Cleaning should be thorough so that you don't leave any dust behind. After cleaning, you will then need to apply a coat of a de-glosser using a fiber cloth. You will allow the de-glosser to dry. If any dust remains, the de-glosser will remove it.
Taping off the Trim
A de-glosser may take longer to dry. You can give it some 24 hours. When it is dry, tape off the trim and all the edges of your flooring. Taping will help to protect from spreading the paints on the wall. Ensure that you are doing this properly lest you spill the paint on the walls.
Actual painting
Now, this is the last step when painting the laminate floors. You will be using a paint roller hereto to apply the first coat of paint. Your first layer should be uniform. Do it professionally without leaving any areas.
It may take some time for it to dry. If you are not in a rush, which hopefully you are not, you can give it a day or so to dry well. Access your work the next day, and if you find some issues, you can apply the second coat until you get that perfect paint you are looking for.
After painting, you will need to give it time to dry. You will only settle back in your house once you are sure that the paint is completely dry.
Bottom line
To conclude, it is evident that we can easily paint our laminate floors. By the end of the painting process, you should be sure to get that perfect paint you have been dreaming of.
If it becomes a challenge doing the cleaning, then hire professionals who can do it for you. Painting is not for everyone. Service providers can make a difference. Consider hiring them if you need excellent work since they discharge their work at a very friendly price. They are also reachable at any time.