The Basketweave crochet-free patterns will allow the crocheters to try crocheting in different ways. Try your crochet art with the following 15 Basketweave crochet-free patterns.
It could be a nice DIY project that can make something great for you. It is always advisable to start with a couple of crochet Basketweave squares. When you are sure you have the art, you can proceed to make crochet baby blankets using the Basketweave crochet patterns.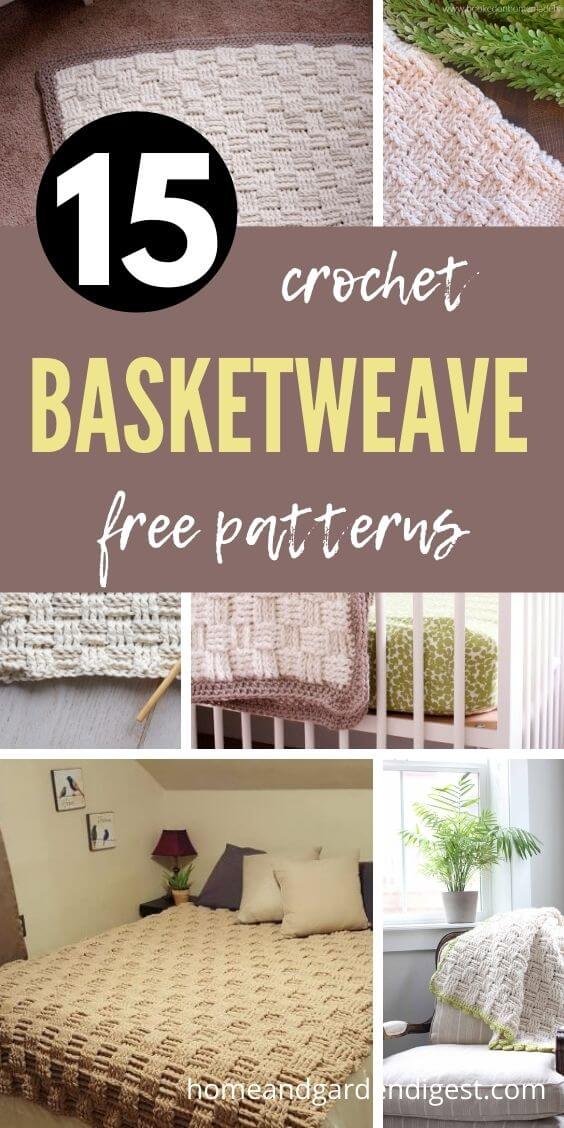 1. Thick twist Basketweave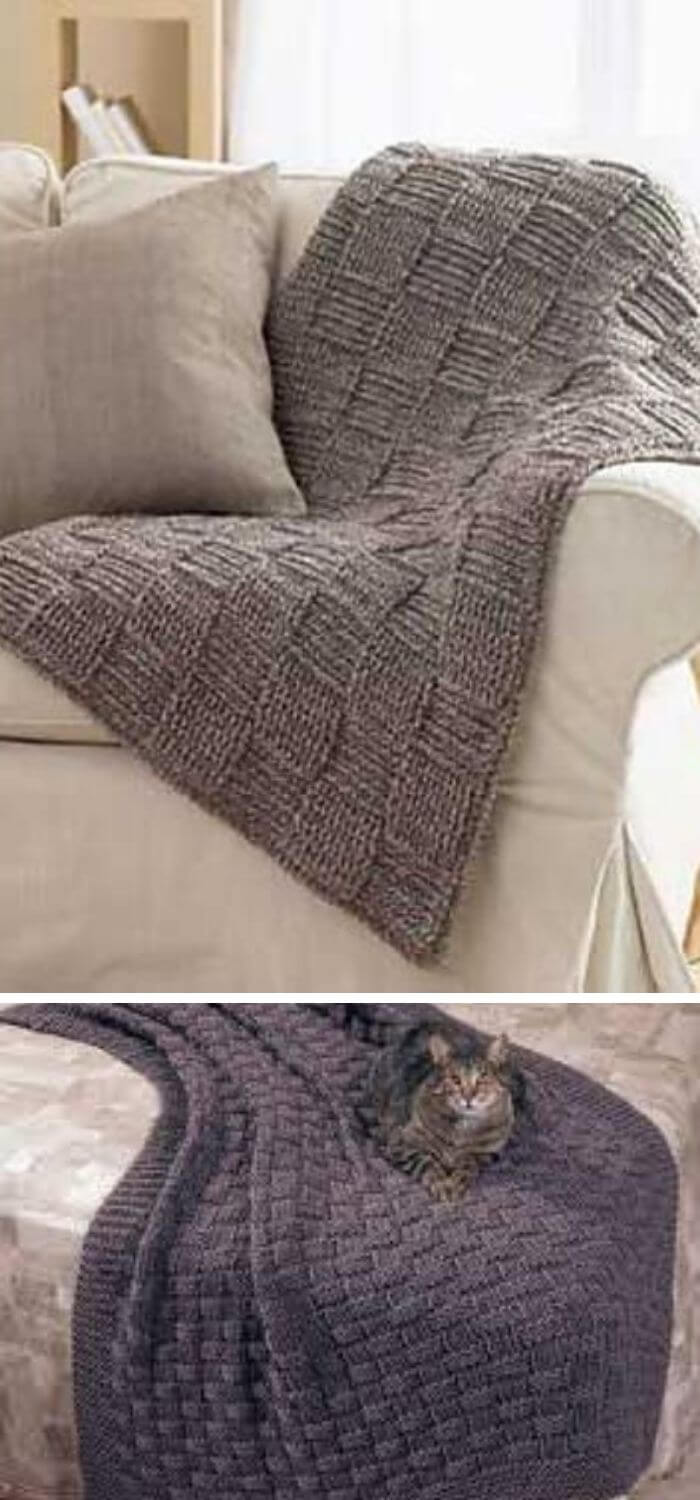 Do not ponder so much on what to present to your friend during the housewarming party. The thick twist Basketweave will be a fantastic gift and look great in a living or a bedroom. It is a great free pattern from Bernat yarns that uses easy crochet designs.
Source: https://www.allfreecrochetafghanpatterns.com/Basketweave/Thick-Twist-Basketweave
2. Basic Basketweave square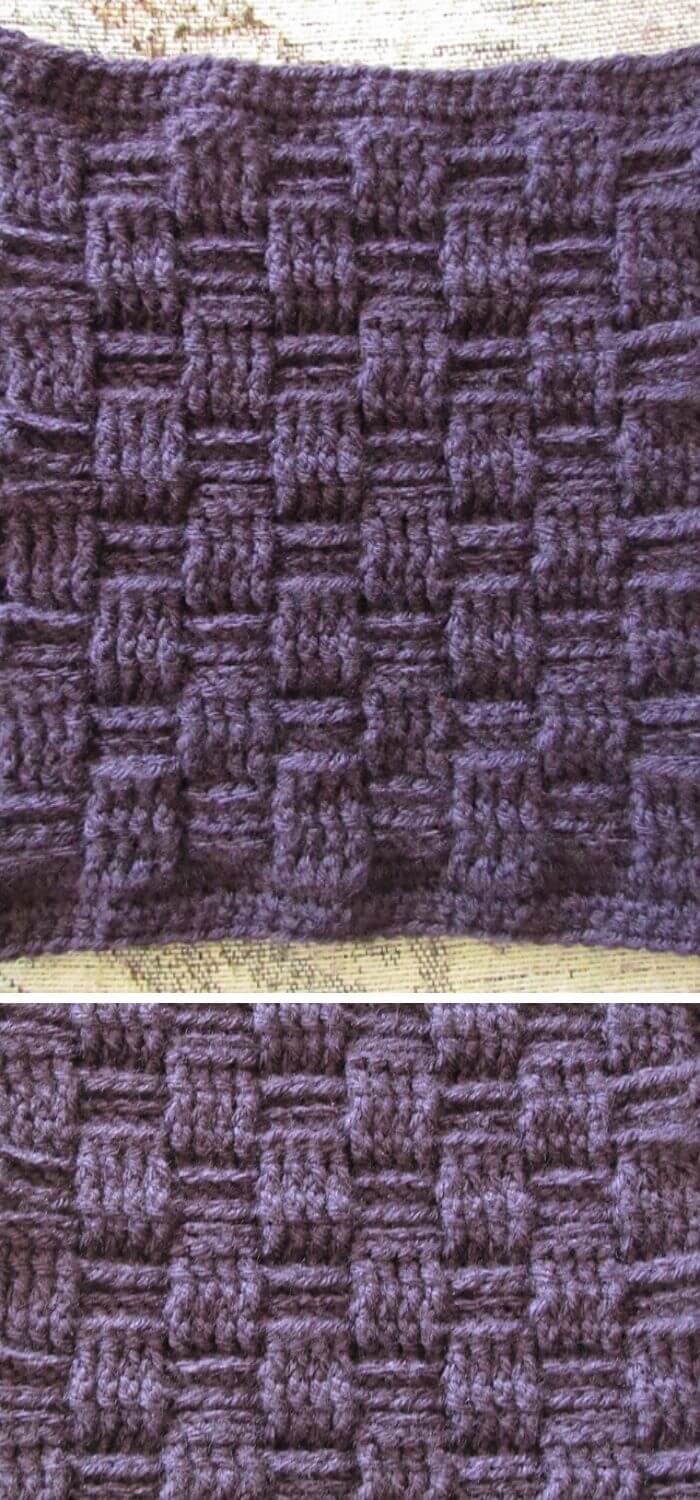 The basic Basketweave square is another beautiful design that every crochet lover will find pleasure in it. The stitch types are doable, and it will only take the basic crocheting skills to get the work done. Check the source and see if you can make something for a housewarming party.
Source: https://www.ravelry.com/patterns/library/basketweave-12-afghan-square
3. Modern crochet Basketweave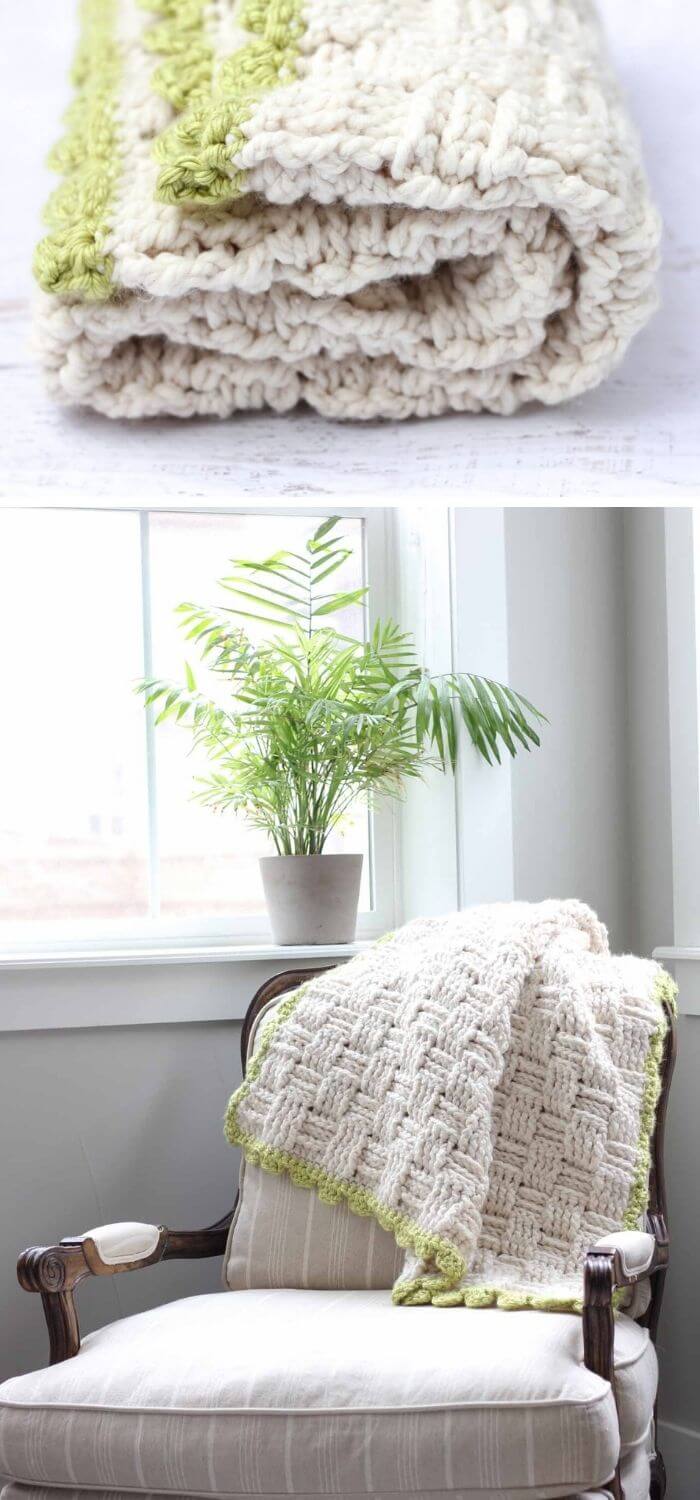 Modern crochet Basketweave is a lovely crochet pattern that blooms with a texture to make a perfect lapghan sized afghan. You can check the stitching details from the source. It will inspire you to begin a Basketweave crochet idea.
Source: https://makeanddocrew.com/crochet-basket-weave-blanket-free-pattern/
4. Chunky Basketweave throw blanket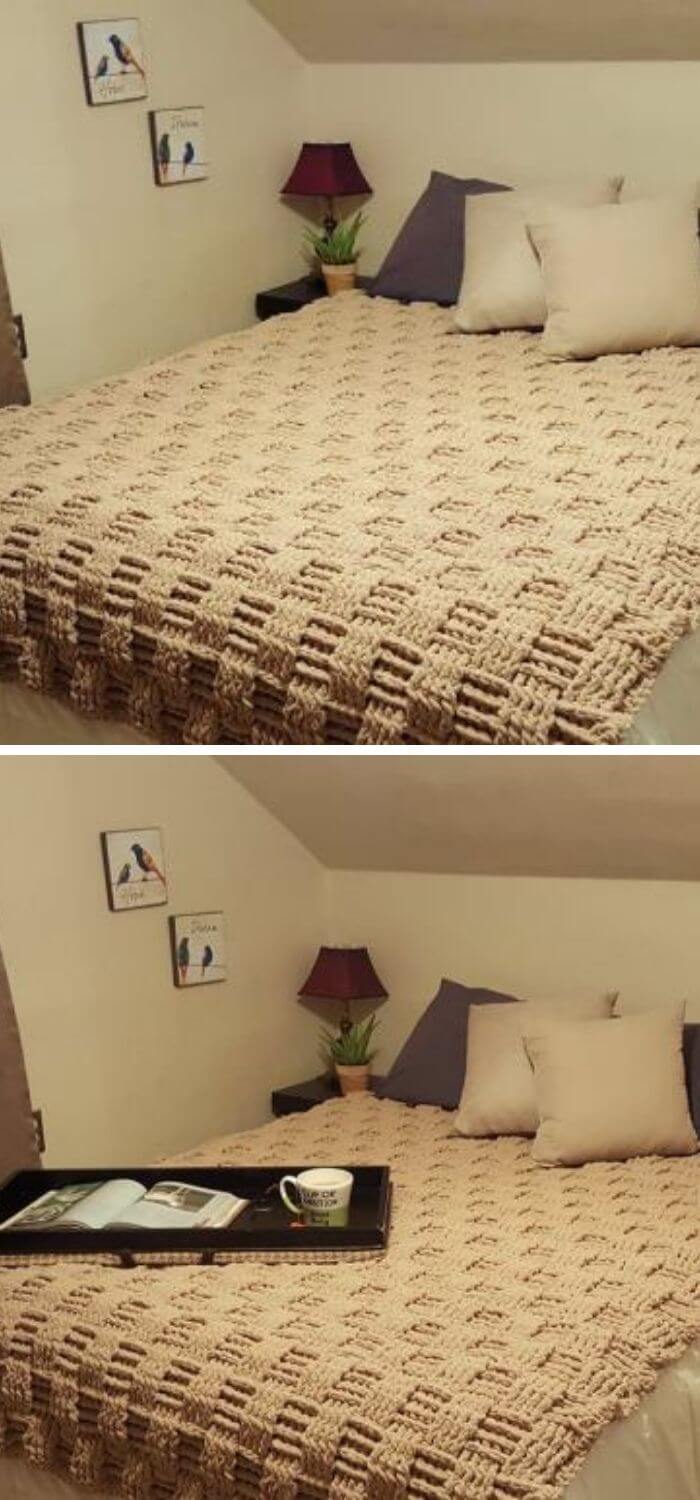 The chunky Basketweave throw blanket is another idea that the Basketweave crochet lovers will love doing. Check all the knit steps from the source for inspiration on how to go about all the stitches. It is a cute baby blanket that will impress everyone.
Source: https://yarnutopia.com/2017/10/01/chunky-basketweave-blanket/
5. Basketweave crochet baby blanket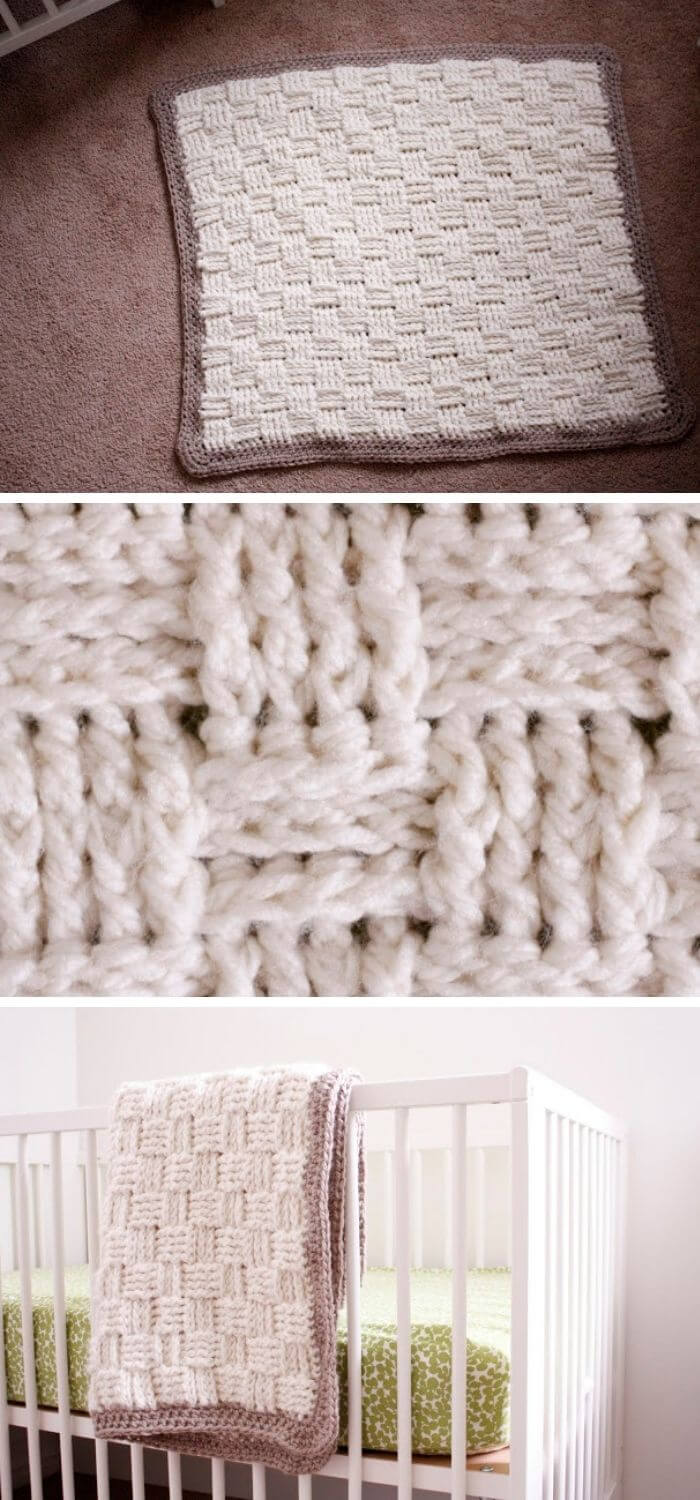 Infer from the link below to get inspiration on how you will get started with a Basketweave crochet baby blanket. All the stitching instructions are available and will be easier for you to follow. You need to know how to hold a hook and yarn, and there you are to start knitting.
Source: http://www.deliacreates.com/2012/02/nesting-basket-weave-crochet-baby.html
6. Daisy Basketweave blanket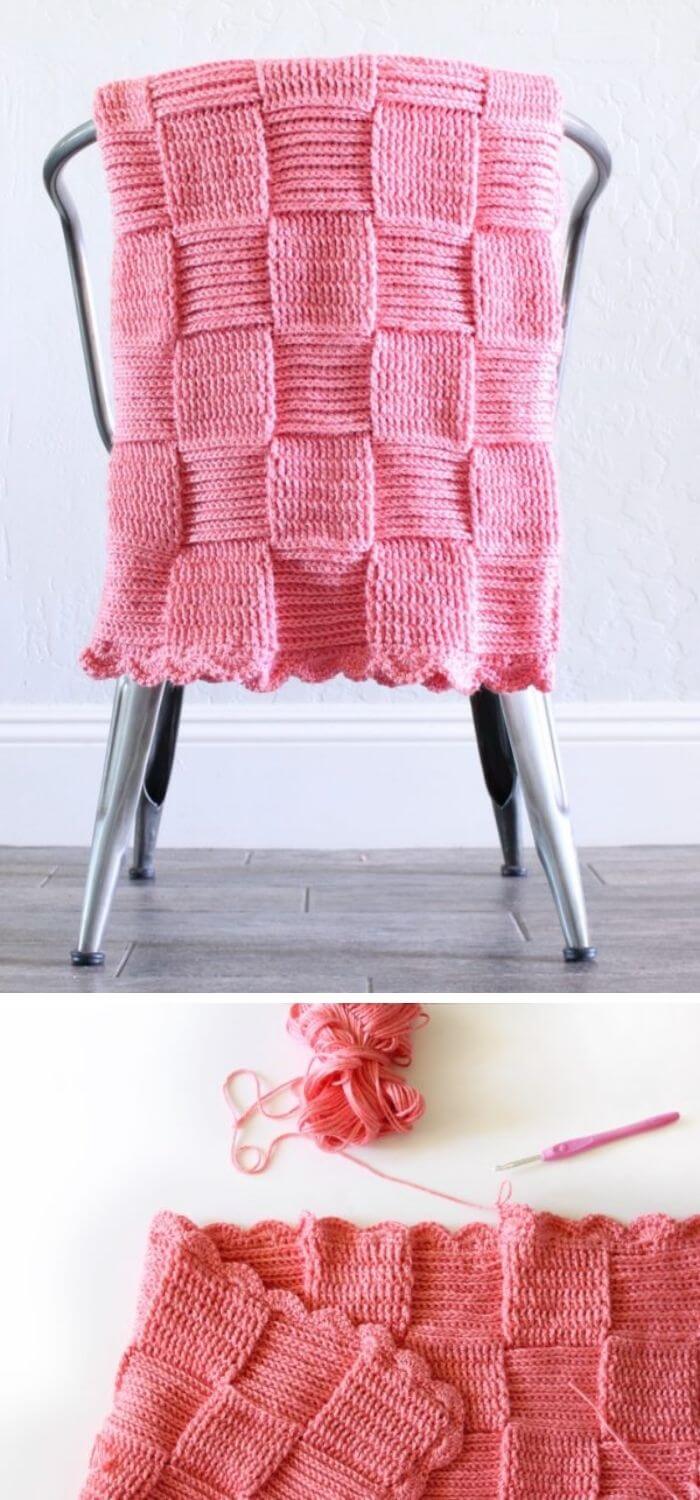 The daisy Basketweave blanket has easy knits that will impress the crocheters. Many reasons make crochet to be the best. First, you will like the fact that it is free crochet. It also comes with instructions to guide you as you work on it during your leisure. Check the steps for inspiration.
Source: http://daisyfarmcrafts.com/crocheted-basketweave-blanket/
7. The Basketweave baby blanket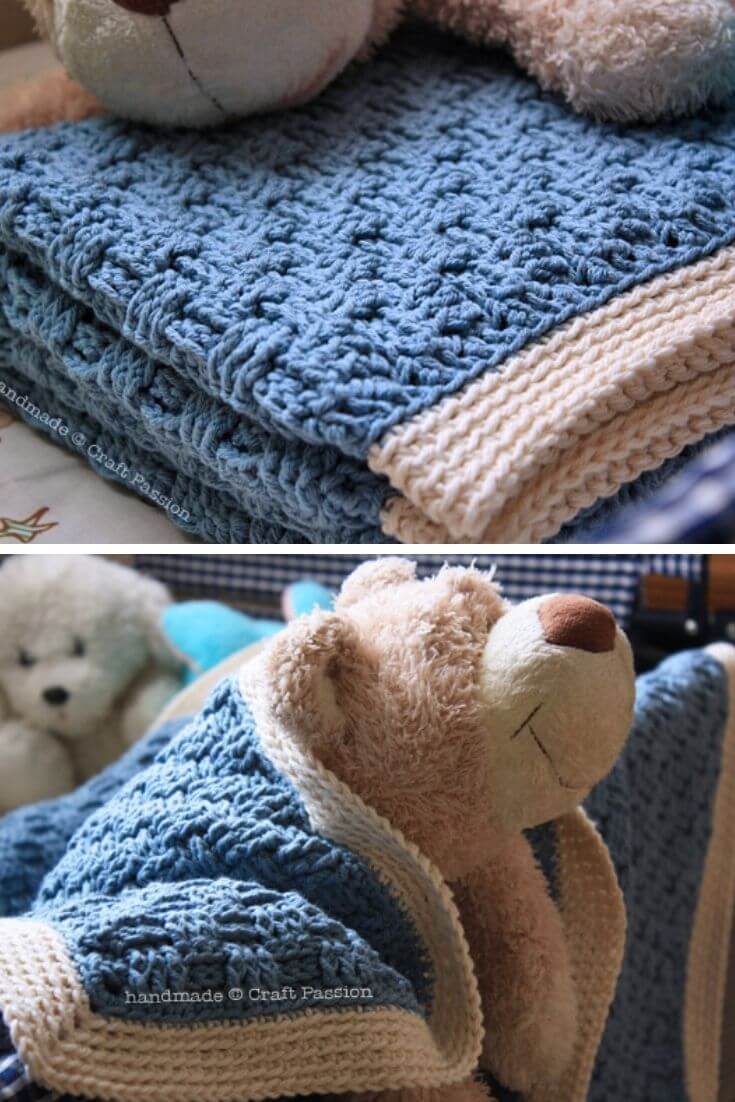 The basketweave baby blanket is another fantastic idea with the details you will want to see in crochet. It is a big baby blanket that uses the basketweave ideas to make a blanket. All the knit steps are available from the source below to make things right. Check it and start over the project.
 Source: https://www.craftpassion.com/crochet-basket-weave-afghan-baby-blanket-pattern-tutorial/
8. Quick and easy Basketweave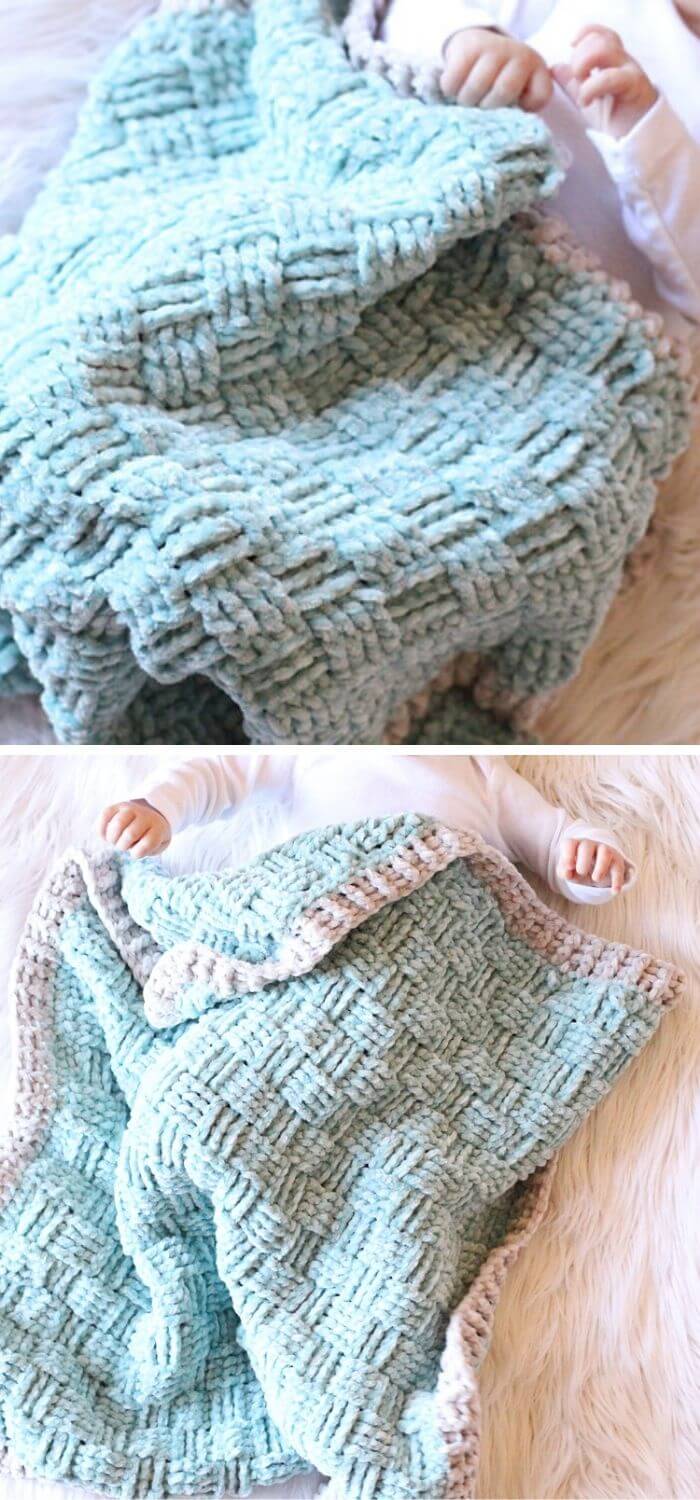 Here is a quick and easy basketweave that you can do in few hours once you start the first step. Everything that you will want to follow in the stitch is reachable. The instruction manual is only meant for inspiration in case you will miss out on some prudent stitches.
 Source: https://hookedontillylife.com/baby-children-1/basketweavebabyblanket
9. Basketweave purse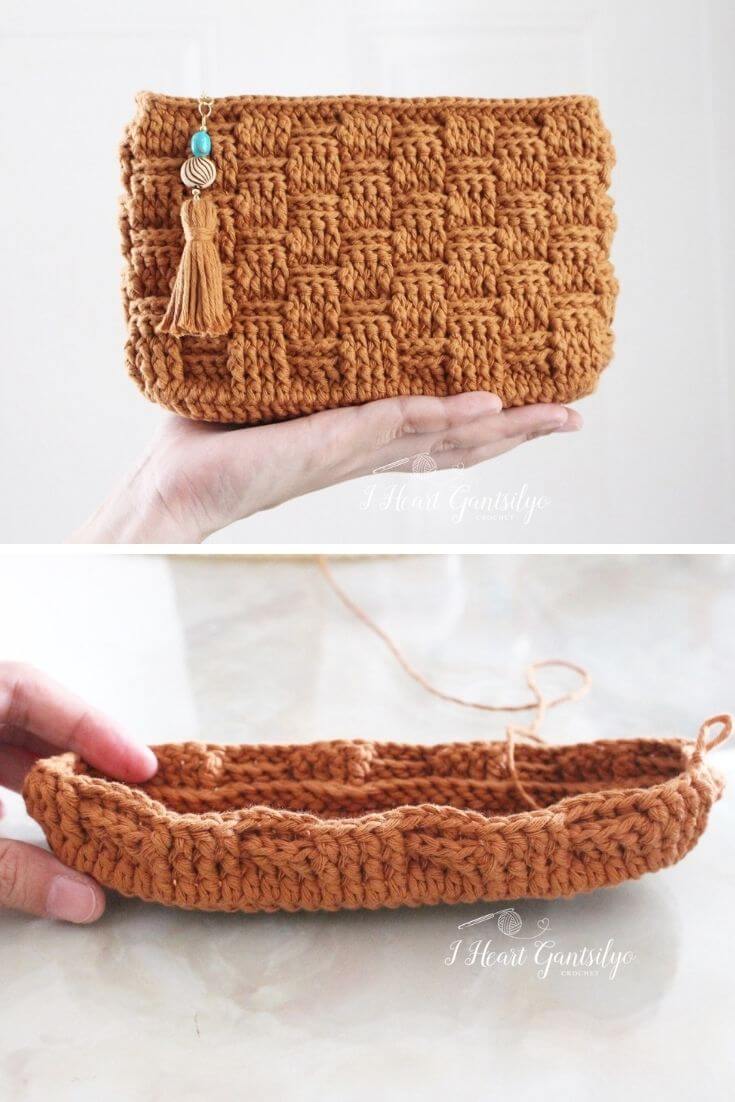 A Basketweave purse is another excellent idea that you can follow to crochet a new Basketweave pattern. The free crochet has all the stitching instructions in place, and it will take little learning to get the work done.
 Source: https://www.iheartgantsilyo.com/basketweave-stitch-pouch/
10. Crochet basket weave blanket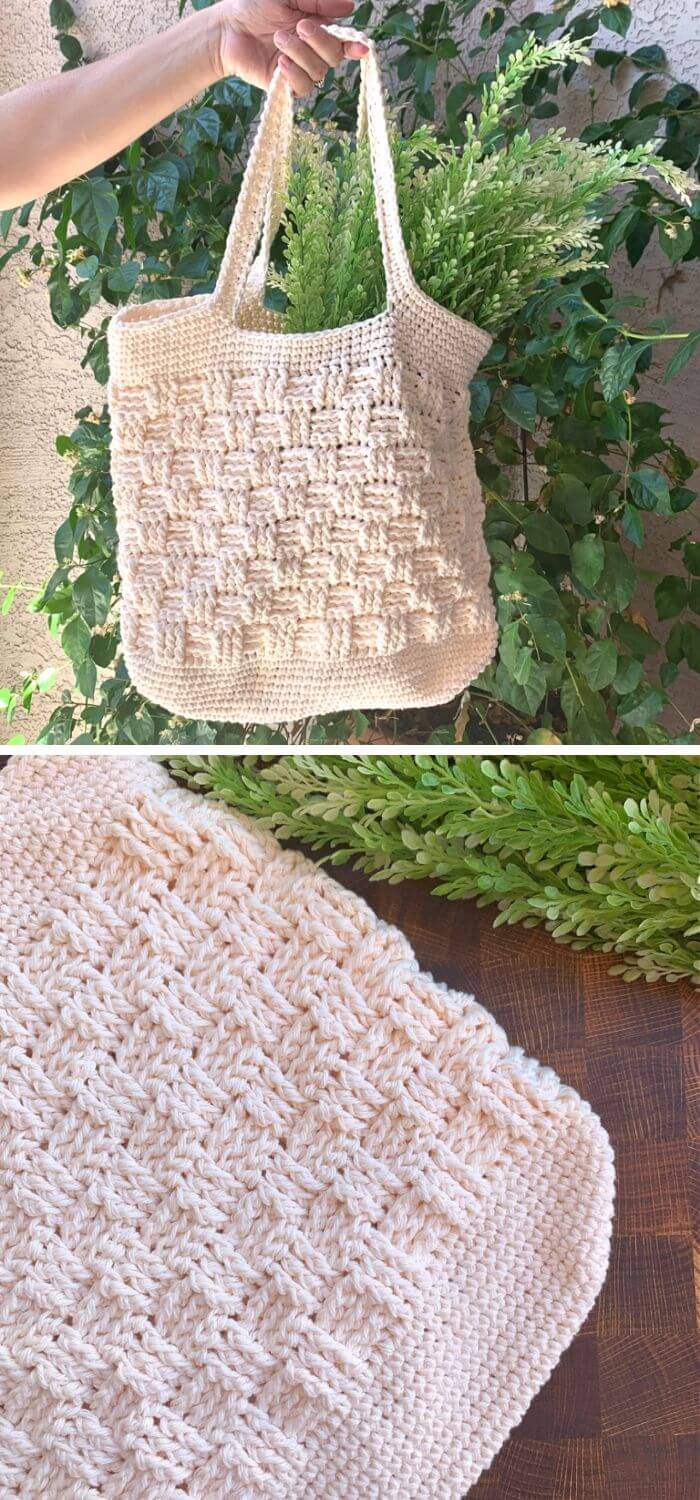 Crochet basket weave blanket will favor the newbies and any other person who enjoys doing a crochet assignment. Check out for everything you need to know about the crochet idea and get started with the project. It will be a great way to spent leisure hours.
Source: https://www.hookedonhomemadehappiness.com/basketweave-market-bag-crochet-pattern/
11. Basketweave crochet throw pillow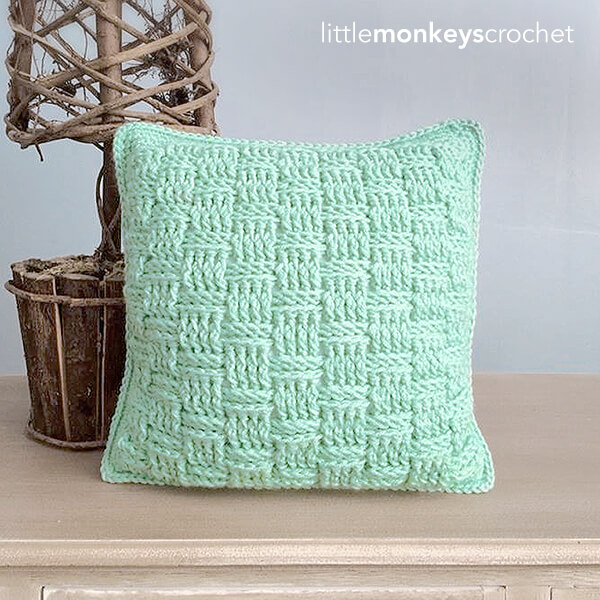 What if you try crocheting a Basketweave crochet pillow fo9llowingf the instructions from the source? It is an easy way to do a perfect crochet stitch. Check the link to inspire you to work on the crochet stitch.
 Source: https://yarnandchai.com/basketweave-throw-pillow-free-pattern/
12. Tree bark Basketweave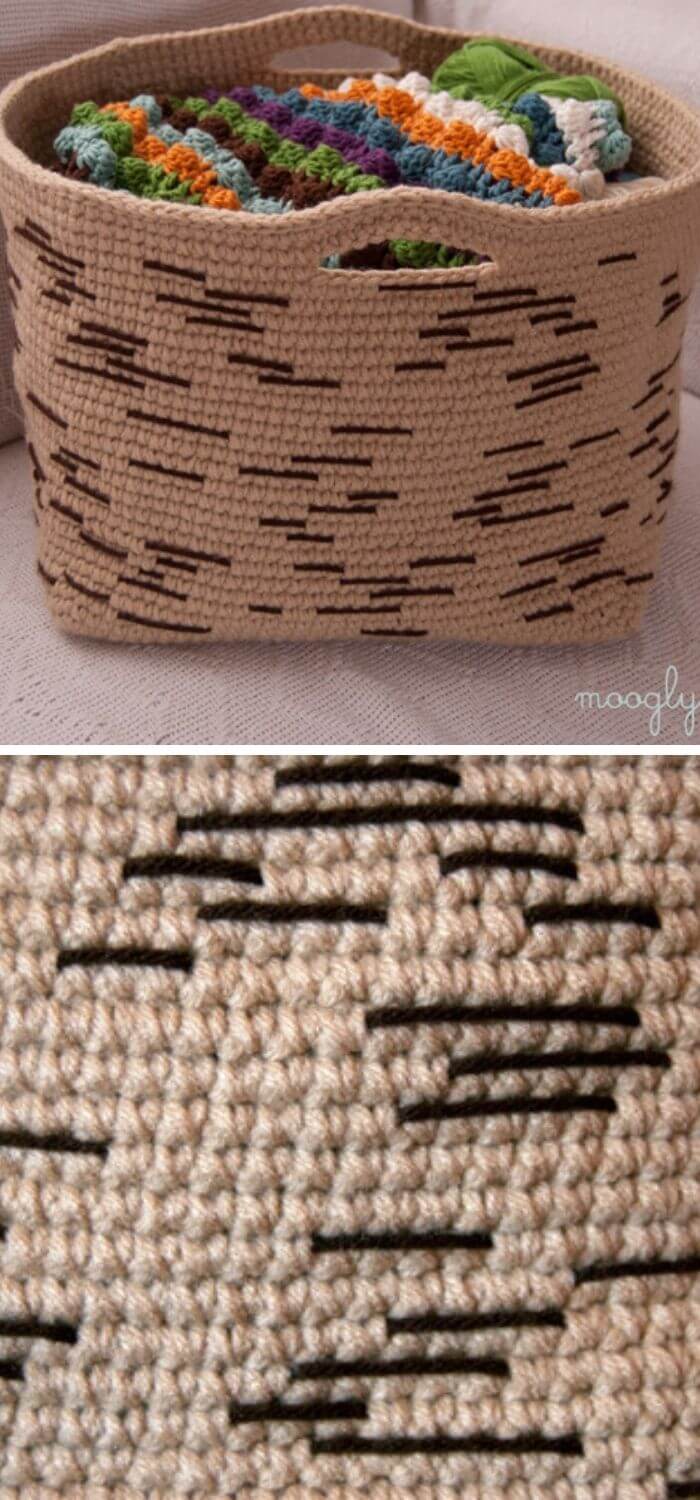 This basket design is lovely and gets its inspiration from tree bark. The stitching instructions are available from the source. Make sure that you consider them to help you do perfect knitting. Tree bark Basketweave is beautiful and will be a wonderful basket in your house.
Source: https://www.mooglyblog.com/birch-bark-basket/
13. Single weave and link stitch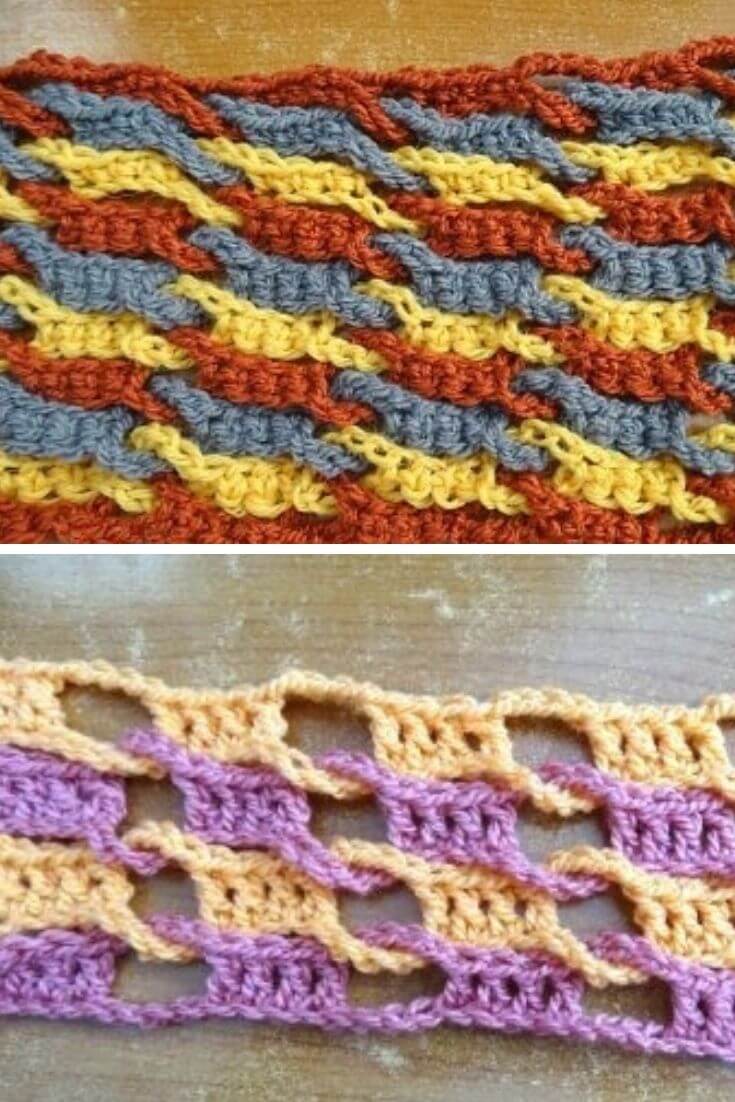 Consider the single weave and link stitch designs below and see what the basketweave designs can do for you. All the steps are reachable and will be a perfect way to do a stitch design.
Source: http://www.meladorascreations.com/single-weave-and-link-stitch-free-crochet-pattern/
14. The block stitch Basketweave pattern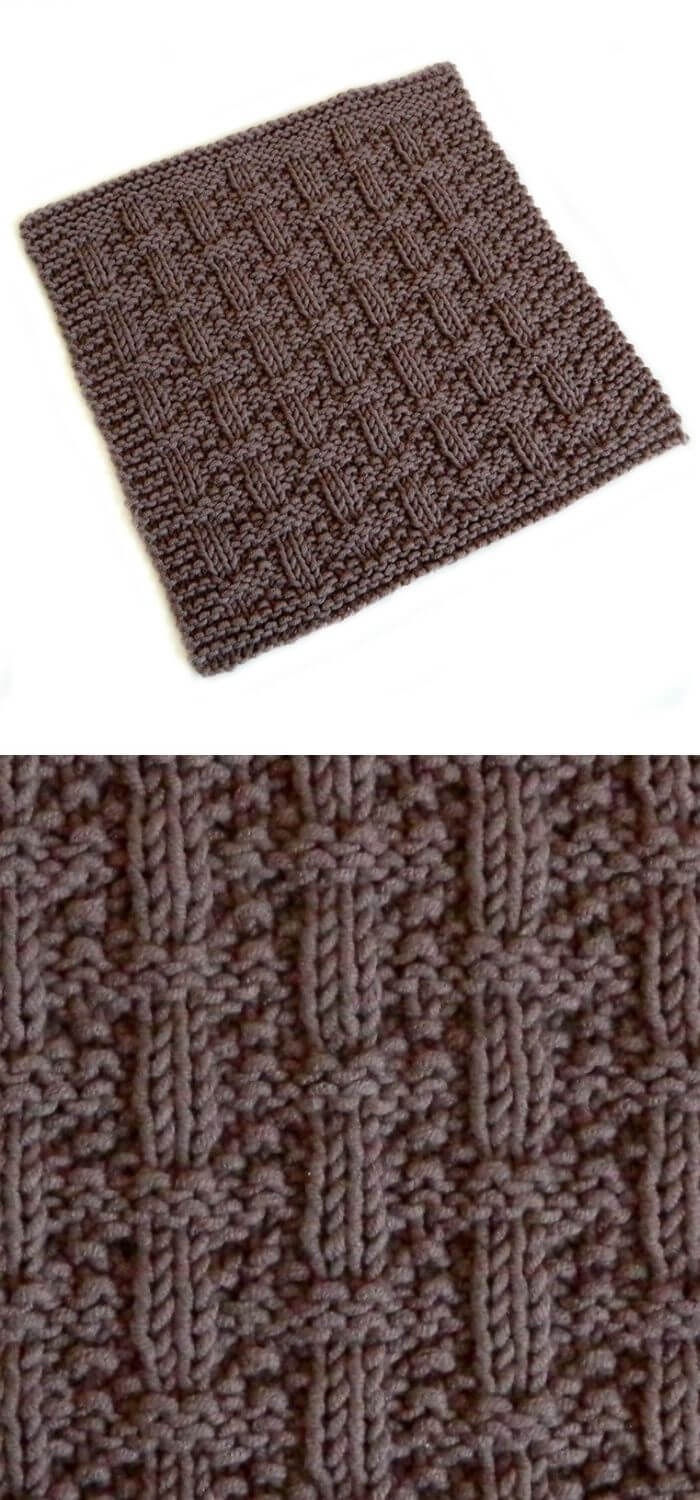 You may like the block stitch Basketweave pattern from the source here. Follow it to get inspirations that will help you make a cute pattern for the festive seasons.
Source: https://ohlalana.com/basketweave-pattern-block-18-of-52-square-pickup/
15. Basket Weave Dishcloth Pattern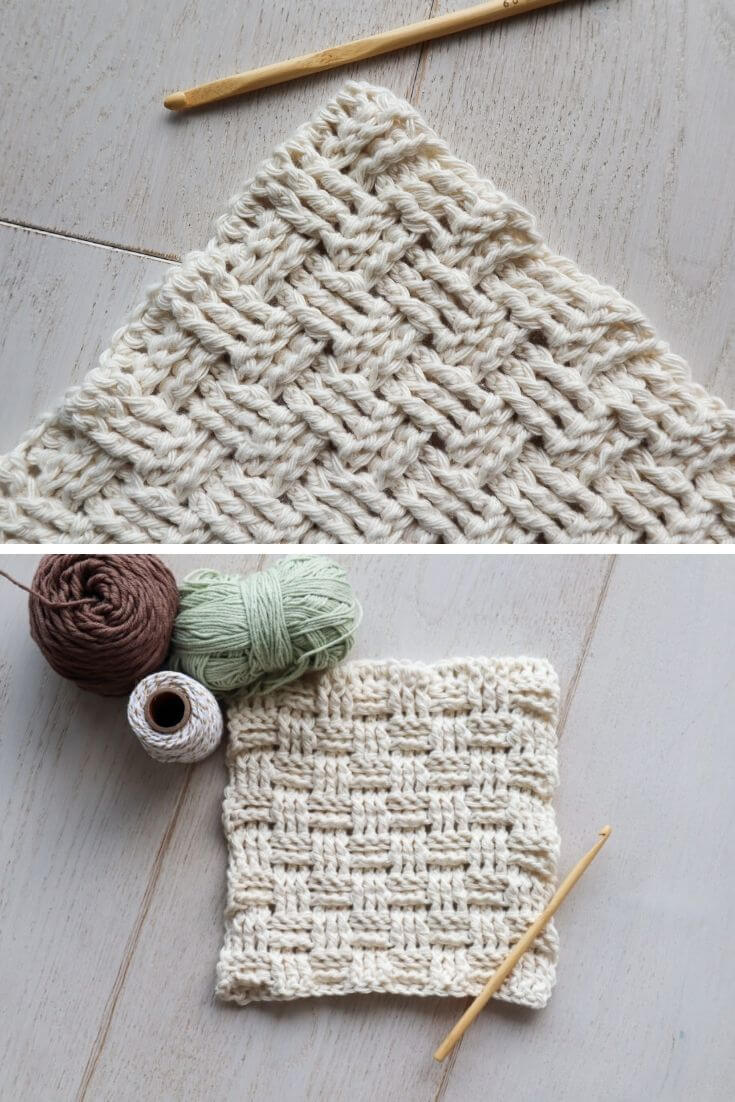 The free crochet pattern from the source here is impressive. All the knits are easy to follow and will be a fantastic project for beginners.
Source: https://thesnugglery.net/how-to-crochet-the-basket-weave-stitch-plus-free-pattern/