Amigurumi Knit Cat Toy Softies Free Patterns
Introduction
Amigurumi is a type of stuffed soft toy that is knitted. 
In this article, we will give you patterns and tips to keep your fur baby happy and entertained.
1. Kitty ball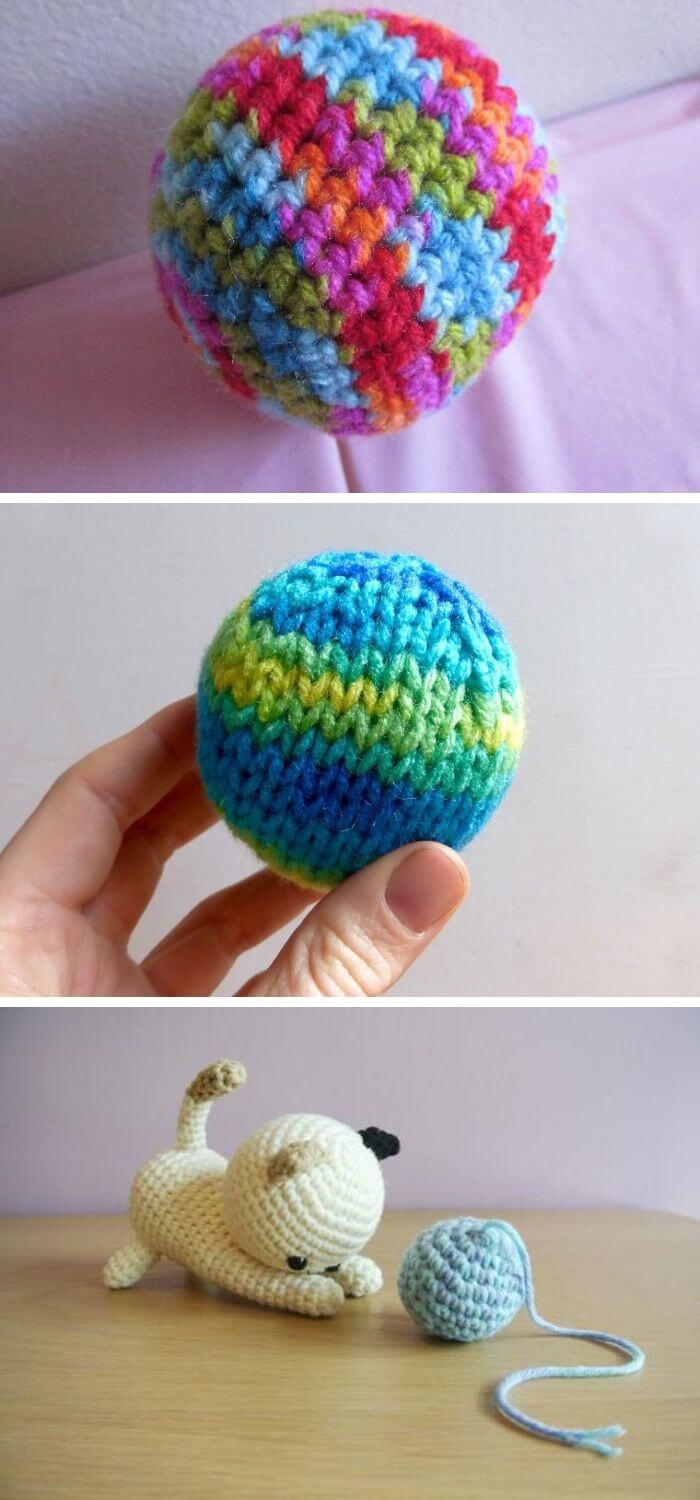 How anyone starts a new craft is with the basics. When it comes to crocheting amigurumi the best way is to start practicing knitting a ball. I have included a pattern to do just that.
What you see here is a cat ball soft toy every master of this craft started exactly where you are. All it takes is practice.
Ideas and DIY"S for beginners and advanced crocheters 
In the next few sections, we will list and give ideas as well as patterns to help you improve your kitties lives by bringing him/her new and exciting ways to play! That is safe and is also good for their claws.
2. Crochet cat toy from toilet paper roll..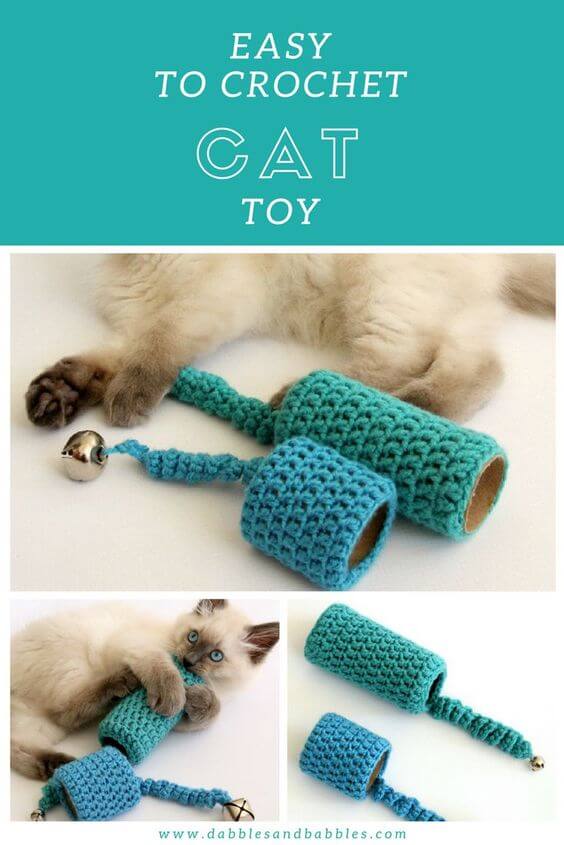 Like this is one of my personal favorites as it is inexpensive and Eco-friendly. It is an easy pattern to follow and should take an hour or so to complete.
3. Simple cat bed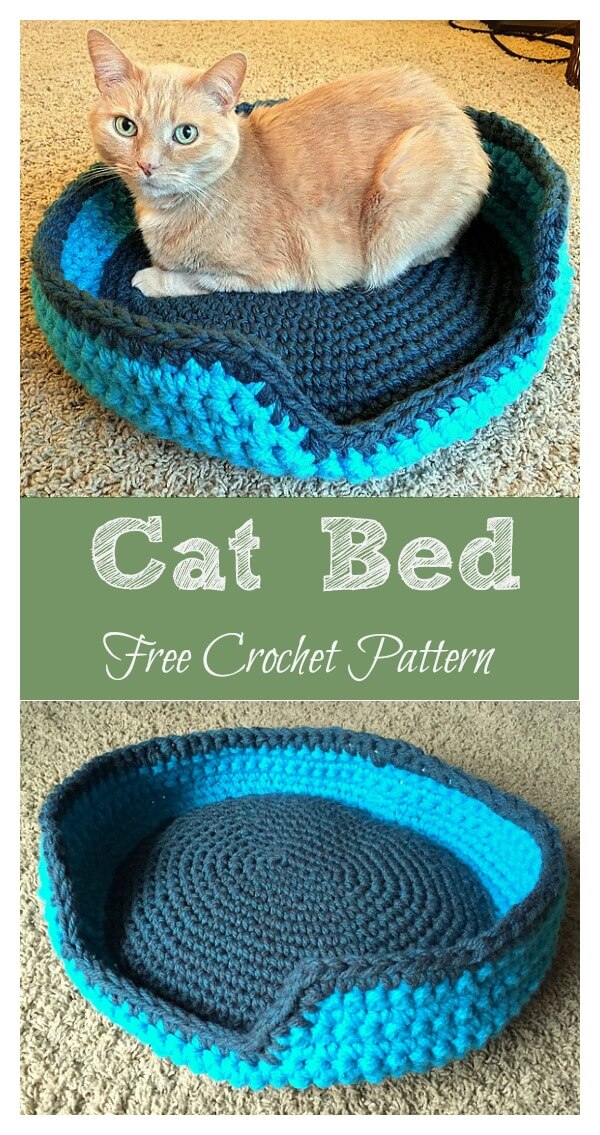 besides the little balls, my mom mastered these cute yet cozy little cat beds, they are fun and can be made in one color or an assortment depending on your mood.
4. Crochet bouncing cat toy: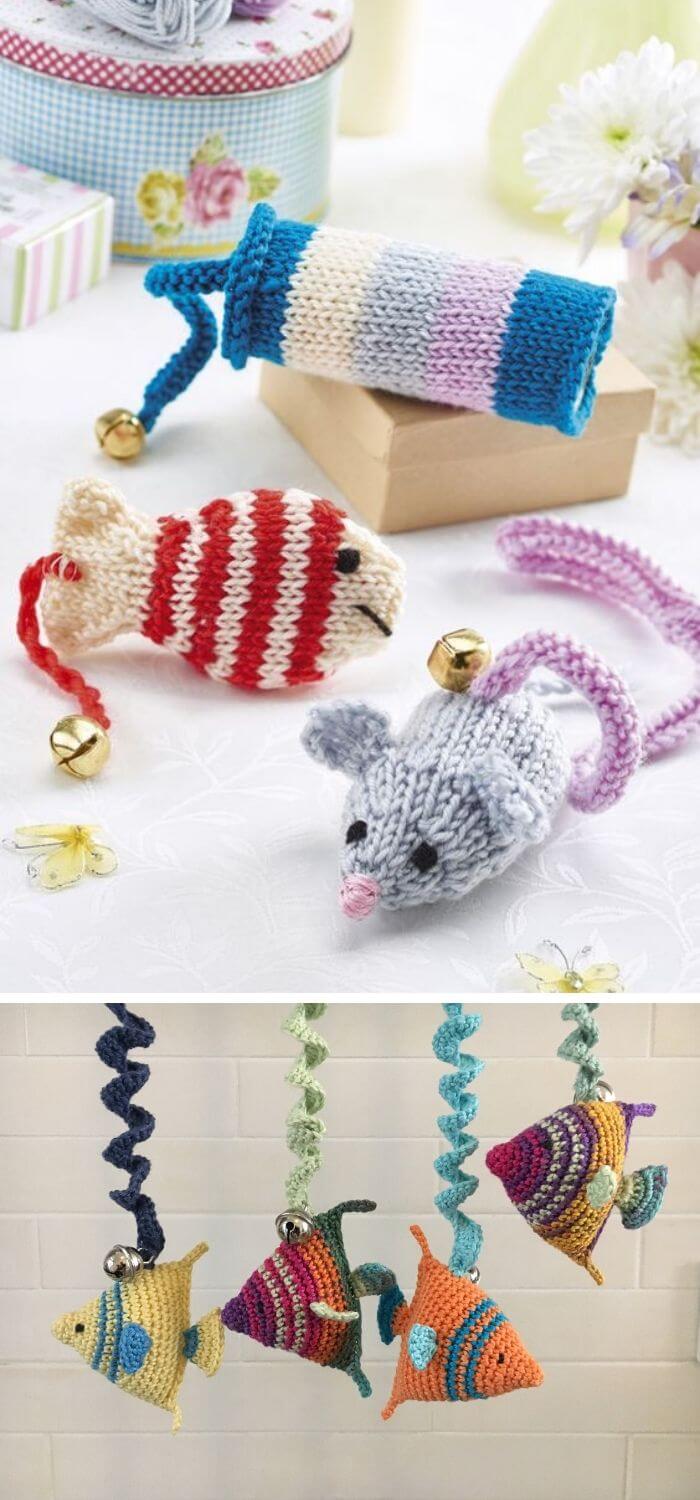 This is a fun interactive toy for the little monster. I would suggest the brighter the colors the better as it is a fun and funky design. Also, it is a hanging toy so no chance of your little tiger losing it and crying for it. The pattern is quite easy to follow if you can make the ball of yarn you will be an expert at this pattern too. Hang your bouncy toy from any door/cupboard handle and watch your cat come to life with hours of fun and entertainment for the both of you.
5. Simple crochet kitty collar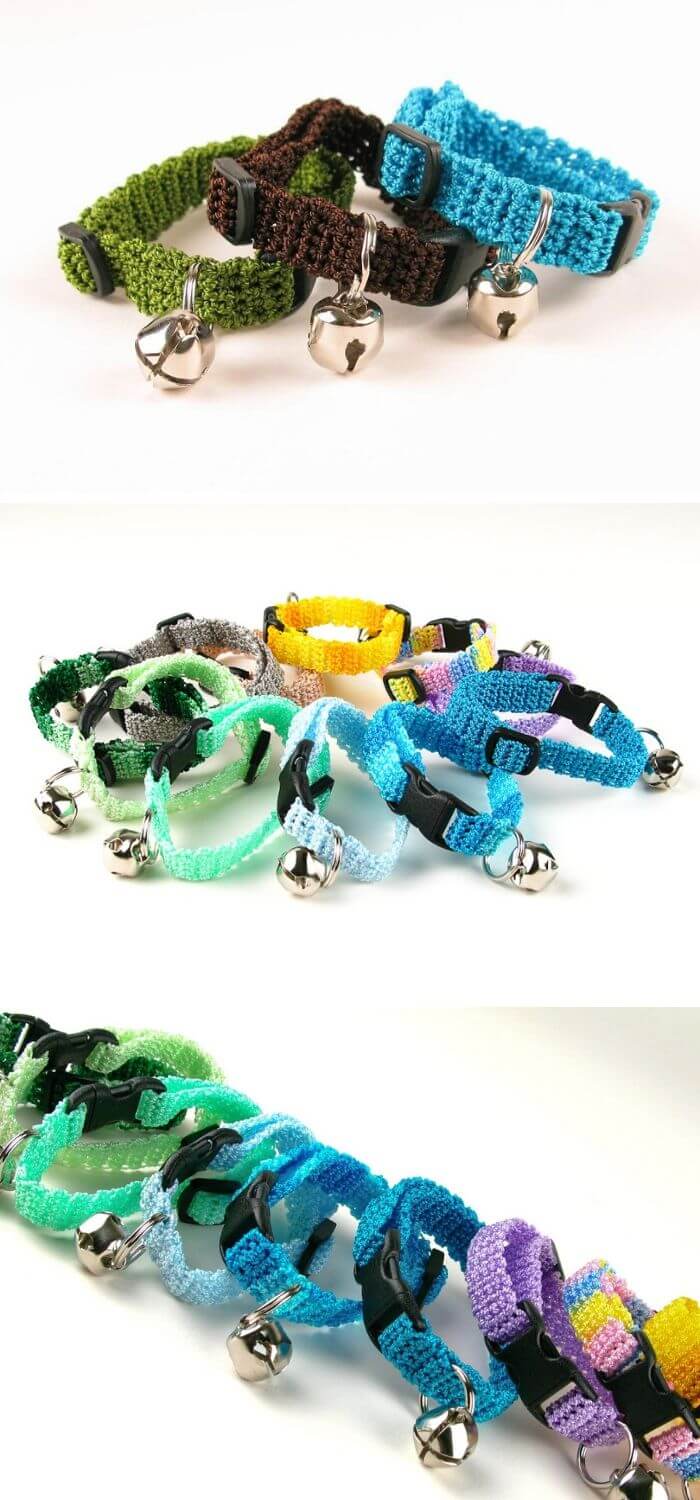 This is an idea that I simply love as it was so much safer and cost-efficient. Your furbaby will never be uncomfortable again. I prefer to have my babies chipped but that in itself is expensive so this idea kills two birds with one stone so to speak. How trendy will your kitty be with a customized collar like come on this is so cool?
6. Catnip crochet fishy toy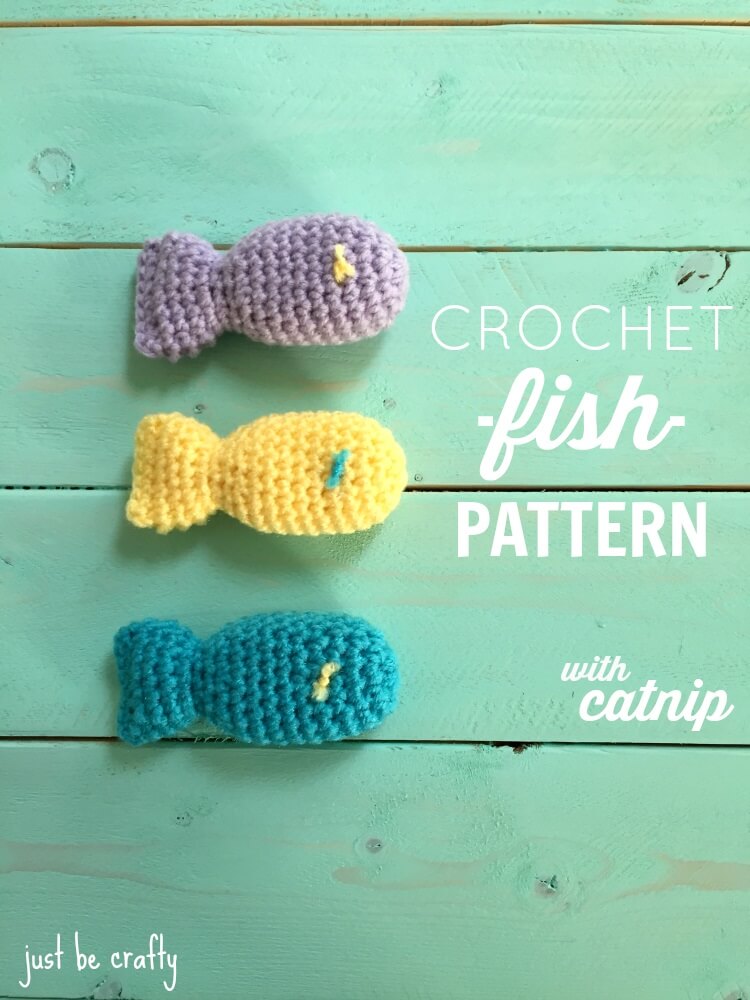 How can you have a list of kitty toys with no treats??? This is such a cute and novel idea, with its funky design and a hidden surprise. It will get your kitty motivated to play! Most cats love catnip and if your kitty loves it too much this is a more effective way to give him/her what he wants. Warning though don't make the toy to small as he/she will swallow it and then it is off to the vet.
7. Catnip stick
These are cute and funky with a hidden surprise. Most cats don't need any more motivation to play but some want to just cuddle. These toys are perfect to fulfil both needs and with so many colors and designs to choose from you are sure to find the perfect fit your kitty!
8. cute owl bouncy toy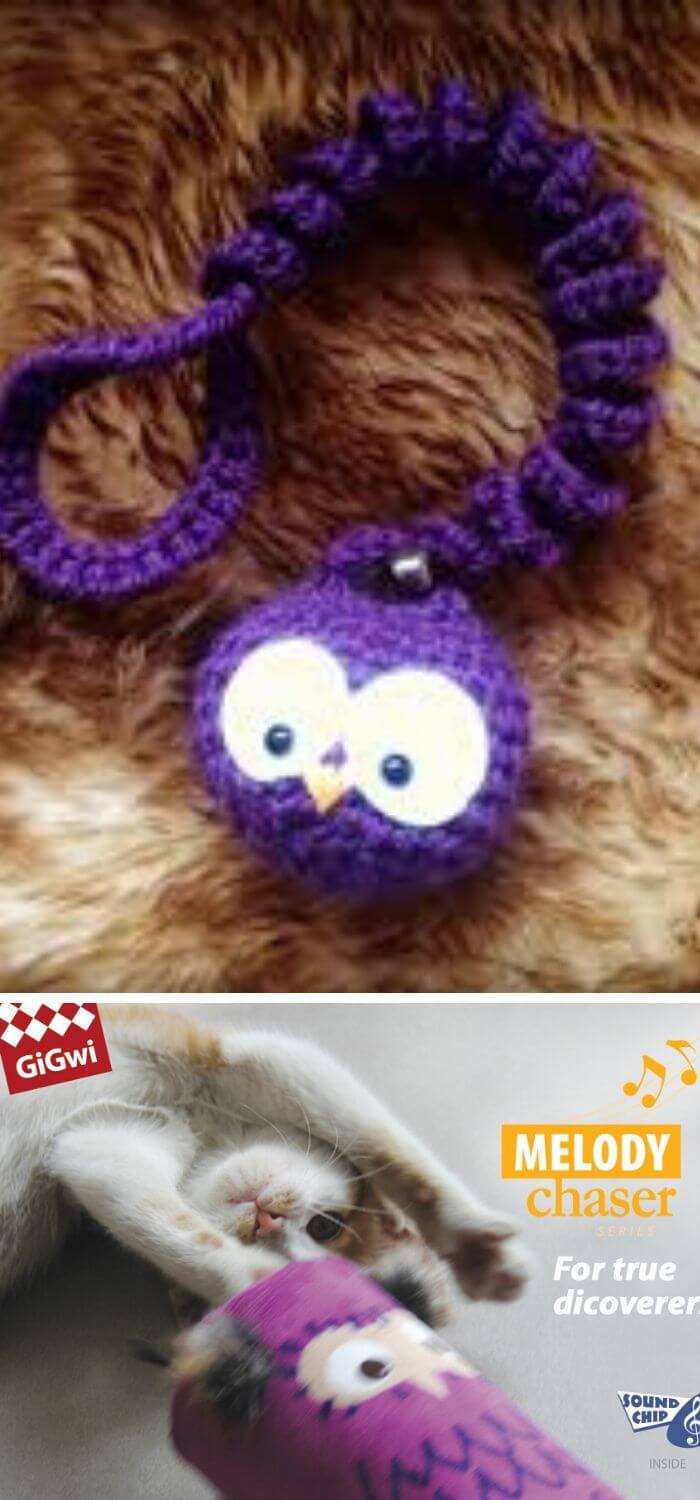 This is a very cute and engaging toy, with its bright colors and funky design this toy is guaranteed to give your cat hours of fun playtime.
On the website, the pattern is listed as the medium as it starts with the standard ball using the simple stitch.
9. Cute goldfish toy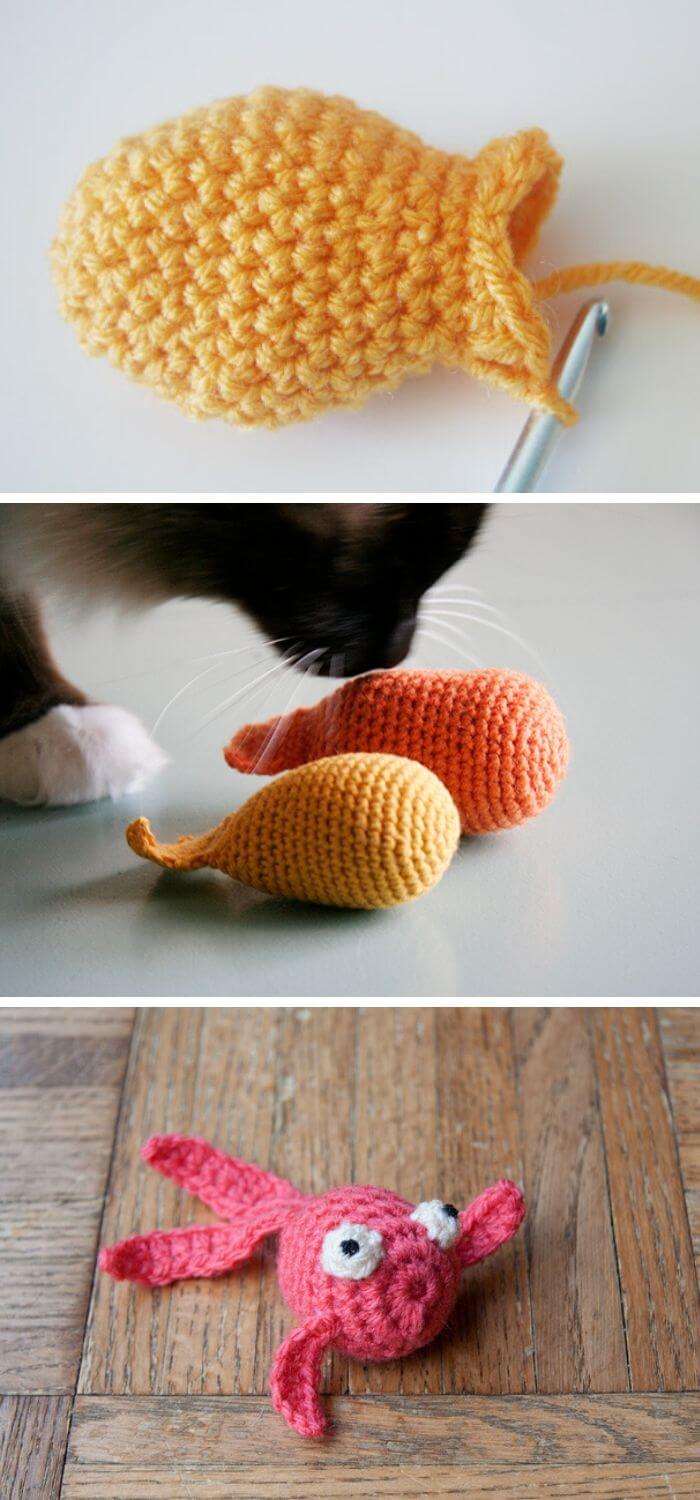 This toy is listed as medium difficulty, the pattern is free to download on raverly.com.
You can crochet it on a stick and use it to lure your mischievous kitty into hours of fun playtime.
10. Cute catnip squid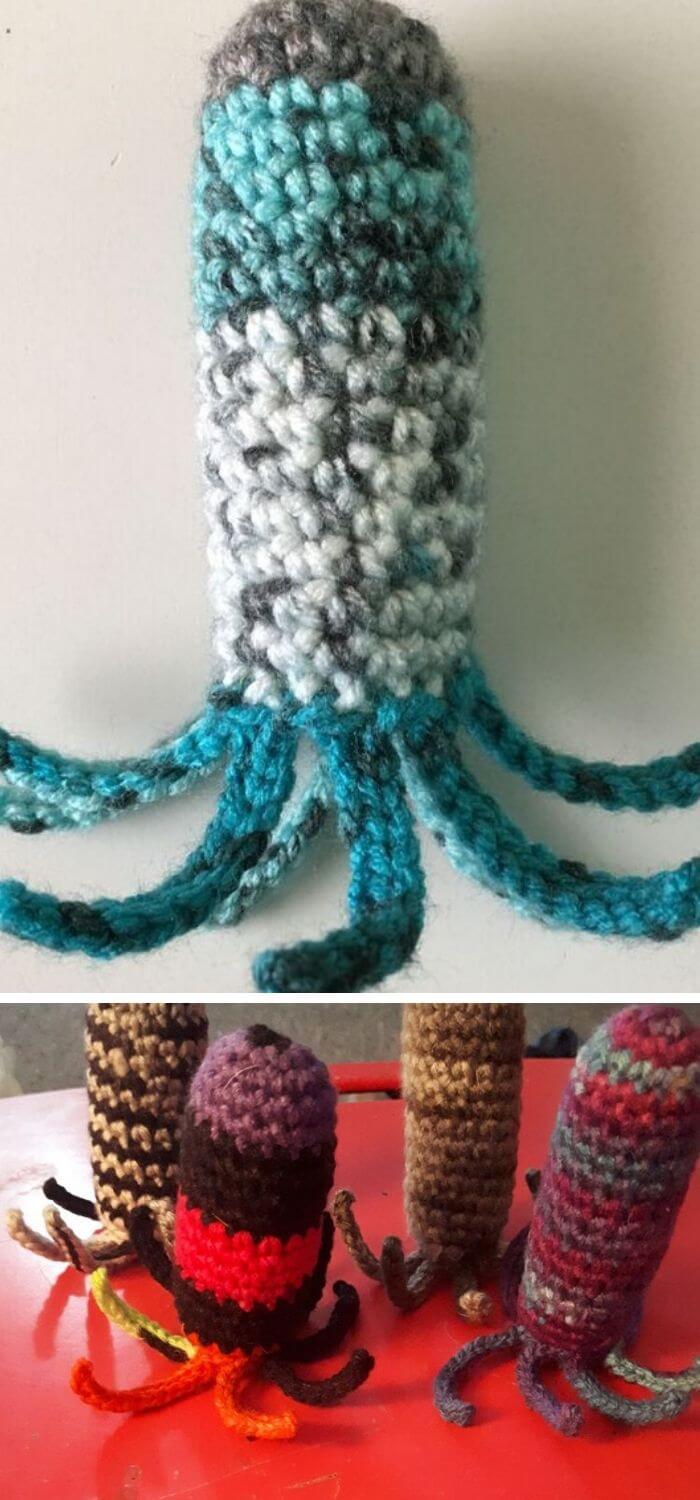 This toy is a favorite of the feline world. As it has movable legs and catnip treats.
This is a free pattern available on raverly.com and is considered to be of medium difficulty.
11. cute fly movable toy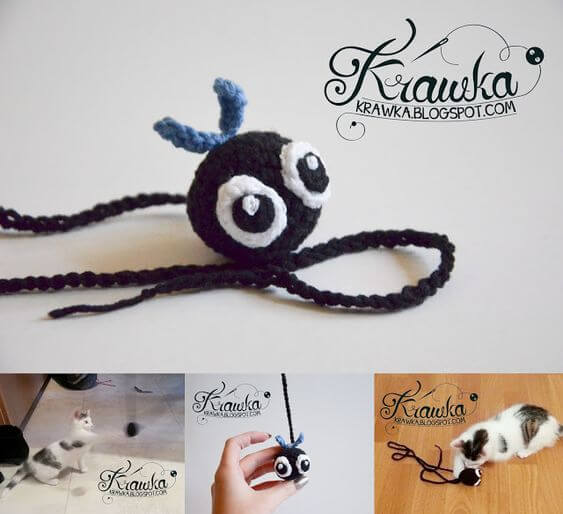 This toy is so versatile and cute with its big eyes and cute design this will be your kitties go-to for sure.
This pattern has many variations and is available for free download at krawka.blogspot it is listed as an easy to execute pattern that will take about 2hrs to make.
12. Harry Potter fans assemble! (the golden snitch)cat toy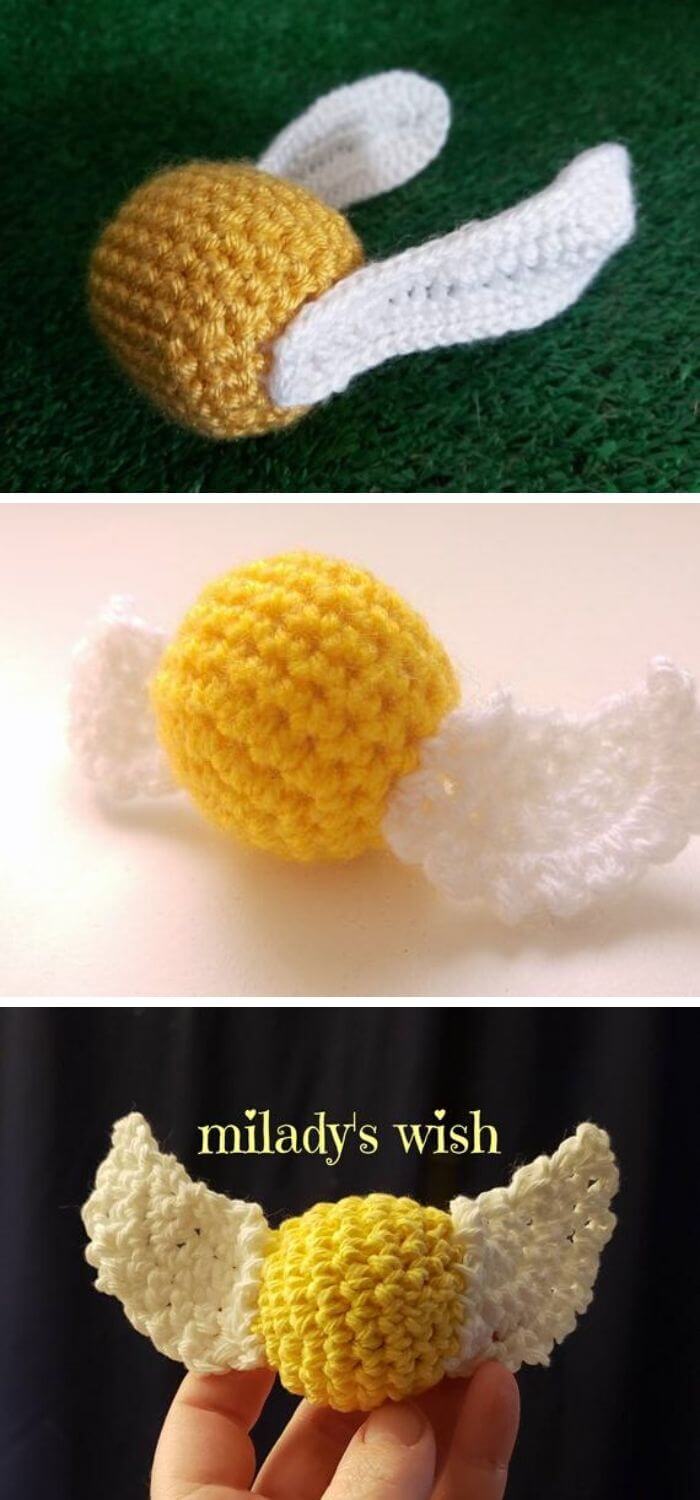 This is one of my personal favorites as I am a huge Harry Potter fan!
This pattern is made in two parts the ball and the wings. Roll this ball on the floor and watch your kitty catch the golden snitch. This pattern is considered to be of medium difficulty since it is made in two parts.
Free to download from the link provided.
13. Colourful swirly mice cat toys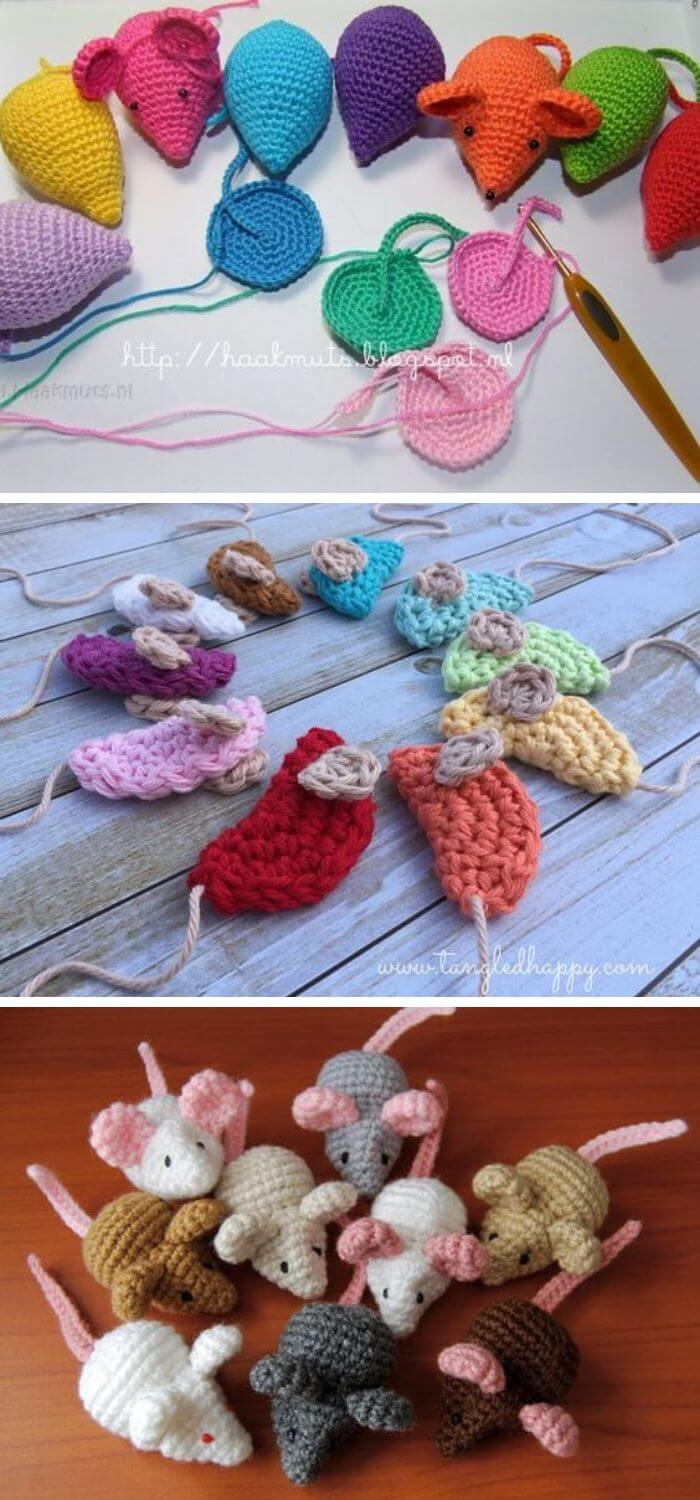 This is one of our favorite ideas, as it is colorful and is a beginner pattern.
The pattern is available for free download through the link provided.
Your cat will love this toy and you will enjoy making it.
14. jingle-jangle cat toy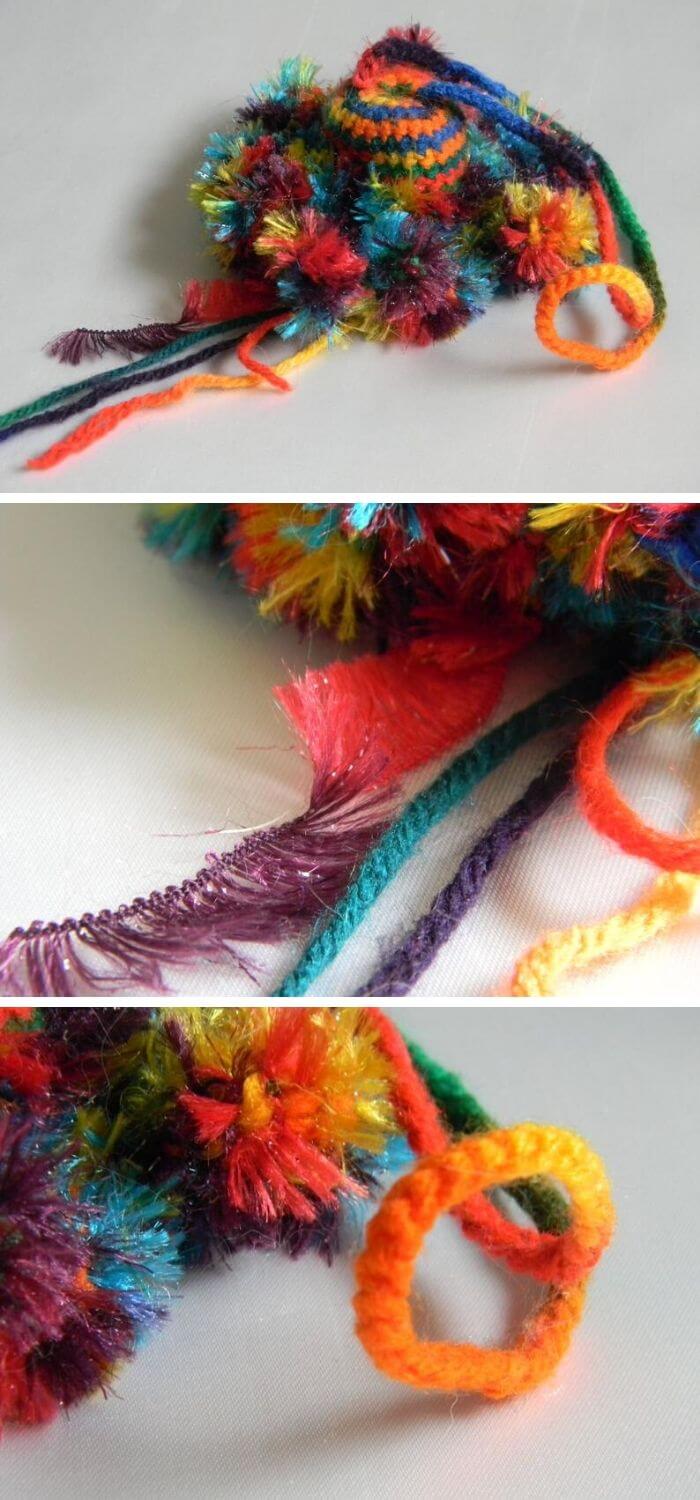 These toys with their twisty designs and jingly bells are festive and engage all your kitties senses.
They are easy to make and the pattern is downloadable and free from the link provided. The pattern is considered as an easy one to execute
Conclusion
There are many more ideas out there that can entertain your kitty and keep him/her busy for hours! As you may have noticed many of the patterns come from etsy.com it is a paid-for platform but most patterns are no more than $4 My mom always looks for new patterns at Pinterest they are usually free and 1000's to choose from.
Amigurumi is a fun and creative way to express yourself. There are so many different applications and patterns to choose from, the basics are simple and should take no more than a few days to master
So what are you waiting for?
TRY IT NOW!!!!!!