Natural flowers are seasonal.  Paper flowers can fade or tear, but yarn flowers will remain beautiful and lively in all seasons through the years. Crochet flowers are used to decorate around the house and at weddings as bridal bouquets. They are also a perfect way to express love and affection to people we love.
Why Crochet Flowers?
Unlike real flowers, crochet flowers don't require frequent watering or pruning. They require no maintenance at all.
I have compiled 20 simple and fascinating Crochet 3D Flowers Bouquet Free Patterns that you should give priority in your to-do-list.
1. Pink Rose Bouquet Crochet Flowers Pattern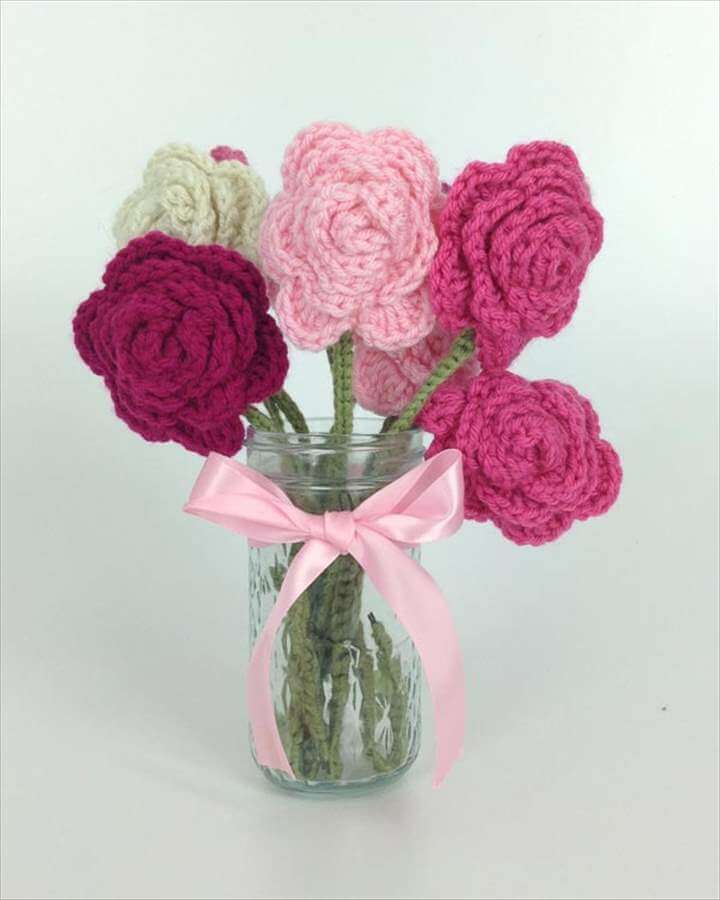 Do you know how to crochet a rose flower? Then this project will be a walkover for you. Crochet this beautiful bouquet of roses in three shades of pink. Put them in a vase on the dining table for everyone to admire.
2. Golden Trumpet Vine Flower Bouquet Free Pattern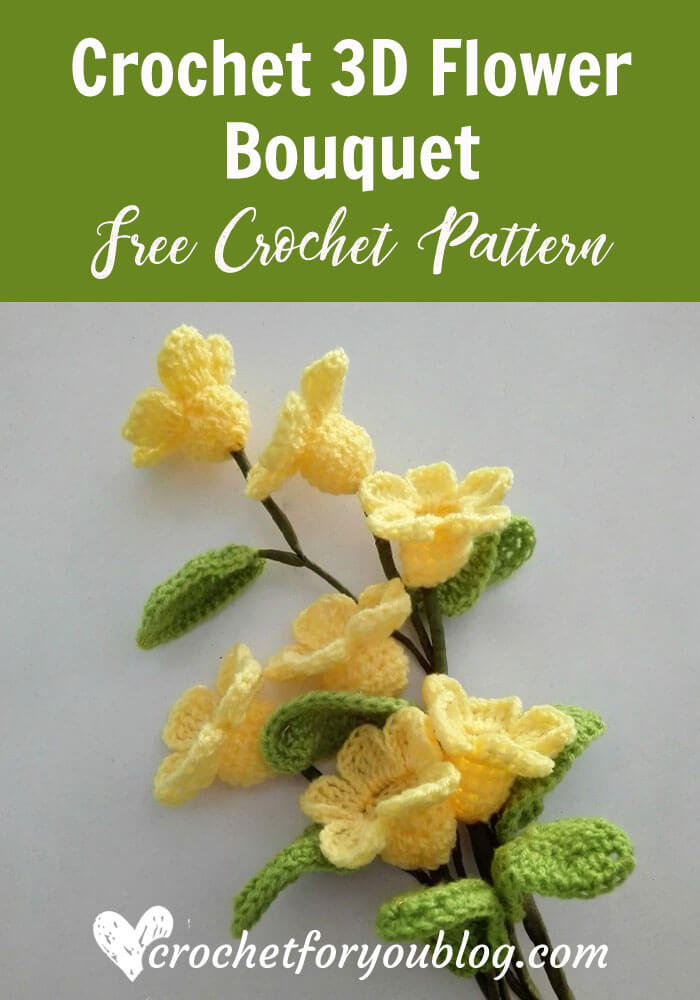 This adorable bouquet is super easy to make. First, you need to crochet the flowers and the leaves separately to resemble the yellow golden trumpet vine flowers. Crochet the flowers and the leaves together to create this magnificent bouquet.
3. Amaryllis Flower Bouquet Crochet Free Pattern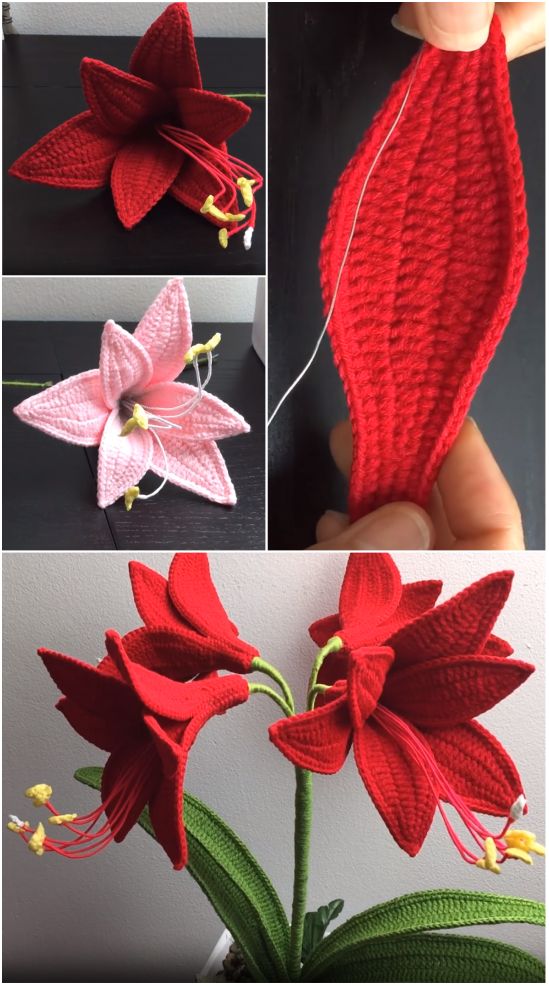 These beautiful crochet Amaryllis Flowers are super easy and quick to crochet since they employ a single petal design. They are a perfect display as a centerpiece giving a satisfying view.
4. Crochet Water Lily Flower Bouquet.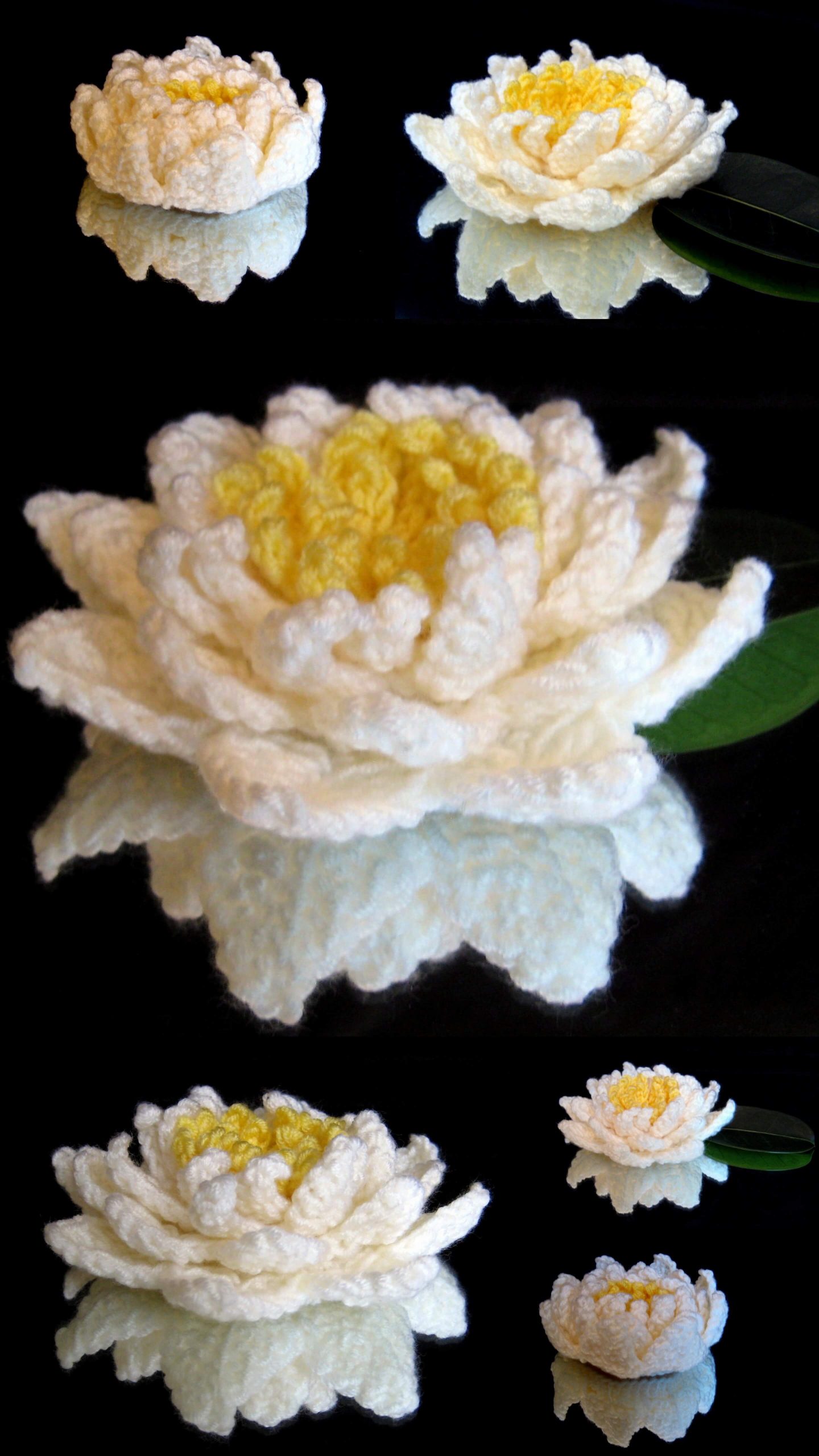 The water lily crochet flower is an easy pattern to make. First, crochet the petals and the leaves separately and knit them together to make a large beautiful bouquet. 
5. Crochet Christmas Poinsettia Bouquet Free Pattern
Poinsettias are classic Christmas flowers and are pretty easy and fun to make. This bright red poinsettia flower bouquet will be a great addition to your Christmas décor.
6. Crochet Lavender Flower Bouquet Pattern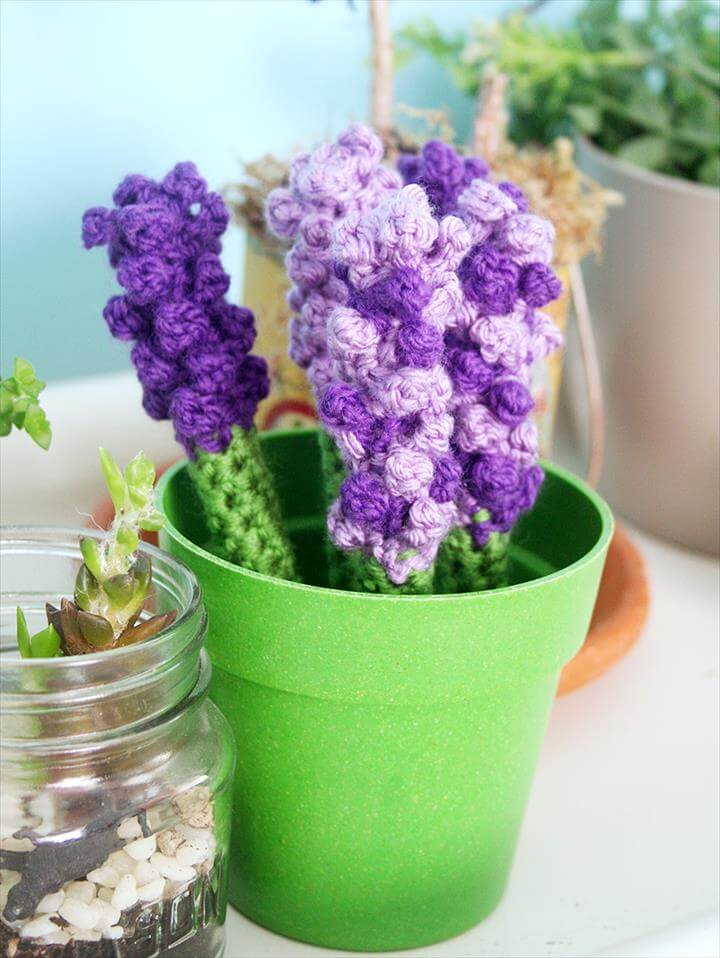 These beautiful, crocheted lavender flowers are made to resemble real lavenders. First, you need to make a stem for the lavender flower then crochet the flowers on to this stem.  Makes several flowers to create this elegant, long-lasting bouquet.
7. Crochet Dishcloths Bouquet Pattern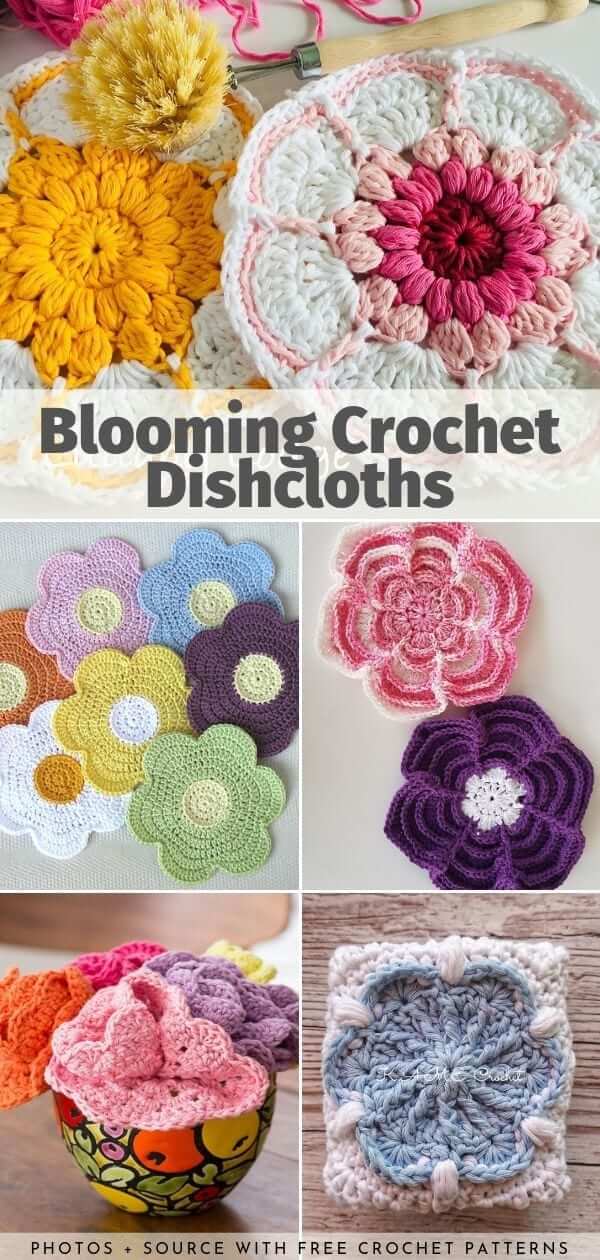 To create this beautiful multicoloured dishcloth bouquet, crochet several round dishcloths in different colours and gather them up inside a beautiful, stylish dish to create the illusion of a gorgeous flower bouquet.
8. Bridal Bouquet Flower Crochet Pattern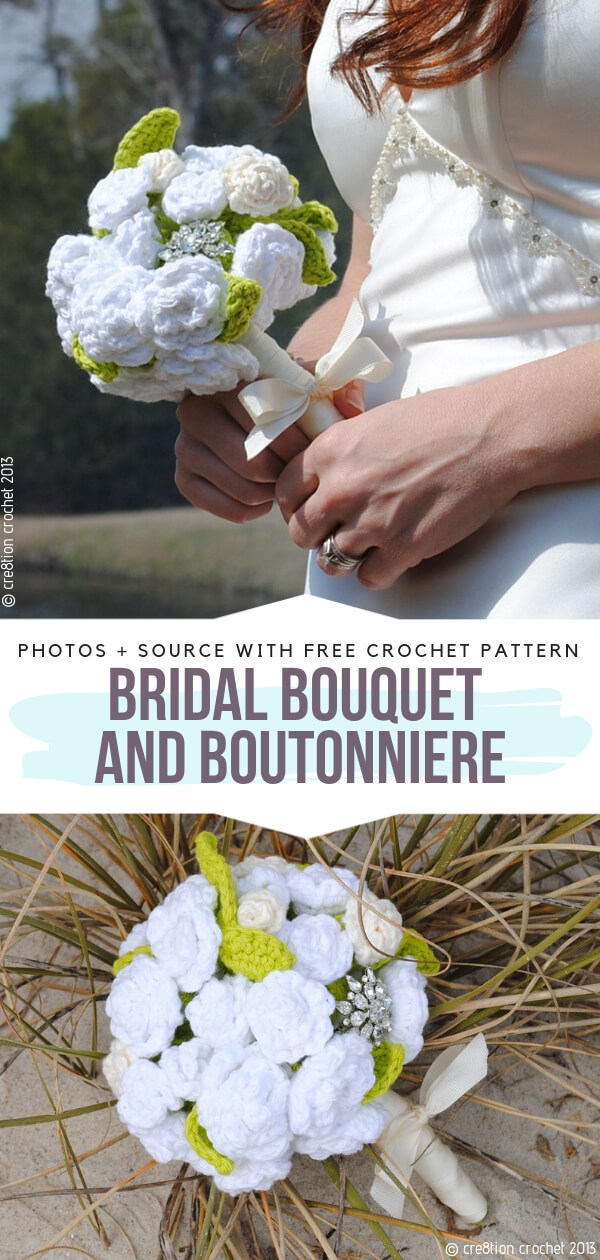 This red and white bridal flower bouquet is just amazing! The roses are crotched separately and joined together to create this adorable bridal bouquet. You can crochet the flowers in different colours to blend with your wedding theme.
9. Crochet Daffodils Flower Bouquet Free Pattern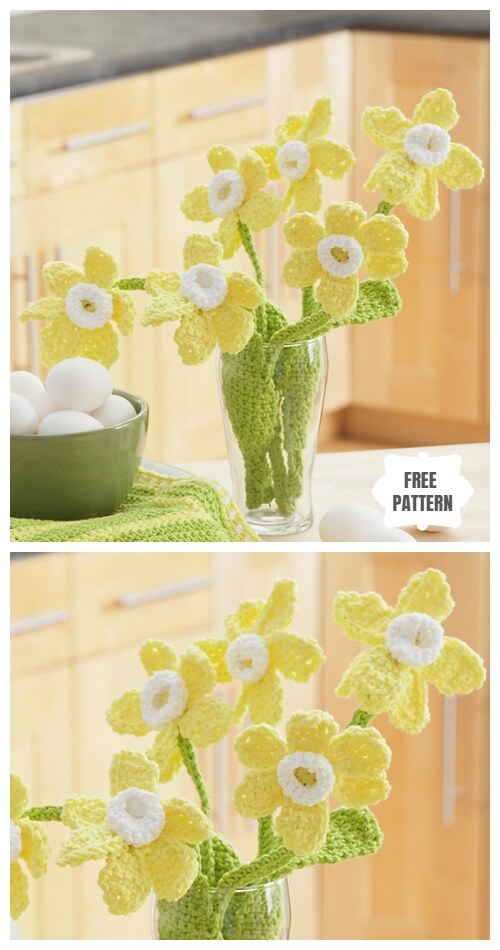 Daffodils are beautiful flowers perfect for the spring. The pattern involves two different designs for the petals and the centers. Try to make them in different colours to blend in with your home décor.
10. Crocheted African Violet Pot Flower Bouquet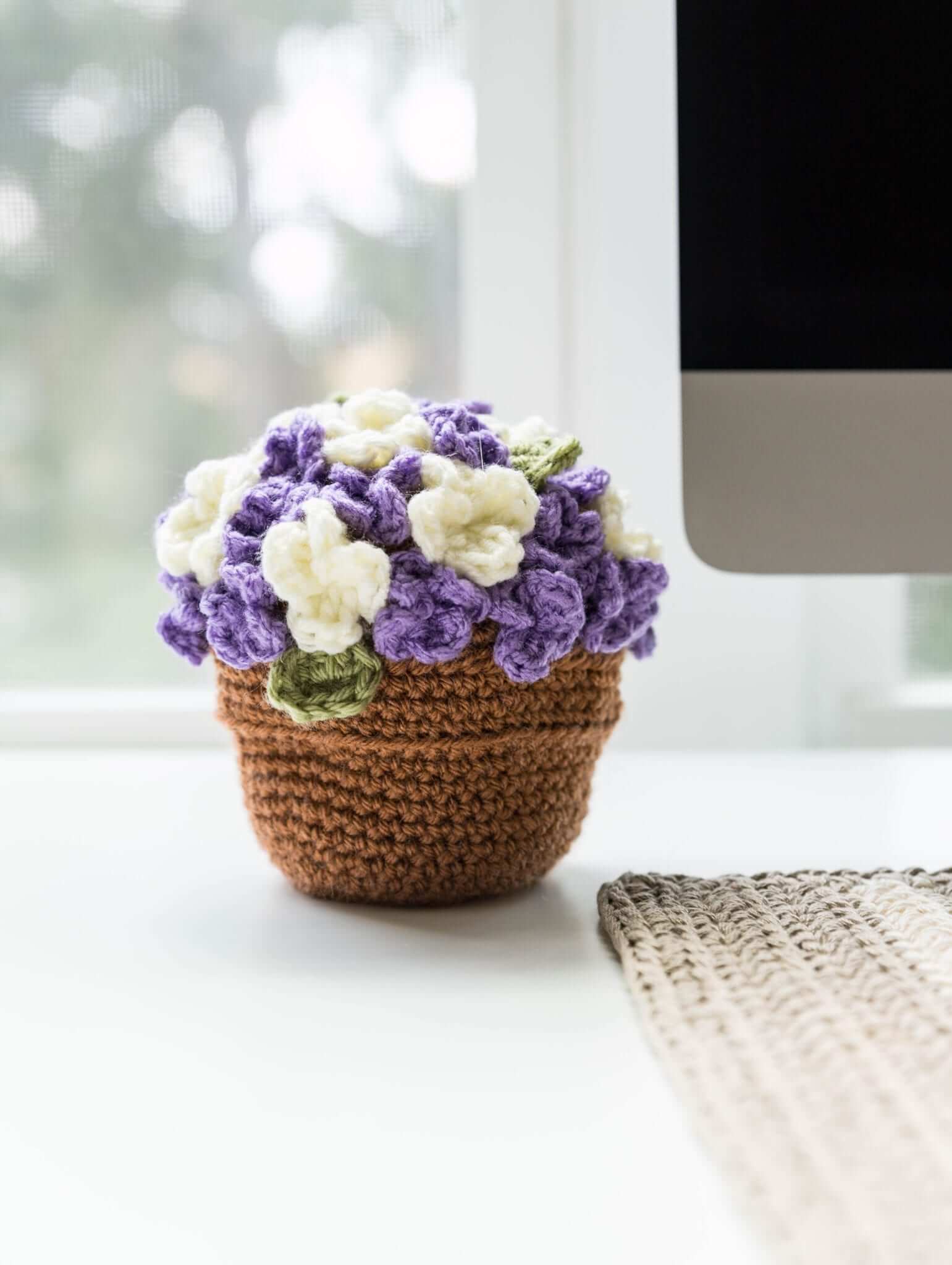 This flower pot bouquet is just magnificent! This crochet flower pot bouquet can be used as a desk toy or a cute office décor. The flower pot is crocheted using the beige and a brown acrylic yarn and then stuffed with polyester fiber to resemble a terra cotta pot.
11. Crochet Orchid Flower Bouquet Pattern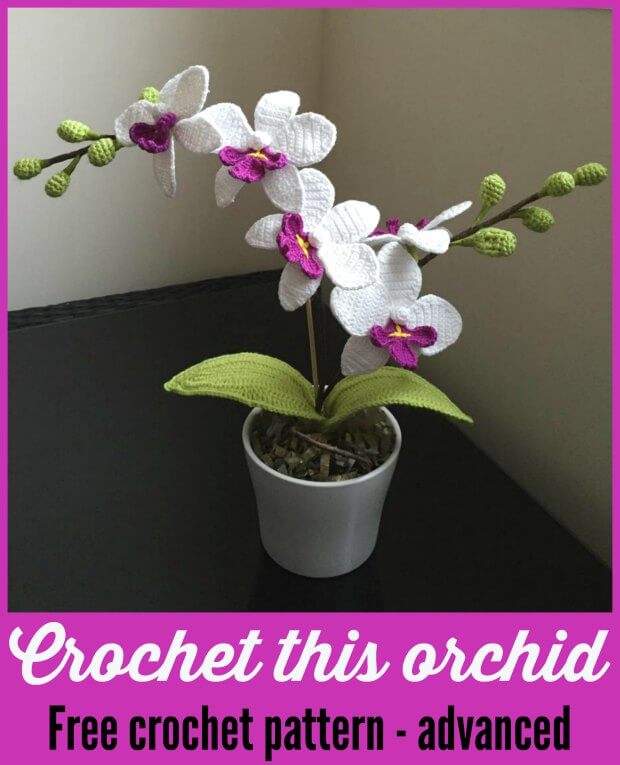 This orchid crochet bouquet is just amazing! Unfortunately, it requires advanced skills in crocheting. This bouquet is so exotic and intoxicating I just can't get enough of it!
12. Crochet Sunflower Bouquet Free Pattern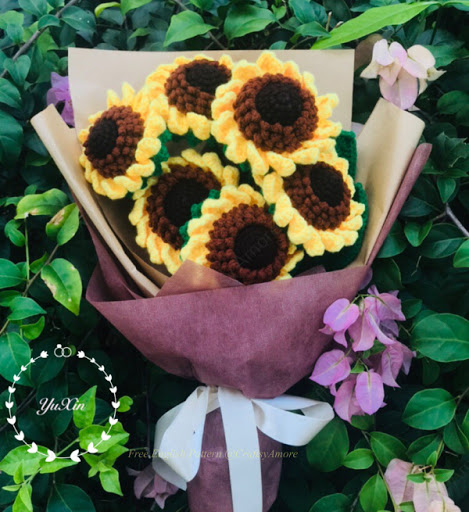 These bright yellow crochet sunflowers are made using the cotton yarn. Put them inside a vase and place it on a garden table or just somewhere in your house where you feel needs some lighting.
13. Crochet Hydrangea Flower Bouquet Pattern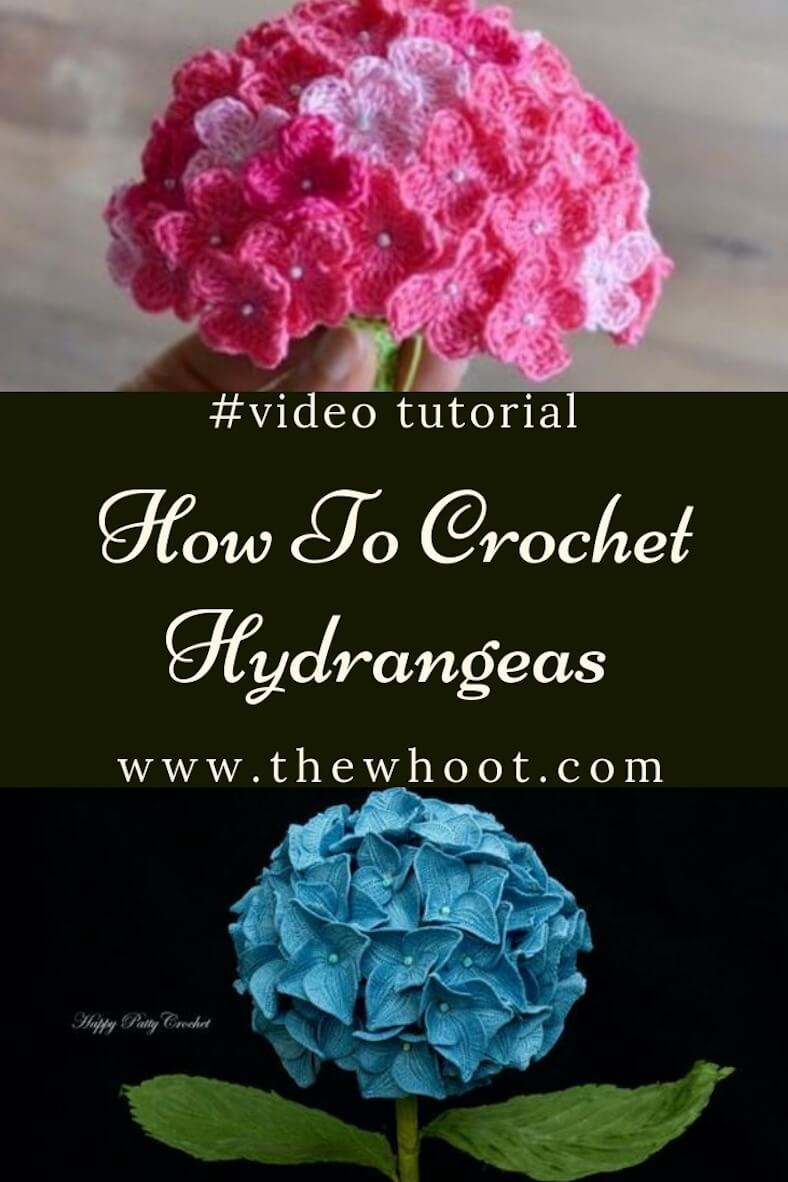 This bubbly hydrangea flower bouquet is fun and quick to make. Even beginners can learn to make the bouquet quite fast using the single, double and triple stitches. They can be used to decorate the house or as a bridal bouquet for a wedding.
14. Crochet Pansy Flower Bouquet Free Pattern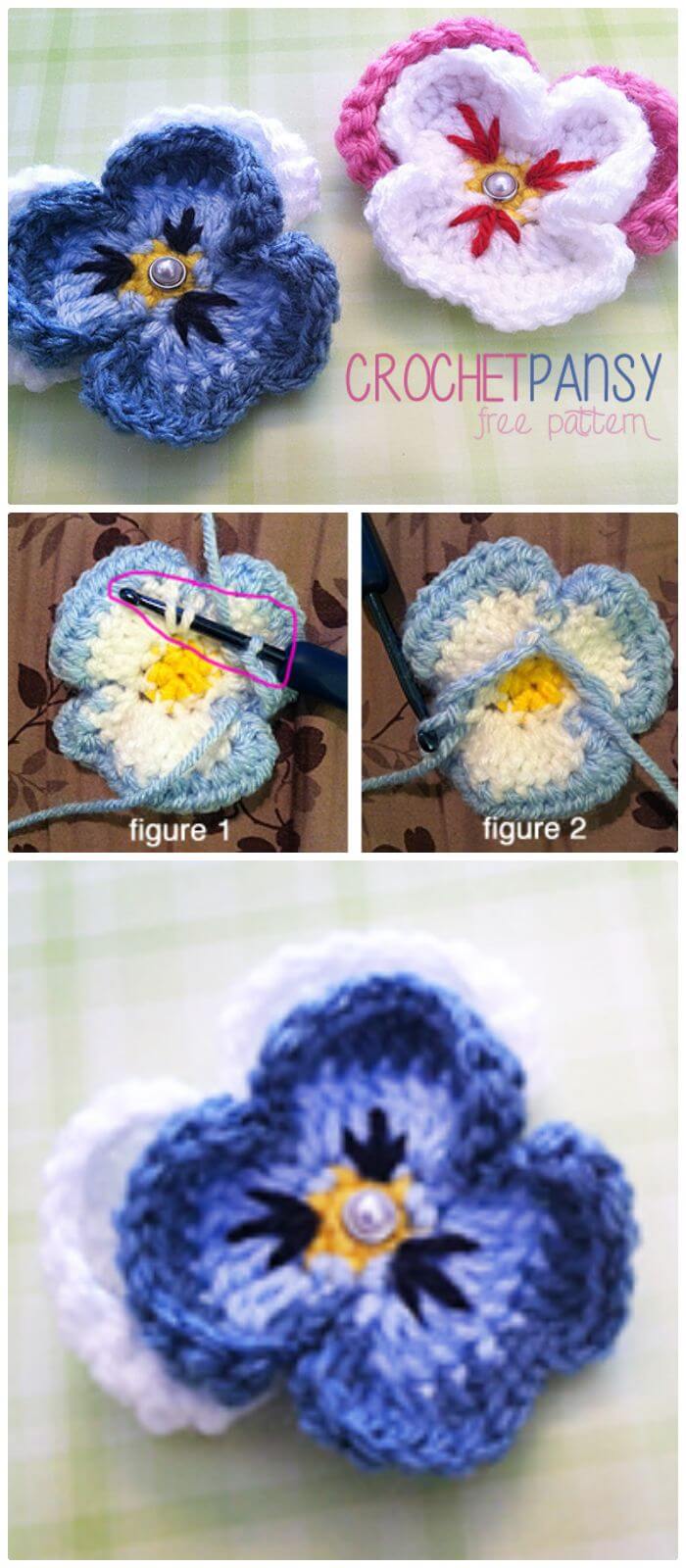 Pansies are lovely cool-weather flowers. They have a heart shape with overlapping petals that come in different bright colours. This gorgeous pansy flower bouquet makes a perfect gift.
15. Crochet Calla Lily Flower Bouquet Free Pattern

This crocheted Calla Lily flower pattern is great in making bouquets. Mix and match the colours and patterns to make a bunch of lilies. When placed in a vase, they make such a beautiful home décor project.
16. Trillium Crochet Fiber Art Flower Bouquet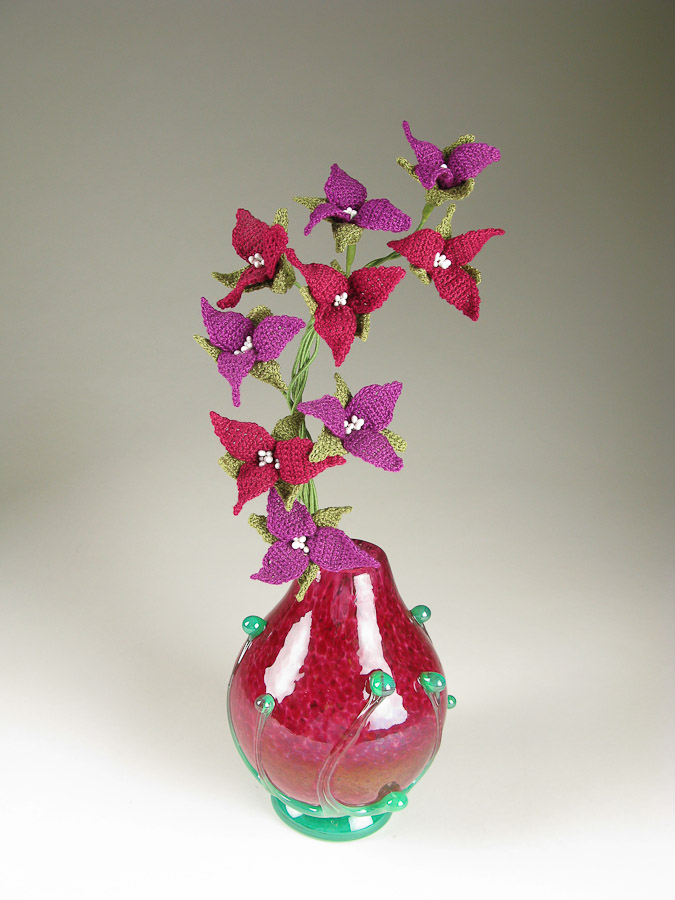 This trillium flower bouquet is so satisfying! The petals are crocheted individually using any weight yarn. Finer weights, however, create smaller flowers while heavyweight yarns create larger flowers
17. Crochet Tulip Flower Bouquet Free Pattern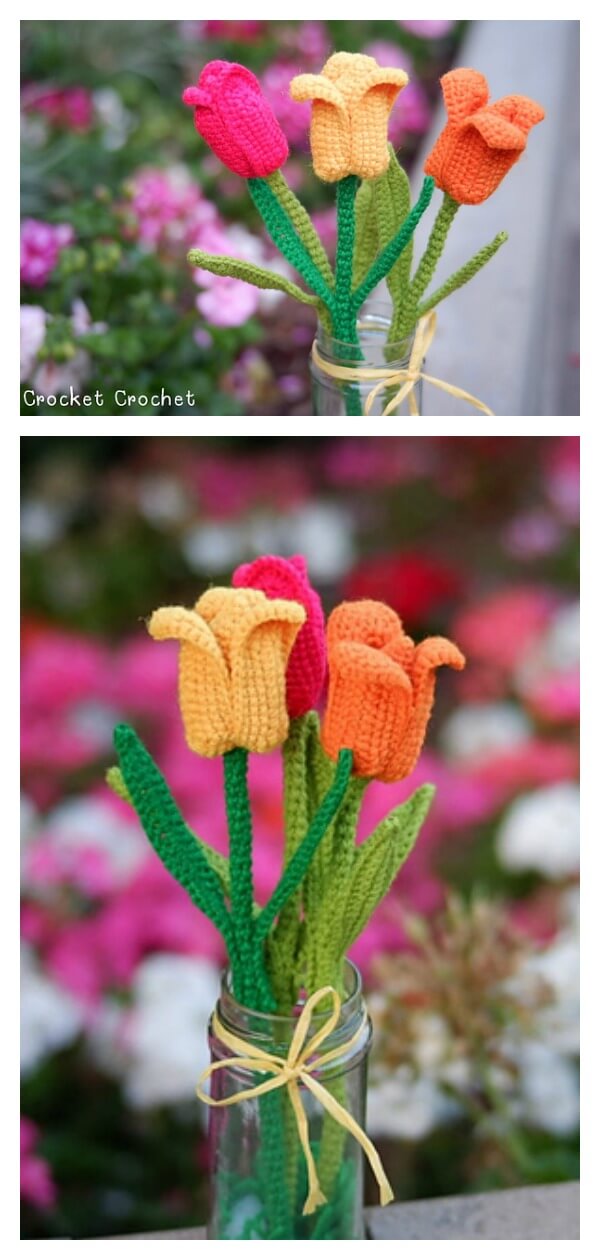 These lovely crochet tulip flowers are gorgeous. They look even better when placed inside a vase and placed in your living room.
18. Crochet Lisianthus Flower Bouquet Free Pattern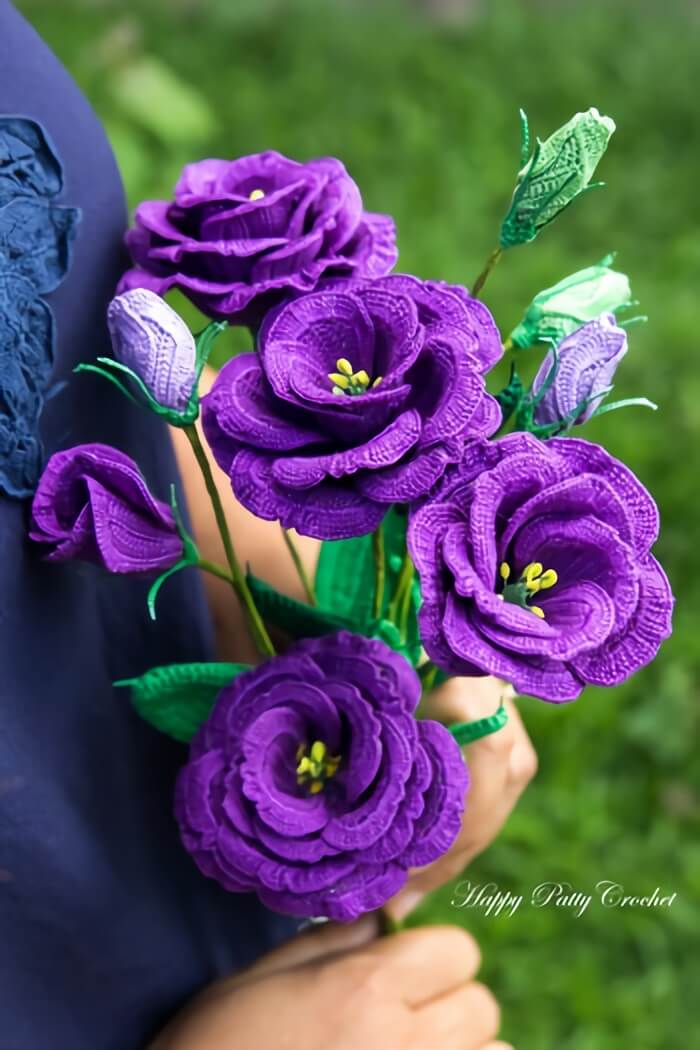 The lisianthus flower is truly stunning. A crocheted version of the lisianthus flowers can be used at a wedding or for decoration around the house.
19. Bridal Crocheted Brooch Flower Bouquet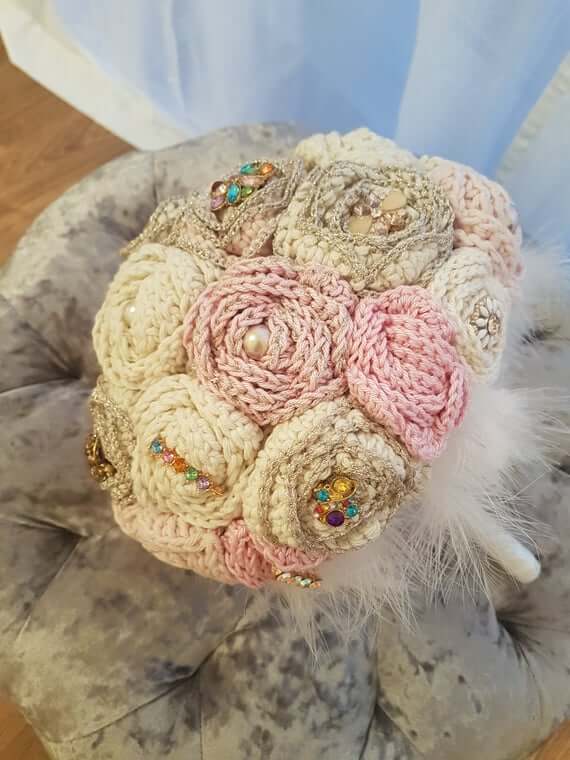 This handmade beautiful bridal crocheted brooch is just breathtaking.! It is a perfect blend of blue crocheted flowers, springs of beard and other decorative elements. 
20. Crocheted Flower Wedding Bouquet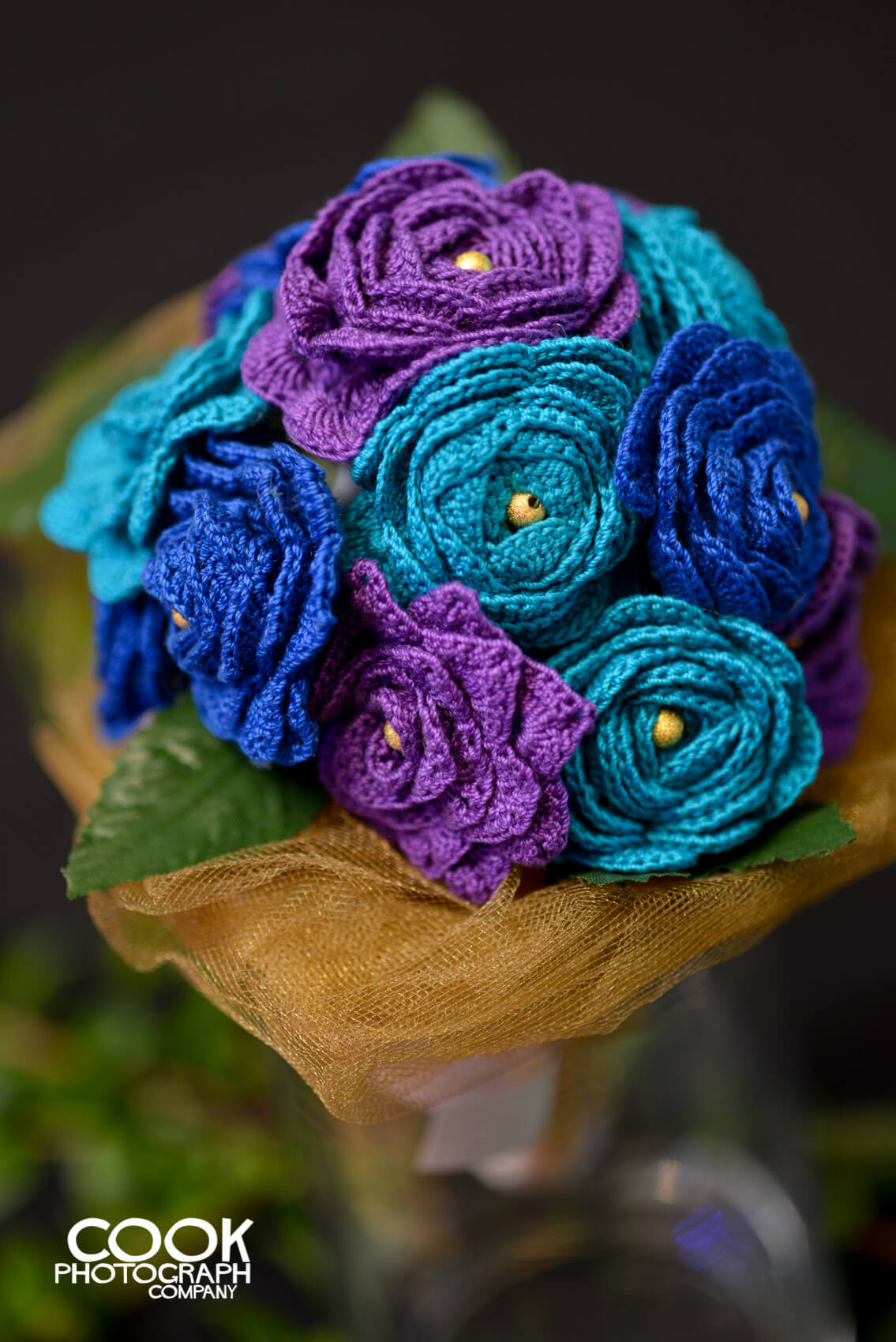 Crochet different flowers incorporating different patterns, stitches and bright colours. Cut a Styrofoam into two and cover one half with a lace using a glue gun. Attach your flowers to create this magic ball.
Conclusion
Express your love and style through these Crochet 3D Flowers Bouquet Free Patterns today!