Halloween Crochet Skull Ideas Free Patterns
Crochet skulls are great projects to rock during Halloween. There are so many crochet skull patterns out there that you can settle for. From shawls, scarves, masks, and many more patterns.
Most of us have a design or two in our wardrobes featuring skulls as our daily accessories. Today, I have compiled a list of 20 amazing Halloween Crochet Skull free patterns that you should try out.
1. Crochet Skull Shawl Free Pattern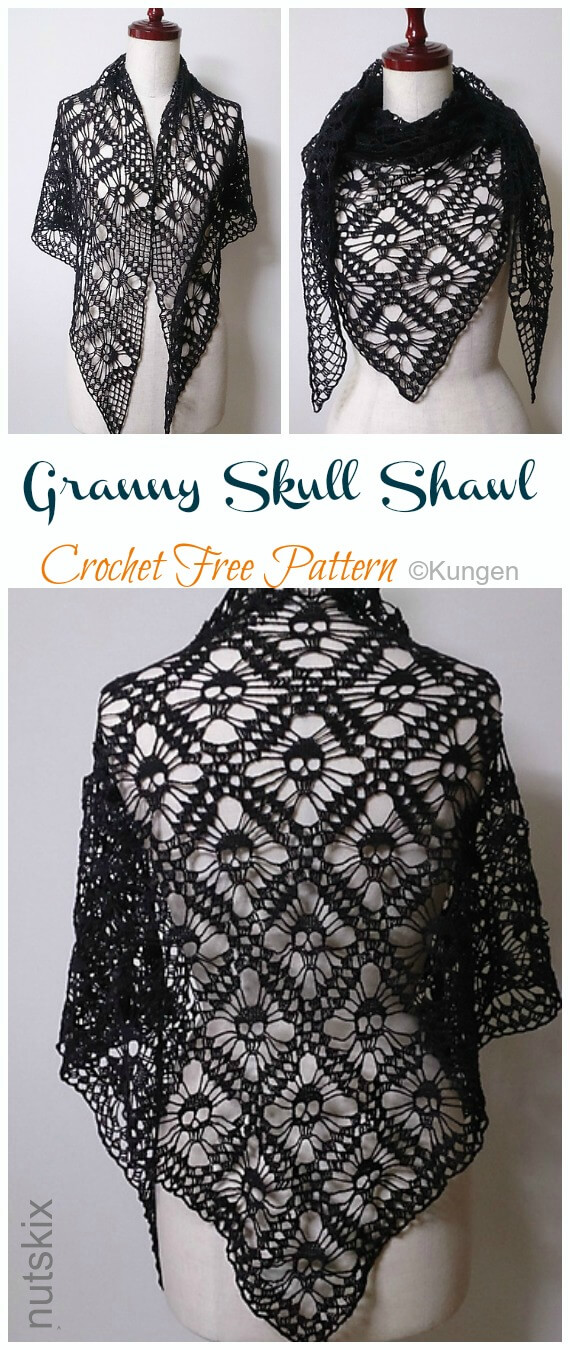 This crochet skull pattern is a lace shawl with naturally flowing skull motifs in its entire body. Basically, the pattern is a repeat of many skull motifs which creates this large shawl. 
2. Crochet Day of the Dead Halloween Crochet Skull

The day of the dead skull pattern is an amazing design. You can crochet it using any yarn or hook of your choice both thick and thin yarns will produce different but wonderful designs.
3. Lost Souls Skull Shawl Free Pattern
The lost soul's skull shawl is an open lace triangle pattern. The skull motifs in the finished design have a naturally flowing wavy flow. The pattern can be adjusted to any size and colour of your choice.
4. Crochet Solid Body Skull Scarf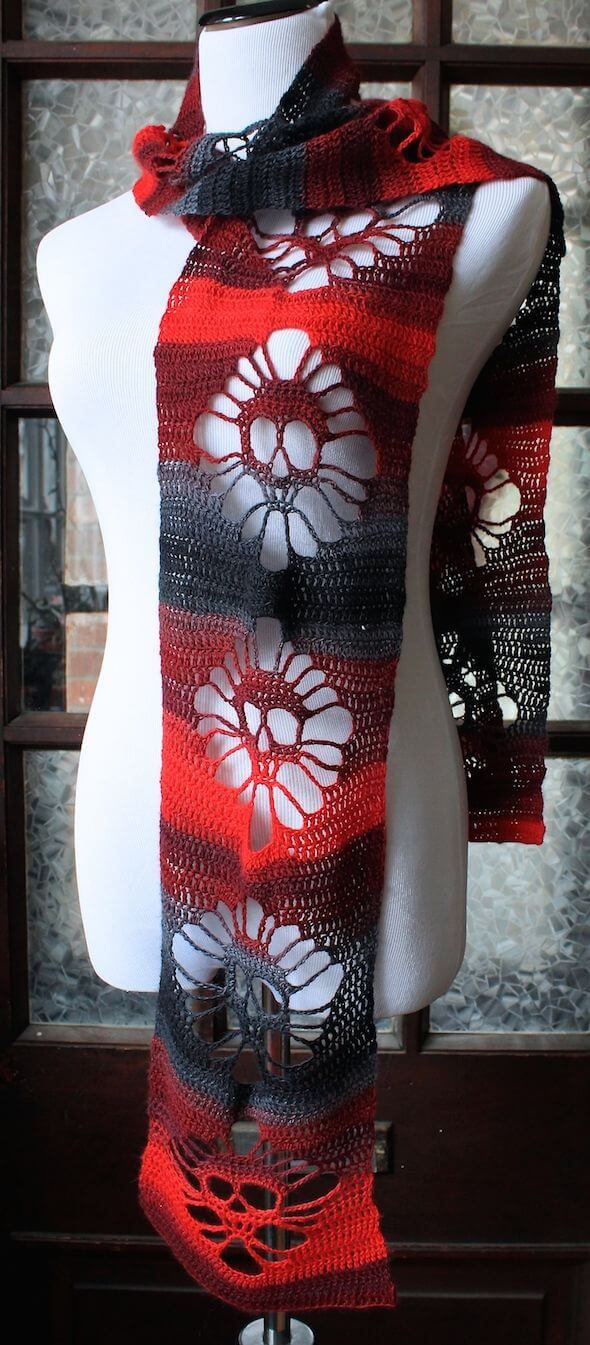 Rock the Halloween party with this gorgeous solid body skull scarf pattern. This meticulous pattern is ideal for beginners as well as intermediate crochets. It also makes a perfect gift idea.
5. Skull King Halloween Crochet Pattern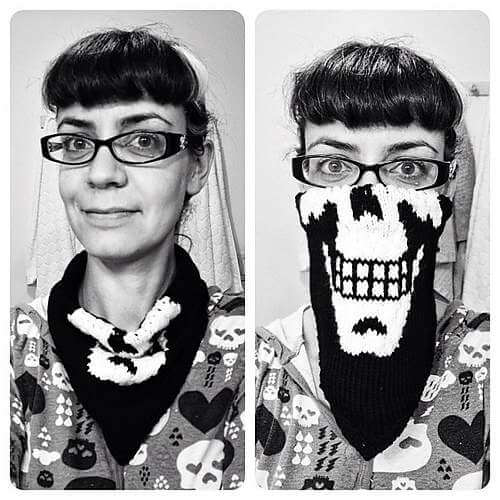 The skull king is a terrific pattern! It looks like a regular cowl worn around the neck but when pulled up above the nose area it turns to be a classic skull motif.
6. Narrow Crochet Skull Scarf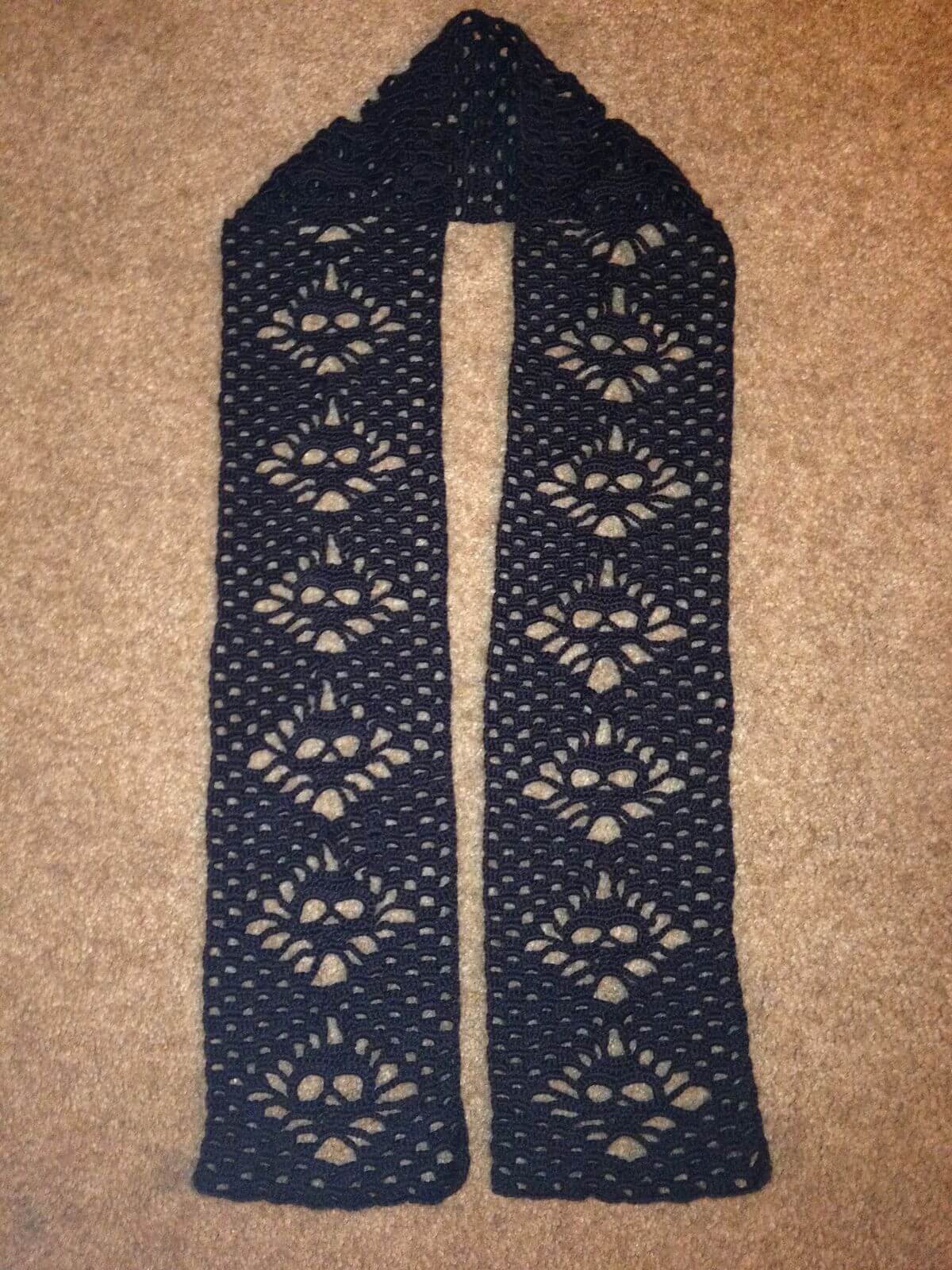 This cute narrow crochet skull scarf is an easy project.  This pattern is crocheted using a 3.5 mmm hook employing 2 skeins of super fine sock weight yarn. 
7. Crochet skull Gloves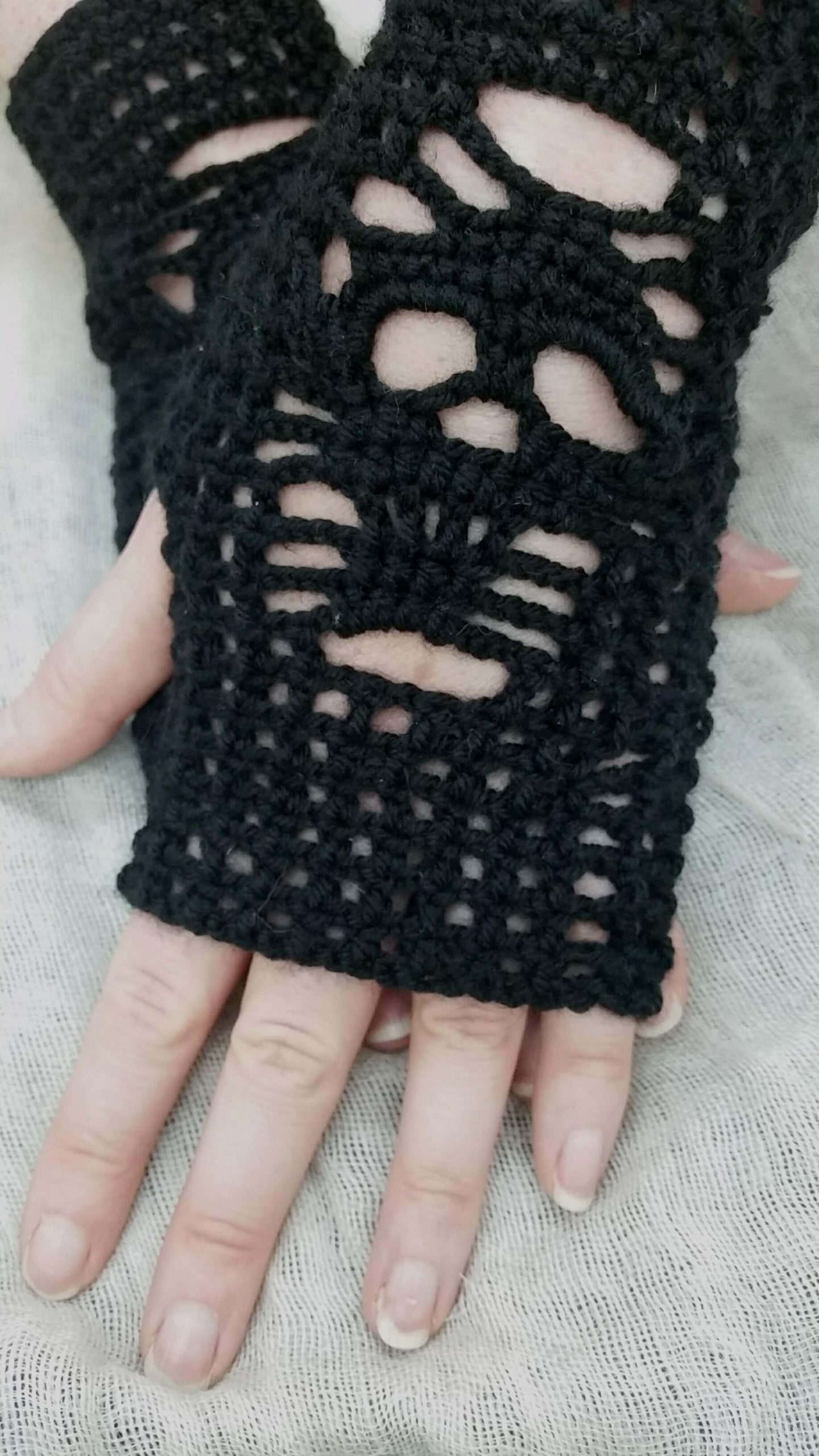 These amazing goth style fingerless skull gloves are fun to make. They are crocheted using a light weight yarn which works perfectly to show the details of the skull on the upper side of the gloves.
8. Lost Souls Bookmark Pattern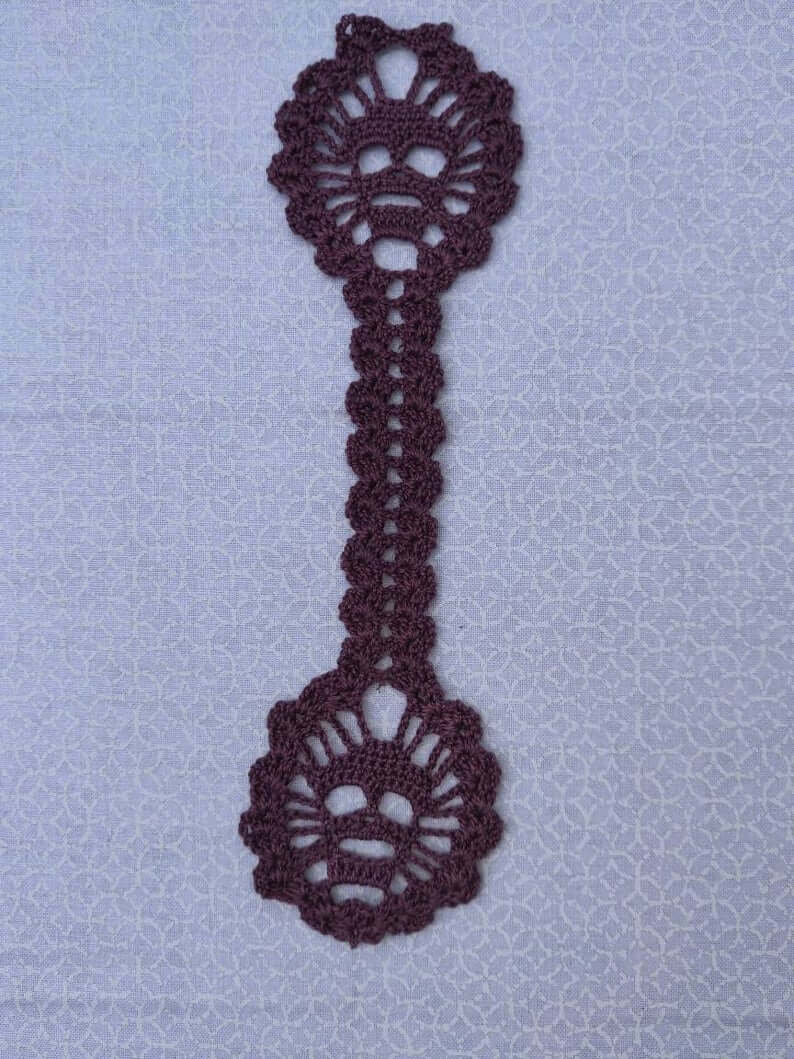 This pattern is an altered pattern which uses the skull motif on lost soul's skull motifs design by Maryetta Roy. This lovely bookmark incorporates two smart skull motifs at both ends and crochet strip joining the two skull motifs. 
9. Crochet Granny Skull Free Pattern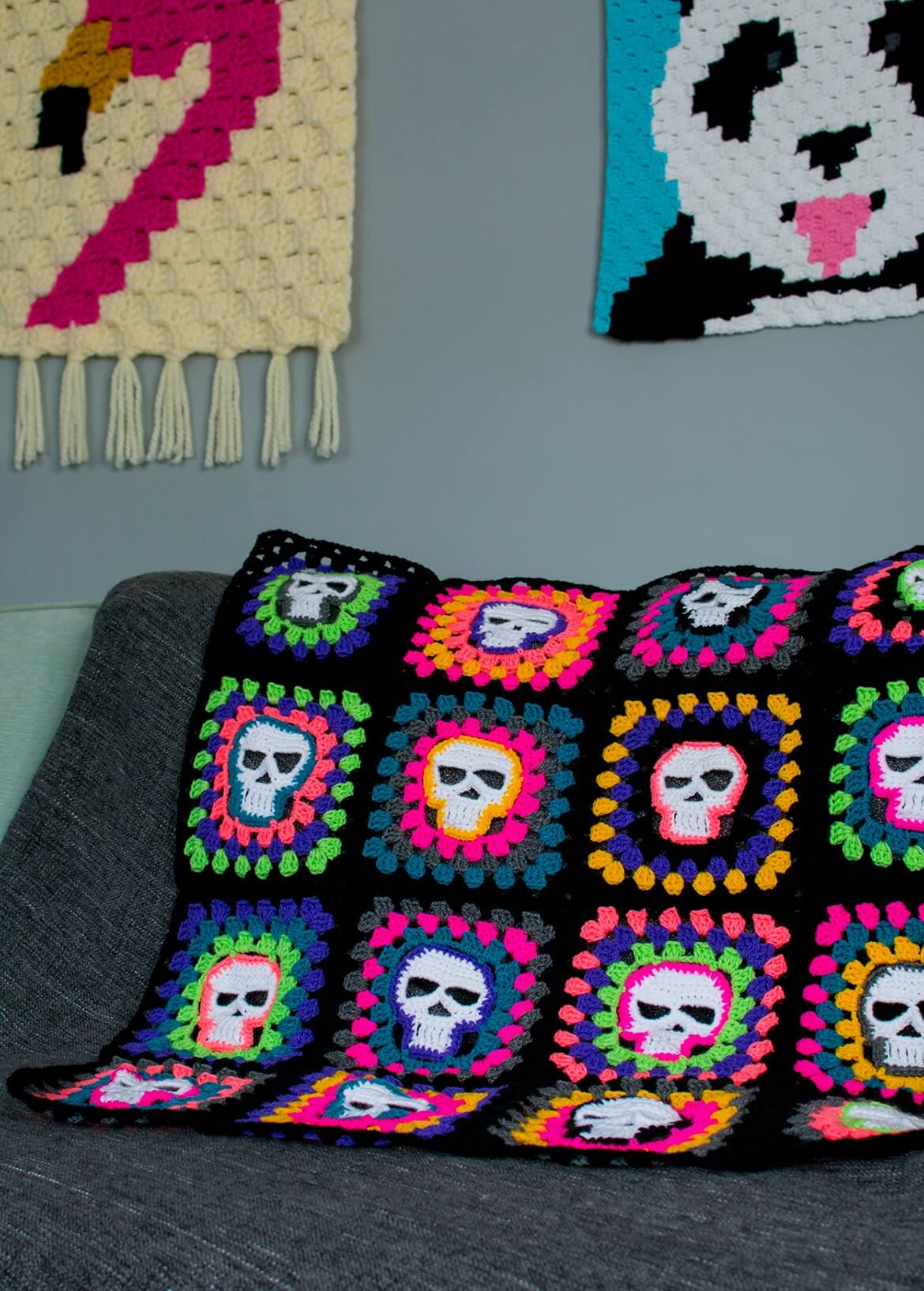 The granny skull free pattern is an amazing project. The granny skull pattern motifs can be used to make big projects like blankets.
10. Crochet Skully Snowflake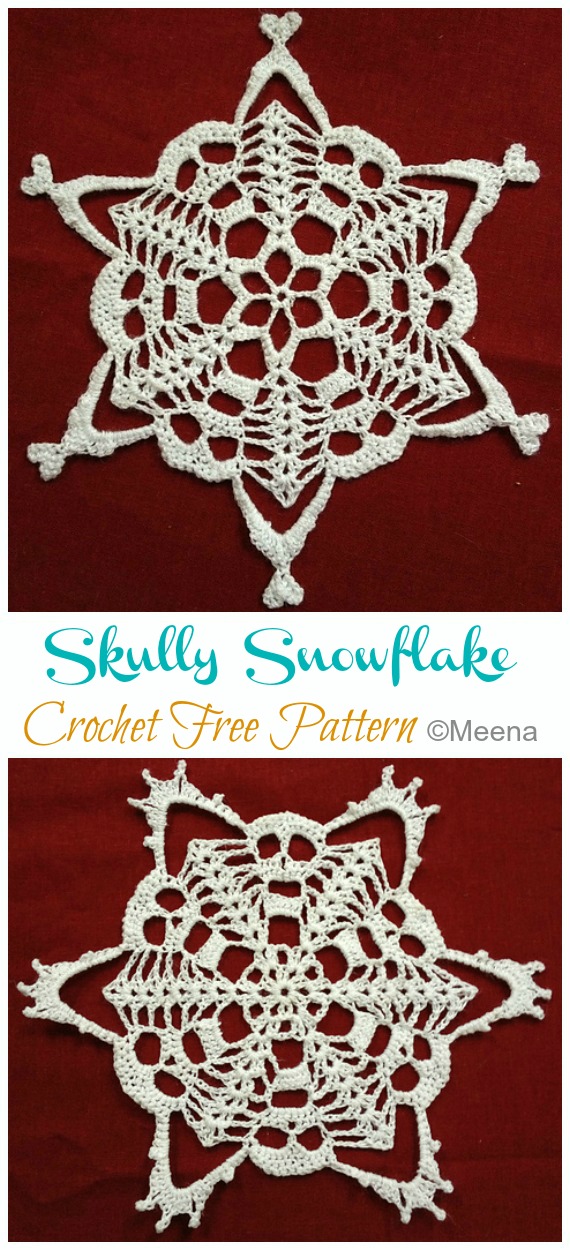 The snowflake skull is an intermediate pattern that requires you to have prior experience in crocheting. It is crocheted using basic stitch and lace yarn and the skull faces made as you move up the pattern.
11. Crochet Sugar Skull Mask   

Celebrate the Halloween with this gorgeously crocheted sugar skull mask! This pattern is worked on by joining individually crocheted motifs with a joining picot as you advance through the pattern.
12. Bone Dance Creepy Skull Circle Vest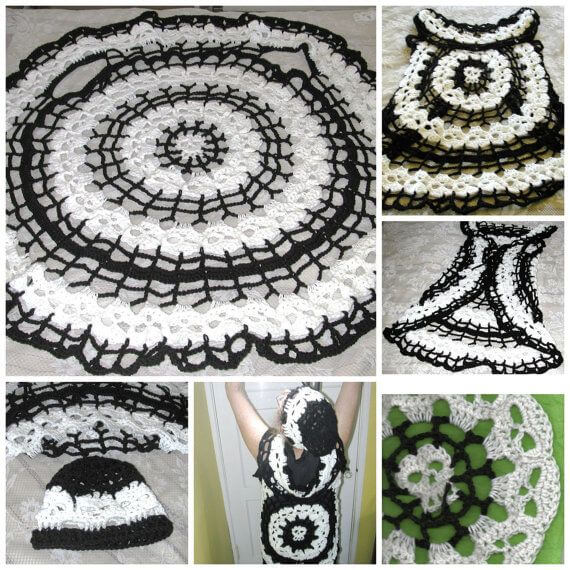 This gorgeous Dance Retro Stylish circle vest design measures 43 inches diameter and it's a collaboration between Janie Laswell of Purday Thangs and Laurie Kahn of Spider Mambo Designs. You will love this terrific skull pattern!
13. Glamour Skull Slipper Shoes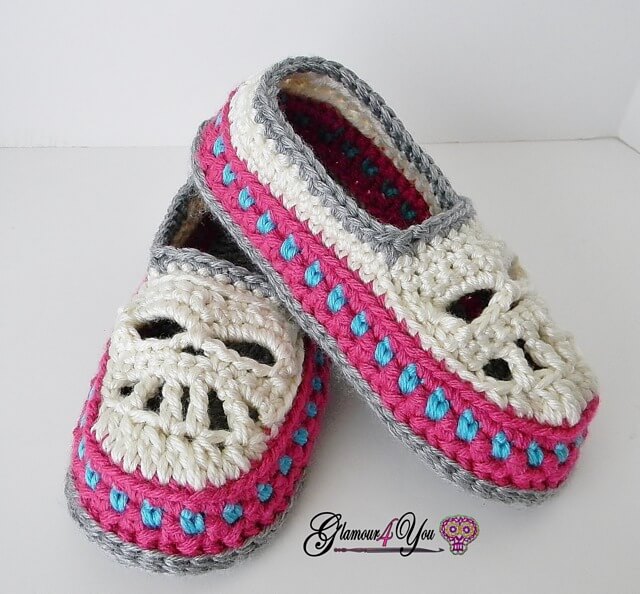 This gorgeous glamour skull slipper shoes are just amazing! They feature a double sole and are so comfortable and warm. The skull face is incorporated on the front upper part of the shoe.
14. Crochet Dead Skull Bracelet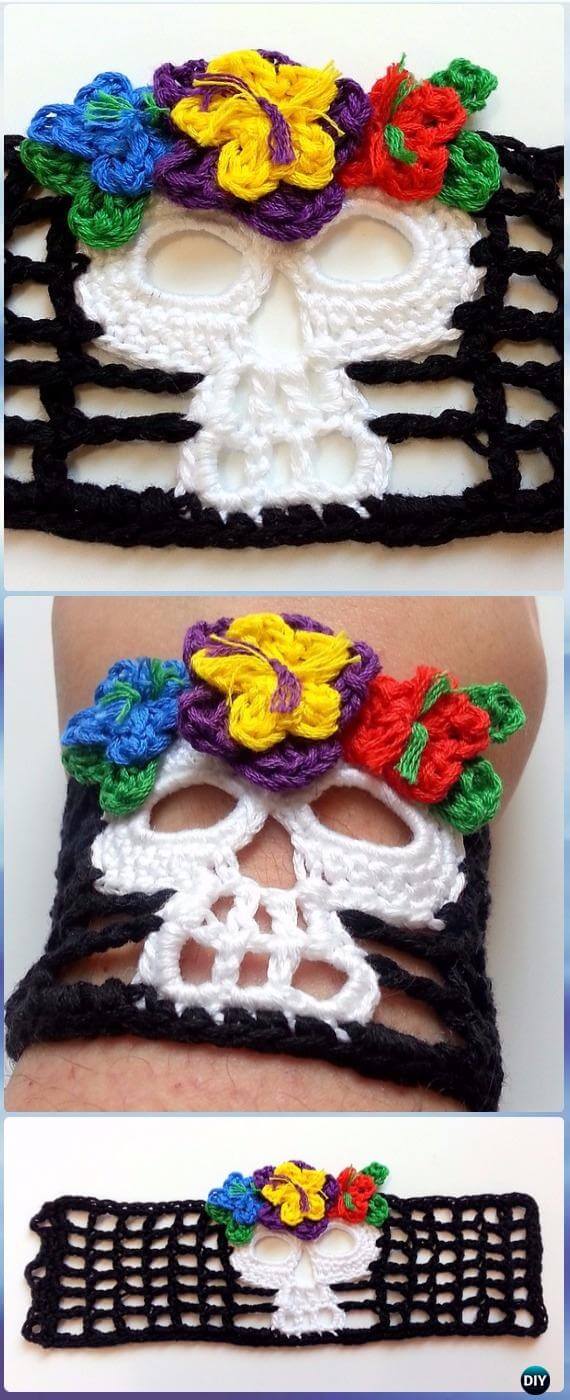 Rock the Halloween party with this spectacular sugar skull bracelet. It is crocheted with a size 10 crochet thread and 4 skeins embroidery floss. The flowers are made separately in different colours and stitched to the bracelet.
15. Skull Trick or Treat Bag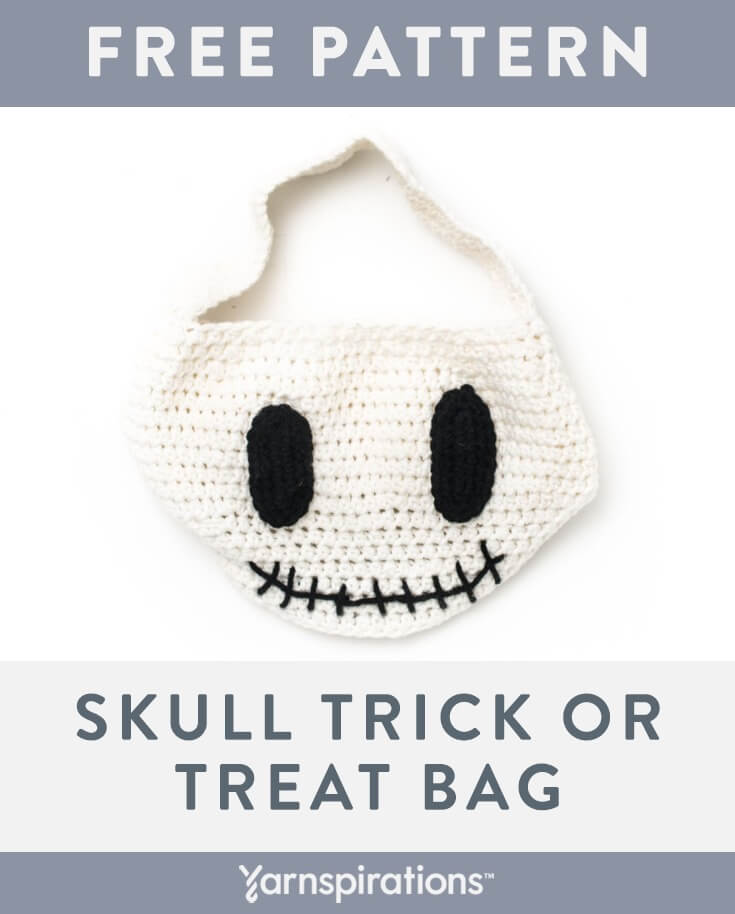 This skull treat back is adorable!. The bag is perfect when used indoors as a haunting decoration to hold candy and other amazing treats.
16. Crochet Skull Doily by Kathryn White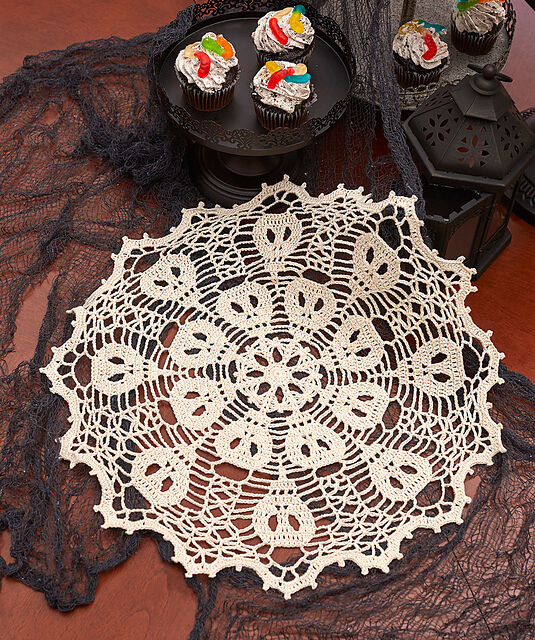 There are so many doily patterns out there featuring skull motifs. But this particular doily pattern by Kathryn White features 6 large skulls as the central design with a small lace petal pattern.
17. Sinister Skull Face Warmer Death Mask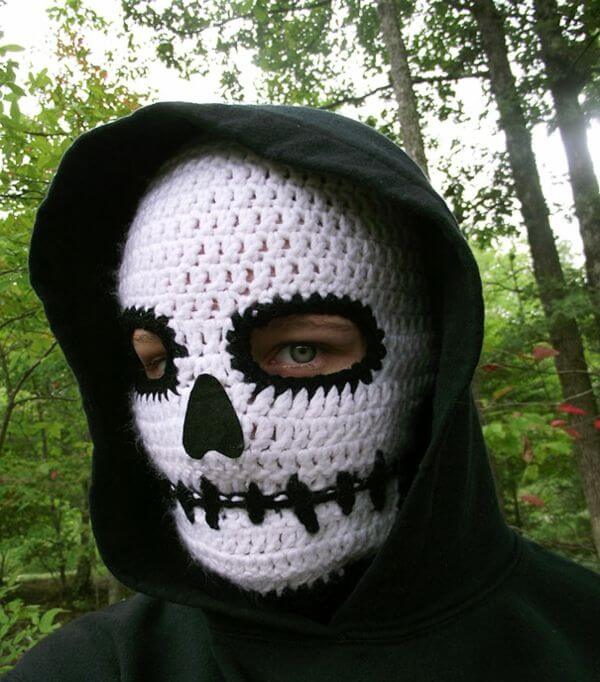 Are you searching for a super creepy project? Try the Sinister Skull Face Warmer Death Mask. This super chilling mask is a sure way to scare the heck out of everyone.
18. Crochet Creepy Skull Hat Pattern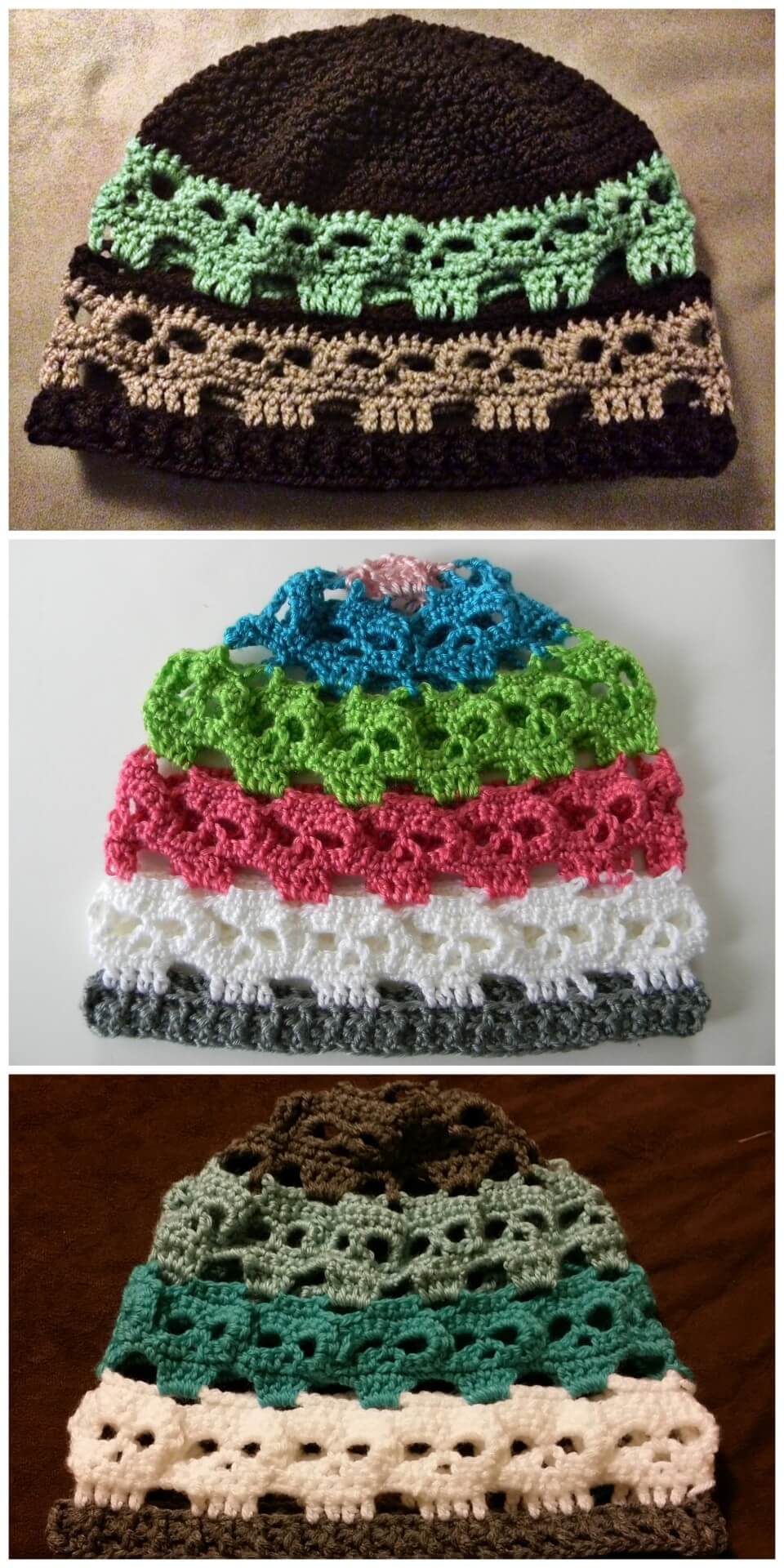 This gorgeous skull hat pattern by spider mambo design is worth checking out. It features skull motifs all around its circumference with a cute pom pom at the top. 
19. Sugar Skull Winter Mask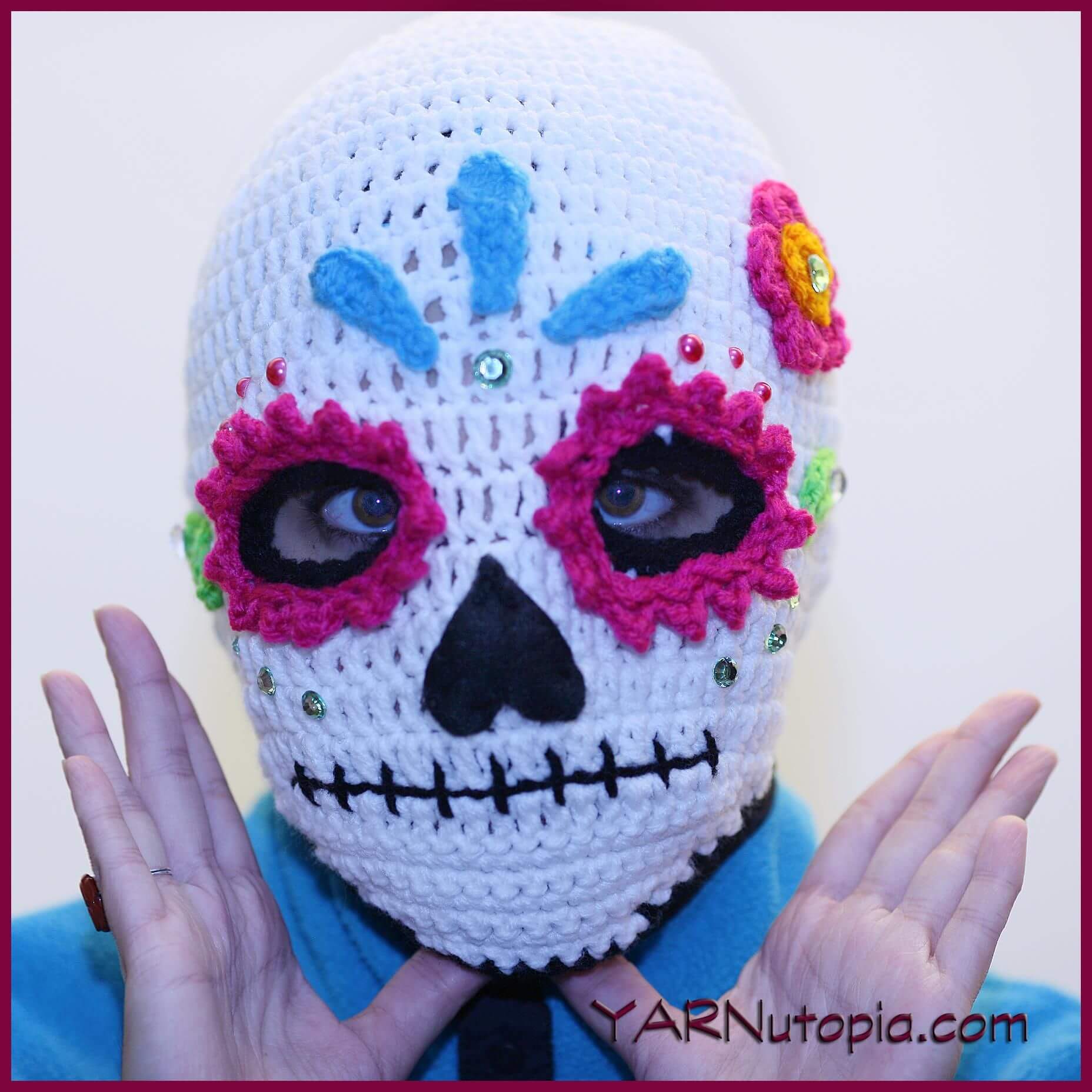 This is an amazing design by Kourtney Moon on Sewing My Fingers Together. The mask incorporates many bright colours to create this wonderful pattern.
20. Crochet Day of the Dead Sugar Skull Earrings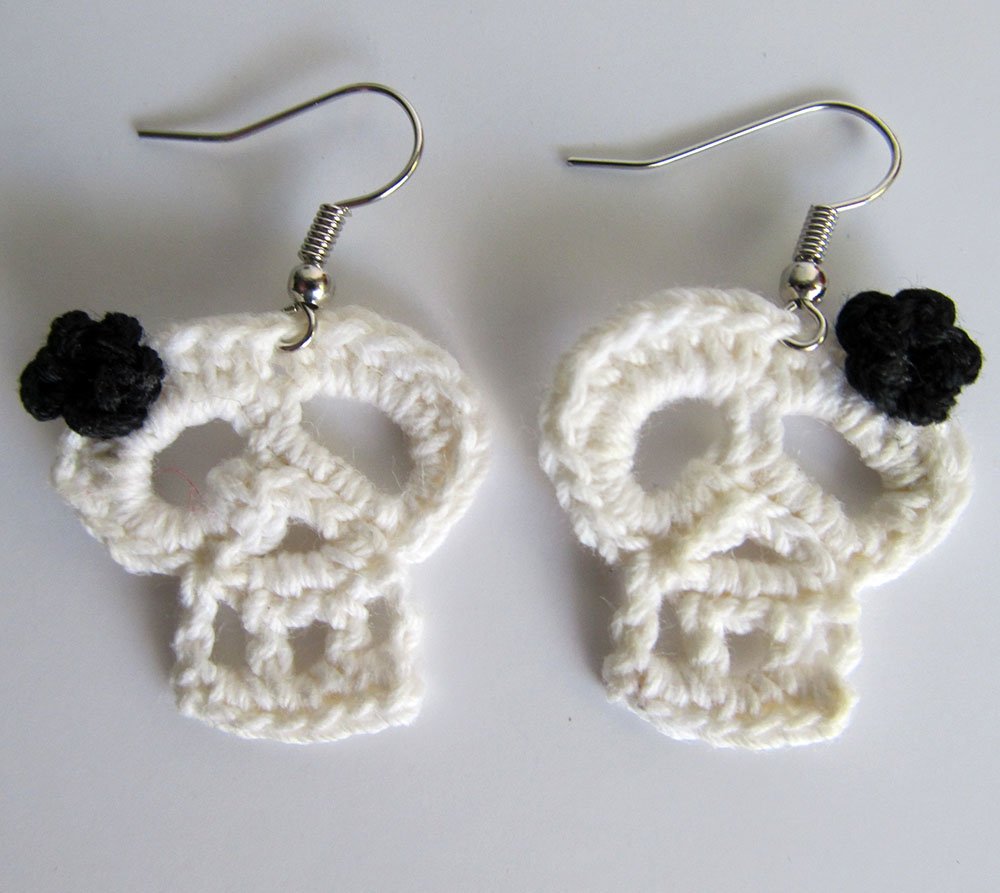 Rock this stylish sugar Skull Earrings on the Halloween party. They work up pretty fast with less that 2 hanks of embroidery floss. This pattern used a size 3 hook and a lovely pink yarn. You customize them in your favourite colour.
Conclusion
There you have it! 20 amazing Halloween Crochet Skull Patterns that you ought to try out. Grab your hook and get busy!