Wood Crates are very handy and can be used to create different wood furniture by stacking or manipulating them in different layouts, repainting, or including casters to create furniture that does double duty.
Why should you try Wood crate furniture?
Wood crate furniture commands such a rustic appeal while still creating extra storage and are also relevant for other things. 
Below are 20 most fascinating wood crate ideas that you try at home.
1. Colorful Wood Crate Bookshelf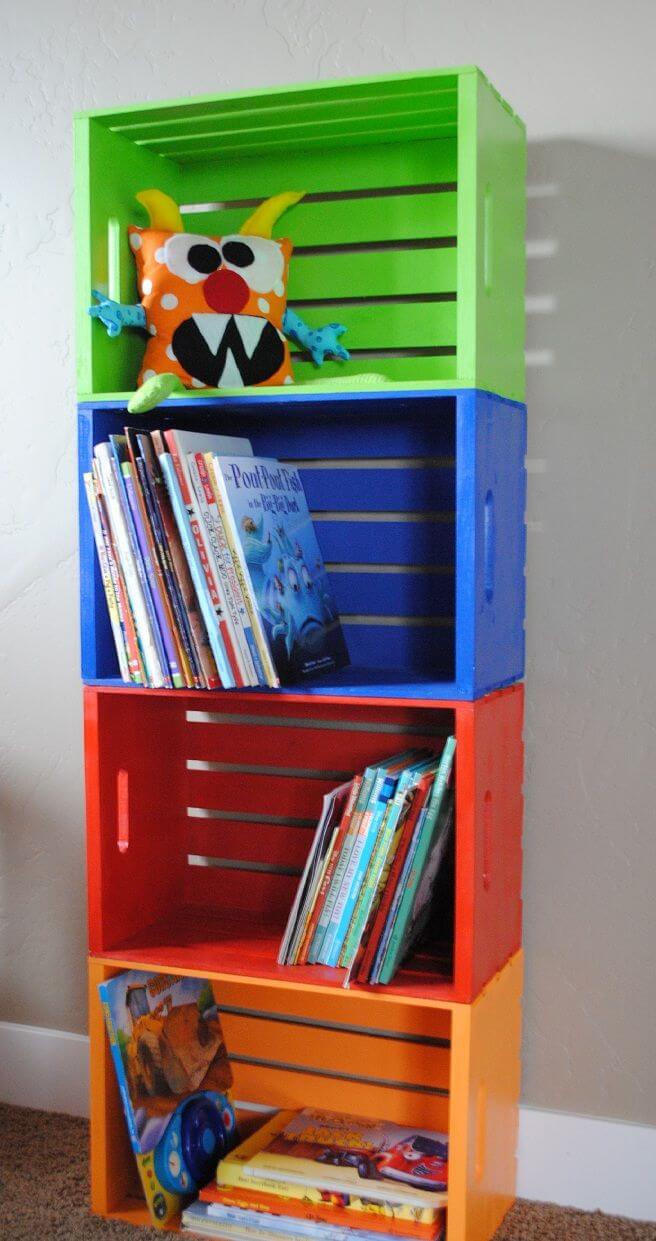 When stacked on top of each other, wooden crates can act as a bookshelf where you can store your extra book collection. You can also paint them in different colors to enhance the look.
2. DIY Crate Shoe Storage Bench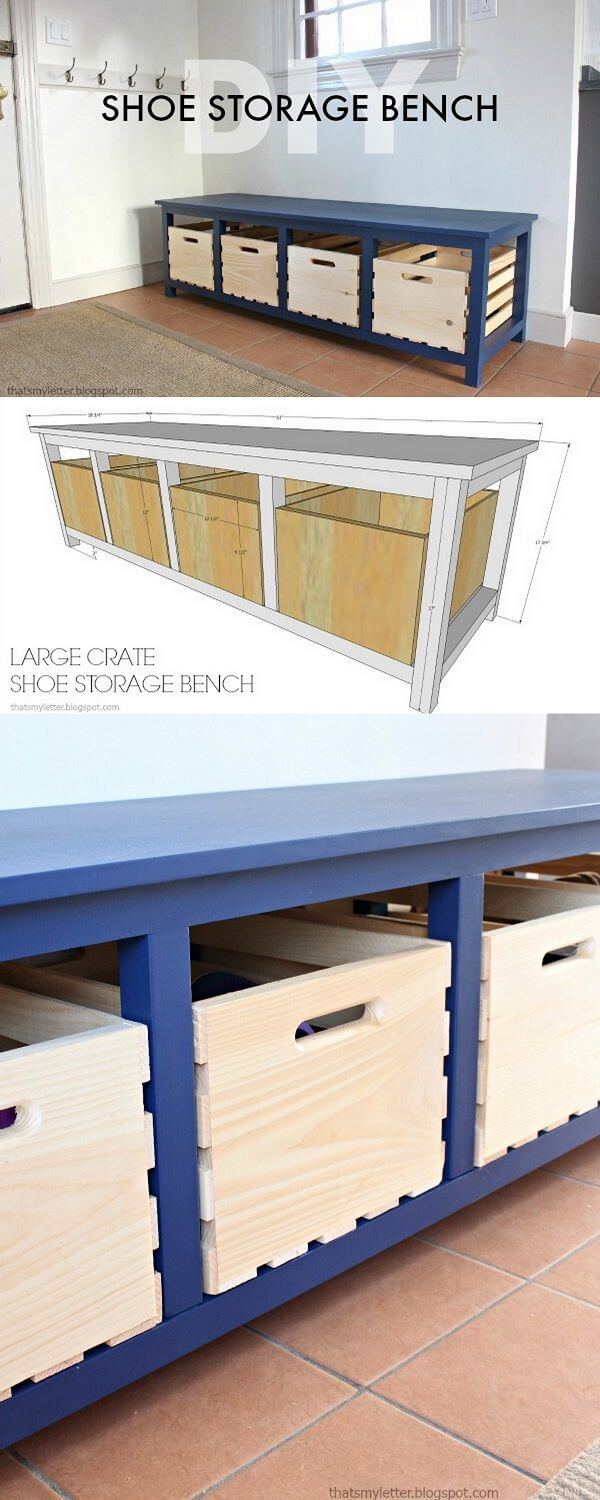 Are you a shoe fanatic? Create this adorable shoe bench from a wooden crate and create more storage space for your shoes.
3. Pallet Bed with Pull Out Crates Under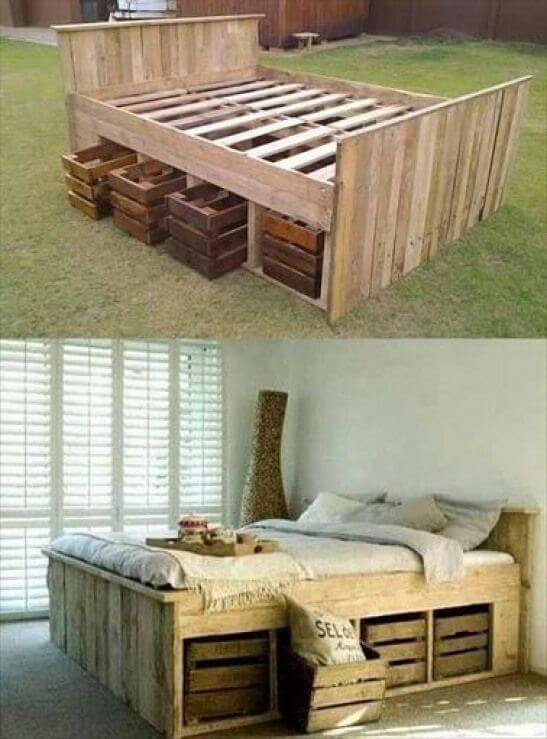 Adding wood crates under your pallet bed will create more storage room in your bedroom where you can store personal items like shoes and books to ensure that your room stays neat at all times.
4. DIY Crate Pet Bed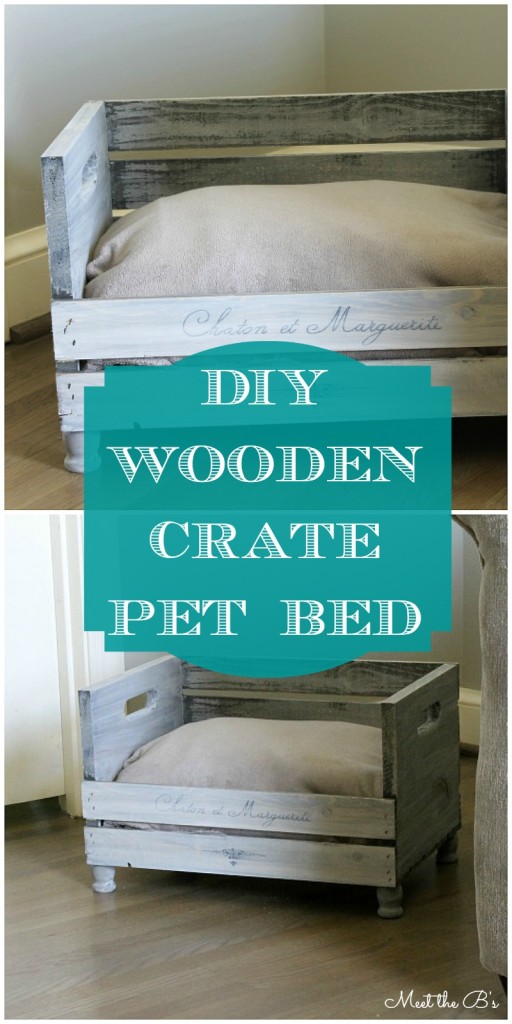 This a creative way to repurpose your wooden crates. This cute bed made from wooden crates goes a long way to ensure that your pet has a place to lay down and relax. Your furry friend will love this!
5. DIY Wood Crate Nightstand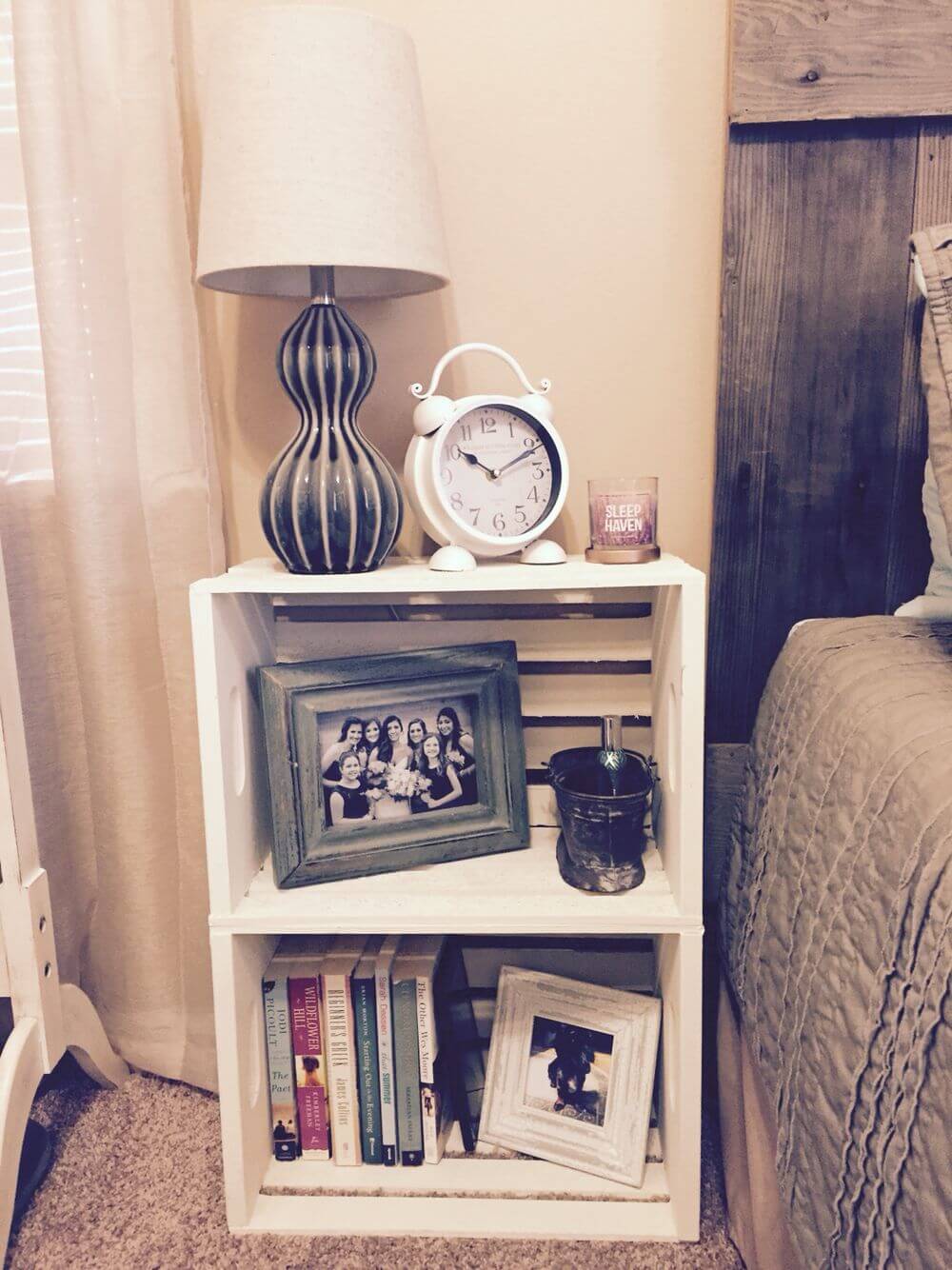 Stack two wooden crates and turn them into this adorable nightstand.  This stylish crate nightstand is budget-friendly with extra storage and also gives your room a touch of rustic charm.
6. DIY Crate Rolling Cart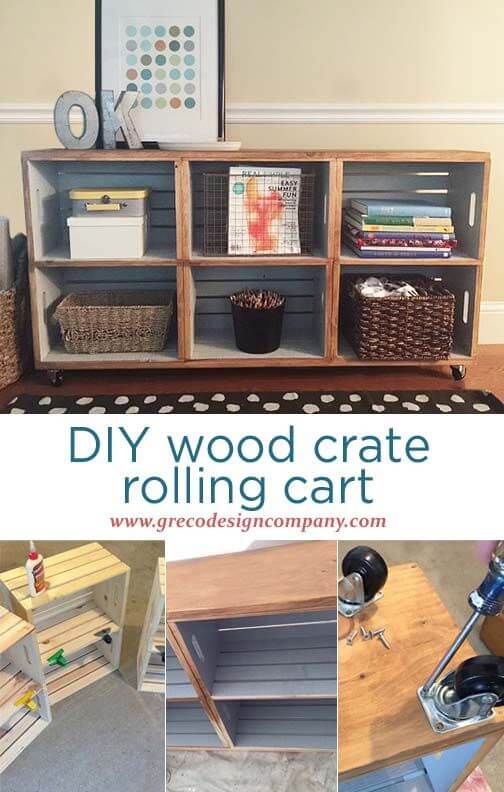 Add casters to your wooden crate to create this gorgeous rolling cart where you can store your items.
7. DIY Crate Storage Ottoman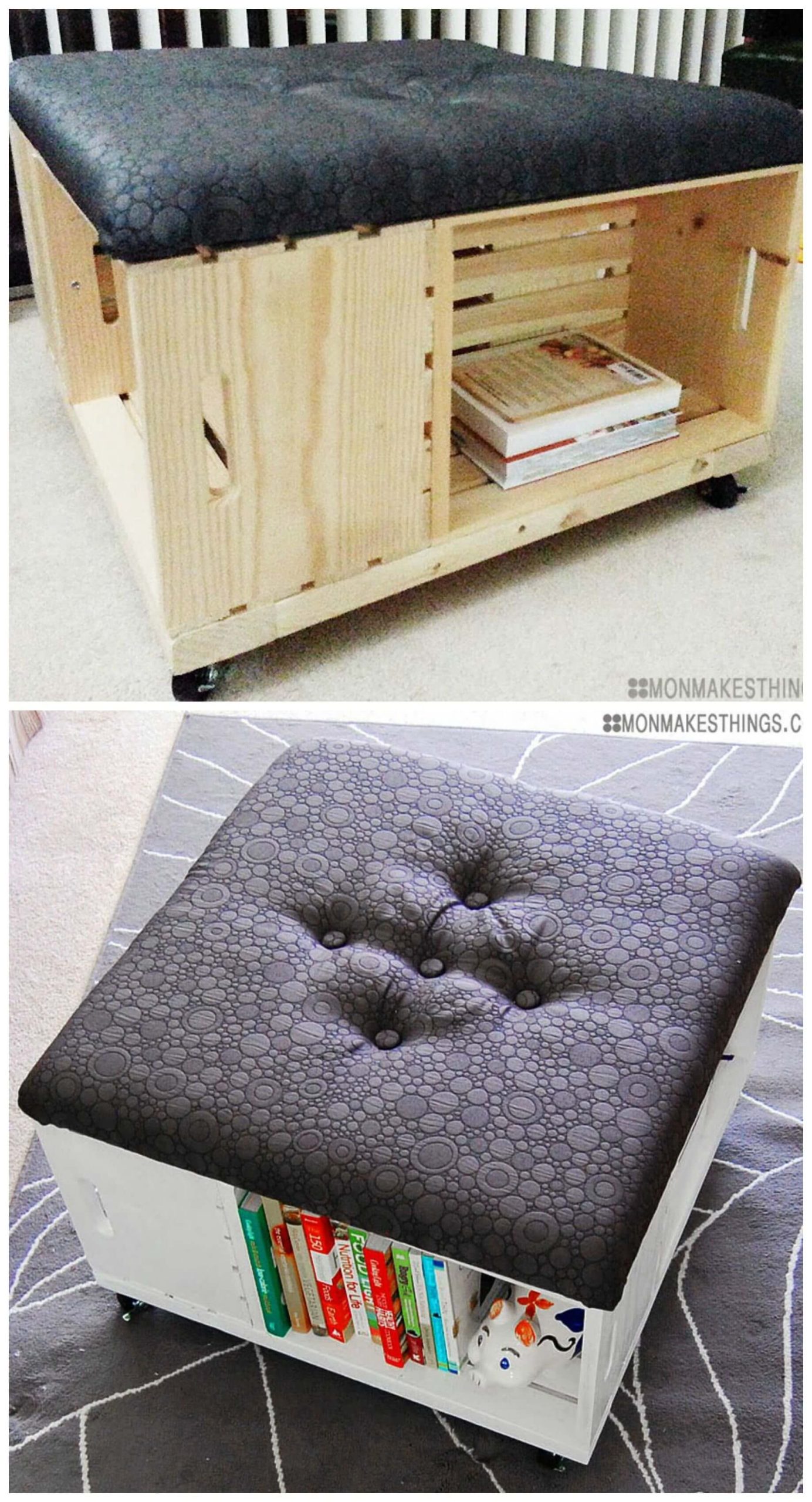 Customize your wooden crate with your color and fabric of choice to create this heart-melting Ottoman with extra storage.
8. Wooden Crate Storage Rockers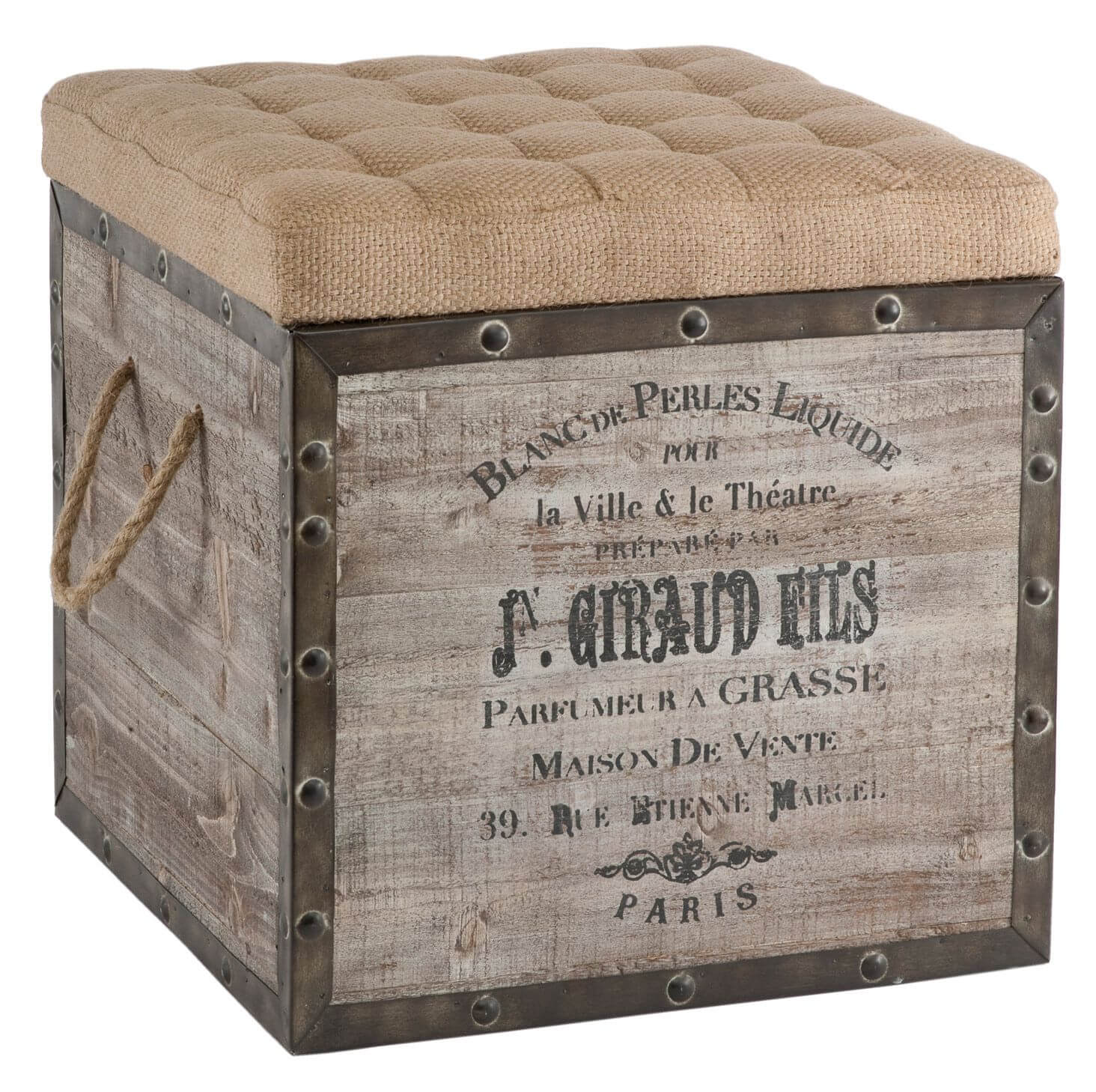 This DIY wooden crate idea may not be for the fainthearted. The results are, however, worth the effort put.  This incredible farmhouse gives you more space while giving your room a rustic feel. 
9. DIY wooden Mudroom Rack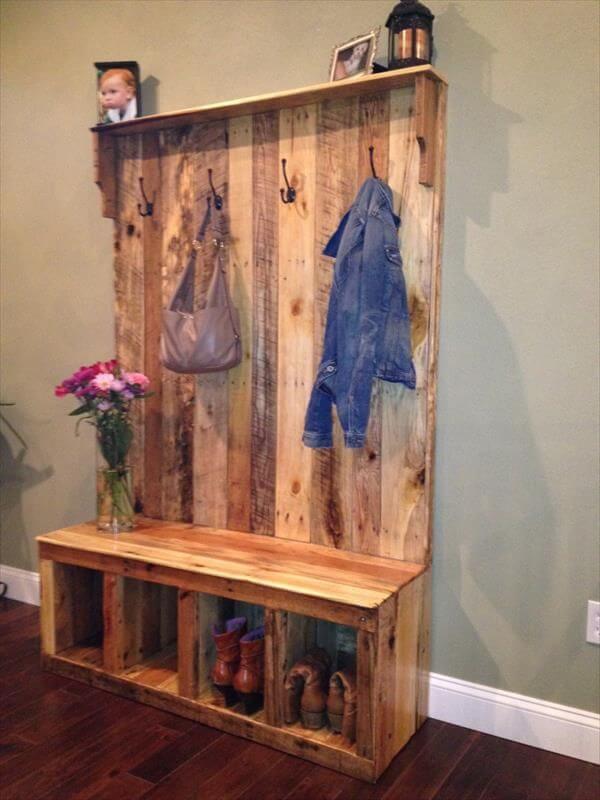 Those old wooden crates lying in your garage would make a perfect mudroom rack behind your back door, which you can use to hold muddy shoes and boots. You can also put hooks and use them to hold jackets and other items.
10. Wooden Cabinet with Sliding Drawers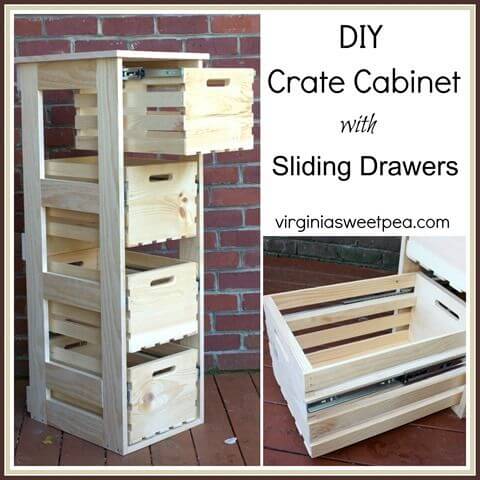 These beautiful filing cabinets with sliding drawers are made from ordinally wooden crates. These drawers give you more space to store your items ensuring that your house stays tidy and organized all through. You could use the shelves as a dresser if your closet space is exhausted.
11. DIY Coffee Table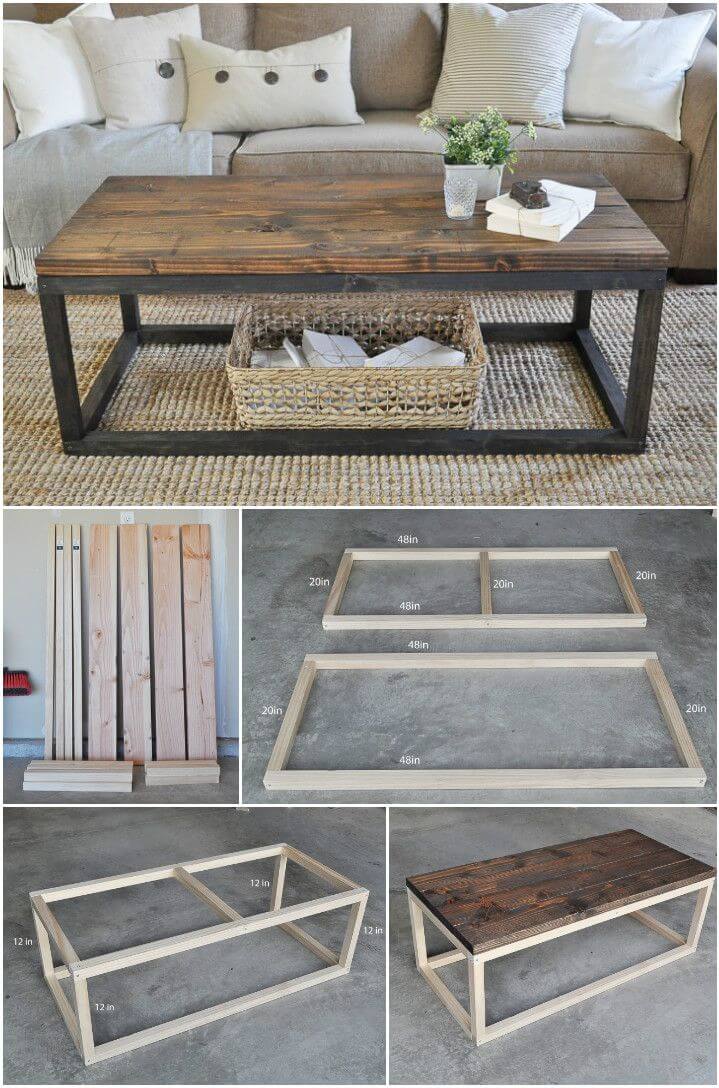 The idea of using wooden crates to make this sophisticated coffee table is just remarkable. The crates are stacked on their sides which gives you the space inside where you can store or display a flower display or any decoration of your choice.
12. Wooden Crate Tall Side Table
Add long legs to your wooden crate to create this beautiful side table that gives your room a charming rustic feel. The inside of the crate also acts as a perfect storage space .
13. DIY Crate Play table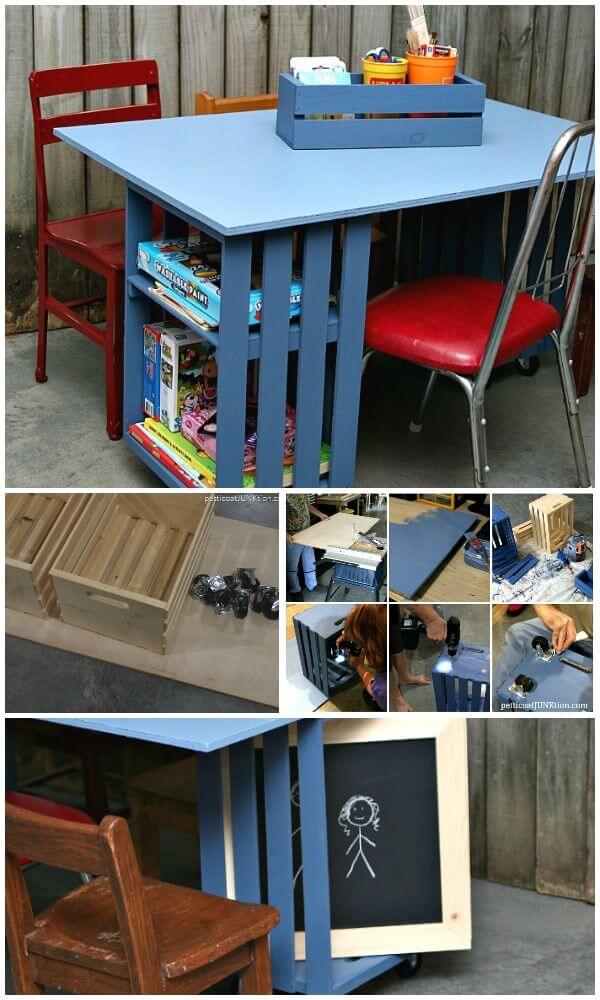 This DIY wooden crate idea is easy to make. All you need are two wooden crates and a wooden tabletop. You can paint the table with color of choice to make the view more appealing.
14. Crate storage in the Laundry Room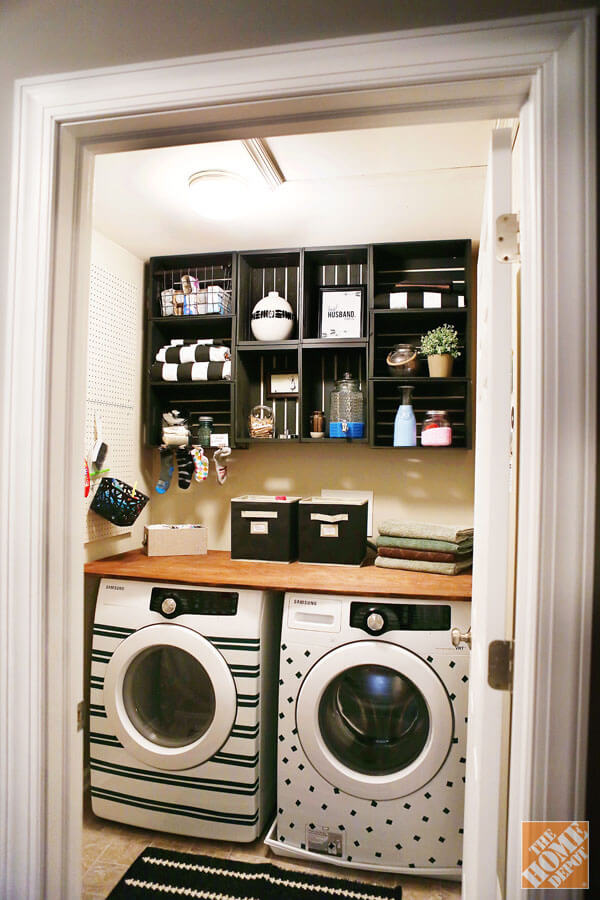 Do you need more space in your laundry room? Stack up a few wooden crates shelves on the wall of the laundry room to create more space. 
15. Wood Crate Shabby Chic Organizer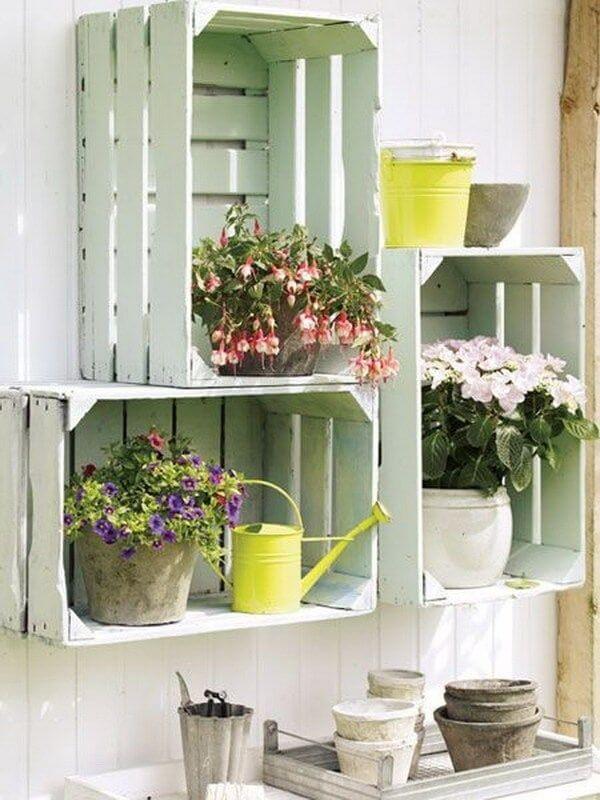 Hold up several wooden crates in your garden where you can plant and display all your flower collections. This shabby chic idea is just amazing!
16. Wood Crate Bathroom Storage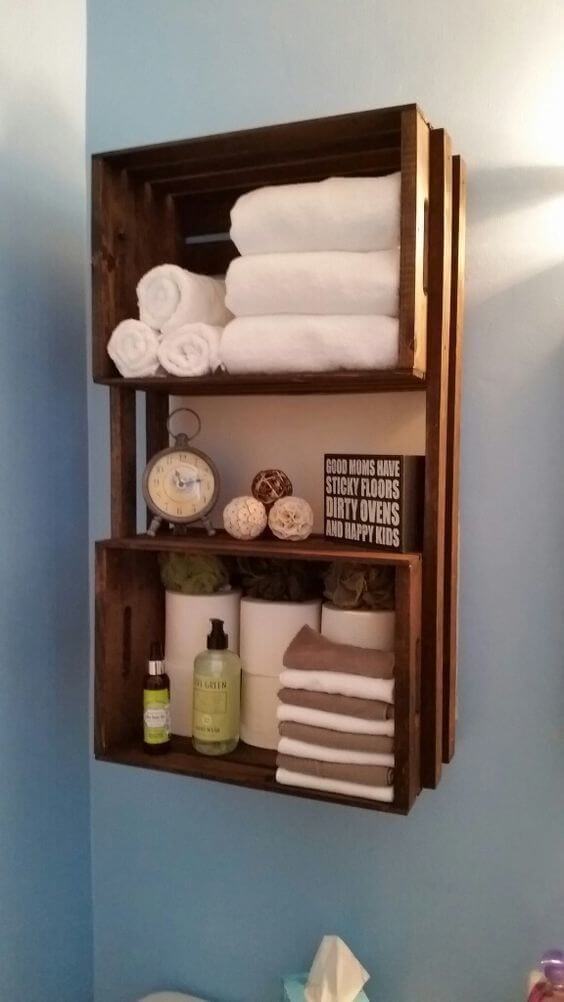 Create extra storage in your bathroom by stacking up two or more wooden crates somewhere on the bathroom wall. Ensure that they hold up tightly to avoid tumbling over from the weight of your bathroom items.
17. Front Door wood Crate key Organizer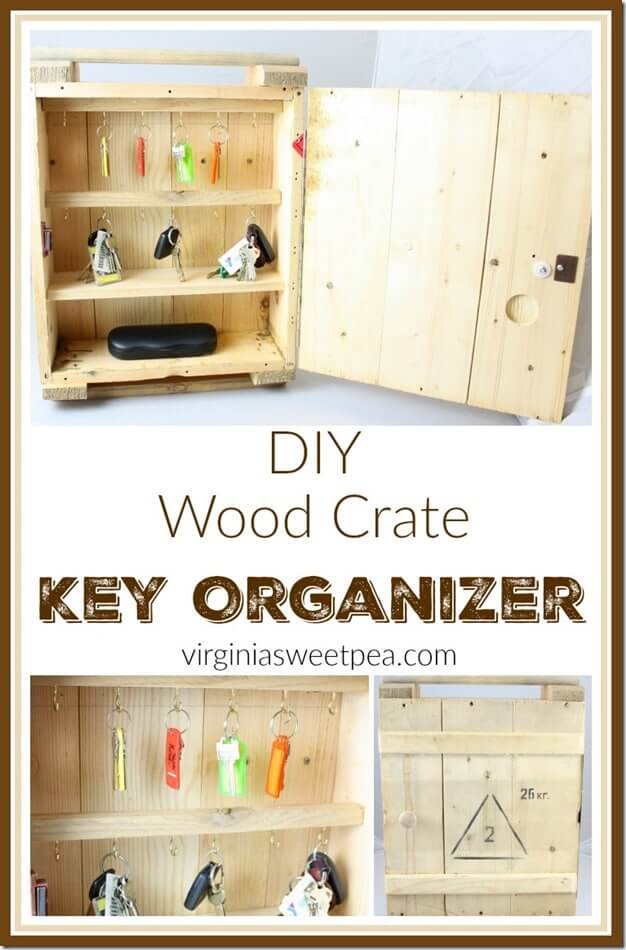 We all know how disappointing the feeling of misplacing your keys is. Create a shelf using a wooden crate somewhere in your house and add some hooks where all the keys should hang such that you know where they are and can access them at all times.
18. DIY Wood Crate Toy Storage Box on Casters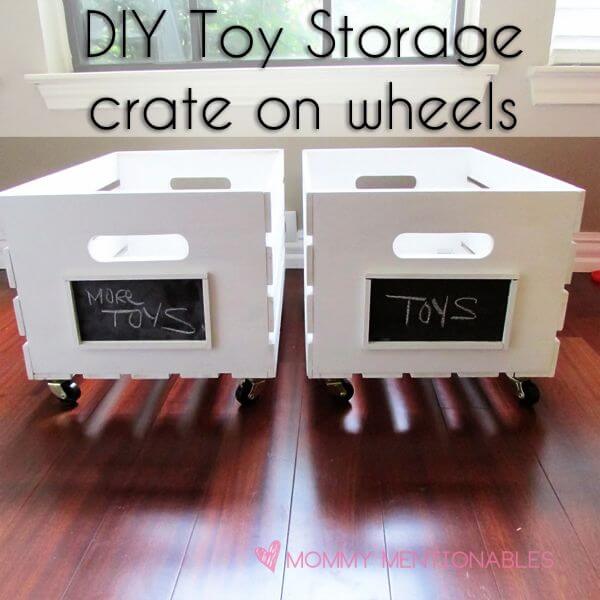 Finding a perfect toy box for your little one can prove a daunting task. Most of them are pretty expensive and don't offer much space to store all your child's toys. This wooden crate idea will not only save you a few bucks but also big enough to hold more toys.
19. DIY Wooden Crate Flower Planters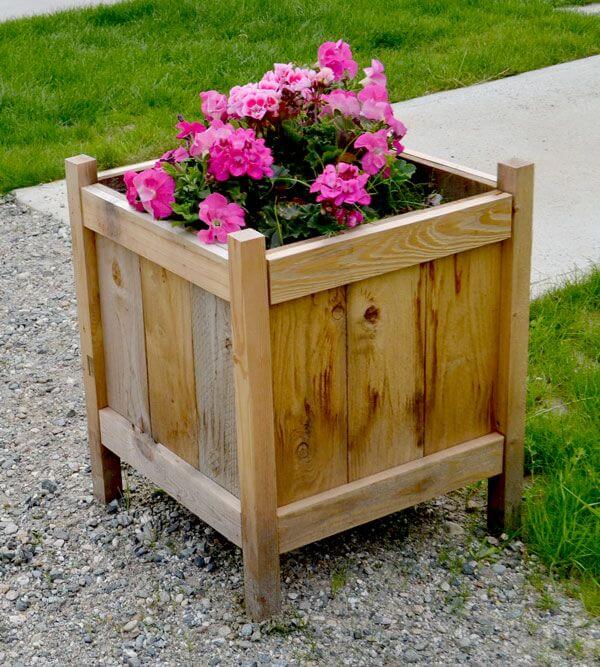 Turn your wooden crate into this gorgeous planter where you can plant your flowers and herbs. This planter beautifies your front porch or deck, giving it a lively and satisfying look.
20. Wooden Crate Kitchen Island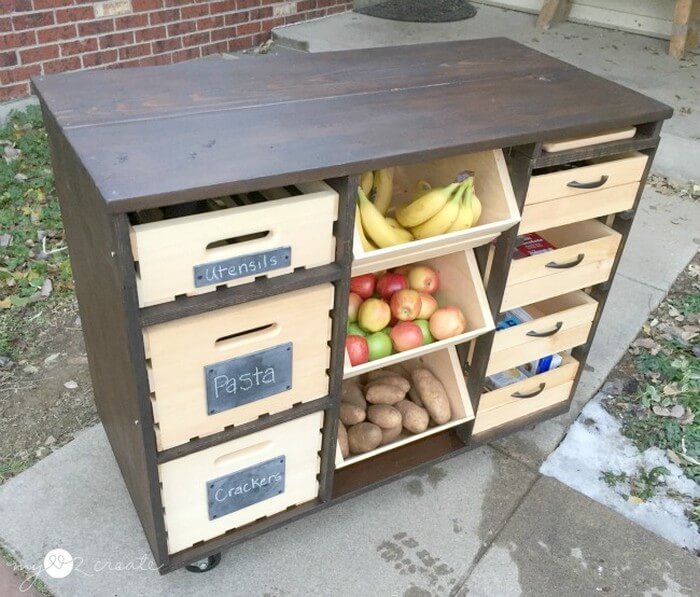 This wooden crate idea is perfect for a small kitchen. You can maximize the small space by creating a kitchen island using wooden crates. This way, you have more storage space, and your kitchen stays neat throughout.
Conclusion
Don't let that old crate go to waste, try out these wood crate ideas today!