DIY Ways to Recycle Bike Rims Ideas
Do you think bicycle wheels belong on a bicycle? Well, that's true, they do. But eventually, they need to be replaced to make way for new wheels. When that time comes discarded bicycle wheels should go into the trash, right? Wrong! They have amazing potential to become cool DIY home decor and crafts projects.
1.

A beautiful garden trellis made from bicycle wheels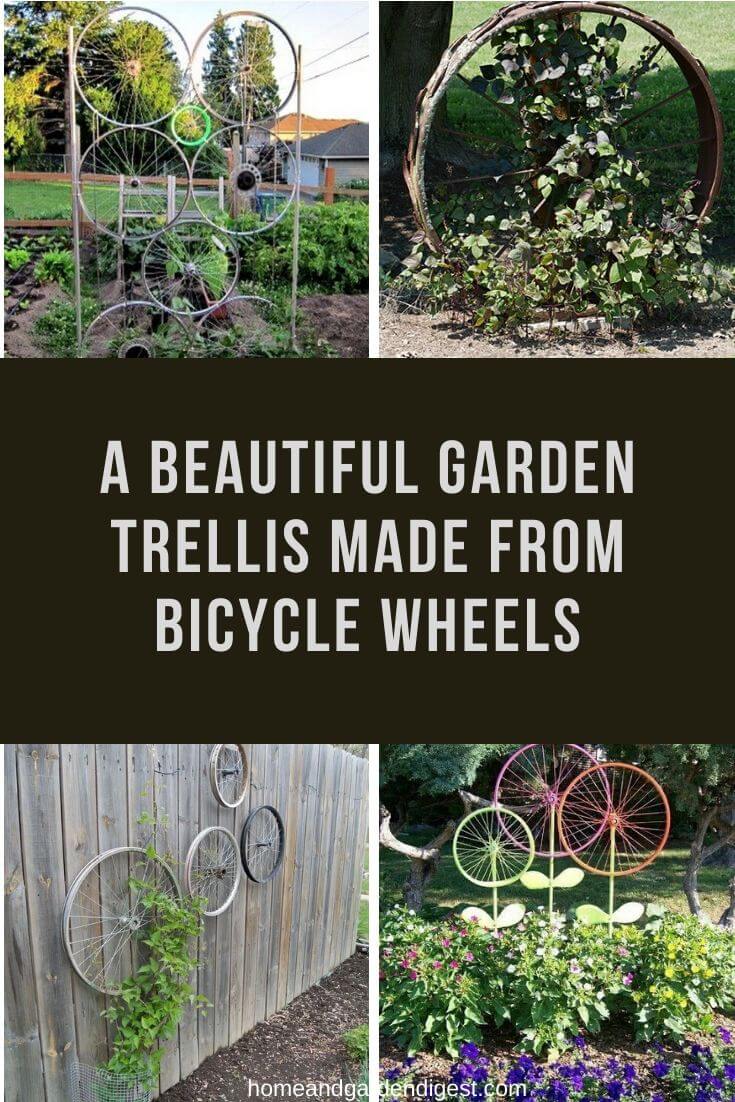 This is likely the easiest way to upcycle some old bicycle wheels. Simply fasten the bicycle wheels to your garden fence and watch as your plants grow over them. Eventually, the wheels will be covered in plants and become an inseparable part of your garden. 
2. Bicycle wheel clock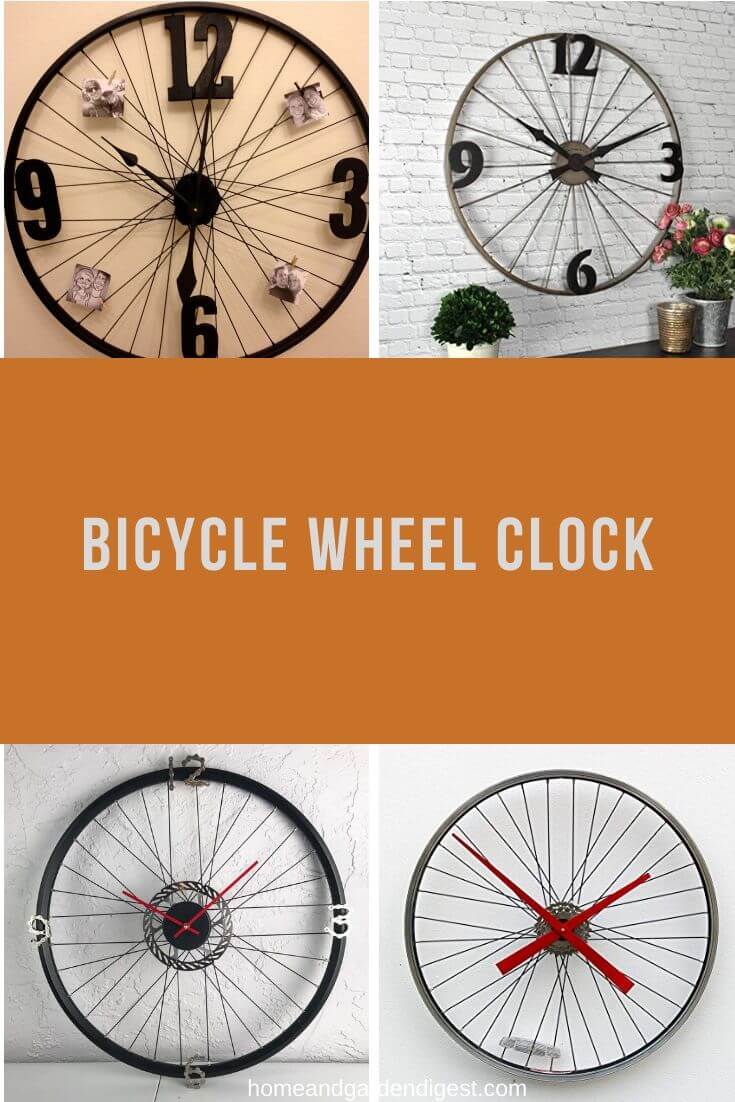 Turn your bicycle wheels into the wheels of time. All you need is a suitable donor clock for the mechanism and an old bicycle wheel. Glue the mechanism to the back of the bicycle wheel and attach the handles to the front. This will be even easier to make if you manage to find a bicycle wheel that has hub covers.
3.Bicycle wheel pan rack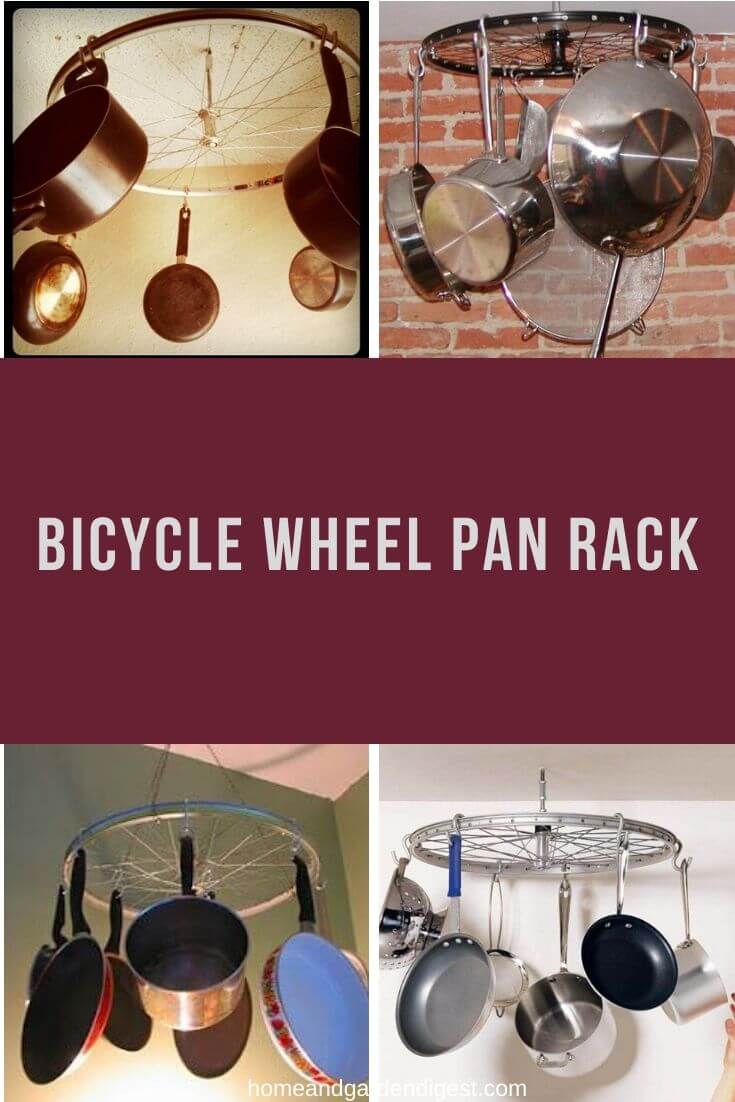 If you have a small kitchen and can't fit all of your pots and pans into your cabinets then why not let them hang from the ceiling? The best way to do it? By upcycling of course! Find some bicycle wheels and some S-hooks and you are good to go.  
4. Bicycle wheel chandelier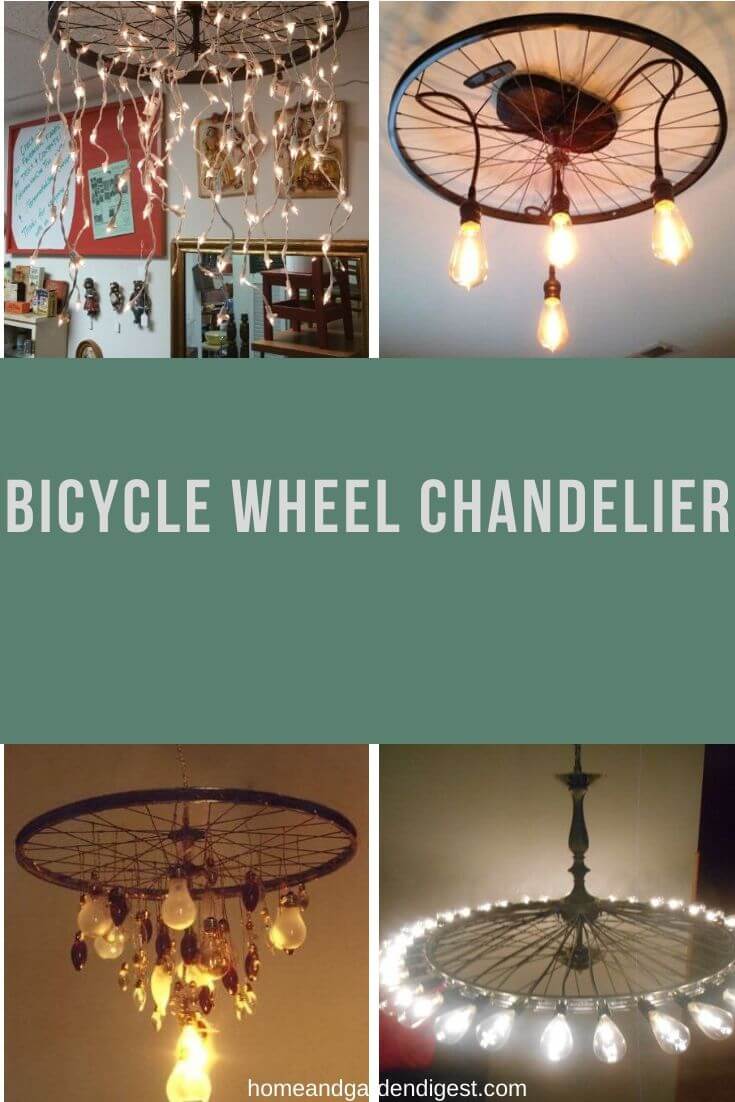 You can make your bicycle wheel chandelier as simple or as complex as you like. If you're a crafting novice then you can hang some mason jars with candles from the wheel. If you want something amazing then make a chic chandelier by using discarded bicycle chains and multiple bicycle wheels of different sizes.
5. Bicycle wheel lamp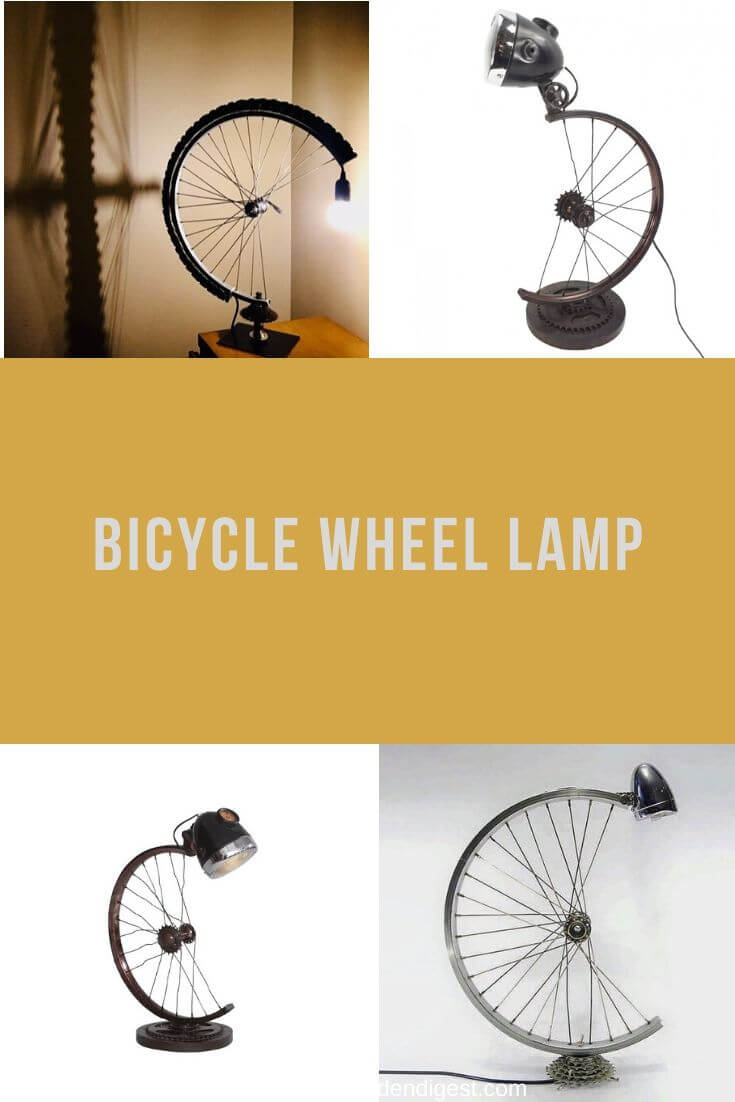 Small bicycle wheels can be repurposed into beautiful and functional tabletop accessories. Making a table lamp out of a small bicycle wheel is simple. The hollow space on the inside of the bicycle wheel is great for hiding electrical cables, or if you want to avoid cables altogether you can use a battery-powered LED light and attach it to the top of the wheel.
6. Stained glass garden spinner made from a bicycle wheel

This one can make your garden stand out and be a real conversation starter. An old bicycle wheel, some pieces of glass and a glass staining kit is all you need to craft your own stained glass garden spinner.
7.A cyclist's Christmas wreath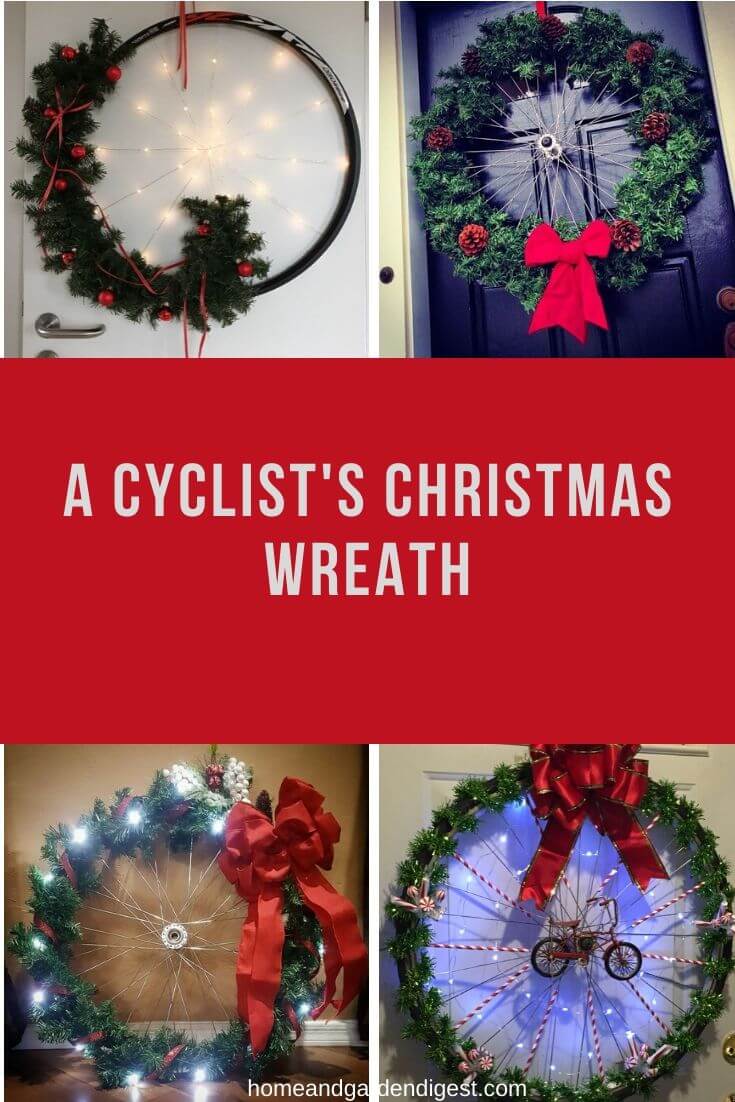 Want to show everyone that your home is full of cycling passion, even during the holidays? What better way than with a bicycle wheel Christmas wraith. These are super easy to make and the only limitation is your creativity. 
8. Bicycle rim chalkboard calendar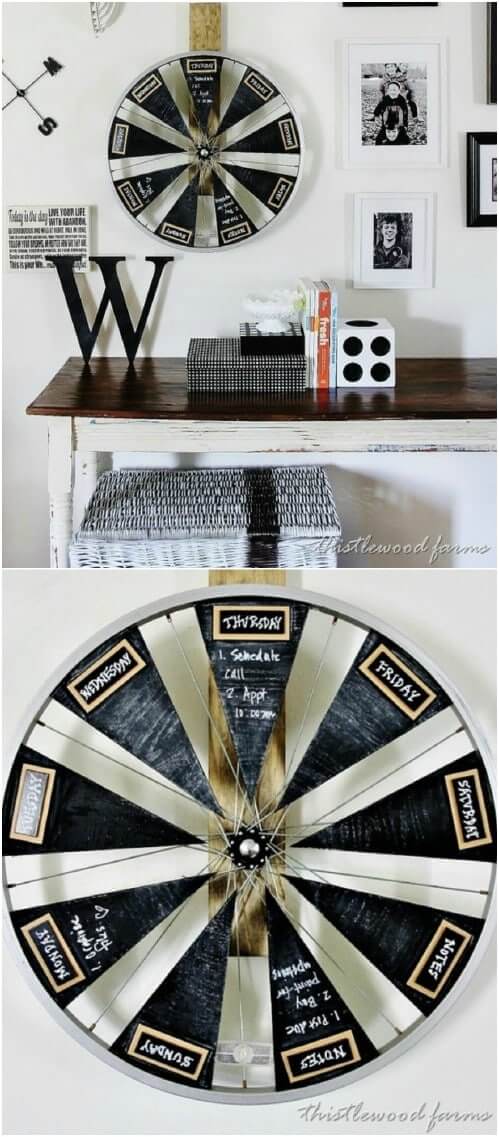 If you want to make your family's distribution of chores more fun than a spinning chalkboard calendar can be the answer. Simply glue some chalkboard pieces to a medium-sized bicycle wheel and attach it to a sturdy base. Getting to do the dishes will be a little less disappointing now.
9. Bicycle wheel dome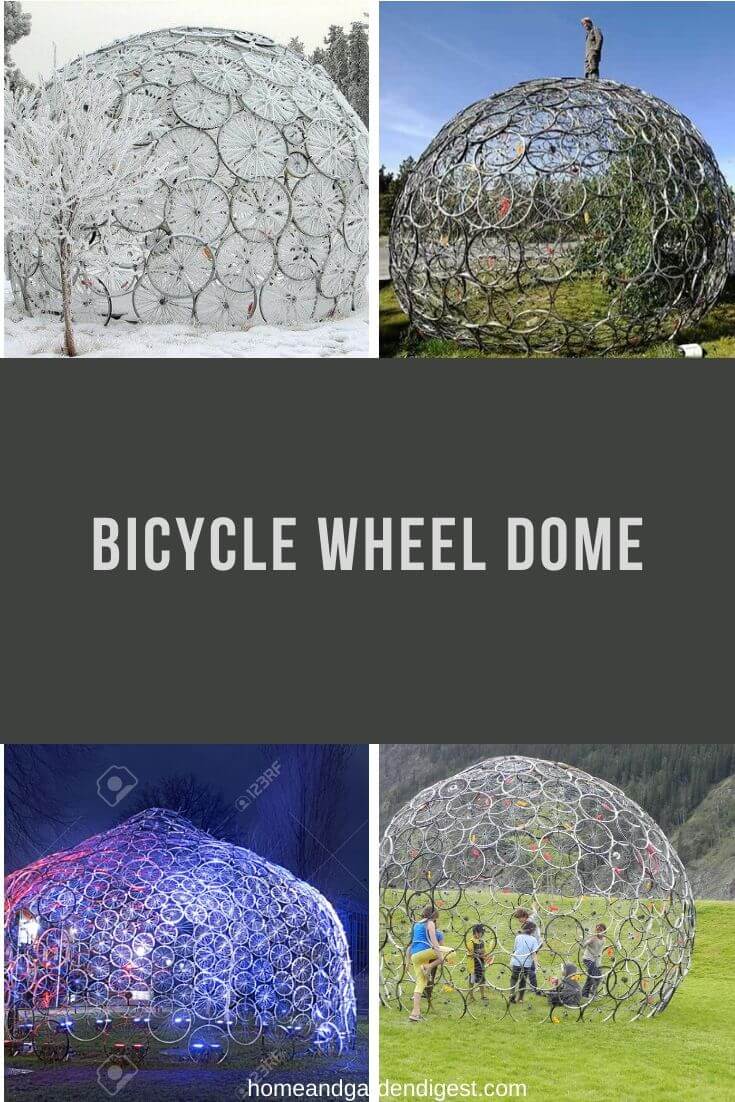 This is an ambitious DIY project that will require some skills, time and a lot of old bicycle wheels. To make the bicycle wheel dome safe for kids you will also likely need to do some welding. But if you manage to pull it off, it will be a truly stunning addition to your garden or backyard.
10. Bicycle wheel photo display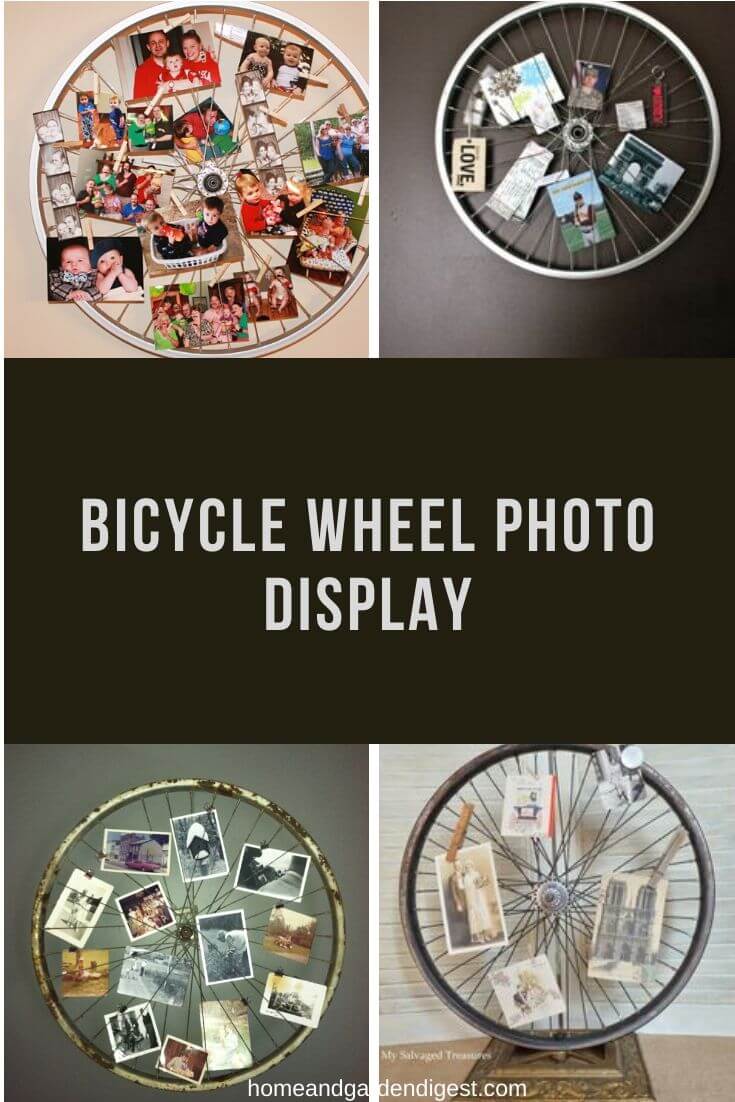 Here's another way to make good use of those spokes. Attach photos to them. Making a bicycle wheel photo display requires almost no crafting. You can get away by using a nail to hang the wheel and some clothes pegs to attach the photos
11. Bicycle wheel tree of life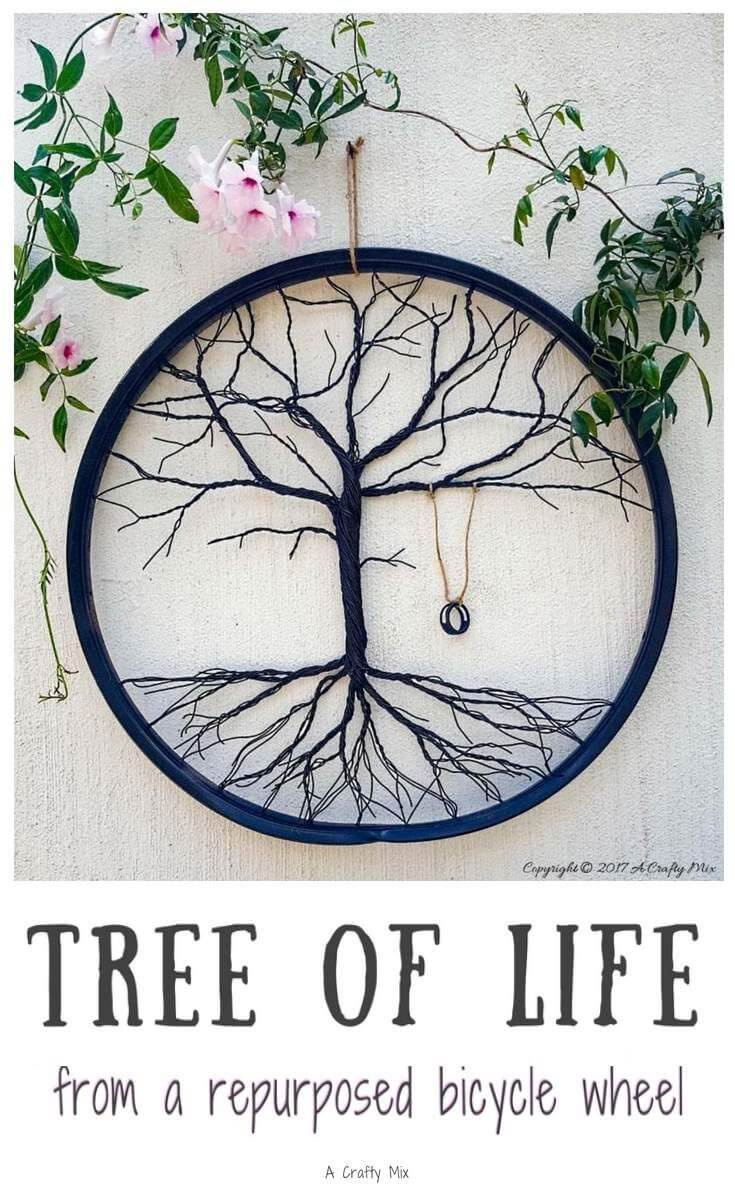 Here's a DIY idea for a super relaxing afternoon. Make a bicycle wheel tree of life with nothing other than your fingers and some wire. The holes where the spokes used to be will be the starting bases for your wire art.
12. Bicycle wheel mirror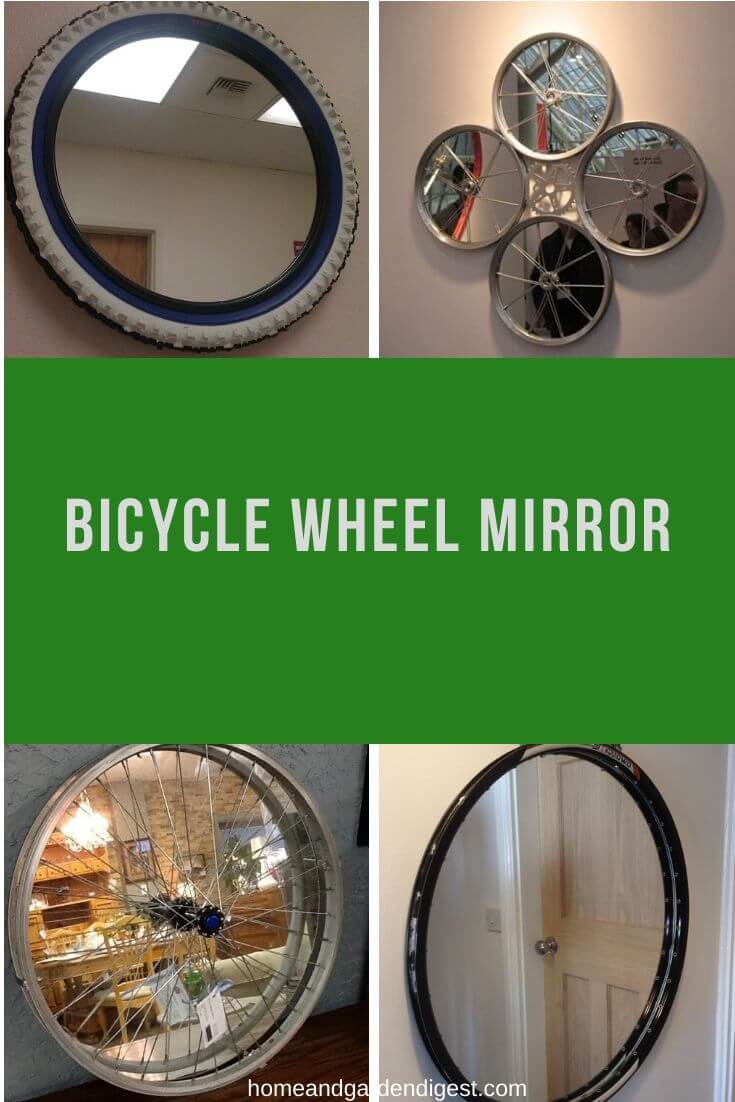 A sturdy bicycle tire can make a great mirror frame. Just make sure to find the correct size.
13. Bicycle wheel crib mobile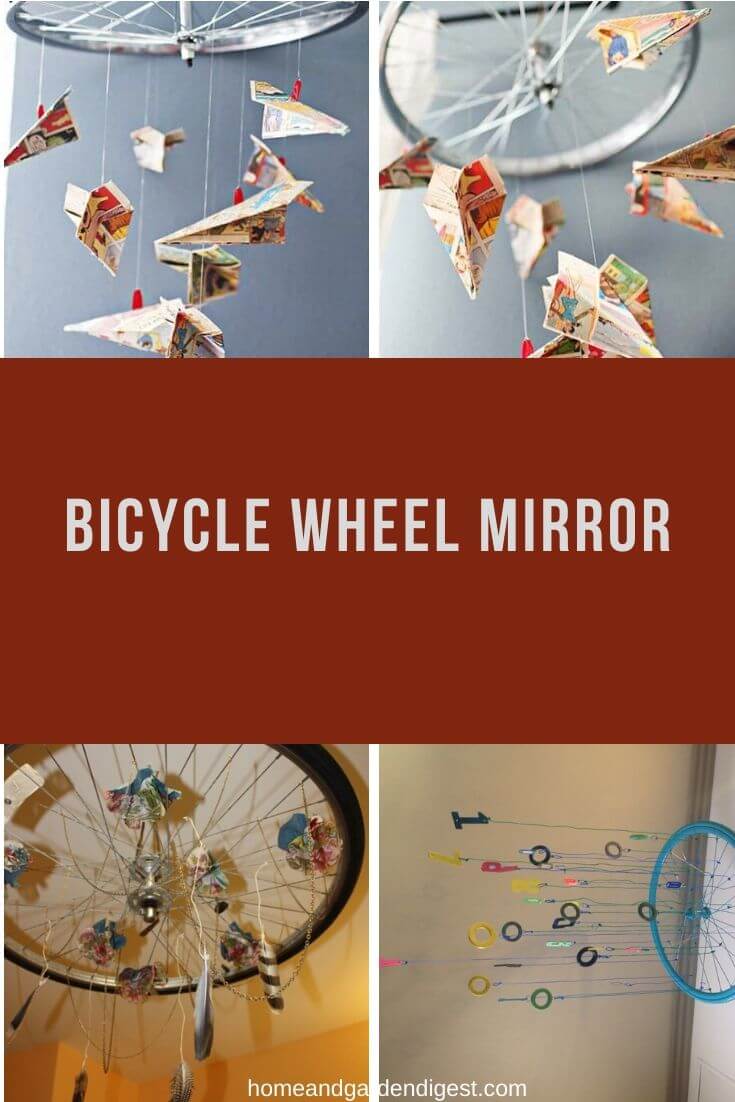 Want to instill the spirit of cycling into your child from the very first days? No better way to do it than with a little crib mobile made with the help of an old bicycle wheel.
14. Bicycle wheel lazy susan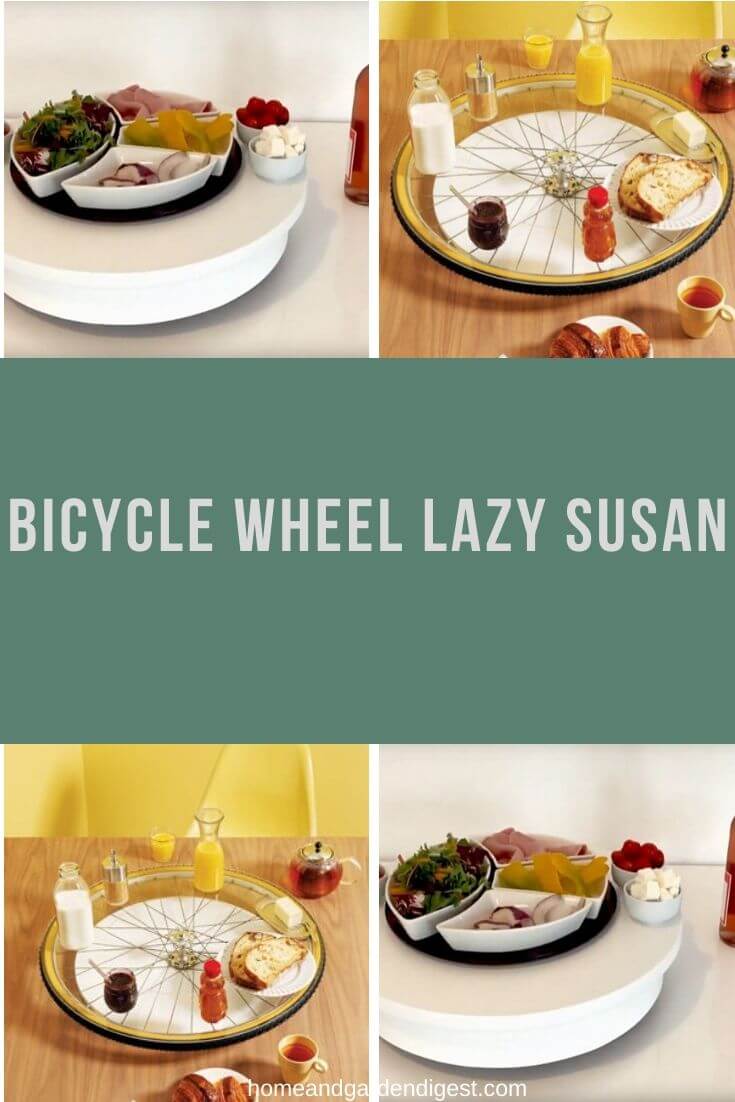 Here's another more advanced idea that will require some power tools. If you're up to the challenge you can make a lazy susan for less than half the money it would require to buy a brand new one. 
15. Bicycle wheel coffee table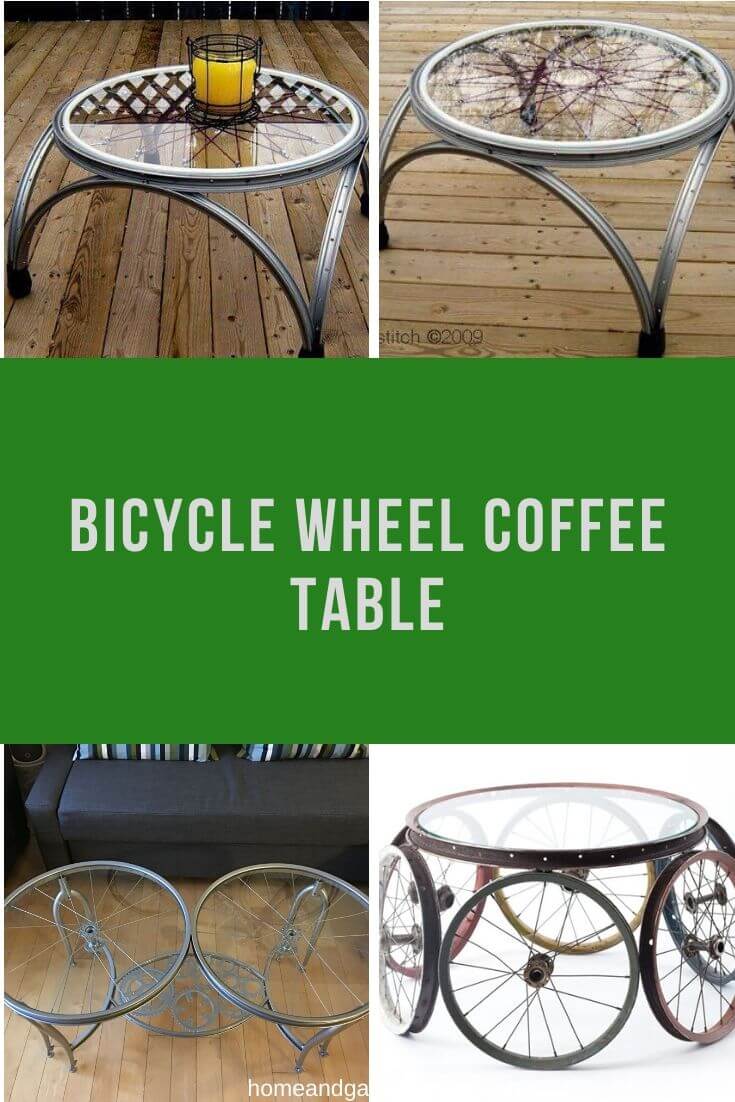 It seems that there is almost no place in your home or garden where you can't repurpose some bicycle wheels. A coffee table made from bicycle wheels will look stunning no matter where you place it.
16. Bicycle wheel round art illumination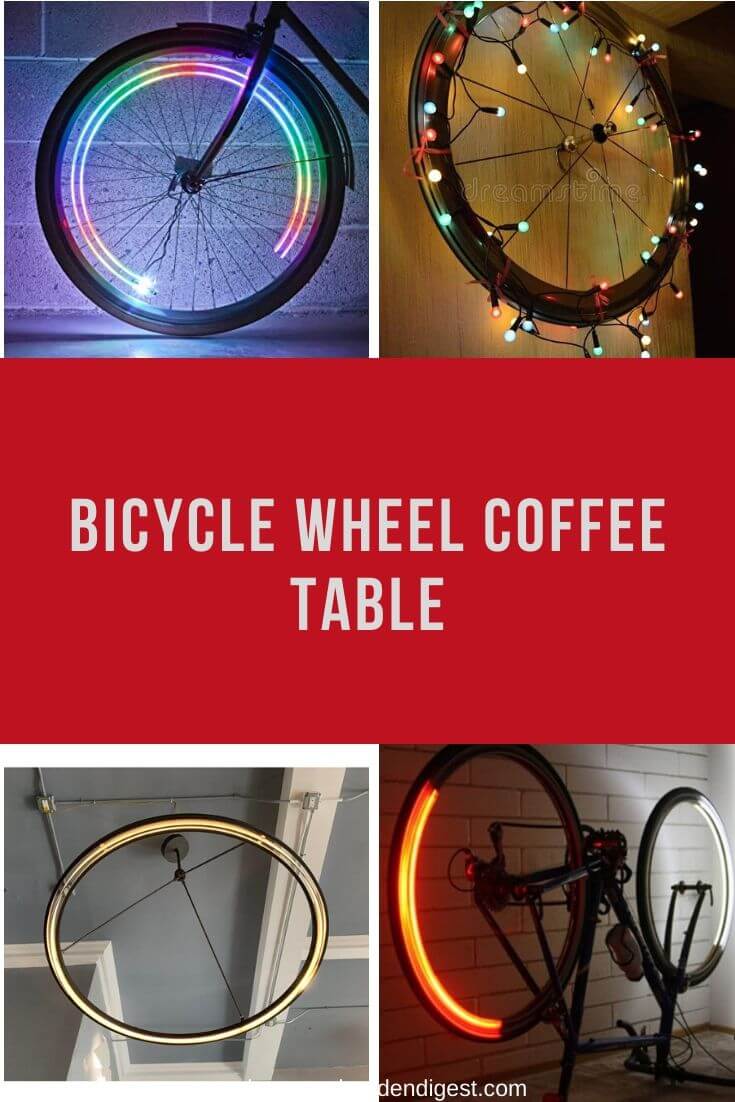 Put an old bicycle wheel and an LED strip behind your art and watch how it illuminates and becomes even more amazing. 
17. Bicycle rim dream catcher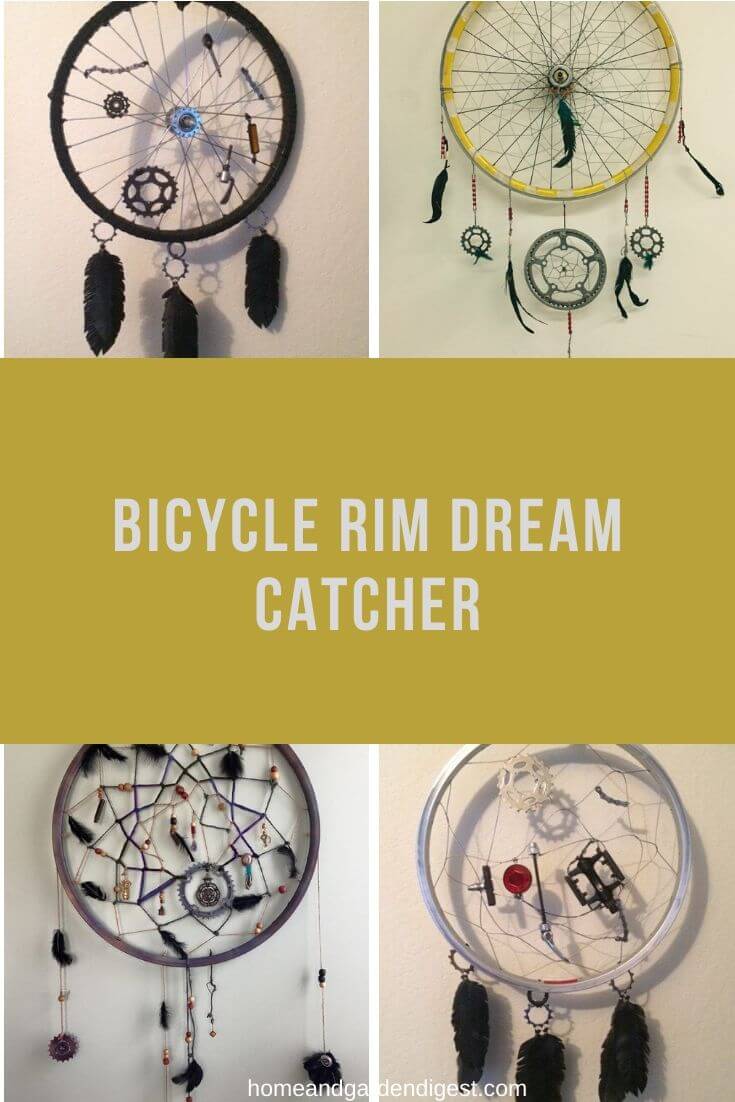 Catch some dreams and upcycle some wheels. The spokes make it super easy to create even the most elaborate of dream catcher designs. 
18. Wall art made from bicycle rims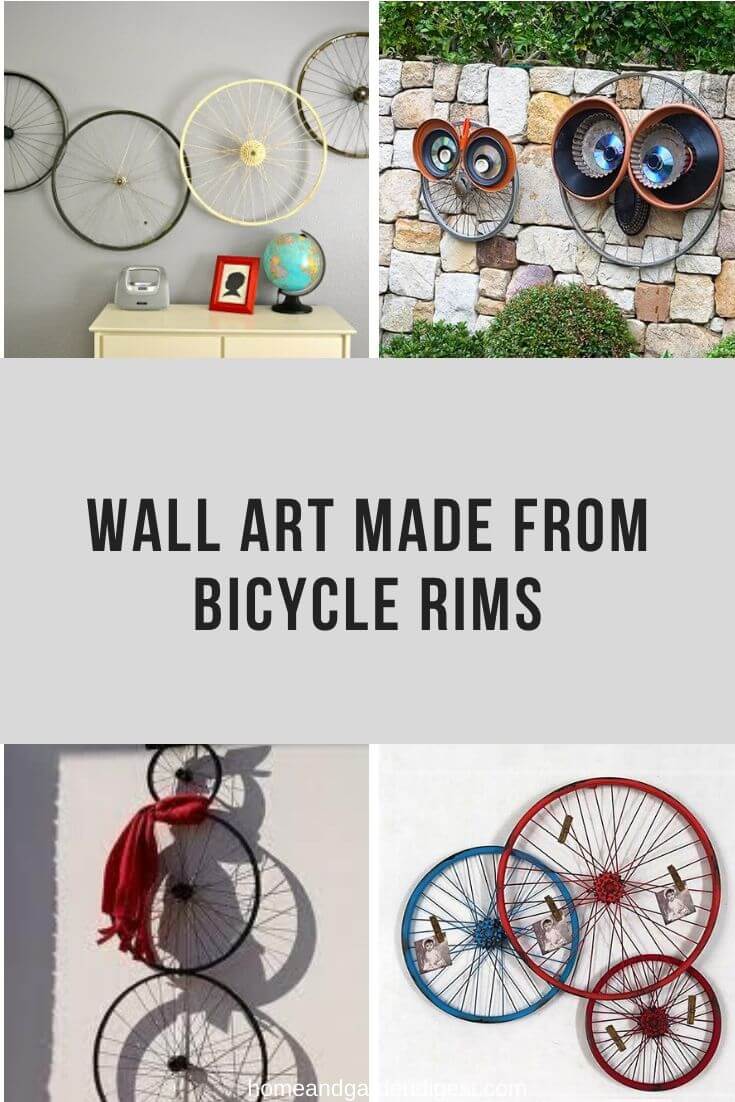 Have a mundane blank wall in your home that you don't know what to do with? Why not make it the scene of some amazing and creative bicycle wheel wall art.
19. Bicycle wheel clothes rack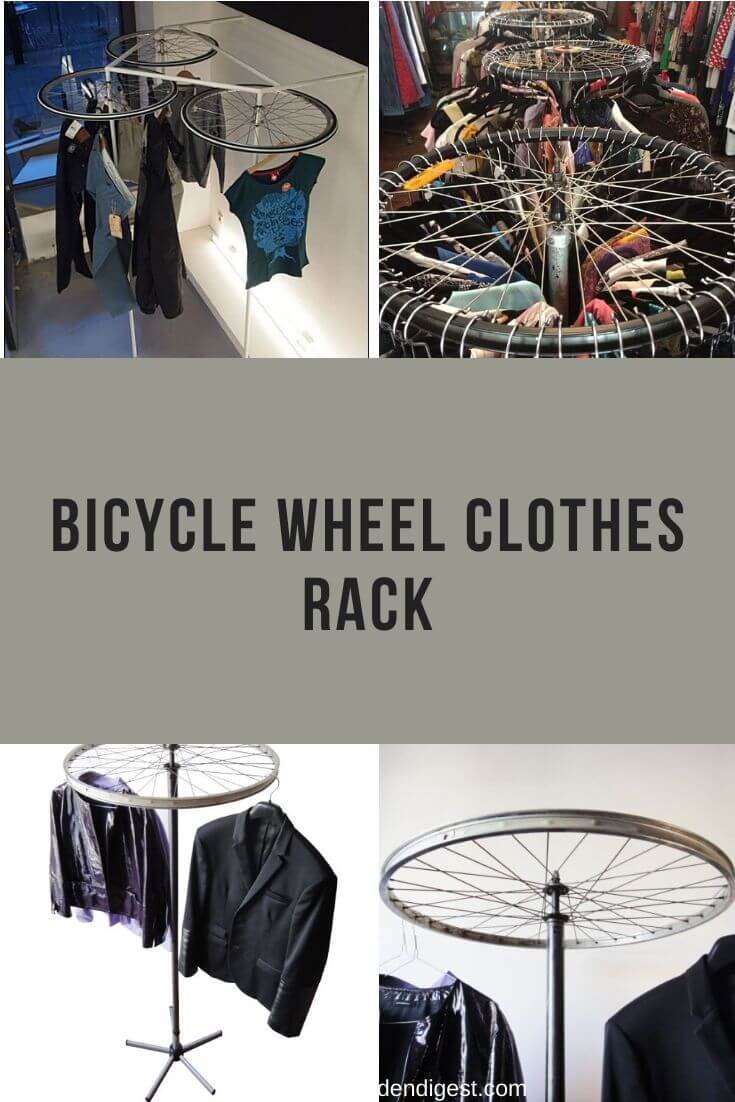 This is one is both beautiful and functional. You can attach as many pieces of clothing as you like and spin the wheel to choose your perfect outfit.
20. Bicycle wheel garden decor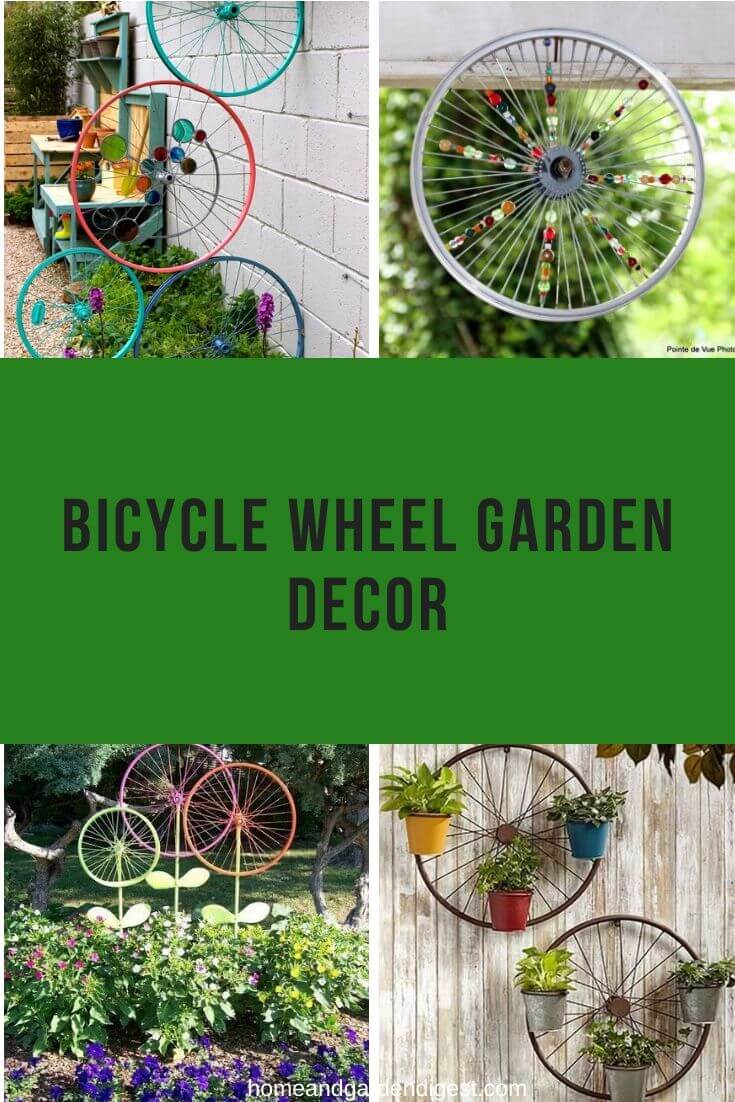 Some old bicycle wheels and a few discarded plates and you have yourself a garden owl!
We hope that these ideas will make you think twice before simply throwing away a rusty or bend bicycle wheel. As you can see, the potential for repurposing old bicycle wheels into some truly unique DIY home decor seems to be endless.