20 DIY Terra Cotta Clay Pot Christmas Craft Ideas
I love making Christmas crafts! There Something is exciting about making your own Christmas decorations. I am constantly looking for new Christmas decoration ideas. And this year, I found some very interesting projects. 
Terra cotta Clay Pots!
Have you ever thought of making Christmas decorations using terra cotta pots? Neither have i. But you can make endless Christmas projects from these simple clay pots.
Below are top 20 DIY Terra Cotta Pot Christmas Craft ideas that you should try out this festive season.
1. DIY Stacked Outdoor Terra Cotta Clay Pot Snowman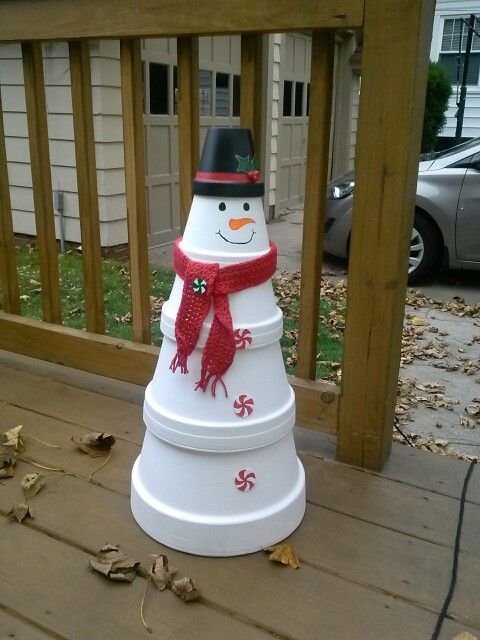 This cute snowman is quite easy to make. Stack larger terra cotta clay pots on top of each other.  Paint them white and add a face using acrylic paints. Add some pom poms for the buttons and finally a bow hat. And there you have your cute snowman perfect for your front porch!
2. Terra Cotta Clay pot Christmas tree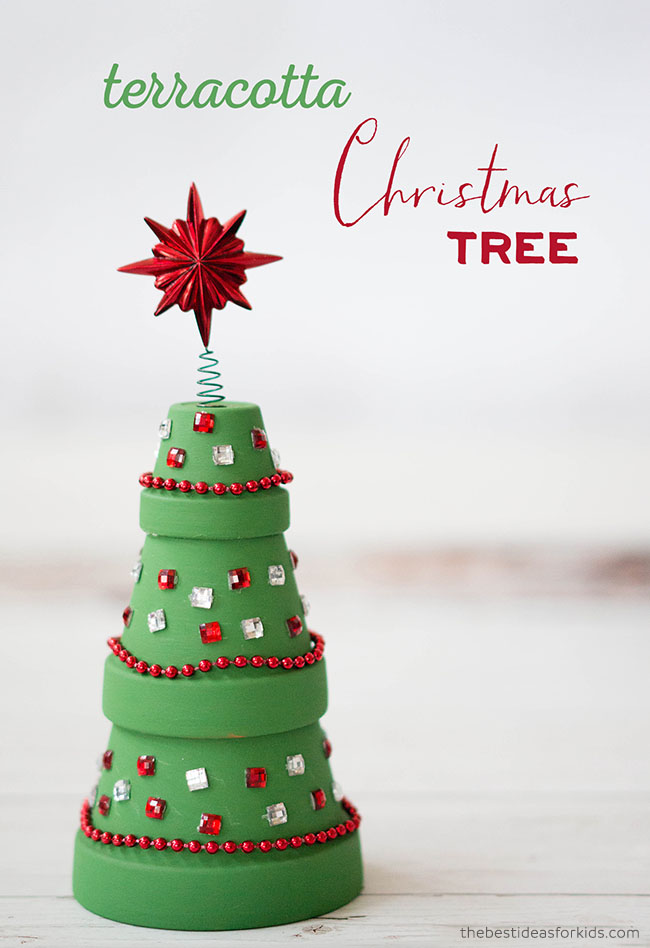 Just like the snowman, you will need three pots that fit into each other. Paint them green and turn them upside down and fit them together with a hot glue gun. Decorate them with acrylic paint to create your own Christmas tree.
3. Clay Pot Reindeer Christmas Idea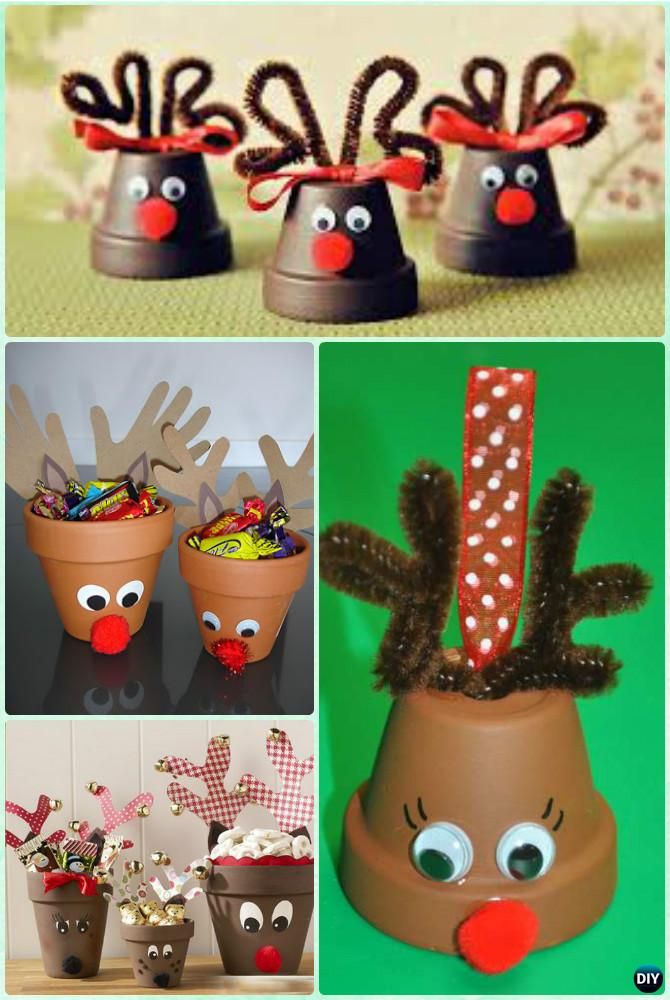 Paint the face of your terra cotta clay pot to resemble a reindeer. You can add some homemade antlers to create this amazing Christmas decoration craft.
4. Clay Pot Snowman Olaf Christmas Candy Jar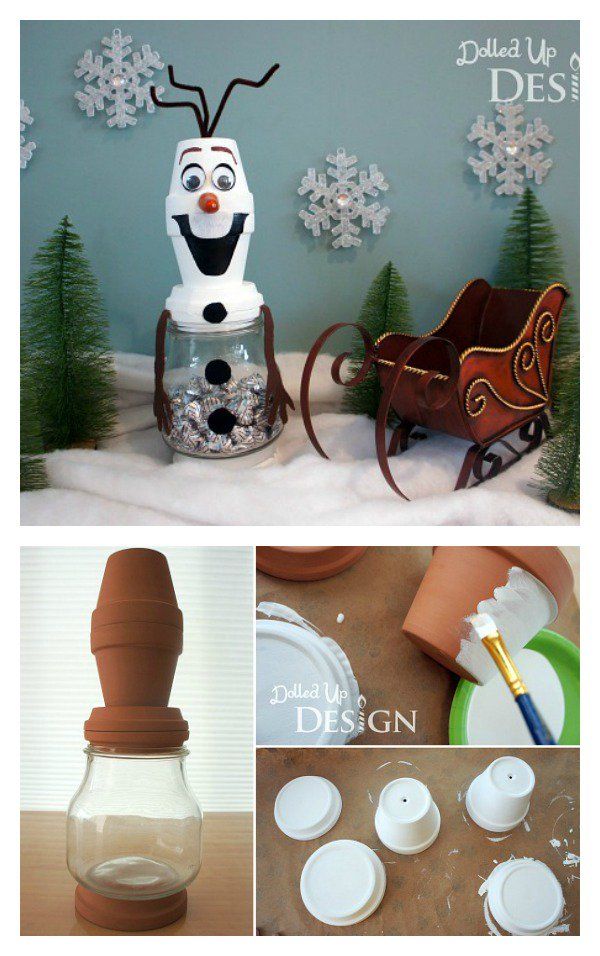 To make this cute Olaf Christmas candy jar, all you need is two small terra cotta and a glass bowl. You can add the hair and arms using brown pipe cleaners then use paint to get a polished final look.
5. Clay Pot Nutcracker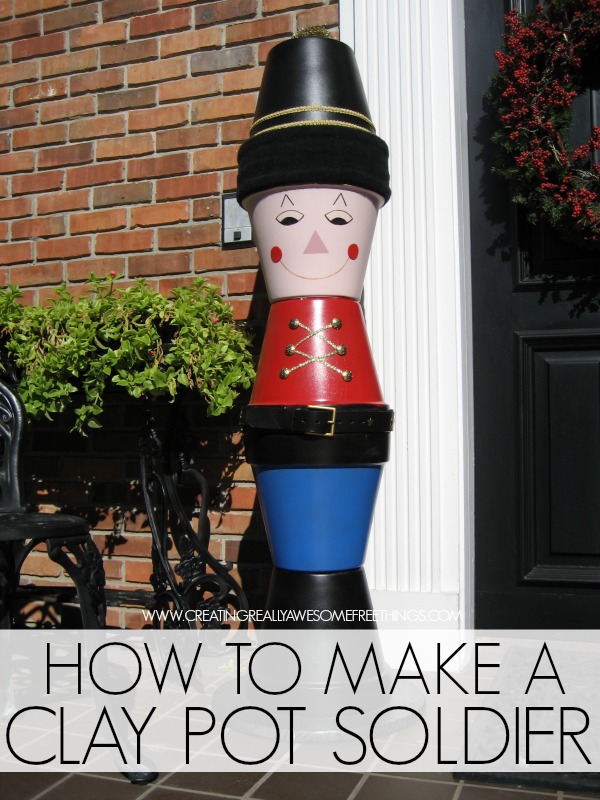 Stack two large terra cotta pots for the legs, one more for the body, another for the head and a fifth one for the hat. Paint them in different colours and add finally add a face.
6. DIY Clay Pot Santa Claus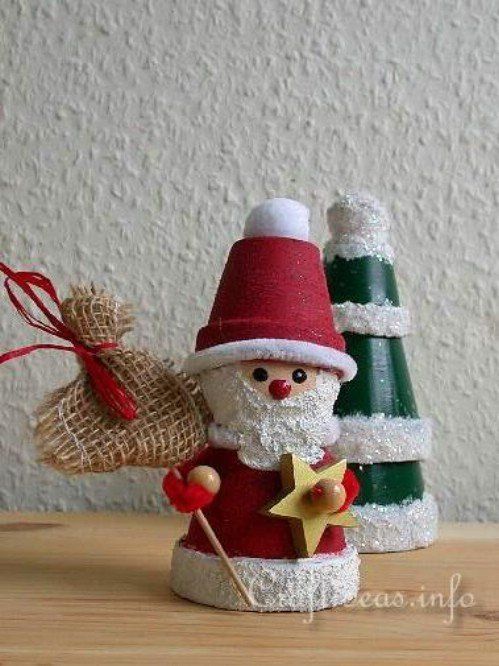 This little Santa Claus is very easy to make using a few terra cotta pots. The glittery paint and the snow paints make him even more adorable.
7. Terra Cotta Pot Santa Chimney Place Setting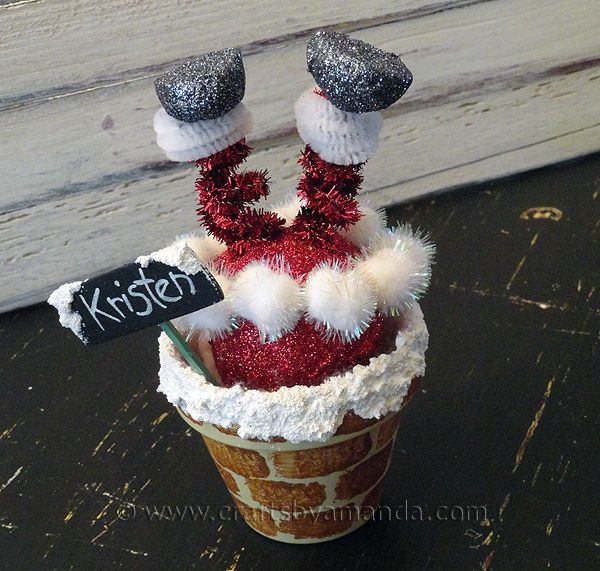 This little Santa mishap is just amazing!  It's Santa's feet with his head hanging down into a chimney. All you need is a terra cotta clay pot for the chimney and a Styrofoam ball for the body. 
8. Terra Cotta Pot Angel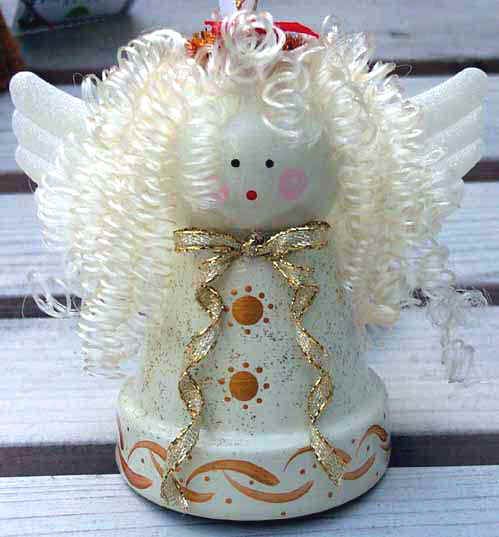 With a clay terra cotta clay pot of any size and a few common materials, you can create an adorable little angel. You can dress her in different Christmas colours too.
9. Santa Pants Poinsettia Planters

You can use terra cotta clay pots as indoor or outdoor planters. Look at this flower pots with beautiful poinsettia plants inside. They are just gorgeous!
10. Flower Pot Frosty the Snowman Candy Jar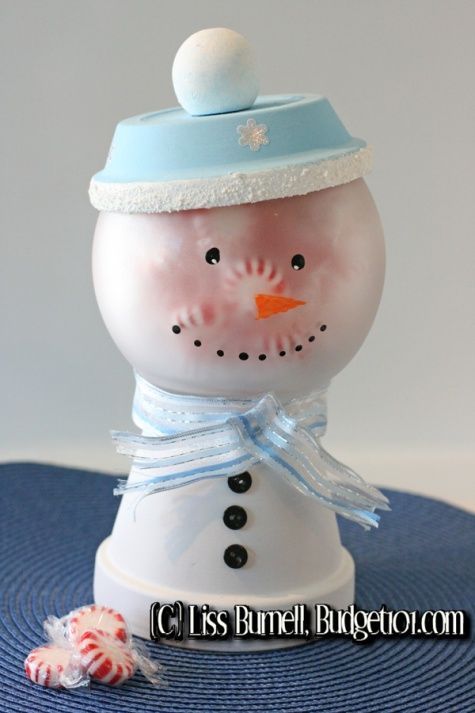 This adorable snowman made from simple terra cotta clay pots makes a perfect candy dish. It is super easy and quick to make Christmas decoration.
11. Cute DIY Terra Cotta Pot Penguins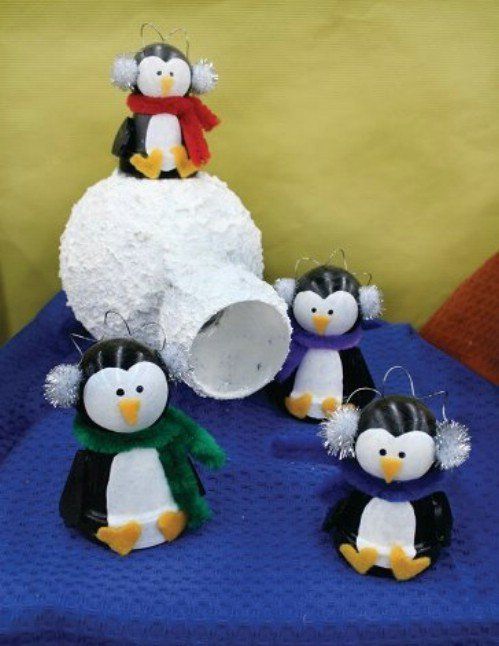 These adorable penguins are perfect Christmas decoration ideas. You can make an entire family of penguins using terra cotta pots of different sizes.
12. DIY Terra Cotta Clay Pot Christmas Candy Jars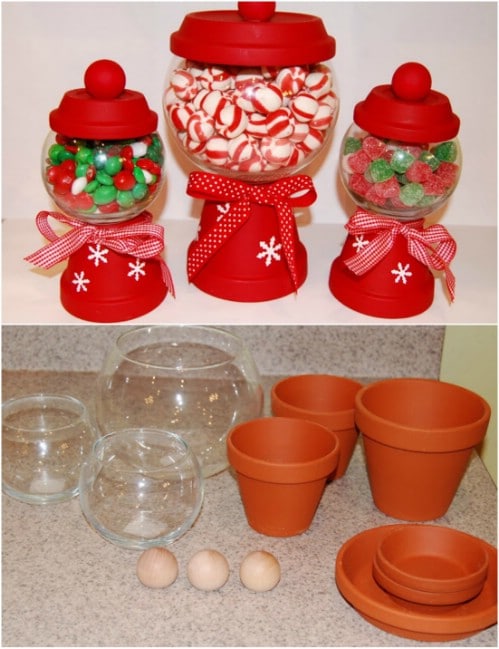 These little candle jars are created from terra cotta pots and glass jars. They are so simple to make and will go a long way in cutting down your Christmas decoration budget.
13. Decoupage Clay Pot Christmas Ornament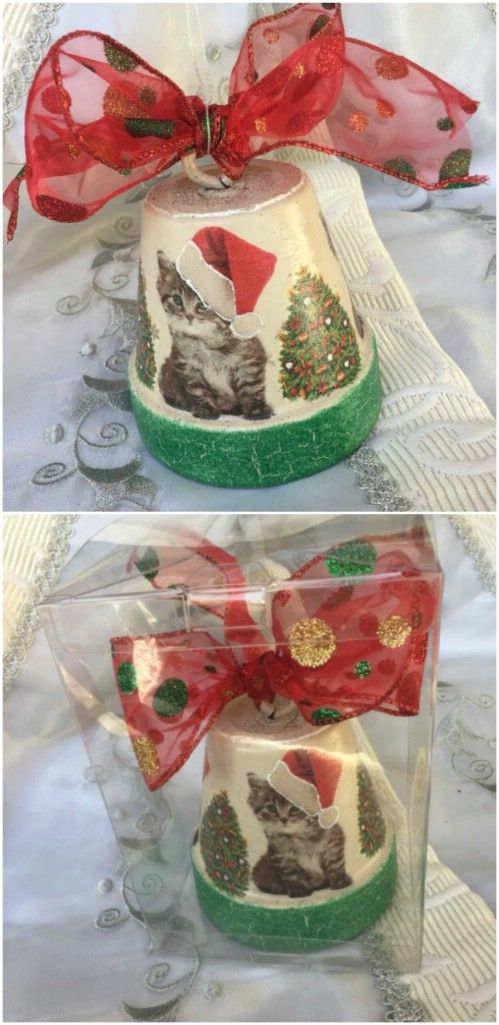 This adorable Christmas decoration ornament made from terra cotta clay pots is just amazing! You can make your own decoupage in a few minutes at home. 
14. Adorable DIY Clay Pot Gingerbread Man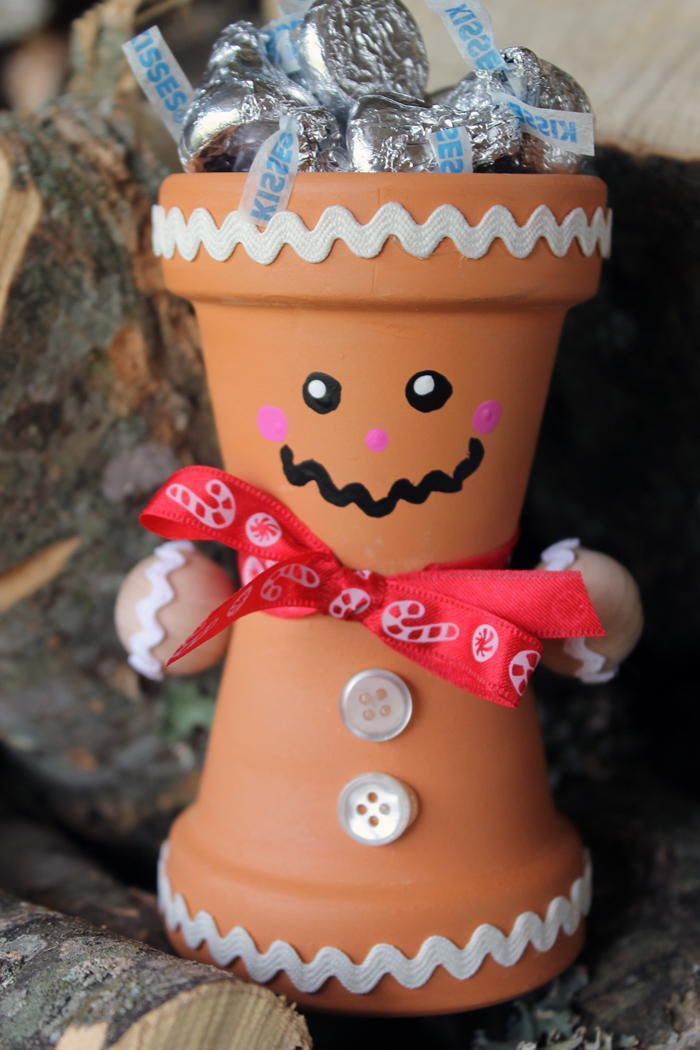 This amazing terra cotta project is created using different sizes of terra cotta pots. Assemble this gingerbread man and then paint the face. Add other details with acrylic paint for a complete attractive look.
15. DIY Terra Cotta Clay Pot Elf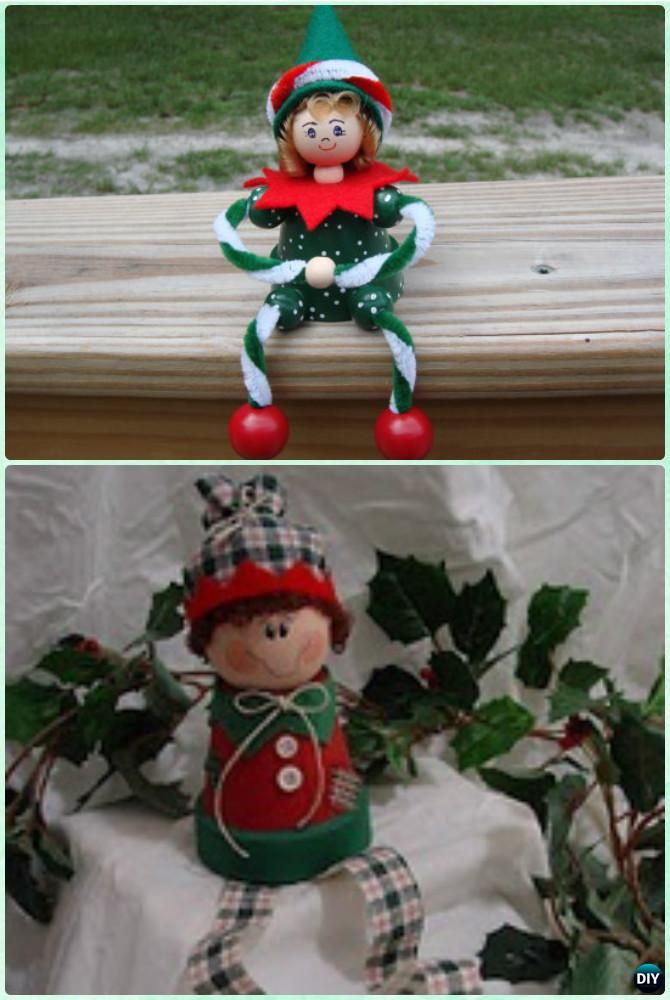 I love this little adorable Christmas elf made from terra cotta pots. You can make this adorable Christmas decoration craft at home too.
16. Santa And Rudolph Shelf Sitters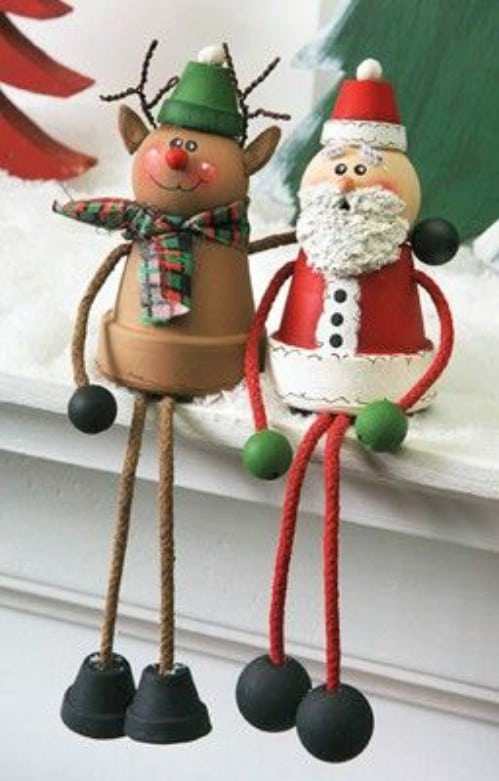 These two little shelf sisters are just adorable! They are made from small terra cotta clay pots and make perfect Christmas decoration ideas.
17. Adorable DIY Christmas Bells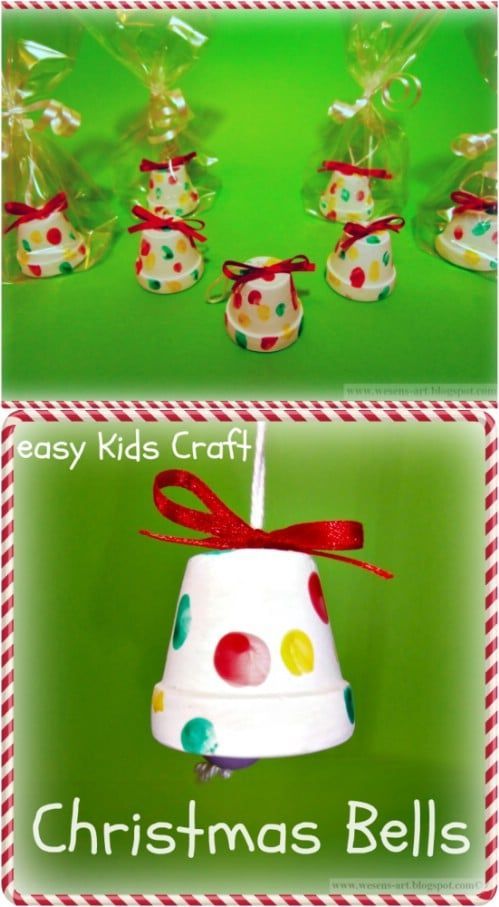 These adorable Christmas bells are gorgeous. Just paint the pots and turn upside down using a ribbon. Add a few wooden beards for the ringer to give the bells a polished look.
18. DIY Rustic Snowman Bucket Ornaments
These little snowmen made from terra cotta pots add a rustic touch to your Christmas decoration. Attach handles to each pot and fill them with decorations of your choice. They will look amazing dangling from the tree by the handles.
19. Adorable DIY Clay Pot Choo Choo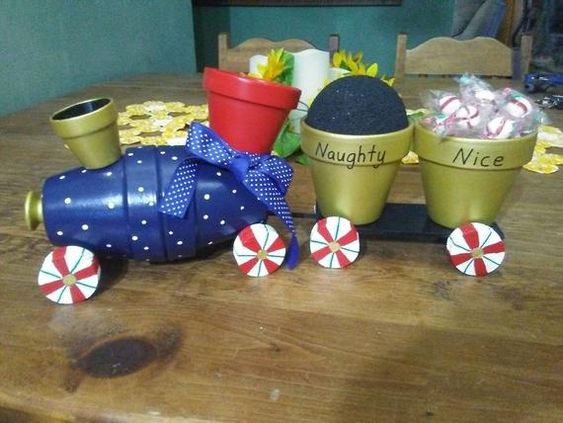 Christmas is not complete without this adorable choo choo train made from terra cotta pots. The train is made from different sizes of pots with candy wheels and ribbons. A perfect centrepiece on a dinner table!
20. DIY Clay pot Snowman Light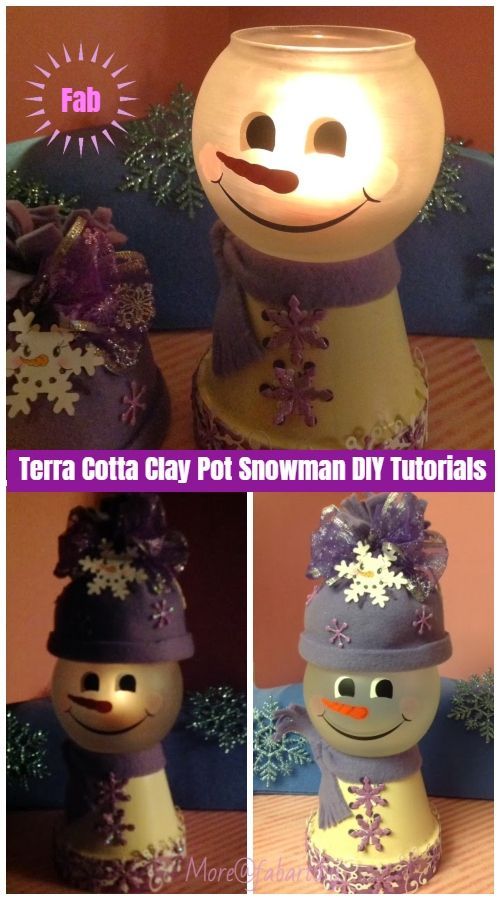 This gorgeous snowman can be a good source of lighting outside your house. Just turn the clay pot upside down and add glass bowl with a tealight candle. They make wonderful Christmas gifts.
Conclusion
Spice up your Christmas holiday with these DIY Terra Cotta Pot Christmas Craft ideas. They are super easy and fun to make!