Crochet Women Sweater Coat Cardigan Free Patterns
Crochet is a craft which is used to create scarves, blankets, baby cloths, shawls or other household items using wool or cotton. A special curved needle with a hook or a curve at its end is used to crochet. There are various types of crochet patterns like:
Single Crochet 

Double Crochet

Half Double Crochet

Double Crochet

Treble Crochet
You can make cardigans, sweaters and many more things that you like for yourself and for your family using crochet. The winters are approaching, and it is the time to keep yourself warm with woollen clothes. You can make these woollen clothes yourself instead of purchasing them from the markets on high prices. 
1. Pewter Ruffled Pattern

 This is a very simple crochet pattern worked primarily using double crochet stitches. This would make a great choice for a beginner's first crochet cardigan. Each portion of the cardigan is worked separately, with the sleeves worked in the round.
2. Movie Night Cocoon Pattern

Many crochet designers have said that it is "Like the hug of a blanket, this shrug-style cardigan comfortably wrap over your shoulders for that extra bit of warmth". It has been worked with very basic crochet stitches and has super simple shaping, making this another great choice for beginners to cardigan crochet.
3. Wrap Cardigan Pattern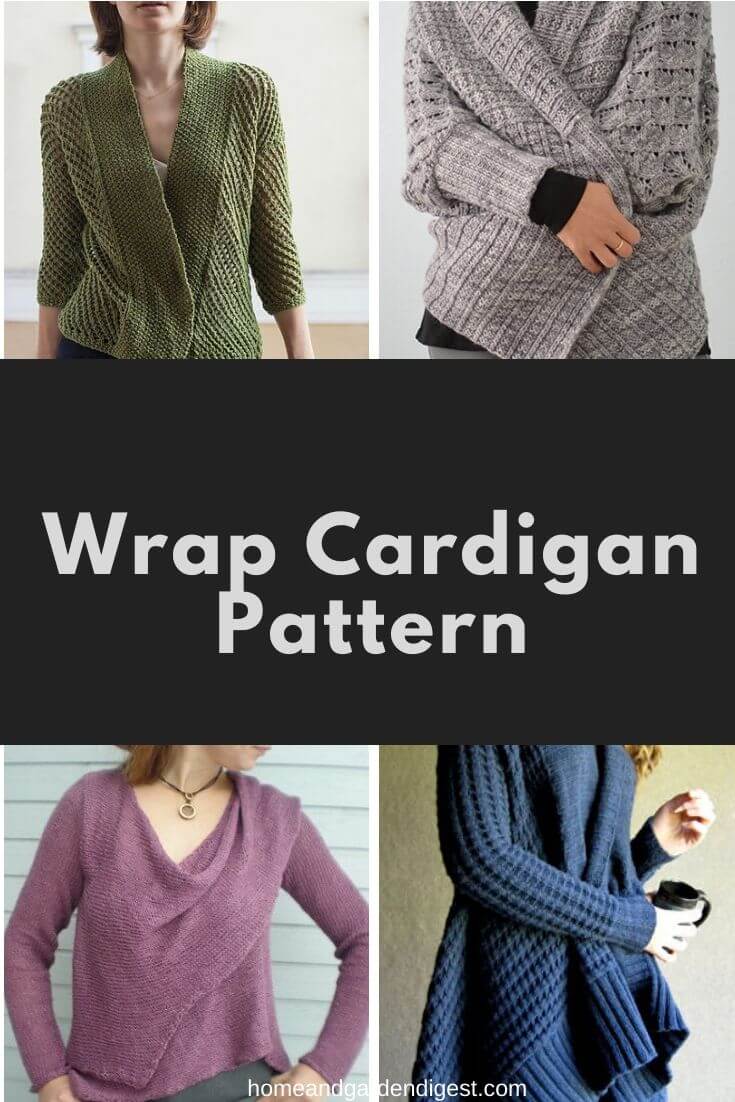 This is a beautiful crochet cardigan with long sleeves and pockets. It is usually worked in a solid colour so you don't have to worry about colour fading, and much of the construction is seamless.
4. Crochet Summer Air Cardi Design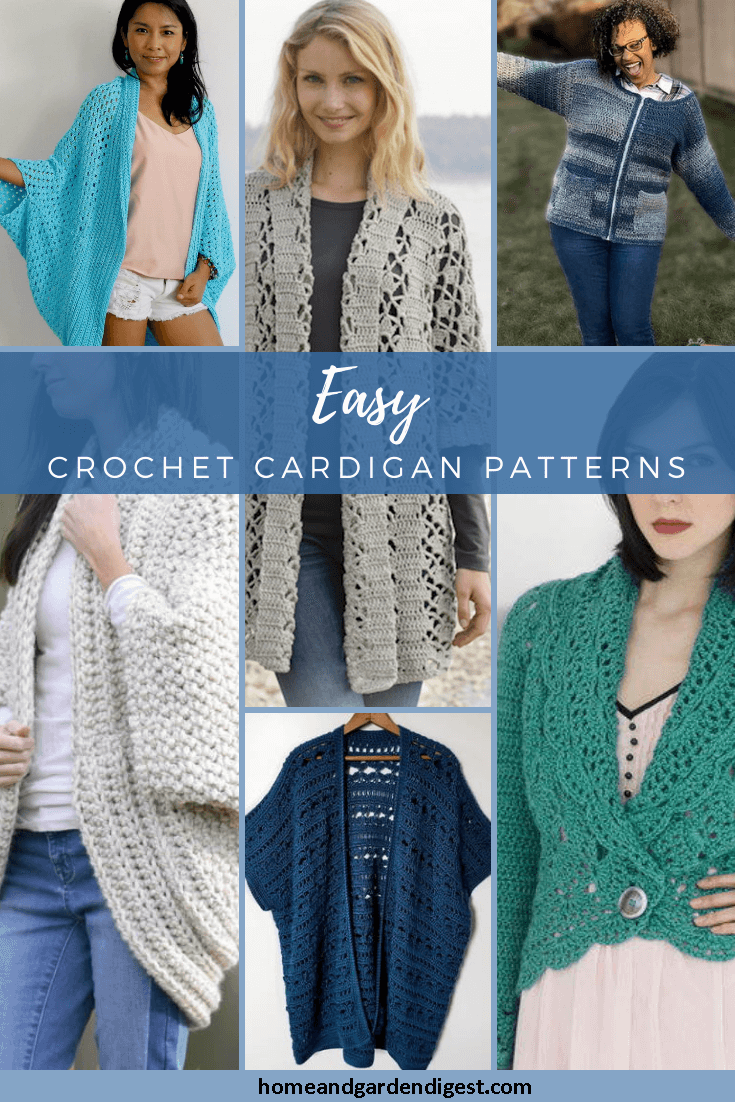 There are a lot of cardigans for every season of the year, even for summer when the evenings can get a little chilly. This short-sleeved openwork cardigan is a great option for days like that. It is a V-stitch crochet pattern made with sport weight yarn and it buttons all the way up the front of the cardigan. 
5. Crochet Bolero Pattern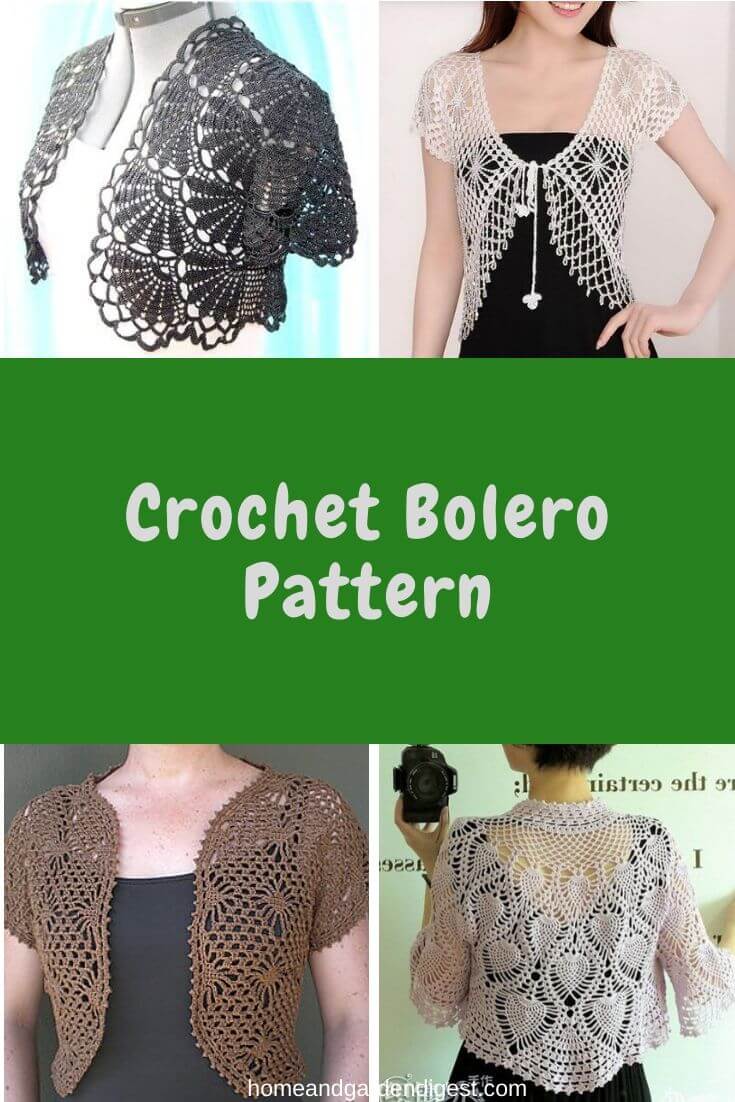 This bolero design is as simple as a summer cardigan. This pattern is worked from the bottom-up in a single piece. However, it also provides you instructions for making both small and large modifications to adapt the pattern into more complex cardigan shapes according to your choice and decision.
6. Crochet Shrug Design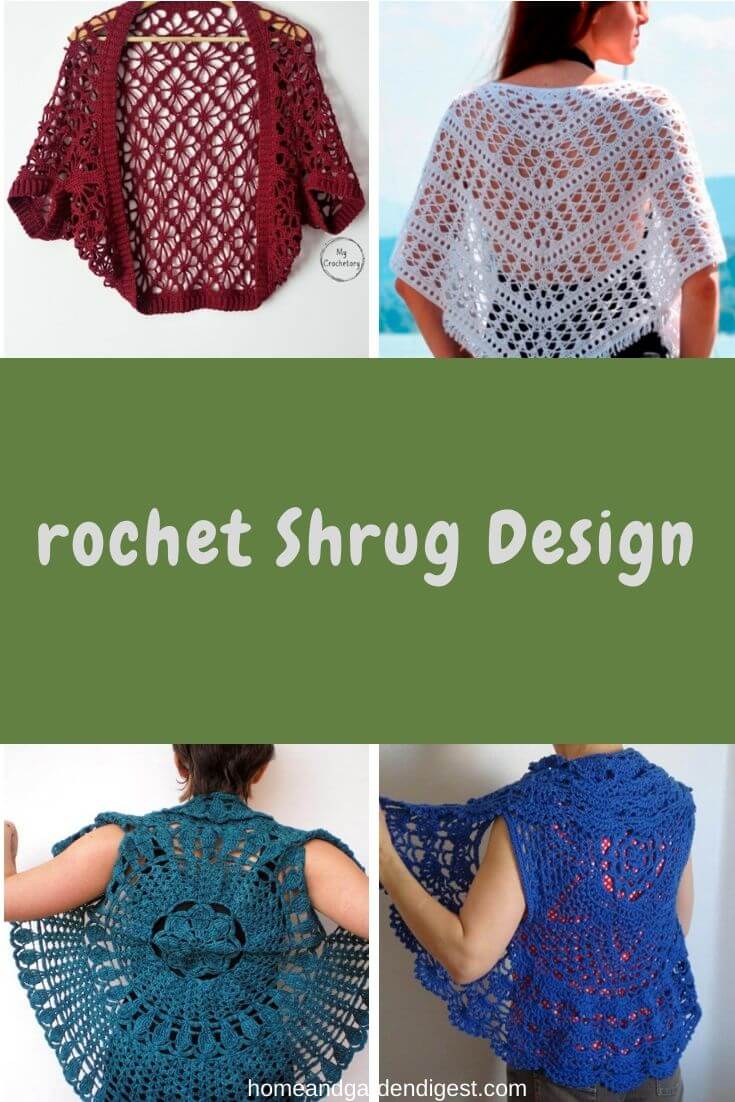 Here comes one more summer cardigan crochet pattern. This one is designed as one-size-fits all pattern that is worked in cotton yarn with a size J hook and a very open, lacy design. The shaping is very simple and the pattern works for a range of ages. 
7. CAL Cardigan Design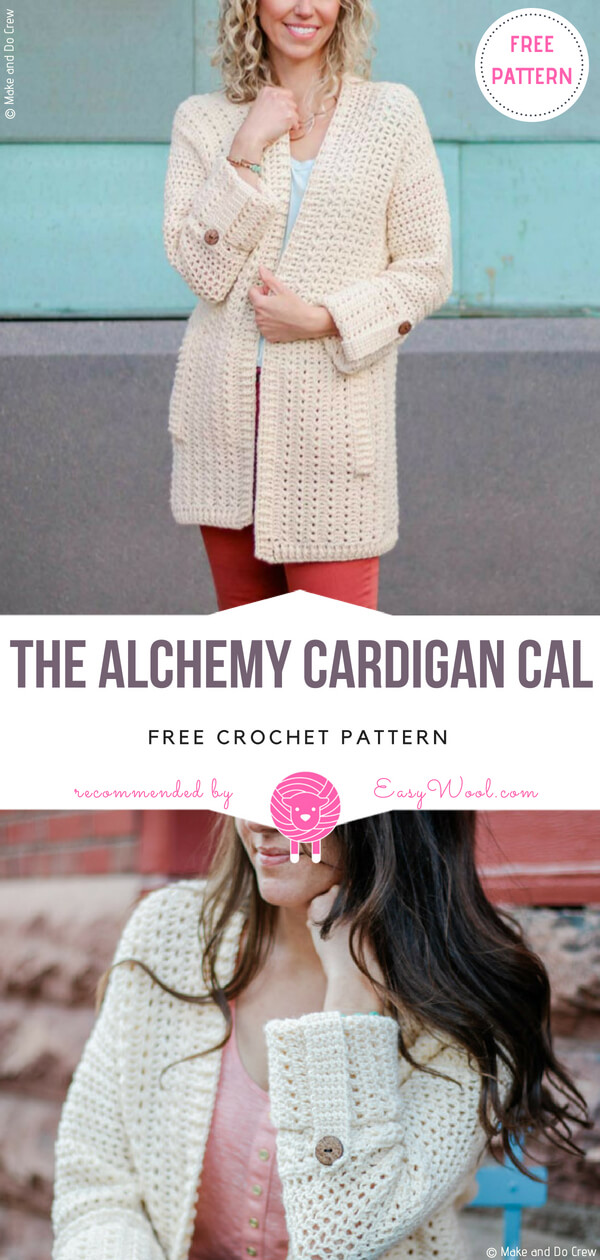 This cardigan pattern was originally designed for a Crochet-Along. It is a good pattern for beginner crocheters who want some hand-holding along the cardigan-crafting process.
8. Roses Granny Pattern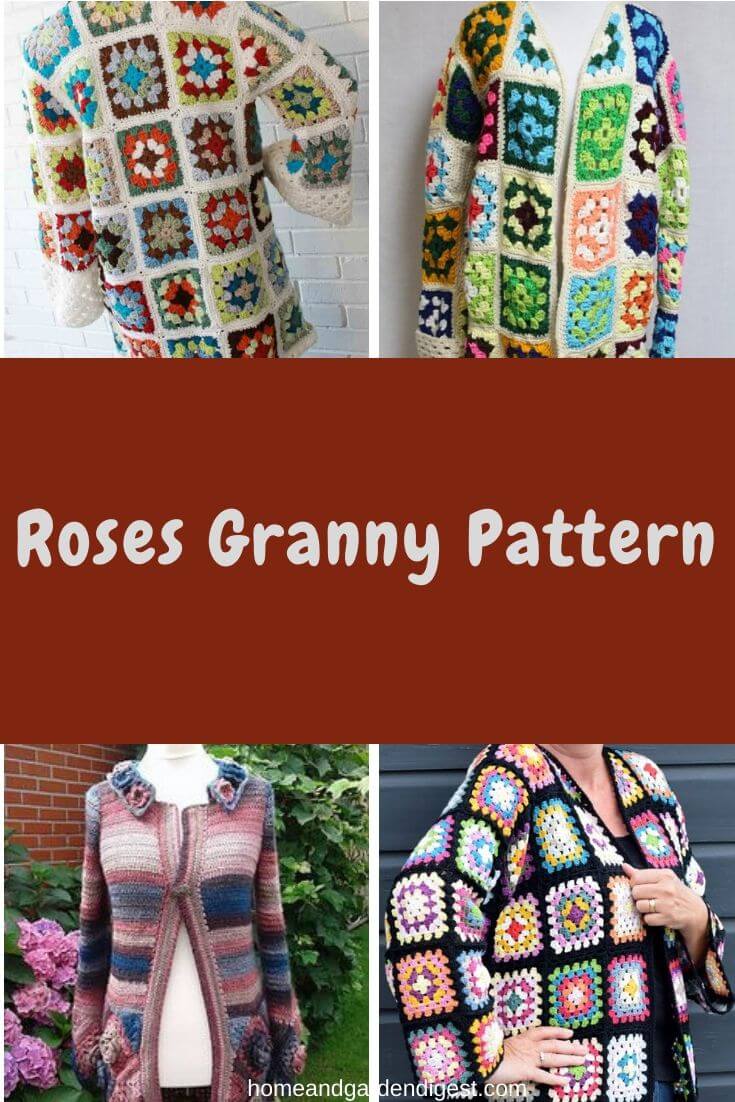 This is a beautiful jacket-style combined striped rows with floral granny square motifs. It has a flirty, feminine, that gives nostalgic feeling to it and is definitely very impressive when it walks into a room. This is a very advanced crochet pattern because of its assembly and shaping, although it utilizes mostly basic crochet stitches. 
9. Hooded Rainbow Pattern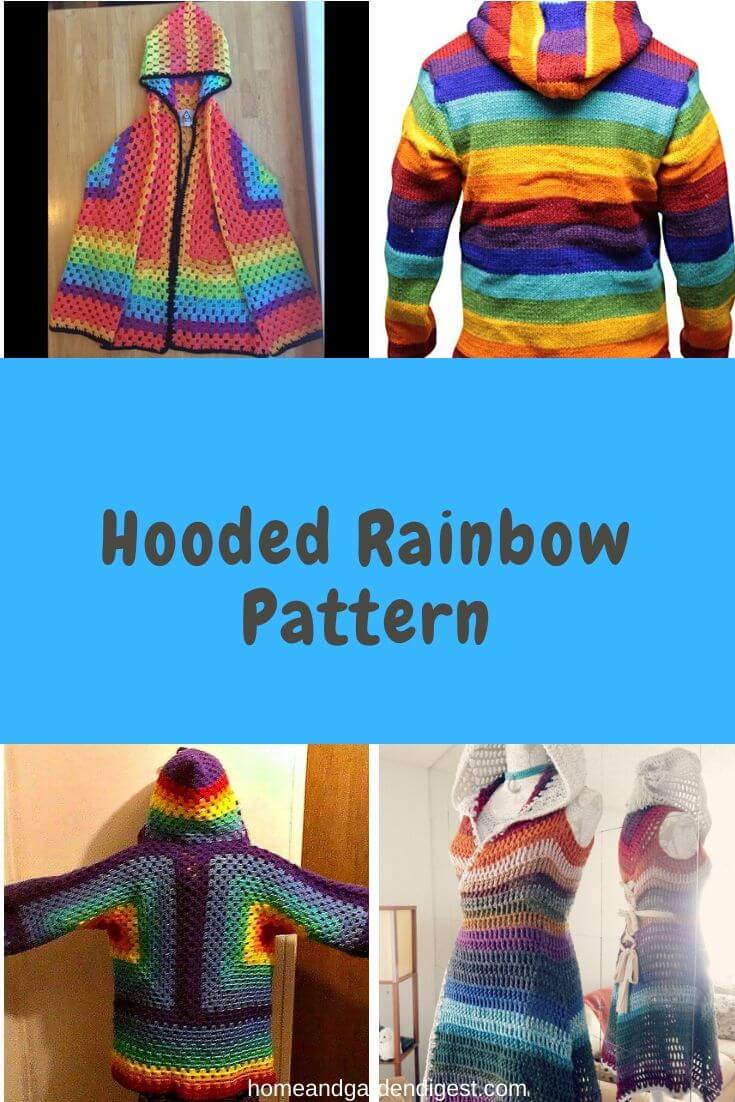 This crochet coat pattern is made using two large granny-inspired hexagons. Once they are made and stitched together, the sleeves and hood are also added. The size of the coat can easily be adjusted by making larger or smaller hexagons that allows you to shape the coat to your body as you craft. The coat gives a bit of cardigan-style and is great for colder weather.
10. Tunisian Crochet Pattern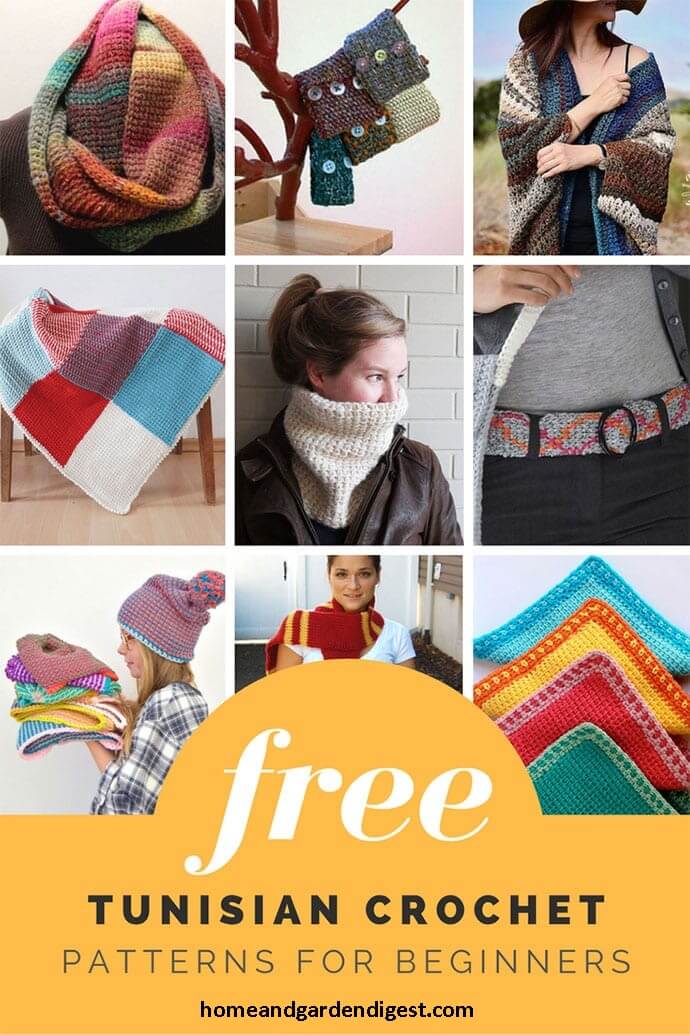 You can get a knit-like crochet cardigan when you work it in Tunisian crochet. This crochet pattern uses simple Tunisian stitches that are very basic to give you a short-sleeved no-button cardigan. It also has a honeycomb border that gives nice textured details to the front flaps of the piece.
11. Tailored Cardigan Pattern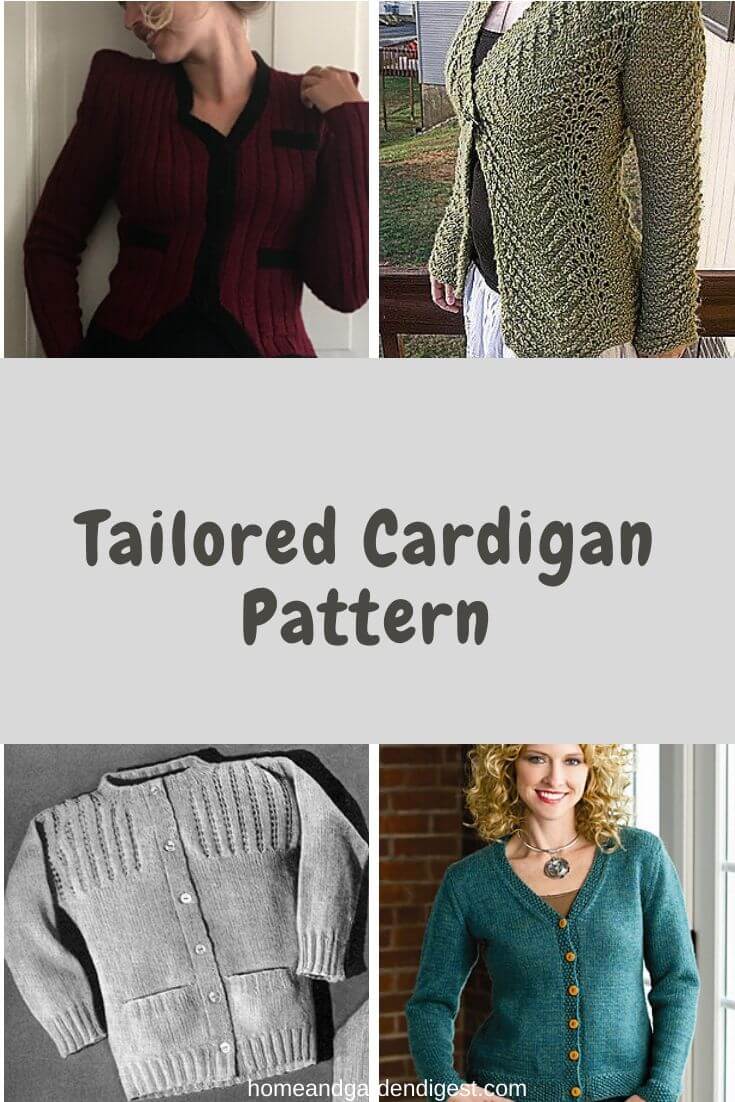 This beautiful crochet pattern is specially designed to fit comfortably with a tailored style that gives a high-fashion edge. The luxury level of the pattern is enhanced because this cardigan is made using luscious alpaca yarn.
12. Pineapple Cardigan Pattern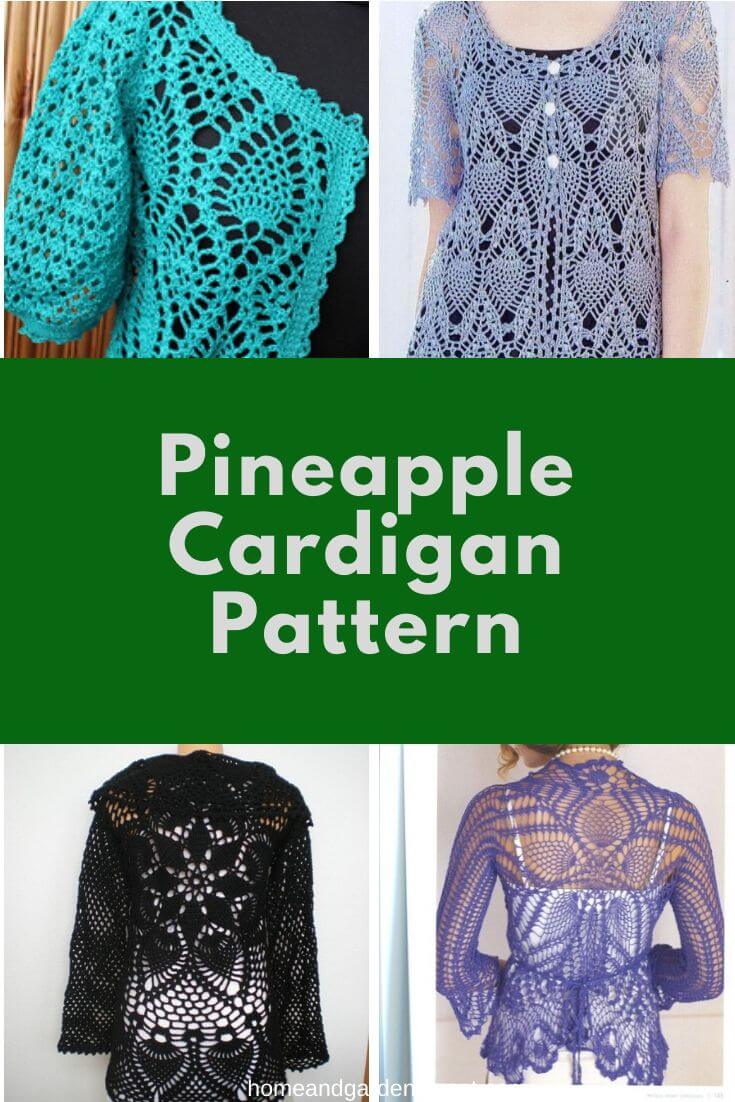 This crochet pattern is a beautiful lace niche of the craft. It gives a terrific look on cardigans since it has such feminine flair. This free crochet pattern is for a short-sleeved cardigan that buttons up the top half. 
13. Pink Mix Circular Pattern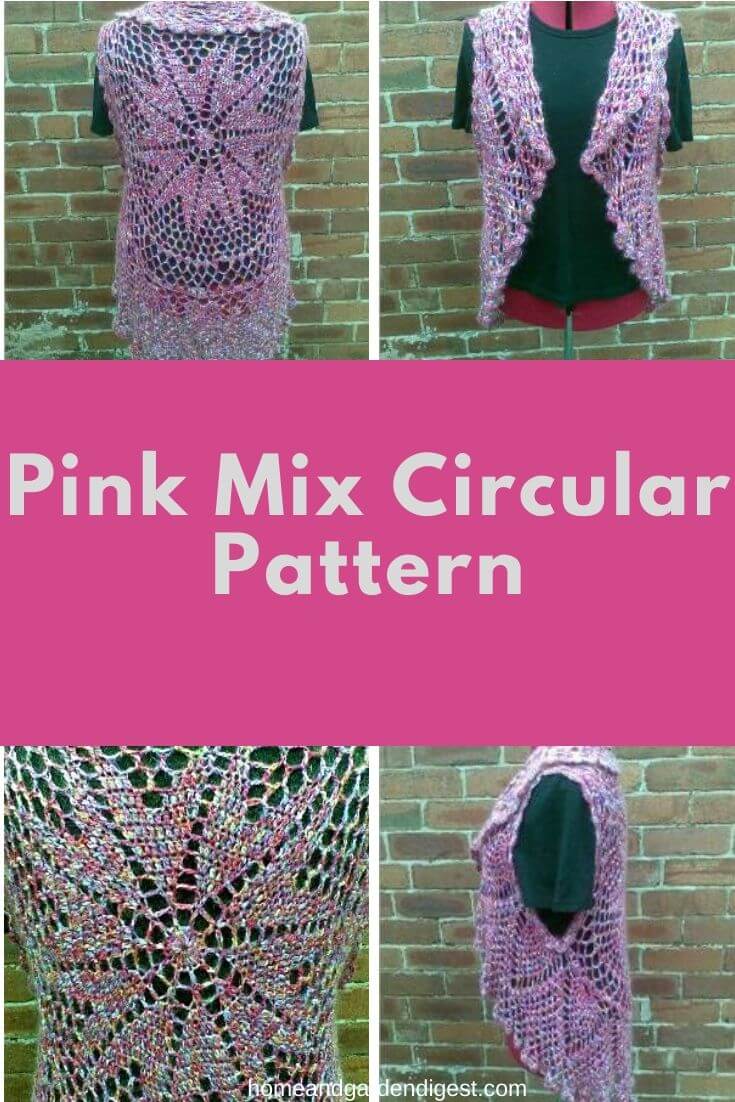 It is another crochet pattern that includes this pineapple design. The way it has been worked in this design makes it look a lot like a set of individual crochet hearts that together form a large flower. It is a beautiful use of design and the cardigan has worked in the round as a circular crochet cardigan. It was adapted from a tablecloth design.
14. Mandala Duster Pattern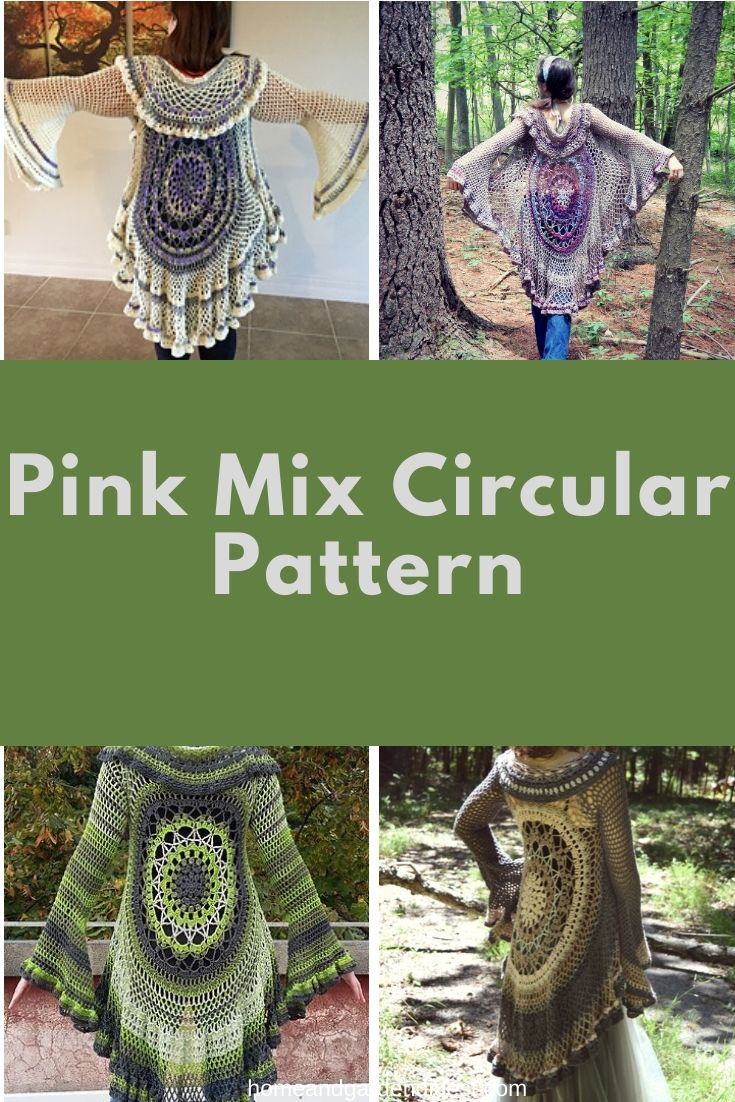 These round patterns make a great base for crochet cardigans, especially when you add sleeves to the pattern. This is a mandala-inspired throw pattern turned into a long-sleeved bohemian cardigan. This design includes shell stitches and cluster stitches for a textured design.
15. Sleeveless Button Wrap Pattern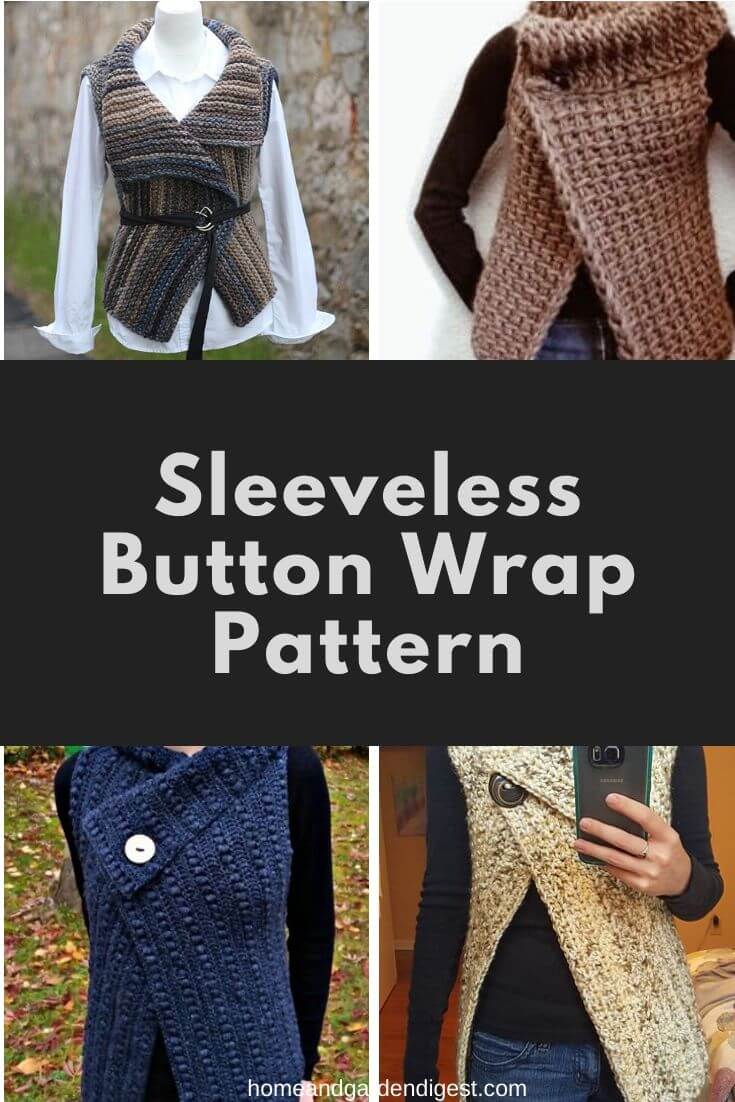 This beautiful pattern is for a sleeveless cyardigan that secures in front with one large piece button. This crochet pattern uses half double crochet stitches that worked the post stitches to give it terrific cozy texture, making it a great layering masterpiece to add to any wardrobe. 
16. Crochet Bagge Pattern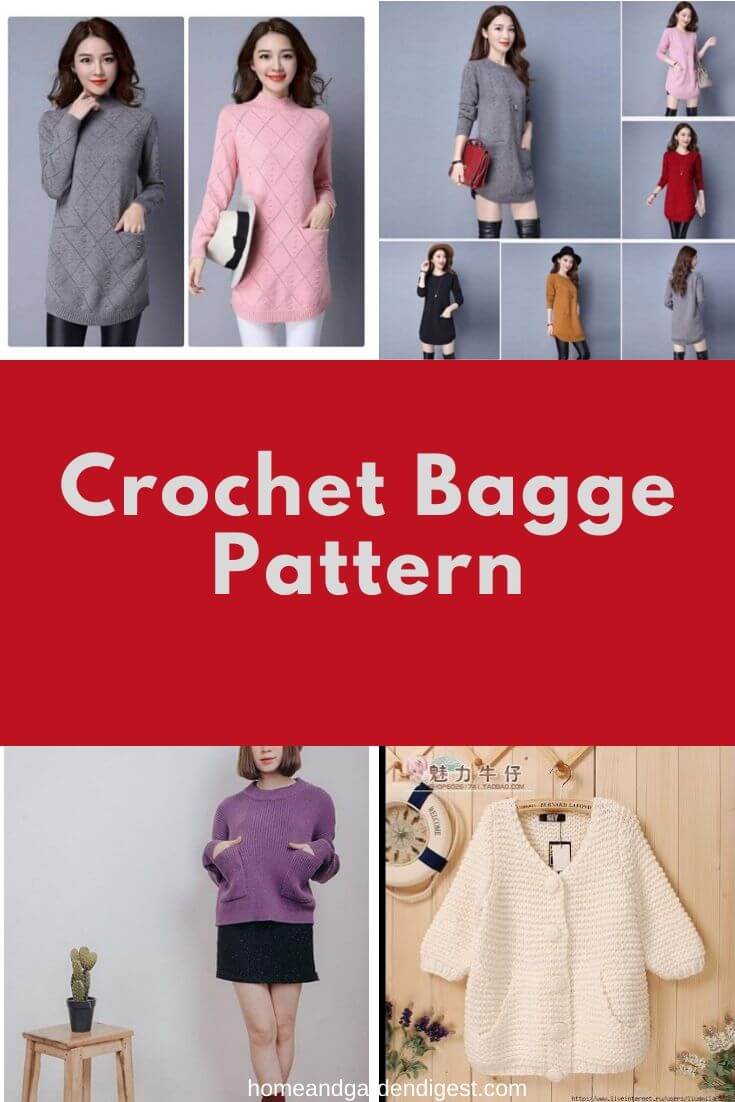 People who are looking for a super warm crochet cardigan that is roomy and comfortable will find this pattern to be a perfect choice. It is made with a hook and bulky weight yarn. It has a bit of texture from post stitches but mostly uses basic crochet stitches for the design. It also has long sleeves for an even roomier shape but comes with shortening the sleeves to your liking.
17. Cropped Crochet Pattern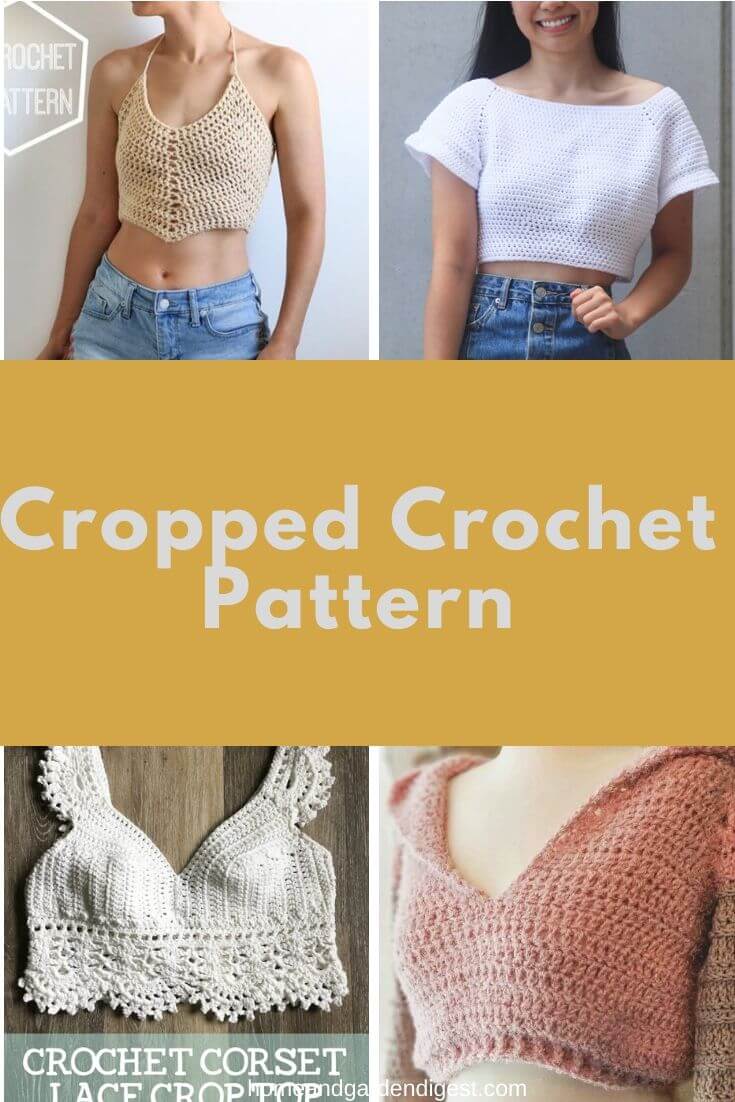 The crop tops are right on trend these days and this cropped cardigan is a great way to show off your sense of style. This crochet pattern has a simple design that is highlighted by a lovely picot edging that adds femininity to the girly design. This is a great crochet pattern for teenagers and even for young adults.
18. Crochet Button Pattern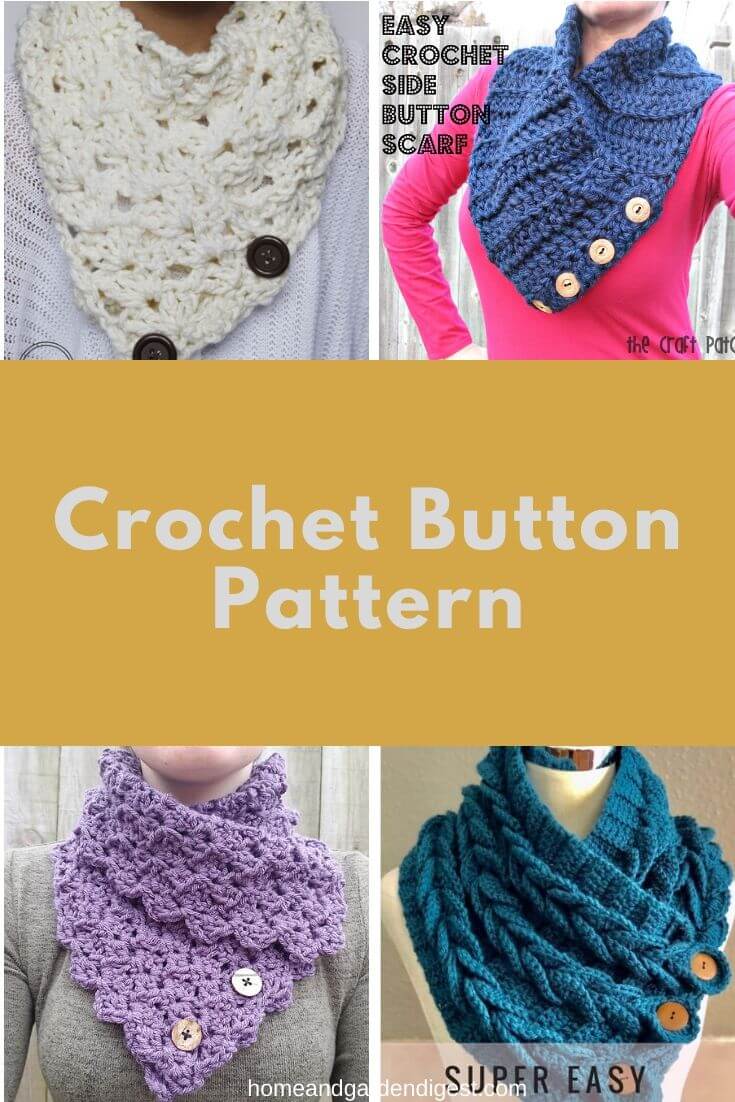 This is also a cropped crochet pattern. What makes it unique is the use of crochet buttons for stylized closure. This is a great design to be won during the summers.
19. 1940's Cardigan Pattern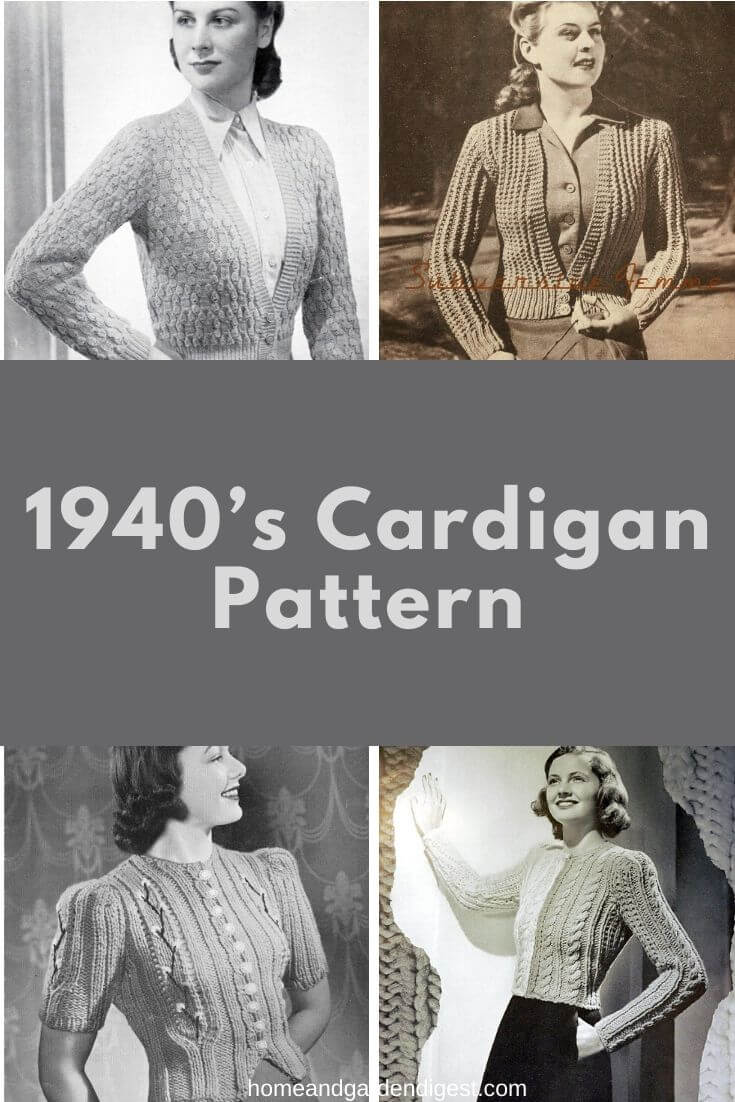 There have been many terrific designs from vintage crochet cardigans such as this one that was originally from 1942. This crochet cardigan pattern uses post stitches; because it is a vintage pattern and the design is well worth the effort since it has that great retro flair. 
20. Square Motif Pattern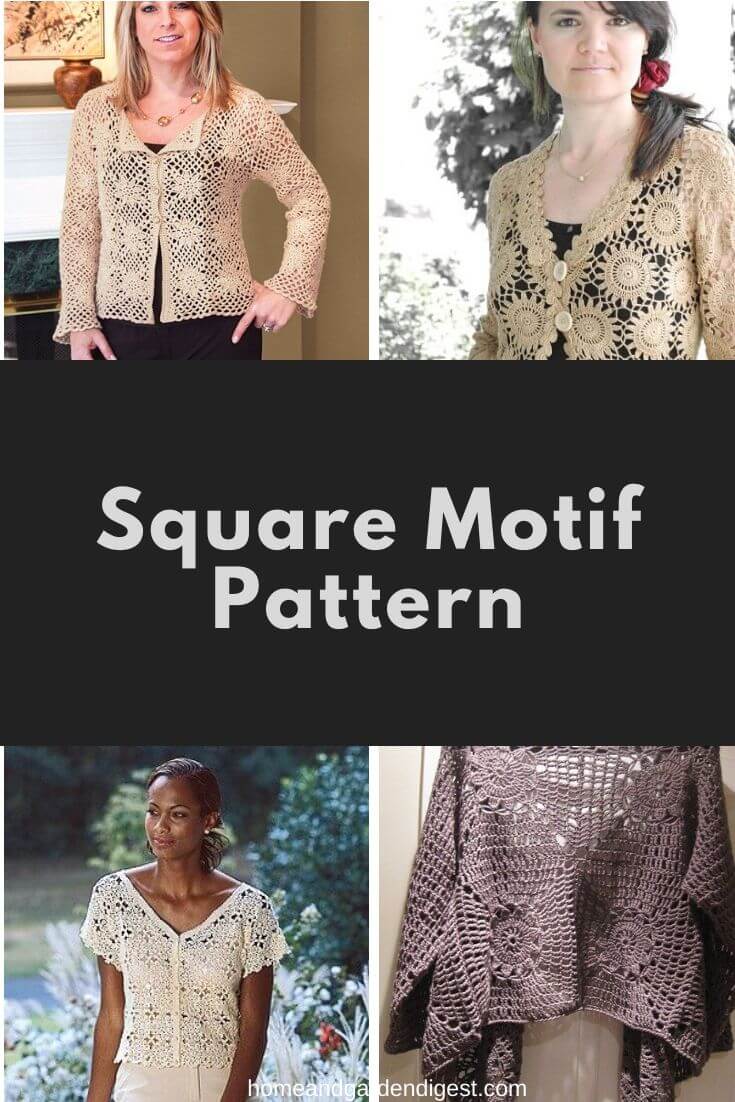 This square motif pattern has been made with the 4count soft wool that makes it very soft and stylish. This is a great crochet pattern that can be won by the women of all ages. 
These were some of the crochet women sweater coat cardigan patterns that you must have liked a lot and can be made according to your preferences and choices. You don't have to spend too much money to buy stylish design clothes. We hope you found this wonderful piece of content worth reading.