Crochet women Skirt Free Patterns
There are many crochet clothing patterns for women out there. But crochet skirts are classic! They come in different sizes, lengths, and designs ideal for women of all ages and sizes.
You can rock these stylish crochet skirts to any occasion of your choice. To the beach, a fun party, a family dinner, name it!
Today, I have compiled 20 simple Crochet women Skirt Free Patterns that you should top your to-do list.
1. Spiderweb Crochet women Skirt Free Pattern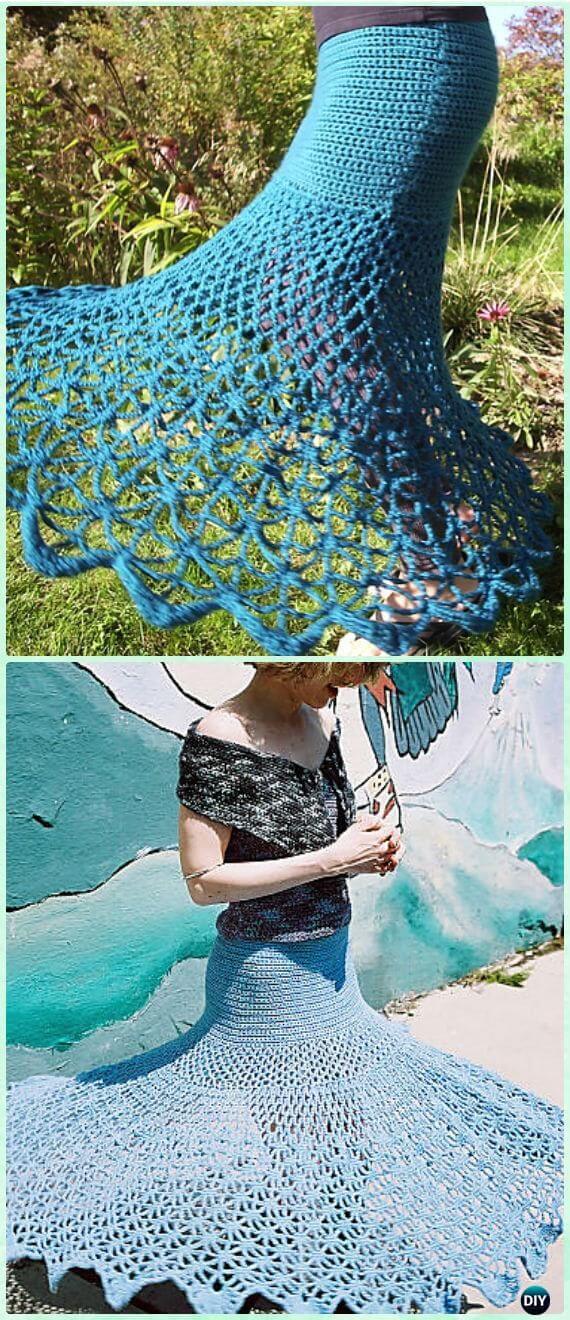 This long gorgeous laced skirt is designed to fit perfectly at the waist and finishes down in an amazing dramatic flair of spider-web inspired design. It is ideal for the hot summer season.
2. Chevron Skirt Free Crochet Pattern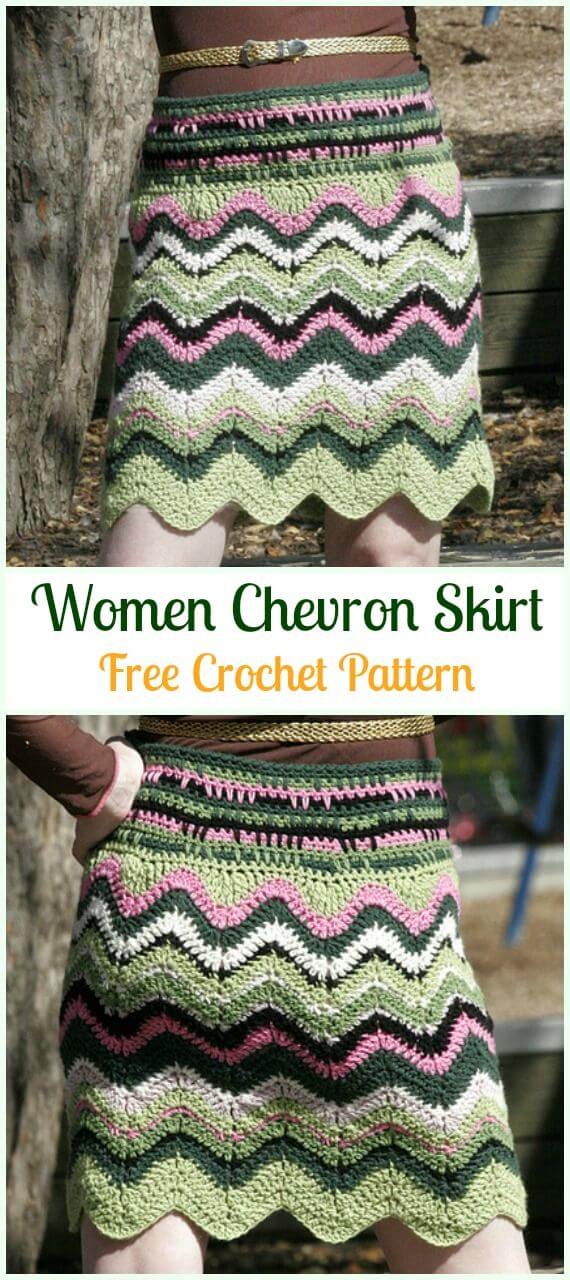 This adorable multicolored women skirt fits just above the knees and is a perfect crochet idea. Feel to mix and match your own colours to create a more personalized zigzag pattern.
3. Crochet Maxi Skirt Free Pattern

I love this beautiful crochet maxi skirt. The crochet openings make the skirt super light perfect for the hot summer season. 
4. Crochet Ladies Pineapple Stitch Skirt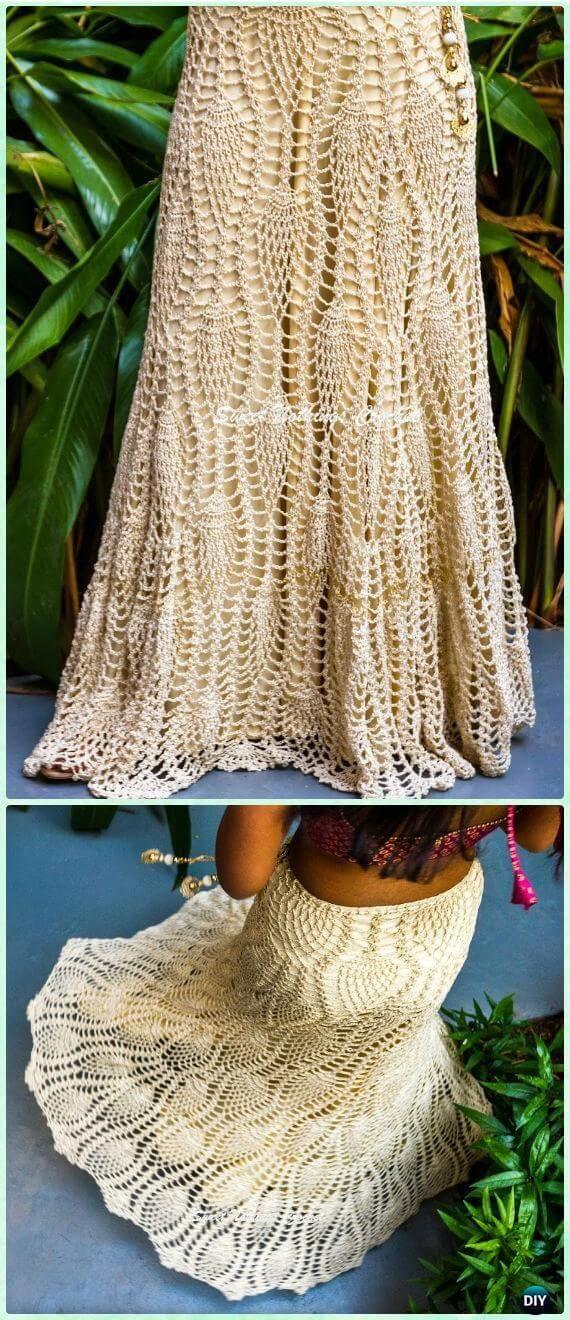 This crochet skirt is just adorable! It is a cute open crochet pattern design made to resemble a pineapple. The skirt also doubles up as a poncho.
5. Archena Crochet Women Skirt Pattern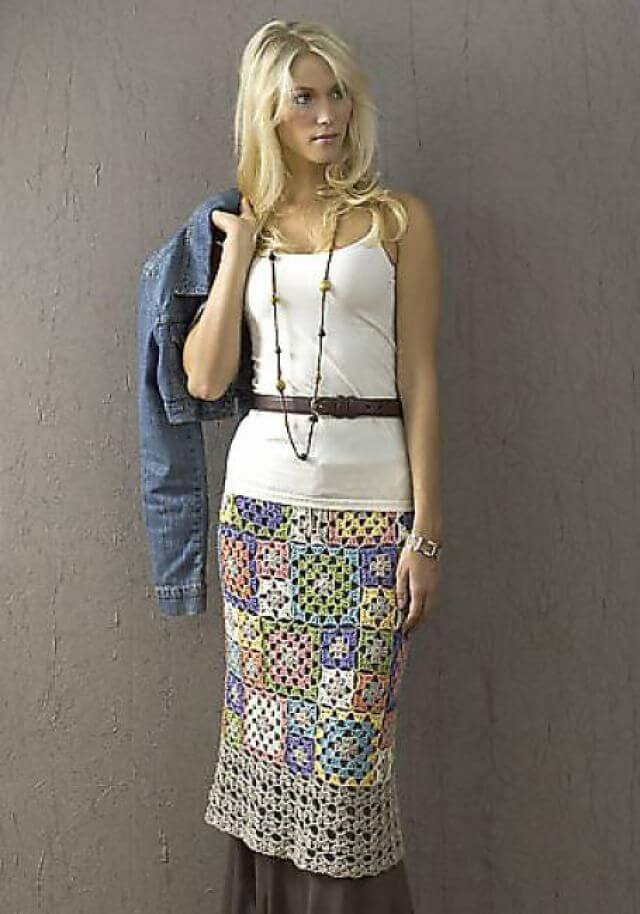 This beautiful multicoloured long skirt is a granny square pattern designed by Doris Chan. Granny squares are created using different colours and patterns. They are then stitched together, and a lace added at the helm to create this gorgeous skirt.
6. Crochet Bobble Women Skirt Free Pattern
This is a super simple and fun woman crochet skirt to make. This elegant skirt falls just below the knees and is ideal for wearing to any occasion throughout the year.
6. A-Line Women Crochet Skirt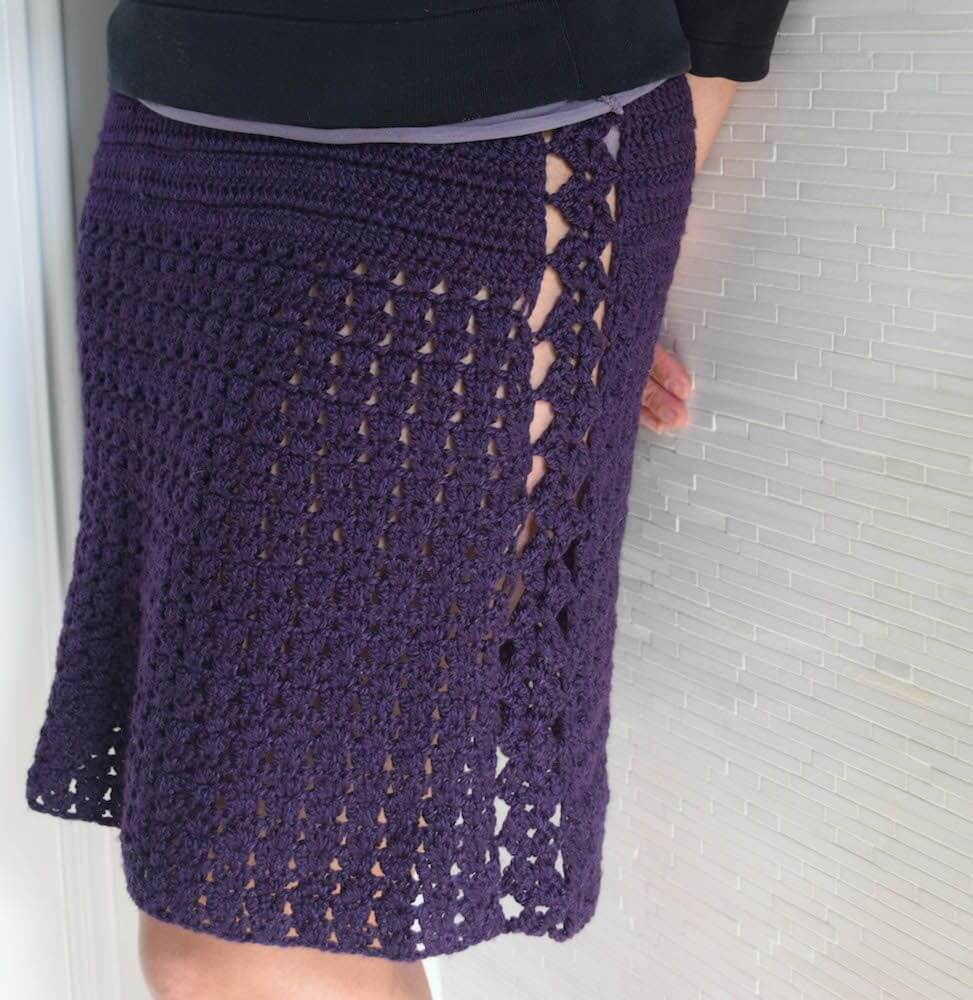 This beautiful A-line crochet skirt is a design inspired by 20th-century fashion by Marvel Crosson. It is a gorgeous, flirty skirt ideal for a bold woman. You can add a slip underneath for a more conservative look.
7. Flared Crochet Women Skirt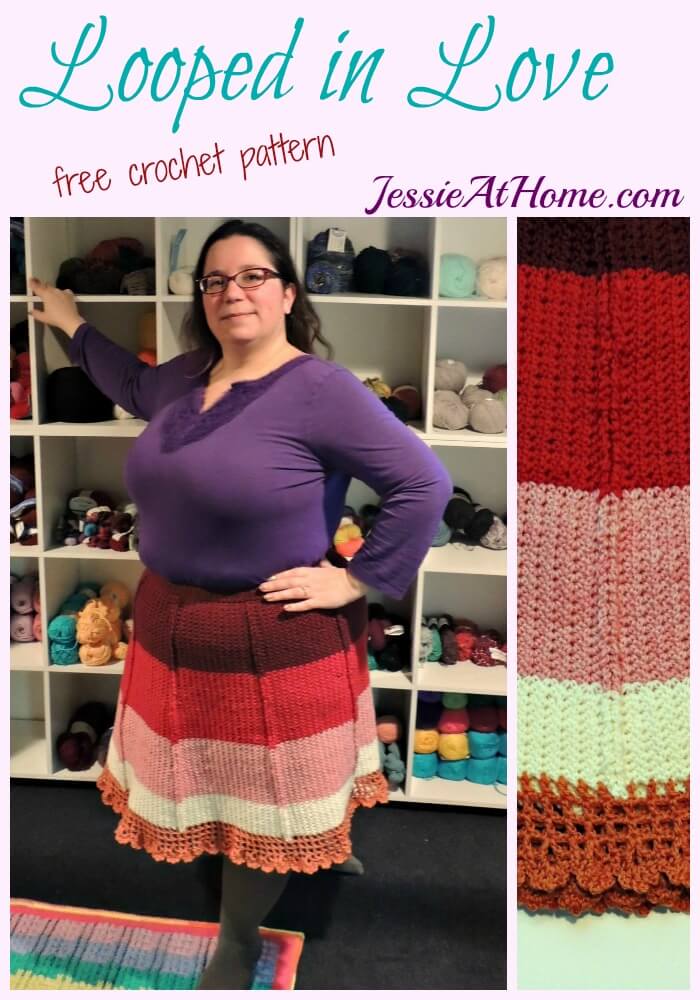 This amazing flared crochet women skirt is a design by Jessie, a very skilled designer. This stylish flared skirt employs the unique Jacob's Ladder Crochet stitch fitted with an elastic waistband for a perfect fit.
8. Beach Flowers Crochet Wrap Skirt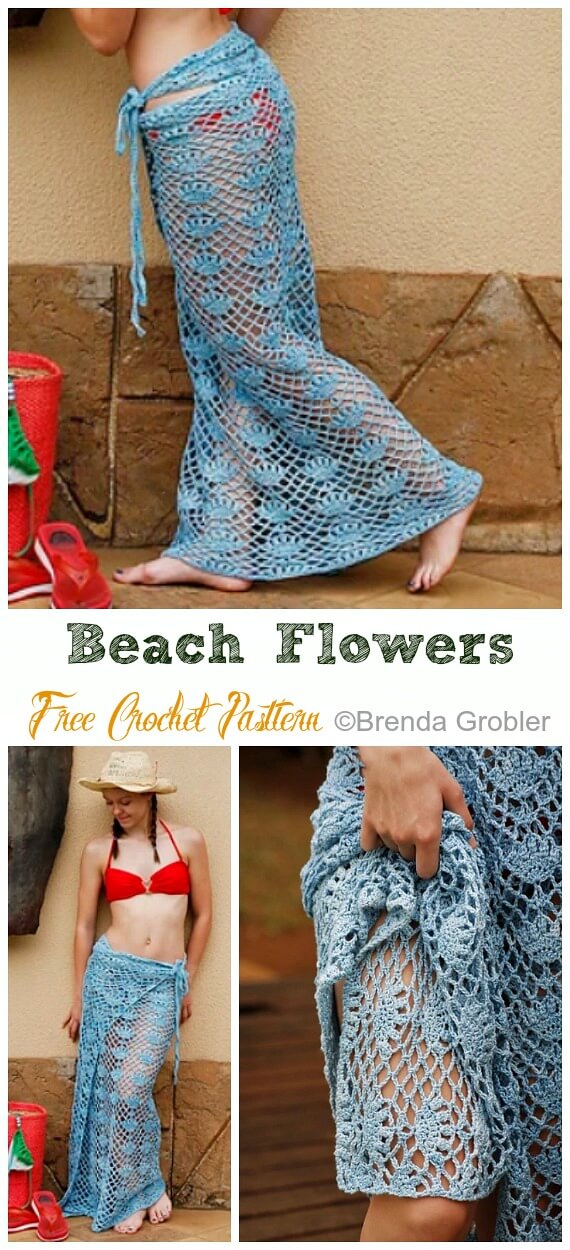 This gorgeous skirt is a terrific beach skirt. This floral-designed wrap is super easy and fun to make. It also doubles up as a crochet dress or shawl.
9. Crochet Beach Skirt Pattern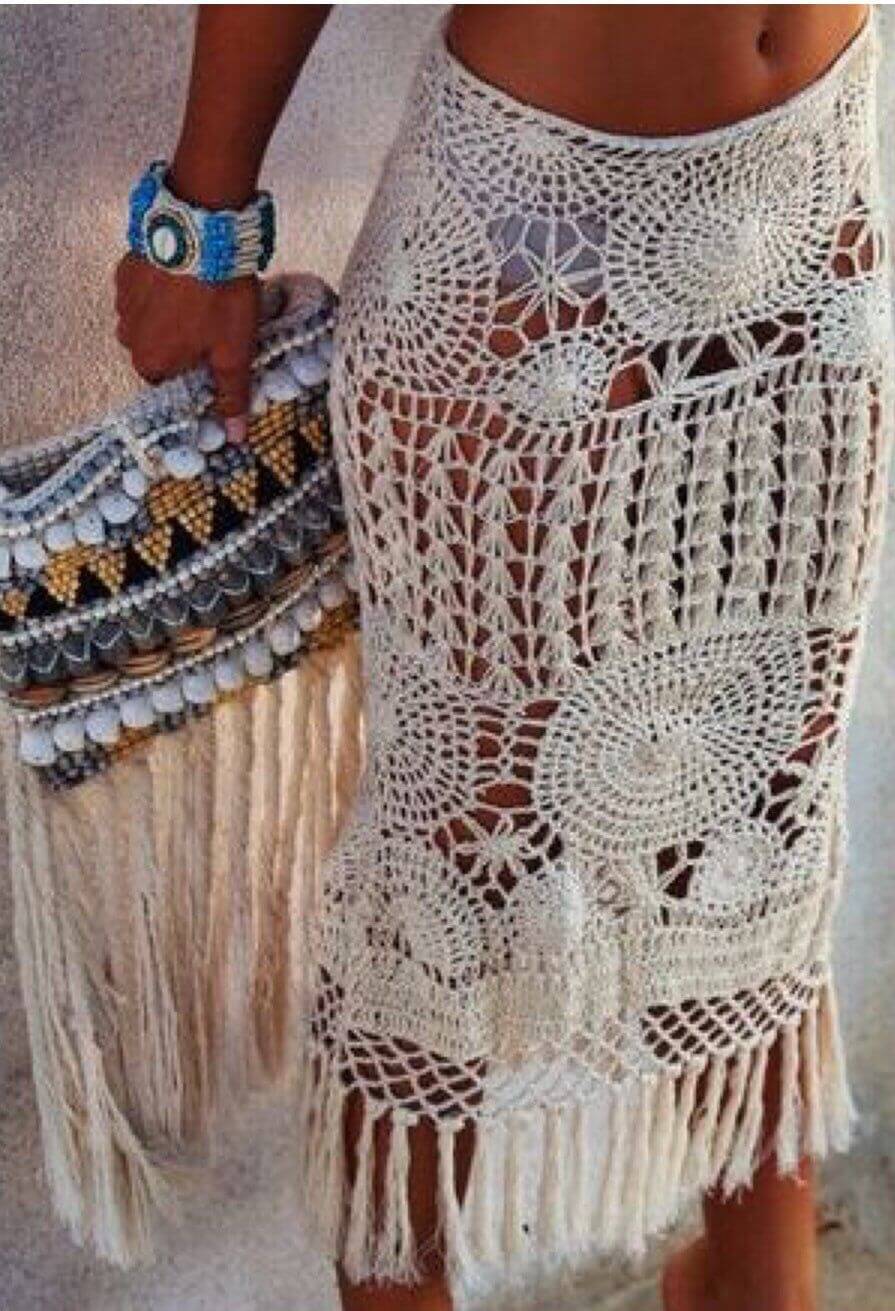 This is a super easy crochet pattern to make. This skirt features a flared inset triangle with a wide waistband. 
10. Crochet Leaf Skirt Free Pattern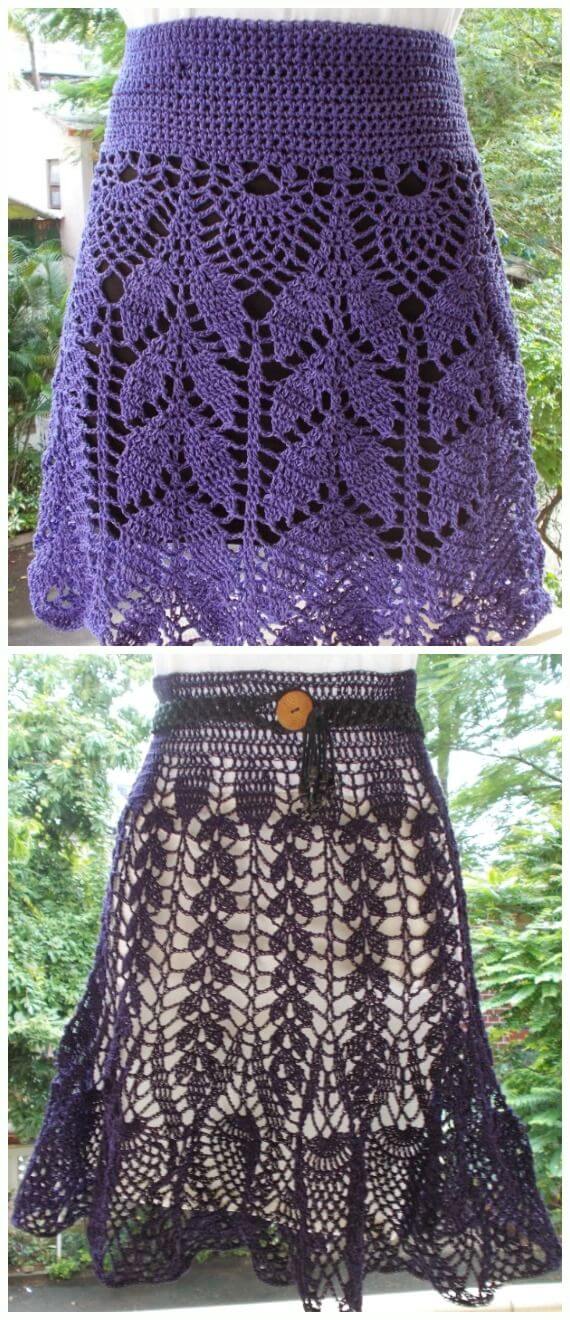 This beautiful skirt can be made using any yarn in a pattern to resemble small leaves all around its circumference. It is tight at the waist and opens down in a small flair to the knee area. 
11. Sea Shell women Skirt Free Crochet Pattern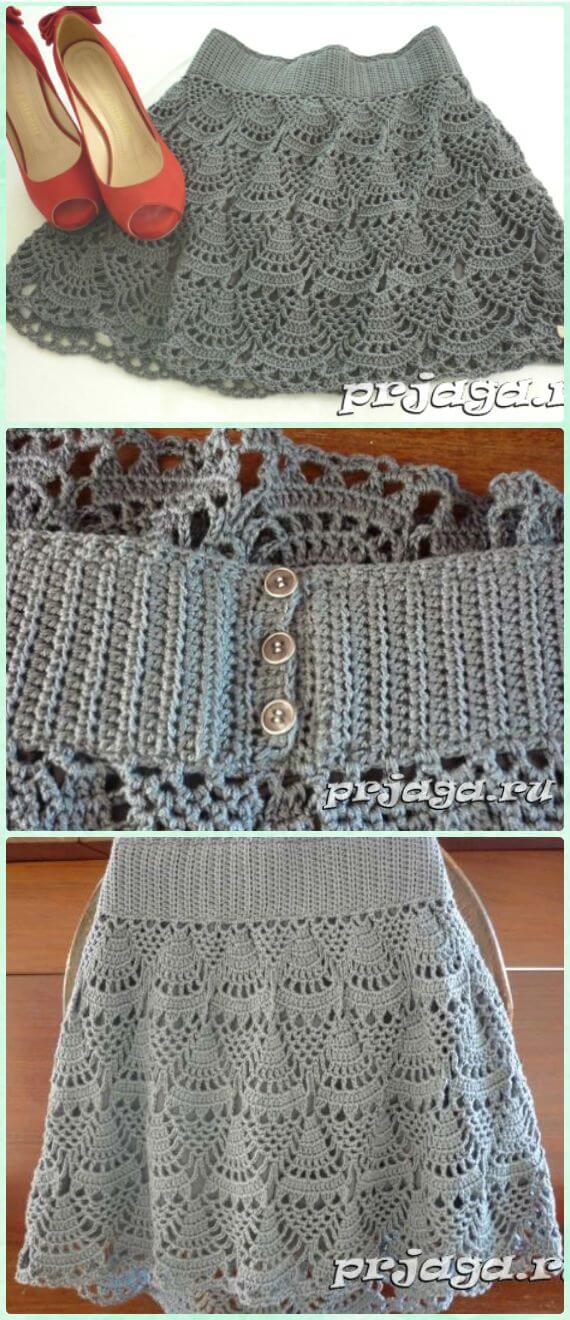 Create yourself this stylish crochet skirt for the summer season. This adorable little crochet skirt by drops design is made with puff stitches and a fun edge. It is worked on from top-down in drops.
12. Reversible women Crochet Skirt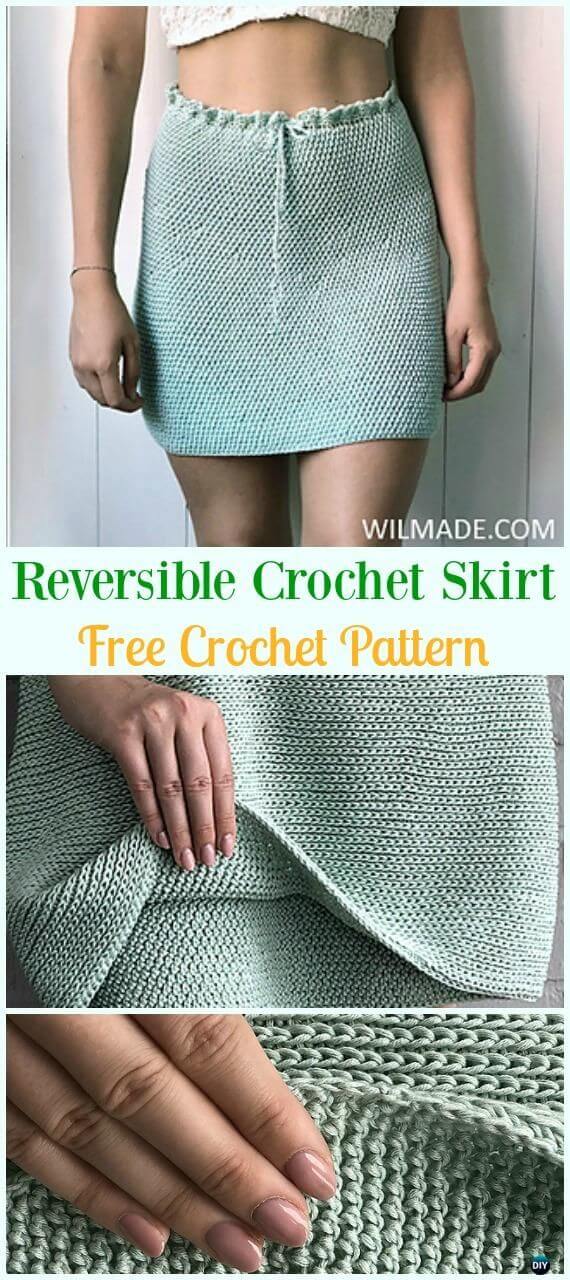 Make yourself this adorable reversible skirt by Wilmade and save yourself the time and money to make two skirts. This skirt can comfortably be worn in two ways, in the hot summer or in the freezing winters.
13. Drops Aline Buttoned Skirt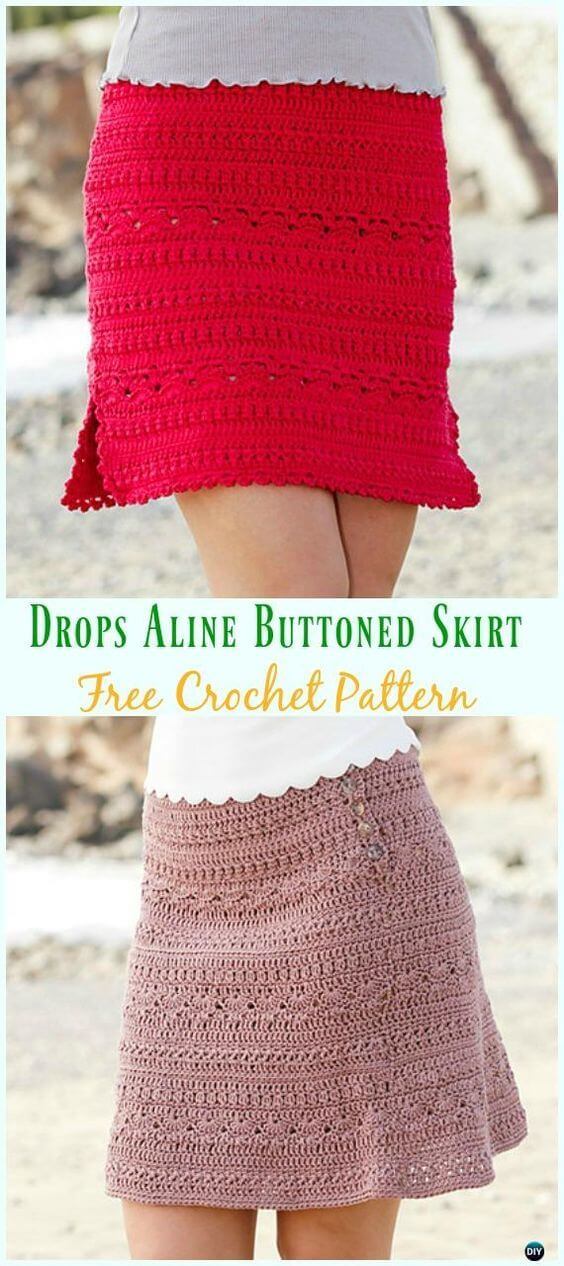 This small adorable skirt by drops design is pretty easy to make. It worked on from top-down in drop muskat using the texture pattern. 
14. Perfect Sweet Treat Pencil Skirt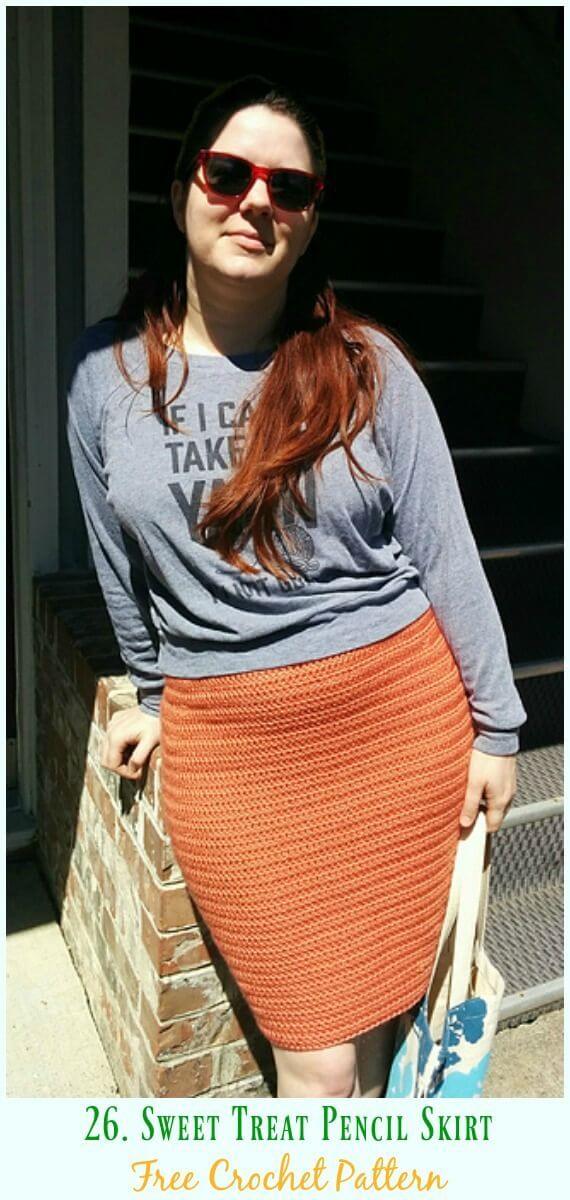 This gorgeous crochet pencil skirt by Gayle designs is adorable. It is worked in any soft worsted weight yarn and fitted with an elastic waistband. Make yourself this sweet pencil skirt that brings out your body shape in such an amazing way.
15. African Flower Skirt Free Pattern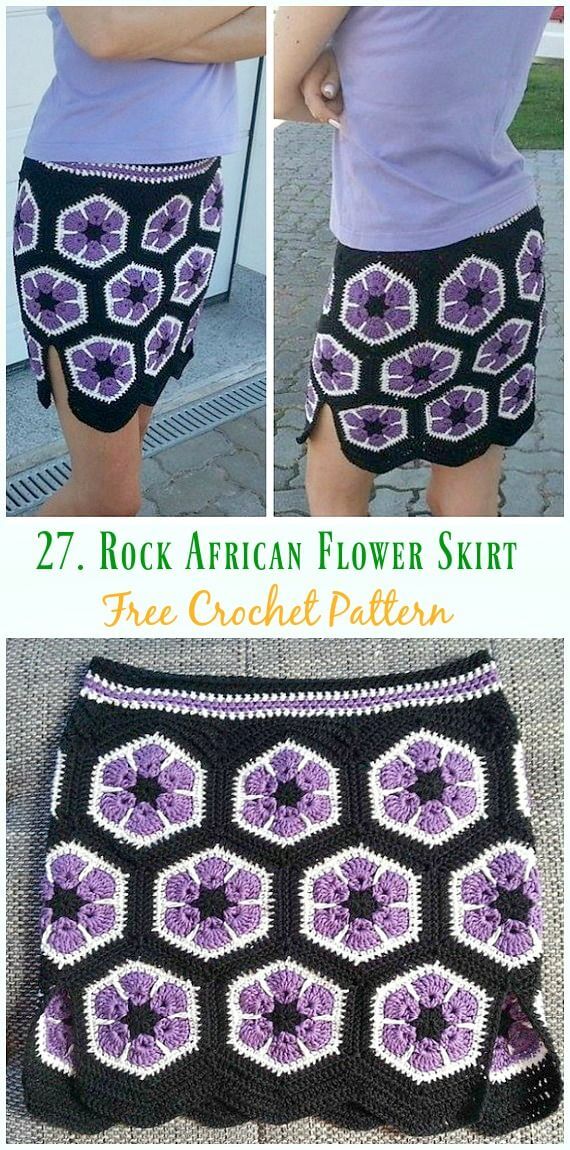 This gorgeous African flower mini skirt is made from hexagon granny squares with a slit on one or both sides. Fit a crochet ribbon at the waist for a comfortable fit.
16. Megara Maxi Skirt and Crop Top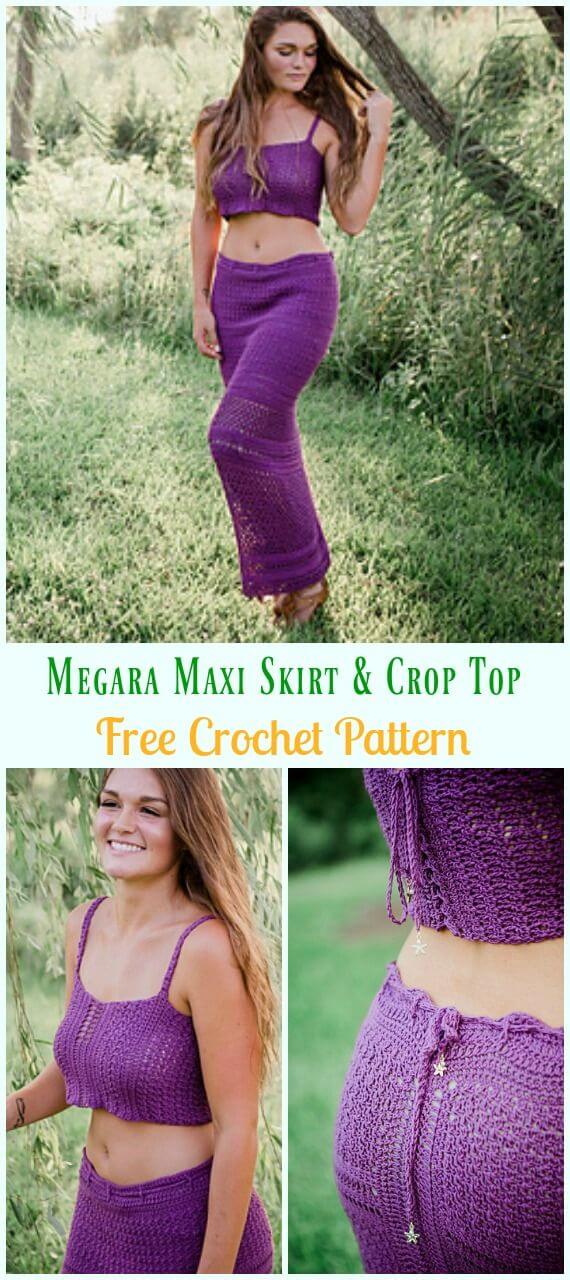 This Megara maxi skirt with a matching crop is gorgeous! It is made of a large rectangle for the skirt and the top. The rectangle is seamed together at the ends to create the skirt while the top has a lace-up section at the back.
17. Granny women skirt crochet free pattern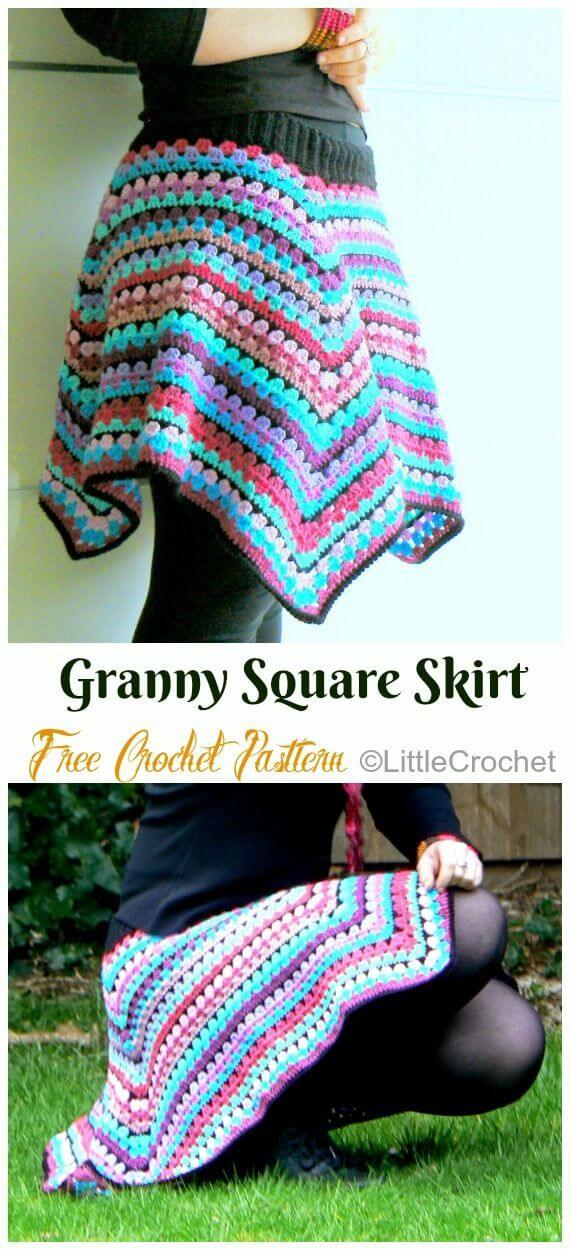 This adorable skirt is made from little granny motifs. Make it longer or wider by making more granny squares of different colours.
18. Sea Breeze Crochet Skirt Pattern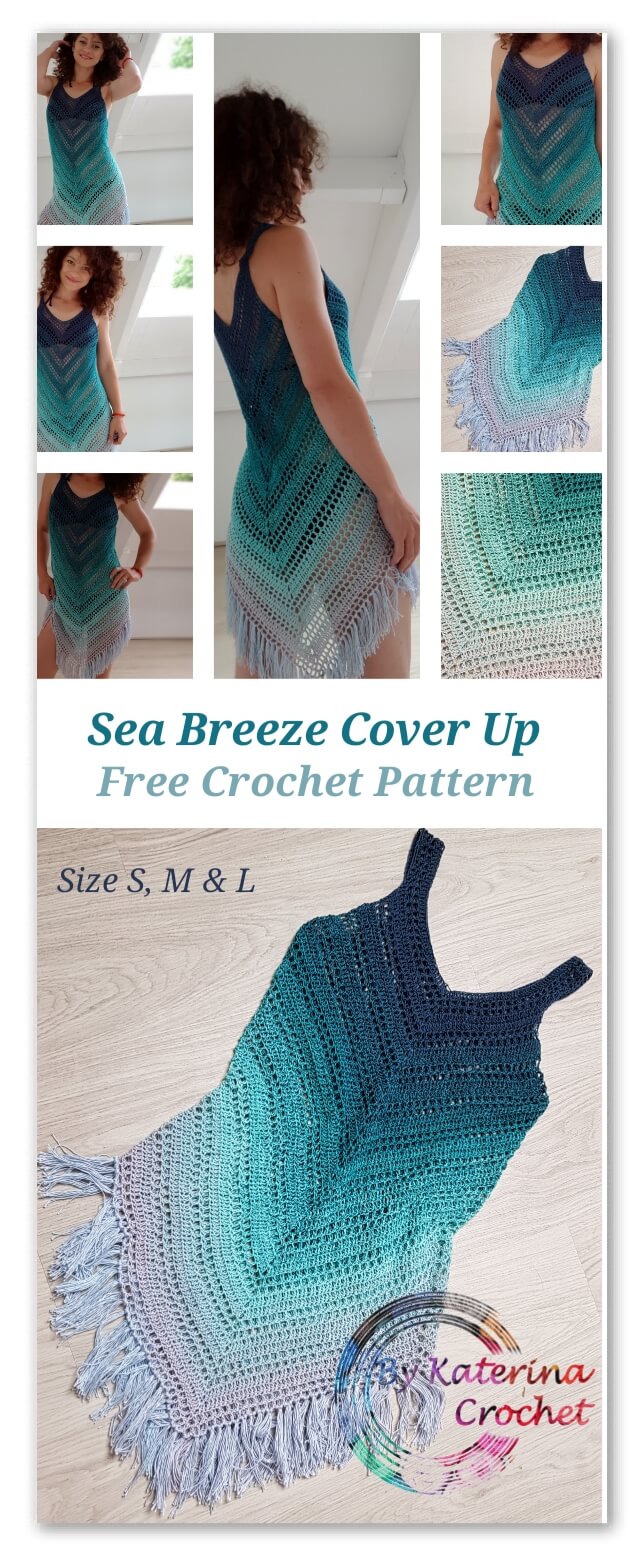 This gorgeous striped crochet skirt is ideal for your next beach vacation. It is a high waist flattering skirt created using very fine cotton.
19. Crochet Layered Women Skirt Pattern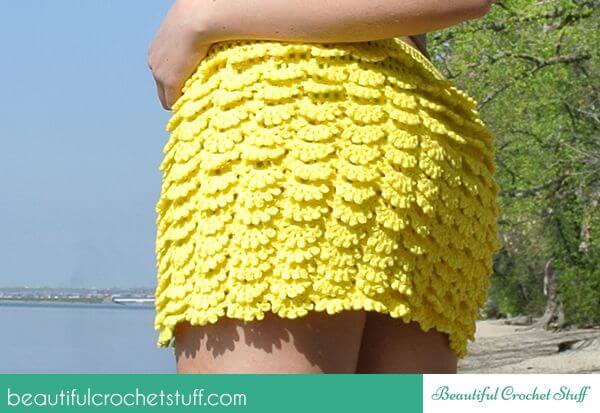 This gorgeous layered mini skirt is made from layers of crocheted lace. It the ideal wear for a romantic date or a beach vacation.
20. Crochet Any Length Skirt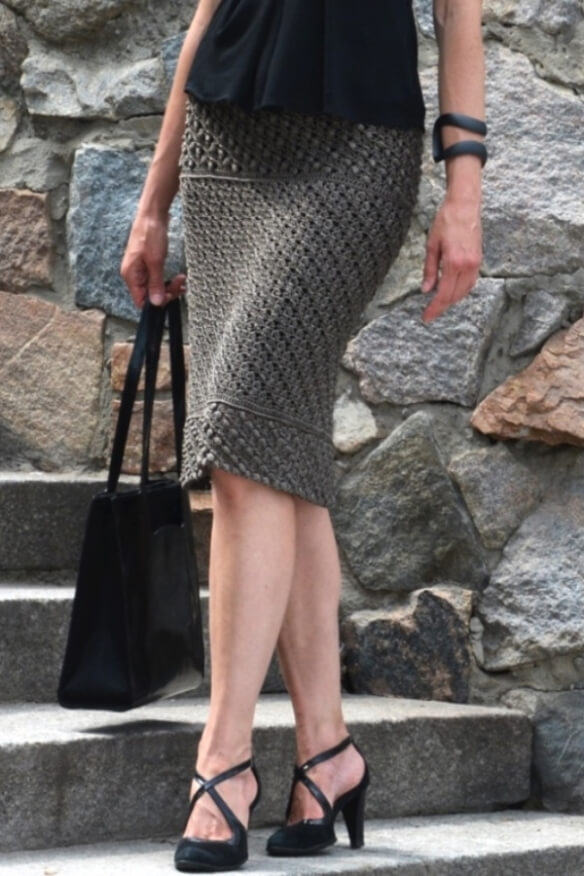 This gorgeous skirt can be made and adjusted in all sizes and lengths. It worked on from the waist down in worsted weight yarn. You can make it any colour of your preference.
Conclusion
Breathe new life into your wardrobe by trying out this simple and fascinating crochet women skirt free patterns.