Crochet Pot Holder Hotpad Free Patterns
Hotpads or potholders are handy to have around the kitchen. You can keep yours in a drawer which is right by the stove burner. When you need to pull something hot out of the oven, they're easy to grab. Potholders can also add charm to your dining table when kept as a centrepiece. These potholders also protect the surfaces from burning. They can be the perfect project for starting up with crochets. Let's look at some of the best crochet pot holder hotpad free designs.
1. Prett
y Crocheted Hot Pad or Potholder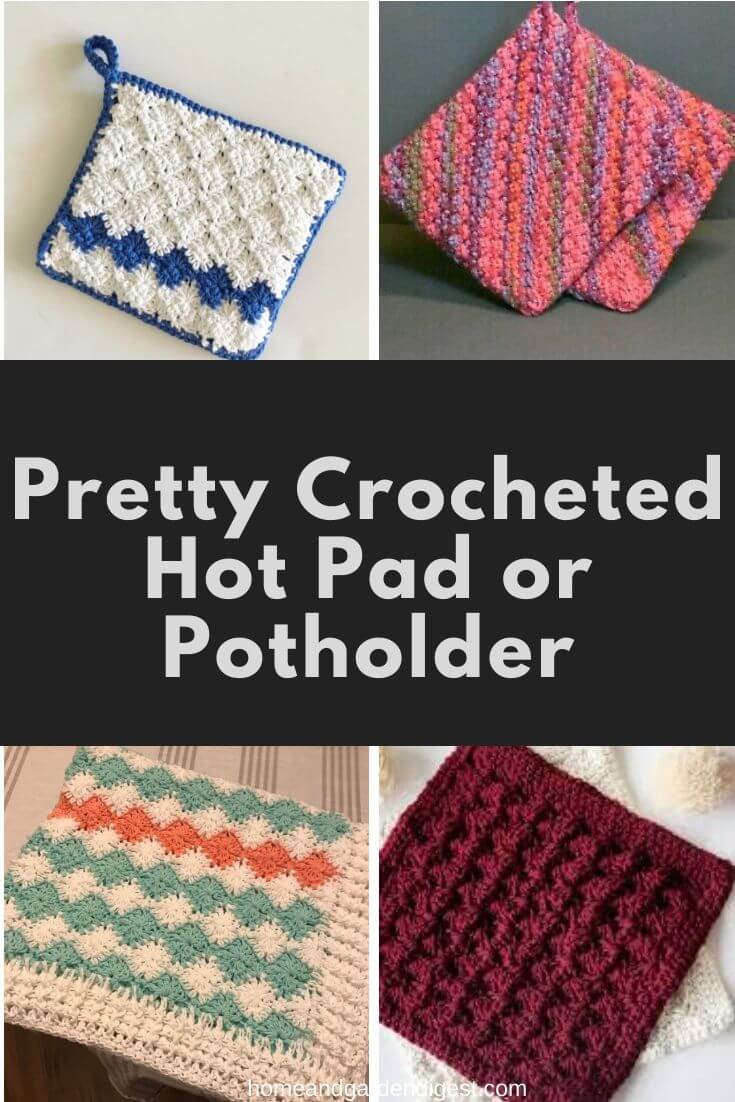 This is an extra-large dual purpose pot holder. This can be used as potholder as well as hot pad. You can use this extra-large potholder to keep a hot container on it. This will protect the surface from burning.
2. Snowflake-Shaped Bottle Cap Trivet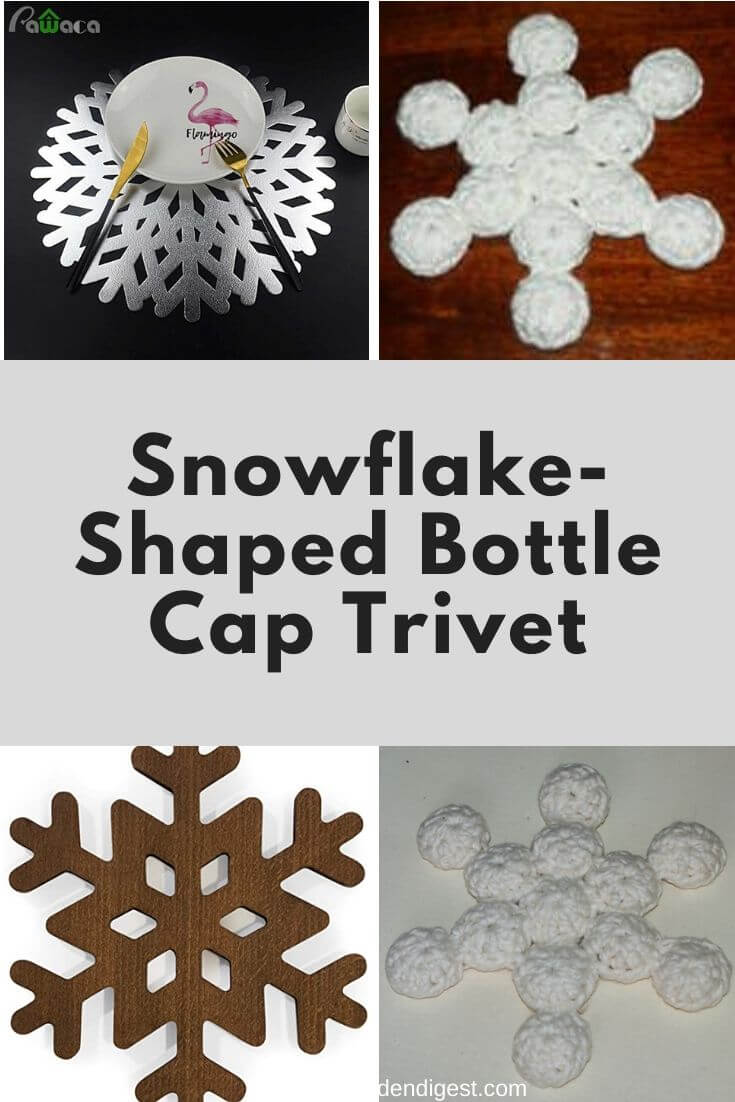 This crocheted hotpad shaped like a snowflake is a perfect design to set a winter-themed table. This classic hotpad gets extra dimensions with the help of metal bottle caps. Make sure you use white coloured yarn to set the table in winter.
3. Flower Trivet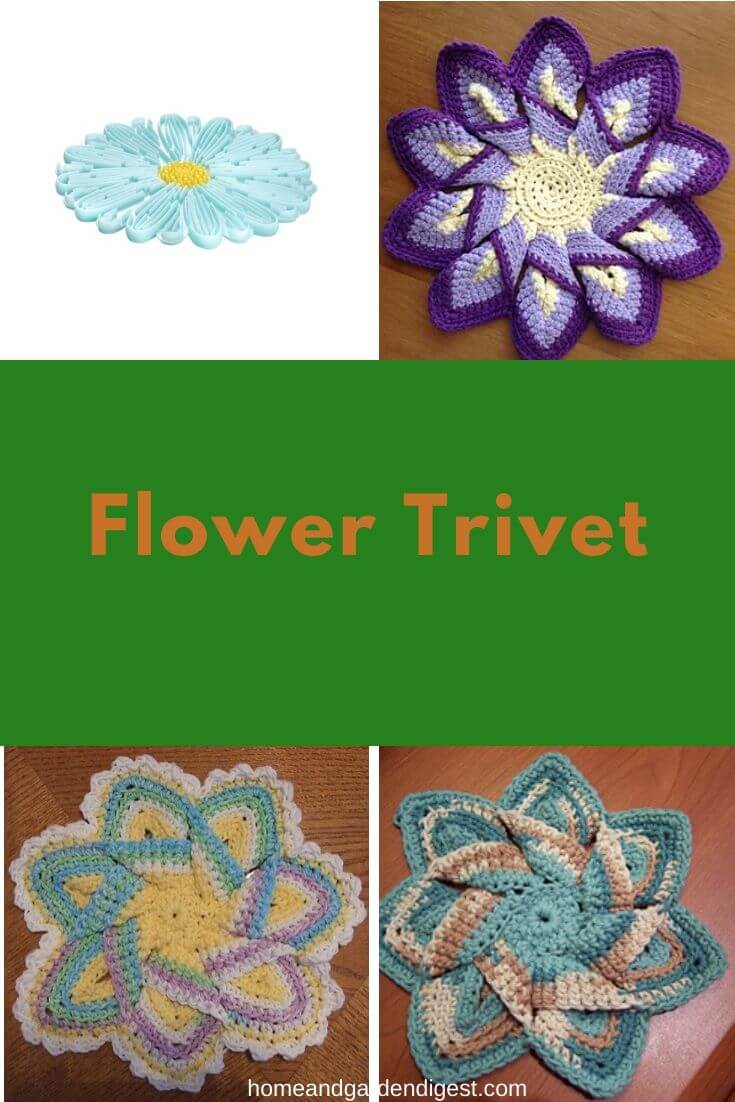 This thick hotpad is shaped like a flower. The flower-shaped hotpad is quite easy to make. You just need to choose a great combination to make a flower shaped hotpad. This crochet is crocheted with fabric strips instead of a yarn and this makes it look thick. This is a fun pattern to try.
4. Heart Trivet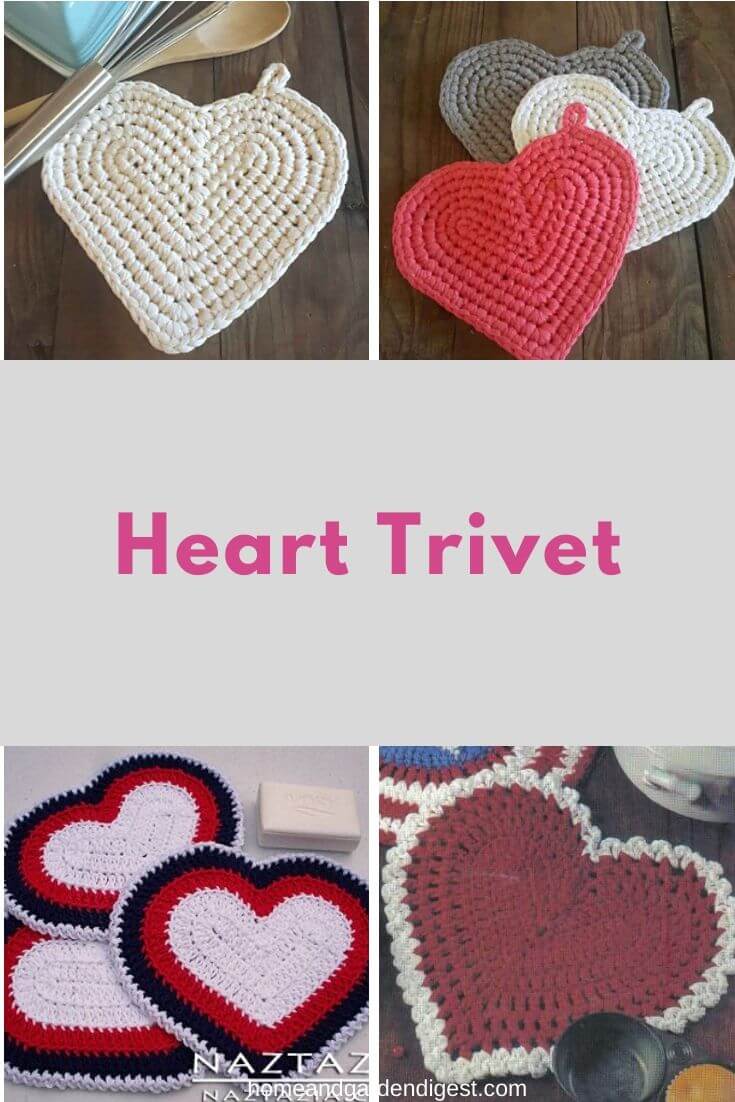 This is a heart-shaped hotpad crocheted with fabric strips. It looks thick and more tempting when crocheted with red-colored fabric strips. Its crocheting process is similar as flower hotpad. You can use colors like red, white, blue and purple.
5. Crochet Bobble Heart Potholder
This is a lovely and classic bobble heart potholder that you can make for your mom, bestie, grandma, and pets too. The bobble heart design will keep the heat of your pan away from the surface. You can use your favourite colors when crocheting a bobble heart potholder.
6. Stitch Perfect Potholders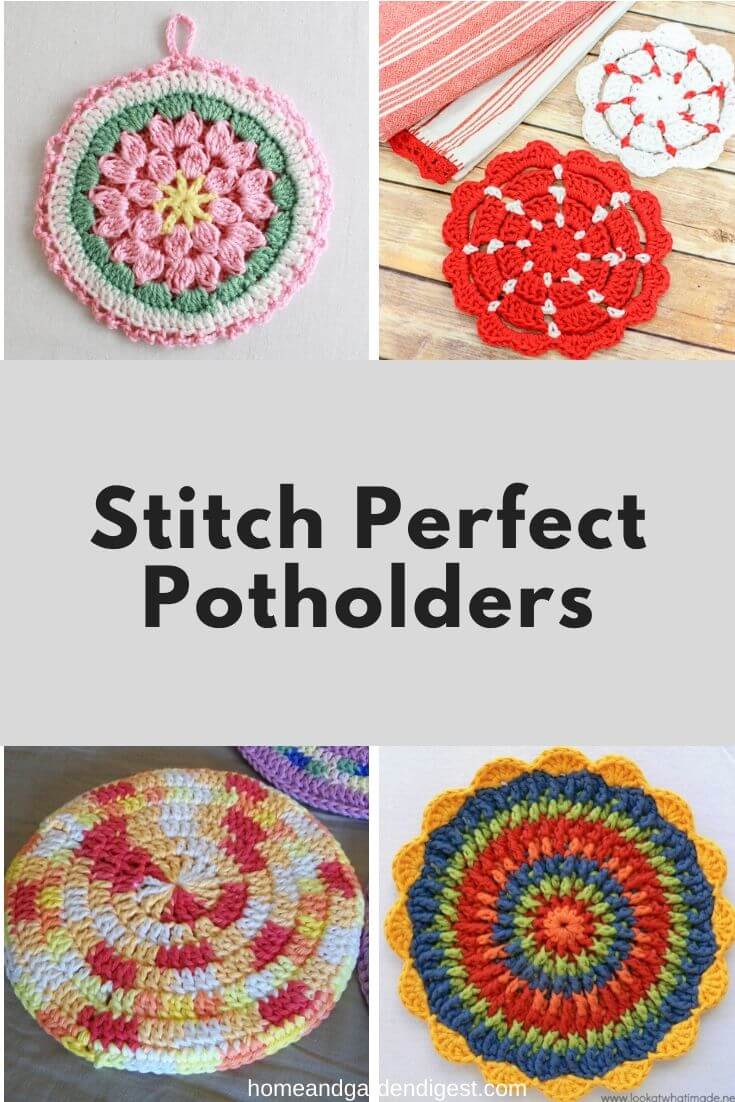 Once you make these lovely potholders, everyone will fall in love with them. These classic potholders are designed in a circle shape and are best for your non-stick pots or pans. You can protect your pots or pans from getting scratched up by the surface.
7. Vintage Inspired Crochet Potholder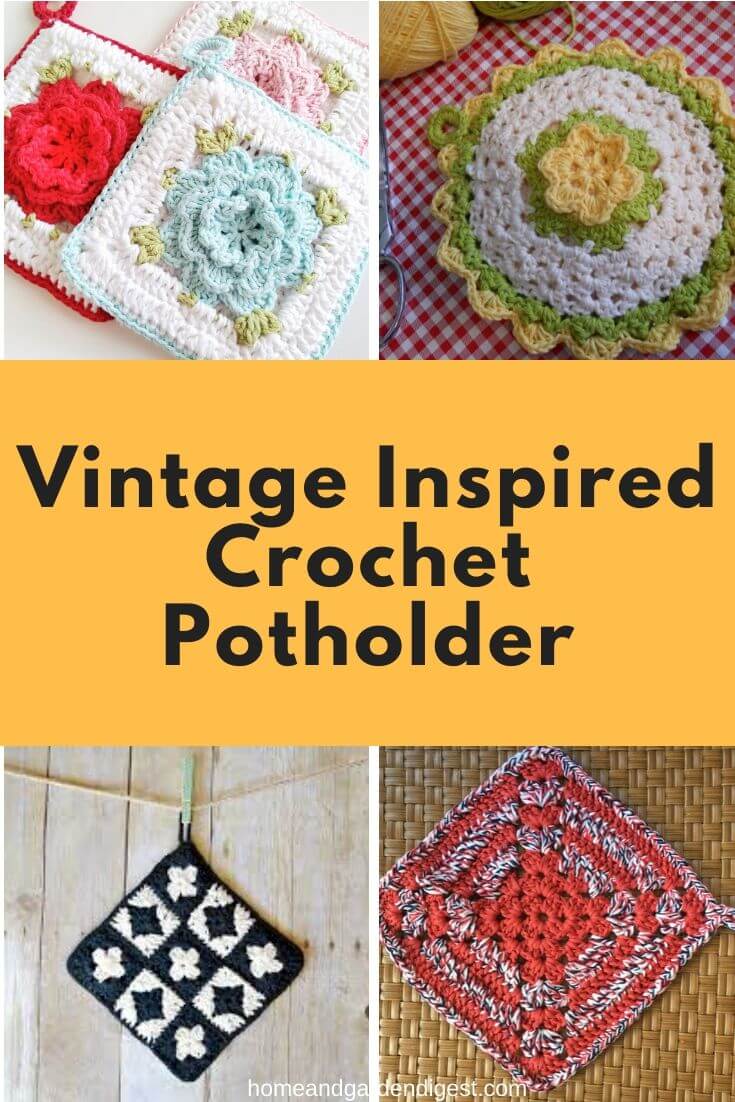 This is a perfect size potholder that can even be hanged on a string. This potholder is made with 9 small squares with different designs. This is a square shaped potholder that is a must-have for your kitchen.
8. Decorative Crochet Potholders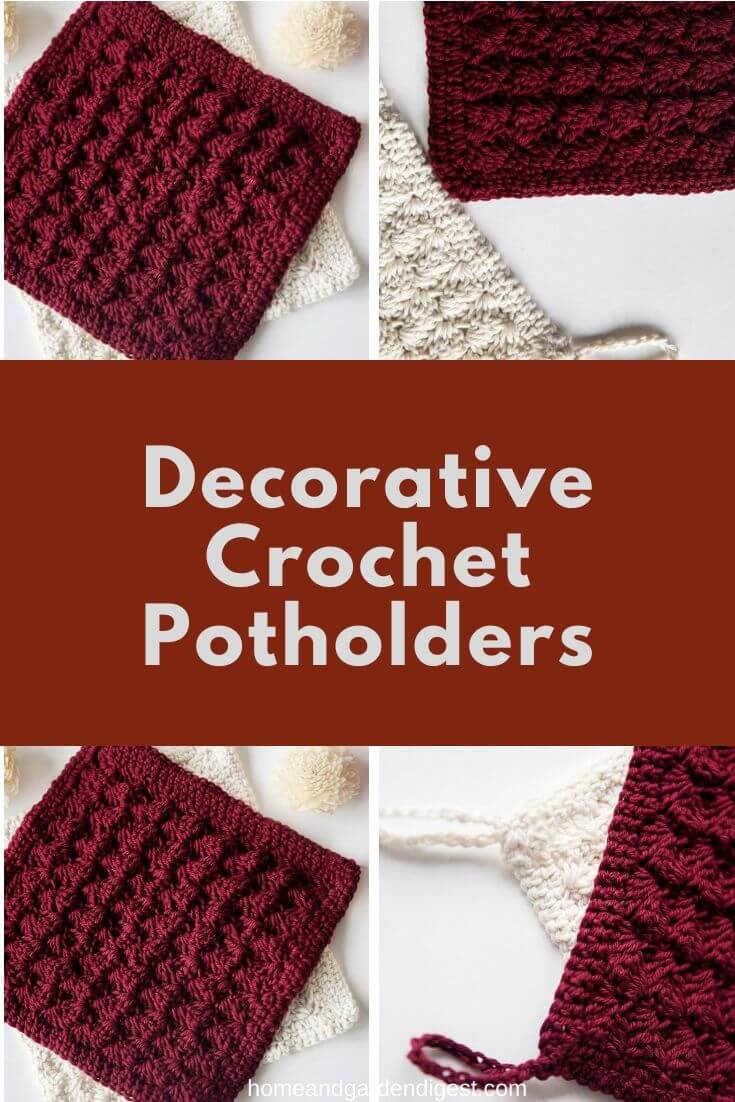 This is a beautiful potholder that can be easily made by a crochet beginner. It is a fun project and you can show your skills with this attractive potholder. This is a pretty useful yet decorative item that you can gift someone.
9. Dutch Skies Potholder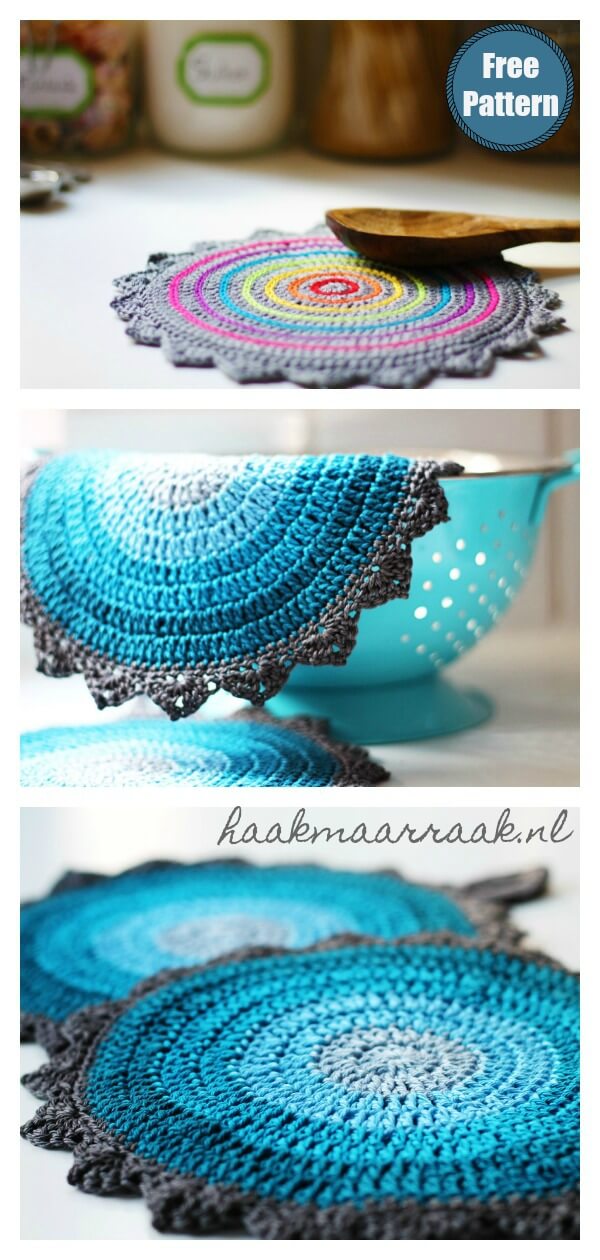 These dutch skies potholders are the most appealing potholders that can be used for multiple purposes. These are named "dutch skies potholders" as they resemble grey stormy and bright blue sky in the Netherlands.
10. Urban Kitchen Potholder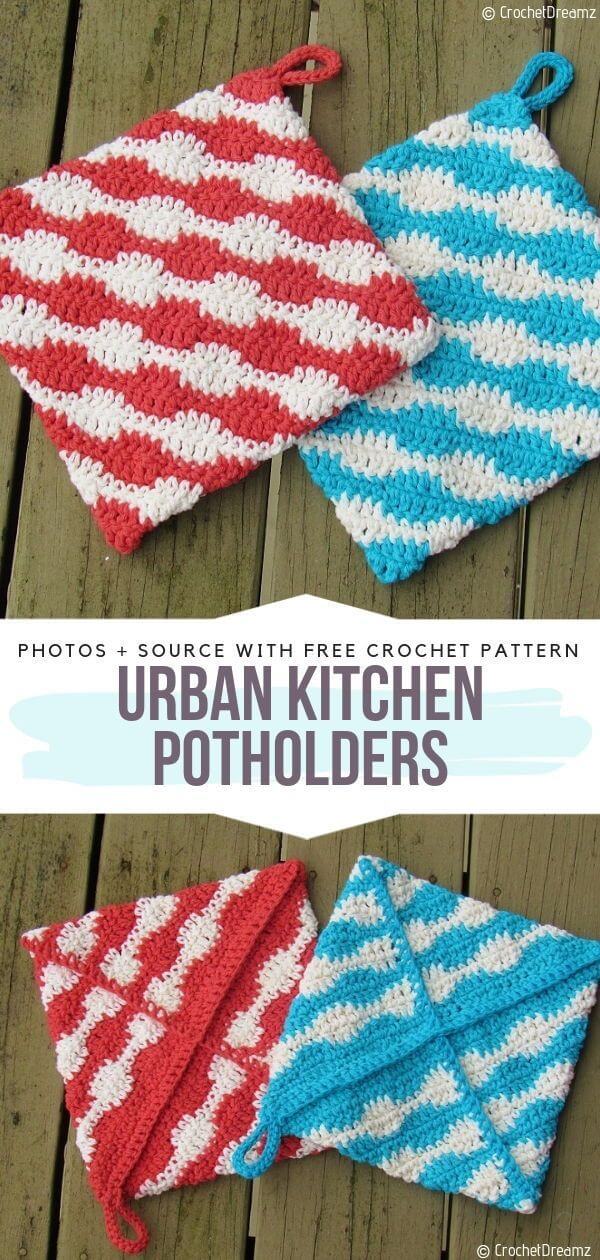 This is an urban kitchen potholder with a wavy design. You can achieve the same diagonal wavy effect not by increasing or decreasing but by folding your potholder in a specific way.
11. Milk & Cookies Hotpad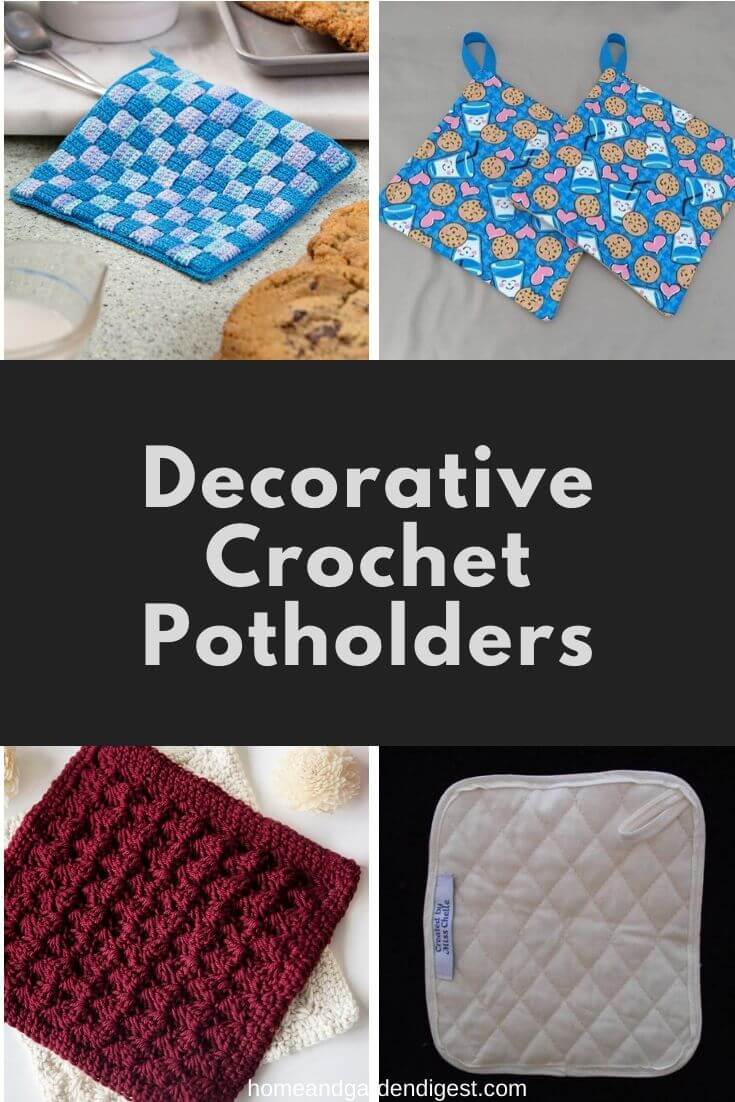 This square shaped hotpad adds perfect touch to your kitchen making it look charming. Make it for your kitchen and gift it to your mom or bestie. You can use the combination of white and blue to make a bright crochet.
12. Love Wiggles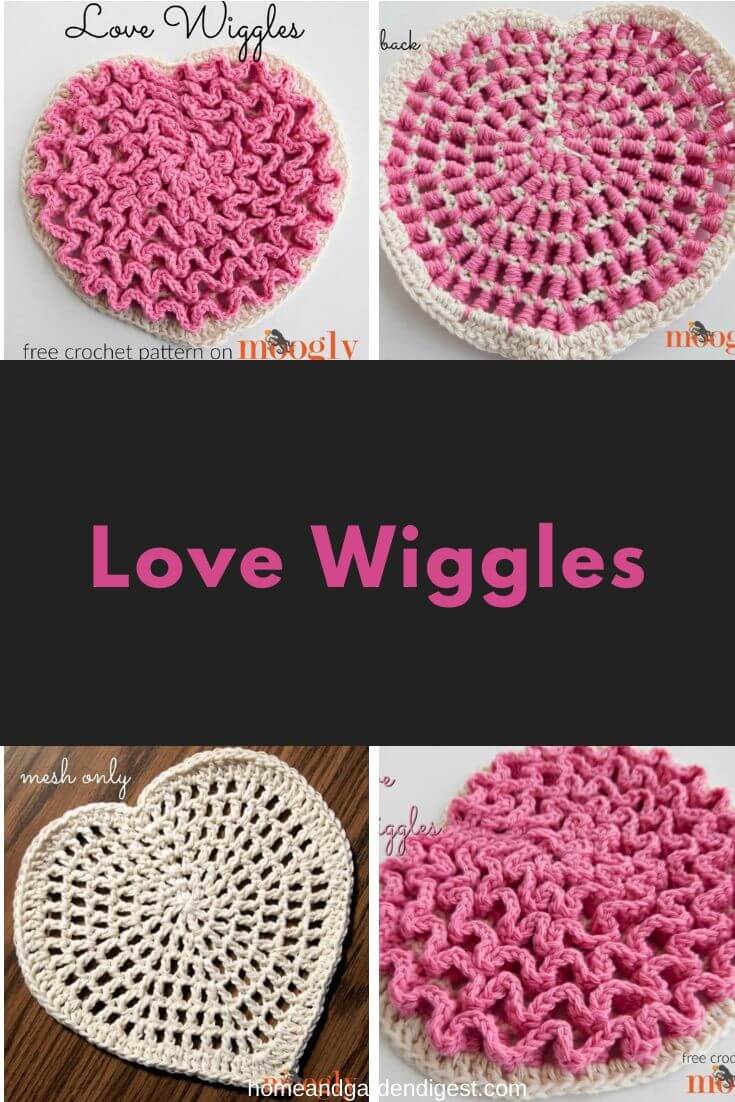 This 3D crochet pattern is a multi-purpose hotpad that can be used both to protect your surface from hot pans and to decorate your dining table. Make sure the pattern is made with a cotton yarn so it doesn't melt.
13. Flower Bust Potholder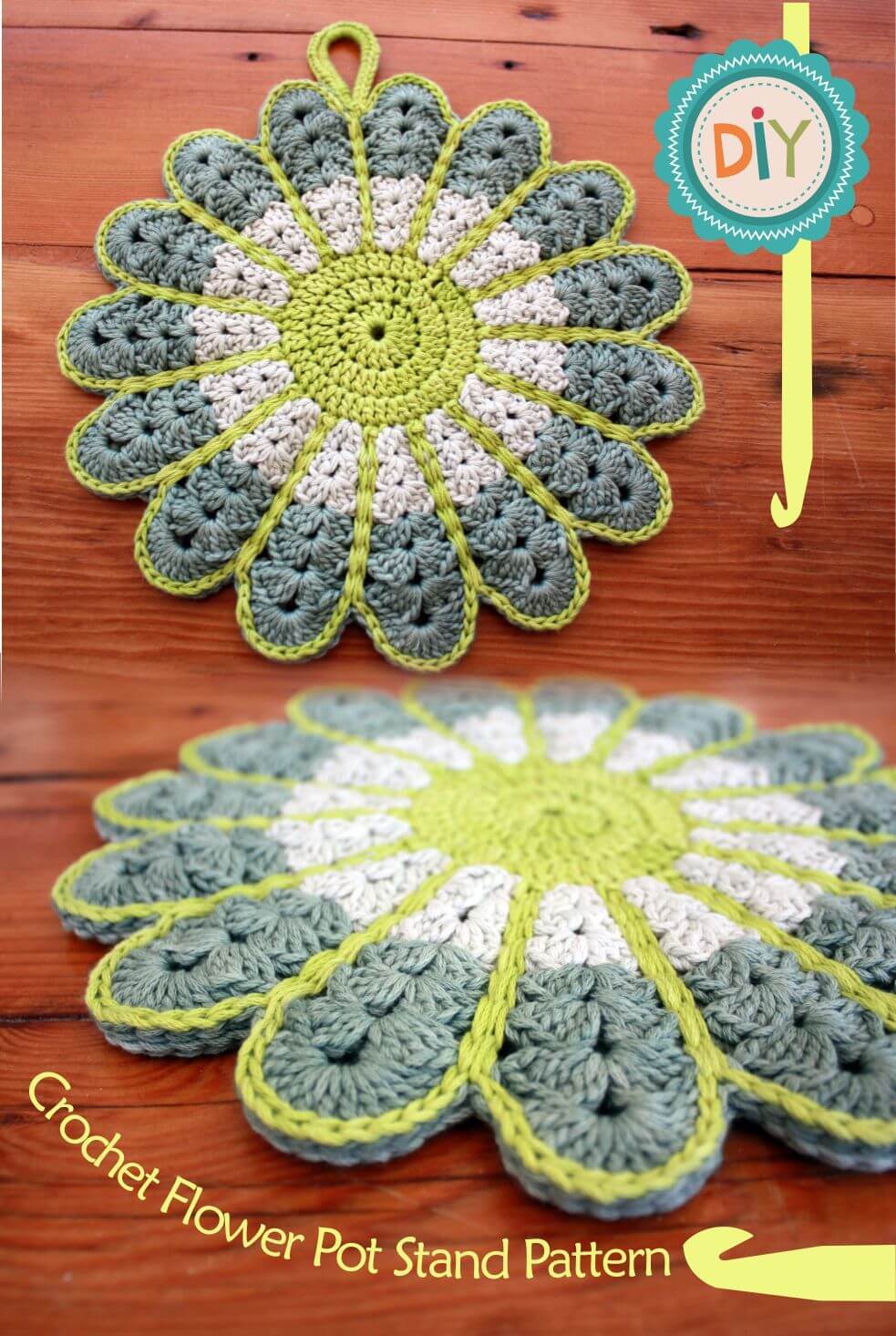 This is an extra large flower bust potholder pattern that can be converted into placements or a stunning table centrepiece. This beautiful yet multi-purpose potholder is perfect to gift someone special.
14. Crochet Coffer Mug Potholder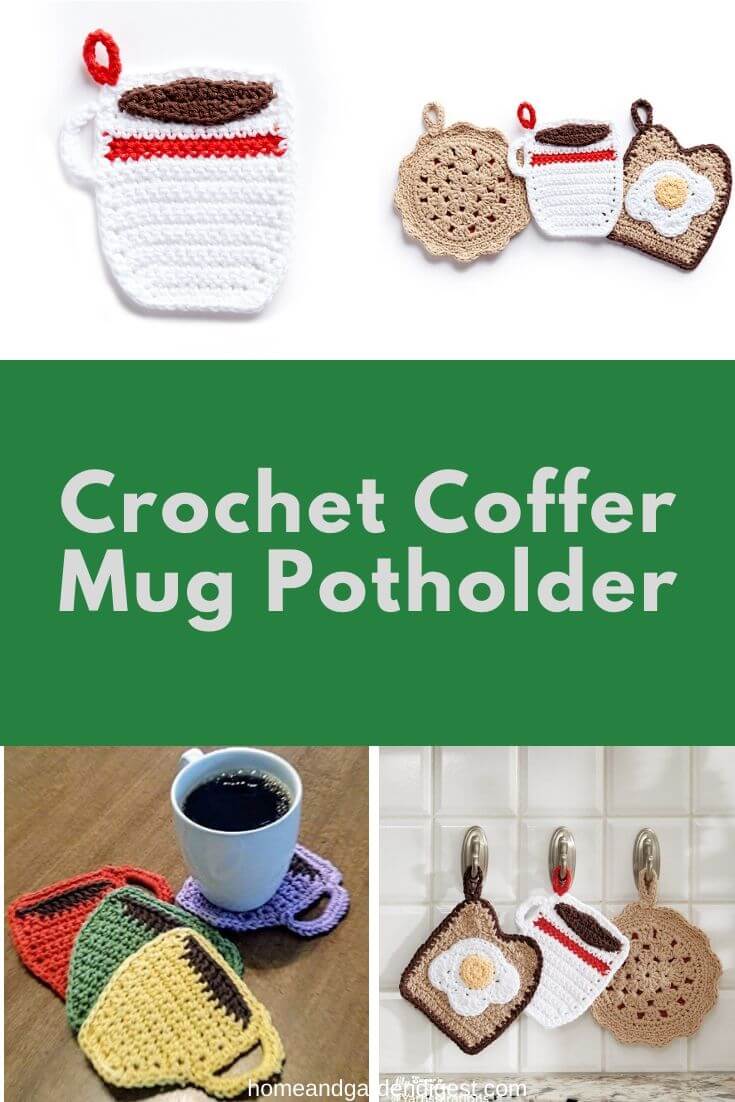 This coffee mug potholder is a simple pattern to make with some basic shaping. The coffee mug potholder design is very pretty and adds charm to your table.
15. Crochet Cactus Potholder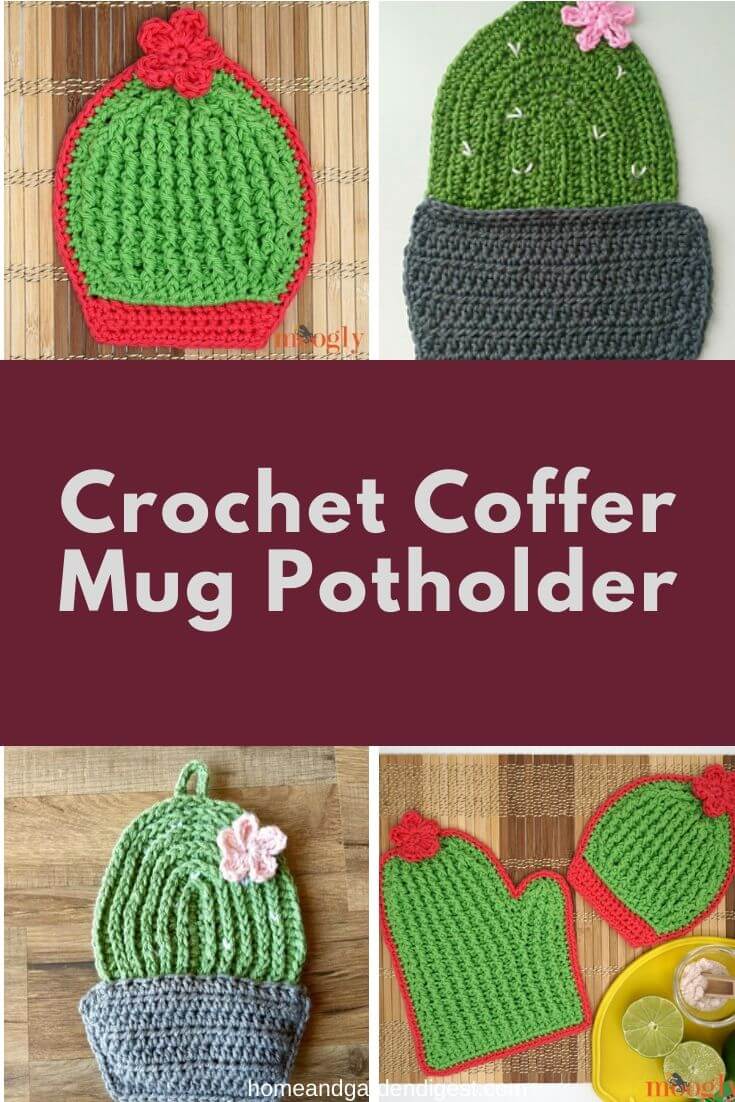 Crochet cactus potholders make your kitchen a perfect one. This is a bright and fun design that can be even made by a crochet beginner. These thick crochet potholders make a perfect trivet too.
16. Blue Jean Crochet Hot Pad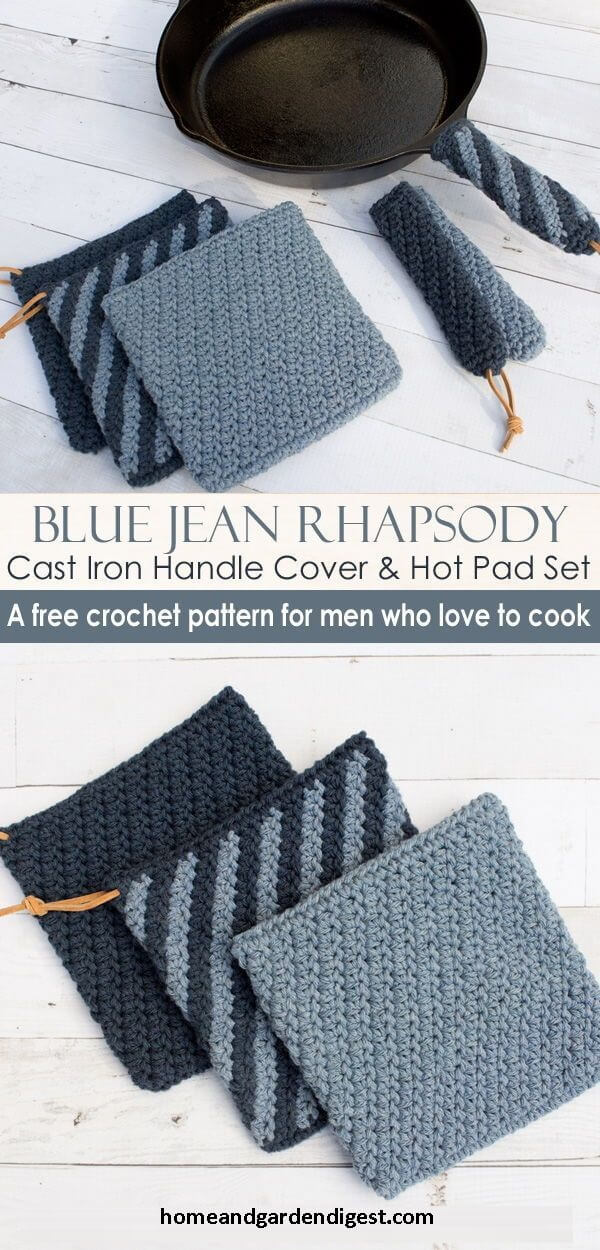 Once you crochet this blue jean hot pad, you will end up crocheting many more. This is a thick and soft crochet pattern that is easy to make. You can add wonderful designs to this hot pad to make it more pretty.
17. Crochet Granny Hexagon Potholder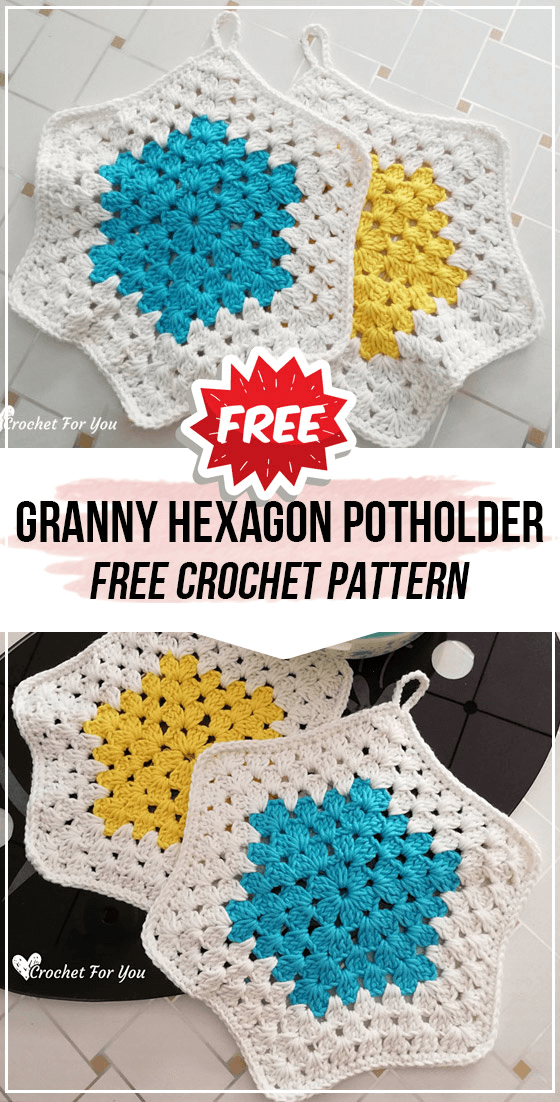 Crochet granny hexagon potholders are beginner-friendly potholders that are easy and fun to make. You can play with multiple colors while crocheting this classic potholder.
18. Crocheted T-Shirt Potholder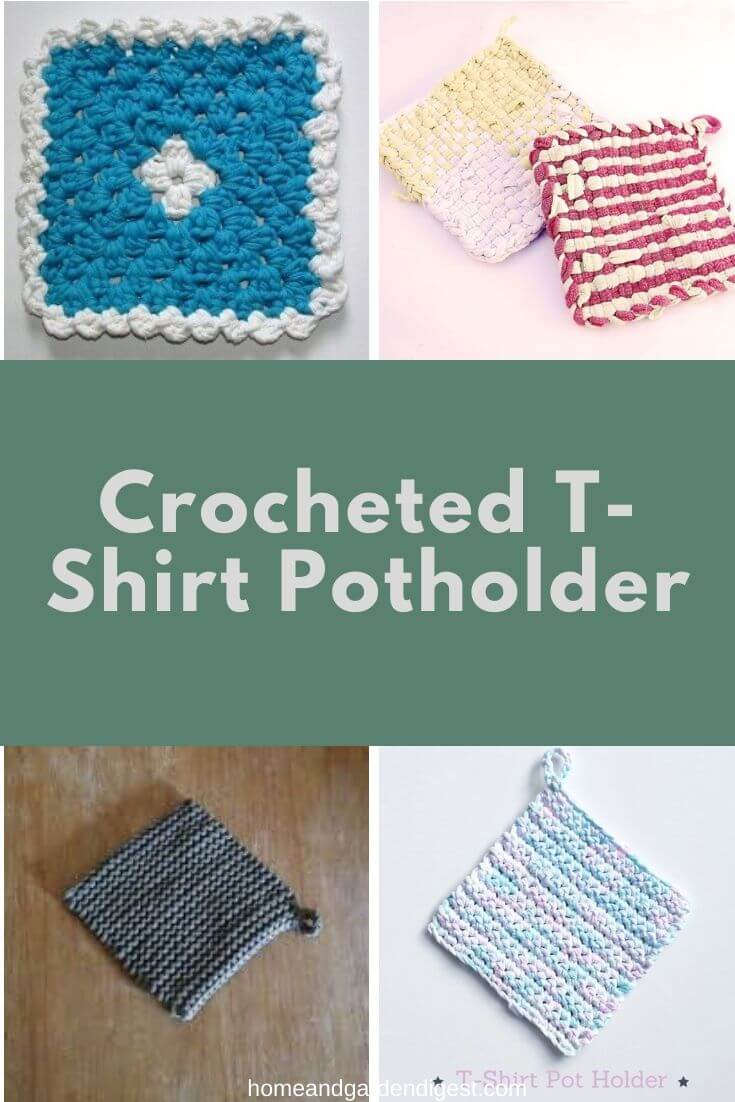 Think out of the yarn box and crochet this simple yet easy t-shirt potholder design. Do some experiments and play with colors because this is a beginner-friendly crochet pattern. Doing something different is always fruitful.
19. Tutti Frutti Potholder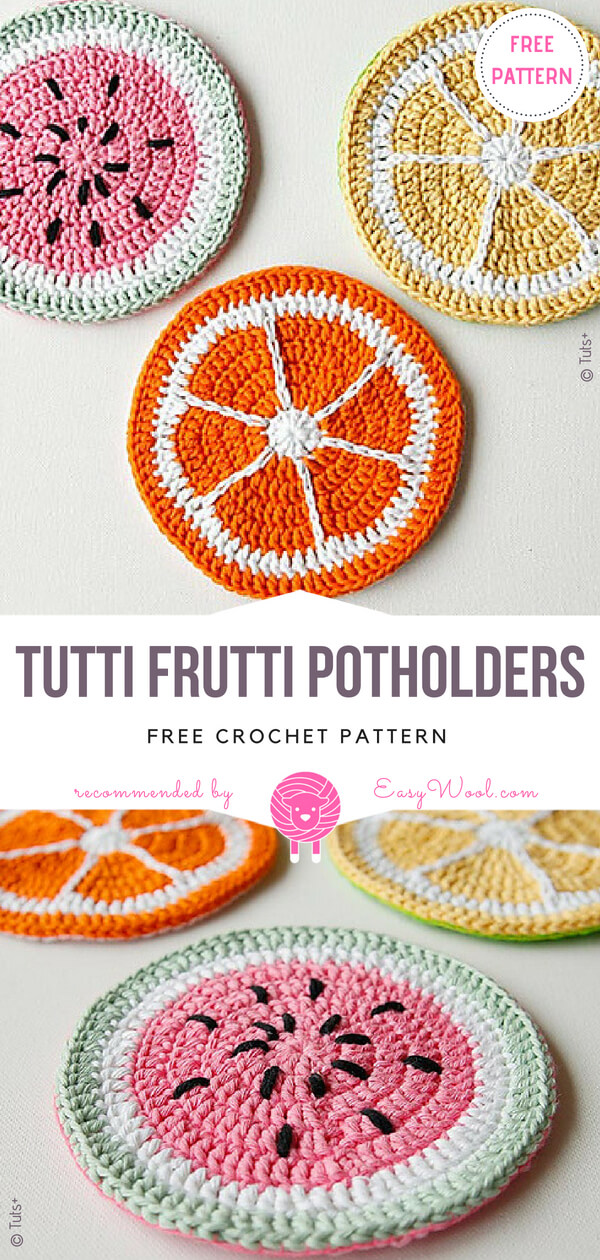 The time of boring potholder patterns is gone! After crocheting these trendy tutti-frutty beauties, you will never look at those plain and boring potholder designs. Add beautiful and bright colors to crochet a charming potholder.
20. Afghan Stitch Kitchen Mat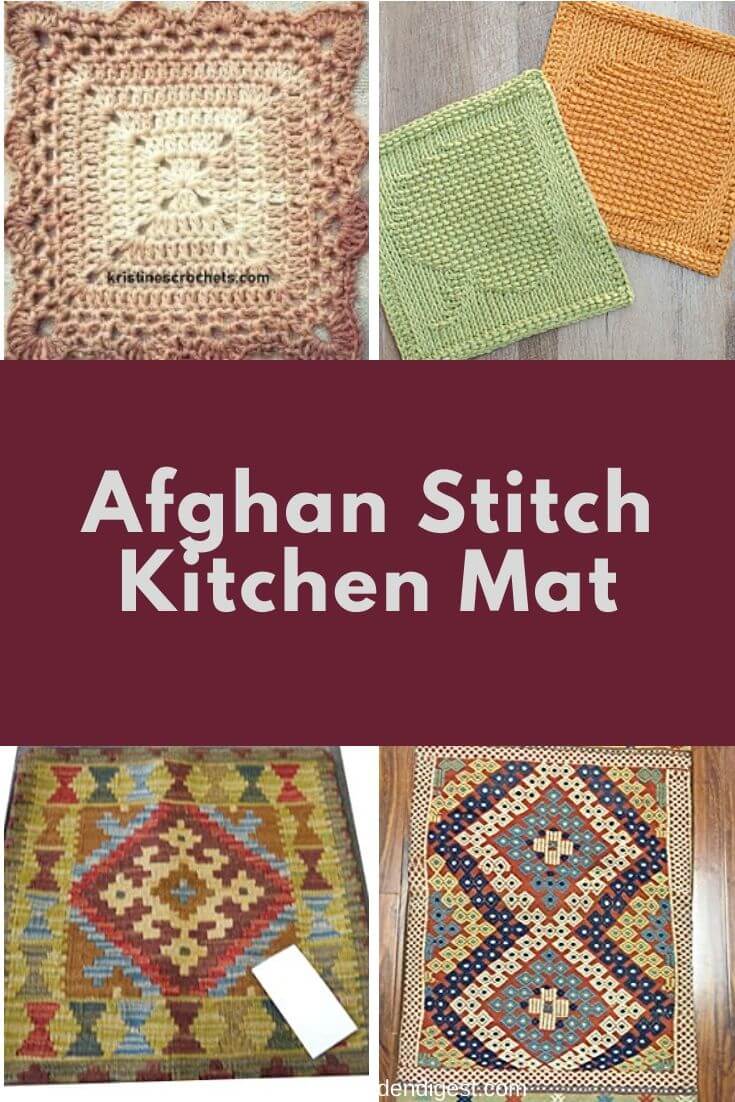 This Afghan stitch kitchen mat can be used for so many things. It can be mainly used as a large potholder on your kitchen counter to help dry dishes. You can use combination of light green and orange yarn to crochet this beautiful Afghani kitchen mat.
Whether you make a crochet coffee mug potholder for a Sunday brunch, or milk and cookies hotpad for breakfast, your family will always have a great time. These crochet pot holder hotpad free patterns are perfect for your kitchen and can be gifted to your special ones.