CROCHET POOFS & OTTOMAN FREE PATTERN
Introduction 
Are you interested in having handmade seats? Having a more comfortable seat beside your coach, a seat you can carry with you anywhere you go. A good seat to have you rest your feet, head whenever you are resting in your home, can serve as side tables in your home. Having a washable when you attach the zipper or button. There are modern and elegant poofs and ottoman crochets that are existing and you can make one with a properly followed pattern.  
20 crochet poofs & ottoman patterns 
1. Argyle Bean Bag Ottoman.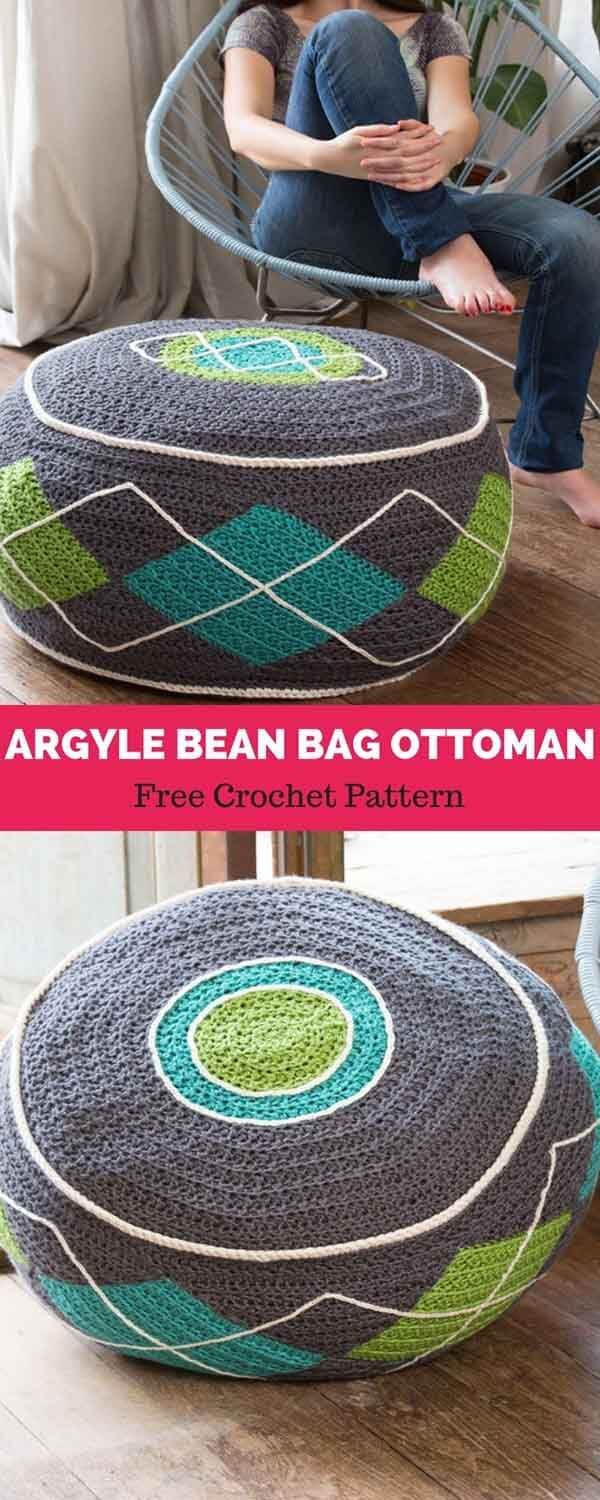 With this, you can carry it anywhere with you, used to rest your feet, used as an extra seat. It is designed with many colors and beautiful patterns, making it suitable for all living room and playground. You can make your crochet depending on your design, texture, and style.
2. MJ's Textured Floor Pouf.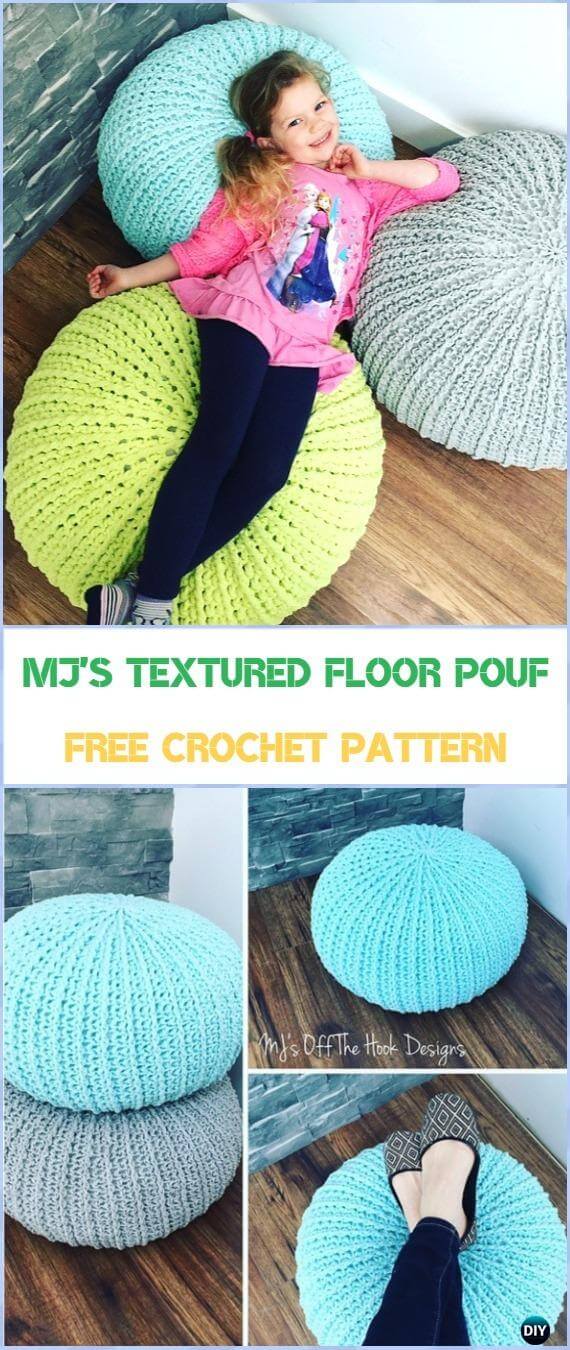 Made simple and decorated with many colors, you can sew your crochet depending on your test. It has easy patterns that can be easily followed since it is simple to make crochet. With its comfortable state, you can use it at your home as a rest food, a pillow and also join them to make a simple crochet bed.
3. Crochet No Hole Pouf pattern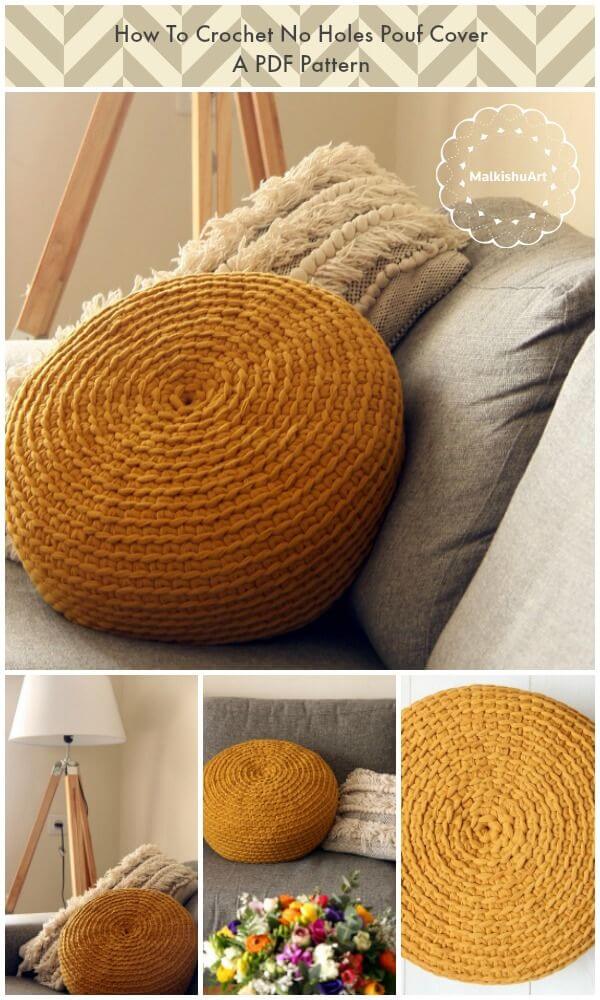 When you don't want to make crochet that is with holes, you will want to make this crochet. Designed without holes that are made when using thick fabric such as T-shirt yarn. These crochets can be used inside the house as seats, rest foot or even used as pillows
4. Floor Pillow Pouf Ottoman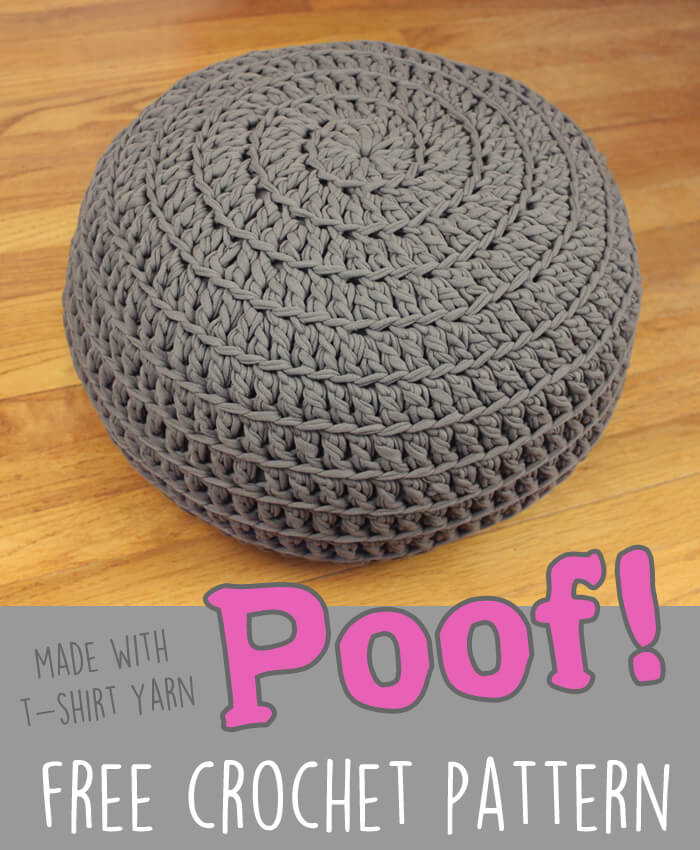 If you want the best for your living room, using the floor spaces in your home, then the cozy flour pouf is the best collection for you. Coming handy in a variety of colors and designs. Using the cotton yarn when making this pouf is the best.
5. Stylish Pouf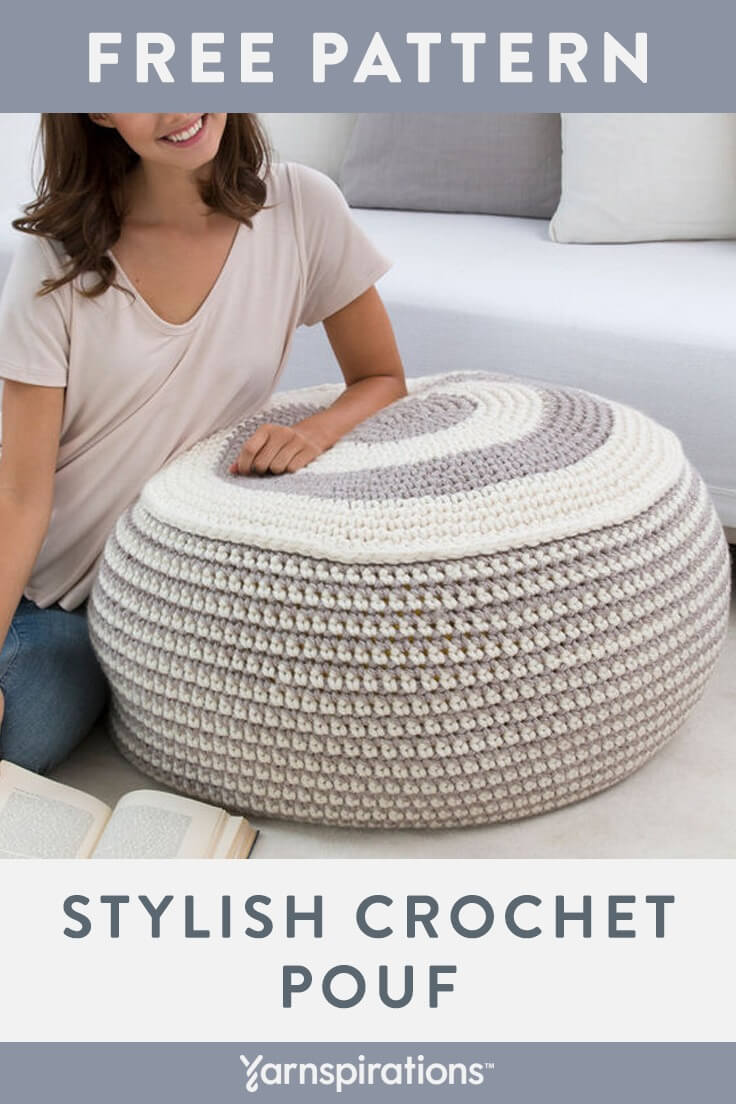 Is that person who likes leaning on something when seated at home? Then this is the best pouf for you. It is comfortably made crochet, stuffed by a child's bean bag chair to make it more comfortable. It is easy for a beginner who wants to make this crochet.
6. Sitting Bag/Pouf.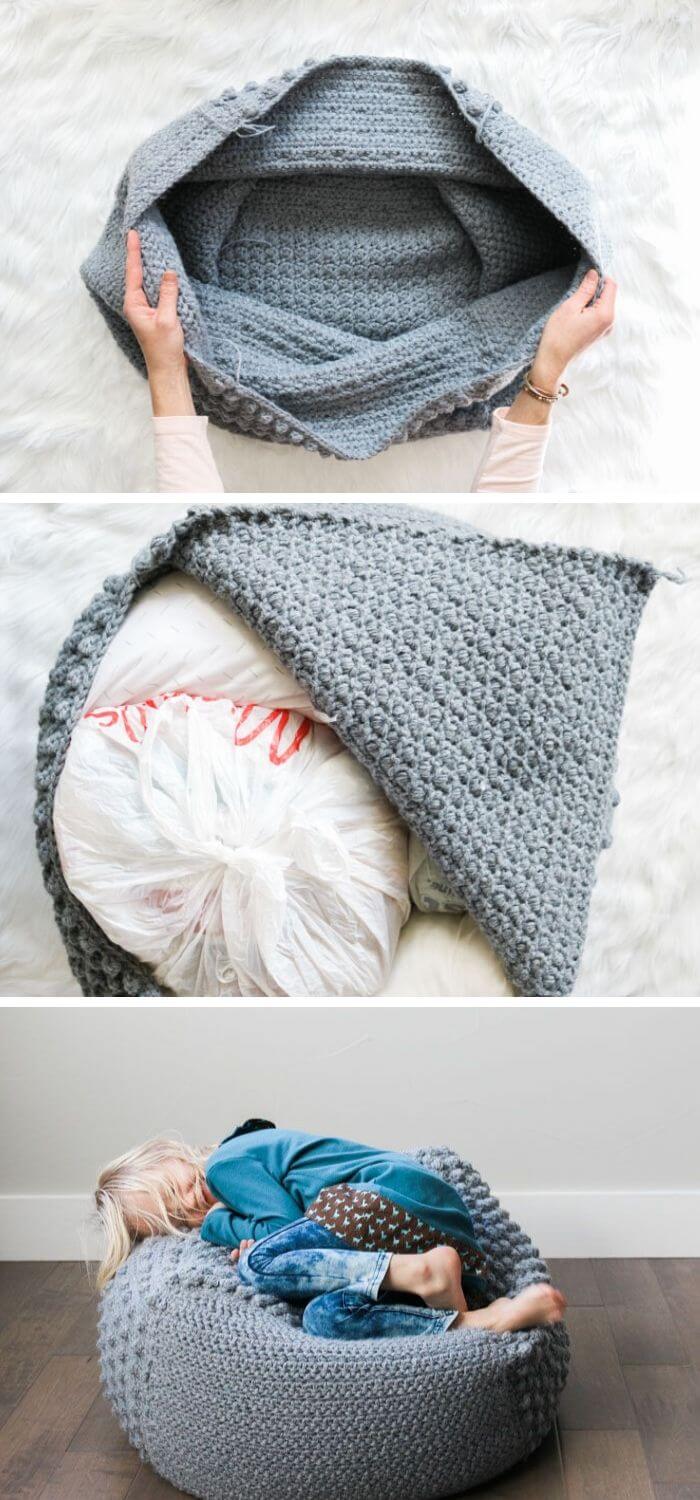 This simple crochet comprises of six simple squares with six different stitches, stuffed with inexpensive household items to create a high-end looking piece of DIY furniture. It lets you build your skills while making your functional furniture.
7. Crochet Flour Pouf.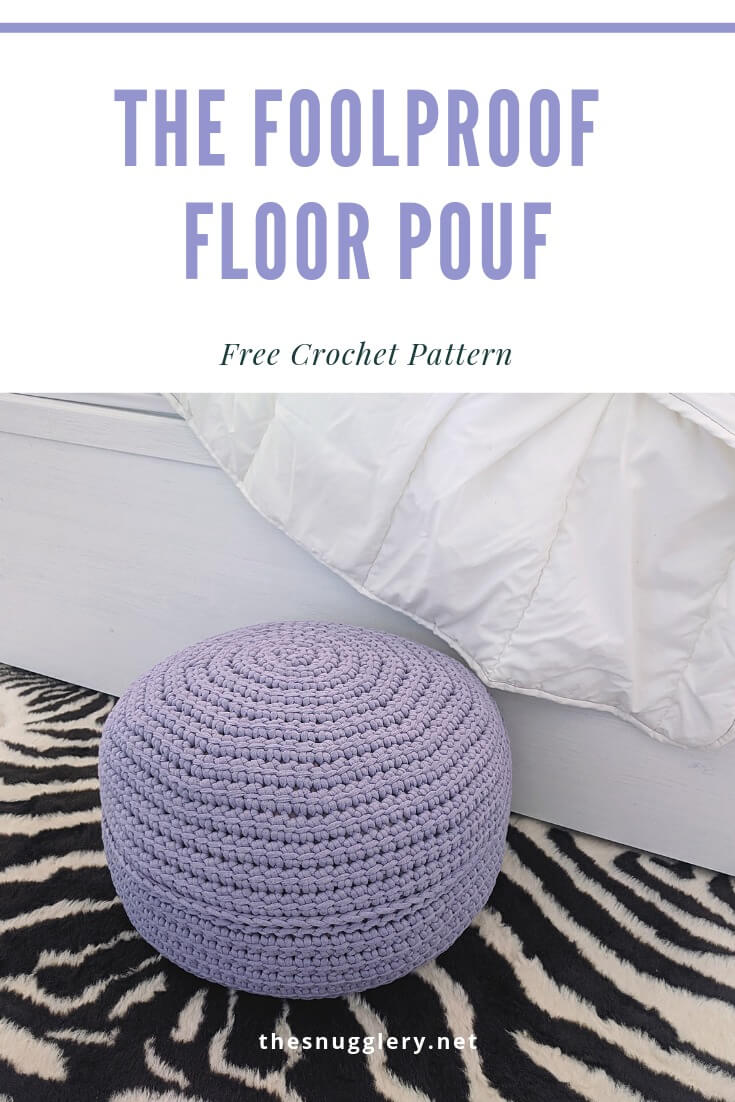 This is pretty quick and easy crochet to make, having the same pattern as the ones for hat crochet and most of its stitches are simple a beginner can learn and follow to make this crochet. It varies in design and color.
8. Sugar High Donut Pouf

They are perfectly crocheted poufs for a living room decoration. They are made with astonishing colors making them bright and are made with simple patterns. The skill level for one to crochet this is intermediate, it has some patterns that may be difficult to follow a make one good looking crochet.
9. Crochet Pumpkin Pouf 
This is a cute piece of décor and a great project to add to your home and your crochet projects. Yarn that is used is the 4 skeins of Bernat Blanket yarn, it has a smooth texture making the crochet simple and comfortable. 
10. Crochet Apple A Day Pouf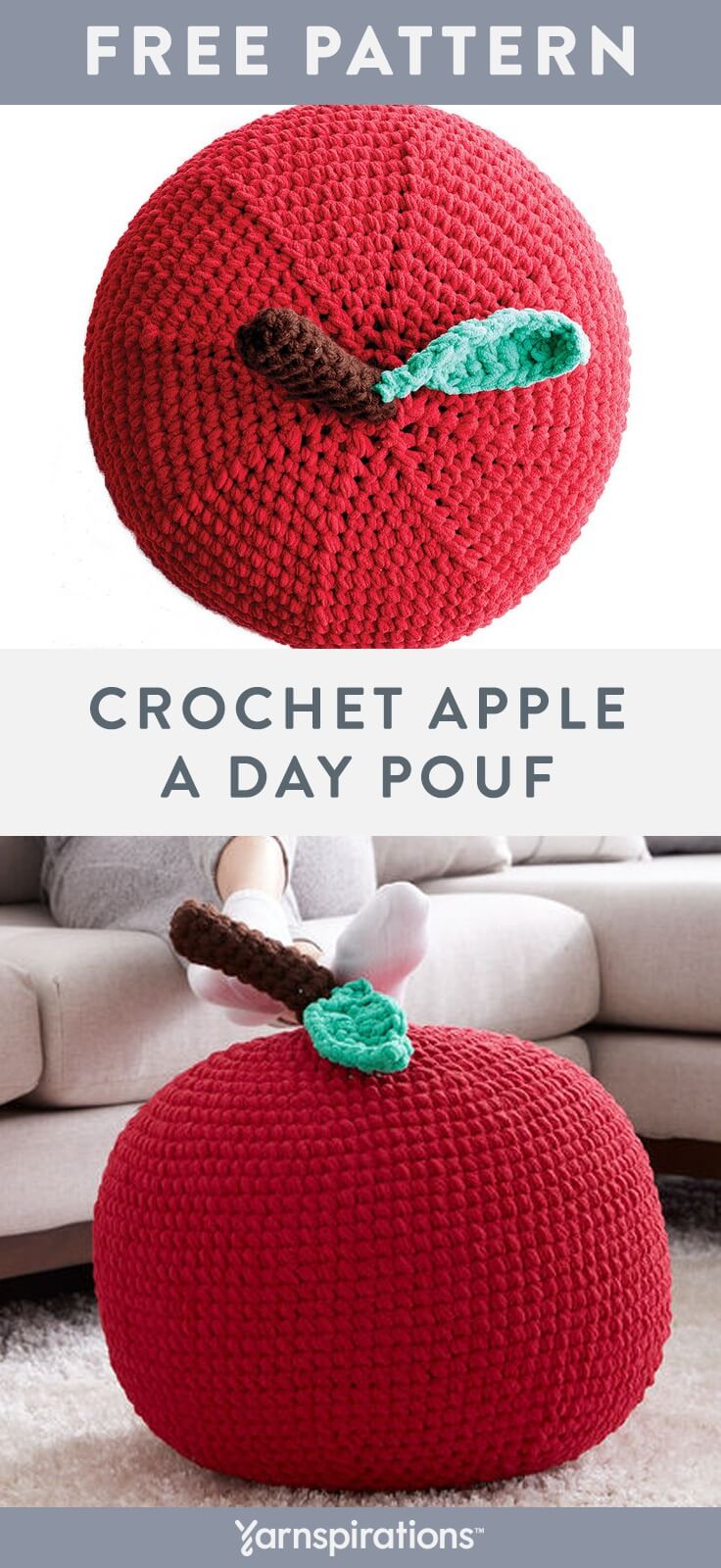 This is an easy to make crochet, made in Bernat Blanket, thus making it more comfortable, soft and a good place to rest your foot and lean on.
11. Stash Busting Monster pouf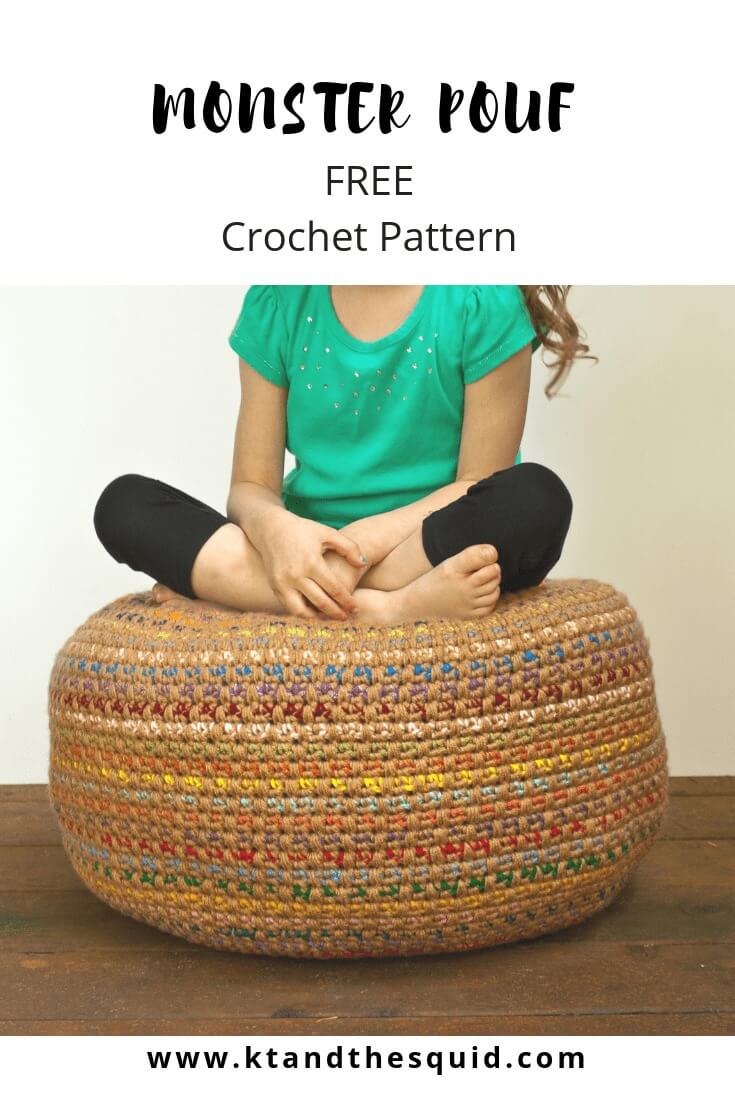 The Monster pouf is the best place for kids to sit on, they are super comfortable. They can also be used as a dog bed or can even be used as a pillow. Its pattern is well-knitted, making it more comfortable and the yarn used making it soft and comfy.
12. The Sample Pouf Bean Bag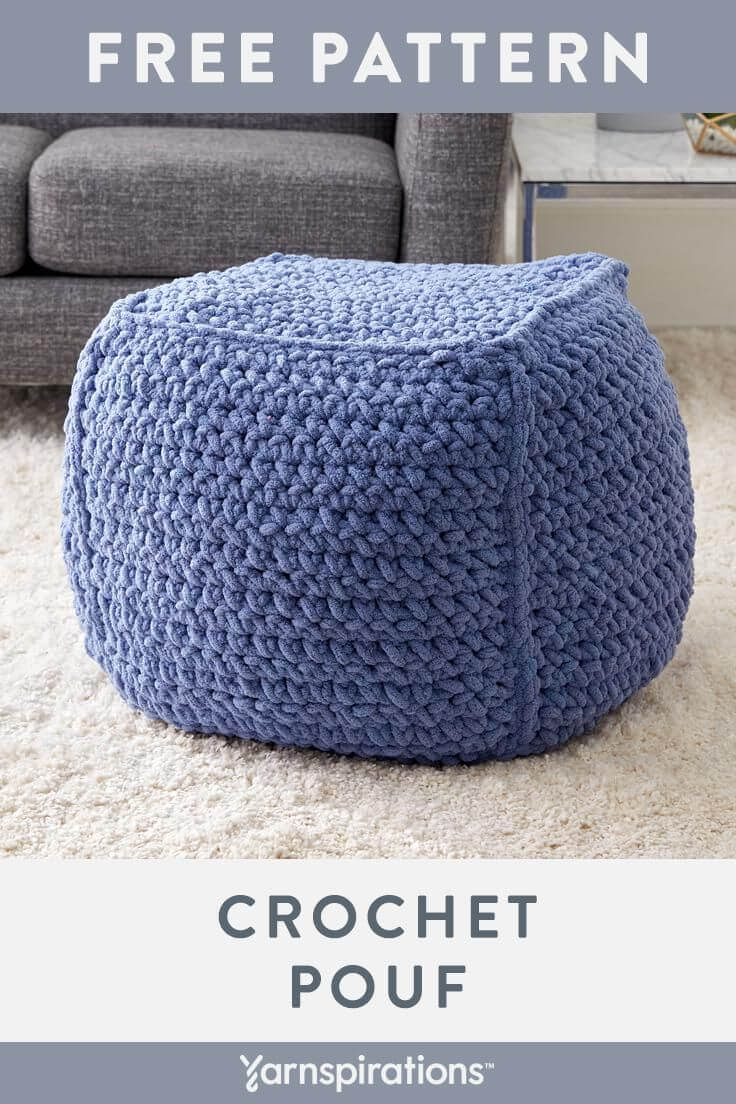 For those who are interested in learning how to make a pouf ottoman, then this is the right over-sized crochet to make. It works as a side table, ottoman or even a bean bag chair.
13. Granny Square Ottoman Cover.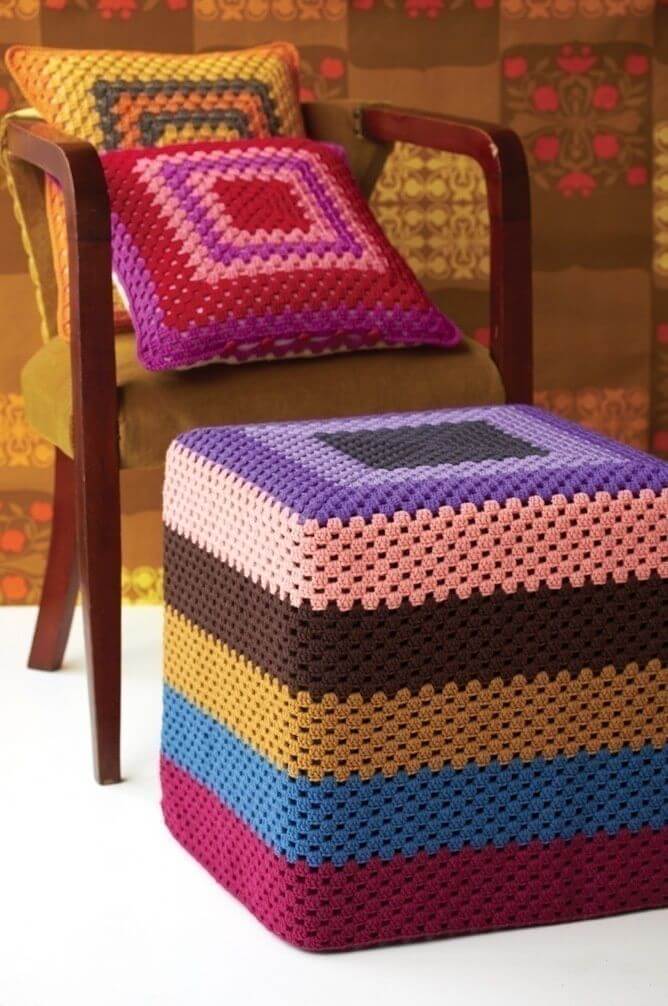 This crochet is designed to take a square shape, made with beautiful colors in a different design. This crochet can be used to cover outdated, worn-out, or wrong-color ottoman in your choice of color using this crochet. 
14. Motif Ottoman Cover.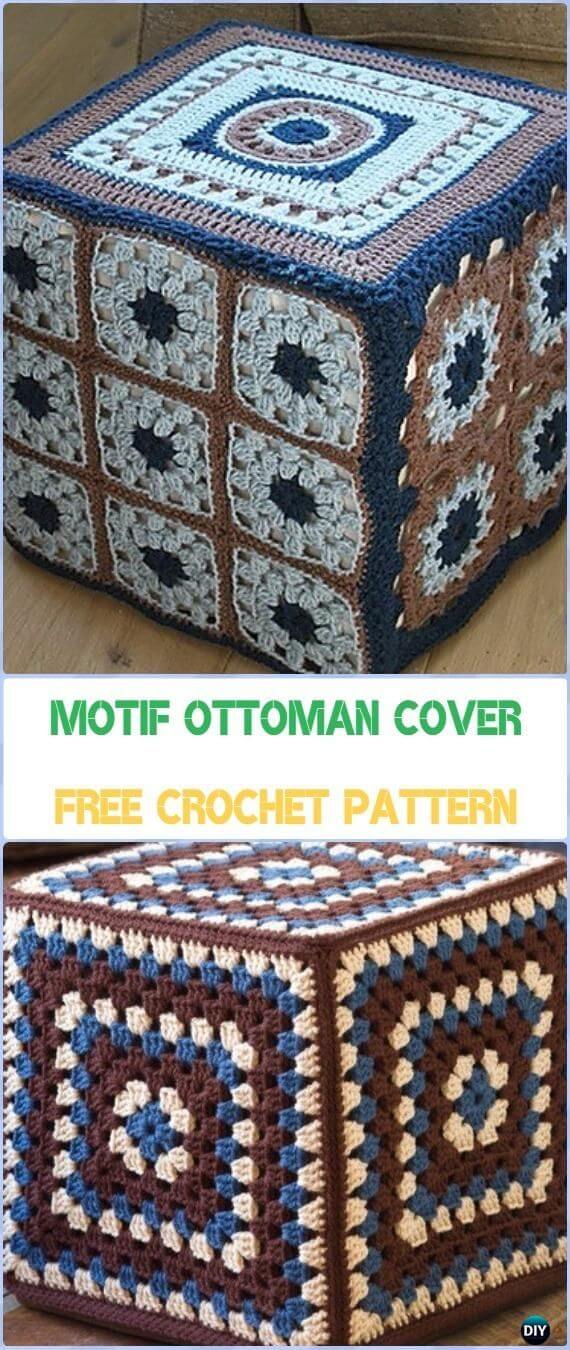 Have old crochet, this is the best crochet for you to cover the old crochet, it has a variety of designs and each design has its style of color, making it more beautiful. You not only add glamour and warmth to your home but also add a splash of color, matching with your home décor. This is the best way to keep your furniture stain-free.
15. Crocheted Pouf.
The most interesting thing about the=is pouf is that it is easy and quick with loads of texture, having used the Bernat Chunky Cotton yarn, used to give this pouf a nice, stiff rope-like texture. This pouf is worked on using 2 strands of bulky yarn held together.
16. Hexagon Blues Ottoman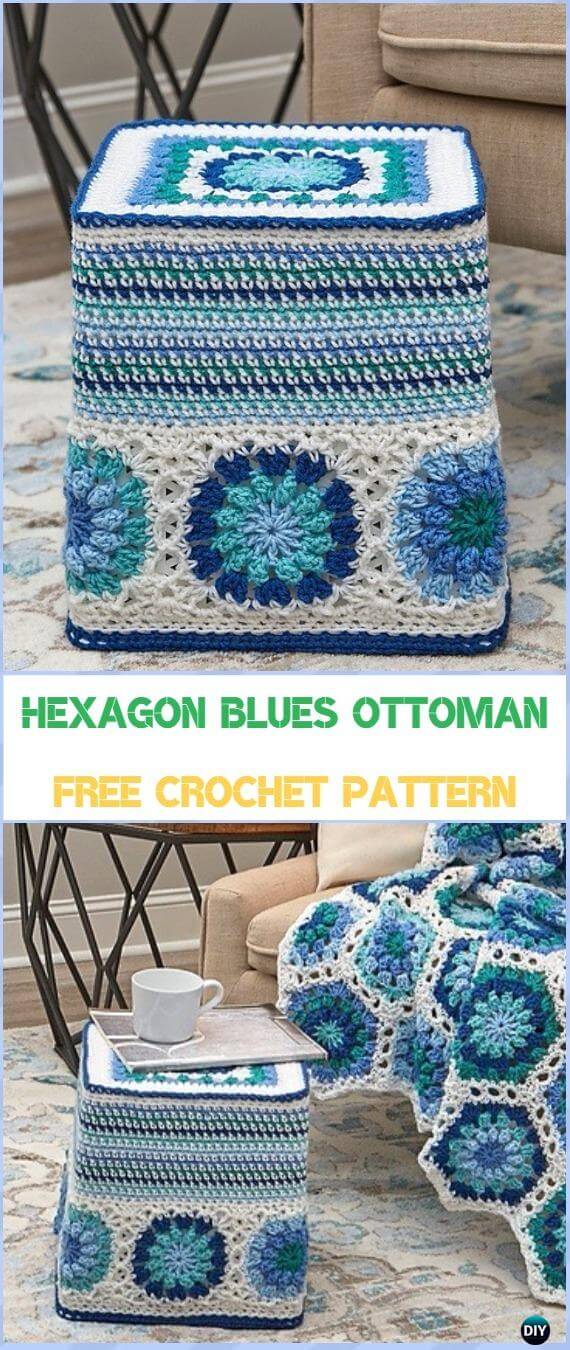 This is easy to make ottoman with the best design and style making it have a wide, wonderful range of colors that allows your favorite shades for this ottoman.
17. Sweetie Pouf.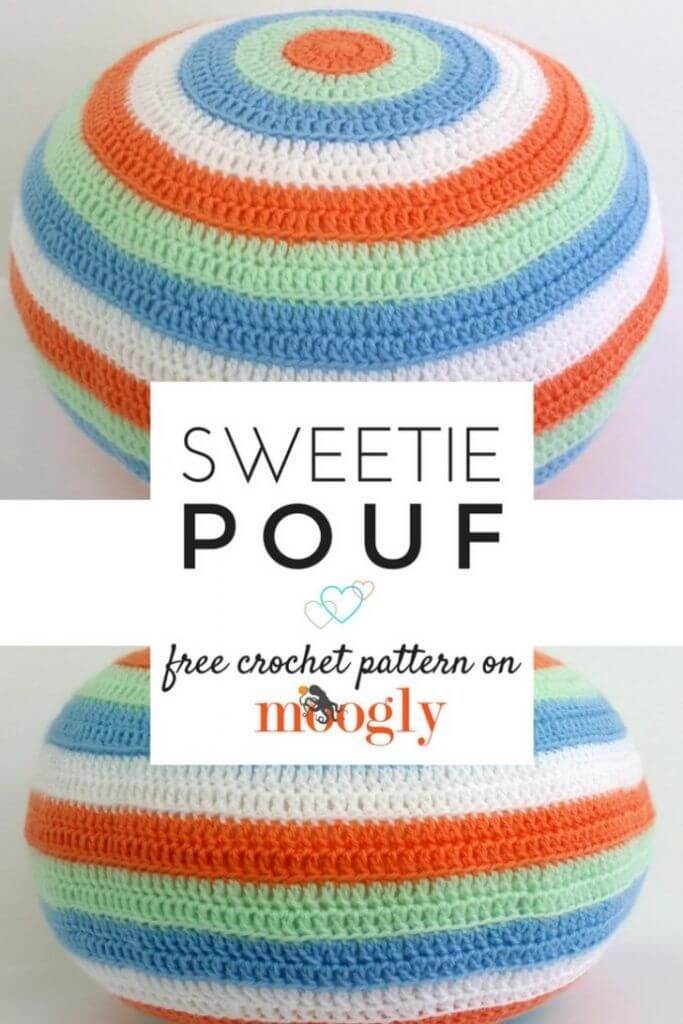 Designed to match in every room and also made especially for toddlers to play around with it. What is making it stand out from the crowd is that it is designed to match the Striped Summer Body Hoodie.
18. Toadstool pouf.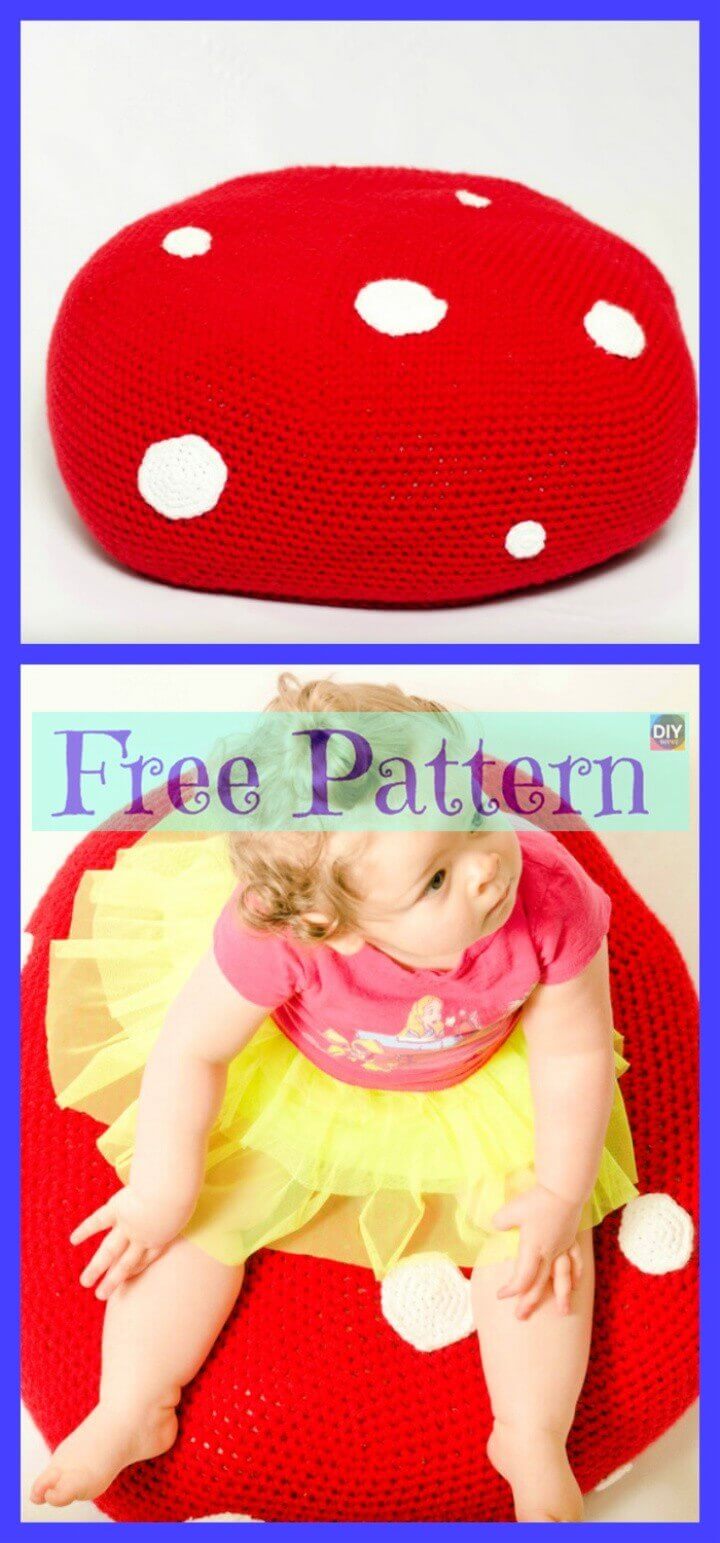 Made for young kids, they are simple projects that are appropriate for beginners. It has simple steps that make it simple to follow and make crochet.
19. Spiral Flour Pouf.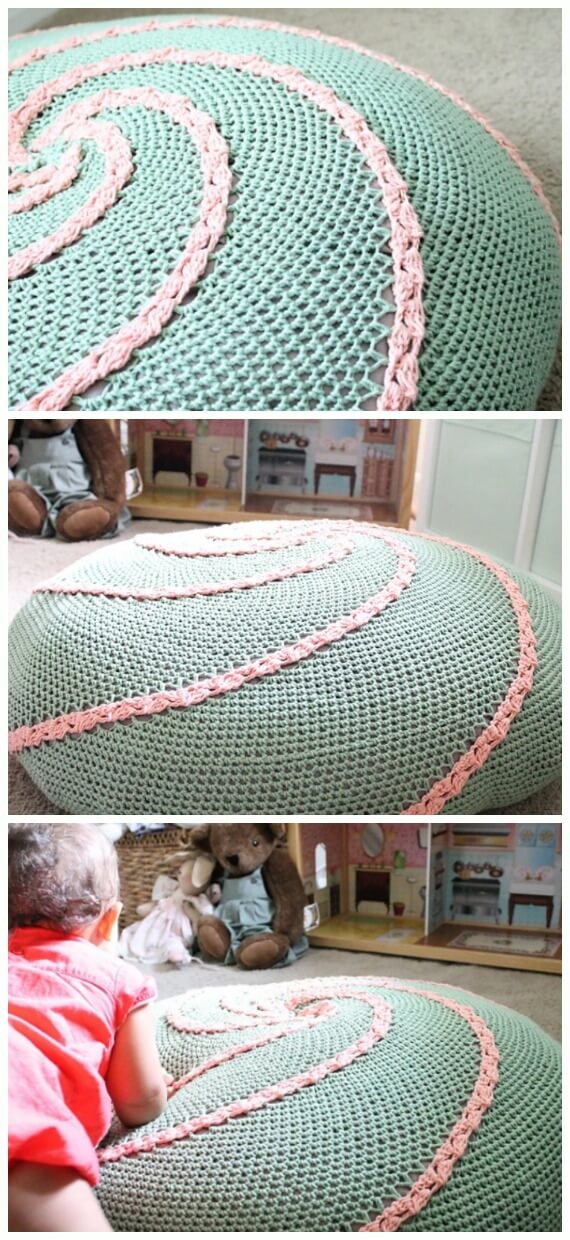 This is the best pouf for your little ones to relax since it serves as a comfy spot. It's a creative project you should try and make for your kid.
20. Pouf of Many Colors.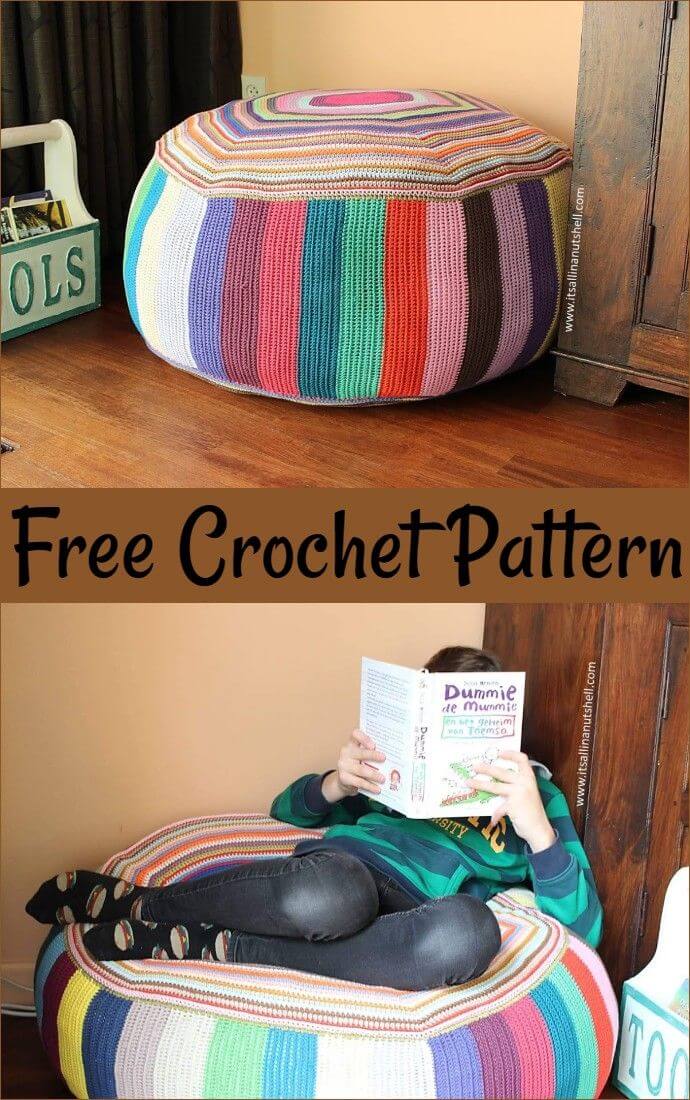 It is made with many astonishing colors and designs that are making stand out from the rest. It is an ideal project to give old blankets and pillows a new purpose.
Conclusion
If you want to make your living room décor and a spending design then you will choose which pouf best suits your living room.