Crochet Plant Pot Cosy Cover Free Pattern
With these crochet pot cover ideas, you can make old or cheap pots look like a million dollars. By combining the right colours, textures and styles, you can breath new life into those dull and boring spaces in and around your home. The cosy slides over the existing pot, so you do not have to go through all the extra effort to repot a plant and also don't risk losing your favourite plant by disturbing the roots, replanting. Redecorating is made easy by these marvellous designs. Have fun creating indoor gardens, hanging gardens and garden focal points by plying around with pot sizes etc. 
1. Pot Cozy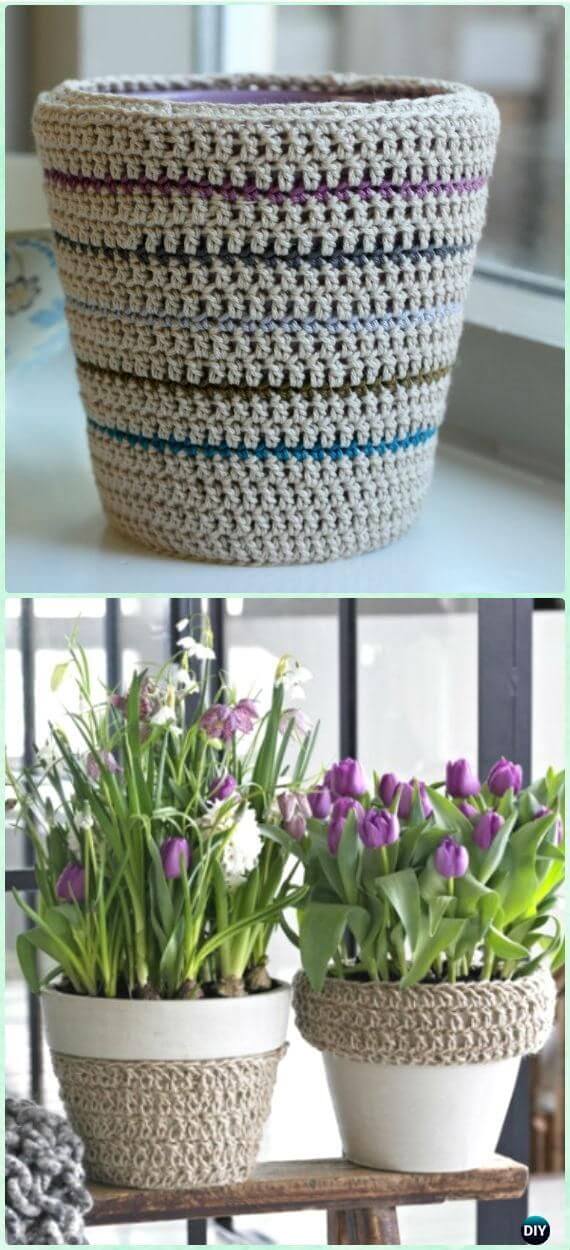 This pot cosy design is for containers with a base of ten cm and a top 14 cm. You can easily adjust this to fit any pot size by the number of stitches you use. This cosy is a lovely neutral colour so its great for any colour scheme.
2. Shell top cosy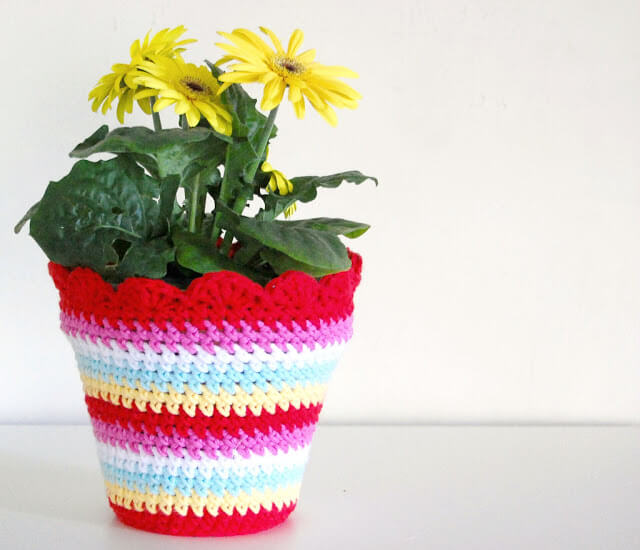 This design is excellent for breaking a space on a shelf, table or windowsill. The knitted texture helps it to fit into surroundings easily, remember to choose the correct colour scheme for the area selected.
3. Planting seeds flower pot cosy and card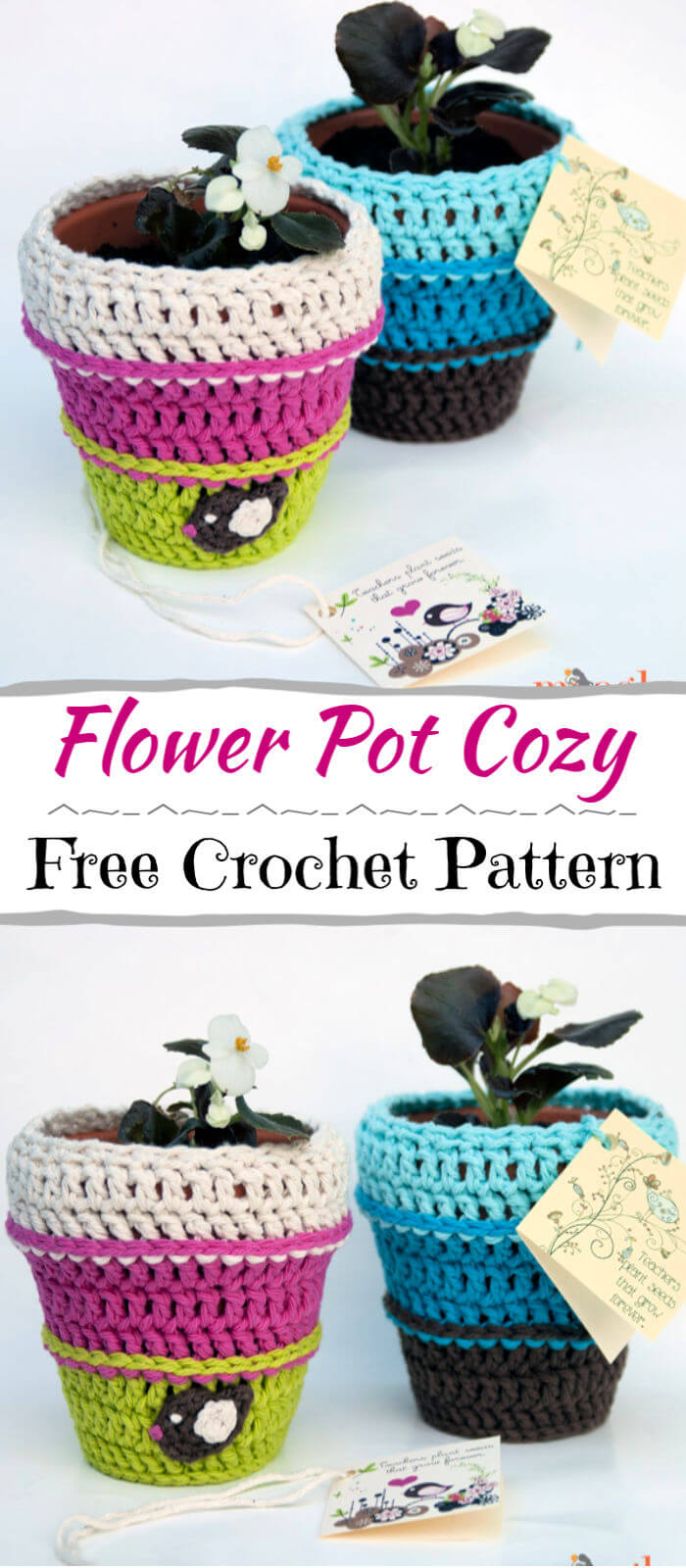 Personalise your pot plant gift by adding this pot cosy, making your gift unique. There is nothing more thoughtful than giving someone a handmade gift; it just increases the sentimental value to the gift significantly.
4. An old jean pot cosy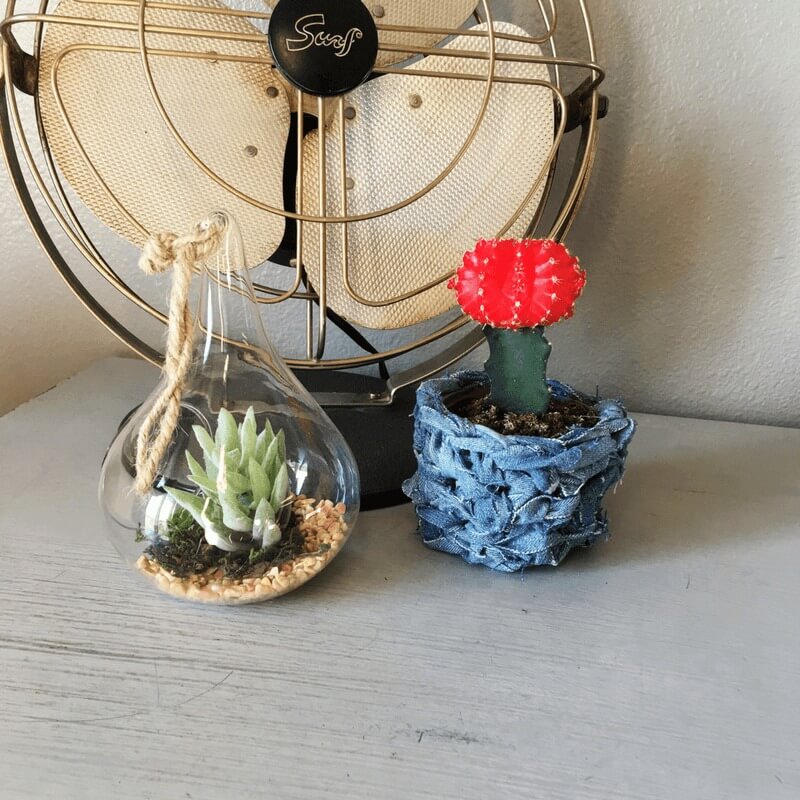 You do not always have to throw old jeans or other clothing; you can always give them new life by the process of upcycling. This cosy is just one of many upcycling projects available to help reduce man's pollution footprint.
5. Red heart tapestry flower pot cosy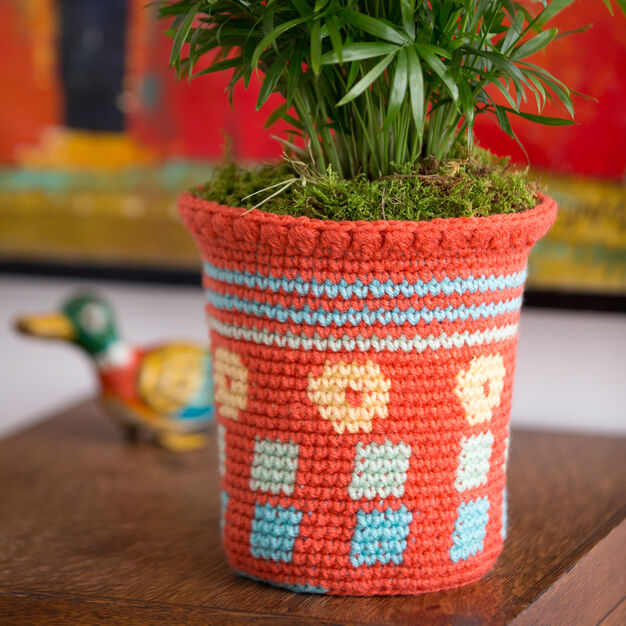 The tapestry art form was invented 300 B.C. by the Greeks; this should speak to the timelessness of this design. Still beautiful through all the ages.
6. Picket fence hanging cosy
Picket fence cosies are the ideal way to maximise gardening space, while also significantly adding to the aesthetic composition of your fence. Everybody wants a white picket fence; I say why not have a living picket fence 
7. Flowerpot hanging basket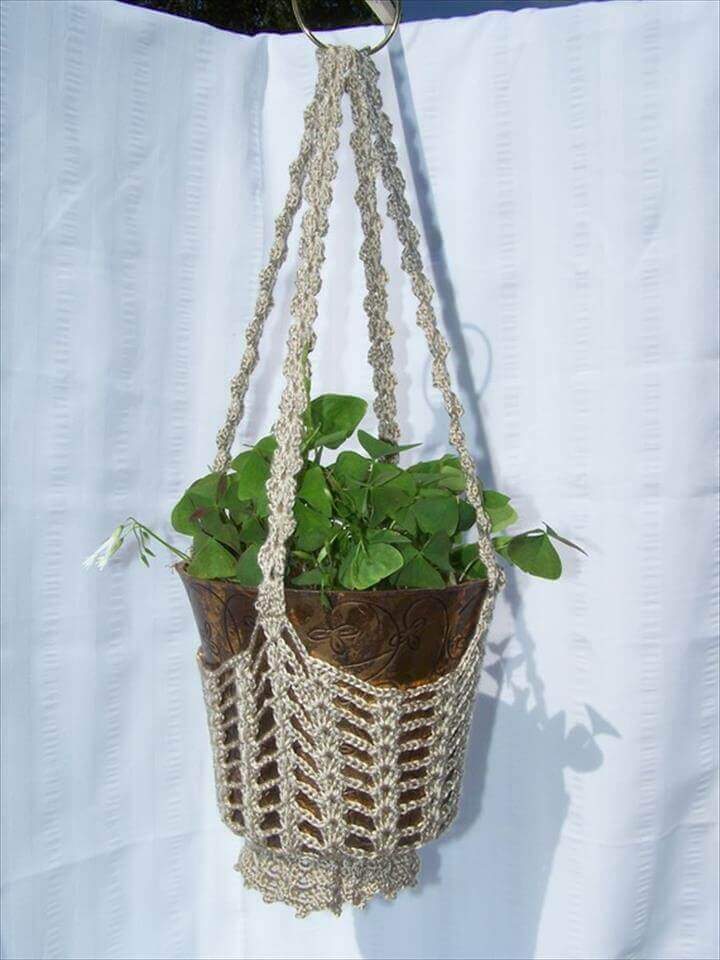 The perfect focal point for the centre of a room or patio, plant choice is essential when designing your space with a hanging basket. Choose a plant with long hanging leaves for maximum effect.
8. Pot plant cover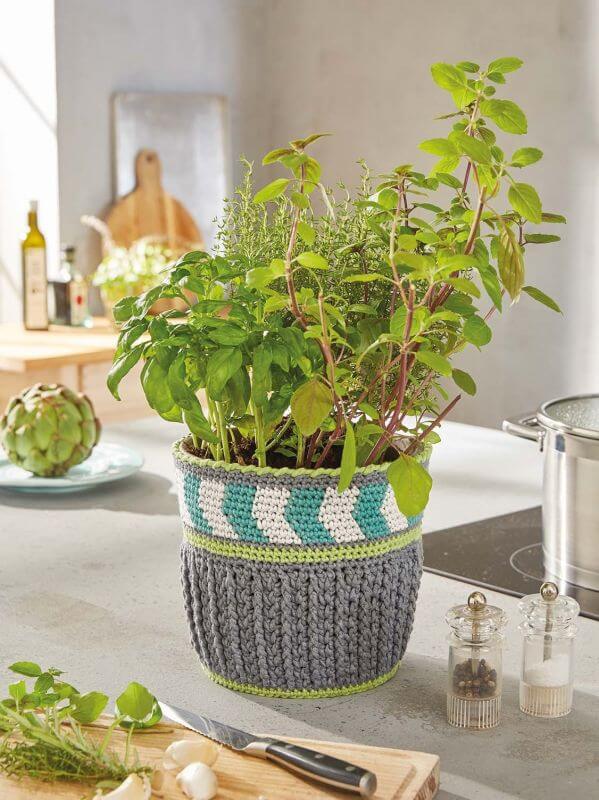 This tri-colour is the perfect balance between neutral colours, Shades and bright colours to obtain maximum effect. This eye-catching design will draw attention to the area you want to accentuate.
9. Dual Pot cosies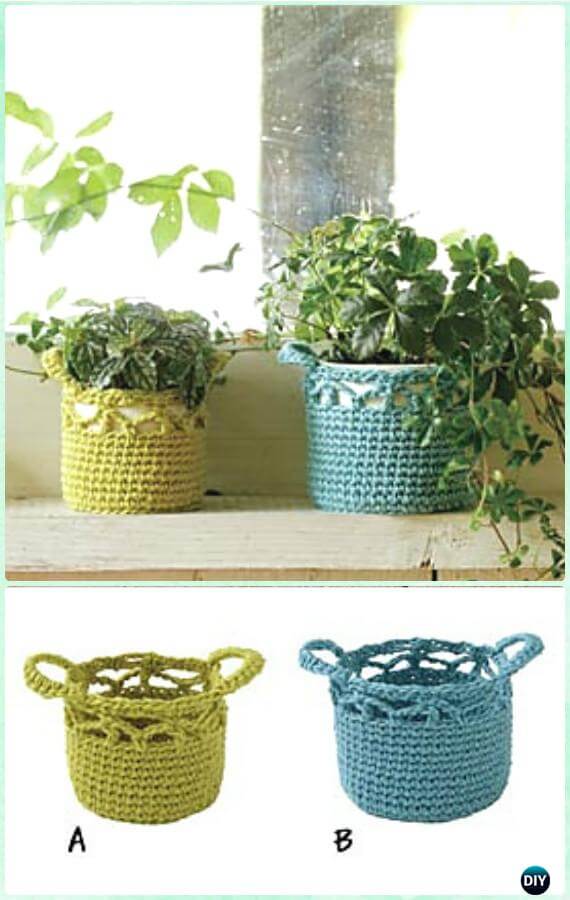 These pot cosies come in two sizes, helping you to create layers in your design. The handles on the cosy make for easy moving of your pots, without disturbing your plant. 
10. Multi colour pot cosies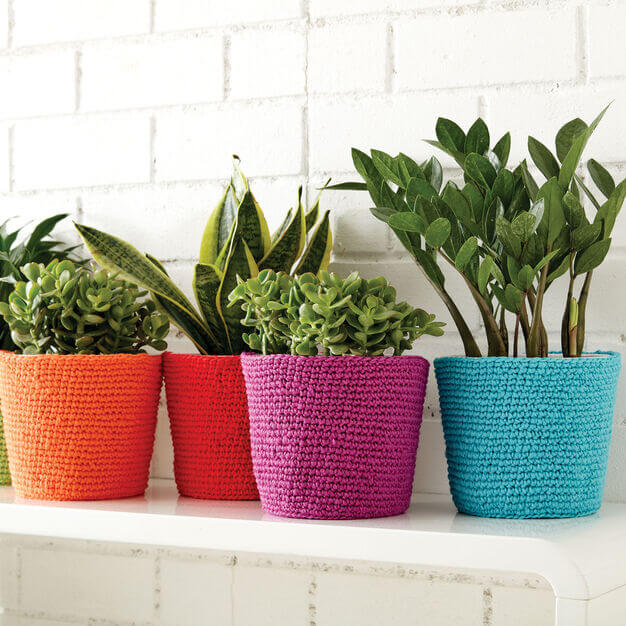 Combining colours can make for effect when it comes to designing a specific area. Choosing a durable material is of cardinal importance to improve your cosy's lifespan.
11. Ribbed basket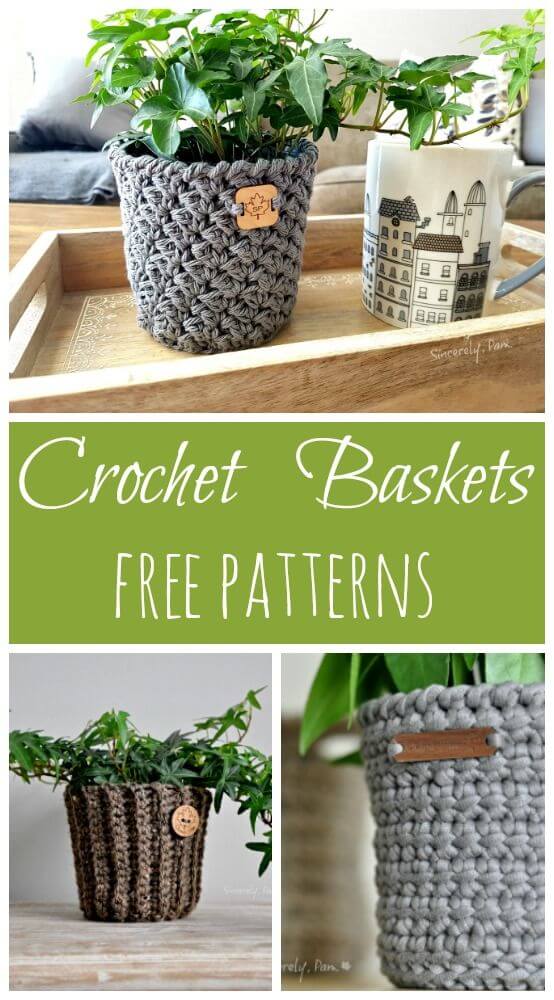 This design is oozing character, and it has all the elements necessary; even with the brown colour, it is far from boring. It can fit into almost any colour scheme, keep the plant choice to greenery rather than colourfull flowers.
12. Crochet or knit flowerpot cosy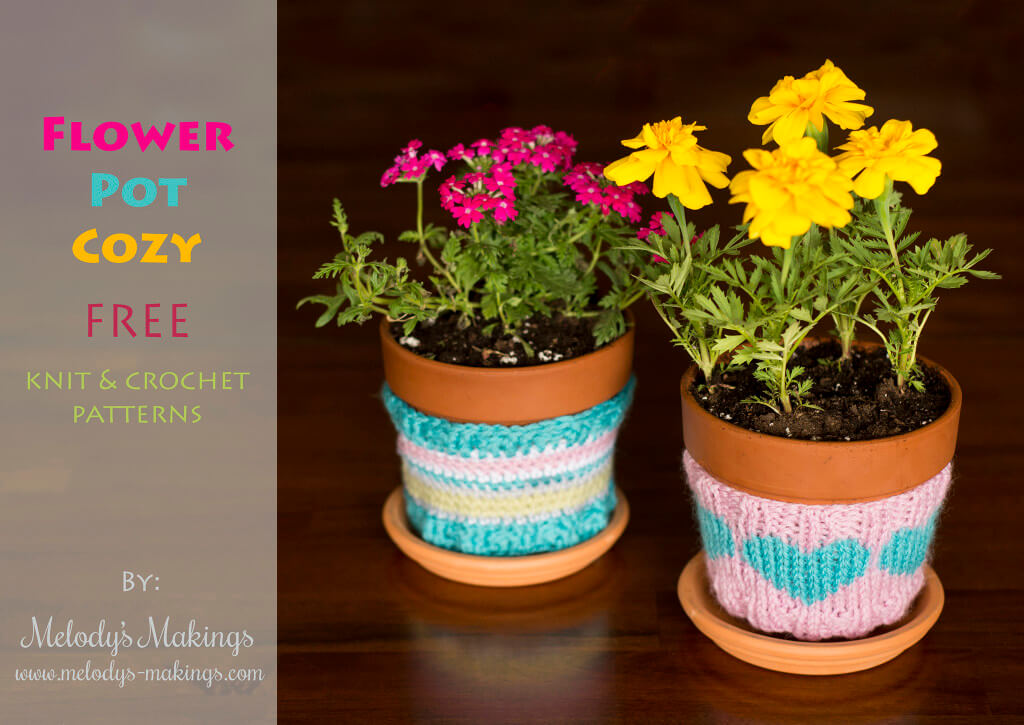 Even pretty ceramic pots can sometimes do with a little bit of help. What I like about this design is the fact that it doesn't completely disguise the ceramic; instead, it enhances its natural beauty.
13. Tassled hanging basket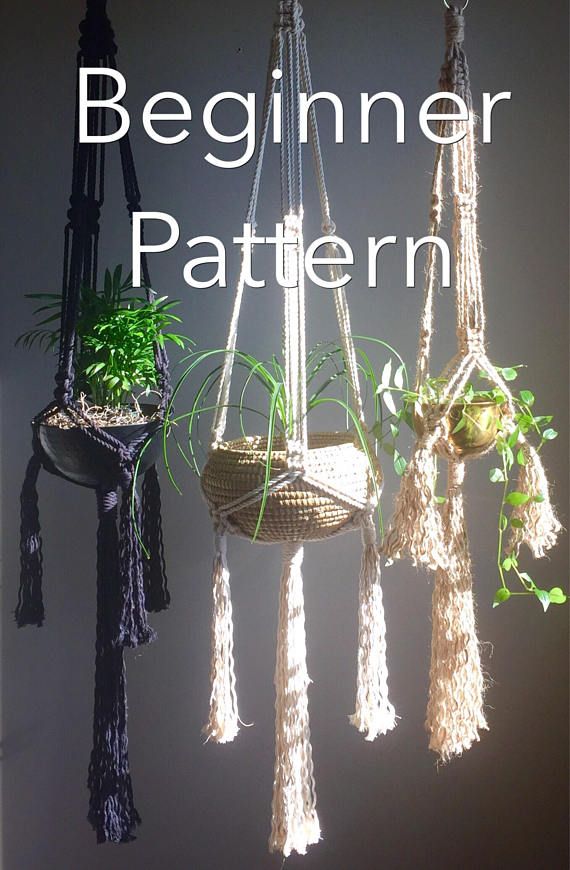 Another brilliant hanging basket idea, creating planting space out of thin air. This basket, however, has design elements in itself, so it makes even the plainest plan pop.
14. Beginner potplant cover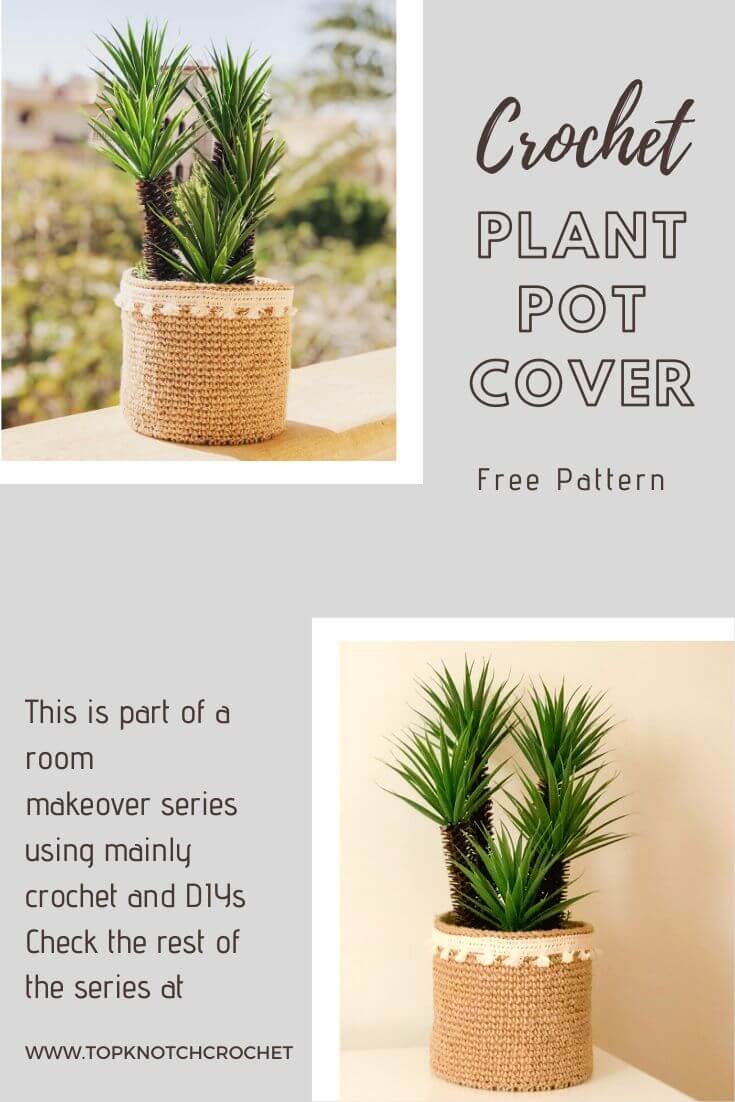 This design is an easy crochet project that anyone can attempt and pull-off with great ease. The Neutrality of the colours involved makes it suitable for any room.
15. Tiered air plant holder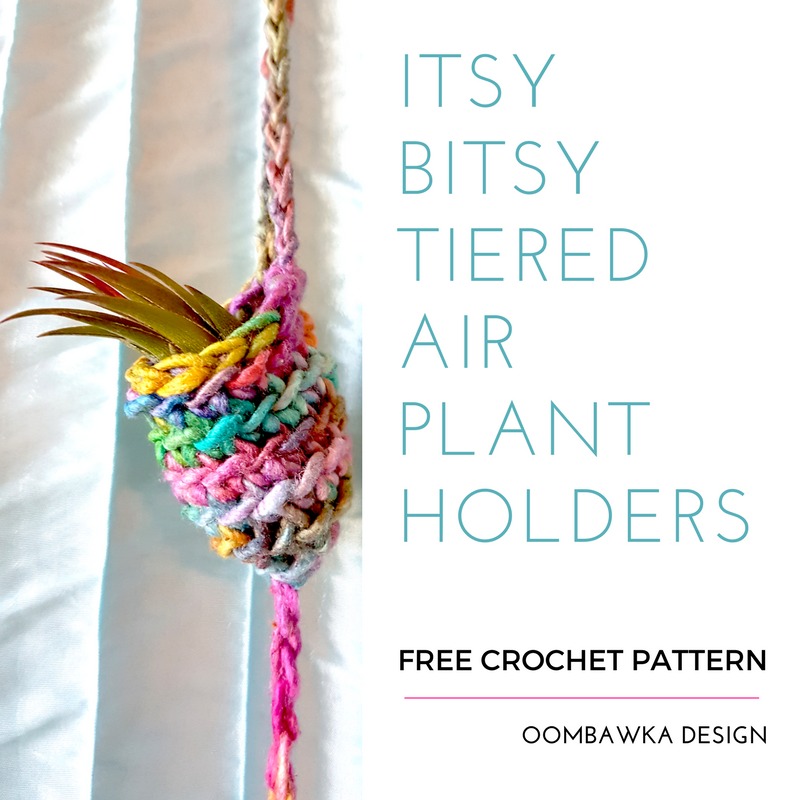 Even though the description is for an air plant holder, it can just as easily accommodate herbs. Plant different fresh herbs in each tier and hang it in your kitchen, close to the window,  you will always have fresh herbs while you are cooking.
16. Air plant jelly fish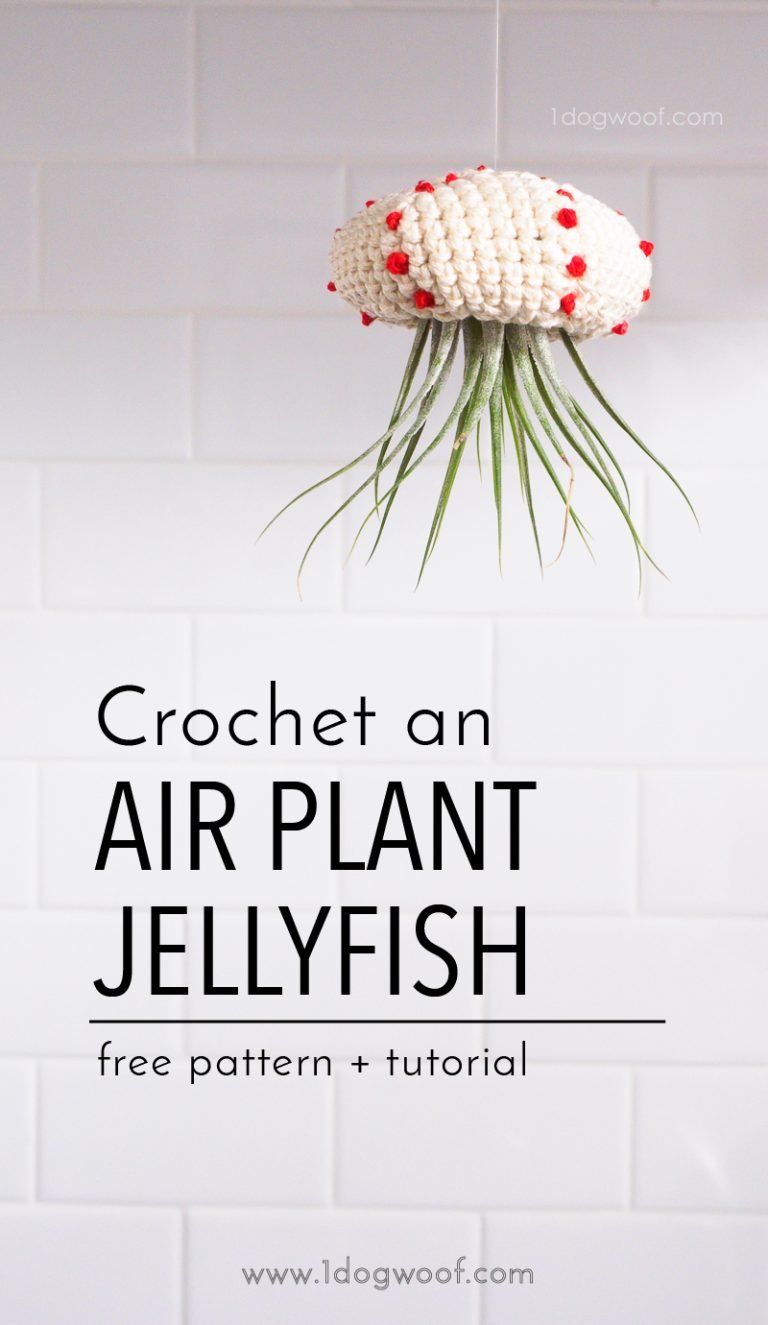 Airplants usually take moisture out of the air to be able to sustain their roots, when choosing your material, make sure that it can retain moisture. Air plants don't need soil, so this can be hung upside down.
17. Succulent Pumpkin planter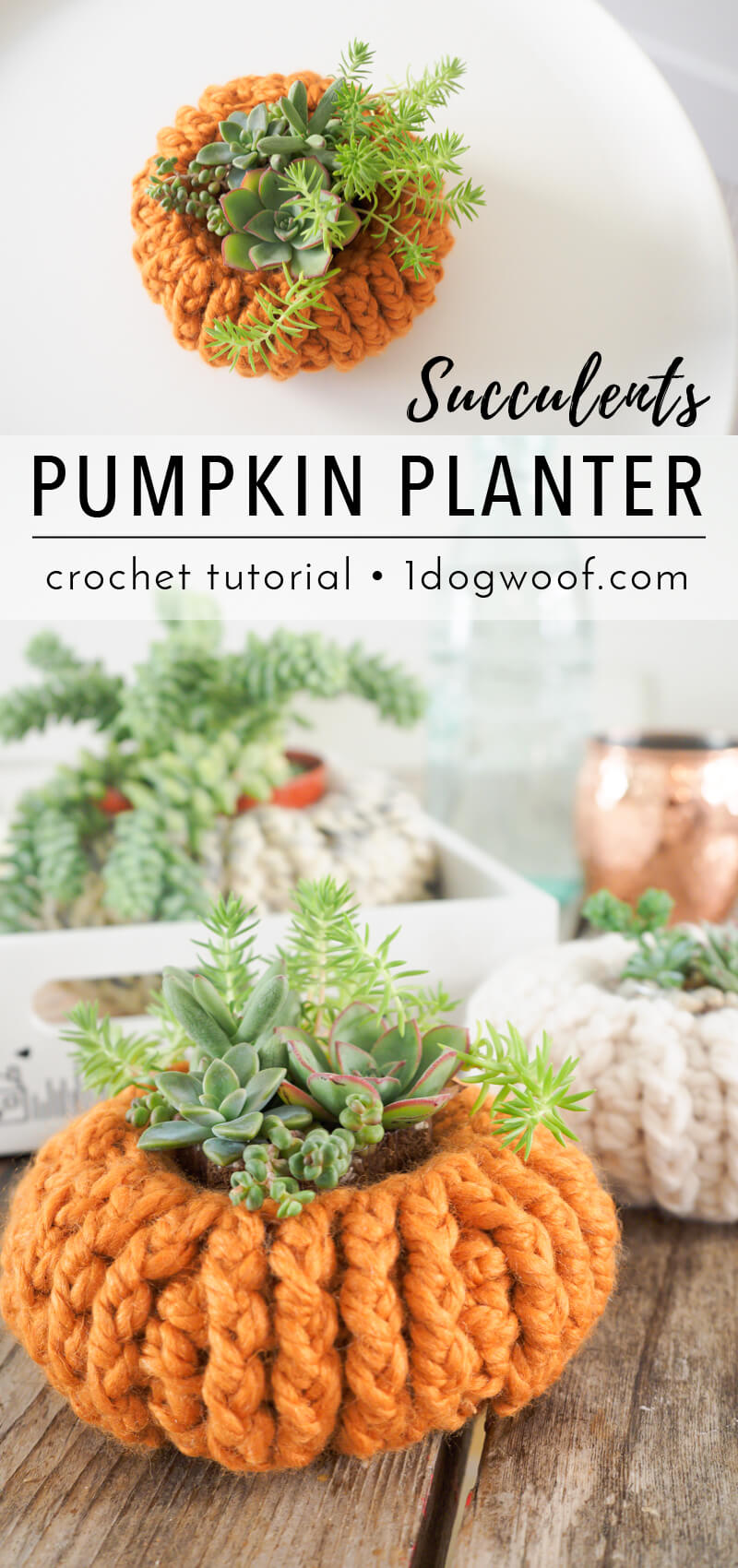 What a smart idea for creating your little succulent garden, remember to combine two or three different species gives it that something extra.
18. Chunky plant pot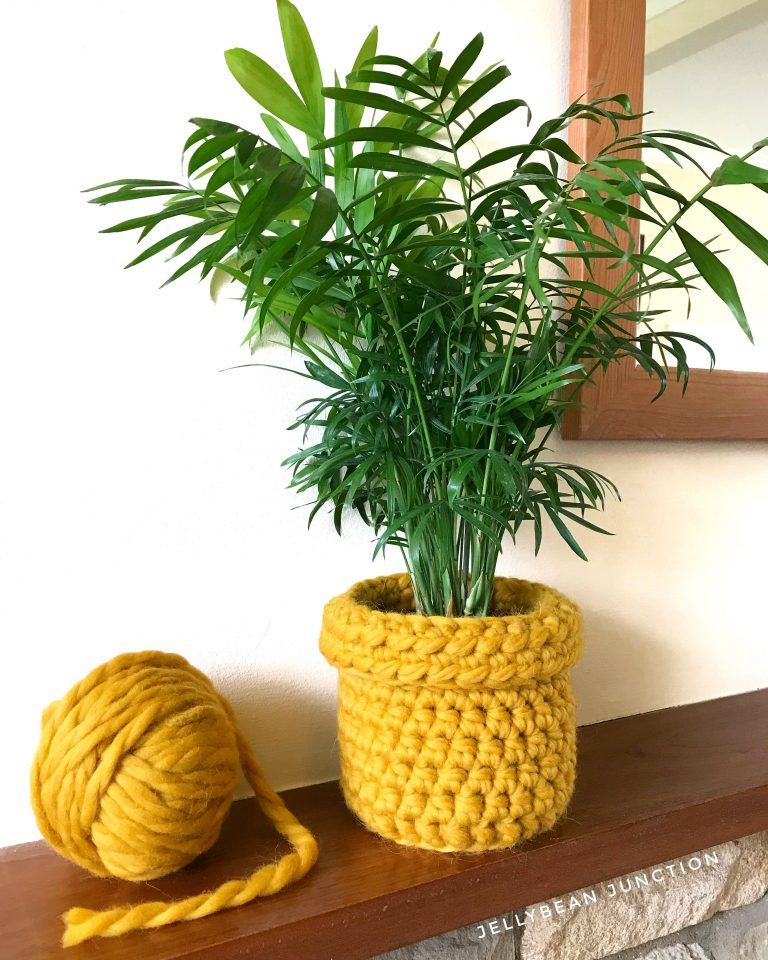 This design is not a cosy, but an actual plat pot, So I would recommend lining the container with a plastic material to eliminate seeping. Furthermore more I would opt to water with a smaller quantity of water regularly rather than over water once a week.
19. Pot rim cover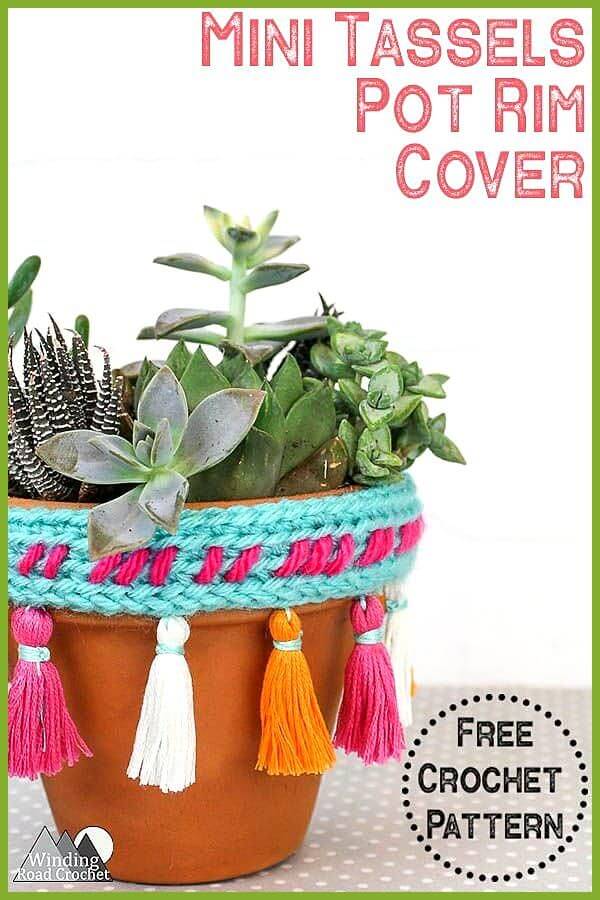 This design is another example of how you can enhance an already beautiful pot by adding crochet design elements.
20. African style basket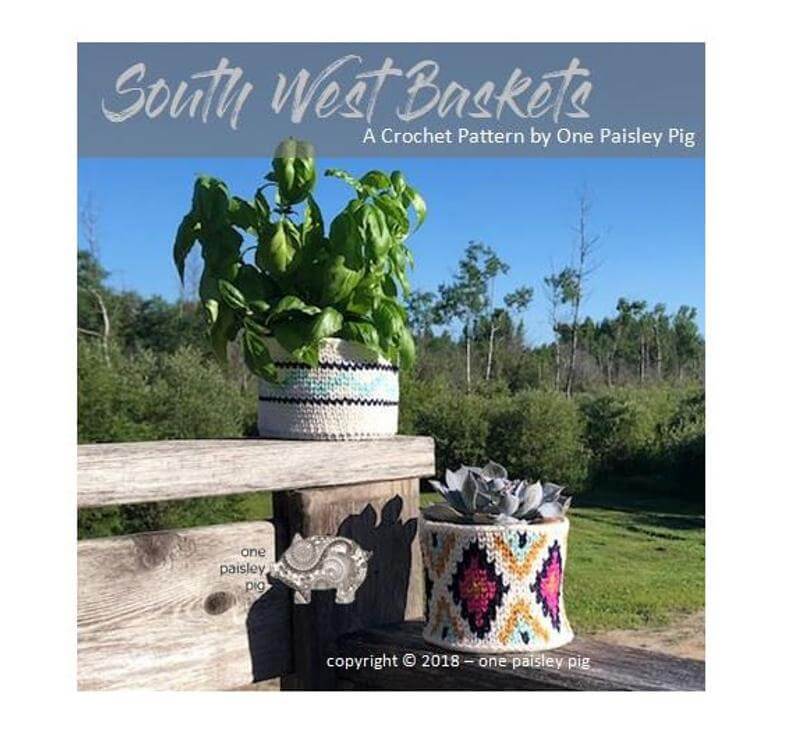 African art is sought after all over the world; with this pattern, you can make African art yourself. With African art colour choice is essential standard colours are yellow, red, black and green.